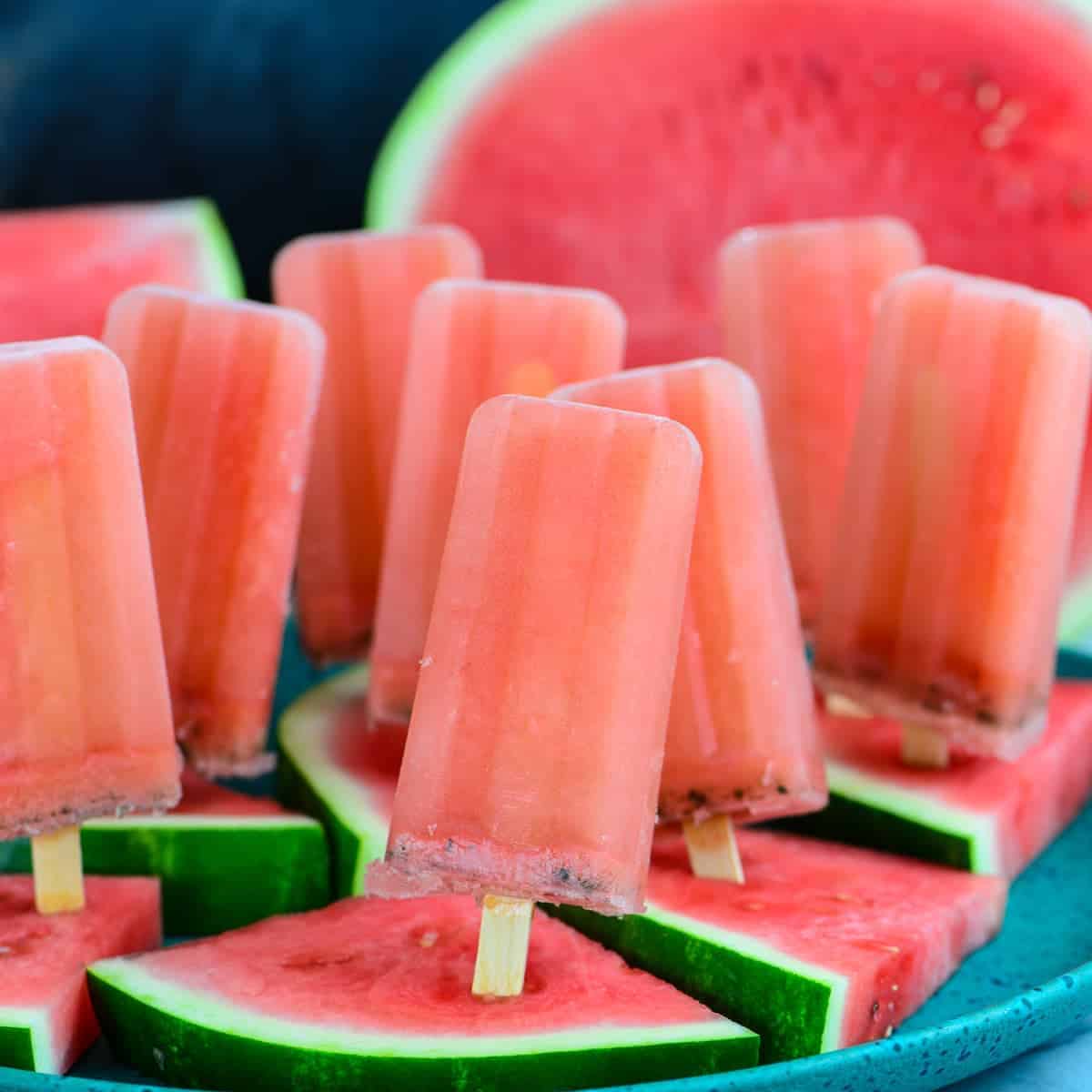 Recipe
Comments
Save
Go to Collections
This post may contain affiliate links. Please read my
disclosure policy.
Summer is in full swing and that means one thing: watermelon season! This recipe for watermelon popsicles is the perfect way to beat the heat. These are a great snack for kids or adults, and they're easy to make at home. All you need is some fresh watermelon, lime juice, sugar, and mint leaves. So go ahead and give them a try! You'll be glad you did.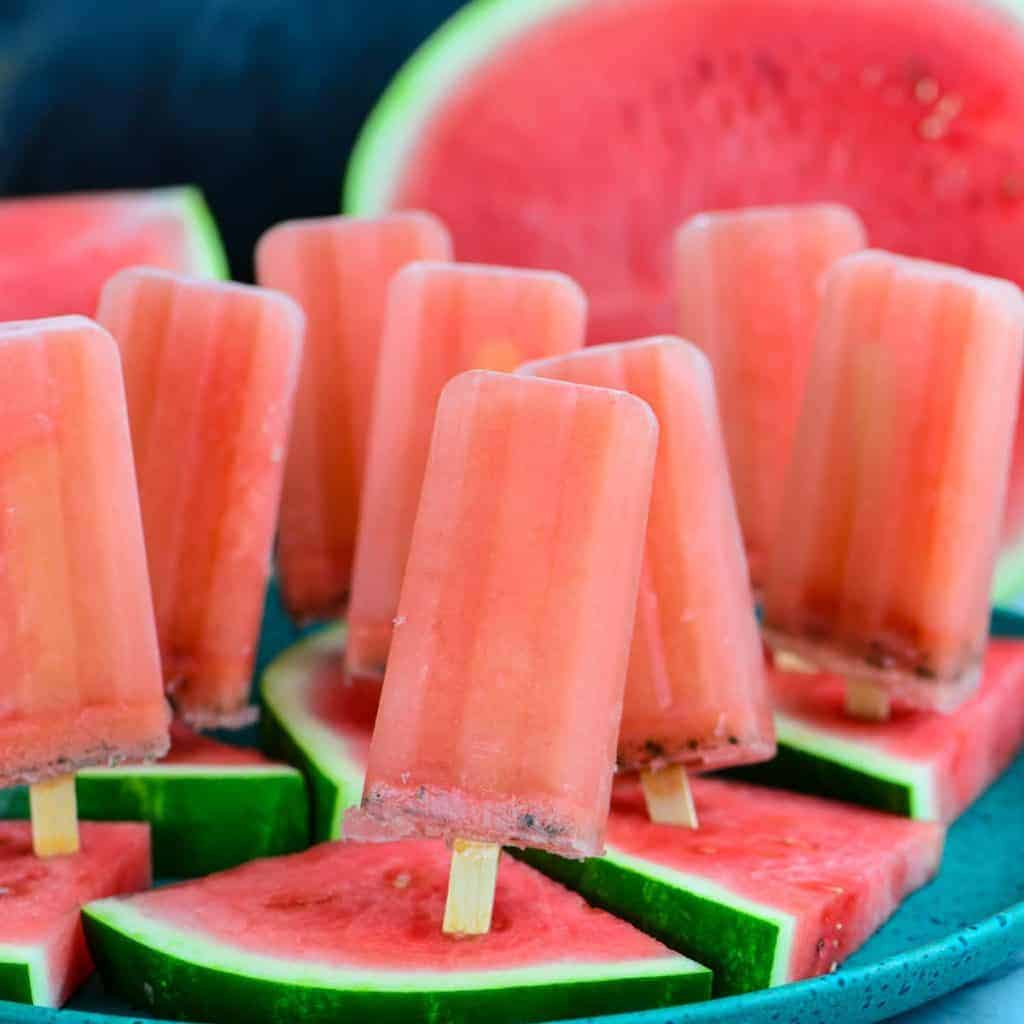 My mom always made popsicles with Kool-Aid or fudge popsicles with chocolate JELL-O pudding. Do you even remember Kool-Aid? Can you still buy that stuff?
When I was a kid we had those Tupperware popsicle molds. I think everyone that grew up in the early eighties knows what I am talking about.
These were the days when you couldn't eat too much sugar, Bill Cosby was still a beloved role model, and you could run free in the neighborhood until the street lights came on.
Those days are long gone, but my love of frozen summer treats is still going strong! I have switched my version of frozen popsicles to making real fruit popsicles. You can also check out my Mango Lassi Popsicle Recipe; it's definitely one of my favorites.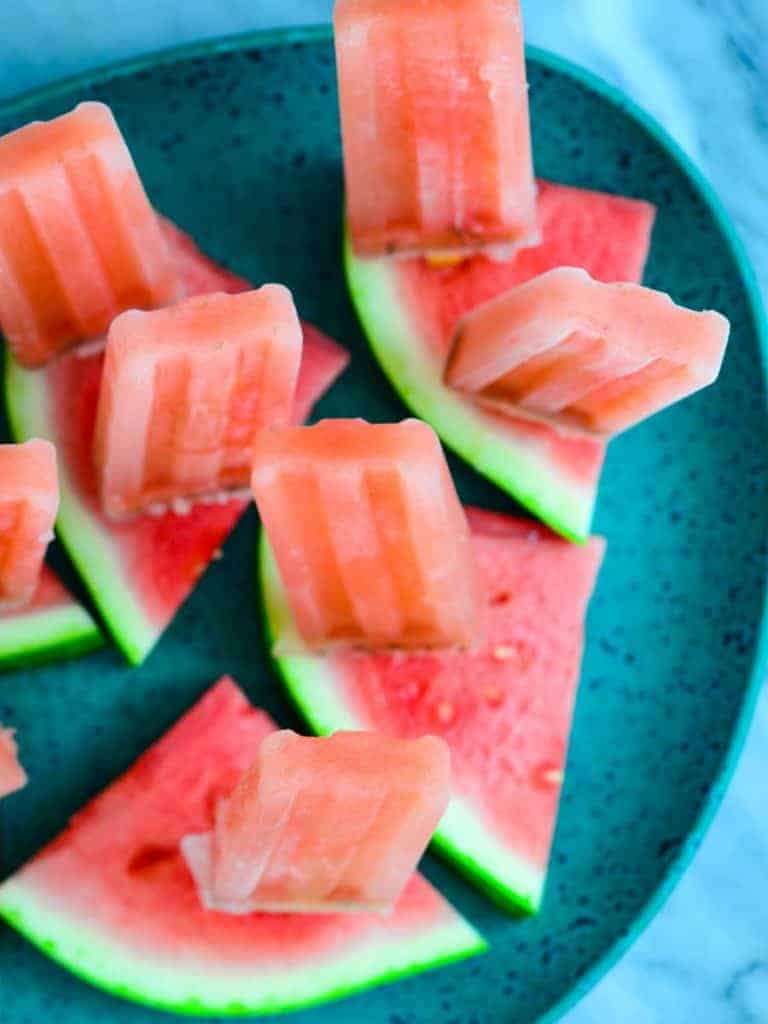 What you'll love about these fresh fruit popsicles
Of course, you always feel good when you know you are feeding yourself and your family the healthiest thing! These ice pops definitely fill that bill.
Super Easy: You only need a few ingredients to make these frozen treats.
Healthy and Fresh: Because these popsicles are made with fresh fruit they are healthy. Who doesn't love that?
Completely Refreshing: The watermelon lemonade flavor is so refreshing. Add in a tiny bit of fresh mint to give these popsicles a watermelon mojito vibe. You might even be tempted to add a few shots of tequila for an adult version of this refreshing summer treat.
Recipe Notes
By combining summer's two most refreshing flavors, you end up with the Best Watermelon 🍉 Popsicle.
Ingredients Notes
Fresh watermelon: You will need about a pound of watermelon for this recipe. Make sure to seed the watermelon and cut it into cubes.
Lemons: Use Meyer lemons if you can find them. Meyer lemons are sweeter than the traditional Bearss or Eureka lemons.
Fresh Mint: The mint is optional. If you have it adds a nice flavor. You can also use a little bit of basil.
Sweetener: Honey or erythritol can be used in these popsicles if you don't want to use granulated sugar.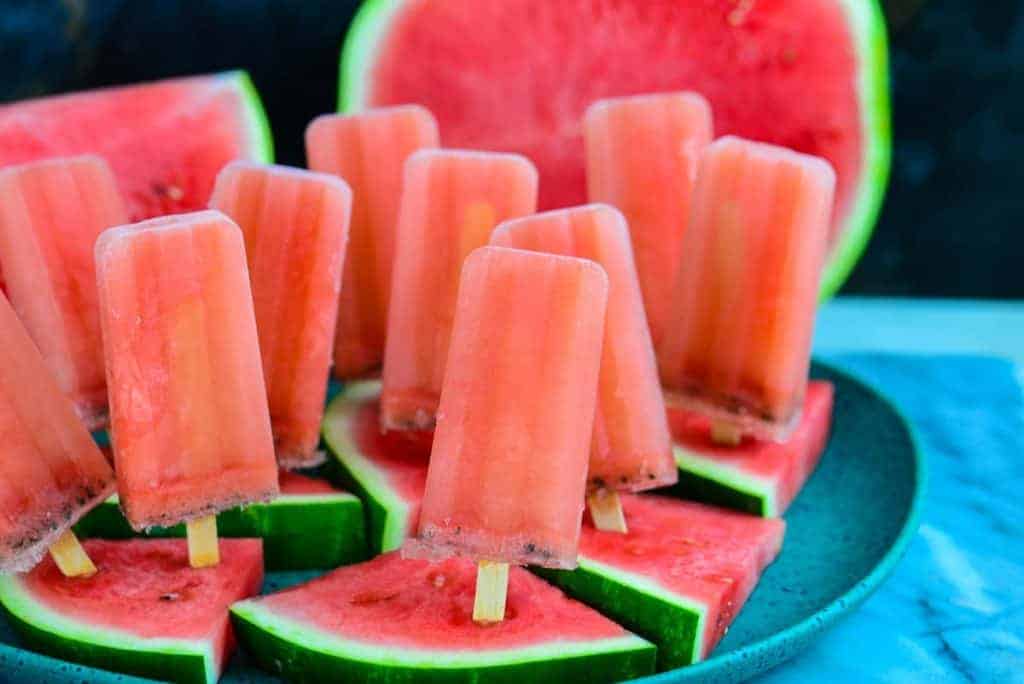 Special Equipment
High-Speed Blender

(affiliate link)

: A high-speed blender makes quick work of any fresh fruit.
Popsicle Mold: I have a few different popsicle molds. One is a cute sea creature mold made by Zoku

(affiliate link)

. Then I have a silicone mold

(affiliate link)

that is easy to use and easy to get the popsicles out of. Then I have a plastic mold made by Norpro

(affiliate link)

. Any of these options will work.
Popsicle sticks: You should buy food grade popsicle sticks and not just craft sticks.
Juicer (optional)

(affiliate link)

: having a juicer is good if you want to make popsicles that have less pulp in them.
How to make fresh fruit popsicles
There is really no wrong way to make popsicles. But there are a few tips to make them as easy as possible.
Step 1
Juice or blend the diced watermelon. You'll need about a quarter cup of juice for each popsicle. Measurements will vary depending on how juicy your fruit is and whether or not you are using a juicer or a blender.
I used a blender and added my mint at while I was blending my watermelon.
Step 2
Add the lemon juice and sweeten to taste. You can use a little bit of sugar or honey to sweeten the mixture to taste. Measurements will vary depending on how sweet your fruit is.
If you want to make a low carb popsicle you can use erythritol as a sweetener. Erythritol works really well in frozen applications like popsicles and ice cream. It doesn't crystallize the way some other artificial sweeteners do.
Adjust the consistency of the popsicles with water, if needed.
Step 3
Pour the fresh juice mixture into the popsicle molds and freeze until they are solid.
FAQs and Recipe Variations
Variations: Add fresh basil instead of mint.
Add a different kind of fruit. Strawberries are a great addition to these watermelon popsicles.
Other Frozen Desserts That You Might Like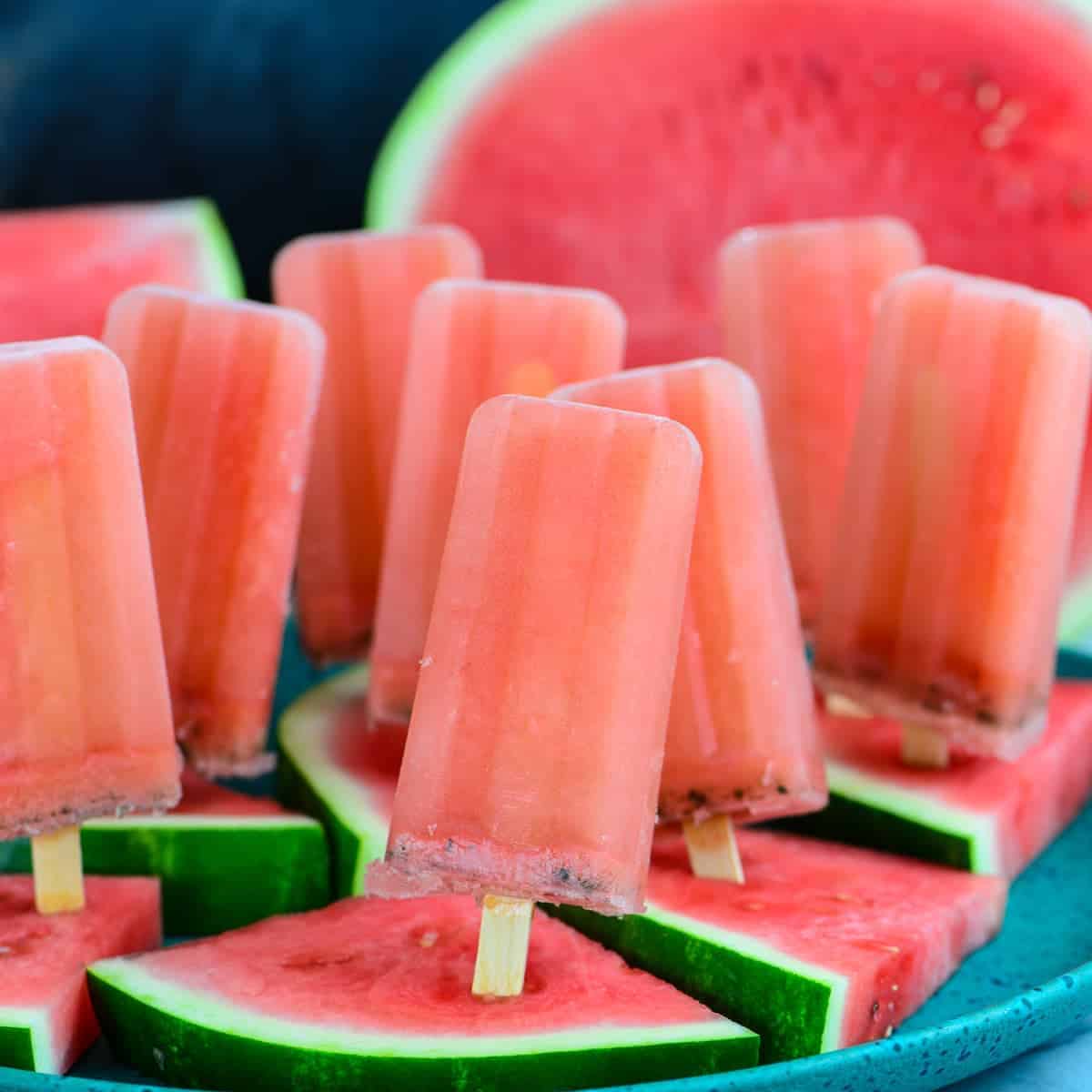 Watermelon Lemonade Popsicles
We can all agree that watermelon is the most refreshing summer treat. These Watermelon lemonade popsicles take this summer treat to the next level by combining two favorite summer treats fresh watermelon + lemonade.
Ingredients
1

lb

watermelon

,

cubed

1

lemon

,

juiced

2 to 3

tablespoons

honey,

erythritol can be used in place of honey

1 to 2

teaspoons

fresh mint

,

or fresh basil
Instructions
Cut the watermelon into chunks. Discard the rind and any seeds.

Add the ingredients to a blender and puree until the mixture is smooth and pourable.

Adjust the flavoring, if needed by adding extra sugar and/or water.

Pour the mixture into the popsicle molds and freeze until they are solid. About four hours.
Laura's Tips + Notes
Variations:
Add fresh basil instead of mint.
You can use any kind of fruit you like.
Strawberries are a great addition to these watermelon popsicles.
YOUR OWN NOTES
Sign In to add your own private notes
Nutrition
Calories:
30
kcal
Carbohydrates:
8
g
Protein:
1
g
Fat:
1
g
Saturated Fat:
1
g
Sodium:
1
mg
Fiber:
1
g
Sugar:
7
g
Calcium:
6
mg
Iron:
1
mg