Authentic Tzatziki Recipe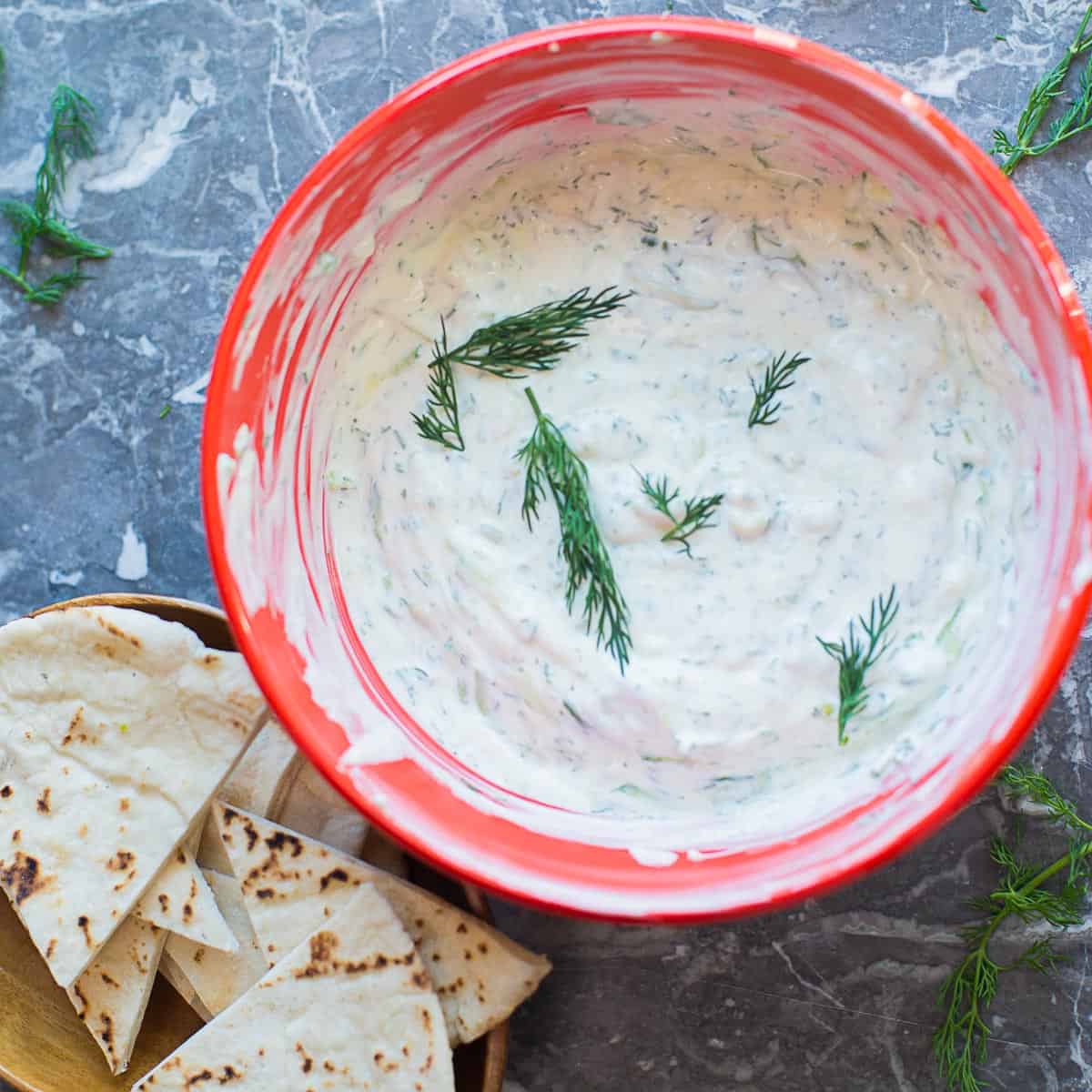 Recipe
Comments
Save
Go to Collections
This post may contain affiliate links. Please read my
disclosure policy.
Tzatziki is a cucumber dill sauce that's made with yogurt, grated cucumber, fresh garlic, olive oil, lemon juice, and seasoned with fresh herbs (usually dill).
This is seriously the BEST Tzatziki Recipe. It's creamy, and garlicky and tasted good on everything from grilled chicken to lamb burgers and even roasted and grilled vegetables.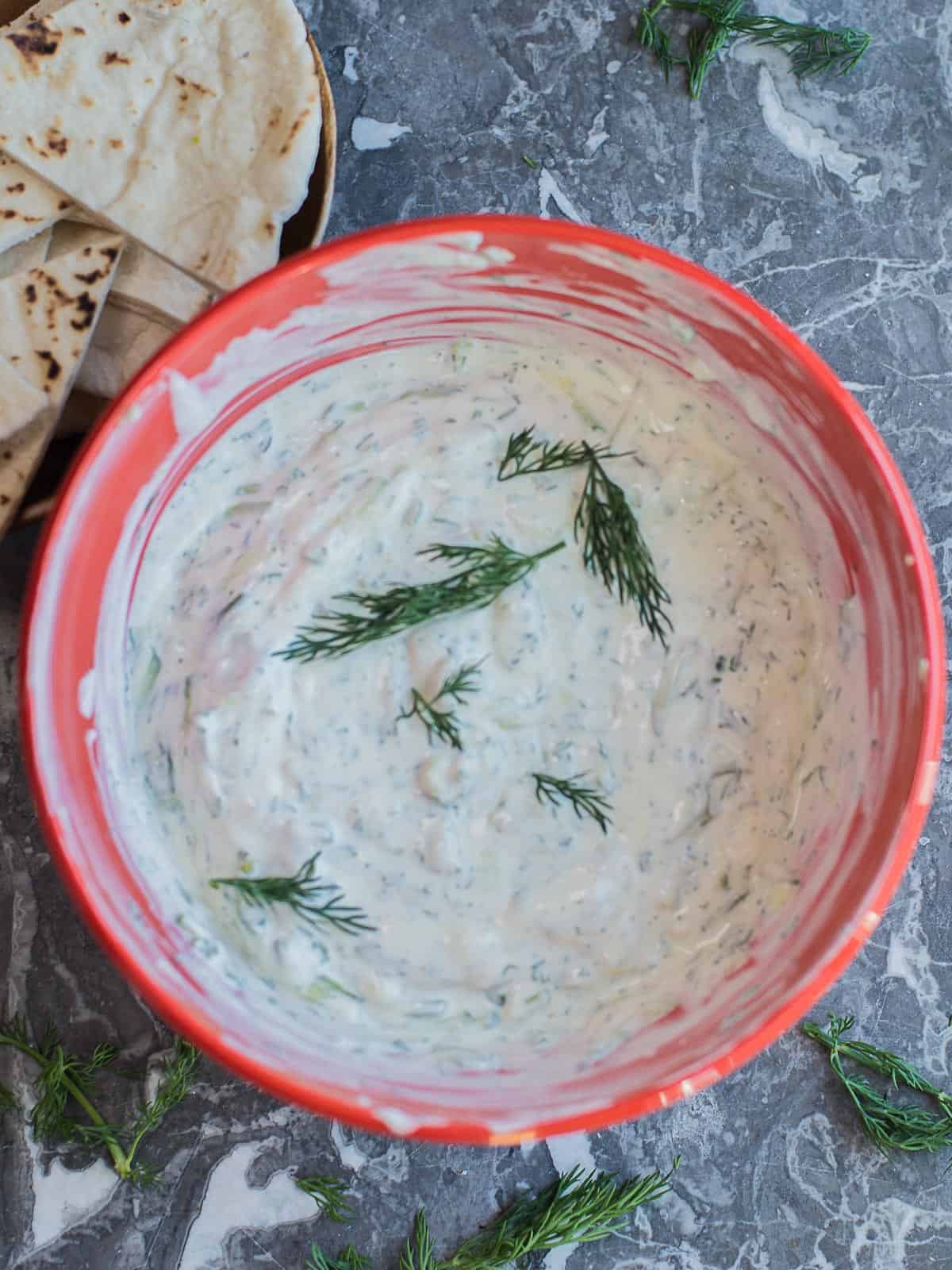 I learned how to make this Authentic Greek Tzatziki Recipe after buying a few store-bought brands. The store-bought tzatziki didn't have the same fresh flavor that I craved.
If you are going to make tzatziki, you might as well figure out how the heck t0 pronounce it! Zat-Zee-Key! OR hear the actual tzatziki pronunciation.
WHAT I LOVE ABOUT THIS RECIPE
EASY: Homemade tzatziki sauce is easy to make.
AFFORDABLE: Making the best tzatziki dip at home is way cheaper too!
VERSATILE: Tzatziki tastes fantastic on practically everything.
KEEPS WELL: This tzatziki recipe keeps well in the fridge and even tastes better after a few days.
Recipe Notes
Ingredients | Instructions | Special Equipment | FAQs
Getting started with this Greek Yogurt Tzatziki Recipe requires a few simple ingredients.
Tzatziki Ingredients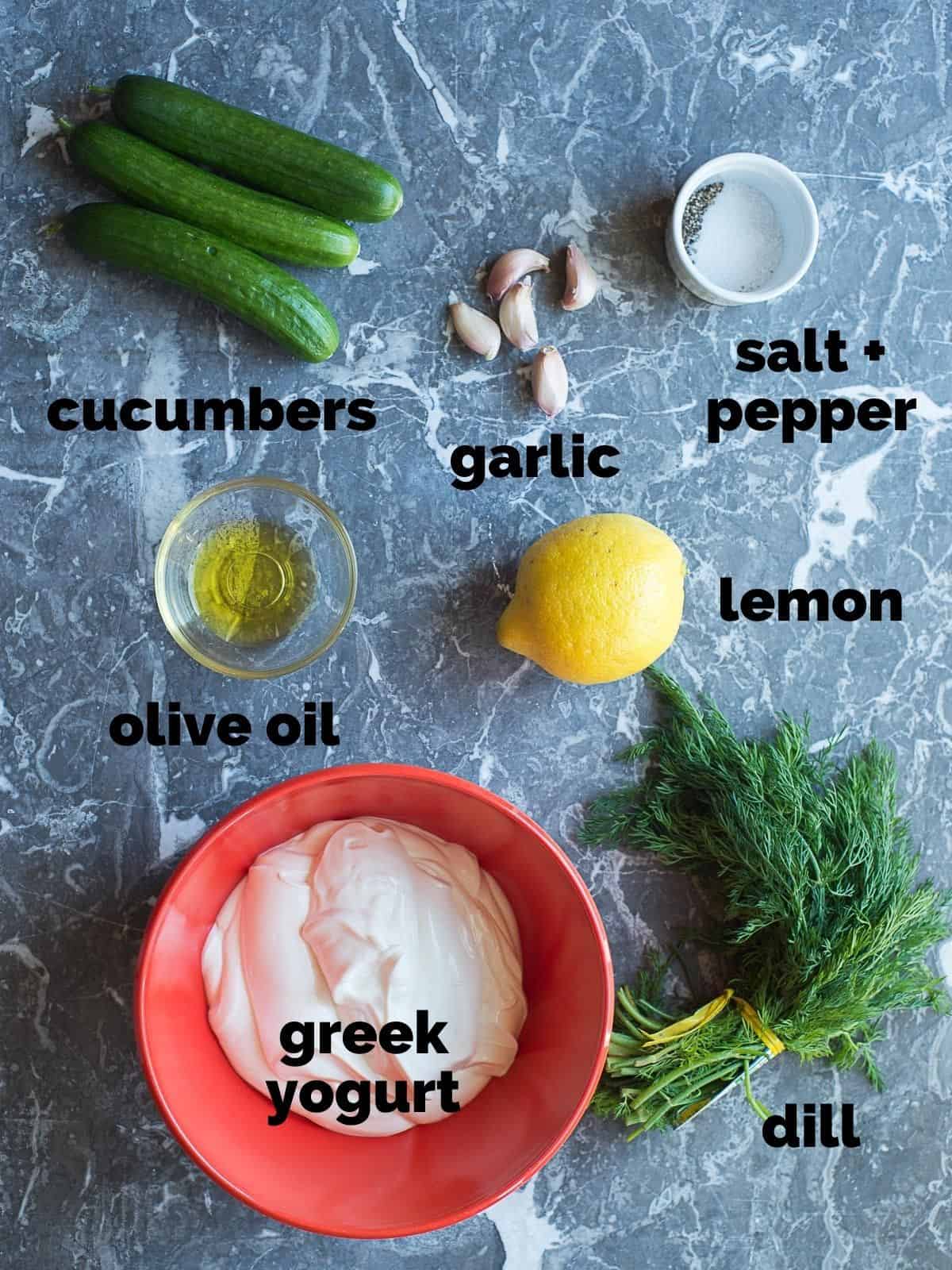 Yogurt: Greek Yogurt is a strained yogurt and has a thicker consistency than plain yogurt or European-style yogurt. Traditionally tzatziki is made with strained goat or sheep milk yogurt. You may be able to find this, but I find that in the US, it is easier to use more commonly available Greek Yogurt. I stick with full-fat yogurt, but using low-fat or fat-free Greek yogurt to make this yogurt dill sauce is perfectly fine. There is not a significant texture difference when compared to the full-fat version.
Cucumbers (Shredded): I use Persian cucumbers or English cucumbers for my Tzatziki sauce recipe. Both Persian and English cucumbers have a mild flavor and a more tender skin. Plus, the seeds are relatively nonexistent, so you don't have to worry about peeling or de-seeding them. If you can't find Persian or English cucumbers, then I would recommend peeling the cucumbers and removing most of the seeds. The most critical step in this recipe is shredding, salting, and then removing the excess water from the cucumbers.
Fresh Garlic: Fresh garlic is always best. But I do sometimes substitute with pre-minced jarred garlic. Christopher Ranch is a popular brand that you can find almost anywhere.
Lemon Juice: Fresh Lemon Juice is a flavor that is seen a lot in Greek recipes. Lemon juice adds a not of bright freshness to tzatziki that makes in the perfect gyro sauce. The lemon juice gives this sauce just the right amount of acidity.
Olive Oil: When making fresh tzatziki sauce, you will want to choose an olive that has a lot of flavor and is super fresh. [Find out how to pick the freshest olive oil] Choose a high-quality Extra Virgin Olive oil. Bottles labeled as Virgin Olive Oil have less flavor. And the ones labeled only as Olive Oil and can be refined. Which you definitely do not want. If you want more info on how to pick the right olive oil, check out this article.
Salt and pepper: I always use non-iodized salt. Pick Kosher salt or Himalayan pink salt. I also love Real Salt from Redmond. I buy the coarse ground Real Salt and keep it in one of my salt grinders.
PRO-TIP: To remove the garlic smell from your hands and fingers, save the lemon rinds from this recipe and smash them all over your fingertips. To get the garlic smell out of my cutting board I sprinkle on a little Kosher salt and then rub it in with the halved lemon rinds.
Special Equipment
Box Grater:

(affiliate link)

A solid box grater makes quick work of shredding these cucumbers. You can also use the large shredding disk on your food processor.

(affiliate link)

Sieve:

(affiliate link)

Having a few sizes of metal sieves in your kitchen is a good idea.
Kitchen Towel

(affiliate link)

: I like to use plain cotton flour sack towels in the kitchen. They are virtually lint-free and great for squeezing water out of cucumbers, spinach, or grated potatoes.
How to Make the Best Tzatziki Sauce
Step 1: Shred the cucumbers.
It's essential to get most of the water out of the cucumbers so that you don't end up with watery, runny tzatziki sauce. This is done by "sweating" the cucumbers, which is adding salt to them to draw the water out.
Shred the cucumbers using a box grater. (you can use a food processor for this as well.)
Add the shredded cucumbers to a sieve, and sprinkle with salt and then toss. Sit over the sink or a bowl while you make the rest of the sauce.
Turn the cucumbers out on to a clean dishtowel. Roll everything up into a ball and squeeze out as much water as you can.
Step 2: Combine the tzatziki sauce ingredients
Add the yogurt, fresh garlic, lemon juice, salt, and pepper to a large bowl. Then add the fresh dill and the olive oil. Stir until everything is well combined.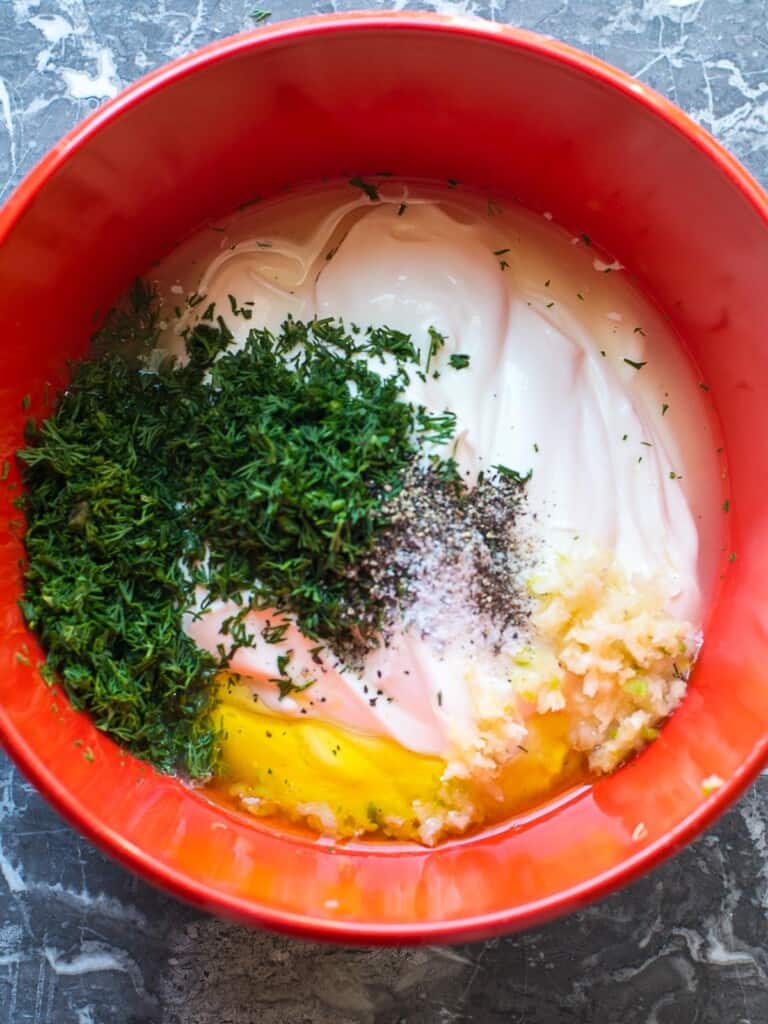 Step 3: Add the cucumbers. Stir until combined.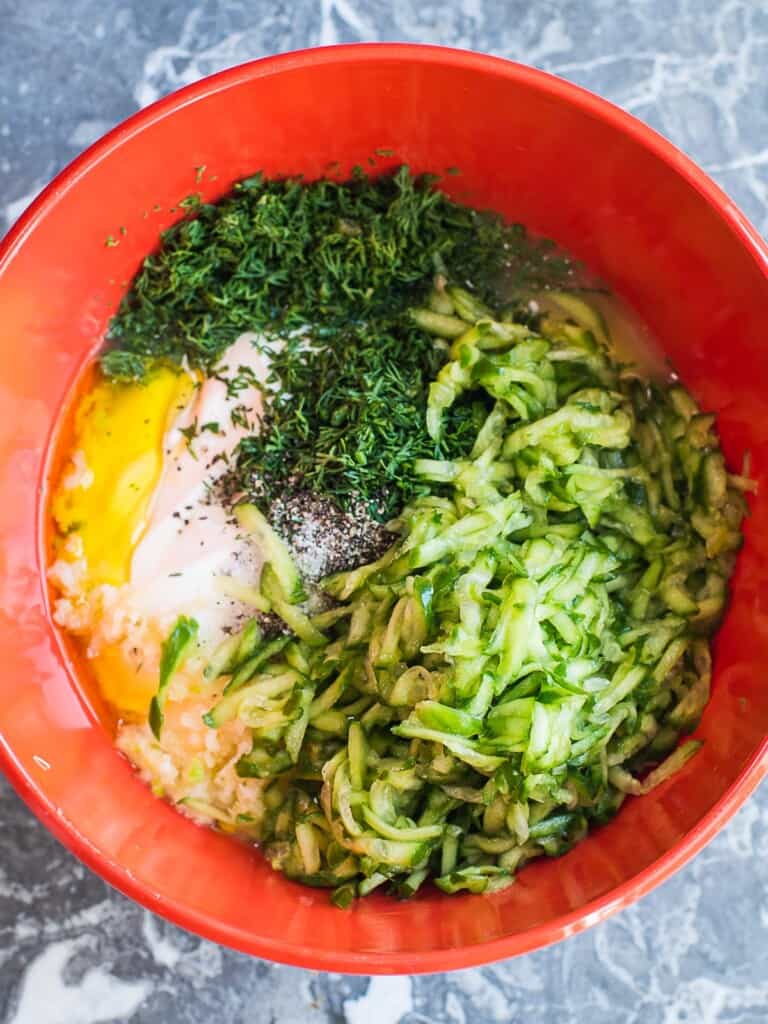 What to serve with tzatziki
Grilled or Roasted Vegetables
Red Bell Peppers
Egg Plant
Carrots
Red Onions
Zucchini
As An Appetizer Dip with
Fresh Pita Bread
Pita Chips
Fresh vegetables
Olives
Hummus
Greek Meatballs
As A Sauce with:
Gyros
Falafel
Pita Sandwiches
Wraps
Tabbouleh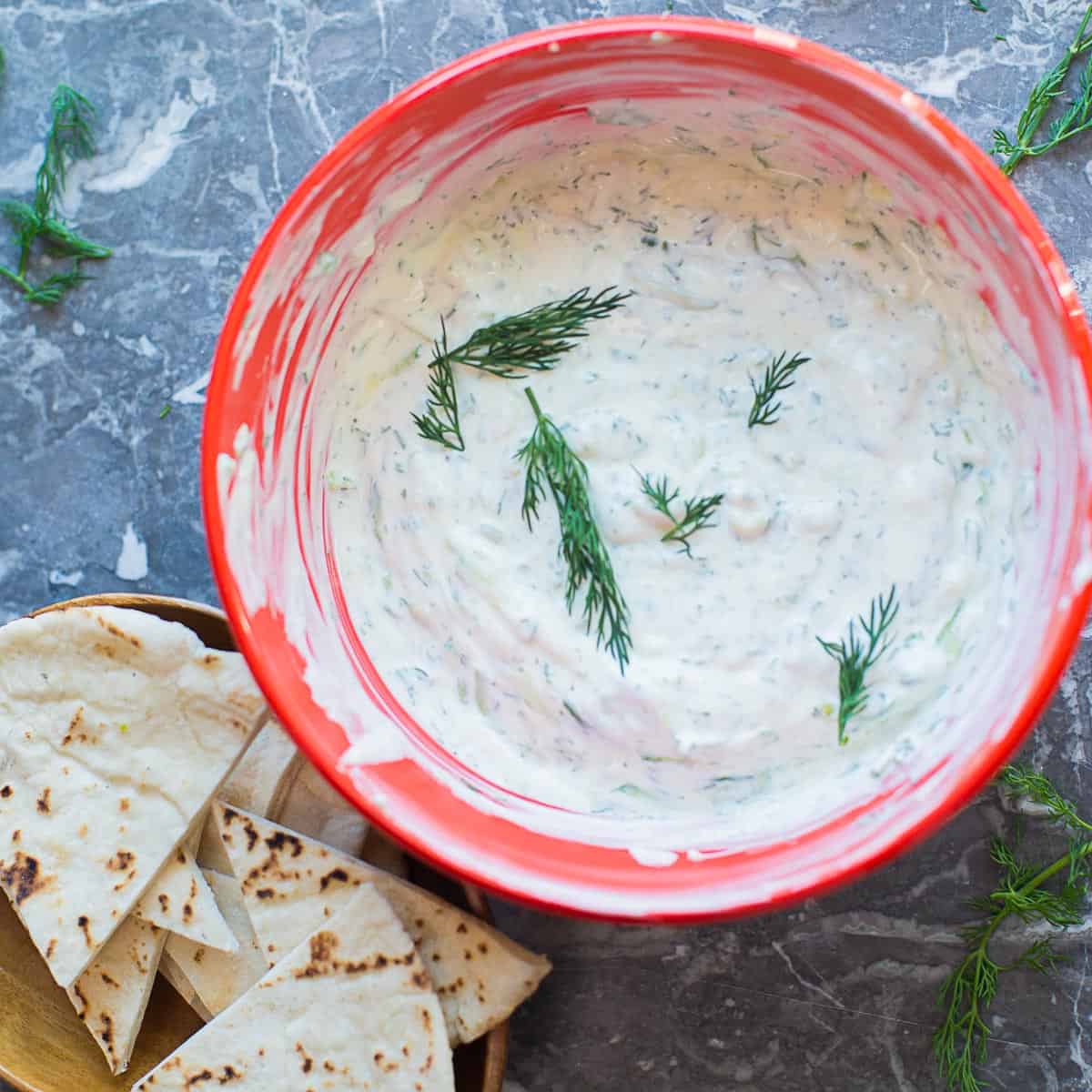 FAQs and Reipe Variations
How to store fresh tzatziki.
Store fresh homemade tzatziki in an airtight container for up to a week. Some water may still surface from the cucumbers. Simply give it a quick stir before you serve it.
Can you Freeze this Tzatziki Sauce Recipe?
I have read that you can freeze tzatziki, but I wouldn't recommend it. Freezing may preserve its freshness, but cucumbers usually do not freeze well and will be mushy.

If you think you may need to freeze it, you could make half the batch and then also leave out half of the cucumbers. The yogurt dip by itself should be fine in the freezer, especially full-fat yogurt.

Thaw the yogurt and add cucumbers before serving.
More Greek-Inspired Recipes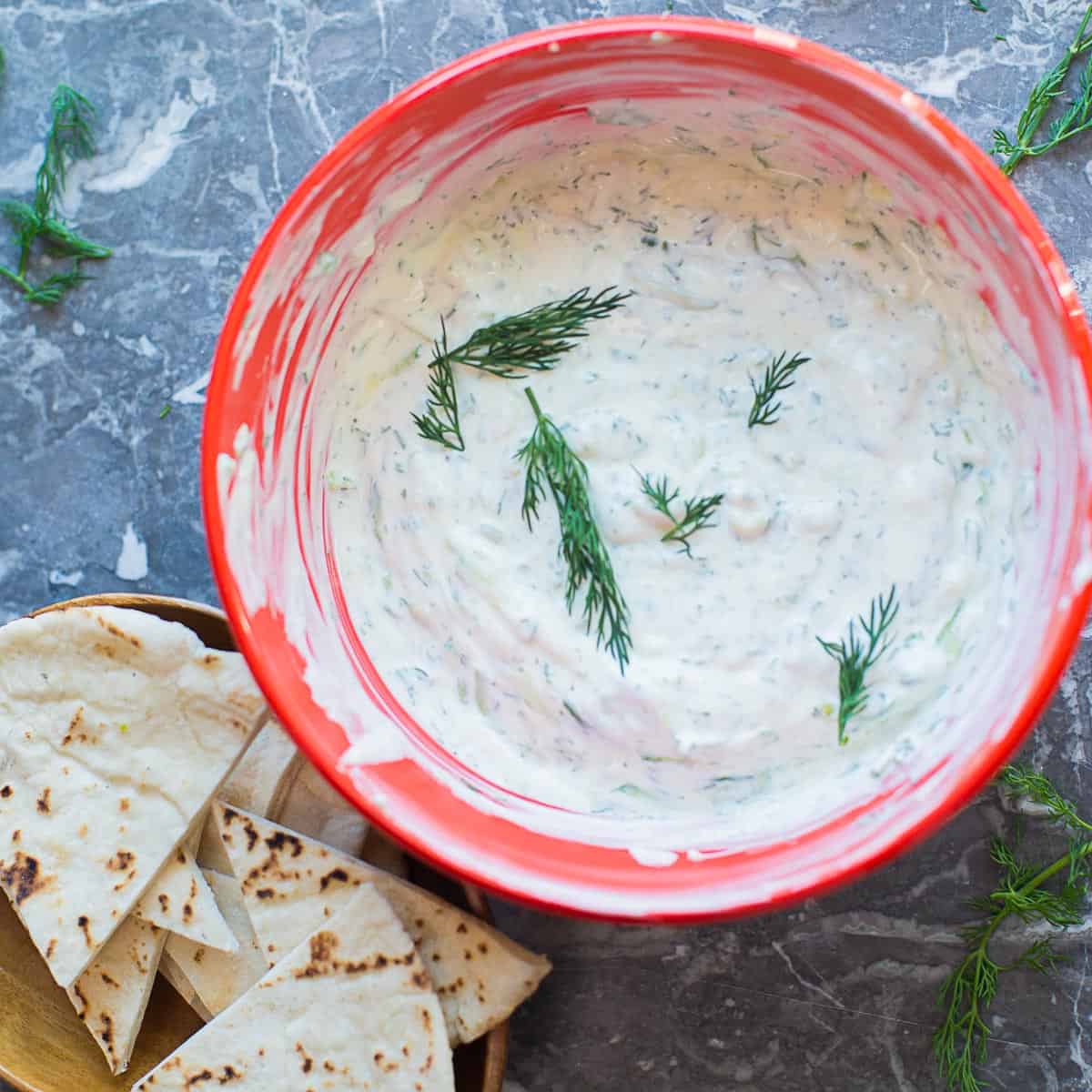 Tzatziki Recipe
Tzatziki is a cucumber dill sauce that's made with yogurt, grated cucumber, fresh garlic, olive oil, lemon juice, and seasoned with fresh herbs (usually dill). This is seriously the BEST Tzatziki Sauce Recipe. It's creamy, and garlicky and tasted good on everything from grilled chicken to lamb burgers and even roasted and grilled vegetables.
Ingredients
2

cups

plain greek yogurt

,

full faat

1

cup

cucumber

,

shredded

3

tsp

fresh garlic

,

minced

3

tsp

fresh dill

,

fresh

3

tsp

lemon juice

,

freshly squeezed

2

tbsp

olive oil

(affiliate link)

1

tsp

kosher salt

(affiliate link)

,

plus more for the cucumbers

¼

tsp

black pepper
Instructions
Shred cucumber and place in a mesh strainer. Sprinkle with 2 teaspoons of salt. Toss and set aside. This step pulls out the excess water in the cucumber and keeps the tzatziki from becoming too watery.

Mix yogurt, garlic and dill, lemon juice, and olive oil.

3 tsp fresh garlic,

3 tsp fresh dill,

3 tsp lemon juice,

2 tbsp olive oil,

1 tsp kosher salt,

¼ tsp black pepper,

2 cups plain greek yogurt

Press the liquid out of the cucumbers and then add to yogurt mixture.

Salt and pepper to taste.
YOUR OWN NOTES
Sign In to add your own private notes
Nutrition
Calories:
32
kcal
Carbohydrates:
1
g
Protein:
3
g
Fat:
1
g
Cholesterol:
1
mg
Sodium:
12
mg
Sugar:
1
g
Calcium:
39
mg
Iron:
0.1
mg