This Buffalo Chicken Dip Recipe is the ultimate dip! This spicy, cheesy dip is a favorite low carb appetizer dip in our house. Serve it with celery and carrots OR with toasted bread or tortilla chips.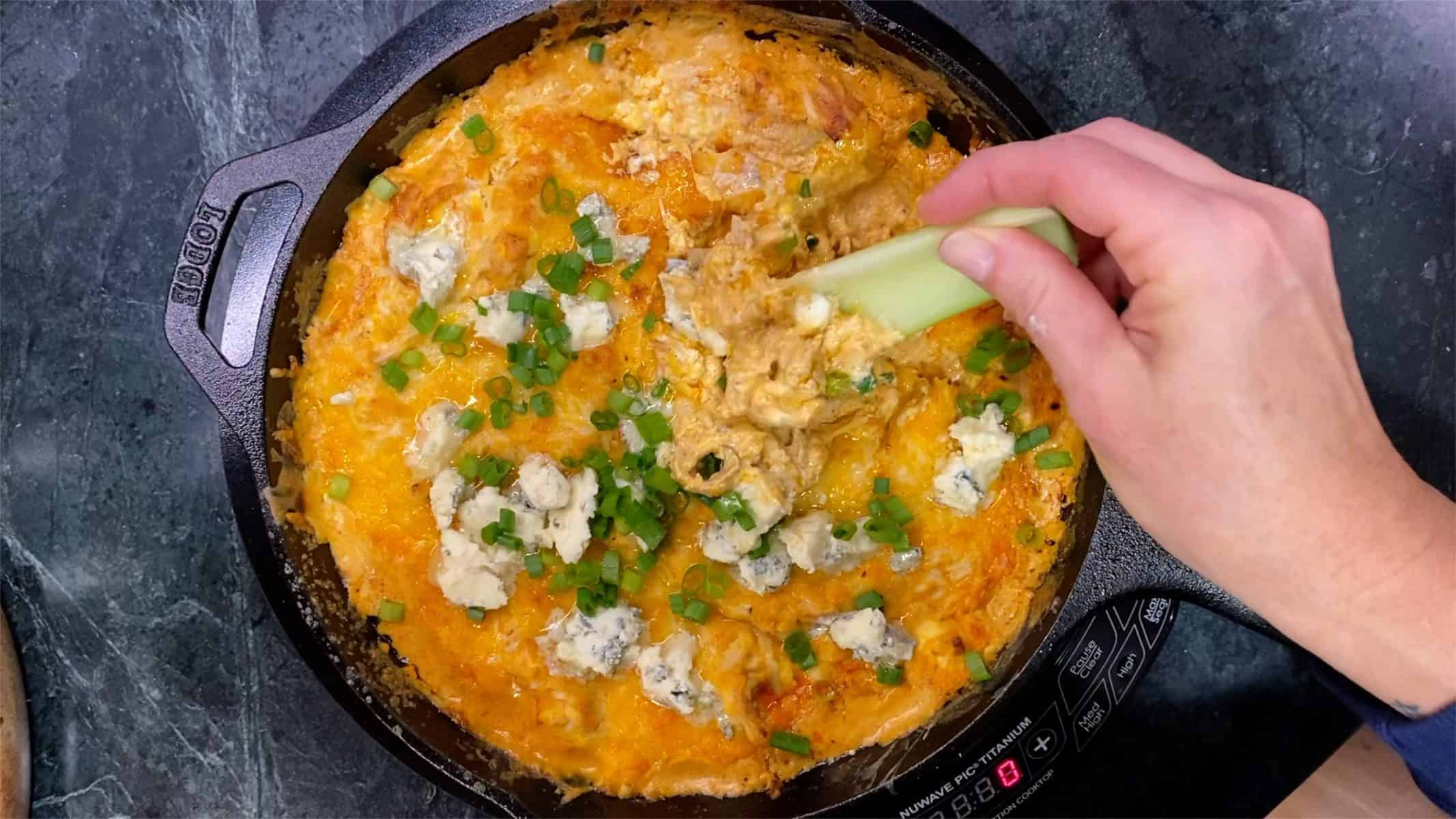 Buffalo Chicken Dip Is My Favorite Game Day Appetizer Recipe.
If you know anything about me, you probably know that I love wing sauce. Just the mere thought of chicken slathered in that spicy orange sauce is enough to make my mouth water.
On my regular meal prep rotation is my Buffalo Chicken Protein Bowl — excellent and good for you! Not to mention my Buffalo Shrimp Jalepeño Poppers and my Buffalo Chicken Egg Rolls
This easy appetizer dip has all of the flavors of hot wings in a creamy, cheesy dip. What's not to love here?
What goes into This Spicy, Cheesy Chicken Dip?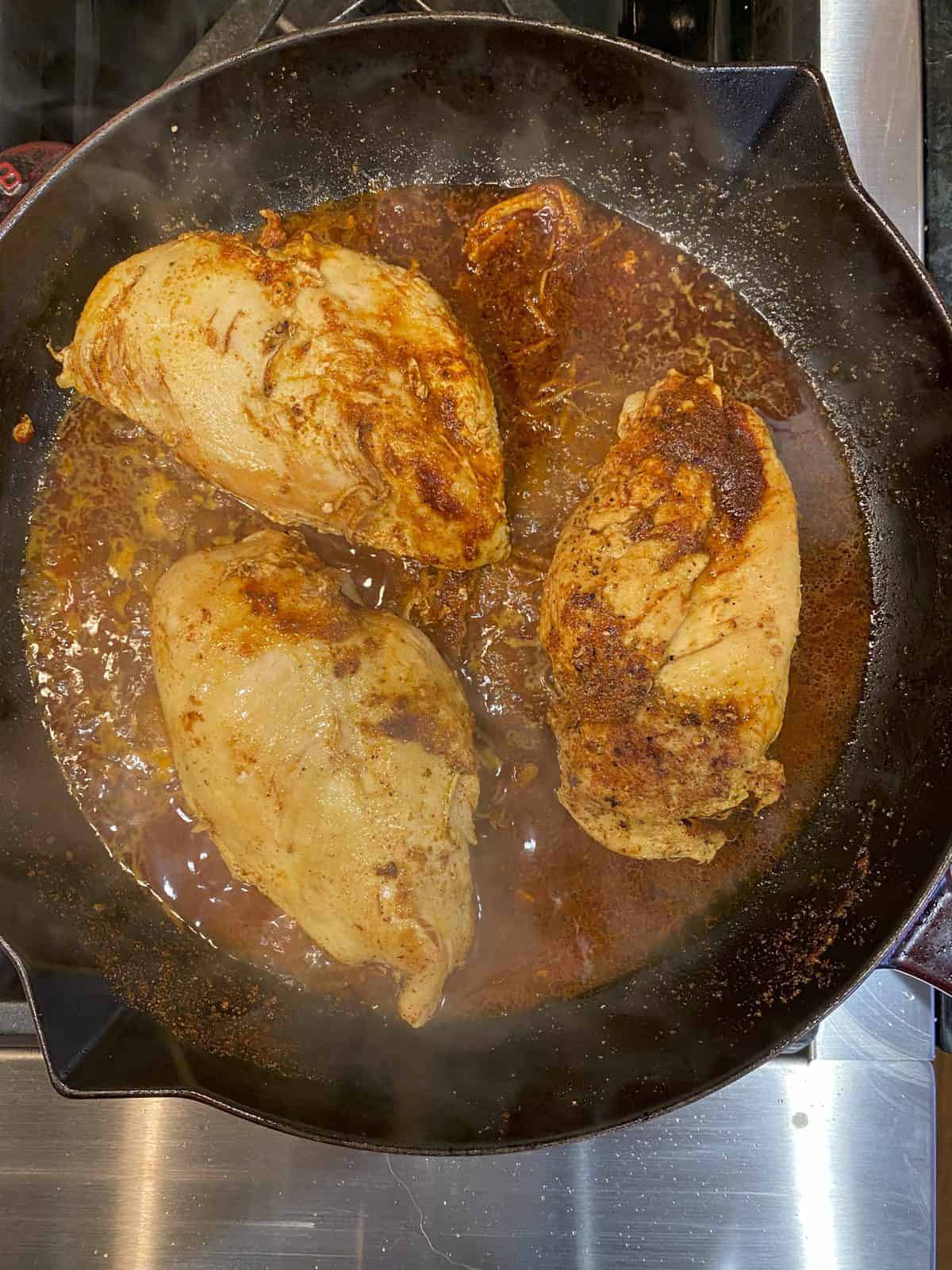 Cook the chicken, and then once it's cool, shred.
Shredded Chicken
You have a few different options here. You will need about two and a half cups of shredded chicken.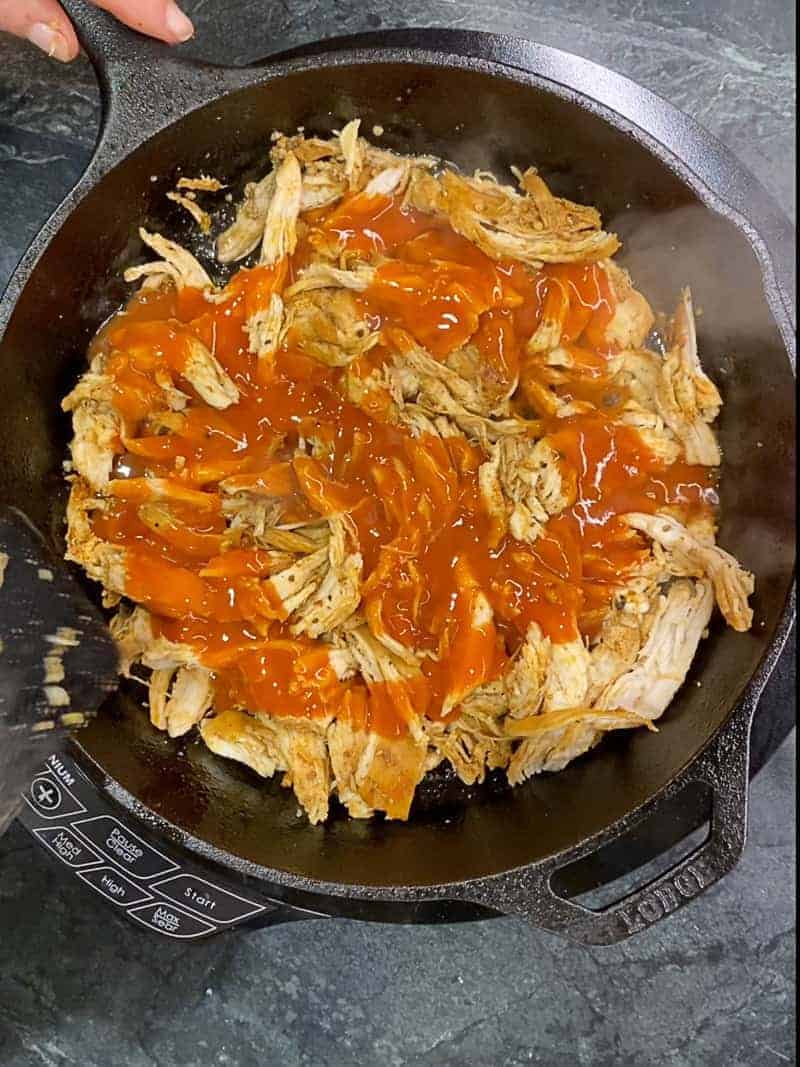 PRO-TIP: I usually make a double batch of chicken in the Instant Pot and save any leftover chicken for meal prep or a batch of buffalo chicken egg rolls.
Rotisserie chicken is an excellent option if you're short on time or don't have leftover chicken in the fridge.
Instant Pot chicken. Use a few teaspoons of my Buffalo Spice Mix and cook three of four chicken breasts in the Instant Pot and then shred them. (you might not need all of the meat)
Boiled chicken. Season the water with the seasoning and simmer the chicken breasts until they are cooked through. Cool. Then shred.
Canned Chicken can also be used in a pinch. Just drain the liquid before adding it to the pan.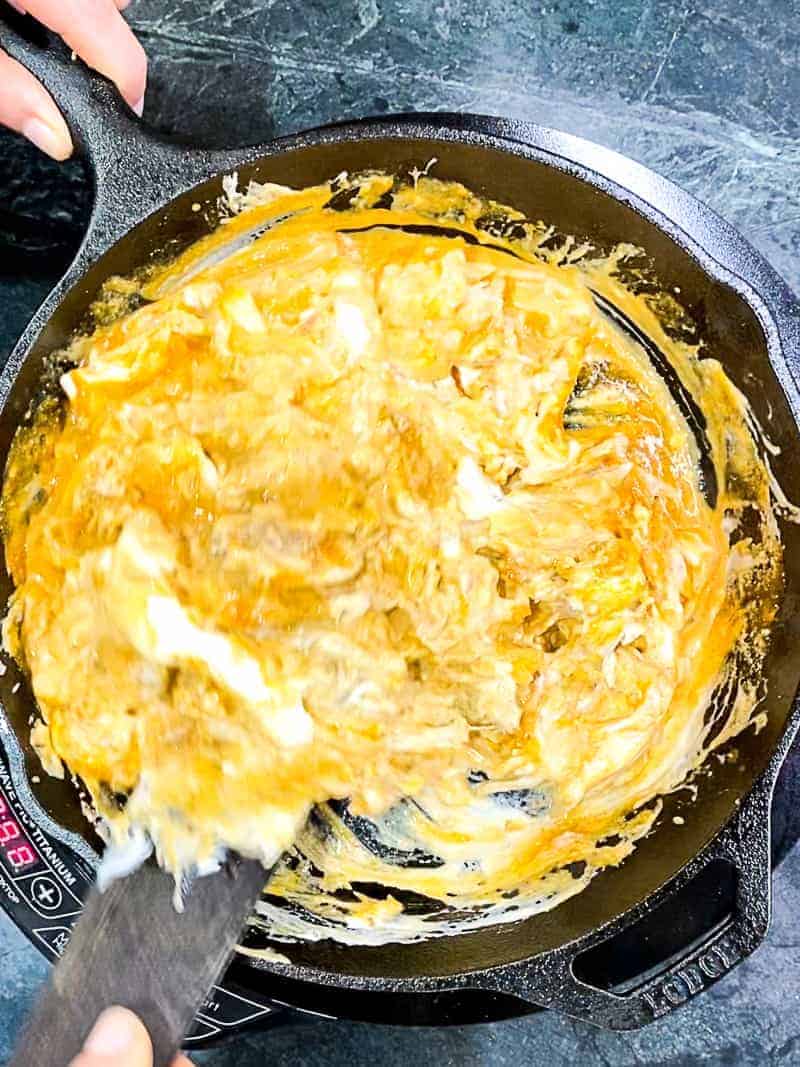 Stir in the cream cheese and sour cream.
Cheese, Glorious Cheese!
This dip has so much delicious cheese.
Cream Cheese
Shredded Cheddar Jack Cheese
Blue Cheese
PLUS: Garlic, Sour Cream, and Green Onions, and Franks Red Hot Sauce
Add the blue cheese and the green onions after you take the dip out of the oven.
That's it. This dip is the best buffalo chicken dip and because I'm sure you know a few people eating low carb or keto. This dip is a keto buffalo chicken dip.
How to make buffalo chicken dip
I always make this dip in my cast iron pan because I love the way it looks when it's served. Cast Iron is versatile and easy to cook with. If you need tips on caring for cast iron, check out this VIDEO from Lodge Cast Iron.
This dip can be served warm or at room temperature.
You can make this as a crockpot buffalo chicken dip if you prefer to keep it warm.
Start by adding the garlic and butter to your pan. Sauté the garlic for a few minutes until fragrant.
Add the shredded chicken and toss to coat in the garlic butter.
Add the Franks Red Hot Sauce. Use about a half of a cup to start. You can add more if you want your dip spicier.
Add the cream cheese and sour cream, stir together until everything is well mixed.
Top with the shredded cheese. I gently mix-in just the top of the shredded cheese in. (check out the video to see what I mean)
Bake in the oven for 15-20 minutes. Until the cheese is bubbly and lightly browned.
Top with blue cheese and sliced green onions.
Serve with veggies and chips.
How to make a buffalo cheese dip in the crockpot
Add everything to the crockpot.
Heat on high until everything is hot.
Reduce the temperature and serve inside the crockpot of desired.
How to make shredded chicken in an Instant Pot
Add the chicken and the seasoning mix to the Instant Pot.
Close and seal the lid.
Cook on high for 10 minutes.
Naturally, release the pressure for 5 minutes.
Open the lid and use a fork to shred the chicken.
PRO-TIP: I always have a batch of shredded chicken in the fridge. Whether it's from making bone broth or from making a batch in my Instant Pot. Shredded chicken is perfect from making Quick Enchilada Casserole, Chicken Tortilla Soup, or just making a batch of tacos for dinner. Always my favorite!
Step-by-step Instructions for making Buffalo Chicken Dip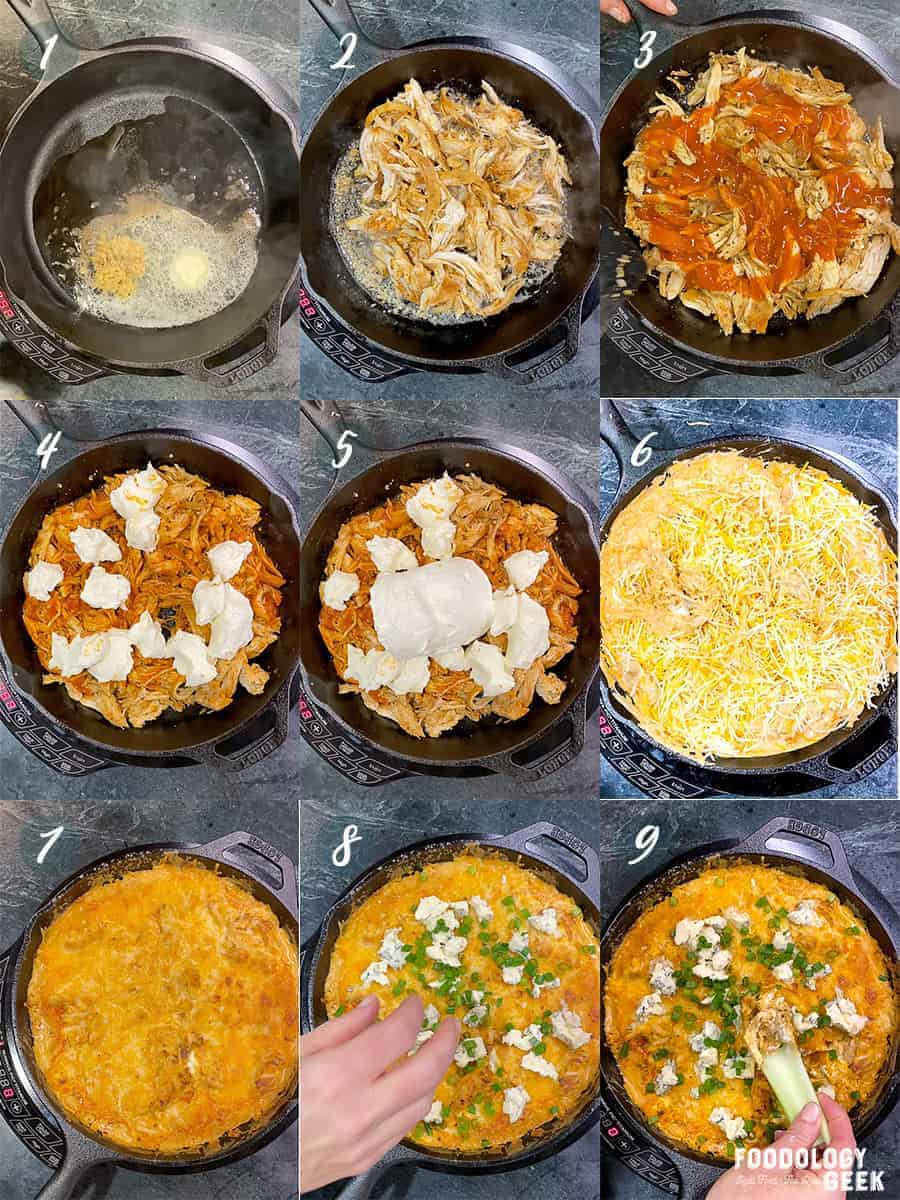 Other Game Day Recipes that you'll love
Buffalo Shrimp Jalapeno Poppers
The Best Game Day Food Round-Ups
Did you make this recipe? I would love to hear about it. Leave a 5-star review and a comment below! 👇
Don't forget to follow Foodology Geek on your favorite Social Media Channel. Facebook, Instagram, Pinterest, YouTube.
(Visited 8 times, 1 visits today)