Have you ever made cashew cheese?
I'm not vegan or even vegetarian, but I love this Vegan Cashew Cheese. I know you will too! This vegan condiment is really delicious. You don't have to be vegan to think so.
Still not convinced?
If you have no idea what cashew cheese is or are thinking why the heck would I even want to make cashew cheese? Just hang out – let me tell you why I make
Disclaimer: I realized while writing this post that pairing these my keto crackers and the vegan cheese together was a little ironic. The Cashew Cheese is purposefully dairy-free, and it is also low carb, while the Keto Crackers are definitely low carb, but they are made with cream cheese. I have not tried to make the Keto Crackers with dairy-free cream cheese, yet
Cashew cheese is a versatile condiment and can be made thick and spreadable, more dippable, or smooth and creamy, more like a sauce.
This recipe is about the same consistency as hummus. Some recipes call for nutritional yeast. I have to confess that sometimes I use it, and sometimes I leave it out. Nutritional yeast tastes a little bit like toasted asiago cheese and does give the recipe a little more "cheesiness." I definitely would use it if you are looking for that mac and cheese type flavor. I use it in my Vegan Au Gratin Potato recipe. For this recipe, I left it out. Try it both ways and let me know which way you like it better.
This recipe is perfect for serving with veggies that you can scoop with, like carrots or cucumbers. It's also perfect for spreading on top of crackers. My favorite crackers are Lesley Stowe's Raincoast Crisps. They come in a variety of flavors like fig and olive, rosemary, raisin, and pecan, and salty date and almond. Their most popular flavors are also offered gluten-free.
Want something more dippable?
If you are looking for a cashew cheese that is more like the consistency of your favorite ranch dressing, you can add a little bit of water to make this mixture thinner. A few tablespoons of water should give it the consistency of a thick dressing and serve it alongside veggies like broccoli.
I started making cashew cheese sauce a few years ago when my daughter was completely vegan.
I was always looking for plant-based stand-ins for our favorite recipes. I found out that it's elementary to make a vegan cheese sauce with cashews. The first time I used cashews as a stand-in for cheese was making Vegan Alfredo with Butternut Squash and Kale recipe. I started with the basic cashew sauce recipe from Pinch of Yum and then have tweaked it a million different ways. This recipe is made in a high-speed blender and is really creamy and saucy. I added in some roasted butternut squash into this vegan alfredo sauce. It also has yummy chunks of the roasted butternut squash and some wilted kale and tossed with orecchiette! It is delicious.
Most people that have eaten it have no idea that this creamy pasta dish is dairy free.
It just tastes terrific. That is the goal. This recipe made me realize that you can make creamy and delicious sauces with absolutely no dairy. If you have been following Foodology Geek, you already know that I am not going to waste my time with a recipe that doesn't taste amazing.
Back to why you should make cashew cheese:
If you are avoiding dairy or having a party where you know there will be people that may have a dairy allergy, this cashew cheese recipe is a great dairy free appetizer option. This recipe stands on its own a delicious. I don't even like to call it a dairy-free recipe because it seems like when you are making things that are gluten free or dairy free you are already expecting them to less delicious than their counterparts. I promise you will not even feel like you are missing a thing.
The remarkable thing about this recipe is that it is super basic and takes 5 minutes to whip up in a food processor.
Once you learn how to make cheese from cashews, you can add any variety of spices or herbs that you like. Some of my personal favorites are chives and dill. Almost any type of fresh herbs would be delicious here.
I am a huge fan of "Master Recipes" like this one.
Master recipes are core recipes that serve as the foundation of a versatile recipe that you can turn to over and over again. You can spin the basics a little bit different way to fit the dish you are making. An excellent example of a Master recipe is a vinaigrette. The foundation ingredients are always the same: oil, vinegar, salt, and pepper, plus some aromatics. You can use the formula to make a million different vinaigrette recipes. Balsamic, citrus, red wine, it's nearly endless.
The same concept can be applied to a recipe like this cashew cheese. The foundation is always the same. Cashews, lemon juice or apple cider vinegar. Salt and pepper, and then some herbs and aromatics. You can add flavors like roasted red peppers, kalamata olives. This recipe gives you and thick, spreadable herbaceous cashew cheese. If you wanted a smooth and creamy cheese sauce like the one I use for my Vegan Alfredo Sauce you can thin the mixture out with some water.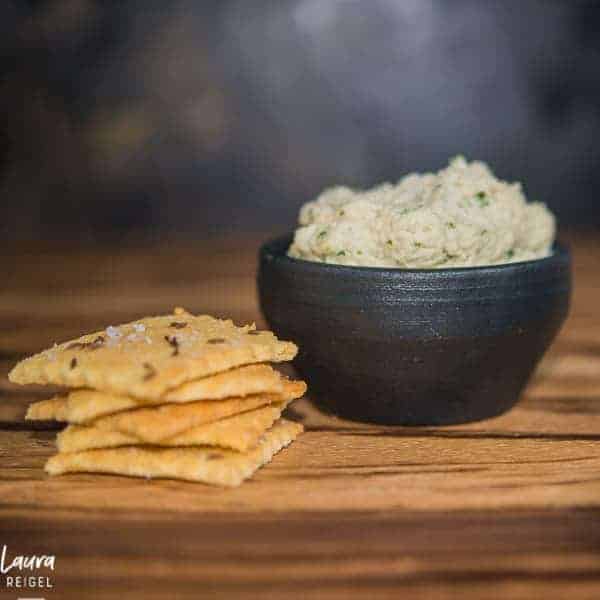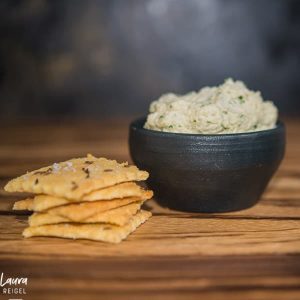 Super Easy Vegan Cashew Cheese
Super creamy vegan cheese made from cashews, herbs, and fresh lemon juice.
Print Recipe
Pin Recipe
Ingredients
2

cups

Raw cashews

4

cups

Filtered water

2

tbsp

Fresh squeezed lemon juice

1

tsp

Salt

2

tbsp

Fresh parsley

1

tbsp

Fresh rosemary
Instructions
Overnight Soak
Add the cashews and the water to a large bowl and soak overnight.
Making the Cheese
Strain the water off of the cashews and then place the nuts into the bowl of your food processor.

Add the remaining ingredients and process until the mixture is smooth and creamy. You can add a little water to thin if needed.

Serve with veggies or crackers.
Nutrition
Calories:
119
kcal
|
Carbohydrates:
6
g
|
Protein:
3
g
|
Fat:
9
g
|
Saturated Fat:
1
g
|
Sodium:
200
mg
|
Sugar:
1
g
|
Calcium:
11
mg
|
Iron:
1.5
mg
Other recipes that I have made with cashew cheese:
Vegan Butternut Squash Alfredo
(Visited 46 times, 1 visits today)