Not (Just) Your Mother's Basil Pesto!
No offense to Mom, or anyone else in your life for that matter. When people talk about pesto, usually the first thing that comes to mind is 'traditional' classic pesto. You know the one, it's a delicious literal mash-up of: basil, salt, garlic, extra virgin olive oil, pine nuts and a grated hard cheese like Parmigiano-Reggiano or Romano.
You can make pesto out of just about anything! Why stop at basil and garlic?
Jump to Recipe
At Foodology Geek we're always being creative. It's the root of what makes cooking fun!
How about thinking about pesto in terms of its component parts?
Veggie + Nuts + Oil + Seasoning + Cheese (if you want it)
Mix it up. Pestos are all about creating robust, bright, intense flavors. They can also be seen as a great use of spring greens. Are you staring down a bounty of greens in your garden? Make a pesto! Need a use for some of your uglier produce – Pesto! It's all about the flavor. Who cares what that particular greens looks like. Because it's mash up the bruises will be worked right in!
Next, think outside of the box with how you'll use your pesto creation. They make the perfect addition to a wide variety of dishes – especially grilled meats and pastas.
Make a large batch. You can also freeze the excess. Use it in the off season to bring back the robust fresh flavors of Spring and Summer to a hearty Winter soup. .
Here are two recipes that are all about getting creative with the concept of 'pesto':
Kale Pesto
This Kale Pesto is very much like a classic basil pesto. It is green and full of garlicky-goodness. The garlic is emphasized by the fact that kale offers a more earthy and robust flavor than basil. If you don't like basil? Try this version of pesto!
Kale + Pine Nuts + Olive Oil + Seasoning
Beet Pesto
Pestos are full or bright intense flavors and this gorgeous beet pesto is no exception. This recipe was specially requested by a friend and co worker. She had tasted a beet pesto at a farmers market and asked if I could create one. I think it turned out as pretty as it tastes!
Beets + Nuts (of your choice) + Olive Oil + Seasoning + Parmesan Cheese (optional)
Remember at its core pesto is as much of a formula as it is a recipe: Veggie + Nuts + Oil + Seasoning + Cheese (if you want it)
Think of the endless potential pesto flavor combinations:
Parsley + Almonds + Almond Oil + Seasoning + Parmesan Cheese
Collard Greens + Olives + Olive Oil + Seasoning + Dry Jack Cheese
Parsley & Sage + Walnut + Walnut Oil + Seasoning + Dry Jack Cheese
Arugula & Spinach + Pumpkin Seeds + Olive Oil + Seasoning + Dry Jack Cheese
Basil + Pine Nuts + Olive Oil + Seasoning + Parmesan Cheese
What greens to you have around? What flavors are you craving? Create your own mash-up (er, pesto)!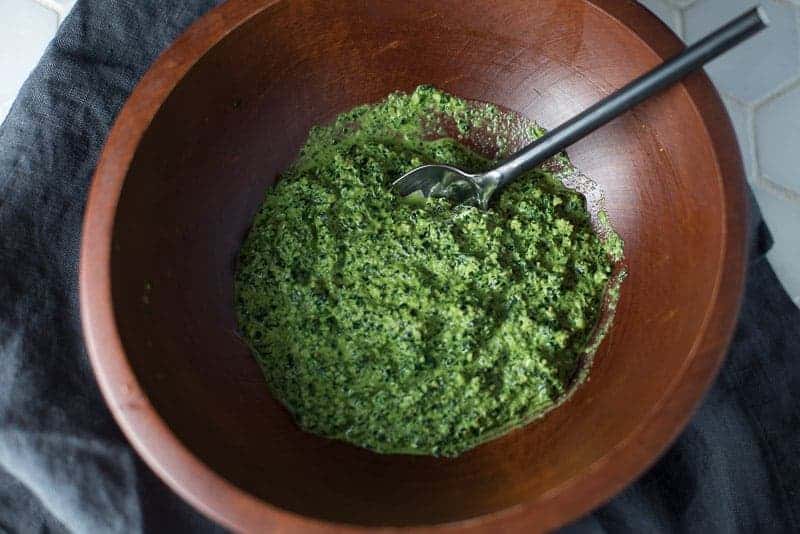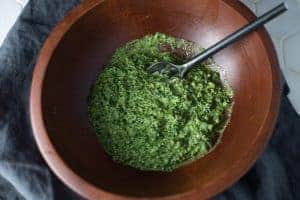 Kale Pesto
Dark green, garlicky, magic sauce.
Print Recipe
Pin Recipe
Ingredients
Kale Pesto
2

cups

lacinato kale

stemmed and rough chopped

3

cloves

garlic

peeled

4

tbsp

olive oil

2

tbsp

champagne vinegar

¼

cup

pine nuts

1

tsp

sea salt

1

tbsp

water

thin to consistency
Roasted Squash (if desired)
2

acorn squash (or other fall squash of your choice)

1

tbsp

coconut oil

salt and pepper
Instructions
Roast Squash (if desired)
Cut each squash in half and remove seeds.

Slice each half into equally sized wedges.

Place on a baking sheet covered with parchment paper, add oil and salt and pepper, roast for 15-20 min. Until lightly browned and tender.
Kale Pesto
Place kale and garlic in a small food processor and chop until kale and garlic are finely minced.

Add champagne vinegar and pine nuts. Process until pine nuts are finely chopped.

While running food processor add oil slowly until mixture is smooth.

Add salt to taste and a tbsp or two of water to thin to desired consistency.
Notes
This deep green, garlicky magic sauce is great on roasted vegetables or serve with burrata and crostini.
Nutrition
Calories:
130
kcal
|
Carbohydrates:
3
g
|
Protein:
1.4
g
|
Fat:
13
g
|
Fiber:
1
g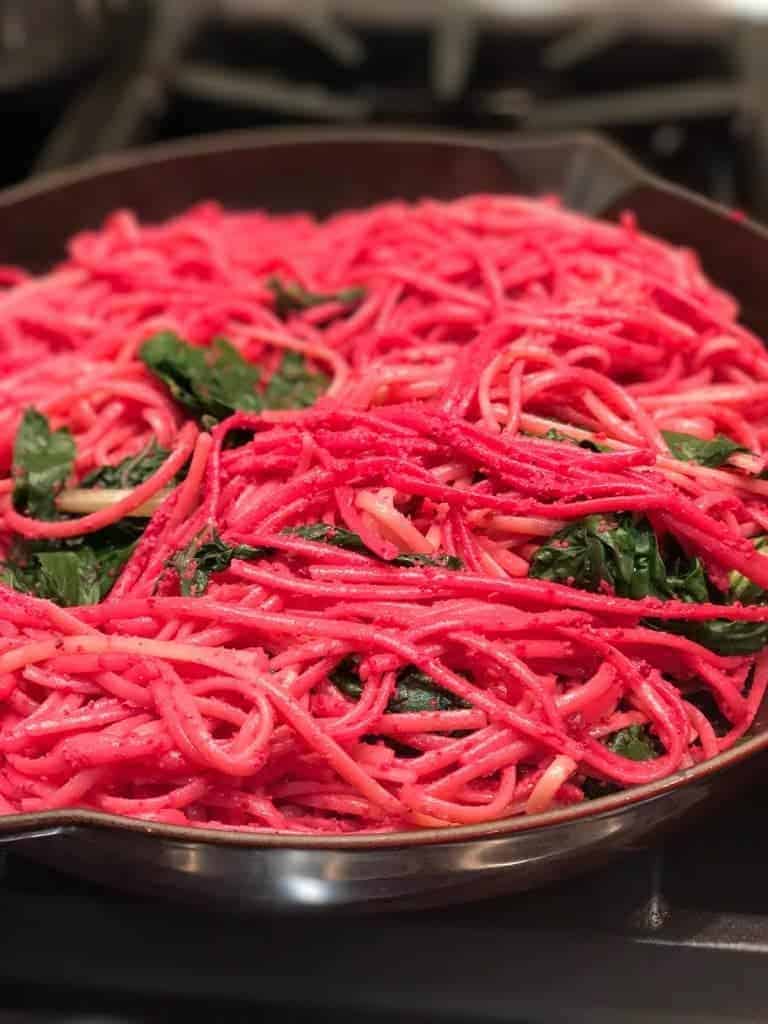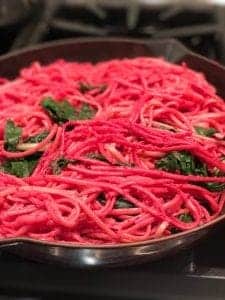 Beet Pesto
Who says pesto has to be green?
Print Recipe
Pin Recipe
Instructions
Add beets, nuts, garlic, chives and lemon juice to a food processor fitted with blade.

Process until smooth.

Add lemon juice, vinegar, salt and pepper and grated parmigiano-reggiano.

Star food processor and slowly add olive oil in a continuous slow stream.

Process until smooth and emulsified.
(Visited 23 times, 1 visits today)