Asian Chicken Meatballs {Ready in 30 minutes}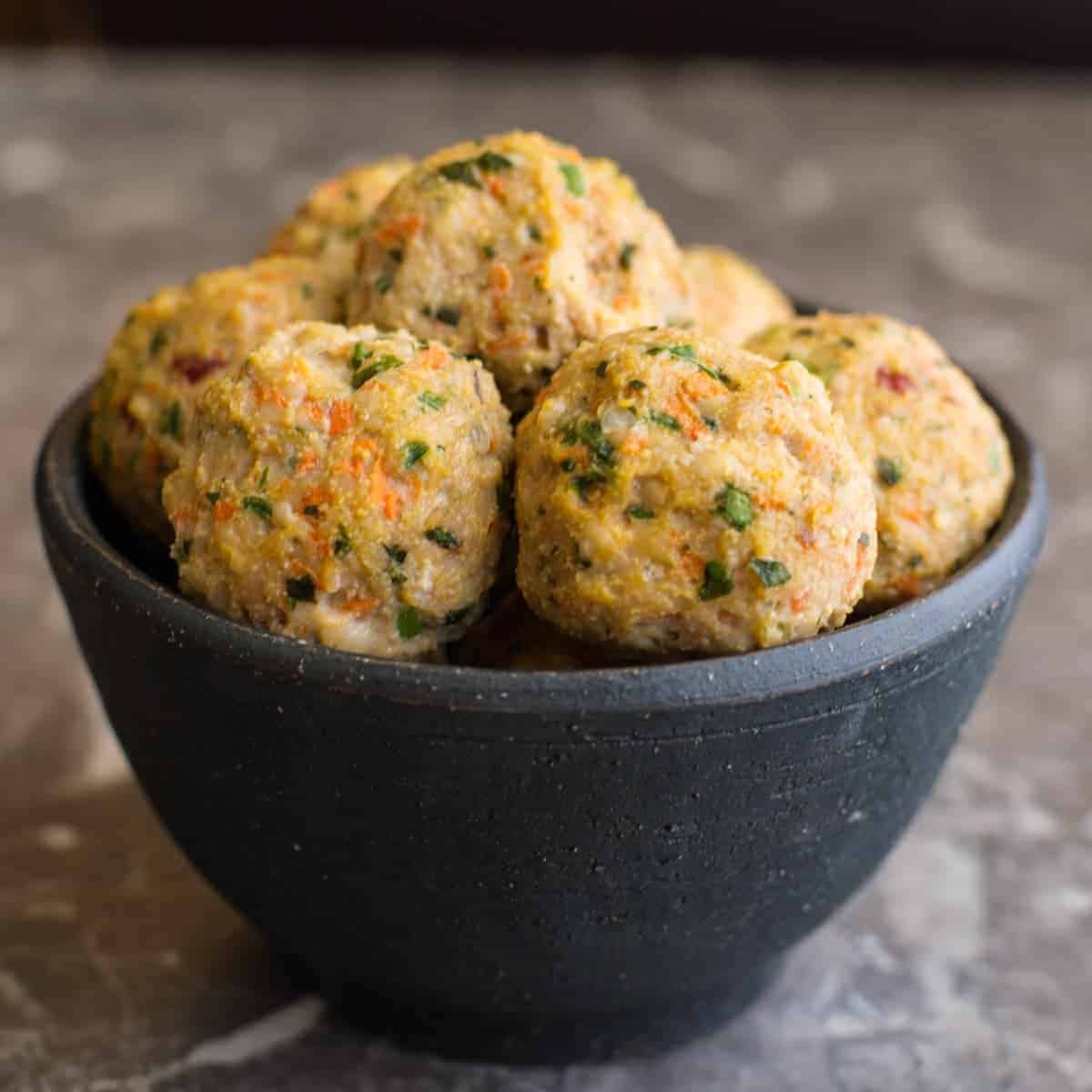 Recipe
Comments
Save
Go to Collections
This post may contain affiliate links. Please read my
disclosure policy.
These Thai meatballs are so delicious. They are packed with spicy Asian flavor. Not only do they bake up in less then 20 minutes they are so tasty you can eat them right out of the fridge when you need a quick pick-me-up. Enjoy!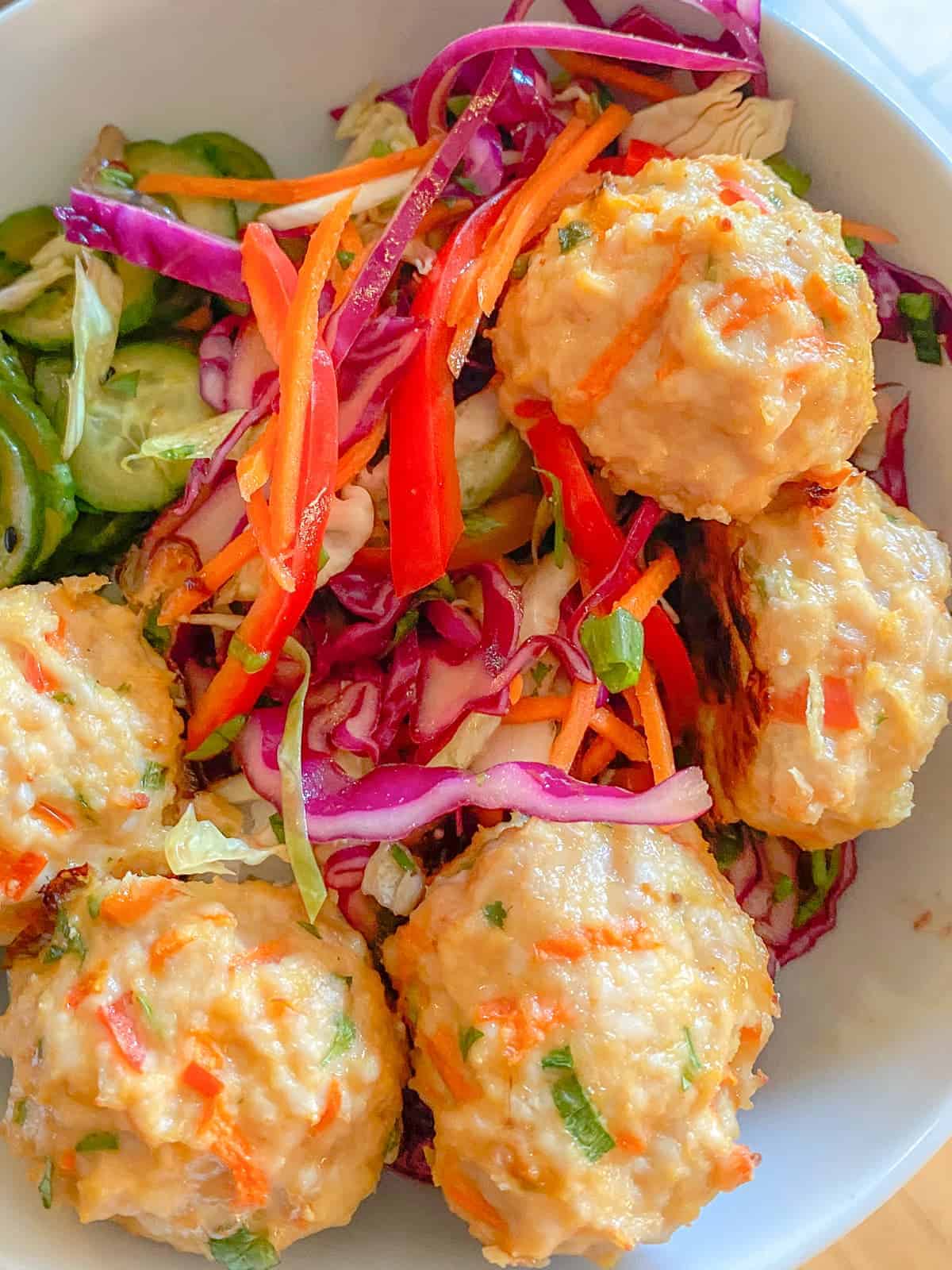 Meatballs are seriously the best chicken recipes, so I make them all the time. They're easy, they store well, and they pass my delicious cold and right out of the fridge test.
These meatballs just happen to be my absolute favorite chicken meatball recipe. Pair them with my Spicy Asian Cucumber Salad.
What you'll love about this recipe
Flavorful: The Asian inspired flavors in these ground chicken meatballs steal the show!
Convenient: These easy chicken meatballs pair well with a multitude of sides, but also make the perfect snack on their own.
Kid-approved: Kids love the umami-packed baked chicken meatballs. This is seriously the ultimate comfort food for weeknight meals.
Recipe Notes
These Thai chicken meatballs are one of my favorite meal prep recipes! They're flavorful and so easy to incorporate into your diet. Meatballs can be served in a ton of different ways or just eaten on their own.
I love to serve these with some rice noodles, garlic, ginger, and lime juice. Drizzle with sesame or olive oil and top with sesame seeds and green onions for a finishing touch.
Ingredient notes
Protein: You can totally swap out meatball ingredients! Ground chicken, turkey, or pork all work well in this recipe. Chicken and pork are my favorite. Sometimes I even mix them. Turkey meatballs made from lean ground turkey are also super nutritious and delicious.
Veggies: Green onions, cilantro, carrots.
Aromatics: Red onion, ginger, and garlic give these meatballs the flavors you're looking for. Add chili paste and fish sauce for an additional punch. If you don't like fish sauce, try coconut aminos instead.
Coconut flour: This recipe leaves bread crumbs by the wayside. Instead, opt for coconut flour as a healthy alternative.
Eggs: Eggs act as the binder in this recipe and add even more protein.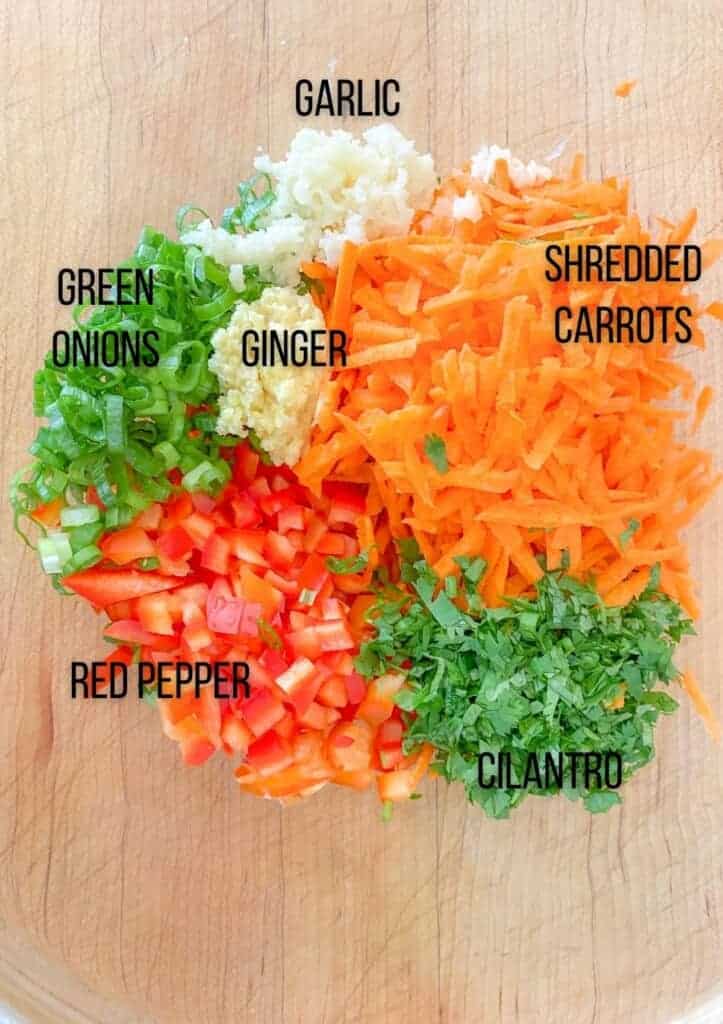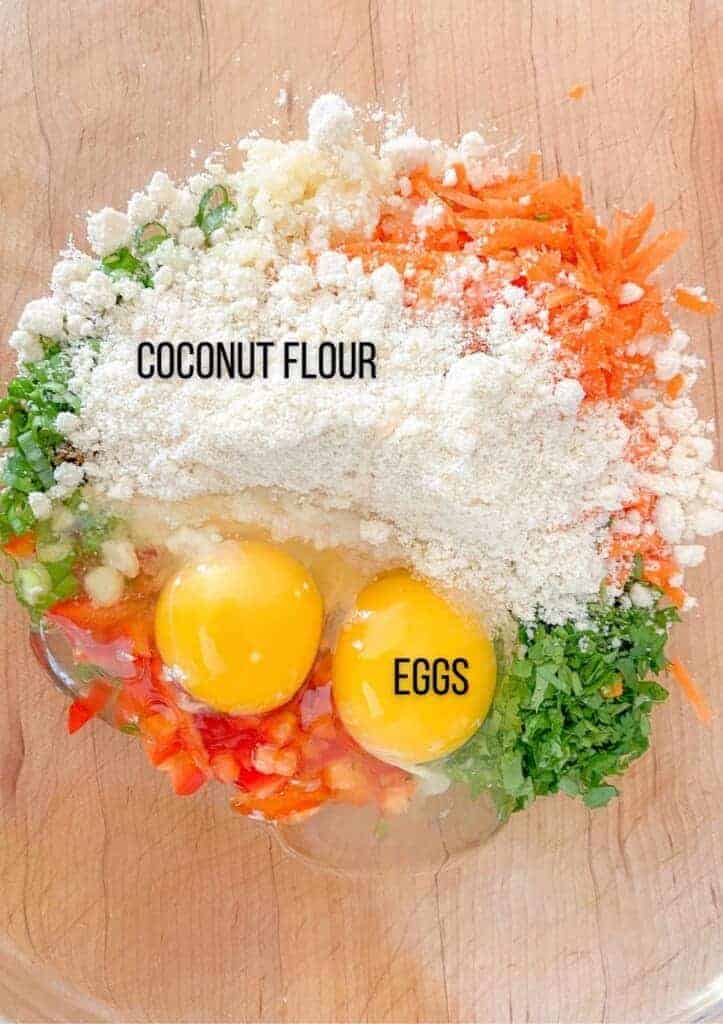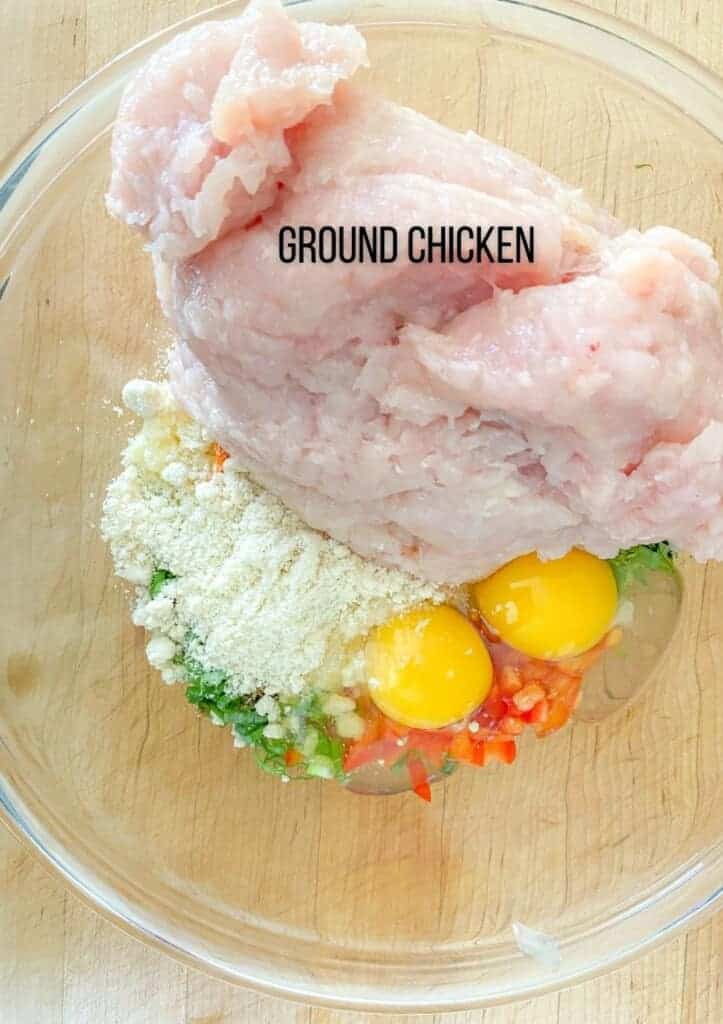 Mix It Up
Preheat your oven to 400 degrees.
Prepare a baking sheet: Line a baking sheet with parchment paper or foil.
Make the meatballs: Add your ground meat to a large bowl (you'll need about 2 lbs) and add all of the remaining ingredients to the meat and mix well. Use your hands to do this.
Portion them: Use a cookie scoop to portion out your meatballs. I use a medium scoop (2 tbsp/#30 cookie scoop) for the perfect size.
Bake: Place the meatballs on your prepared baking sheet and bake for 20 minutes.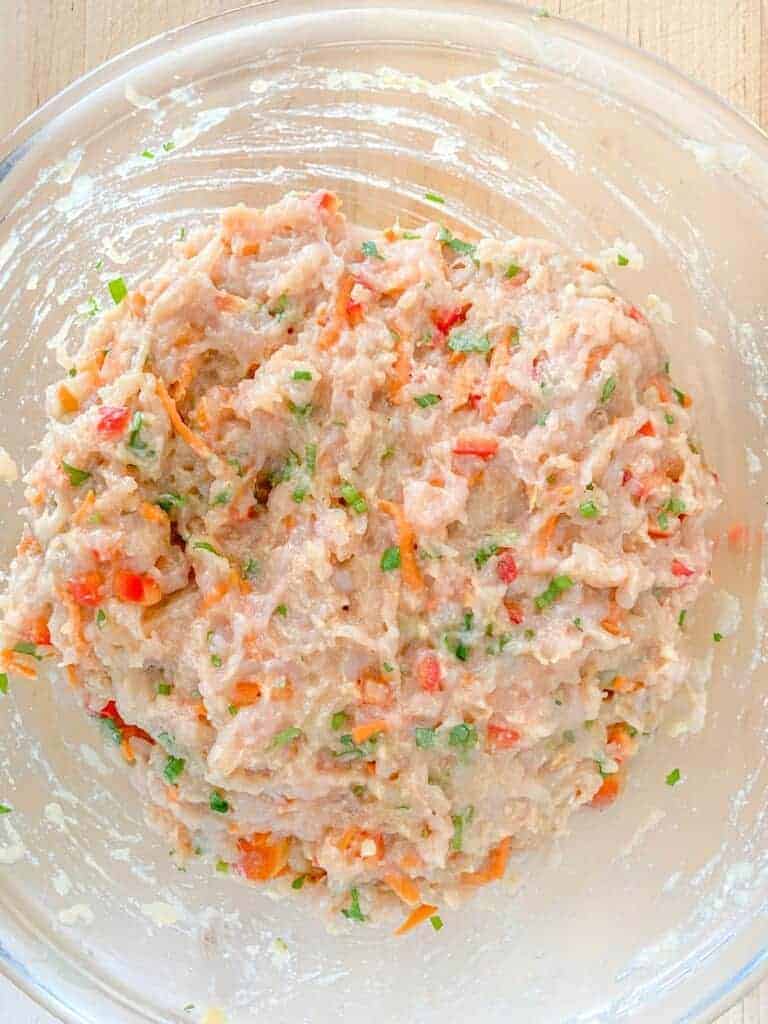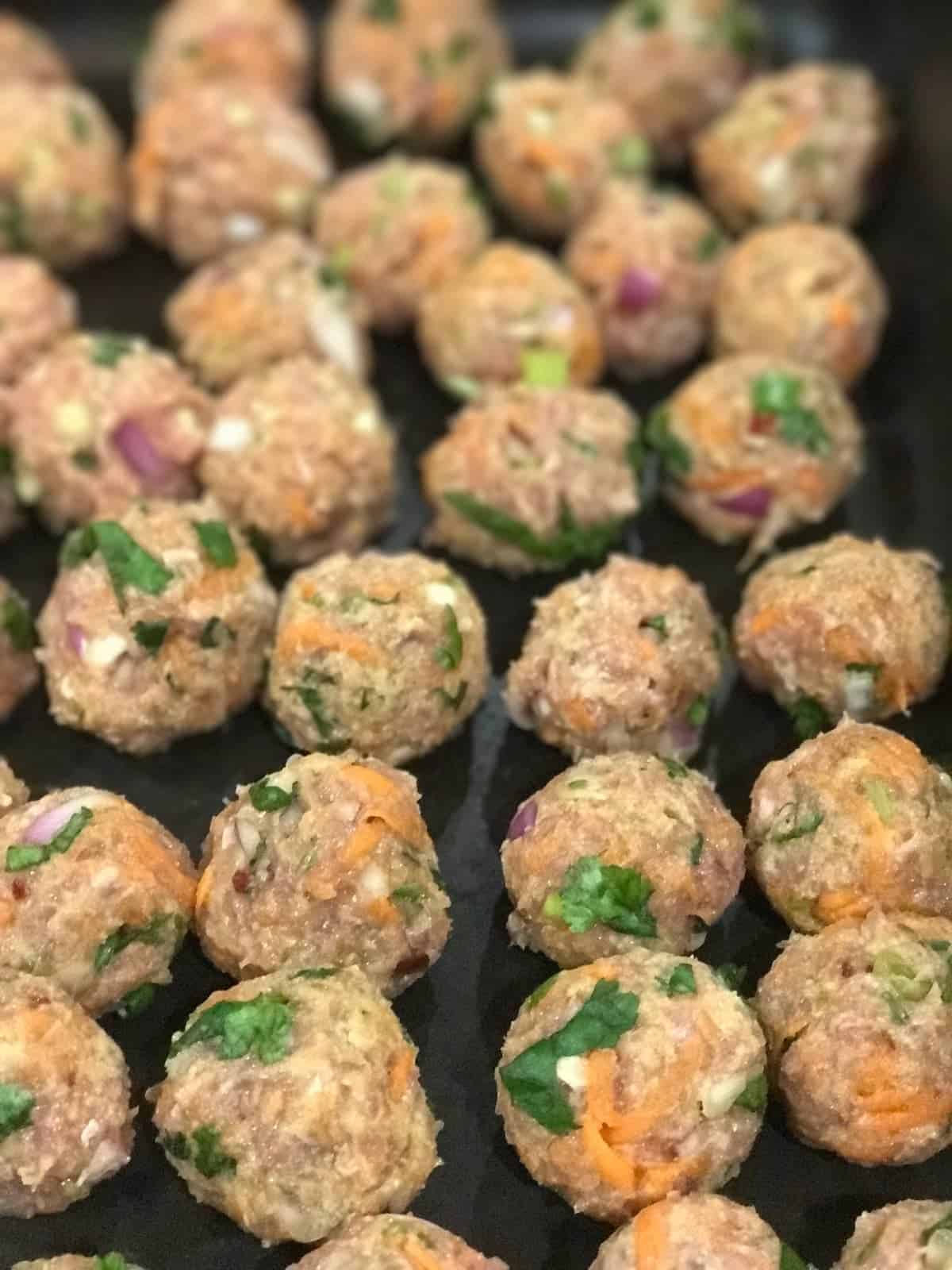 Instant Pot cooking instructions
I almost always bake these, but you can also make them in your Instant Pot. You will need to add about a cup of liquid to the Instant Pot. The Instant Pot uses the pressure of steam to cook, so it needs the extra liquid to create this steam.
Start by making your meatballs.
Add the meatballs to your Instant Pot one layer deep. If you have a trivet, you can stack another layer as needed.
Add one cup of chicken broth.
Set the Instant Pot to cook on Manual for 7 minutes.
Using an oven mitt, carefully release the steam. Full release will take about 5 minutes.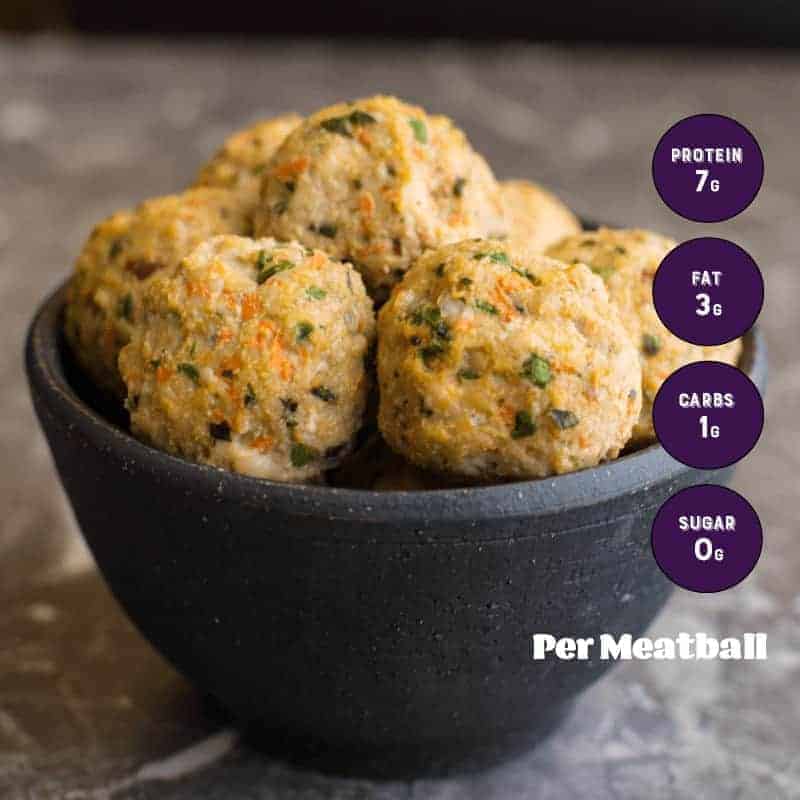 FAQs and helpful tips
Are these chicken meatballs gluten-free?
Yes! This recipe calls for coconut flour and eggs as a binder, so there's no gluten to be found here.
How do you steam meatballs in an Instant Pot?
To steam meatballs in and instant pot use a trivet and stack the meatballs in layers as needed. Add about 1 cup of broth or water to the instant pot. Set the cook time on Manual for 7 minutes. Let the steam release for 5 minutes.
How to keep meatballs from falling apart?
Use a binder such as bread crumbs and eggs to keep the meatballs together. Handle the meatballs gently. If you're following a ketogenic diet, you can use ground pork rinds or coconut flour as a substitute for traditional bread crumbs.
How to meal prep
Baking up meatballs is a great way to have easy portable protein on hand. The best part: these are delicious warm or cold! Nothing can stop you.
For me, the key to healthy meal prep is keeping things simple. Having yummy additions at the ready make the process enjoyable and rewarding. And remember: it doesn't have to be complicated!
I use glass containers with clip-on lids (affiliate link)for storing my proteins and veggies. I've found that these are the easiest to stack in the fridge and easiest to store when I'm not using them.
I like them to be rectangular or square. I feel like they take up less space if there are no corners wasted. Adulthood for me means having favorite freezer shapes, what can I say?
For packing, I use rectangular reusable containers (affiliate link) as well as round restaurant style containers (affiliate link). These are perfect for when I want to drop off dinner for a friend or family member. Some of the round containers fit nicely into car cupholders.
Recipe Variations
You might know that I'm completely obsessed with tacos. I often eat these meatballs on a tortilla or a low carb wrap with my Crunchy Asian Cucumber Salad.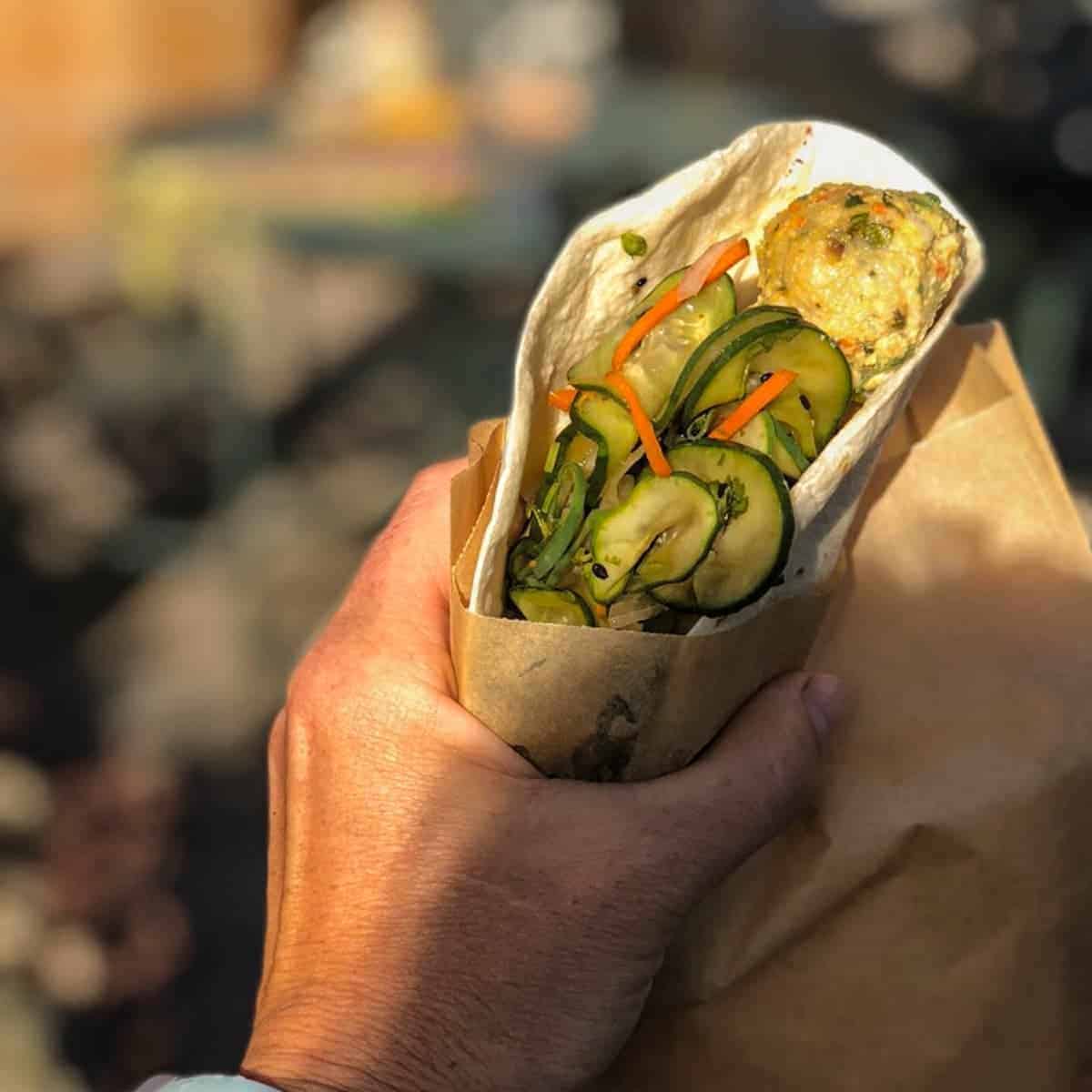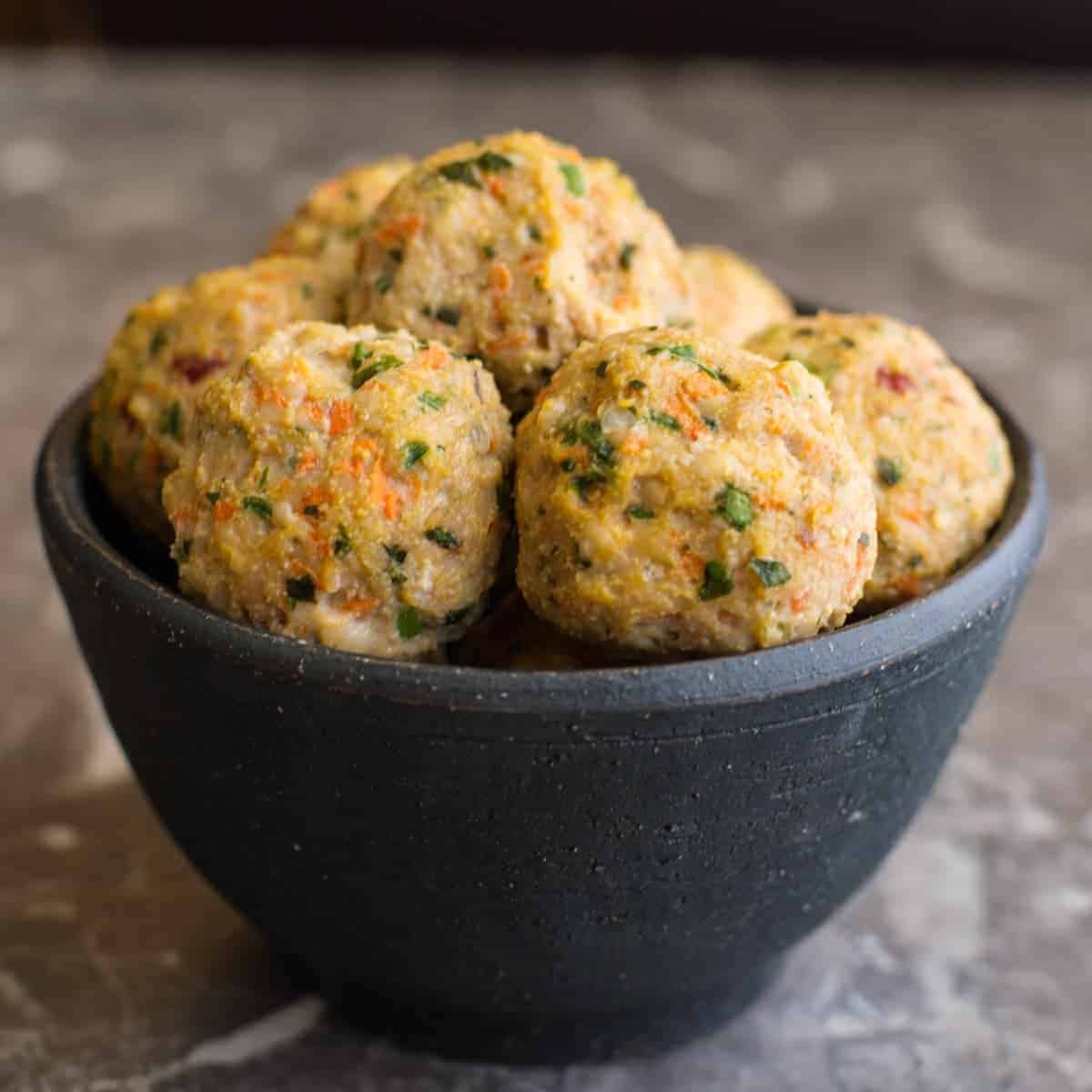 Easy Asian Chicken Meatballs
These are tasty, protein-packed, Asian-style meatballs that can be eaten alone or tossed on top of veggies for a quick and easy meal prep bowl.
Ingredients
Asain Chicken Meatballs
2

lb

ground chicken

¼

cup

green onions

,

chopped

½

bunch

fresh cilantro

,

chopped

¼

cup

red onion

,

finely diced

3

cloves

garlic

,

minced

4

tsp

ginger

,

minced

¾

cup

carrots

,

shredded

2

tsp

chili paste

2

tbsp

soy sauce,

or coconut aminos

1 ½

tbsp

fish sauce

1

tsp

crushed red pepper

2

eggs
Fixin's
lettuce

,

(I like curly lettuce here)

red cabbage

,

finely shredded

shredded carrots

fresh mint

fresh basil

fresh cilantro
Instructions
Meatballs
Add all of the ingredients in a large bowl. Mix well with hands.

Make meatballs, using a 2 tbsp size scoop.
Sauce
Mix all ingredients together.

Add a few tablespoons to your bowl.
Bowl Assembly
Fill a large bowl with your choice of fixings.

Add the right amount of meatballs for you. I like 3-4.

Add a few tablespoons of sauce.
Laura's Tips + Notes
Serving Suggestions:
On top of your favorite veggies
Tossed with shredded lettuce, cabbage, and carrots along with cucumbers
Vermicelli rice noodles are also super yummy
Instant Pot Cooking Instructions
Start by making your meatballs.
Add the meatballs to your instant pot one layer deep. If you have a trivet you can stack another layer as needed.
Add one cup of chicken broth.
Set the Instant pot to cook on Manual for 7 minutes.
Let the steam release for about 5 minutes.
YOUR OWN NOTES
Nutrition
Calories:
240
kcal
Carbohydrates:
10
g
Protein:
23
g
Fat:
11
g
Saturated Fat:
4
g
Cholesterol:
138
mg
Sodium:
935
mg
Fiber:
3
g
Sugar:
4
g
Calcium:
24
mg
Iron:
1.6
mg