These pecan keto snowball cookies taste just like the real thing. I tested a lot of keto and low carb Christmas cookies this year and most of them didn't make the cut. My original Pecan Finger Cookies are my favorite cookie, and I just couldn't live without them.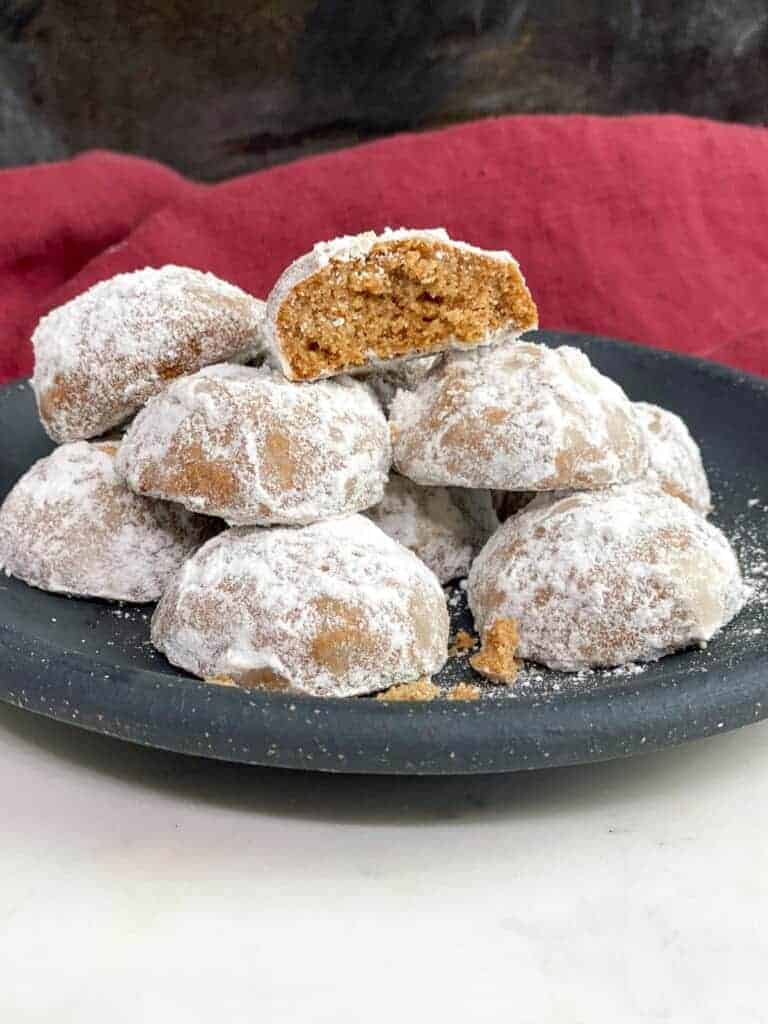 I never actually planned on creating low carb and keto recipes — especially keto Christmas cookies. But, it turns out that I've been struggling with both my weight and my blood sugar. So here we are.
I'm a firm believer that every body is different, and we all have to find what works for us. I've learned that lowering my carb intake and eating a mostly ketogenic diet helps me to control my weight and my blood sugar.
It's a reality that I've had to accept. But! I am not willing to compromise on being able to include the food that I love in my diet. I like living healthfully, but what is a good life without good food???
What You'll Love About Keto Snowball Cookies
These cookies taste just like the original. I'm not even kidding. I was SO happy with how these came out. I honestly believe that no one would ever know that these cookies are sugar-free.
Low carb and keto. These amazing Christmas cookies have only 1 net carb per cookie. The original version of my Pecan Finger Cookies has 7 grams of carbs per cookie.
Gluten-free. Almost all low carb and keto baked goods are naturally gluten-free. This is great news if you're gluten intolerant or just trying to avoid gluten.
Recipe Notes
When I started testing low carb keto Christmas cookies this holiday season, I wanted to make sure I nailed it. I can go without chocolate chips if I have to, but these are my favorite cookies, and I wanted them to be perfect.
I used my Grammy's recipe as a guide for these cookies and made them low carb and keto friendly.
If you have been looking for keto Christmas cookie recipes that totally taste like the real thing, then look no further.
Ingredients you'll need to make keto snowball cookies:
Almond flour

(affiliate link)

and coconut flour

(affiliate link)

. Because these cookies are made in the food processor, the flours are processed to a finer consistency, which gives these cookies their amazing texture. (I use Anthony's brand.)
Xanthan gum

(affiliate link)

. Xanthan gum is used in keto baking to step in for the lack of gluten. Xanthan gum adds elasticity and tenderness to baked goods, which is usually gluten's job.
Erythritol

(affiliate link)

. I used Swerve brown sugar

(affiliate link)

and powdered sugar

(affiliate link)

in this recipe. You can also use powdered monk fruit sugar.
Butter. Use softened butter. I usually let the butter soften for about 30 minutes; it doesn't need to be super soft.
Pecans. You can add the pecans into the food processor and blend them up along with everything else. They will be extra fine. Alternatively, if you want the nuts to be chunkier, you can add them to the dough at the end.
Step-by-Step Instructions
Step 1 — Chop the pecans.
Add the pecans to the food processor and chop. You can either set them aside to be added back later OR leave them in the bowl. It just depends on how fine you would like them.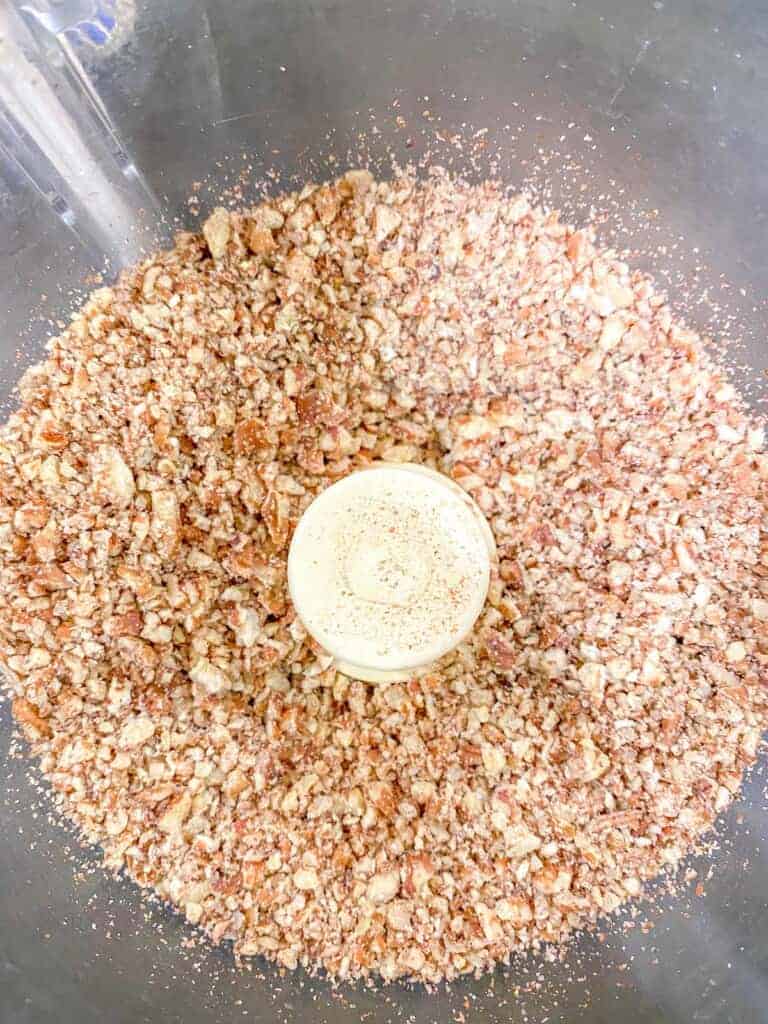 Step 2 — Process the flours.
Add the almond flour, coconut flour, salt, and xanthan gum to your food processor, fitted with a blade attachment. Process or pulse for about 30 to 40 seconds.
I find that processing the flours in the food processor yields a finer textured cookie.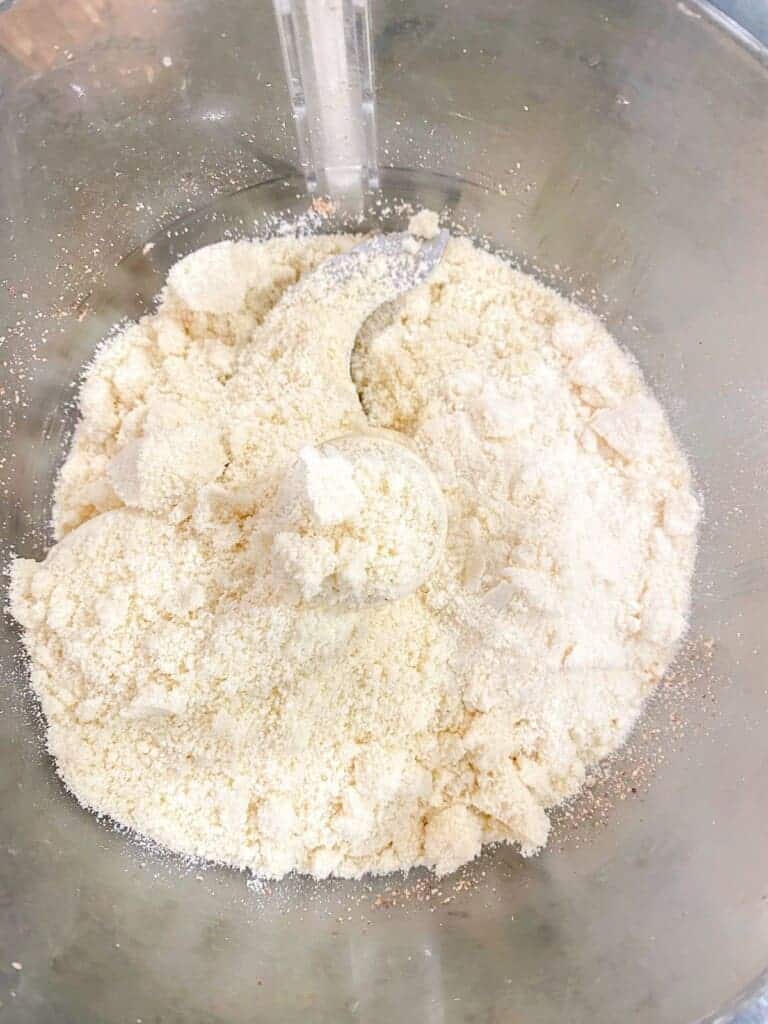 Step 3 — Add the sugar and the butter.
Add the butter, a teaspoon of vanilla extract, and the sugar to the food processor bowl. Pulse the mixture until the butter is fully incorporated.
You can add the pecans now if you haven't already.
After the dough is mixed thoroughly, chill for a few hours before baking.
Step 4 — Scoop.
I use a small cookie scoop for these cookies. A #60 cookie scoop is about 2 teaspoons of dough.
Line baking sheets with parchment paper for super easy cleanup.
You should end up with about 48 cookies. You can gently roll these keto pecan cookies into balls or into small log shapes. They will get slightly larger as they bake, but they won't spread out too much on the baking sheet.
Step 5 — Bake.
Preheat the oven to 275℉.
These bake at a really low temperature for about 40 to 50 minutes. I know it seems like a long time, but trust me, these bake low and slow. They will be a nice golden brown color.
The cookies will feel soft when you first take them out. Make sure they cool before the next step. They don't have to cool completely, but they should be cool enough to handle without breaking apart.
Step 6 — Roll in powdered ethyritol or powdered monk fruit sugar.
Add about 1 cup of the powdered ethyritol to a bowl.
Drop each cookie into the bowl of sugar and then toss gently until the cookie is coated completely in powedered sugar.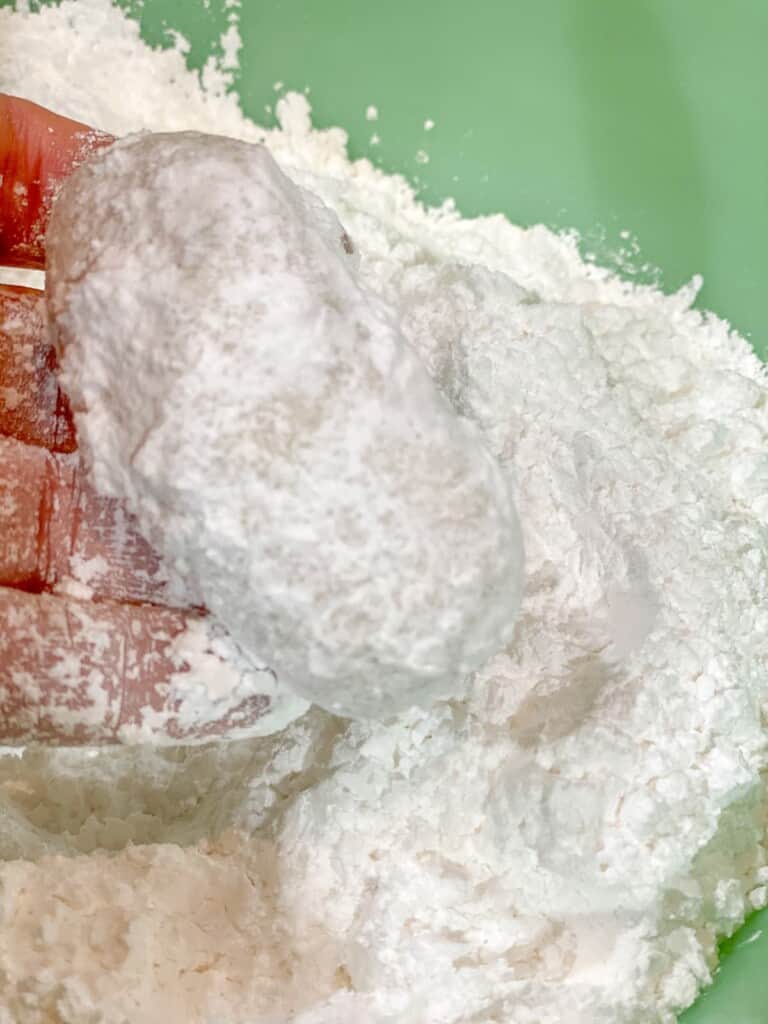 FAQs and Expert Tips
Can I use almond flour on keto?
Yes, almond flour is low carb and high in protein.
How do you keep almond flour from crumbling in cookies?
Xanthan gum helps to add flexibility and binding to baked goods that don't contain any gluten.
Can you eat sugar free cookies on a ketogenic diet?
Yes, you can eat sugar free cookies on keto if they are made with almond or coconut flour. Traditional wheat flour is high in carbs and should be avoided on a ketogenic diet.
Other Keto Recipes That You'll Love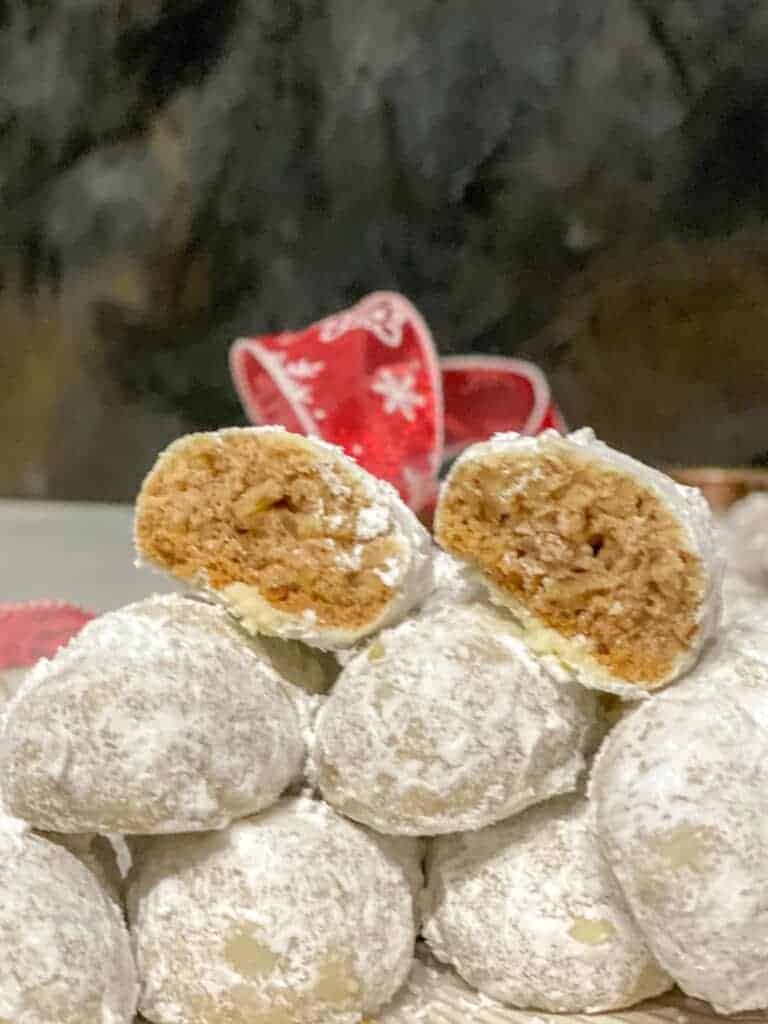 ➽ Did you make this recipe? I love to see what's going on in your kitchen. Show me what you're cooking. 🍳 Tag me @foodologygeek on your favorite social channel! Facebook, Instagram & Pinterest. If you loved ❤︎ this recipe, please leave a five ★ review and a comment!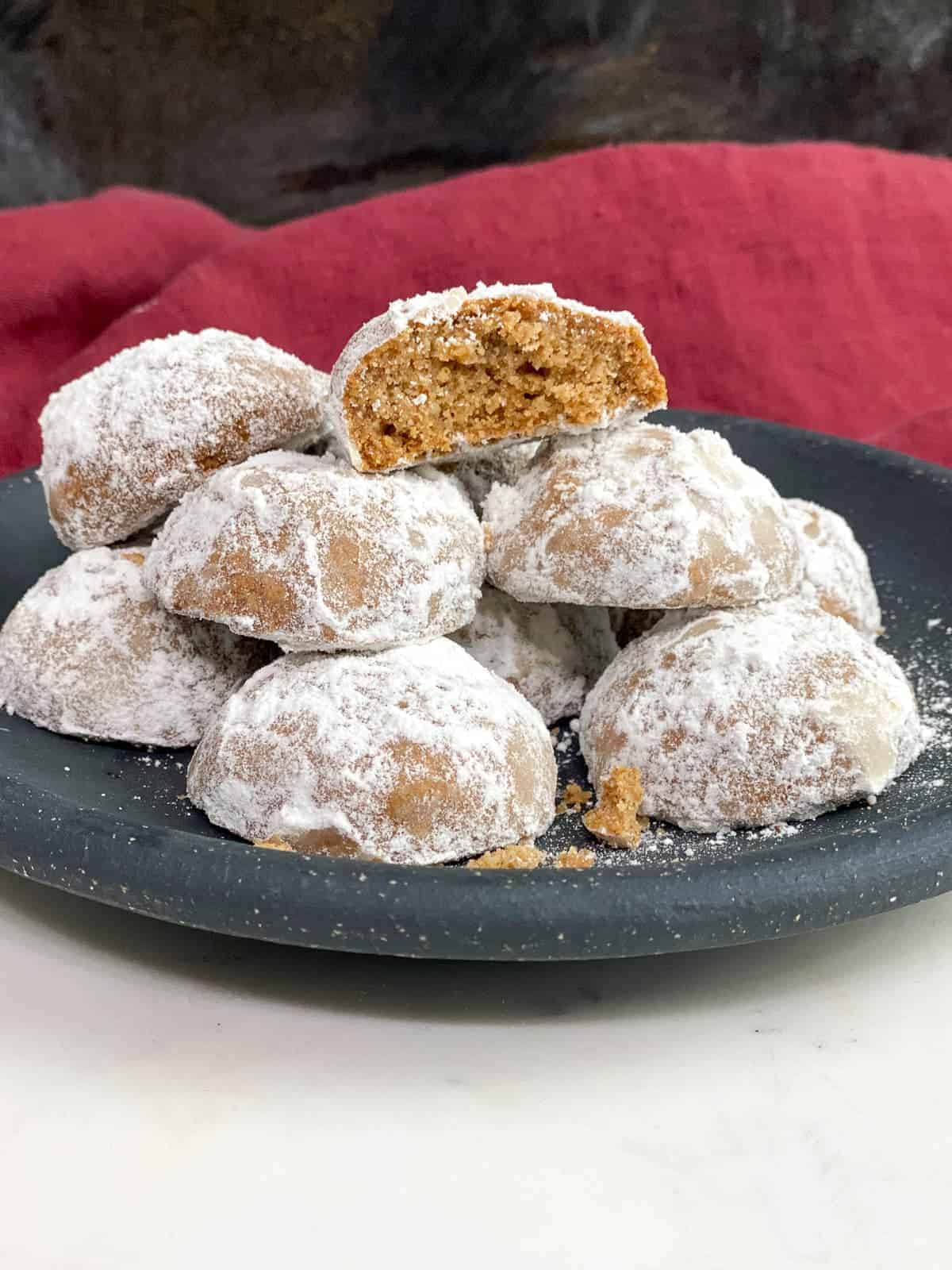 Keto Pecan Snowball Cookies
Snowball cookies are made with pecans or almonds. They are also called Mexican wedding cookies or Russian tea cookies. This cookie is a pecan shortbread cookie that is rolled in powdered sugar. This low carb keto cookie is just as good as the orignal version.
Instructions
Add the nuts to the food processor. Process them until they are finely chopped. You can either take them out and set them aside OR just leave them in. If you want the nuts to be chunkier, set them aside to be added back later.

Add the almond flour, the coconut flour, the salt, and the xanthan gum to the food processor. Process for 30 to 40 seconds until the mixture resembles a fine flour.

Add the sugars, the butter, and the vanilla to the food processor. Process until the butter is incorporated.

If you didn't leave the pecans in the food processor from step 1, add them now. Pulse to incorperate.

Cover the dough or wrap it in plastic. Set in the fridge for a few hours.

Preheat the oven to 250℉.

Use a 1 tablespoon cookie scoop. Shape the dough into the desired shape — fingers, crescents, or balls. Place on a parchment-lined or (ungreased) cookie sheet.

Bake for 40-50 minutes, until lightly golden brown. Oven temperatures vary so watch them closely.

Set on the counter to cool. These cookies will be very soft and crumbly but will crisp up as they cool.

When they are mostly cool and can be handled without coming apart, roll warm cookies in extra powdered sugar.
YOUR OWN NOTES
Nutrition
Serving:
1
cookie
Calories:
103
kcal
Carbohydrates:
2
g
Protein:
2
g
Fat:
10
g
Saturated Fat:
3
g
Cholesterol:
10
mg
Sodium:
52
mg
Fiber:
1
g
Sugar:
1
g
Calcium:
15
mg
Iron:
1
mg