Serve a batch of this Green Chili for dinner and then use the leftovers for this ultra-healthy meal prep bowl. This recipe is easy to adapt for your slow cooker OR your Instant pot.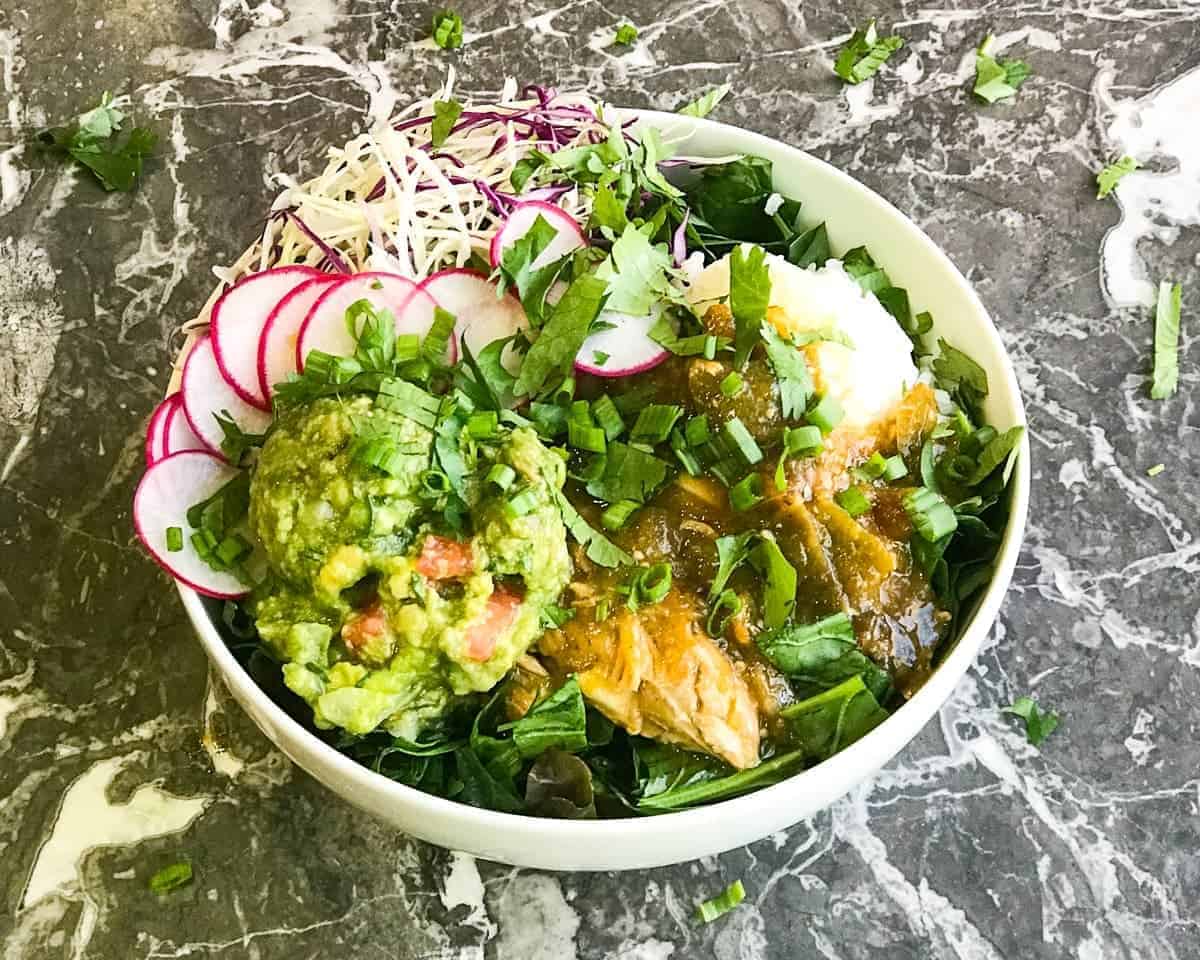 Start With The Hatch Green Chili Recipe
Chicken Chili Verde served over a big bowl of healthy veggies. Homemade guacamole and a small serving of rice round out the macros in this fantastic Beast Bowl.[/caption]
This meal prep recipe starts with an easy Green Chili Stew recipe made with chicken.
You can also make this with pork. My Chili Verde Pork recipe is here.
The green chili chicken recipe is a bit lower in fat and still tastes amazing.
It's the perfect addition to our line-up of meal prep bowls.
Step 1: Make the Green Chili Chicken Recipe
For this meal prep bowl, we are using Chile Verde with Chicken.
After you make a batch of protein you can use this all week to meal prep.
All of my meal prep bowls are designed to allow you to get an allocated amount of protein, that fits your needs, in each tasty bowl.
Step 2: Make any 'extras'
For these meal prep bowls, I make two extra recipes that add flavor and texture.
I always make my Simple Guacamole Recipe.
And I usually make my Spicy Mexican Slaw.
You can find all of my meal prep recipes in my recently published cookbook, Beast Bowl Nutrition.
I am working on getting all of the recipes published on the blog as well.
Step 3: Build Your Bowl
Each one of our meal prep bowls is built on a bed of tasty greens and colorful vegetables.
The important thing here is that you are getting two to four handfuls of vegetables in each bowl.
It doesn't really matter what you pick. We make suggestions in our recipes as to what bowl basics we think will go the best, but feel free to use what you have.
Most importantly use what you LIKE.
The concept of building a meal prep bowl is simple.
Think of it as being made up of a few basic component parts:
Greens/Veggies (what we sometimes call 'fixins')
Healthy Carbs
Protein
'Extras' (a slaw, salsa or dressing).
Step 1 - Start with your Greens
Here we have spinach and red leaf lettuce.
While this doesn't represent many calories, these micro-nutrients count! Pick a few of your favorite greens and add a few large handfuls.
You can also use spiralized squash noodles in the bowl.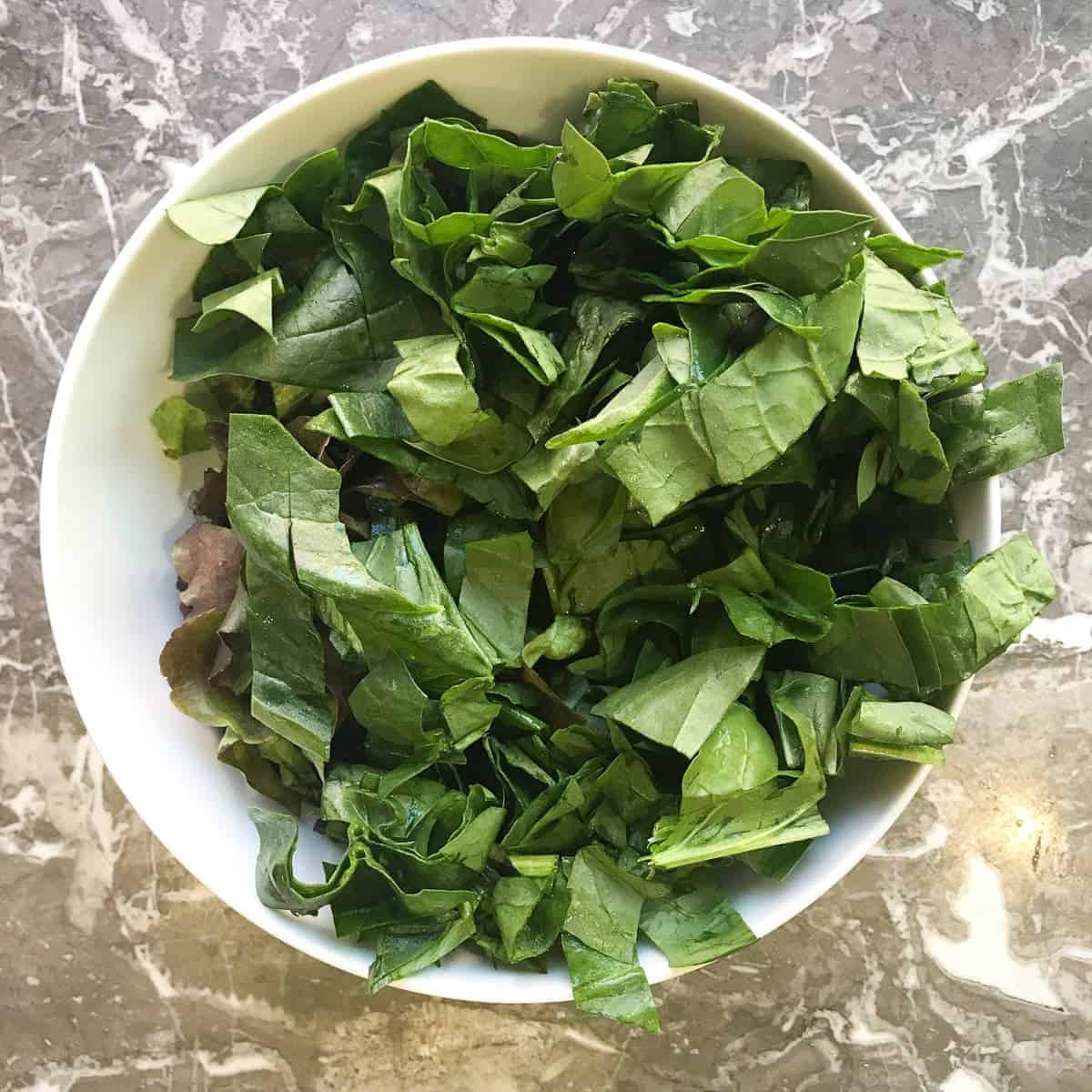 Step 2 - Add Some Healthy Carbs
Healthy carbs can be quinoa, rice, or potatoes.
White rice is an easily digestible carbohydrate and goes great with this green chicken chili recipe.
If you workout like we do you definitely need some carbs in your life. Make sure you're fueling your muscles with the right amount of carbs. Everybody's needs are different.
Expert nutritionists say that 120 g of carbs a day is a baseline to keep hormones balanced and your metabolism running the way that it should.
Feel free to adapt the carb serving. Or leave it out altogether. Every meal prep bowl is completely customizable.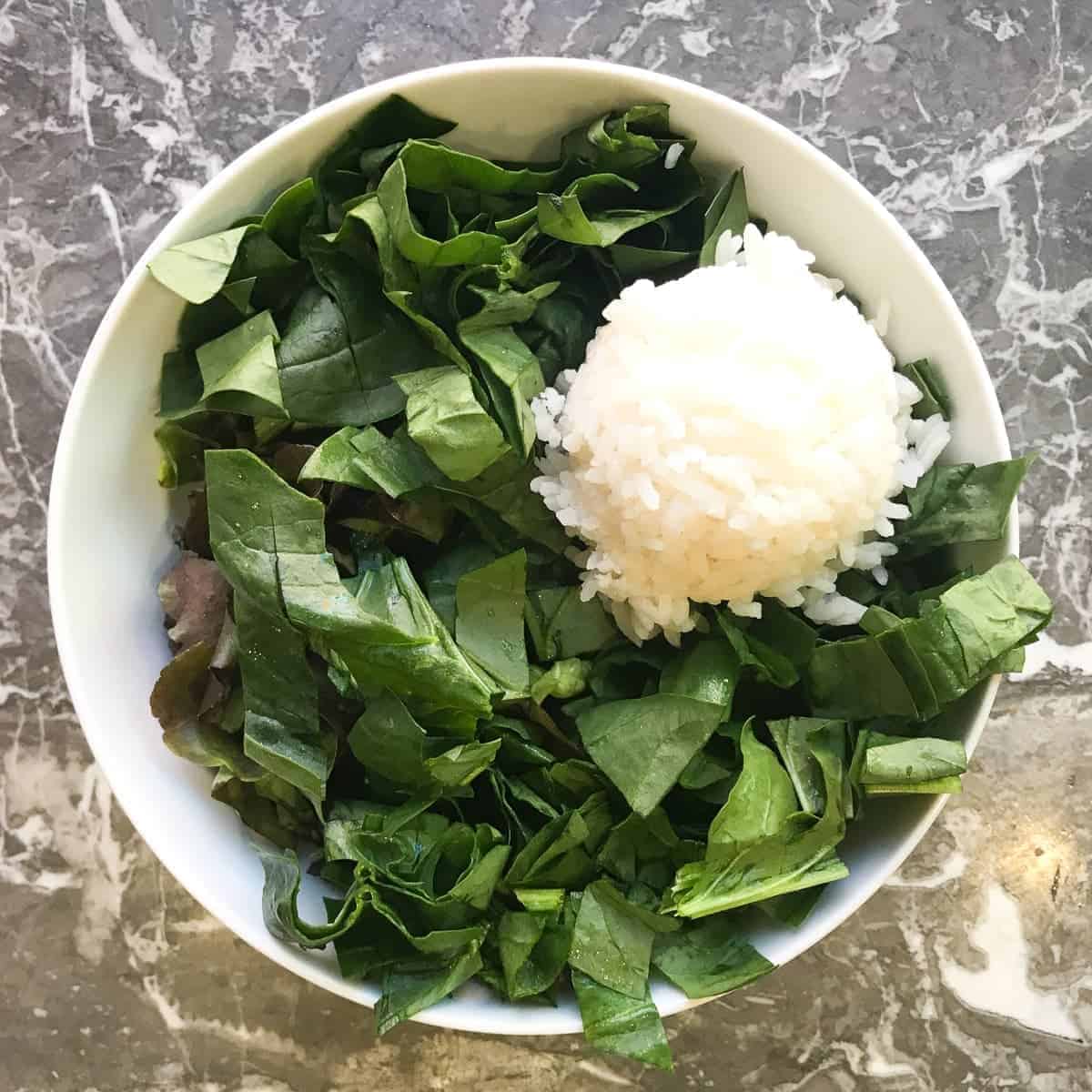 Step 3 - Add Your Protein
Four to eight ounces of protein is a typical serving.
You can also add more colorful veggies here if you'd like. We added some shredded cabbage. When I have it in the fridge I like to add my Mexican Slaw.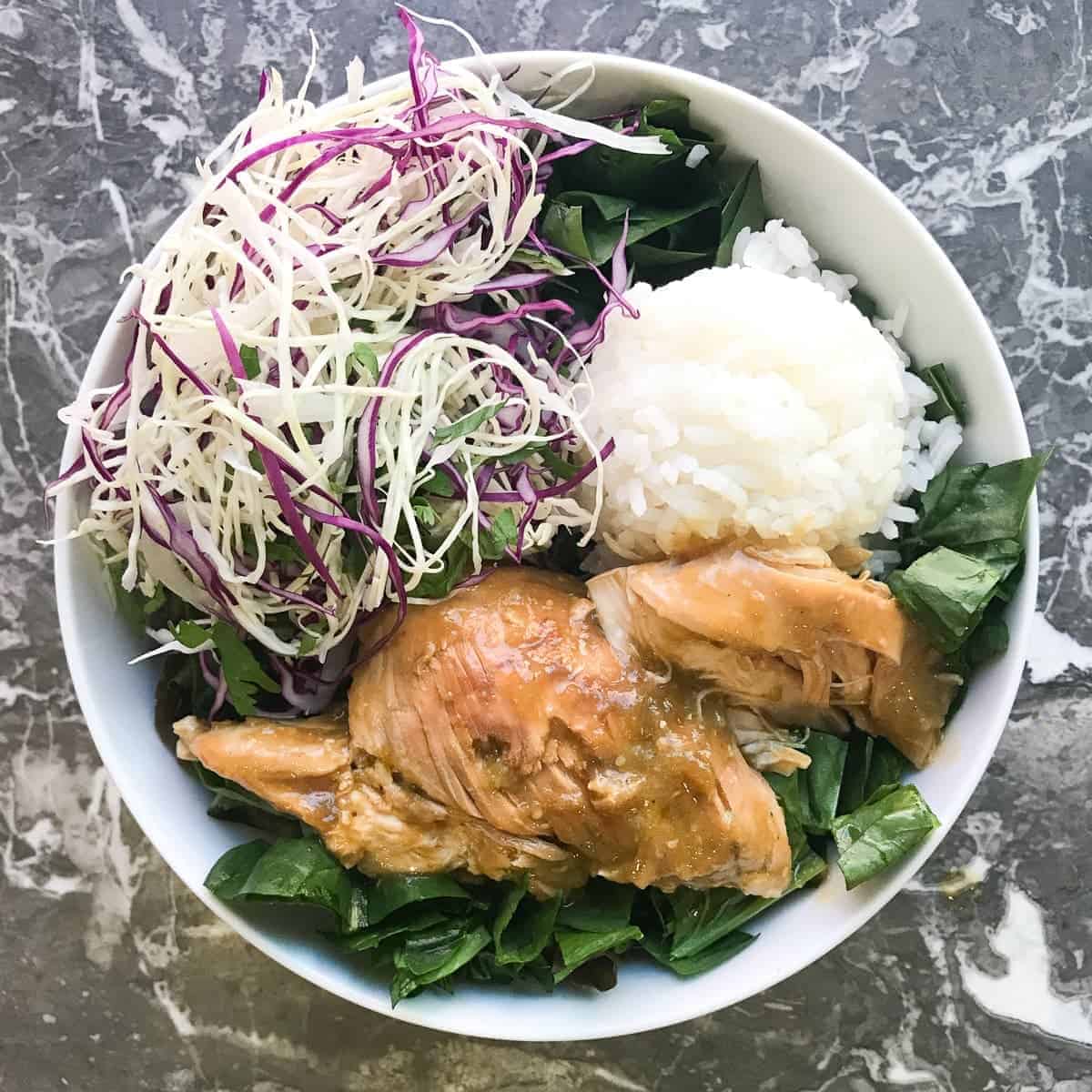 Step 4 - Add Some 'Extras'
Most of our meal prep bowls have one 'extra' and a sauce or dressing. Here we have some guacamole. And of course, the sauce from the hatch chili chicken.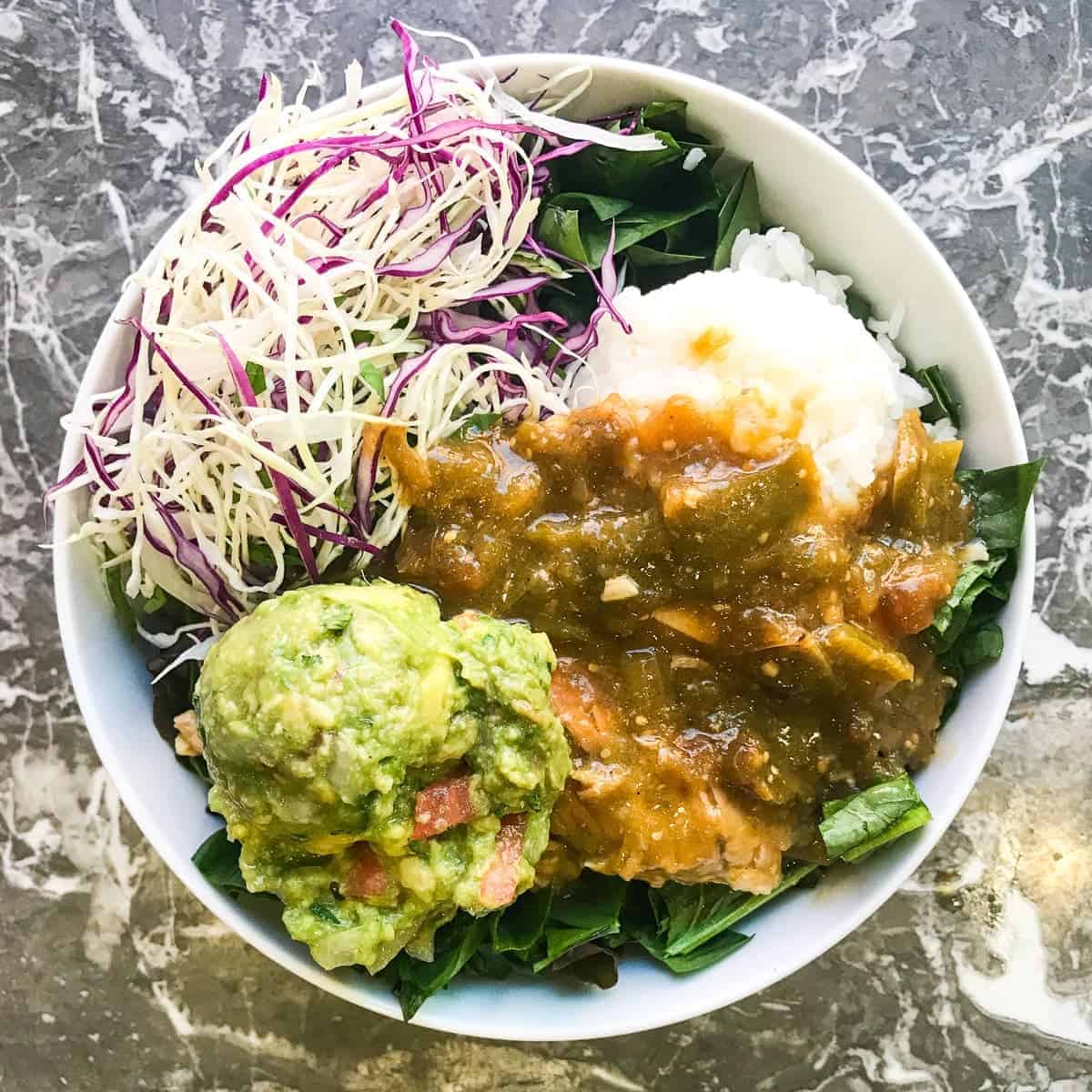 #5 - Add some Fresh Herbs if you have them
Cilantro and green onions are a great pairing for this recipe. I also like to top this meal prep bowl off with some freshly sliced radishes.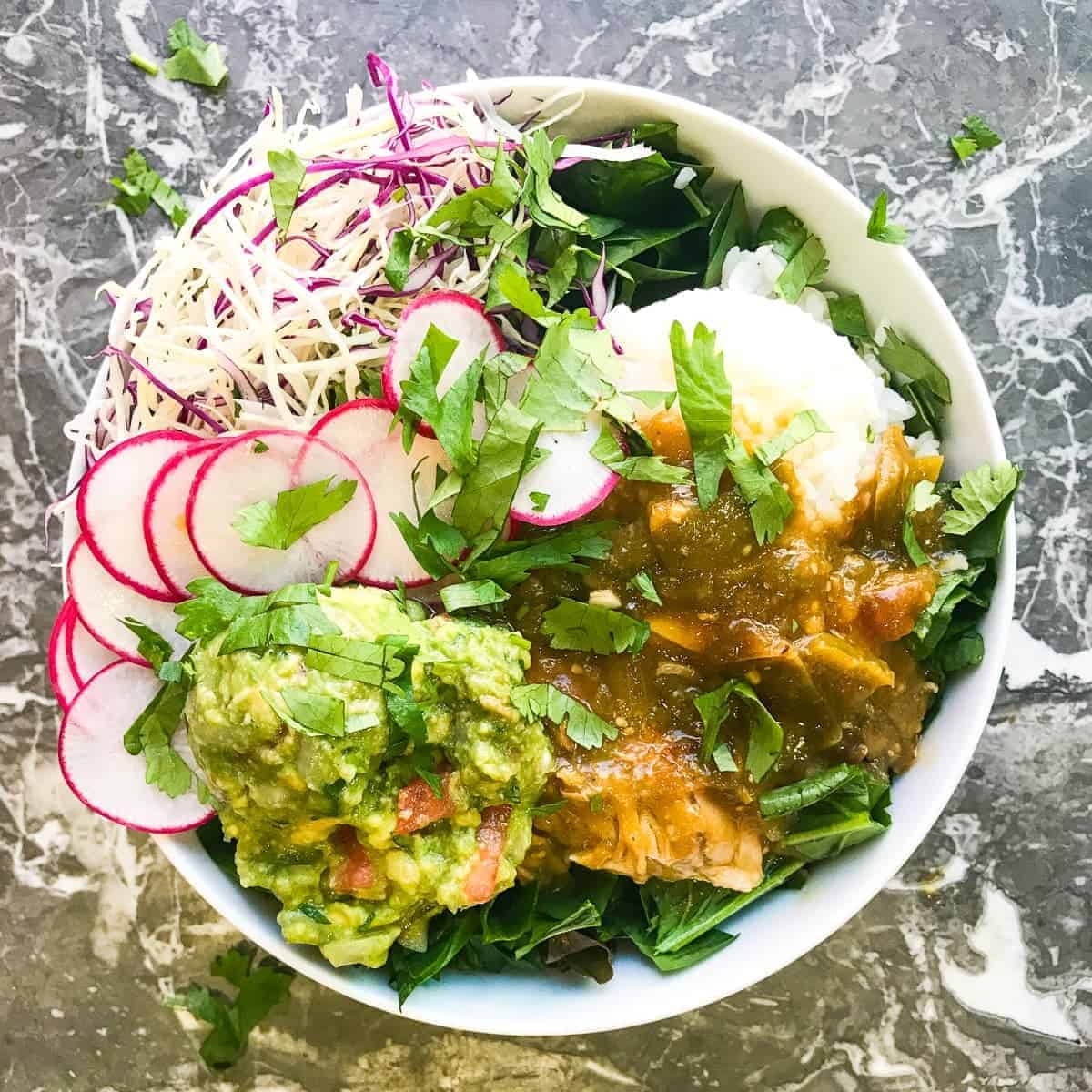 The Result - one impressive bowl of Macro-Friendly Deliciousness!
Eating right by fueling your body with wholesome real food doesn't have to be boring. Head over and check out all of our Beast Bowls for more ideas!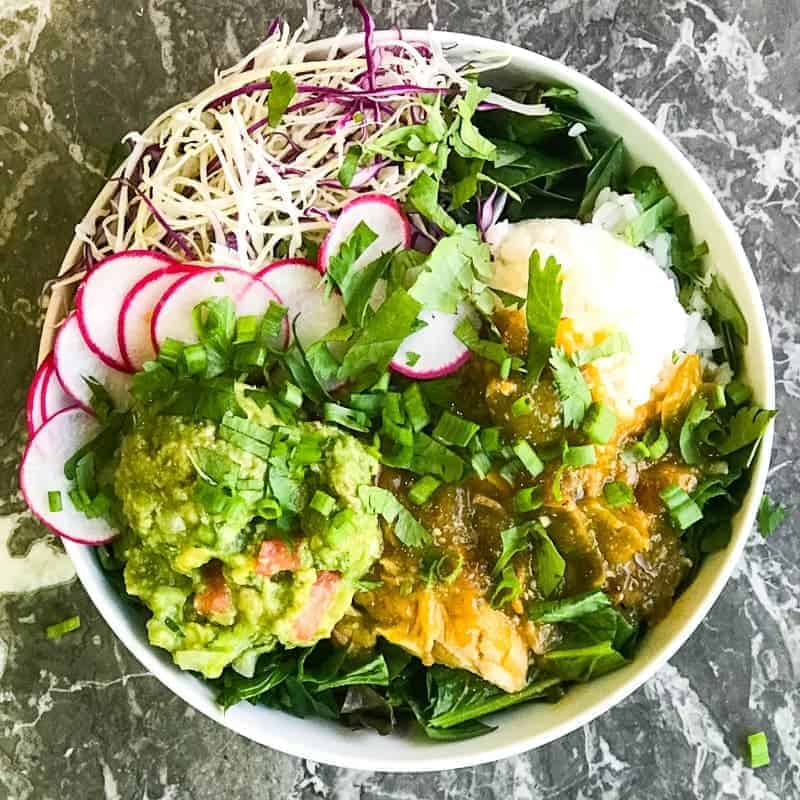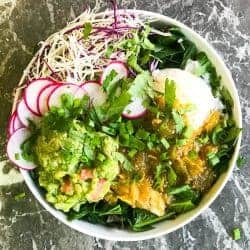 Green Chili Beast Bowl
So much flavor! Rich and spicy green chili sauce. Can be made with chicken or pork.
Ingredients
Chicken Chile Verde
1

tbsp

coconut oil

5

cloves

garlic

½

onion

diced

3

Anaheim Chilis

diced

3

cans

hatch chilis

diced

2

lbs

tomatillos*

chopped and pureed (see note for quick substitution)

6

chicken breasts

bone in

2

cups

chicken broth

use up to 4 cups to cover

salt to taste

cilantro
Instructions
Add oil, garlic, onions and Anaheim chilis to a heavy bottomed pot. Sauté until tender and fragrant.

Add remaining ingredients.

Make sure that there is enough liquid to cover the meat.

Bring everything to a boil, then reduce to a simmer.

Cover and simmer 30 to 40 minutes. Make sure that the liquid doesn't get too low.

When the chicken is tender remove from heat and let cool slightly.

Pull chicken out of sauce and remove the bones.

Chop chicken and return to pot.
Notes
Make it quicker: 1) Use a 15 ounce can of green enchilada sauce in place of tomatillos. 2) Use boneless chicken, diced and added to the sauce. Reduce simmer time to 20 minutes.
Bone in chicken has more flavor in my opinion, but you can easily leave it out and use boneless.
Nutrition
Calories:
187
kcal
Carbohydrates:
15
g
Protein:
20
g
Fat:
5
g
Saturated Fat:
2
g
Cholesterol:
54
mg
Sodium:
400
mg
Fiber:
4
g
Sugar:
9
g
Calcium:
68
mg
Iron:
2.7
mg