The EASIEST Roasted Red Pepper Dip – Only 4 Ingredients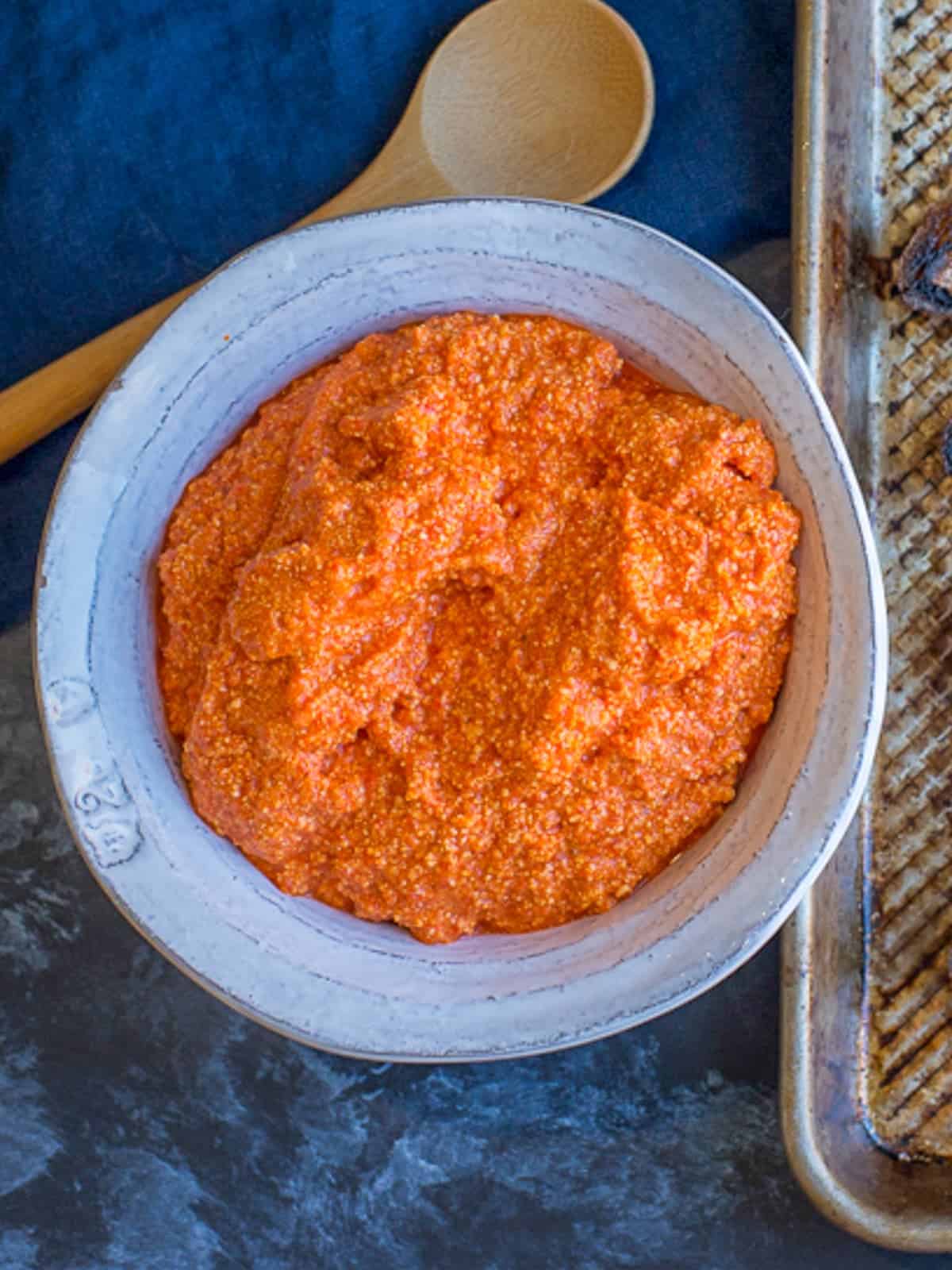 Recipe
Comments
Save
Go to Collections
This post may contain affiliate links. Please read my
disclosure policy.
Get ready for the quickest, easiest, most insanely mouthwateringly gourmet spread you've ever made. It has only… four… ingredients. This is a super easy appetizer recipe that's delicious with crostini or served with veggies. It takes 5 minutes to make, and it is PACKED with flavor.
Easy appetizer recipes are a total godsend, especially during the holidays. Everyone is hungry for crunchy, munchy snacks, like, yesterday. I love this dip for those moments when I really don't feel like working very hard but I still want to be ready to serve something fancy.
Hummus and Tzatziki are two other dips that I make all the time. Both of these recipes are absolutely delicious! But when I need something super fast, this recipe is my go-to. Any of these recipes are awesome alternatives to dips made with sour cream.
This dip is made with a few simple ingredients that you probably have in the pantry right now. Don't have almonds? Swap them out or just leave them out altogether.
What You'll Love About This Recipe
Easy. I am not even playing here, you guys, this is EZ. Open one jar, dump a few things in a food processor, and get ready to chow down.
Fast. I timed myself just for fun one time, and I had this easy roasted red pepper dip mixed and ready for snacking in under a minute. The hardest step might seriously be opening a stubborn jar of roasted red peppers. (Pro Tip: Whack the jar upside down on a cutting board, or put a rubber band around the lid.)
Healthy. This is chock full of healthy fats from the nuts and nutritious feta cheese, and roasted red bell peppers are full of Vitamin C.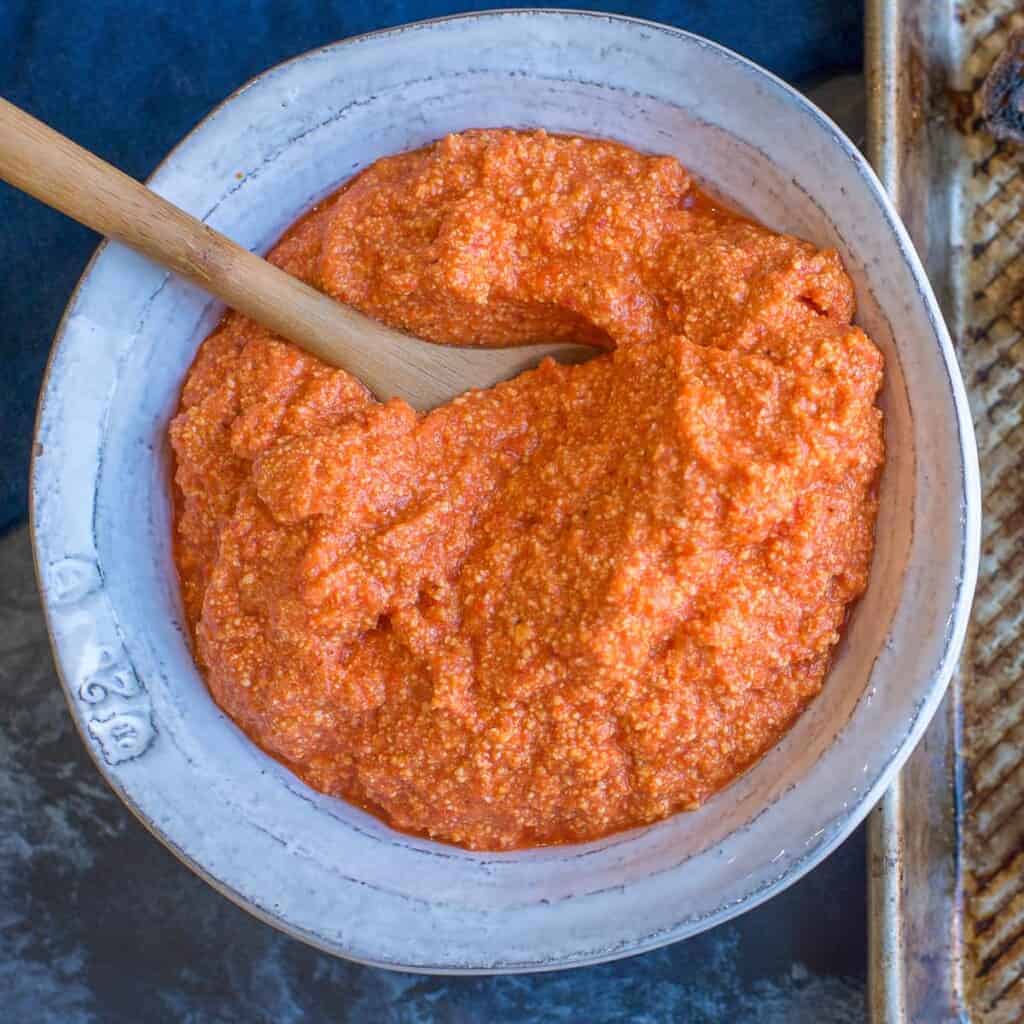 Recipe Notes
This recipe is easy and delicious. It's perfect served with crostini, pita chips, crackers, or veggies.
I also love this spread on a sandwich or on roasted veggies with a squeeze of lemon juice, salt, and pepper. For a truly epic bagel, spread a thick layer of this spread on top of cream cheese.
This dip can also be used as a spread for chicken and grilled fish. If you're grilling, put the sauce on at the last minute. If you are baking, you can cover your meat with a thick layer of this sauce and bake as usual.
Alternatively, serve this Mediterranean-flavored dip with lamb and serve with pita bread. Pair with hummus and olives for a delicious and nutritious meal.
Ingredients
Roasted red peppers, drained
Feta cheese
Almonds
Olive oil
Variations
Cannellini beans. If you don't have feta cheese in the fridge you can use a can of drained cannellini beans. This will give it a slightly more hummus-y flavor, which still goes super well with roasted red bell peppers.
Nuts. The almonds can honestly be left out altogether, or you can substitute walnuts or pine nuts. Pine nuts will give it more of a pesto texture, whereas almonds and walnuts will be super nutty and have a more substantial mouth feel.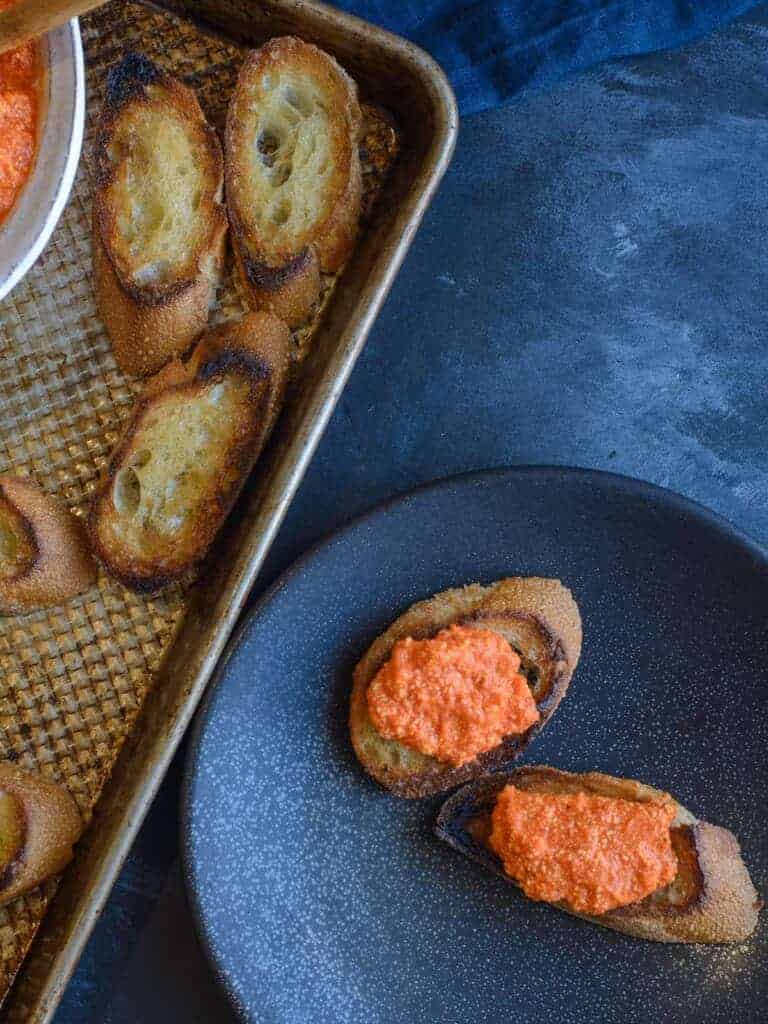 Step-by-Step Instructions
Step 1 – Add the ingredients to a food processor.
Drain the red peppers and add them to the bowl of the food processor. Add the cheese and the nuts.
Step 2 – Blend.
Turn on the food processor and then slowly drizzle in the olive oil. Process until the red pepper dip is nice and smooth.
Step 3 – Serve.
You can serve with red pepper spread with crostini, or with my Keto Crackers. If you toast the crostini in a preheated oven, everything will be ready to serve at the same time. This dip makes a bomb bruschetta for those months when tomatoes are out of season!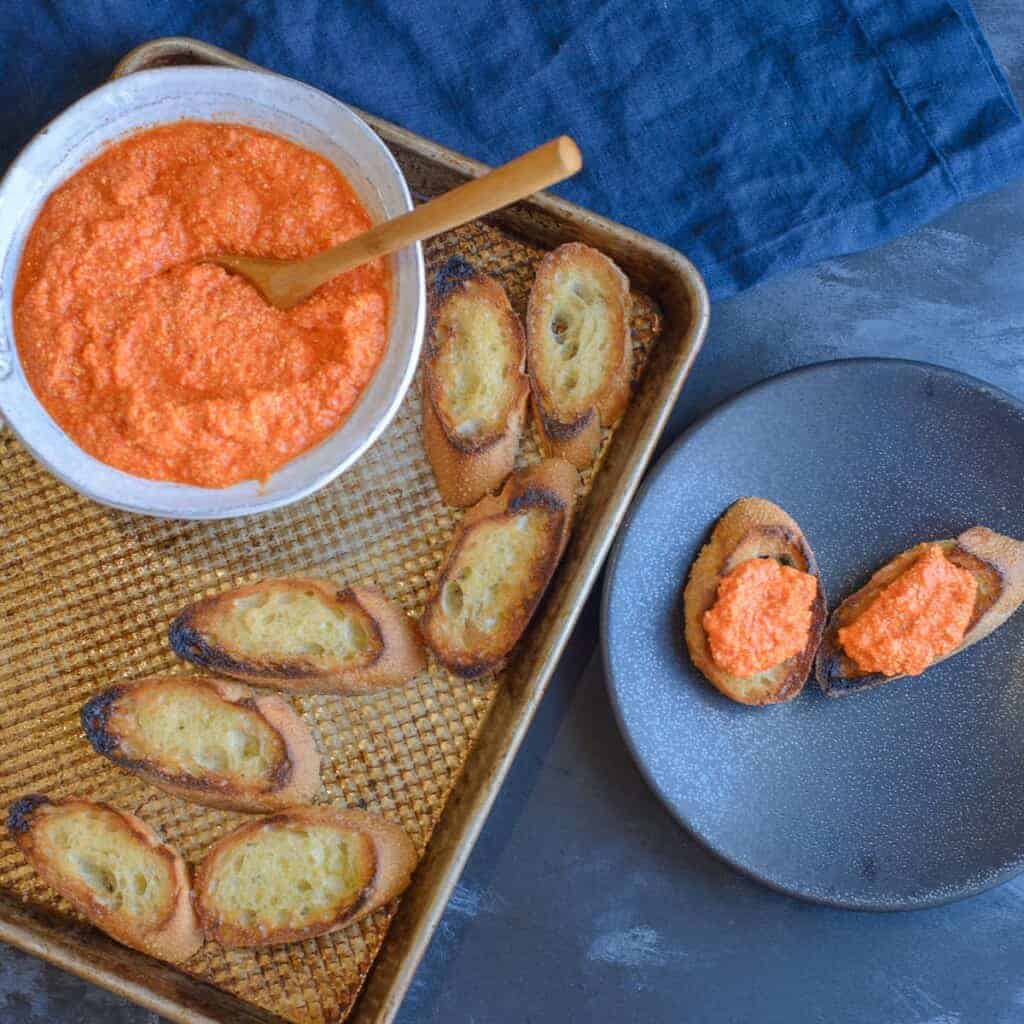 FAQs and Expert Tips
What do you do with red pepper spread?
Red pepper spread is delicious on toasted bread or on crackers. I also love using roasted red pepper spread on sandwiches instead of mayonnaise. Use it on a grilled pannini or on roasted vegetables.
What do roasted red peppers taste like?
Homemade roasted red peppers are sweet and slightly charred. They add a smoky sweet flavor to all sorts of recipes.
Jarred roasted red peppers are also extremely tasty. They have a distinctive briny kick to them, a bit like olives.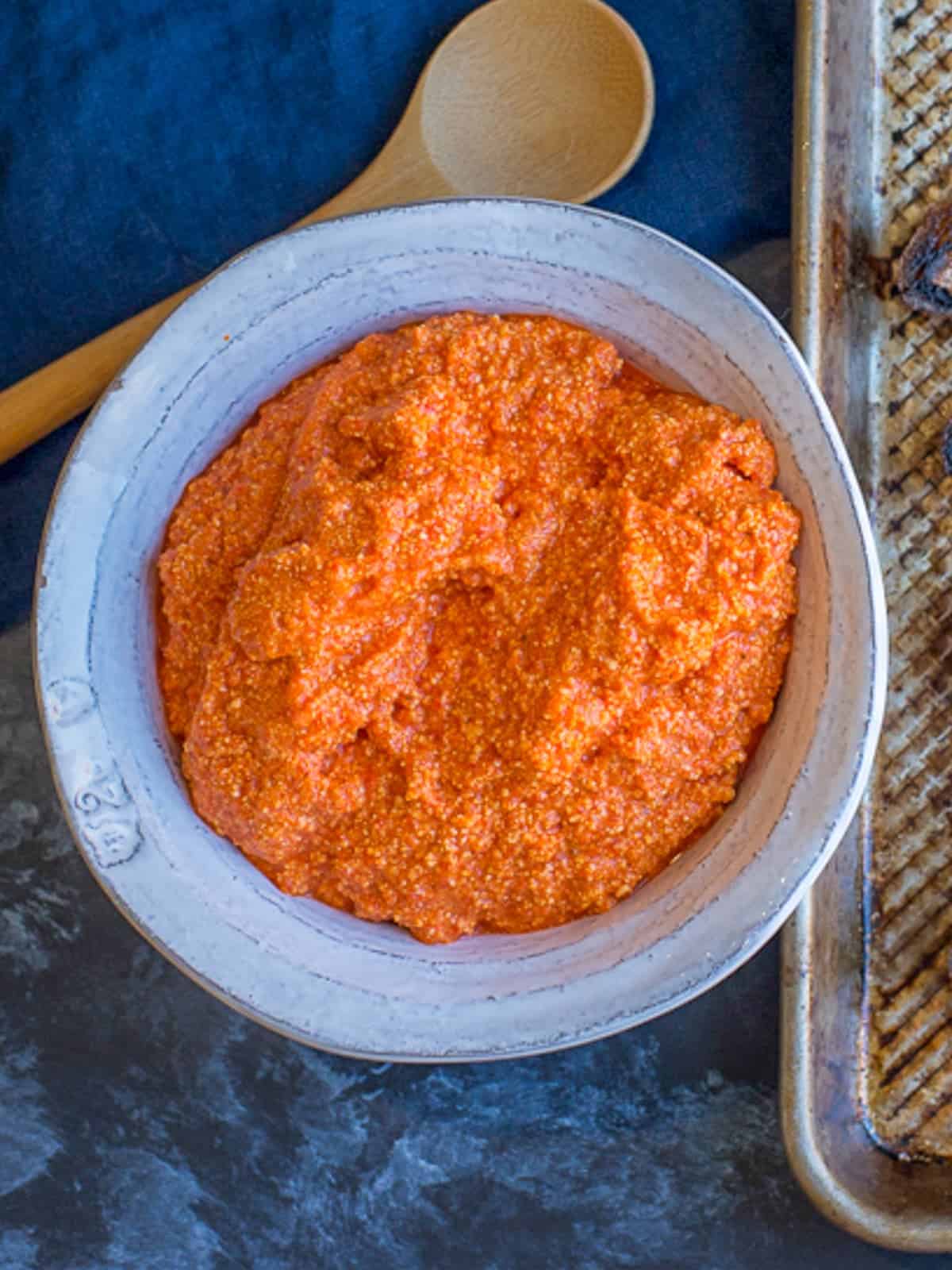 Red Pepper and Feta Dip
The easiest dip ever. This dip is great with chicken or served as a bruschetta. I have also used it as a topping for grilled fish or veggies.
Ingredients
Instructions
Add cheese and peppers (and almonds if using) to a food processor or high powered blender.

Blend until thoroughly mixed.

With the machine running add the olive oil slowly. Blend untll the red pepper spread is creamy.

Serve with crostini, crackers, or veggies.
Laura's Tips + Notes
Variations
Cannellini beans. If you don't have feta cheese in the fridge, you can use a can of drained cannellini beans.
Nuts. The almonds can honestly be left out all together, or you can substitute walnuts or pine nuts.
YOUR OWN NOTES
Sign In to add your own private notes
Nutrition
Calories:
82
kcal
Carbohydrates:
2
g
Protein:
3
g
Fat:
6
g
Saturated Fat:
3
g
Cholesterol:
16
mg
Sodium:
598
mg
Calcium:
113
mg
Iron:
0.5
mg
13 pm 51 pm 56 pm