Healthy Teriyaki Chicken Bowl Recipe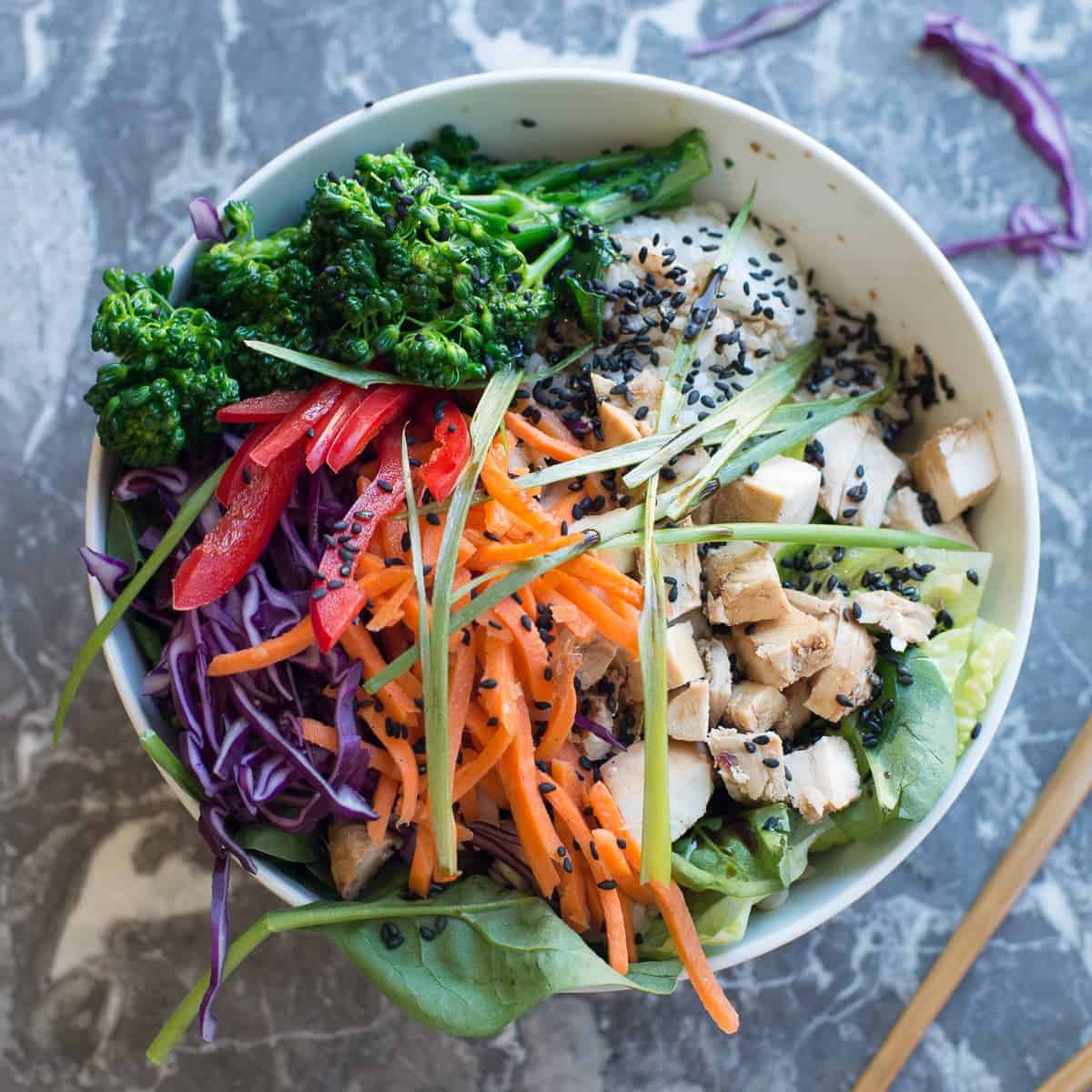 Recipe
Comments
Save
Go to Collections
This post may contain affiliate links. Please read my
disclosure policy.
A lot of times teriyaki chicken and rice bowls are loaded with sugary sauce. Not this recipe. This healthy meal prep recipe bowl is packed with all the umami and tone of healthy veggies. Serve these chicken teriyaki bowls with traditional rice or with cauliflower rice for a low-carb option.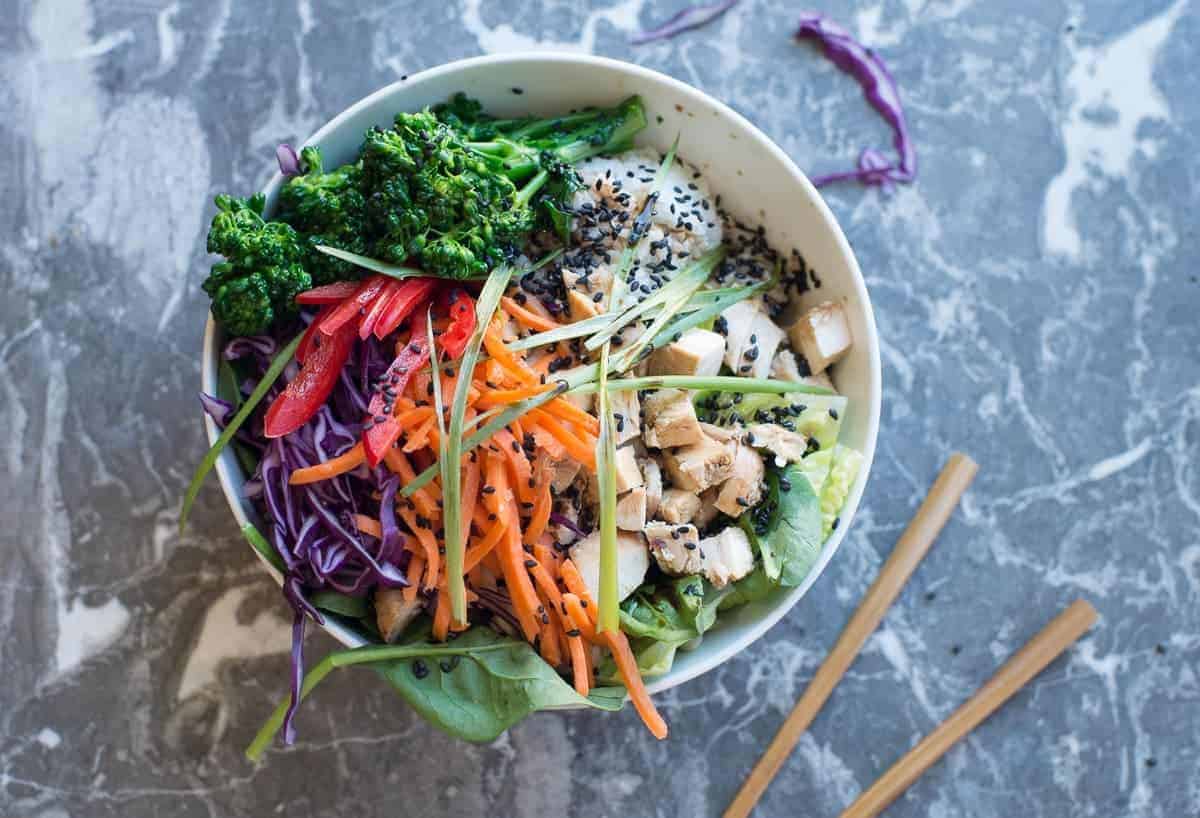 Whenever I plan to make this meal prep bowl, I plan on making a double batch of the protein. I make twice as much homemade teriyaki sauce and prep twice as many chicken pieces.
One bag goes in the the freezer to make later, and one bag goes in the fridge to make in the coming week. It's my ultimate super easy meal prep secret: double batch it from the beginning.
What you're going to love about this recipe
Easy: You guys know I am all about some quick and easy recipes. This one is just about perfect. It features short cook time and simply cooked veggies.
Healthy: If you look up "balanced nutrition" in the dictionary, this is the picture you could expect to see. This meal is perfectly balanced with lean protein, a full serving of colorful veggies, and just the right amount of healthy fat in the form of sesame or olive oil.
Versatile: You can easily make rice bowls with this recipe. Use a rice cooker for maximum simplicity!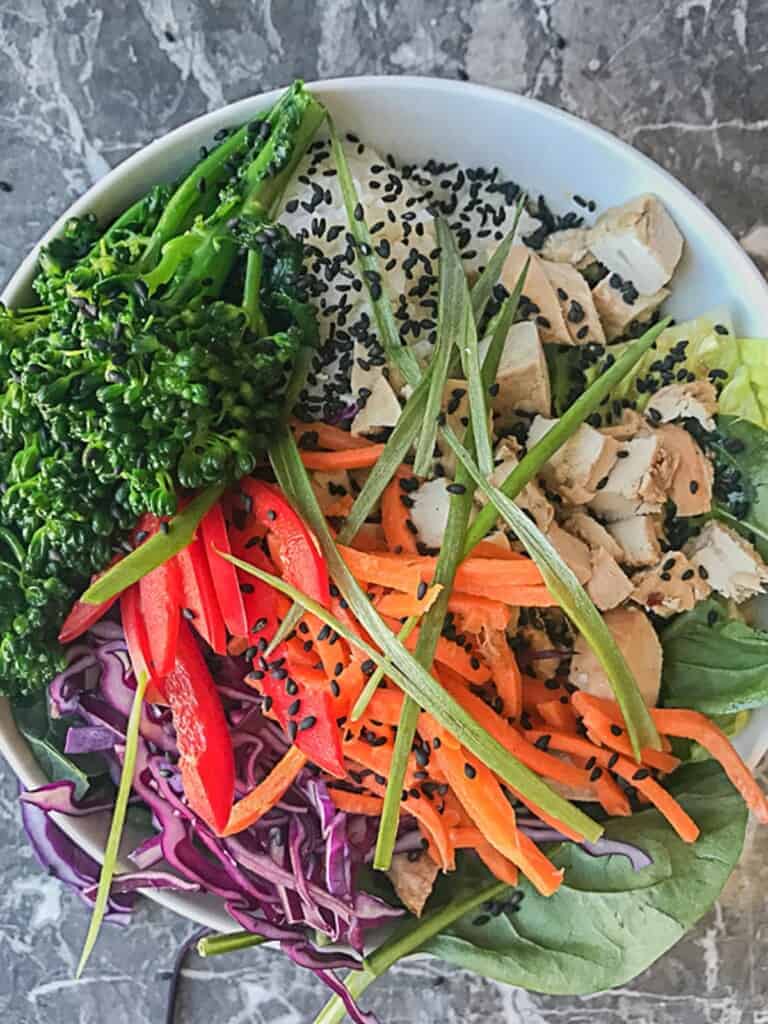 Recipe Notes
Healthy meal prep bowls are the foundation of my weekly meal planning.
Ingredients
Chicken: For this recipe, you can use chicken breast or thighs.
Teriyaki Marinade: Make a double batch of this recipe so that you can save time next week. You can always use a store-bought marinade, but be warned, store-bought teriyaki sauce usually has a lot of extra sugar.
Sesame Ginger Dressing: The healthy sesame dressing is full of healthy fat and none of the preservatives.
Veggies: This bowl is packed full of tons of healthy veggies.
Step by Step Instructions
Step 1: Make the teriyaki marinade.
To make this teriyaki chicken recipe, start by making a teriyaki chicken marinade.
Bottled chicken teriyaki sauce is full of sugar. Marinating your chicken in this chicken teriyaki marinade gives it a ton of flavor and is so much healthier than the bottled stuff.
Garlic: Fresh garlic is best But for ease of use, you can find jarred garlic usually in the produce section.
Ginger: Fresh ginger is a root and is also found in the produce section. You can also find ginger jarred. I don't recommend ground ginger for this recipe.
Soy Sauce or Tamari: Use Tamari or even coconut aminos if you are gluten-free. You can also substitute salt and pepper.
Mirin: Mirin is a sweet cooking sake. It has a sweet but savory flavor.
Seasoned Rice Wine Vinegar: Usually used to make sushi rice. Rice vinegar adds a salty-sweet taste to this marinade.
Brown Sugar: I usually substitute coconut sugar here. I love the rich flavor that the coconut sugar adds to this marinade.
Step 2: Make the Sesame Ginger Dressing.
The easiest way to make this dressing is to add all of the ingredients into a Mason jar and shake.
PRO TIP: Assemble the marinade and the dressing at the same time. I set up a Mason jar and place a freezer bag (or two) in a bowl next to it on the counter so that I can add similar ingredients together. This is definitely a pro tip, but it will save you a ton of time.
Then I start prepping the Teriyaki Marinade and the Sesame Ginger Dressing simultaneously.
Two teaspoons of garlic in the bag and then two teaspoons of garlic in the jar.
Two teaspoons of ginger in the bag and then two teaspoons of ginger in the jar.
Soy sauce in the bag, then soy sauce in the jar.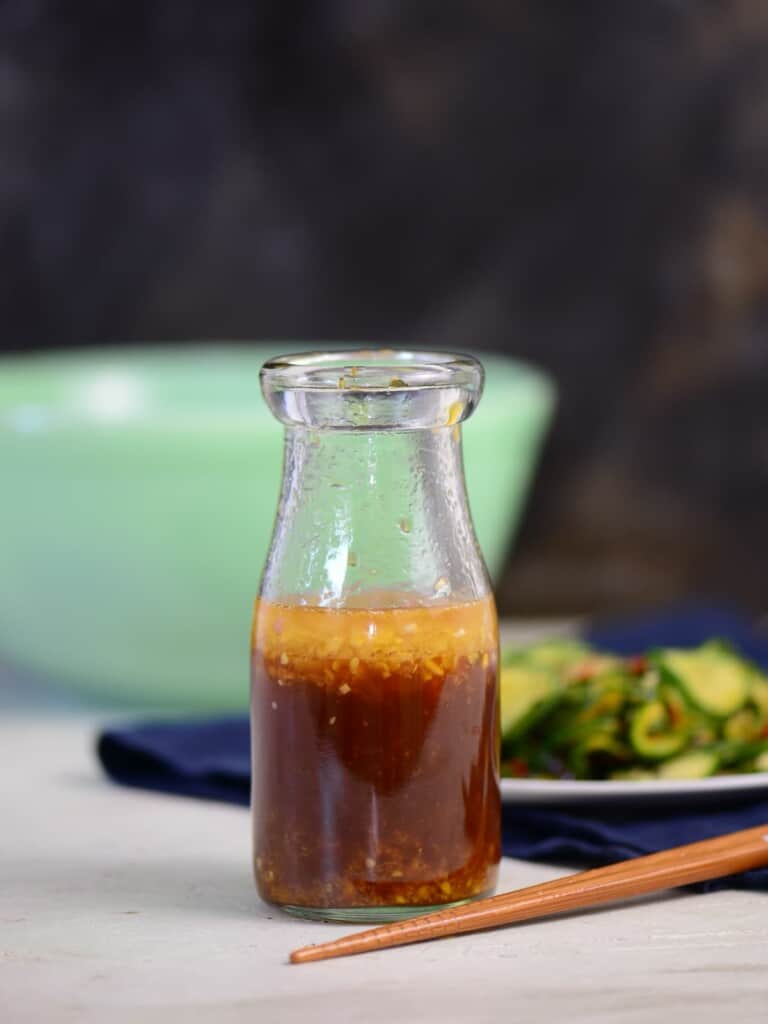 Step 3: Prep the Veggies.
This bowl is full of healthy veggies. You can use whatever veggies you like.
I recommend using a few handfuls of lettuce and spinach as a base in this bowl.
Then I usually prepare a few carrots, some steamed broccoli, sliced red peppers, and cucumbers. Sometimes I make my Spicy Asian Cucumber Salad or Pickled Asian Vegetables.
Step 4: Cook the Chicken.
These are my two favorite way to make teriyaki chicken.
Baked Teriyaki Chicken:
Preheat the oven to 425℉. Place the chicken on a baking sheet lined with parchment paper. Bake for 20 minutes.
Grilled Teriyaki Chicken:
Heat the grill to medium-high heat. Grill, the chicken for 4 to 6 minutes per side. Time will vary depending on the size of the chicken.
The internal temperature of the chicken should be 165℉, and the chicken should no longer be pink. Use a probe thermometer to get an accurate reading.
Step 5: Assemble you chicken and rice bowl
You can add as much or as little to your chicken and rice bowl as you want. This pictorial guide is just my go-to meal prep strategy.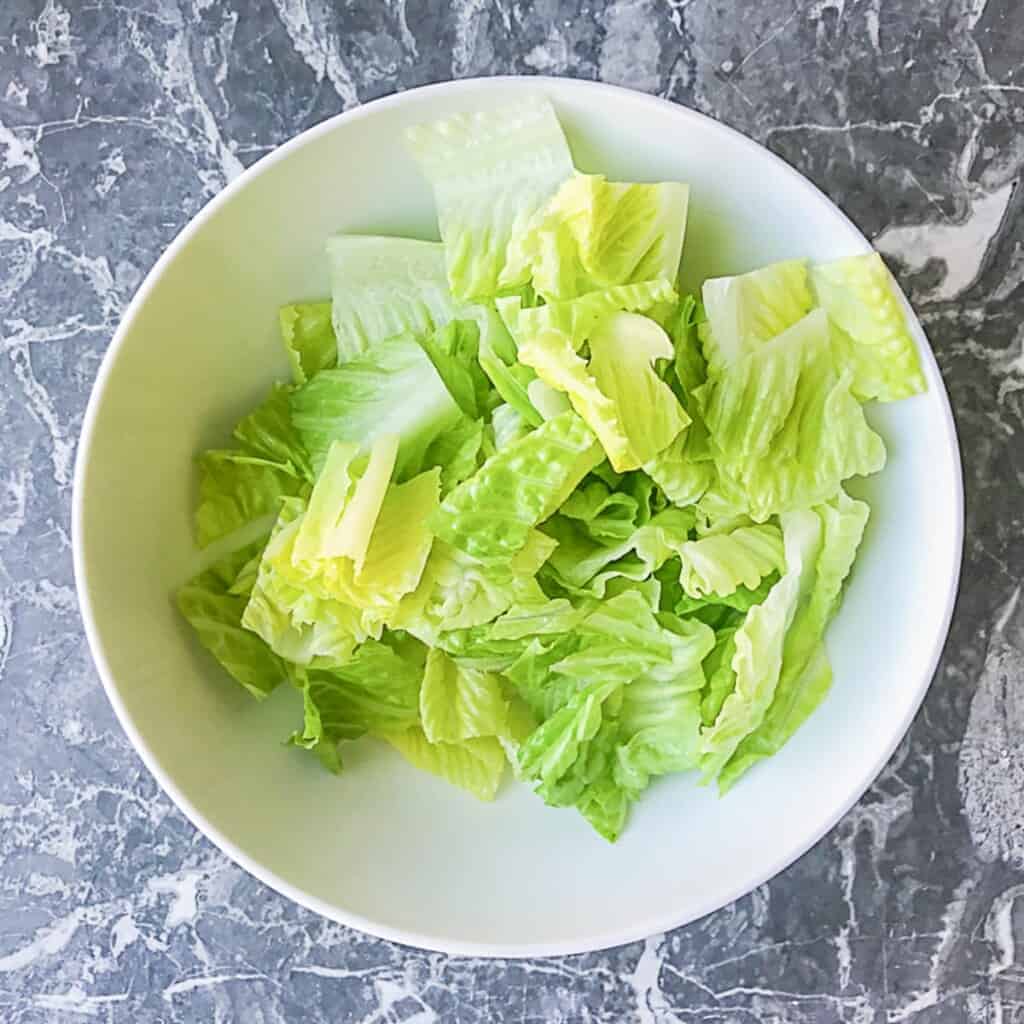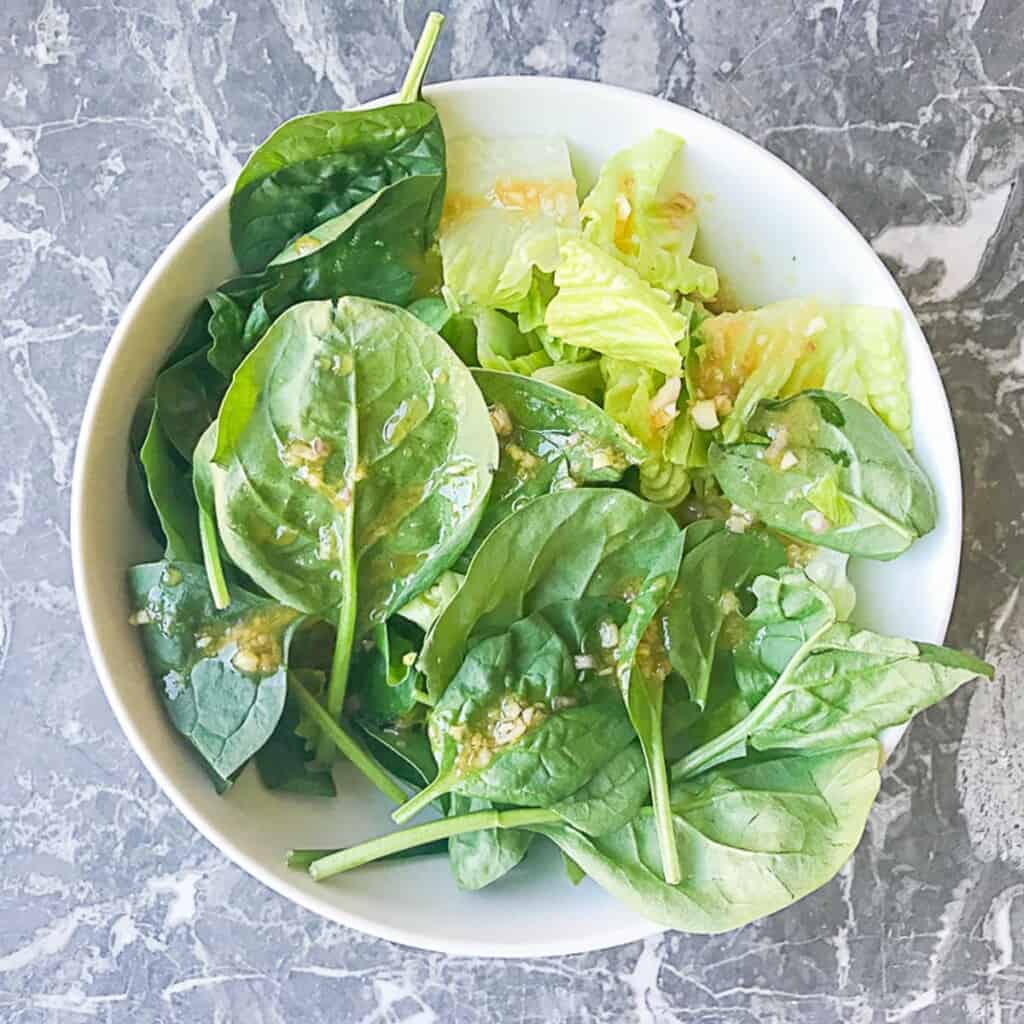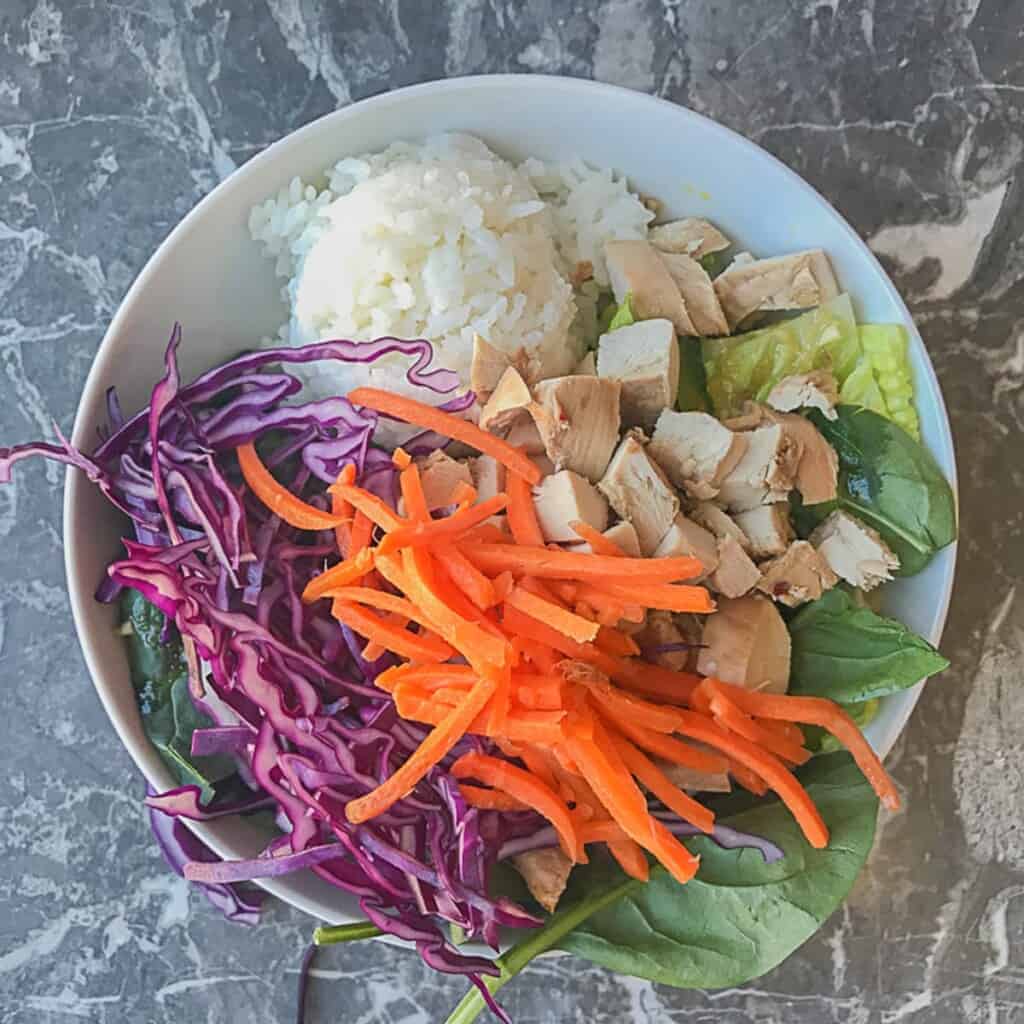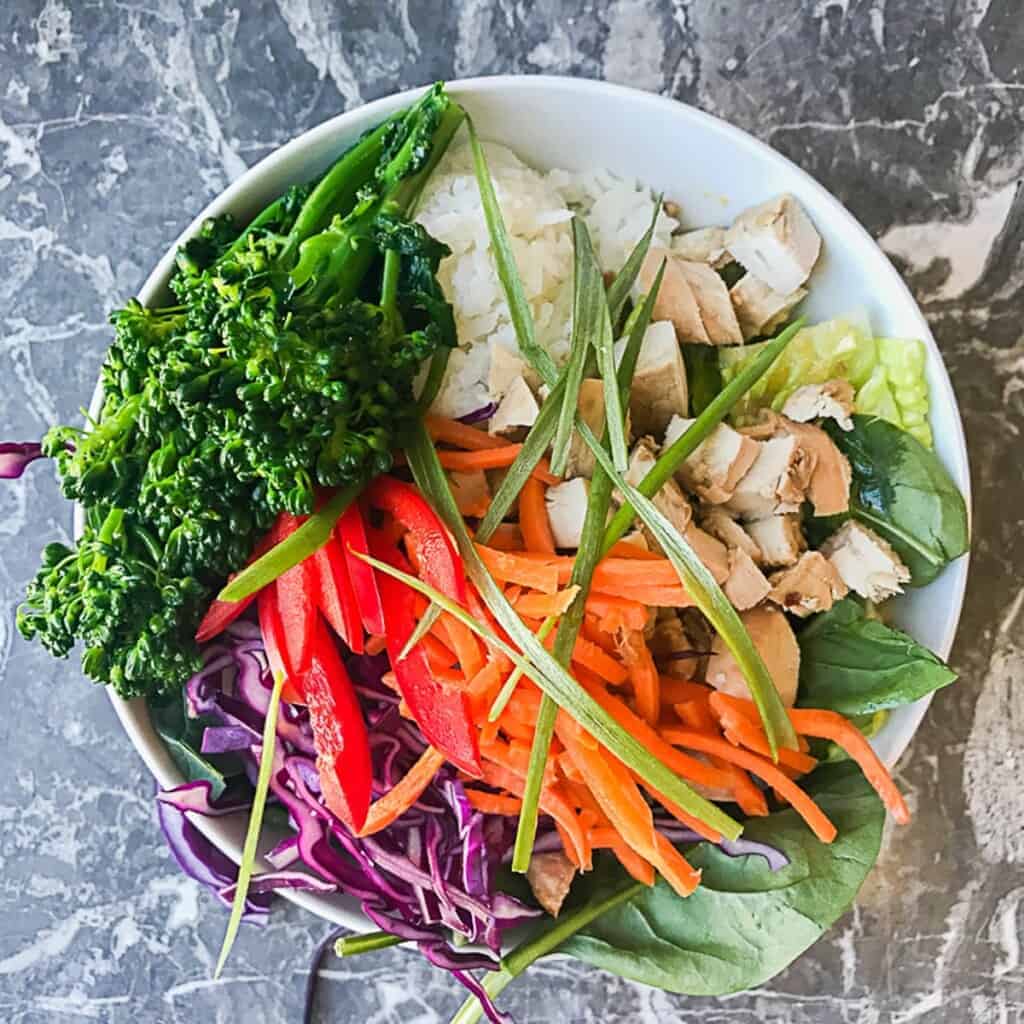 Recipe Variations
This recipe can be made with any protein that you like. I would recommend teriyaki beef or teriyaki salmon.
You can also make this recipe vegan or vegetarian by leaving out the protein, or substituting extra firm tofu.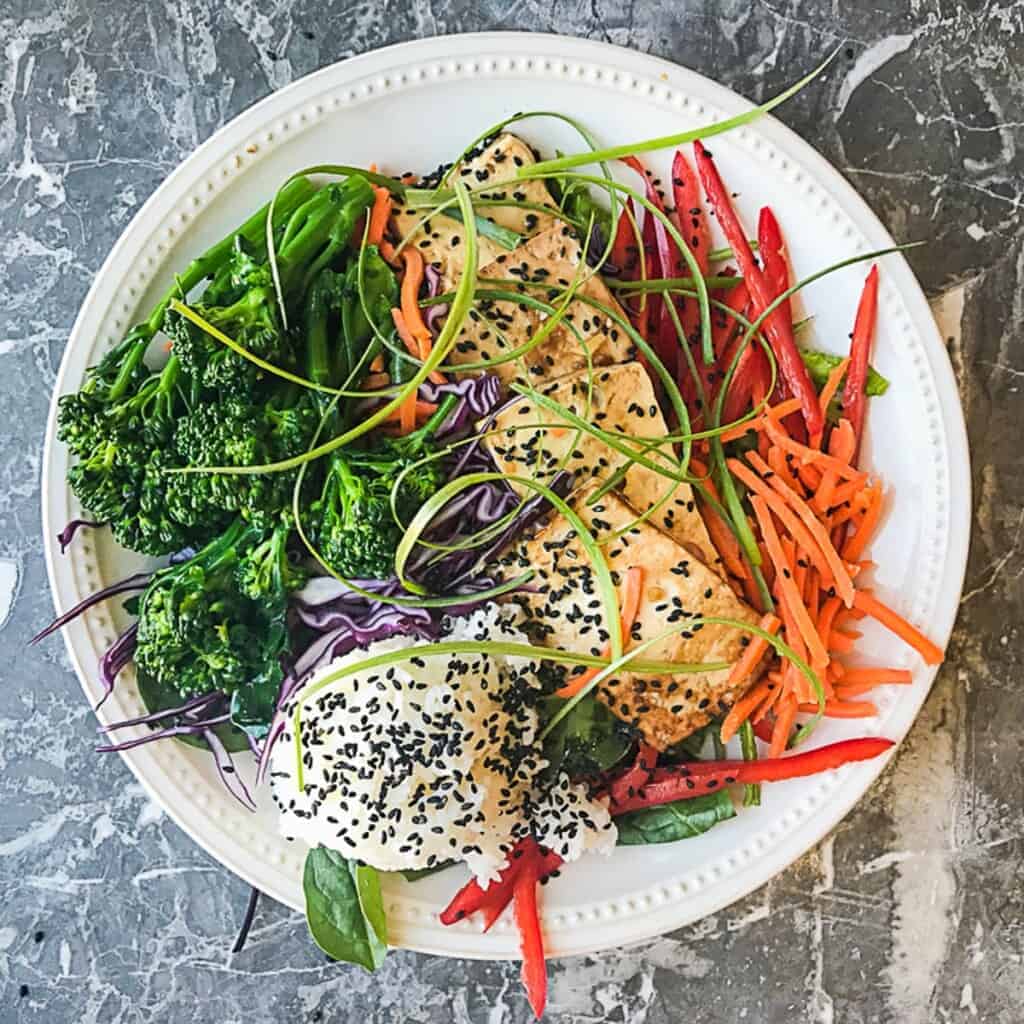 What to serve with teriyaki chicken and rice
Beast Bowl Nutrition | The Cookbook
If you need more healthy recipes, check out the cookbook. BEAST BOWL NUTRITION will give you all the recipes you need to build a weekly meal prep routine that isn't boring. No more steamed broccoli and flavorless chicken.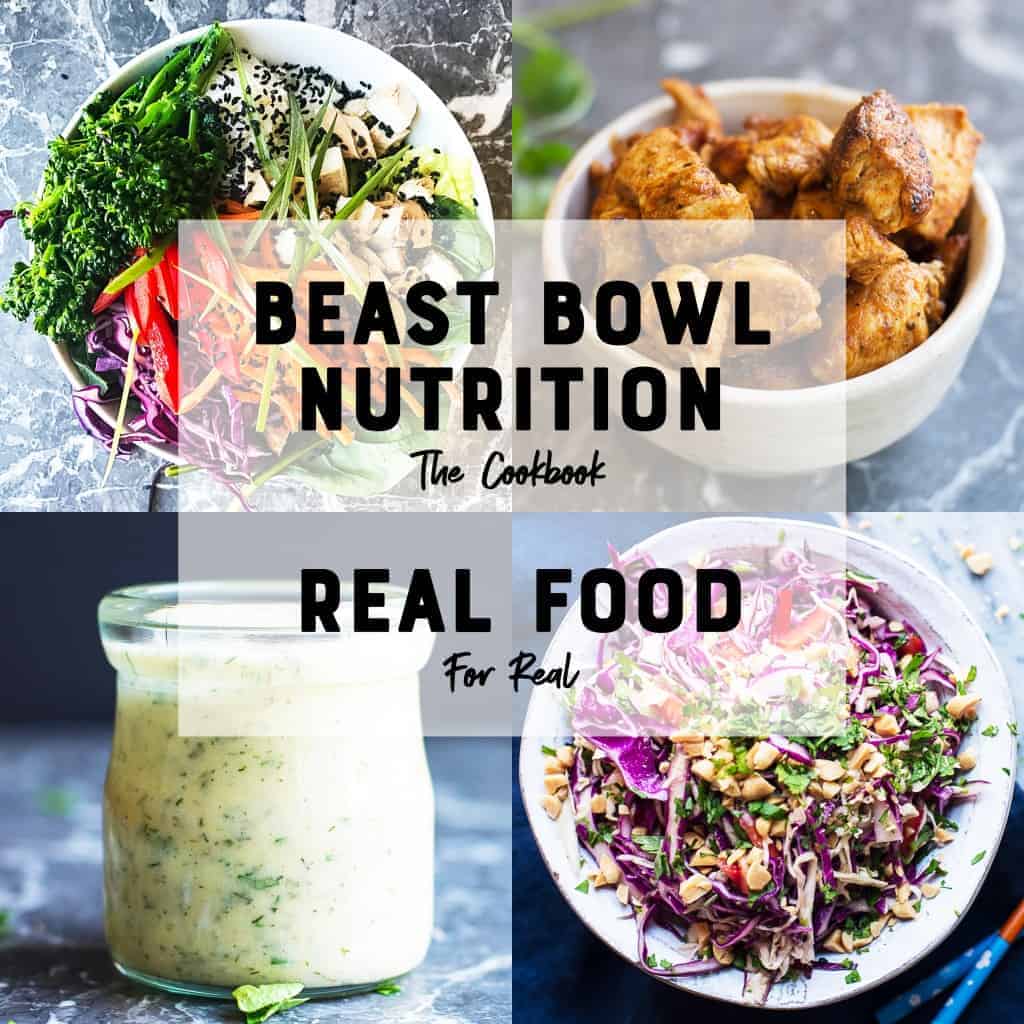 Get the details
Over 100 macro balanced recipe that are perfect for meal prep.
Core Proteins
Tasty Sides
Dressings and Sauces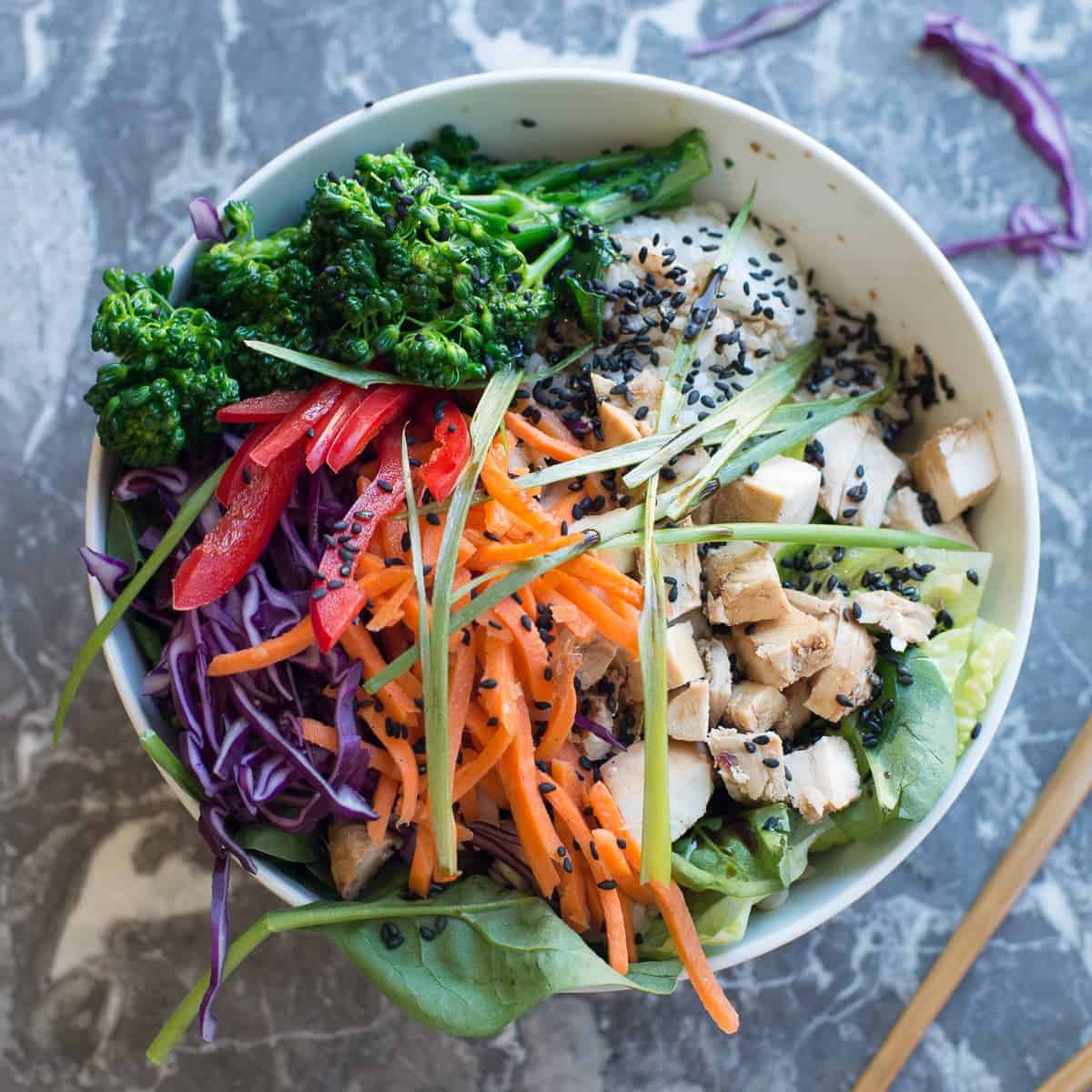 Teriyaki Chicken Power Bowl
This easy teriyaki chicken recipe is perfect for meal prep. You can serve it with a little rice or even cauliflower rice. This bowl is full of crunchy veggies, tasty teriyaki chicken, and so much umami.
Ingredients
Instructions
Protein: Easy Chicken Teriyaki
Make marinade in a gallon-sized freezer bag. Add chicken (or other protein – tofu, salmon, or steak also work well)

Marinate for a few hours, up to overnight. (Salmon and tofu should not be marinated overnight.)

Bake @ 425℉ for 15-20 minutes. (Chicken, steak, or salmon may be cooked on a grill if you prefer.)
Sesame Ginger Dressing
Add all ingredients, except for the oil, in a medium sized bowl. Whisk together.

Slowly drizzle in oil while whisking vigorously.

ALTERNATIVELY: Add the ingredients to a Mason jar. Shake until mixed well.
Veggie Prep
Cut all of your veggies up and store.

Lettuce, spinach, and cabbage can be stored together in one large container or in individual meal prep containers.

Carrots, peppers, broccoli, and red peppers can all be stored together. Add them to your bowl the night before.

PRO TIP: To keep veggies separated, store in a parchment paper bag and place in your meal prep container. You can dump them out just before eating.
Build your meal prep bowl
Add the mixed lettuces to each container.

Place other veggies in a Ziploc bag or a parchment paper bag. Place inside your meal prep container.

Add 2 to 3 tablespoons of dressing to a small container that you can take with you for lunch.
Laura's Tips + Notes
Gluten Free Adaptions:
Use tamari or coconut aminos in place of soy sauce.
Protein Variations:
Beef and salmon are awesome protein substitutions here!
If you like to keep it interesting, add some kimchi.
And remember… Sriracha makes everything better.
Vegetarian Adaptions:
This healthy meal prep bowl is delicious even without the teriyaki chicken. You can substitute the chicken for teriyaki tofu or just leave it out altogether.
YOUR OWN NOTES
Sign In to add your own private notes
Nutrition
Calories:
628
kcal
Carbohydrates:
95
g
Protein:
36
g
Fat:
10
g
Saturated Fat:
5
g
Cholesterol:
72
mg
Sodium:
994
mg
Fiber:
7
g
Sugar:
10
g
Calcium:
159
mg
Iron:
4.1
mg