Teriyaki Chicken is healthy and delicious. Serve these Chicken Teriyaki bowls with traditional rice or Caulifower Rice for a low carb option. This is one of my original meal prep recipes that I use again and again.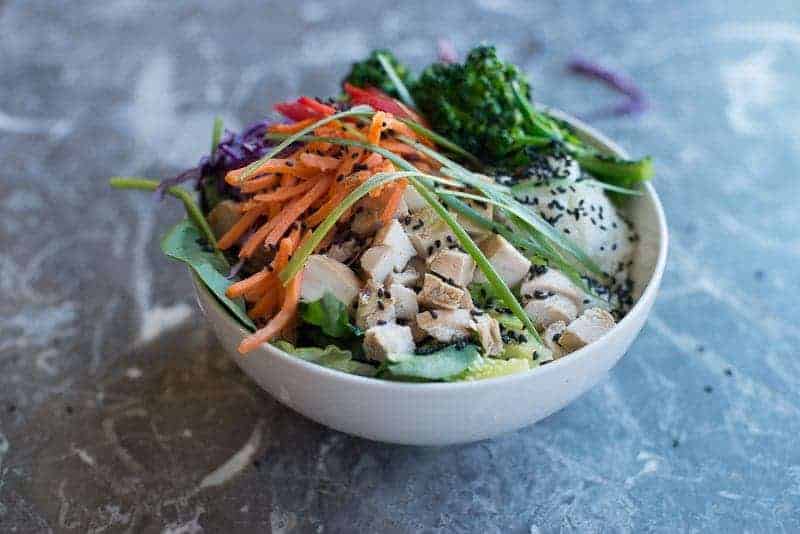 Teriyaki Chicken Bowls with Rice (or Cauliflower Rice)
This recipe is extremely flexible. Talk about an easy teriyaki chicken recipe.
I am a master meal prepper. I want to show you how to make these Teriyaki Chicken Rice Bowls so that you can add this healthy protein bowl to your weekly meal prep rotation.
Meal Prep Strategy
Meal prep does require a little bit of planning, but it doesn't have to be hard.
PROTEIN: Pick a protein and cook it.
VEGGIES: Prep and pack veggies.
DRESSINGS: Make a batch of dressing. The dressing gives you healthy fat plus so much flavor.
How to make Teriyaki Chicken
To make this teriyaki chicken recipe, start by making a teriyaki chicken marinade.
We are going to make a homemade teriyaki sauce because we want to be able to control how much sugar goes into it.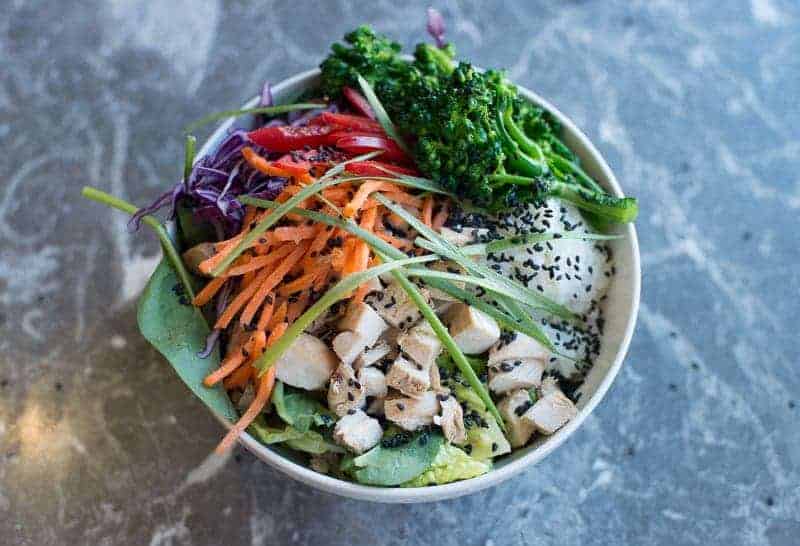 How to cook teriyaki chicken
These are my two favorite way to make teriyaki chicken.
Baked Teriyaki Chicken:
Preheat the oven to 425℉. Place the chicken on a baking sheet lined with parchment paper. Bake for 20 minutes.
Grilled Teriyaki Chicken:
Heat the grill to medium-high. Grill, the chicken for 4 to 6 minutes per side. Time will vary depending on the size of the chicken.
The internal temperature of the chicken should be 165℉. Use a probe thermometer to get an accurate reading.
Teriyaki Marinade Recipe - What you'll need.
Bottled chicken teriyaki sauce is full of sugar. Marinating your chicken in this chicken teriyaki marinade gives it a ton of flavor and is so much healthier than the bottled stuff.
Garlic: Fresh garlic is best But for ease of use, you can find jarred garlic usually in the produce section.
Ginger: Fresh ginger is a root and is also found in the produce section. You can also find ginger jarred.
Soy Sauce or Tamari: Use Tamari or even coconut aminos if you are gluten-free.
Mirin: Mirin is a sweet cooking sake. It has a sweet but savory flavor.
Seasoned Rice Wine Vinegar: Usually used to make sushi rice. Rice wine vinegar adds a salty-sweet taste to this marinade.
Brown Sugar: I usually substitute coconut sugar here. I love the rich flavor that the coconut sugar adds to this marinade.
Water
Meal prepping takes a little practice.
One skill you will need to develop to get good at meal prep is being able to look at a recipe and see what steps you can combine.
For instance, in this recipe, the Teriyaki Marinade recipe and the Sesame Ginger Dressing have a lot of almost identical ingredients. You can save a considerable chunk of time by measuring out the matching ingredients at the same time.
I set up a bowl with a freezer back inside of it and a mason jar right next to each other.
Then I start prepping the Teriyaki Marinade and the Sesame Ginger Dressing, simultaneously.
Two teaspoons of garlic in the bag and then two teaspoons of garlic in the jar.
Two teaspoons of ginger in the bag and then two teaspoons of ginger in the jar.
Soy sauce in the bag, then soy sauce in the jar.
You see how that works, right?
At the same time that it would have taken me to prepare the marinade for my chicken, I have most of the ingredients for the dressing already in the jar.
Then I have to add the remaining few ingredients, and then, Viola, I'm almost done.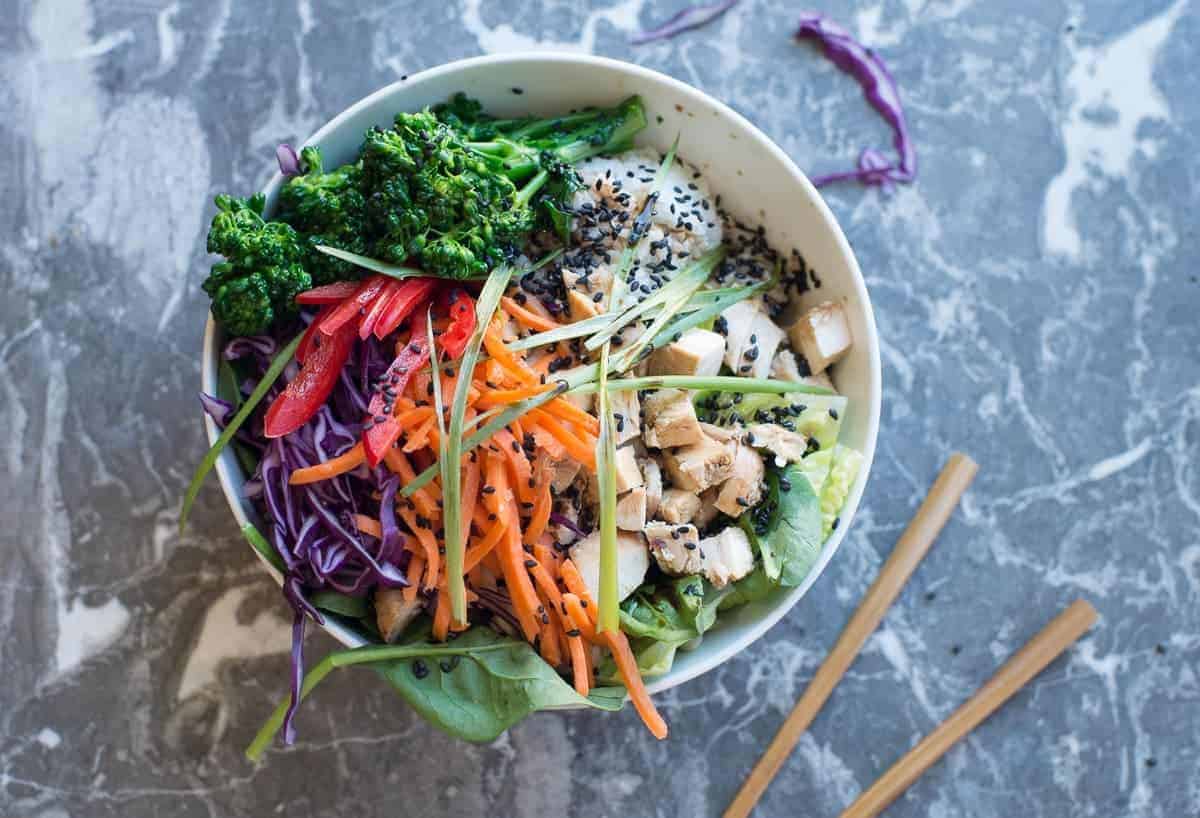 Now for the veggie prep
This part probably seems like the most labor-intensive part of meal prep.
Don't worry; I've done this a few times. Let me talk you through it.
Again it just requires a little bit of planning.
What vegetables do you need for a Teriyaki Chicken Meal Prep Bowl?
Romaine Lettuce
Baby Spinach
Purple Cabbage
Carrots
Red Peppers
Broccoli
Cucumbers
Green Onion
You can use whatever vegetables you like. This list is just a suggested list of the vegetable that I think pair best with the teriyaki chicken.
When prepping vegetables for storage, it's important to keep in mind that all veggies do not store well together.
Lettuces and leafy greens and cabbages can always be stored together.
Cucumbers and tomatoes can be stored together but, not with the lettuce. The acids in these veggies will cause salad to become soggy.
The carrots, red peppers, broccoli, and green onions can also be stored together.
Teriyaki Chicken Power Bowl
This easy teriyaki chicken recipe is perfect or meal prep. You can serve it with a little rice or even cauliflower rice. This bowl is full of crunchy veggies, tasty teriyaki chicken and so much umami.
Ingredients
Instructions
Protein: Easy Chicken Teriyaki
Make marinade in a gallon sized freezer bag. Add chicken (or other protein - tofu, salmon or steak also work well)

Marinate for a few hours, up to overnight. (Salmon and tofu should not be marinated overnight.)

Bake @ 425℉ for 15-20 minutes. (Chicken, steak or salmon may be cooked on a grill if you prefer.)
Sesame Ginger Dressing
Add all ingredients, except for the oil, in a medium sized bowl. Whisk together.

Slowly drizzle in oil, while whisking vigorously.

ALTERNATIVELY: Add the ingredients to a mason jar. Shake until mixed well.
Veggie Prep
Cut all of your veggies up and store.

Lettuce, spinach, and cabbage can be stored together in one large container of individual meal prep containers.

Carrots, peppers, broccoli, and red peppers can all be stored together. Add them to your bowl the night before.

PRO TIP: To keep veggie separated, store in a parchment paper bag and place in your meal prep container. You can dump them out just before eating.
Build your meal prep bowl
Add the mixes lettuces to each container.

Place other veggies in a Ziploc bag or a parchment paper bag. Place inside your meal prep container.

Add 2 to 3 tablespoons of dressing to a small container that you can take with you for lunch.
Notes
Gluten Free Adaptions: Use Tamari or Coconut aminos in place of soy sauce.
Beef and Salmon are awesome protein substitutions here!
If you like to keep it interesting add some kimchi.
And remember Sriracha makes everything better.
Nutrition
Calories:
628
kcal
Carbohydrates:
95
g
Protein:
36
g
Fat:
10
g
Saturated Fat:
5
g
Cholesterol:
72
mg
Sodium:
994
mg
Fiber:
7
g
Sugar:
10
g
Calcium:
159
mg
Iron:
4.1
mg
(Visited 363 times, 1 visits today)