Healthy Burger Bowls + Burger Sauce | Meal Prep Recipe
Juicy burger patties and the most delicious burger sauce is what you'll get in this healthy burger bowl. This healthy bowl is keto diet friendy and the best low carb burger recipe.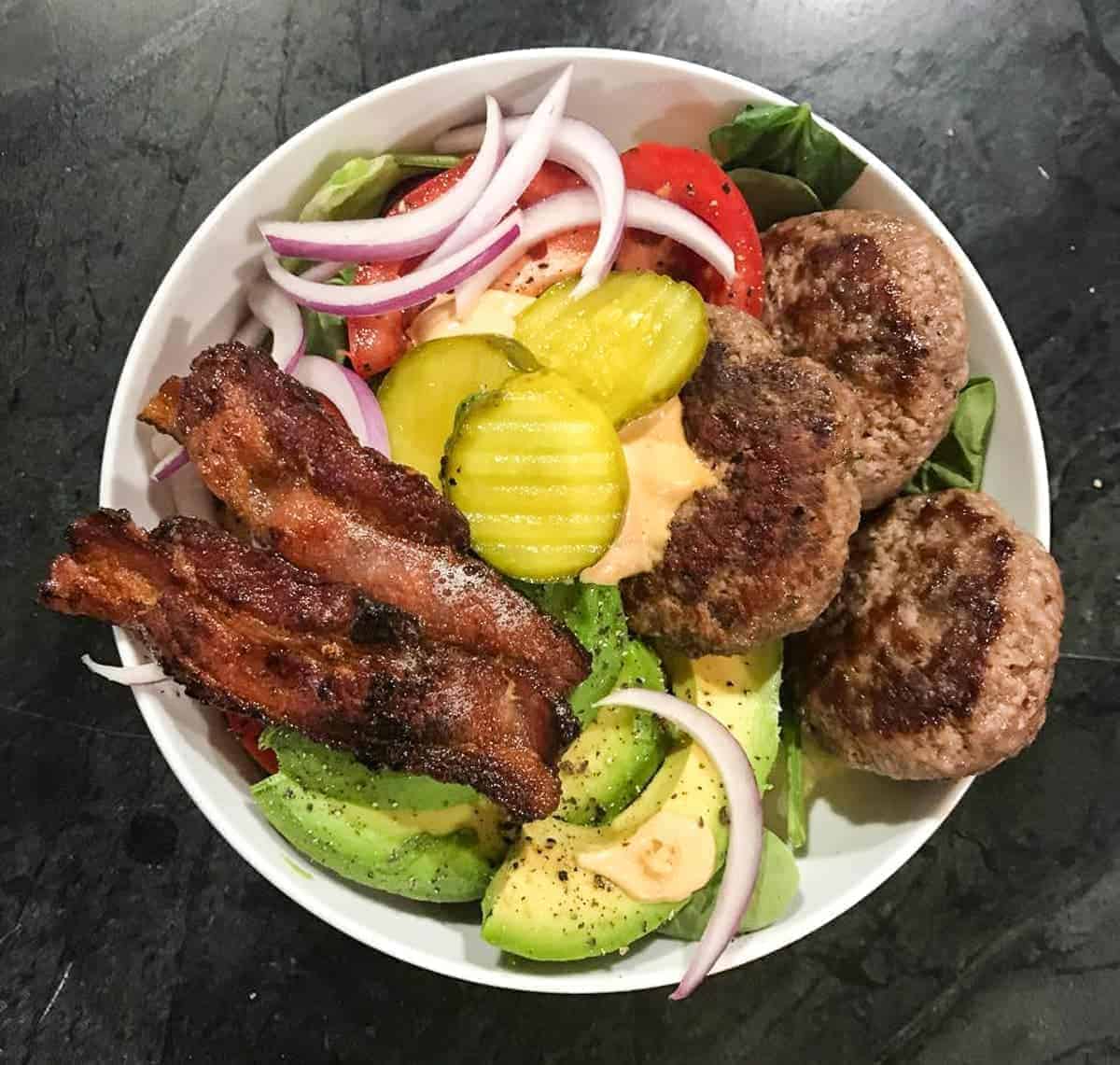 Meal Prep doesn't have to be a drag. My jam is creating healthy versions of some of my favorite foods, like these burgers.
I eat real food as much as possible. Staying away from all the processed stuff is a good idea. But, I'm not going to live on kale salad. A girl's gotta live!
When I started to create this Loaded Burger Bowl Meal Prep Recipe, I had to ask myself a few questions. What is a tasty and healthy burger recipe? I want it to be both.
I wanted this burger bowl to kill any In-N-Out burger craving that might crop up so I had to make a special sauce.
Basically this comes down to picking lean grass-fed beef.
You can have your burgers and eat them too!
Don't forget to pin this recipe to save it for later!
Recipe Notes
This recipe post contains everything you need to make the most amazing healthy burger bowl. What better way to take your meal prep game to the next level. Just remember, make the parts you want, mix and match them and make it your own.
This burger recipe is one of my favorite recipes for weekly meal prep. I typically make three pounds of burgers for the week. I use a medium cookie scoop to portion these out into lovely two-ounce portions.
The best thing about making bowls for meal prep is that you can tweak them to fit any style of eating. Make it Keto
All the parts
Grass-fed mini burgers
Beast sauce
Ingredients for this burger bowl?
The ingredients are simple. They include all the stuff that you would put on a fat juicy burger. Pick and choose what you like.
Lean Grass-Fed Hamburger: I always choose grass-fed when it's available. Grass-fed beef has a better Omega Fat profile, so it's worth it. If you can't find it in your area, there are a lot of places that will deliver directly to you like BUTCHER BOX.
Crispy Lettuce: I like Iceberg lettuce for this bowl. But you can use any combo of greens that you want. I like to add a handful of spring greens in as well.
Juicy Ripe Tomatoes: Pick whatever tomatoes are in season. Cherry or grape tomatoes are always a good bet because they are usually juicy and flavorful. Plus, slicing is optional with small bite-sized tomatoes. Cherry tomatoes are also the best choice is you are prepping lunch for the week.
Ripe Avocadoes: Amen for some more healthy fats.
Pickles: Old school fermented pickles are the best if you want all that probiotic benefits for your gut health.
Bacon: Always optional. But I highly recommend it! I like to buy my bacon from the butcher case. Thick sliced and applewood smoked, of course.
Cheese: Also optional. We did say this was a loaded burger bowl, right?
Special Sauce: In this case, I make a quick version of Beast Sauce. I'm just saying it's kind of like copy cat Animal Sauce from In-N-Out Burger. I totally made it up. But it's seriously close.
Homemade Fries: I have two recipes right here for you — Sweet Potato Fries and Easy Roasted Potatoes, which are basically wedge cut fries.
Step-by-Step Instructions
Make the mini burgers: You can grill them, pan fry them, or bake them in the oven.
Mix up your Beast Sauce: This sauce is made with just a few ingredients. It's a spot-on copy cat recipe for In-N-Out's Animal Sauce.
FAQ's And Expert Tips
What are your best meal prep recipes for work lunches?
This burger recipe is one of my favorite recipes for weekly meal prep. I typically make three pounds of burgers for the week. I use a medium cookie scoop to portion these out into lovely two-ounce portions.
What is the macro breakdown for this burger bowl.
Depending on how you are tracking your macros – One two-ounce burger has:

100 calories, 5 grams of FAT, 11 grams of PROTEIN

These preportioned burgers make it easy to get your protein needs whatever they may be. Eat one or eat four. Depending on how you are tracking your macros – One two-ounce burger has: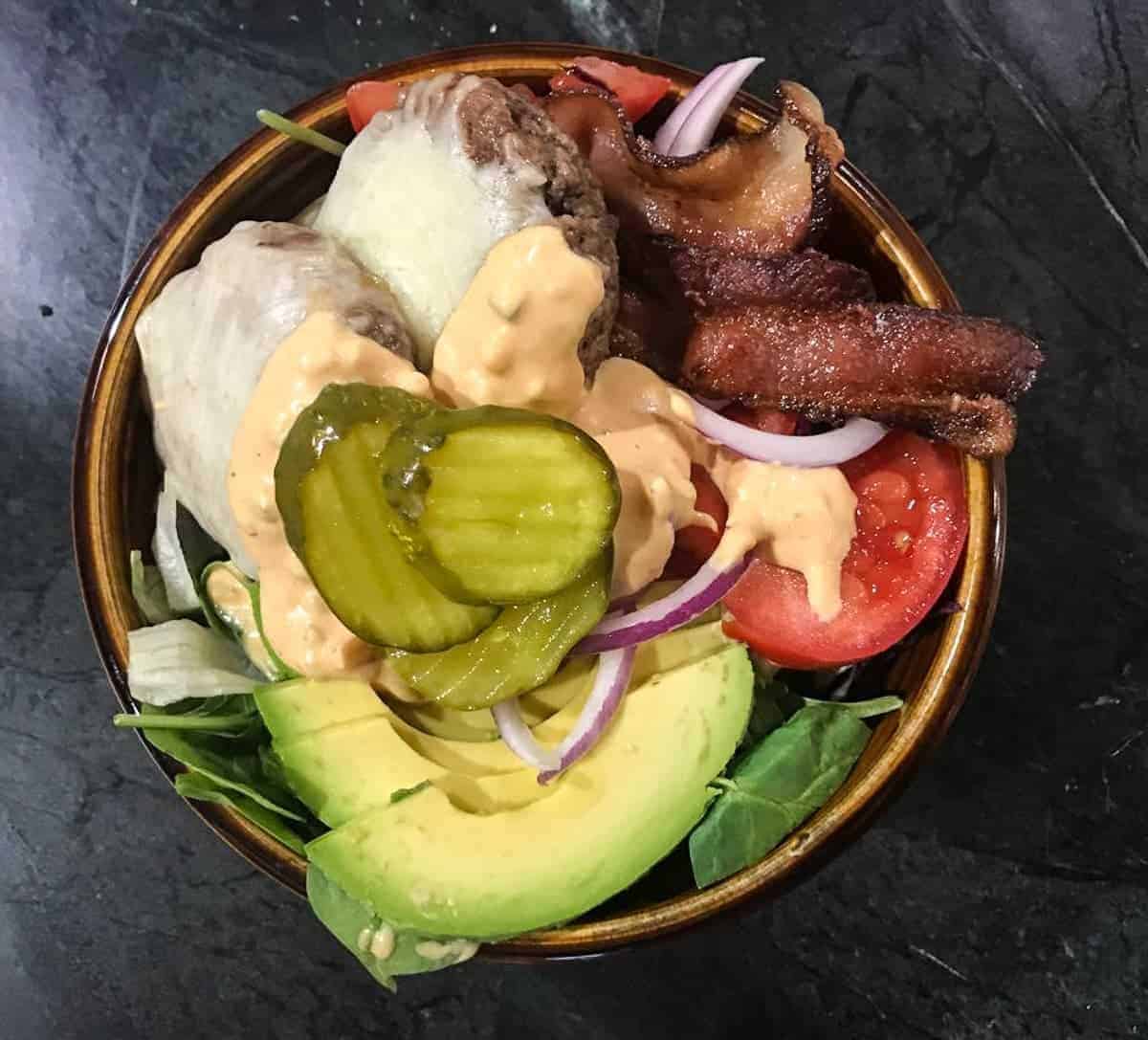 MORE protein bowl meal prep ideas are:
What is the best way to meal prep?
I start planning my meal prep game on Thursday night. Each week I try to pick two of my protein bowl recipes.
I like picking two with similar ingredients but aren't exactly the same. Then I make my grocery list and shop.
Make sure you have enough meal prep containers to store and stack your food. The best container for meal prep is these. They stack in the fridge nice and need, and they are microwave safe.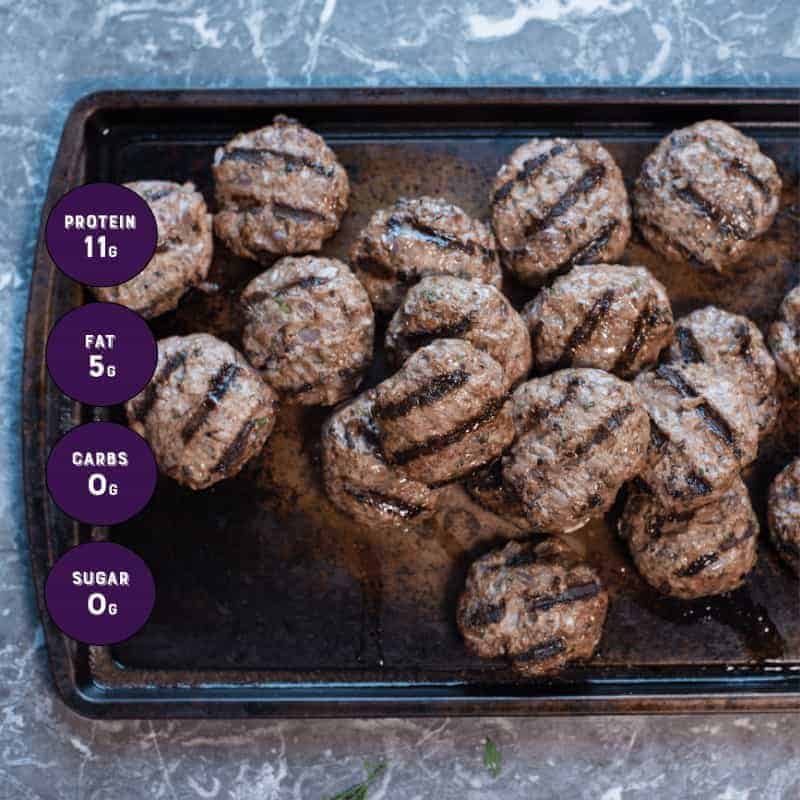 Hungry for more healthy meal prep ideas?
➽ Did you make this recipe? I love to see what's going on in your kitchen. Show me what you're cooking. 🍳 Tag me @foodologygeek on your favorite social channel! Facebook, Instagram & Pinterest. If you loved ❤︎ this recipe, please leave a five ★ review and a comment!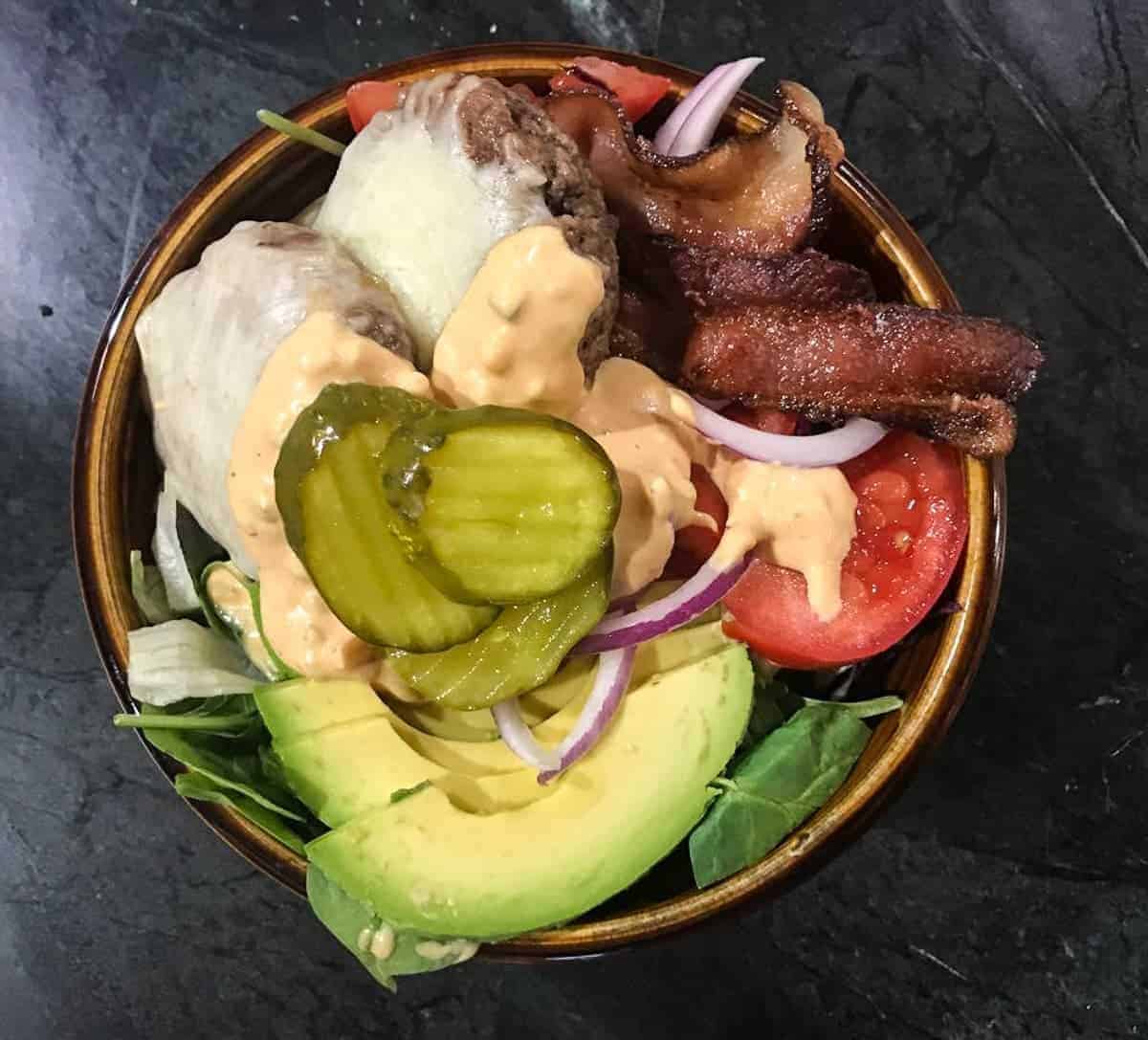 Healthy Burger Bowl with Special Sauce
This is our take on an animal style burger bowl that rivals any trip through the drive-thru.
Ingredients
Bowl Fixin's
8

cups

Iceberg lettuce

4

cups

Spinach

2

medium

Tomatoes

½

medium

Red onions

1

medium

Avocado

4

slices

bacon
Instructions
Burgers
Add the salt and pepper to meat. Divide into 12 small burger patties.

Fry or grill on the burgers med high for approximately 3 minutes each side.

Add the cheese the last 30 seconds.

Remove from pan and place on a plate. Rest covered loosely with foil while you prepare the rest of the bowl.
Animal Sauce
Mix all ingredients together. Use to top your bowl.
Bowl Assembly
Add whatever bowl fixin's you would like to a large bowl. Top with burgers and sauce.
Video
Laura's Tips + Notes
Nutrition information will depend on exact amounts.
Freestyle points were calculated using the nutritional information presented here. Zero Points foods my actually make this bowl slightly less points.
YOUR OWN NOTES
Nutrition
Calories:
452
kcal
Carbohydrates:
13
g
Protein:
39
g
Fat:
27
g
Saturated Fat:
9
g
Cholesterol:
116
mg
Sodium:
599
mg
Fiber:
5
g
Sugar:
7
g
Calcium:
137
mg
Iron:
5
mg
SaveSave
SaveSave