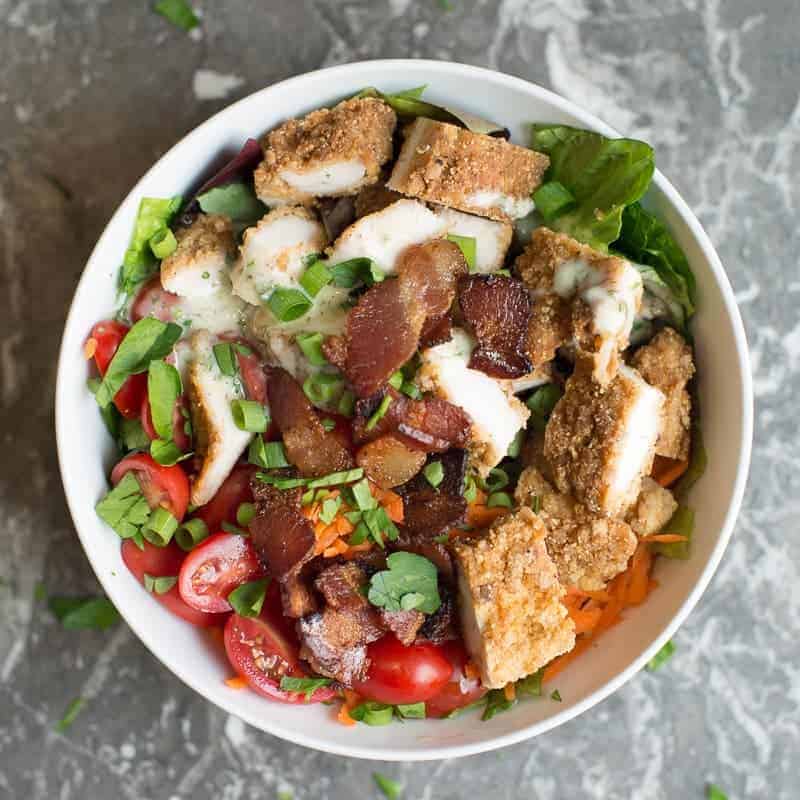 Recipe
Comments
Save
Go to Collections
This post may contain affiliate links. Please read my
disclosure policy.
Everyone needs a little fried chicken in their life. This fried chicken is a gluten-free version for all you peeps out there that don't exactly love the gluten in your life. Let's face it sometimes gluten-free sucks!
These crispy chicken strips will convince you that you can live without gluten and still have some of the foods you really love.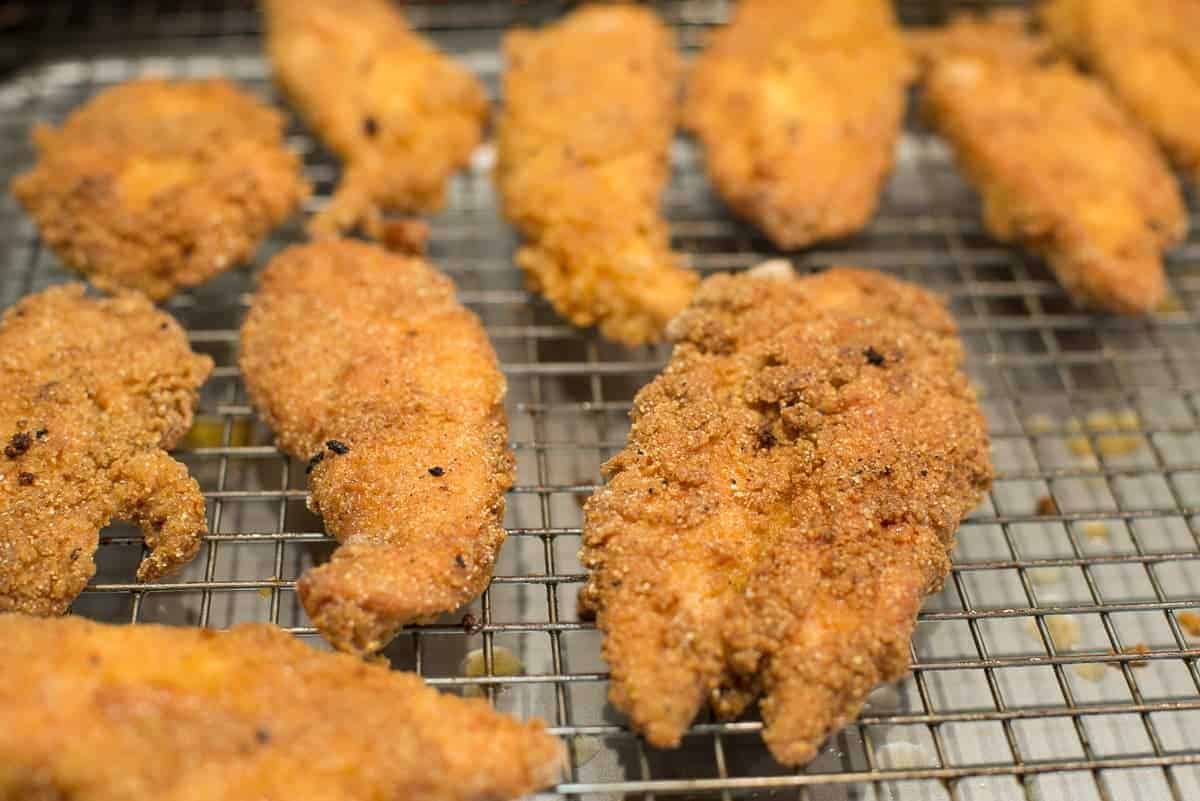 I don't like to compromise taste and texture for healthier versions of the things I love to eat.
If it doesn't taste right – I just won't even bother eating it. (Paleo donuts? No thanks!) So when I started working on a gluten-free version of fried chicken, my goal was to make sure that you can eat it and not feel like you are eating a sub-standard substitute for the real thing.
While I usually try to stay away from gluten, I do occasionally give in. I usually regret it later but some things are just too good to miss. Thanks, Hog Island Oyster sourdough bread – I'm defeated by you every time!
On to this fantastic Fried Chicken Bowl
Don't be put off by the number of ingredients, the spices in the coating and the marinade are virtually the same – they are merely listed out twice for clarity. Remember, you can always take advantage of shortcuts. If you don't have the time, or feel intimidated about whipping up a Paleo ranch dressing from scratch, just buy one! It's okay, no judgment here. (Do try the dressing though, it's super easy!)
The main component of any Beast Bowl is its protein – focus on that! Everything else is in the bowl is flexible. We build each bowl knowing that some of you may be a little bit scared of trying to make some of the extras and sauces, but we hope to inspire you to try one day.
With 40 grams of protein in this bowl you know you're getting the stuff you need to fuel your body in a healthy way. This bowl has 22 grams of fat – but don't let that scare you away. Fat is an essential nutrient for building the hormones that run our metabolism. If there was one thing I could change about what we have been taught about food, it would be to teach that FAT IS NOT THE ENEMY. Topping off this bowl, you get a reasonable 14 grams of carbs, with virtually no sugar.
The fried chicken in this is amazing.
I wanted to make sure the crust was crispy… maybe because it's fried in bacon grease, or maybe because of the spices in the coconut milk marinade. All of it comes together for a win-win. This chicken is even delicious cold right out of the fridge.
Top it off with bacon and some Paleo ranch dressing. This bowl has all the flavors of a fried chicken ranch salad AND all of the ingredients are nourishing and good for you!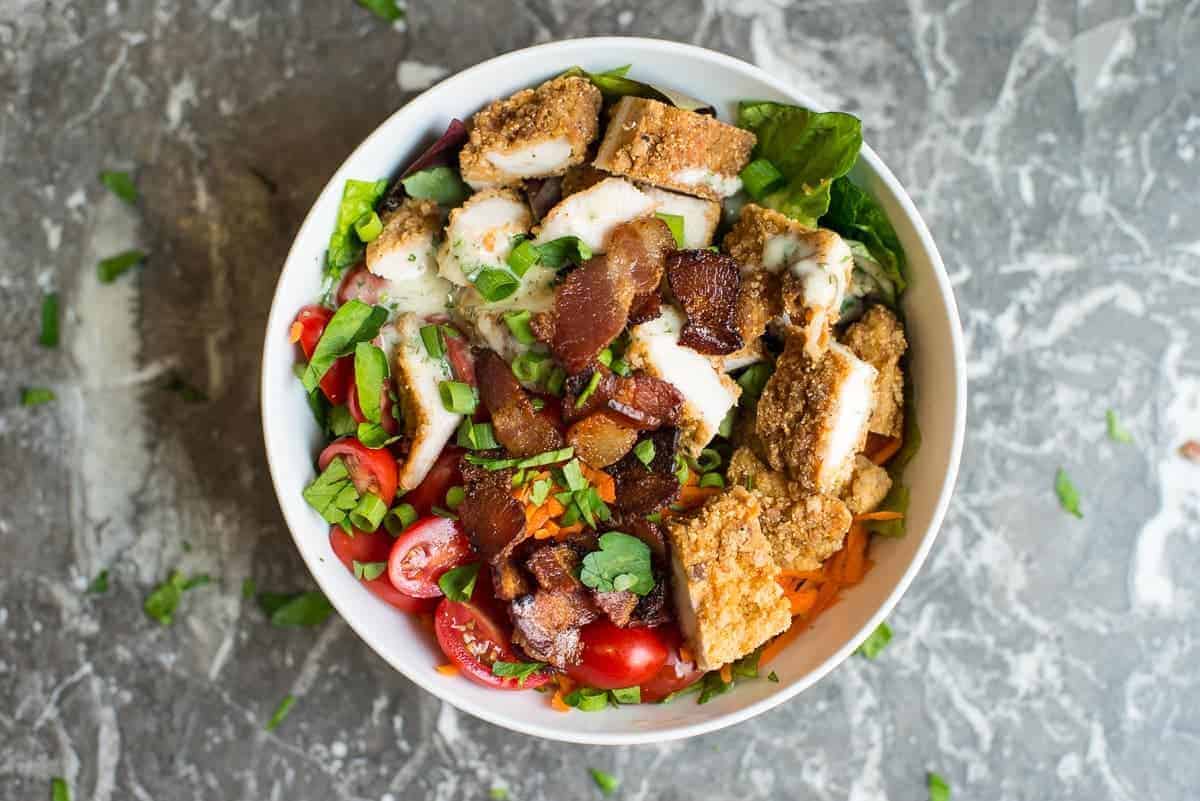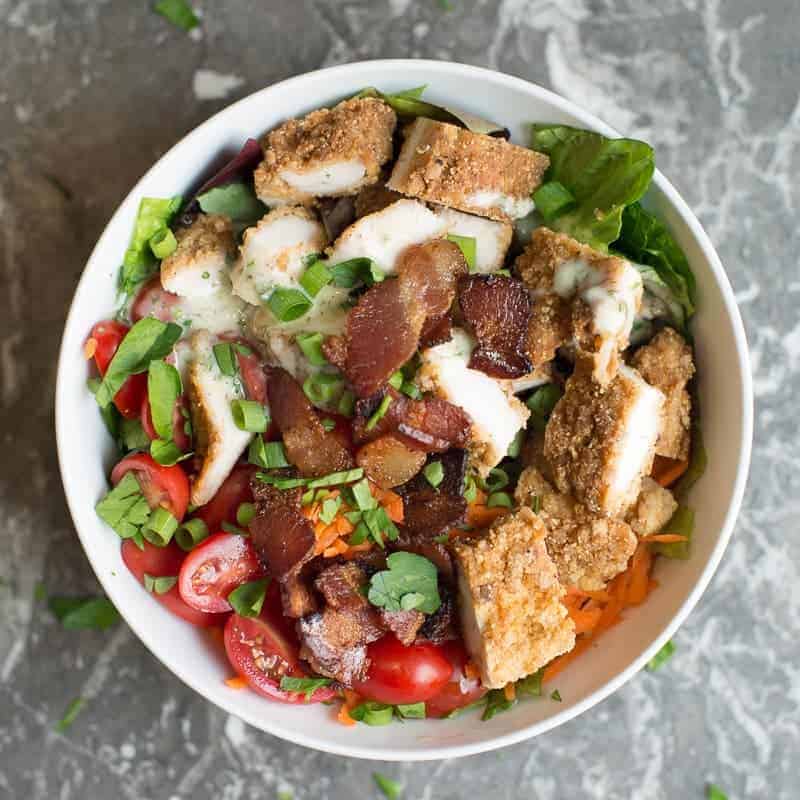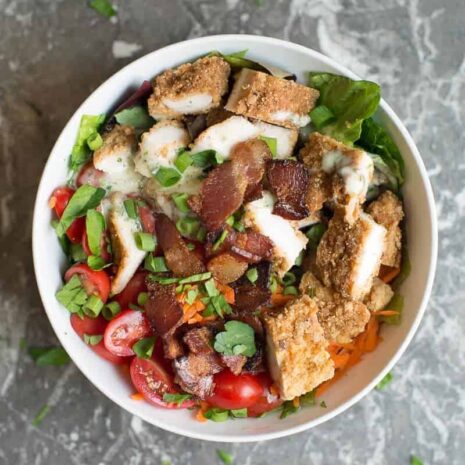 Fried Chicken Beast Bowl
Ingredients
1

lb

bacon

,

fried, grease reserved for frying chicken
Fried Chicken Tenders
3

lbs

Boneless Chicken

,

Breasts or thighs
Gluten Free Breading (PRO TIP: Make a double batch and save half for next time)
Paleo Ranch
1

egg yolk

2

tbsp

lemon juice

½

tsp

dry mustard

(affiliate link)

½

tsp

kosher salt

(affiliate link)

1

cup

macadamia nut oil

,

you may not use all this oil, can substitute any mildly flavored light oil

½

tsp

onion powder

1

tsp

dill weed

2

tsp

fresh parsley

½

cup

coconut milk
Fixin's
lettuce

spinach

carrots

,

shredded

tomatoes

bacon

,

crumbles

green onions
Instructions
Marinate the chicken
Add the coconut milk or buttermilk to a large bowl or plastic bag.

Marinade for at least an hour, up to overnight.

Note: This can stay at room temp for a few hours, if you plan on marinating it longer put it in the fridge.
Fry the Bacon
Cut up the bacon in ½ inch pieces and fry on medium-low heat. Cook it slow so that it doesn't burn.

It usually takes 3-4 batches to get this all done.

Reserve the grease for frying the chicken.

Store cooked bacon in the fridge until ready to use.
Prep all your bowl fixin's for the week
Use this step to think about the core veggies that will go into your Beast Bowls this week. Prep enough to get you through. This step usually takes me about 30 – 45 minutes, but that is prepping for the whole week for a family of 4.
Paleo Ranch
Add egg yolk, lemon juice and salt to a large bowl. This gives you room to whisk.

Using a large whisk, whisk until the yolk is a light color.

Add a small amount of oil (maybe ½ tsp) and whisk to start emulsion.

Continue to add oil slowly while continually whisking. PRO TIP: use a container that you will be able to slowly drizzle the oil from.

You will continue to add oil until the mayonnaise comes together and is about the consistency of ranch dressing.

Add coconut milk, if needed, thin to desired consistency.
Frying Chicken
Set out a cooling rack with a large baking sheet underneath to catch any grease. PRO TIP: line with parchment for easy clean up.

Dredge marinated chicken into flour mixture. Set aside on a baking sheet while you finish coating all the chicken.

Heat bacon grease in a heavy bottomed skillet (cast iron is magic here).

Bring oil to about 350℉. (If you don't have a thermometer, test oil by adding a pinch of the flour to the oil. It should start to bubble and brown immediately.)

Add chicken to the oil, make sure not to overcrowd the chicken.

Fry the chicken until golden brown and then flip over to fry the other side.

Remove and place on cooling rack.

Continue to fry the chicken one batch at a time. Make sure you keep the heat of the oil high enough. This ensures that the chicken will stay crispy and that the breading won't fall off.
Assemble your Beast Bowl
Add whatever fixin's you want to your bowl.

Top with Chicken and Ranch.
YOUR OWN NOTES
Sign In to add your own private notes
Nutrition
Calories:
354
kcal
Carbohydrates:
29
g
Protein:
41
g
Fat:
8
g
Saturated Fat:
2
g
Cholesterol:
174
mg
Sodium:
1702
mg
Fiber:
4
g
Sugar:
1
g
Calcium:
51
mg
Iron:
2
mg