Hanukkah may be over, but that doesn't mean the latkes have to be! These easy-to-make potato pancakes are perfect for any time of year and make a delicious side dish or main course. So get out your skillet and give this latkes recipe a try! You won't be disappointed.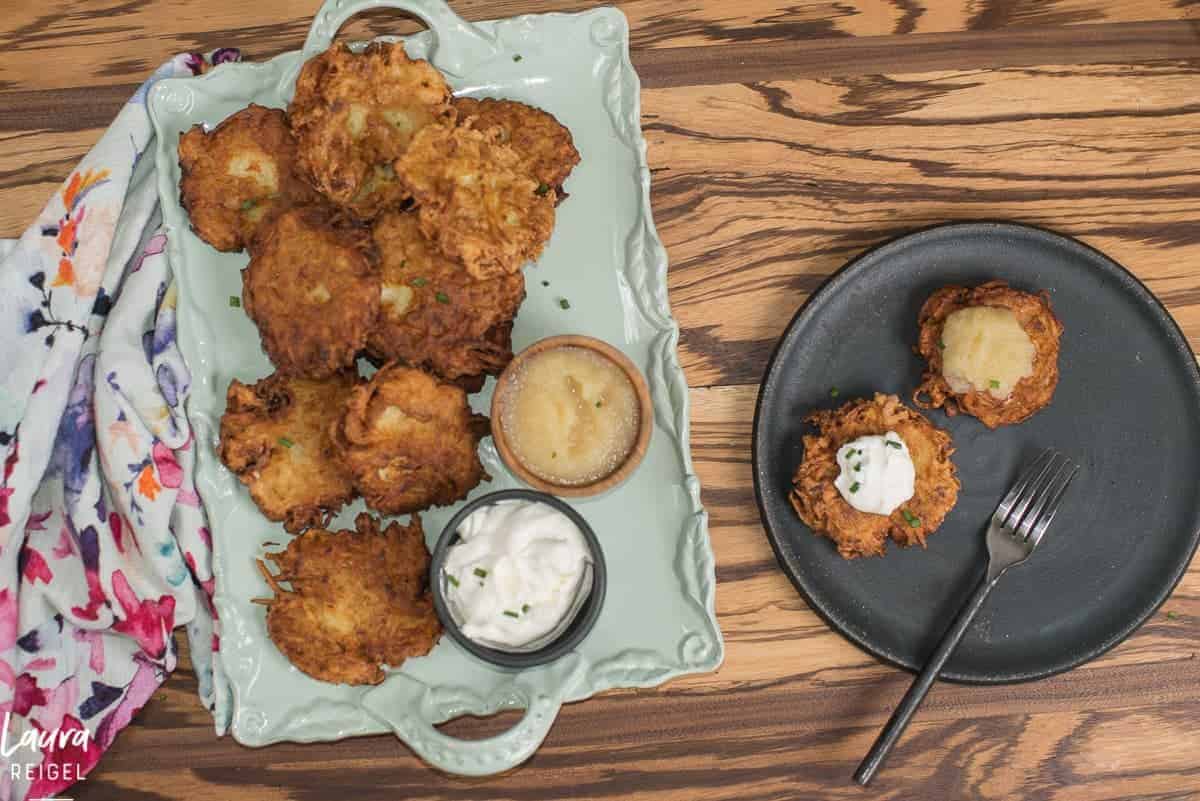 How to make classic latkes.
Potato latkes are easy to make. There are just a few simple ingredients. Traditionally latkes are made with shredded potatoes, onions, and matzo flour. It is often mistakenly believed that matzo meal is gluten-free.
Matzo is derived from wheat and has gluten in it. I had to look it up to find out what the difference was between matzo flour and regular flour. The short story is that matzo flour is subject to stringent processing standards that make it kosher. If you are interested in the full story to check out this read.
Making gluten-free potato latkes.
To make gluten-free latkes, I substitute gluten-free flour for the matzo flour. If you aren't avoiding gluten, feel free to use matzo flour or even just regular all purpose flour. The addition of a little flour acts as a binder.
Latkes are different than potato pancakes. Latkes are traditionally made with shredded potatoes, while potato pancakes are made with mashed potatoes. Both are delicious.
What is the best type of potato for making latkes?
There are many varieties of potatoes. You might be wondering if it makes a difference which potato you use for your latkes. And the answer is yes it does. I have found that regular old russet potatoes are the best choice here. Russet potatoes are less starchy than other varieties of potatoes, such as Yukon Golds.
The lower starch concentration gives you a crispier result when fried. There is no big secret why french fries are usually made from russet potatoes.
What is the secret to really great latkes?
There are a few crucial steps to making perfect potato latkes.
Shred the potatoes with a large grater. This will give you the best texture.
Remove as much water from the shredded potatoes as possible.
Shred or grate the onion before mixing it with the potatoes.
Season well with salt.
I use my food processor to shred the potatoes and then the onions. If you don't have a food processor you can grate the potatoes using a box grater.
To get a really crispy potato, you have to remove as much water as you can from the shredded potatoes.
My technique for prepping the shredded potatoes is to toss them into cold salted water for a quick rinse. This step allows you to get some of the potato starch off and it also keeps the potatoes from oxidizing and turning that purple color. Then drain the shredded potatoes in a wire mesh strainer.
Next, you need to get as much water out fo them as you can. Dump the whole pile of shredded, rinsed potatoes onto a clean kitchen towel. Bundle them up in the towel and then squeeze. Don't be afraid to squeeze too hard. You need to put some muscle into it so that you can get as much moisture out of the potatoes as possible.
Making the best latkes.
After you have squeezed the living moisture out of your shredded potatoes, it's time to add the grated onion and season them.
The only seasoning I add to my latkes is a little kosher salt. I like to keep the flavors simple. Crispy potatoes are delicious so you don't need to add a lot of extras.
Add the eggs and the flour to bind everything together and then get ready to fry them.
What oil should you use for latkes?
My favorite oil for high-temperature cooking is Avocado oil. Avocado oil has a high smoke point and a mild flavor. Coconut oil can sometimes be too coconutty for savory dishes.
Why does this matter? Oils that have lower smoke points can change chemically when exposed to high heat. This chemical change turns an otherwise healthy oil, like olive oil into an oil that causes inflammation in your system. You've probably heard that you shouldn't cook with olive oil. I don't recommend olive oil for frying at all. Save your olive oil for dressing your salads.
Peanut oil is probably the most commonly used oil for deep frying. Peanut oil is mild in flavor and gives a crispy and nicely browned potato. While I love the results of peanut oil in this application, I don't like the high concentration of Omega 9 and Omega 6 fatty acids that peanut oil is made of.
How to fry latkes.
I find that a large skillet is great for frying latkes. Iron skillets hold their temperature really well. I'm a big fan of Staub cookware. You will want your oil to be somewhere between 360 and 375 degrees. Watch the temperature closely. Frying at the correct temperature will ensure that you get a crispy, golden brown latke.
If the temperature is too low you might end up with overly greasy latkes. And if the temperature is too high you will end up with burnt latkes. Either situation is no Bueno!
How to make Paleo latkes.
If you aren't into eating white potatoes, you can still enjoy latkes. This crispy treat is delicious when made with almost any root vegetable. Sweet potatoes and beets both make gorgeous latkes. You don't even need to ring out the sweet potatoes since they are already low in water concentration. Zucchini is another option for potato-free latkes.
How to make vegan latkes.
If you want to keep this recipe vegan, you can leave out the eggs and substitute about ¼ cup of almond milk plus one tablespoon of cornstarch or arrowroot powder.
Apple sauce or sour cream?
Why chose? I say go with both. While you can serve these with apple sauce or sour cream, chives are not optional. When I eat crispy latkes I like to have a little bit of sour cream, and a little bit of apple sauce. A sprinkle of chives pulls all of the flavors together perfectly.
Latkes
Crispy gluten free latkes for your Hanukkah celebration. Serve this with sour cream and apple sauce.
Instructions
Peel and grate the potatoes. Place them in a bowl of cold salted water to prevent them from oxidizing.

Peel and grate the onion. Add to a large bowl.

Add flour and salt to the eggs.

Drain the potatoes and then squeeze dry using a clean kitchen towel.

Add the potatoes to the egg mixture.

Add the oil to a large skillet and heat to 360℉-375℉

Form the mixture into palm-sized patties and place in the oil. Leave a good amount of room around each latke so that they can brown.

Fry for about 4 minutes and then flip them to brown the other side.

Remove and place on a plate lined with paper towels.

Serve with sour cream and apple sauce.
YOUR OWN NOTES
Nutrition
Calories:
127
kcal
Carbohydrates:
24
g
Protein:
4
g
Fat:
2
g
Saturated Fat:
1
g
Cholesterol:
31
mg
Sodium:
163
mg
Fiber:
2
g
Sugar:
1
g
Calcium:
23
mg
Iron:
1.2
mg