Oven Roasted Turkey Breast with Sausage and Apple Stuffing
This oven roasted turkey breast has so much flavor! It's festive enough for the holidays, especially when served with this delicious apple sausage stuffing, but it's also easy enough to make any time of year when you are craving roasted turkey.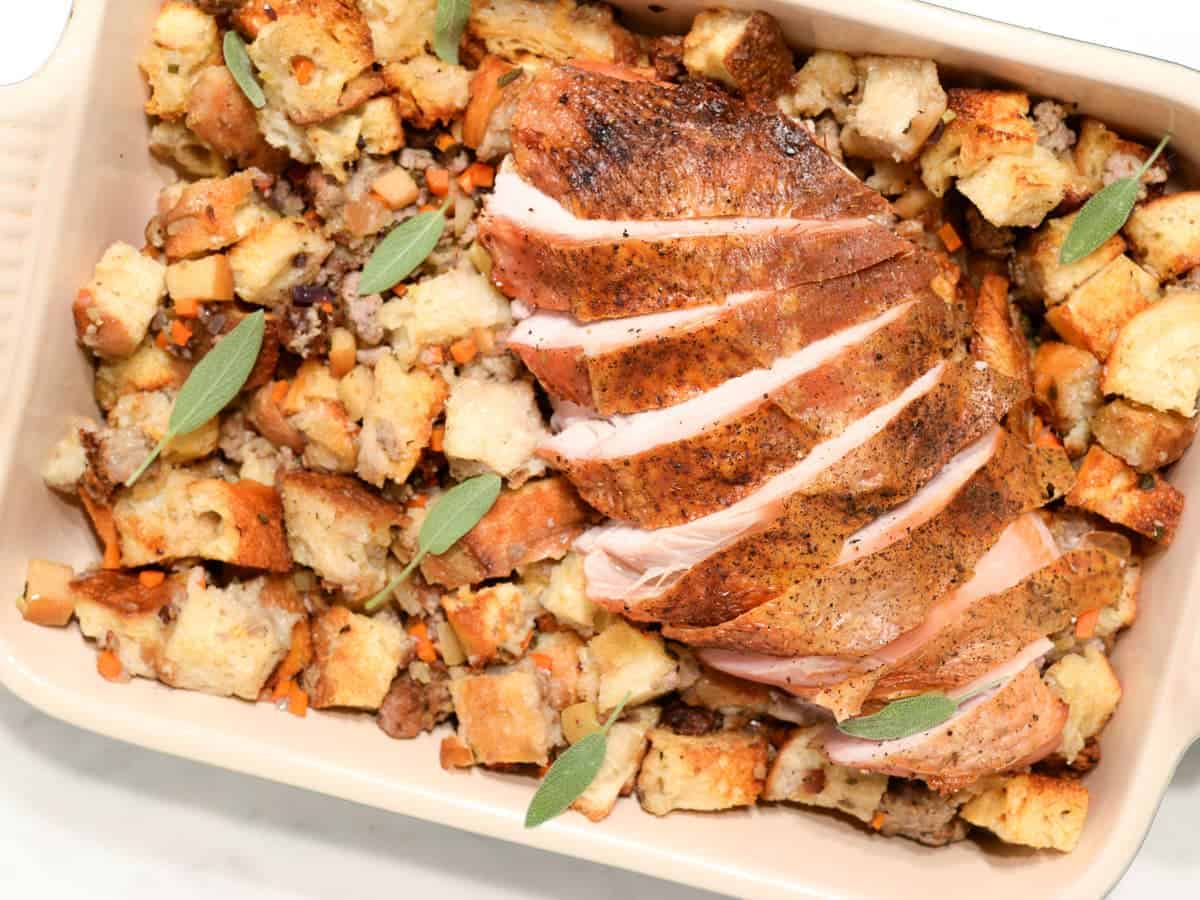 This year, I'll be having a smaller Thanksgiving dinner. I know you might be, too! If you don't want to miss out on all of your holiday favorites, but you might be cooking for fewer people this year, then this recipe is for you!
Turkey is one of my specialties. I have a few tips and trips that make sure you will have the most flavorful, juicy, never dry turkey on the planet. You can use these techniques with a whole turkey, like in my Spatchcock Turkey Recipe, or with this scaled-down oven-roasted turkey breast recipe.
What You'll Love About This Recipe
Easy: This turkey breast recipe is soooo easy. Intimidated to cook turkey? I've got you.
Juicy and flavorful: This turkey is super moist and has a ton of flavor. I'm going to show you exactly how to make sure you don't end up with a dry, flavorless turkey on Thanksgiving. No one wants that.
The BEST sausage stuffing recipe.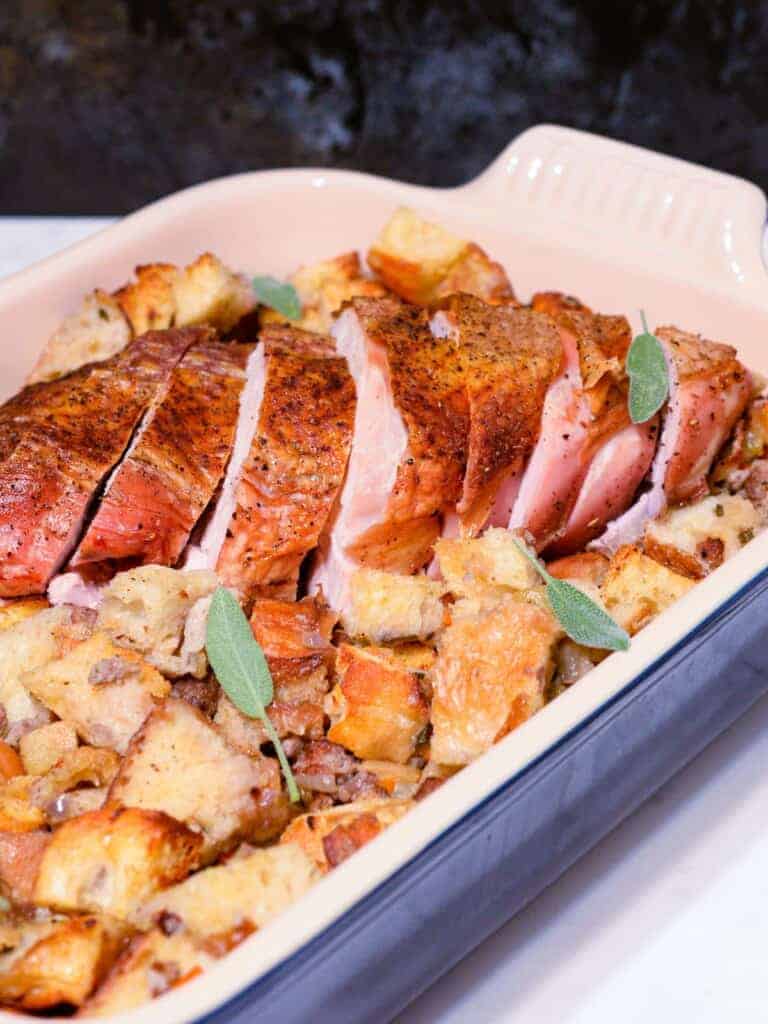 Recipe Notes
This recipe is a scaled-down version of my original Spatchcock Turkey Recipe. I hope you will find that it will give you all the Thanksgiving feels without so much food to prepare. If you're are cooking for fewer people this year, like I am, then you'll love it!
Ingredients for the Oven Roasted Turkey Breast
Turkey. I used a full bone-in turkey breast for this recipe. You can also use a boneless turkey breast, or even a petite turkey, which generally weighs around 8 pounds. I usually plan to prepare about 6 ounces of turkey per person.
Dry rub. I most often use a dry brining method for my turkey. I've found that it's the absolute best way to ensure that my turkey is super juicy.
Ingredients for the Apple Sausage Stuffing Recipe
For this scaled-down version, I use a half recipe from my original Sausage Stuffing Recipe.
In this recipe, you'll roast the turkey over the stuffing, and the turkey drippings give it extra flavor. I don't like my stuffing mushy, so this recipe is like a baked Panzanella.
It's super delicious. The bread is soft but a little crunchy, too! Yum!!!!
Bread. I love a really good sourdough, like Watsonville Bakery's seeded sourdough. But you can really use any artisan bread loaf for this recipe. If you don't want to bother with fresh bread cubes, use high-quality packaged bread crumbs.
Sausage. I usually use Jimmy Dean's sage sausage. Some years I can't find it, so then I use breakfast sausage and add in extra dried sage. You can also use poultry seasoning, salt, and pepper.
Veggies. Apples, carrots, onions, and celery.
Broth. You can use turkey broth, chicken broth, or even vegetable stock for this recipe.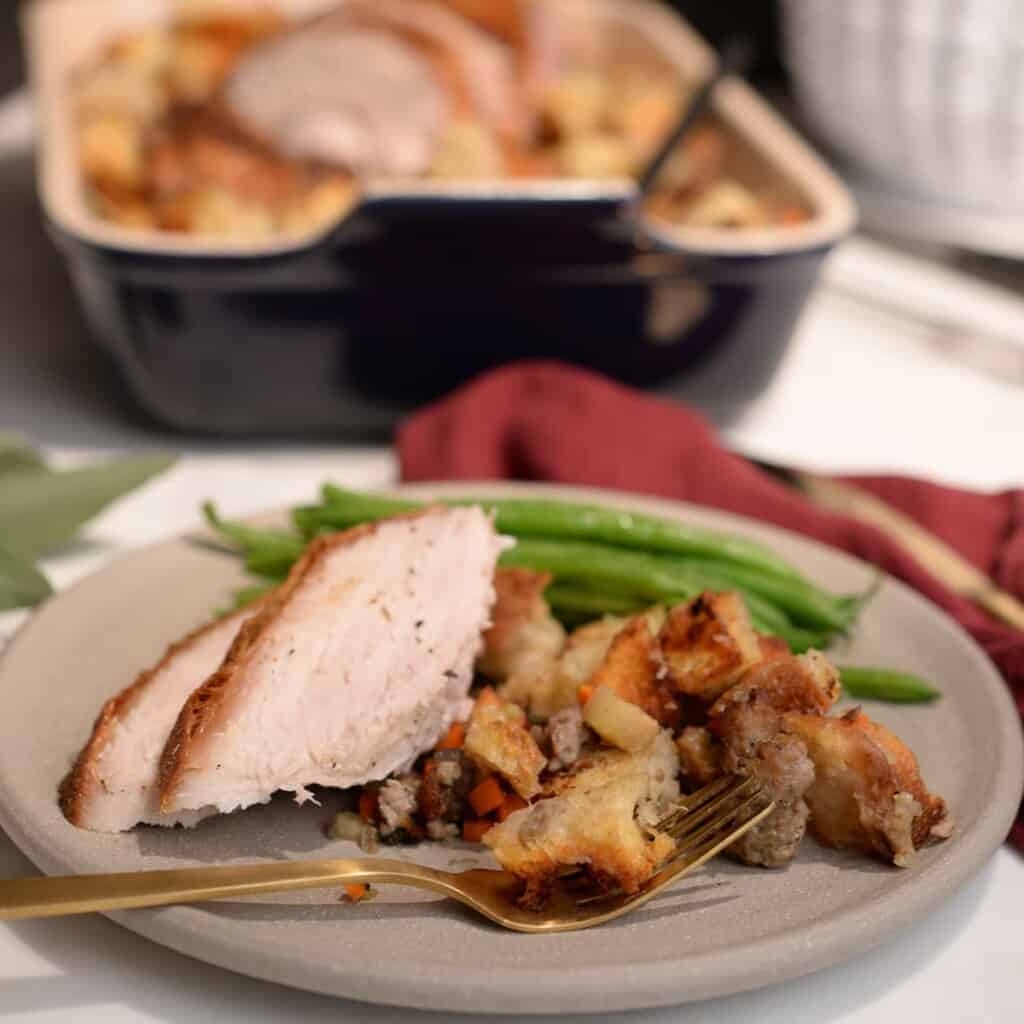 Kitchen Tools You'll Need
Roasting pan with a rack OR a heavy rimmed baking sheet and a wire baking rack.
Probe meat thermometer: Buy one that you can monitor during cooking if possible.
I'm about to geek out, so feel free to skip this section!
I'll only spend a minute here, but it's an important minute. Monitoring the internal temp of your turkey is the only way to make sure that it is cooked perfectly. A lot of people ask me how to tell if a turkey is done.
Without a thermometer, you're just guessing whether or not your turkey is perfectly cooked. The trick of letting the juices run clear is notoriously fallible. No one wants to spend hours in the kitchen only to come up with less than perfectly cooked Thanksgiving turkey.
Disclaimer: I am a Thermoworks affiliate; if you order from these links, I do earn a small commission.
I only advertise products that I own and love. Because I'm a techie geek, I love these thermometers. I truly believe that having a good therometer in your kitchen is essential.
Thermoworks Signals
This multi-probe thermometer is advertised as a BBQ Alarm. This is seriously the Cadillac of all thermometers.
I use this multi-probe thermometer all the time in my kitchen, as well as when I'm grilling and smoking meat. It has multiple probes so you can monitor not only the temperature of your oven, you can monitor the breast and thigh of the turkey. It has so many uses. Plus, I love the mobile app feature!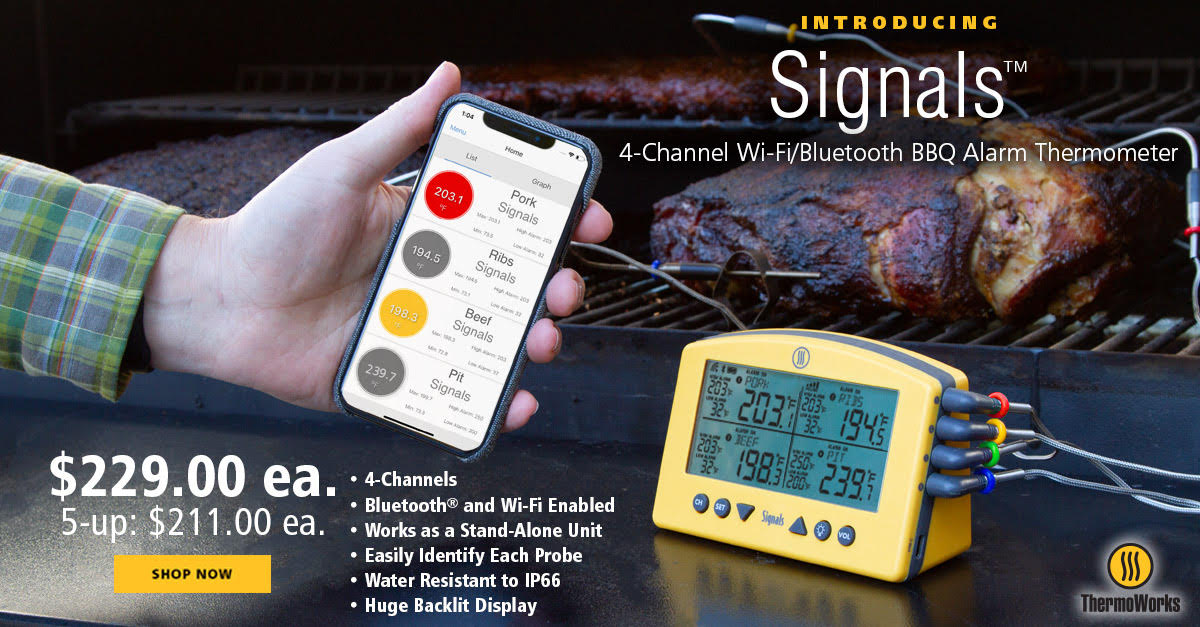 Thermoworks Chef Alarm
Chef Alarm is a single probe thermometer. It is beautiful, comes in a lot of gorgeous colors, and is just as accurate as the Signals. It has just one simple probe, and if that's all you need, then this probe thermometer is a great choice.


Step-by-Step Instructions
Start by dry brining your turkey.
This recipe calls for a dry turkey breast brine. You'll start by preparing a dry rub and then letting the turkey breast dry cure in the refrigerator or a cooler for one to four days.
I dry brine my turkey for 4 days. If you haven't dry brined anything before, this might seem weird, but let me assure you, you will not be disappointed in the result.
How does dry brining work?
All you do is rub a generous amount of salt and spice mix all over the turkey, inside and out. Set the turkey on a wire rack, and place it over a heavy rimmed sheet pan.
Place the turkey in the refrigerator, either uncovered or covered loosely with foil.
How the magic happens!
I would like to claim that dry brining is magic, but it's really just a little cooking science.
During the 4 days the turkey is brining, the moisture in the turkey will pull the salt and spice mixture deep into the meat. Then, because the salt and water concentration will move towards equilibrium, the salt will pull out excess water from the turkey.
What you end up with is a perfect balance of water content in the turkey meat that has been infused with all the seasoning that you rubbed on the outside. Magic? Well, it does taste magical.
Do you have to dry brine for 4 days?
Nope! You can even just let the dry brine sit as little as overnight. The full four days is optimal, for sure. Unless you have a second refrigerator handy, this can take up a huge amount of prime holiday fridge real estate.
A second option is to use a cooler with a small bag of ice in it as a dry brining 'station.' This works especially well if the weather is seasonably chilly! You can put the cooler in the garage, keep the ice fresh, and voila, extra refrigerator space.
How To Cook A Turkey Breast
My two favorite ways of cooking turkey breast are either oven roasting it, as I do in this recipe, or grilling it! Making grilled turkey for Thanksgiving is great because it completely frees up your oven for other things, and plus, you have less kitchen mess, which is always a bonus.
Oven Roasted Turkey Instructions
When you are ready to cook, I suggest bringing the turkey to room temperature. However, you can take it straight from the fridge to the oven.
If you are using a probe thermometer, you will know exactly when your turkey breast temperature has reached 160℉.
Preheat the oven to 450℉.
Prepare the apple sausage stuffing, if you are going to use it here, and spread the stuffing on the heavy rimmed baking sheet.
Place a wire baking rack over the baking sheet and the stuffing.
Set your dry-brined turkey breast on the wire baking rack.
Roast for 10 minutes at 450℉, then reduce your oven temperature to 350℉.
Roast until the turkey breast temp measures 160℉.
Remove the turkey from the oven and cover loosely with foil. Let the turkey rest for a minimum of 10 minutes before carving.
Grilled Turkey Instructions
When I make grilled turkey breast, I make the stuffing in a baking dish and bake it in the oven separately, until the top is golden brown. Use a pretty casserole dish for easy serving!
Use indirect heat for cooking the turkey breast on the grill.
Prepare a hot fire, or preheat your gas grill, and make sure your grill is about 450℉.
Place the turkey breast on indirect heat and grill until the internal temp registers 160℉.
Remove the turkey from the heat, cover, and let it rest for 10 minutes before carving.
FAQs and Expert Tips
How long to cook turkey breast?
Turkey breast cooking time varies depending on the size of your turkey breast. On average, a bone-in turkey breast will cook for 15 to 20 minutes per pound.
How do you keep a turkey breast from drying out?
Brining helps to keep a turkey from drying out during cooking. Whether you use a wet brine or a dry brine, balancing the salt and moisture content of the meat is key.

However, the best way to make sure your turkey isn't dry is to cook it to the proper temperature: no higher than 165℉/74℃ at the breast.

How do you tell if a turkey breast is done?
The best way to tell if your turkey is done is to make sure to use a probe thermometer. The recommended temperature ranges between 155℉ and 165℉ for the breast of the turkey.

I usually take mine out at 160℉, and as it rests, the internal temperature of the meat will rise to at least 165℉.
Can you buy just a turkey breast?
Ever wonder how to make a small turkey for Thanksgiving when all you see are those huge butterballs? Cuts of turkey breast are your best friend. Bone-in whole breast, boneless whole breast, bone-in half breast, and boneless half breast are available at most grocery stores.

All of these are great ideas for a small Thanksgiving dinner.

What to serve with Thanksgiving Turkey
The BEST Thanksgiving Dessert Ideas
➽ Did you make this recipe? I love to see what's going on in your kitchen. Show me what you're cooking. 🍳 Tag me @foodologygeek on your favorite social channel! Facebook, Instagram & Pinterest. If you loved ❤︎ this recipe, please leave a five ★ review and a comment!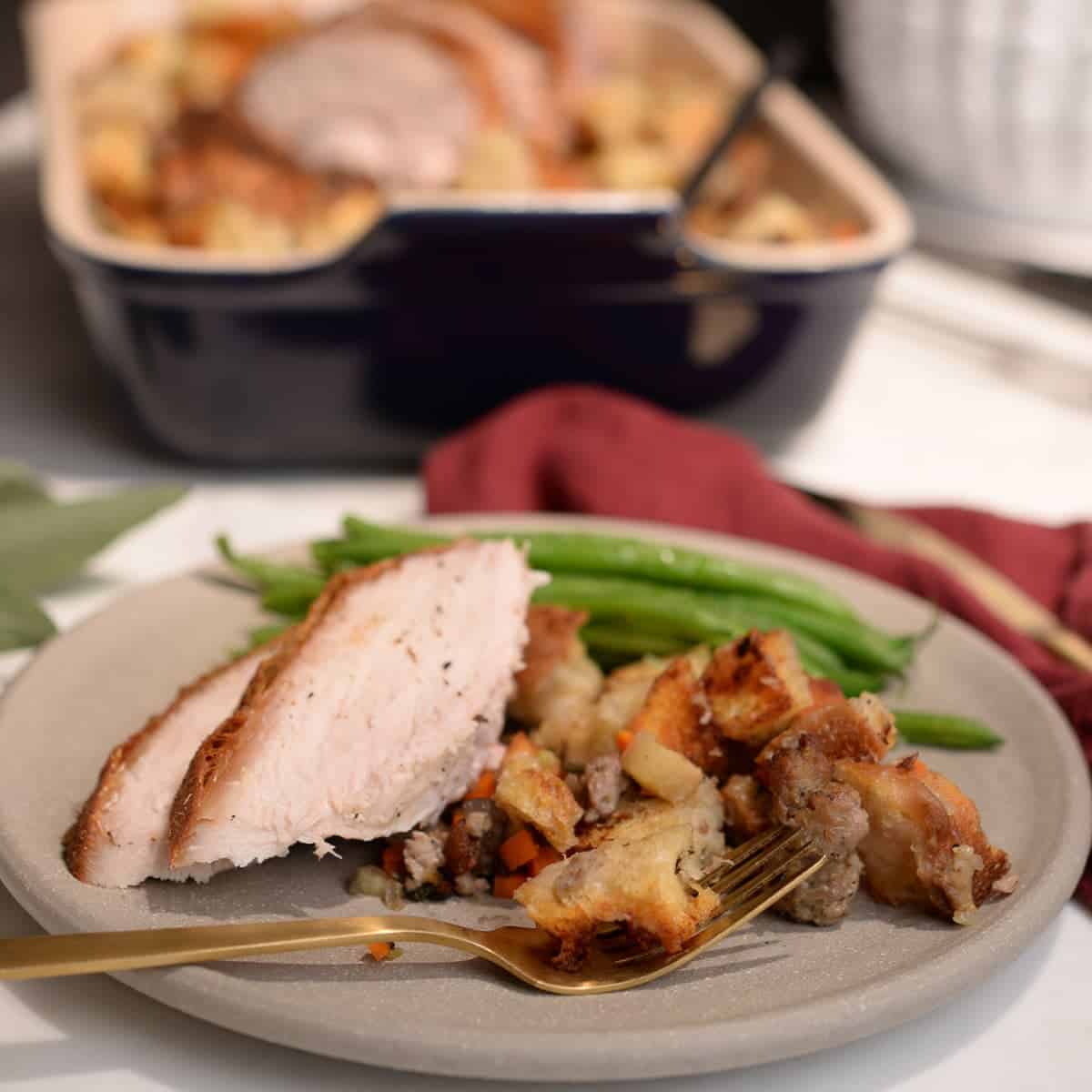 Thanksgiving Turkey Breast Recipe
Dry-brining makes this turkey breast extra moist and delicious. This scaled-down version of Thanksgiving turkey with stuffing is perfect if you are planning a smaller Thanksgiving dinner.
Ingredients
1

bone-in turkey breast

,

options: bone-in full breast, boneless full breast, half breast
Sausage Stuffing Recipe
4

cups

cubed sourdough bread

,

I like using sourdough for this recipe, but you can also use French bread. Just make sure that the bread is on the dry side. If it's not, dice it into cubes and dry it out in an oven set a 200F.

½

pound

sage seasoned sausage

,

I usually use Jimmy Dean's Sage sausage.

¼

cup

carrots

,

finely diced

¼

cup

celery

,

finely diced

¼

cup

onion

,

finely diced

1

apple

,

diced. I usually use honey crisp, gala, or Fuji apples.

2 to 3

cups

broth

,

turkey, chicken, vegetable broth are all fine.

2

teaspoons

rubbed sage

salt and pepper

,

to taste
Instructions
How to Dry Brine a Turkey Breast
Dry Rub. Four days before serving, prepare the spice blend in a spice grinder or mortar and pestle. Set aside.

Season. Rub the seasoned salt on both sides of the turkey breast.

Dry brine in the fridge. Place the turkey breast on a parchment paper-lined half sheet pan. Store uncovered in the refrigerator up to 4 days. You can also use a cooler for this step if you don't have room in the fridge.
Oven Roasting the Turkey Breast
Preheat. Set the oven temperature to 425℉

Prepare. Place the turkey on a wire baking rack over a half sheet pan (to catch the drippings).

Oven roast. Roast the turkey breast for 30 minutes at 425℉. Reduce the temperature to 350℉. Continue to roast until the thickest part of the breast is 160℉, approximately 40-50 minutes.

Rest. Remove the turkey from the oven and let it rest for 30 minutes before carving. The internal temperature will rise to 165℉.
Grilling the Turkey Breast
Build your fire. You will cook the turkey on indirect heat. Set a a fire or heat the gas grill on one side.

Grill. Place the turkey on the grill and cook until it reaches an internal temperture of 160°F.

Rest. Remove the turkey breast from the grill, cover loosely with foil, and let rest 30 minutes before carving.
How to Make Sausage Stuffing
Brown. Brown the sausage in a large heavy skillet such as cast iron.

Add the mirepoix. Add the veggies and the sage, sauté until the veggies are fragrant and soft.

Add the bread cubes. If you are using fresh bread, you can dry out the bread cubes for 30 to 60 minutes in an oven heated to 200°F. Alternatively, you can use packaged bread cubes.

Add the broth to the stuffing mixture. You can add more or less broth depending on how moist you prefer your stuffing.
Laura's Tips + Notes
Hands-on prep time is only 30 minutes, but be prepared to let this turkey set in the refrigerator for up to 4 days.
YOUR OWN NOTES
Nutrition
Calories:
278.59
kcal
Carbohydrates:
1.26
g
Protein:
41.99
g
Fat:
11.06
g
Saturated Fat:
2.85
g
Cholesterol:
139.13
mg
Sodium:
2658.59
mg
Fiber:
0.41
g
Sugar:
0.12
g
Calcium:
31.3
mg
Iron:
2.01
mg