Ham and Black Bean Soup Recipe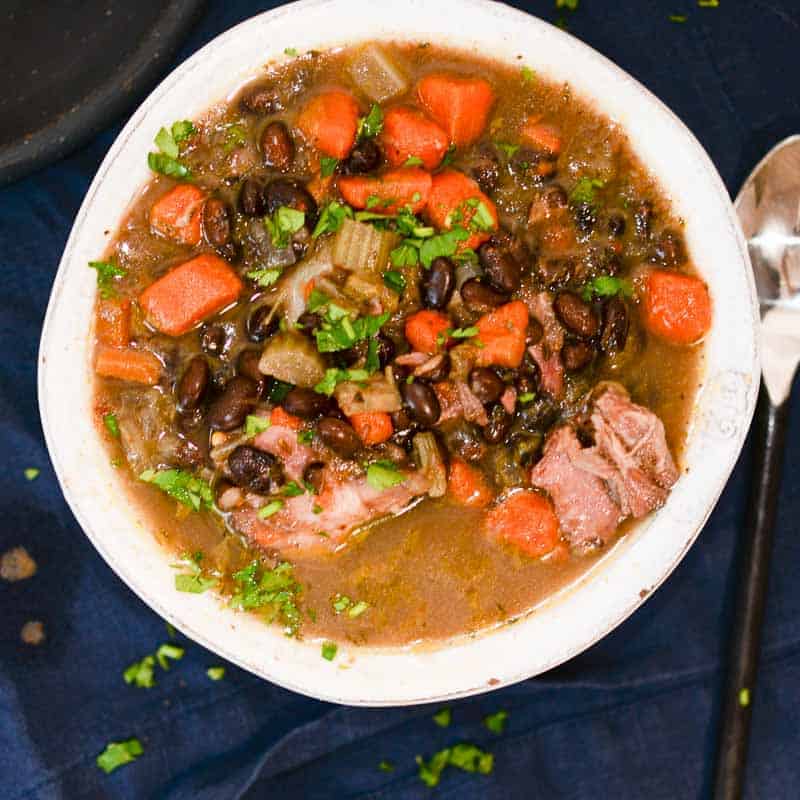 Recipe
Comments
Save
Go to Collections
This post may contain affiliate links. Please read my
disclosure policy.
This ham and bean soup recipe uses a smoked ham hock to give it a rich smokey flavor. This rich and hearty black bean soup is ultra satisfying on those chilly nights.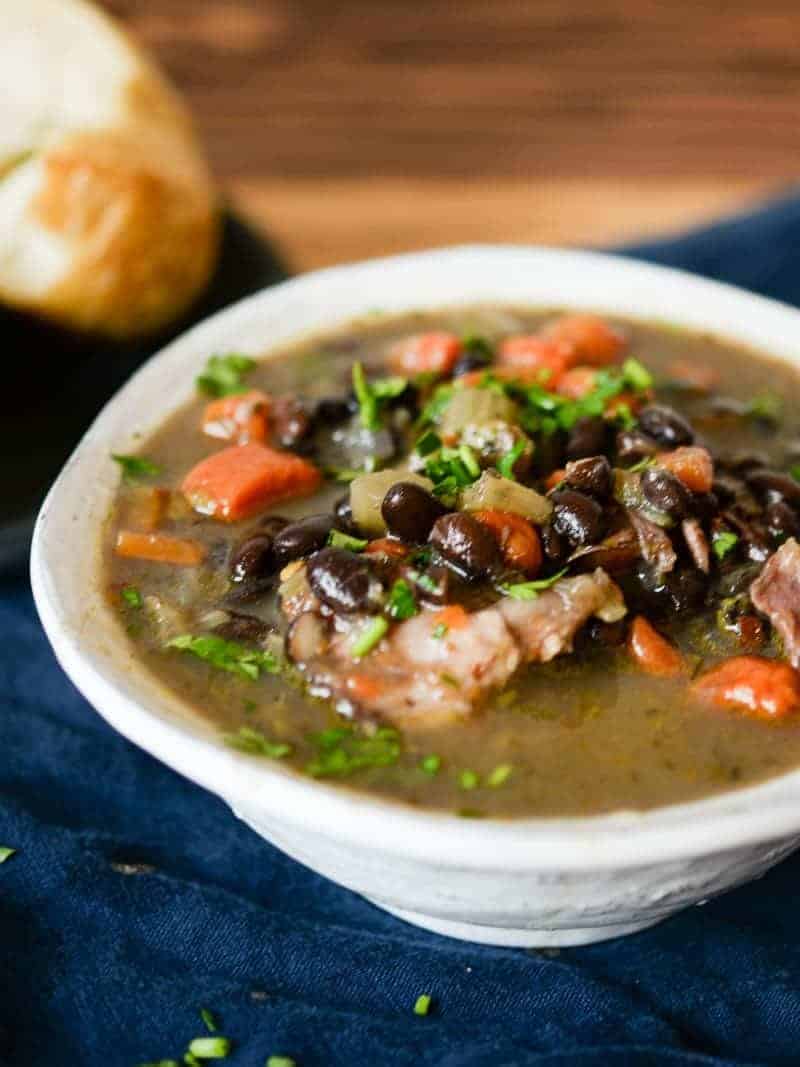 Smoked Ham Hock Soup is a recipe that I remember fondly from my childhood
My mom used to make this easy ham and bean soup every year after Easter.
We always had a bone-in ham at Easter. After dinner, my mom would pack up all of the leftovers and start a slow cooker filled with dried navy beans and the leftover ham hock.
The beans would cook in the slow cooker overnight, and the next day we would eat bowls of the ham and bean soup topped with diced white onions and tabasco sauce.
Of course, there was always a side of fresh cast-iron baked cornbread
This simple meal was an easy dinner to put together. It was also a really satisfying meal.
Sometimes I think the simple things are the things that you remember the most.
This easy black bean soup recipe is also simple and satisfying
I got this recipe from my Aunt Sheila. I made a few tweaks to it, as I do with most recipes. But, for the most part I followed the instruction that she told me over the phone.
The foundation of this recipe can just as easily be used with red beans, white, beans, or even split peas. I use black beans for the recipe.
You can also find bags of pre-mixed beans that are intended for bean soup.
I will also give you a few tips if you would rather use canned beans for this recipe.
Making black bean soup with ham bone requires a few easy steps
Buy a smoked ham hock
Where to buy smoked ham hock?
You can usually find a smoked ham hock in the meat department of your grocery store.
I usually buy one ham hock and then ask my butcher to cut it into three pieces.
When I make a smoked ham hock soup, I usually only use one-third of the ham hock.
I use smoked ham hock to make other recipes like collard greens and split pea soup.
ALTERNATIVELY: You can use a leftover ham bone from a bone-in ham to make black bean soup with ham. If you have any lefover ham, dice it nd add it to the soup as well.
How to prepare black beans
Prepare Black Beans by soaking them overnight.
To cook dried beans, you should first rinse the beans and then place the beans in a large bowl or pot. Cover them with 6 to 8 cups of hot water.
Let the beans soak overnight.
In the morning, strain the beans and set them aside.
SHORTCUT FOR PREPARING DRIED BLACK BEANS: You can also cover the dried beans with water, in a large pot. Bring them to a boil once. Drain them and add clean water. Then procede with the recipe.
Make a Mirepoix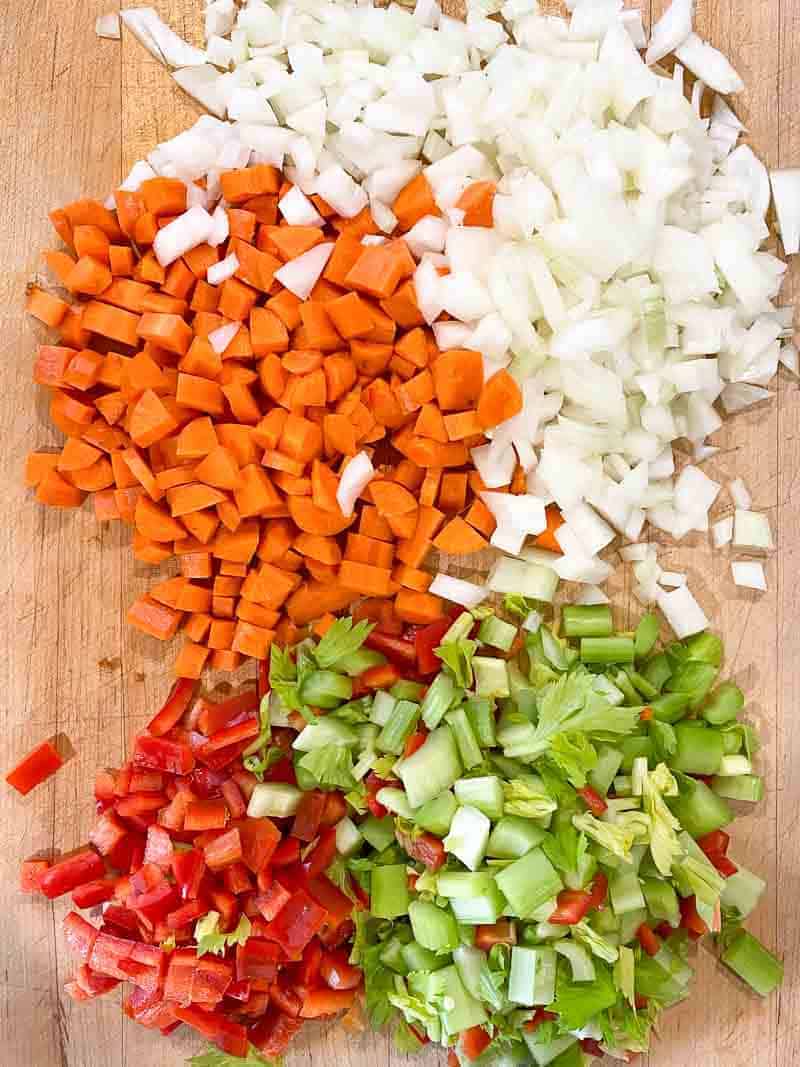 Mirepoix is a vegetable mixture that is used in most soup bases.
The French version of mirepoix, which is most commonly used, is made of carrots, celery, and onions.
For this recipe, I've added a diced red pepper.
To prepare the mirepoix, dice all of the vegetables approximately the same size.
To start the smoked ham hock soup
Sauté the mirepoix in a few teaspoons of oil or butter. About 5 minutes.
The vegetables should be tender and fragrant.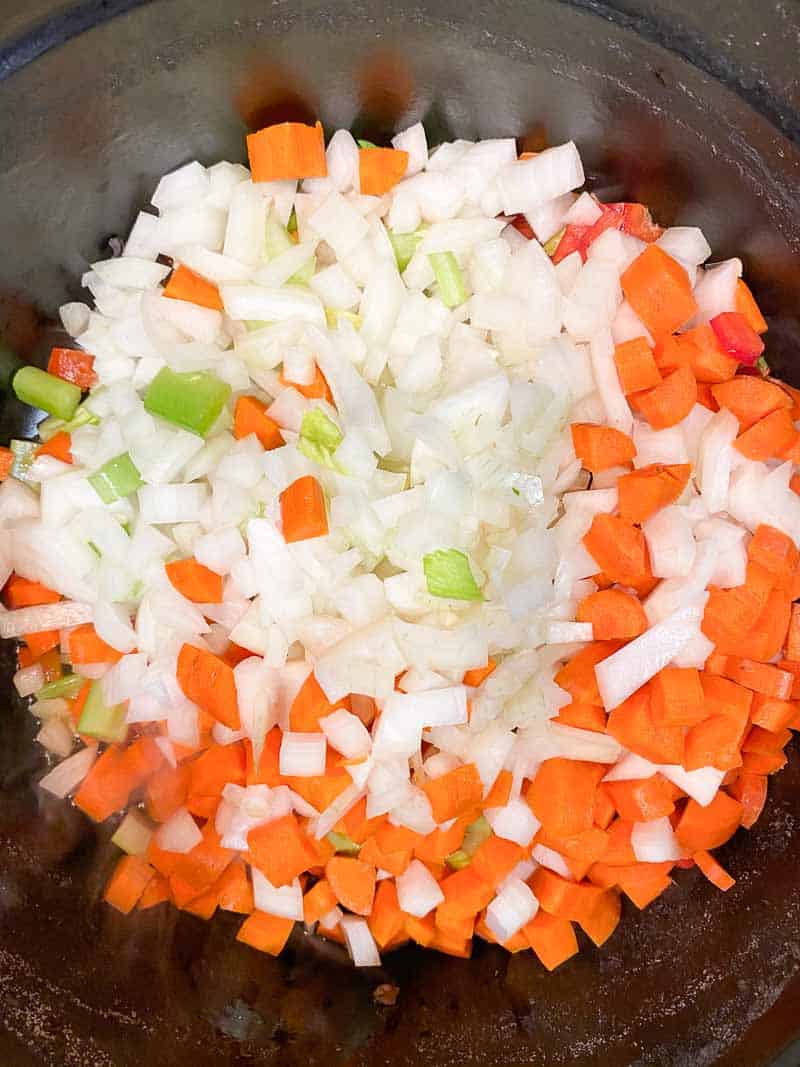 Add the smoked ham hock or ham bone.
After cooking the soup, you can remove the ham hock entirely. The ham hock adds excellent flavor to the soup.
I prefer to pull the meat off of the bone and shred or dice it. Then I add it back to the soup.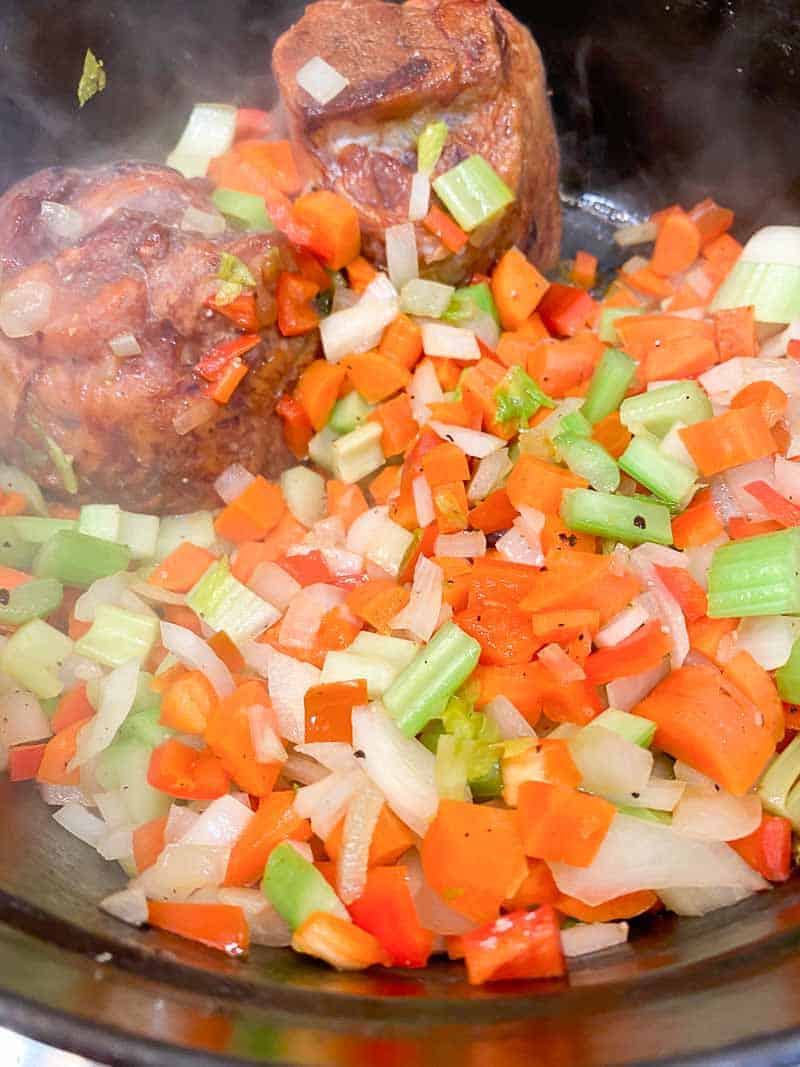 Add the presoaked beans.
Prepare the black beans for cooking by following the directions above.
An overnight soak helps to release some of the chemicals in beans that give you that gassy feeling.
Soaking is totally optional. I have made black bean soup without soaking the beans overnight. I've been fine with it.
I leave the decision up to you. No matter what, do make sure you rinse the beans thoroughly.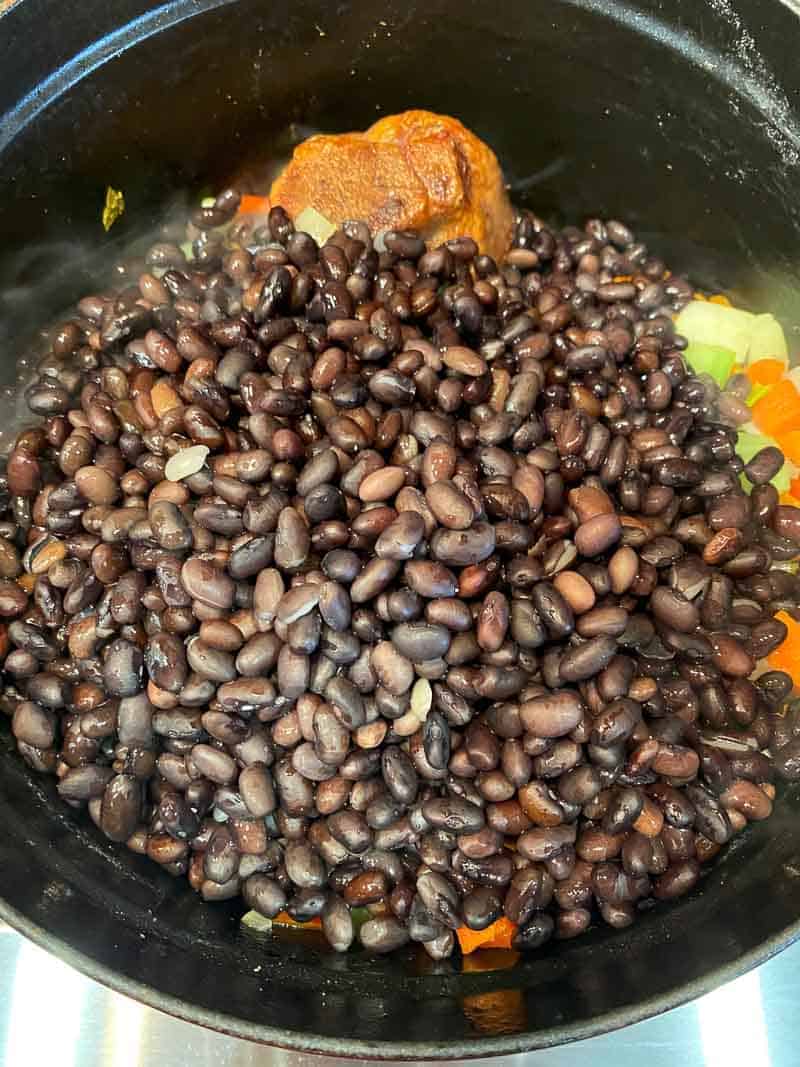 Add the spices.
Celery Seed, thyme, cumin, crushed red pepper, and then a few bay leaves.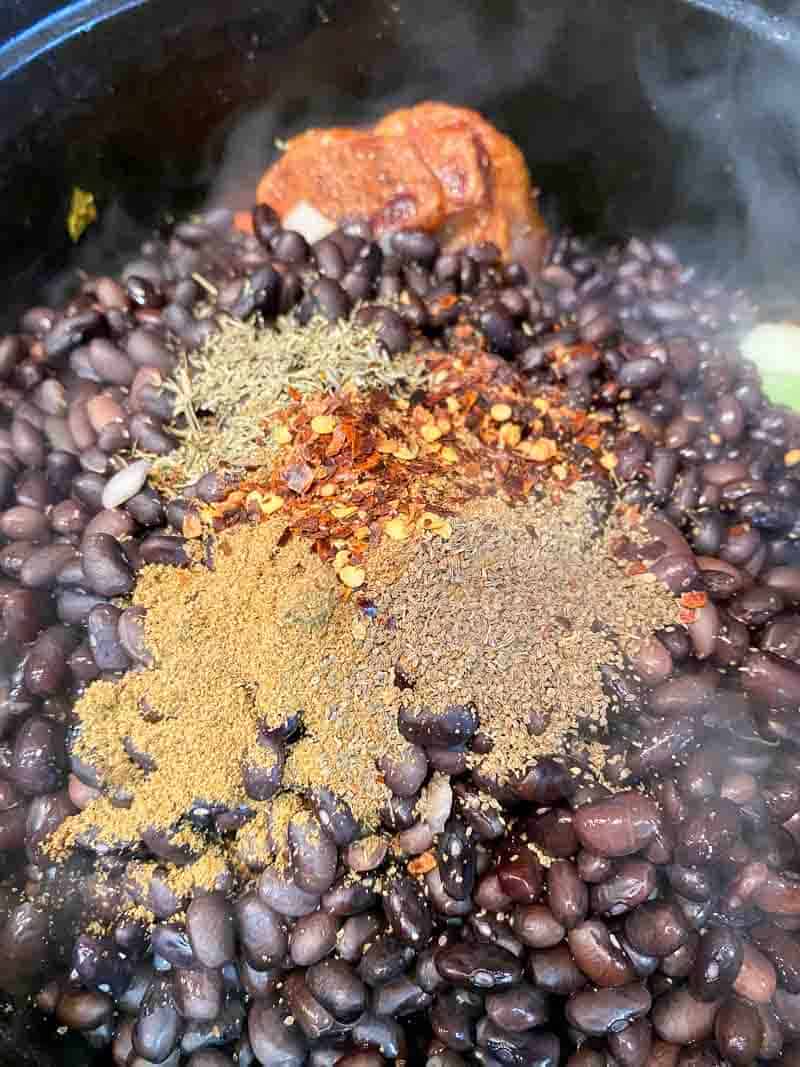 Cover with water or broth.
You can use plain filtered water for this recipe. The ham hock gives the black bean soup a ton of flavor.
Chicken or vegetable broth is also an option.
I like to use water and Caldo de Pollo, which is a powdered chicken bouillon flavoring.
I have tried making this soup with all of the methods listed above. They are all delicious. The Caldo de Pollo just gives me the flavor that I remember. So, I stick with it.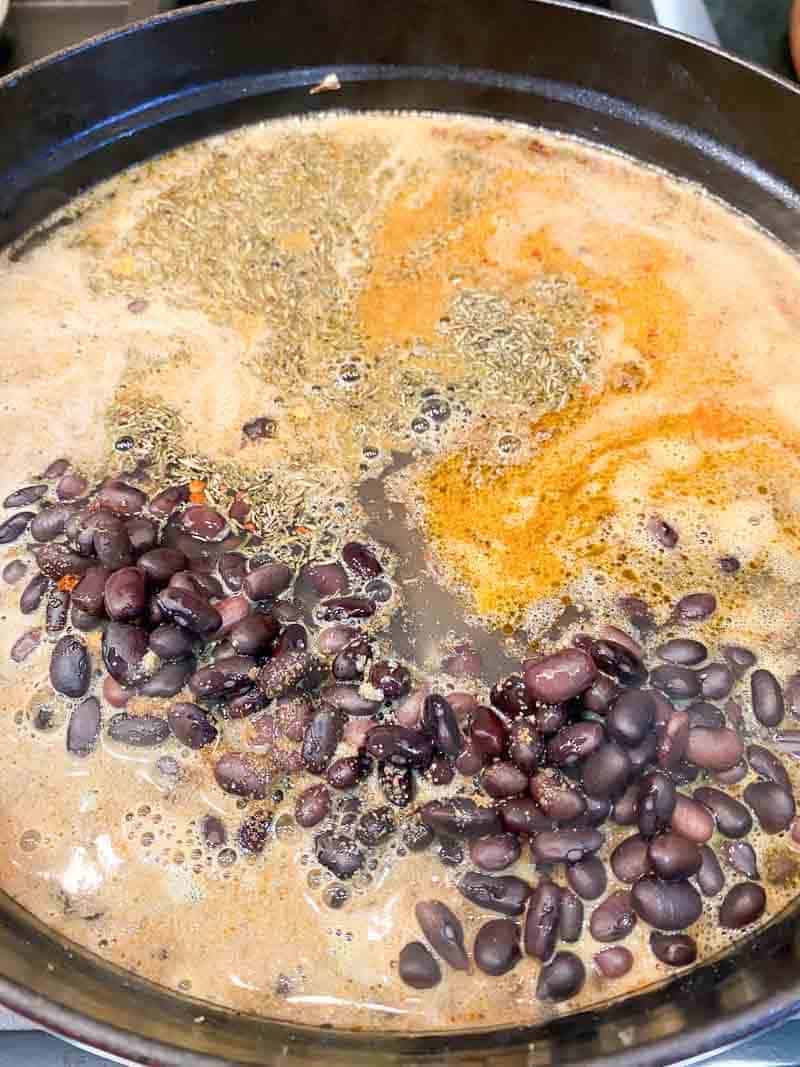 Simmer with the lid on for 2 hours.
Simmer until the beans are tender and the ham is falling off of the bone.
How to make Ham and Bean Soup In the Slow Cooker
Making black bean and ham soup in a slow cooker or crockpot is super easy too!
Follow the instructions on how to prepare the black beans.
Add all of the ingredients to the slow cooker and cook on low overnight or all day while you are at work.
When you are ready to eat, you can pull out the smoked ham hock. Pull off and shred or dice as much meat as possible and then add it back to the soup.
How to make Ham and Bean Soup In the Instant Pot
Ham and bean soup in the Instant Pot takes no time at all.
Follow the instructions for preparing black beans.
Add all of the ingredients to your instant pot.
Seal it and set the manual pressure for 30 minutes.
When you are ready to eat, you can pull out the smoked ham hock. Pull off and shred or dice as much meat as possible and then add it back to the soup.
To thicken your black bean soup
If you want a thicker black bean soup, you can add half of the soup to a blender and puree. Then add the pureed part back to the soup pot.
It's best to ladle out the half portion of soup before you add the smoked ham back into the soup.
Add vegetables, broth, and all to the blender, it doesn't have to be an exact measurement.
Some people like to have a completely smooth black bean soup and use an immersion blender to blend the entire batch of the soup.
Blending is entirely optional.
What to serve with Black Bean Soup
Buttermilk Corn Bread Recipe
Cast iron baked buttermilk cornbread recipe from Damn Delicious.
SEE THE RECIPE
Dinner Rolls
These magnificent dinner rolls are soft, fluffy and plain wonderful. They are the hands-down favorite at our family dinners. Trust me, it's worth making this dough for the cinnamon rolls that you can make in the morning.
SEE THE RECIPE
PIN FOR LATER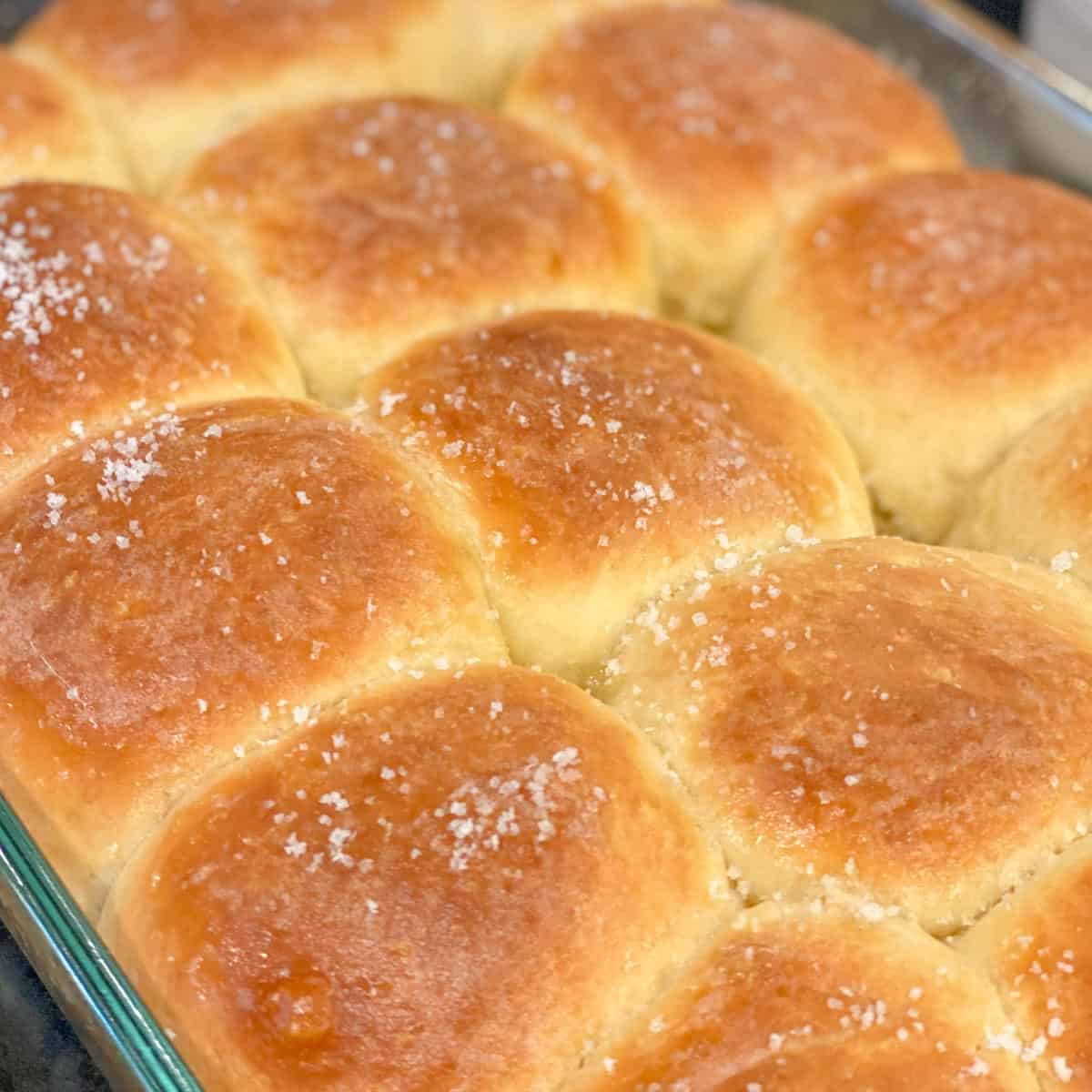 Savory Watermelon Salad With Pecorino Cheese
This watermelon salad recipe is a beautiful tomato and watermelon salad with spicy arugula and salty pecorino cheese. A little bit different than the all-too-common watermelon and feta salad.
SEE THE RECIPE
PIN FOR LATER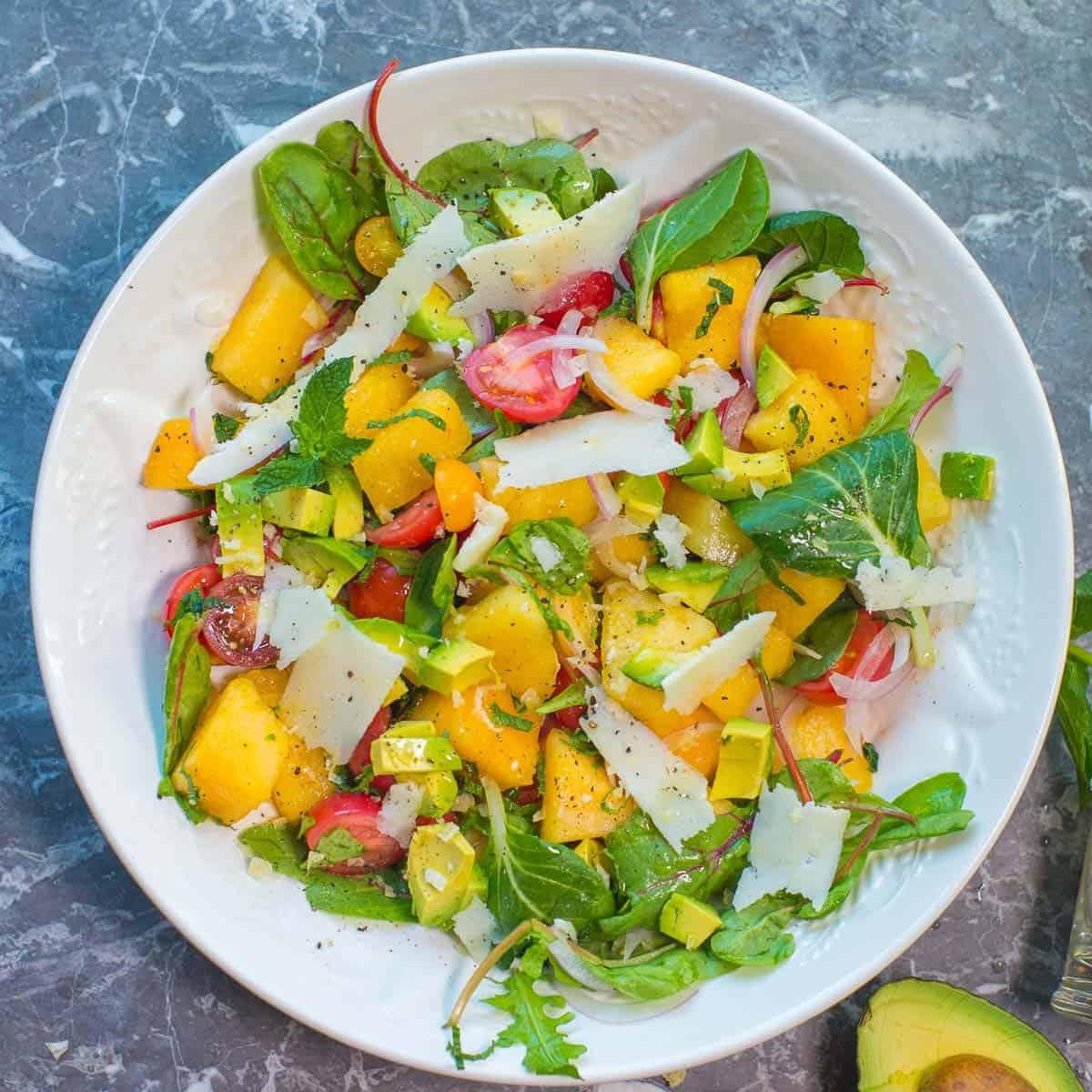 Other Comfort Food Recipes that You might Like
Taco Pasta
Move over tacos, there's a new Mexican dish in town - taco pasta! This fusion of two classic comfort foods is simple to make and sure to satisfy. All you need is some cooked pasta, taco meat, cheese, and your favorite toppings. So why not give it a try tonight? You'll be glad you did!
SEE THE RECIPE
PIN FOR LATER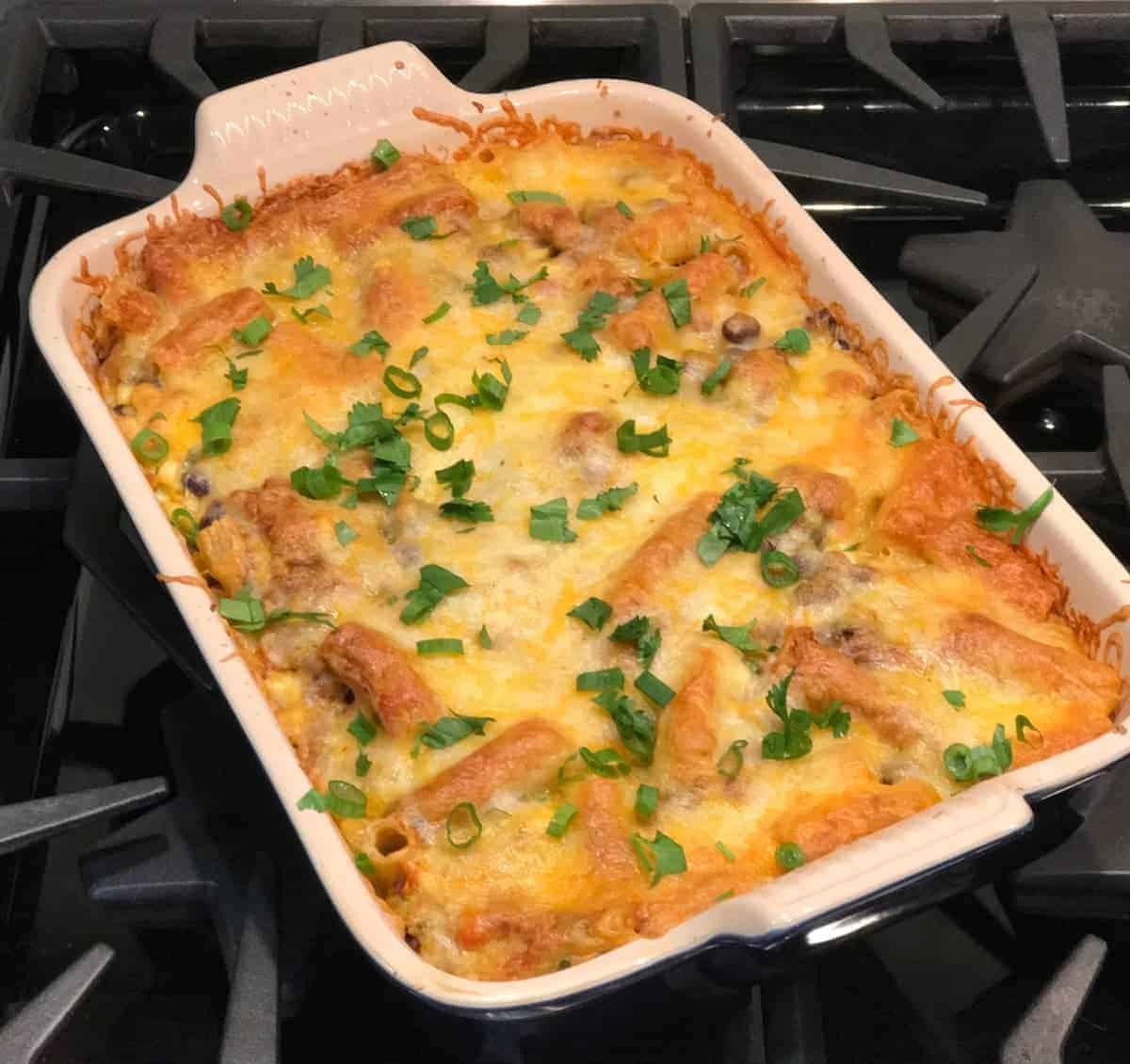 Lentil Soup With Wild Rice Recipe
Warm your soul with a hearty lentil soup featuring wild rice, packed with protein and fiber. This comforting recipe is perfect for chilly evenings and offers customizable variations for a satisfying and nutritious meal.
SEE THE RECIPE
PIN FOR LATER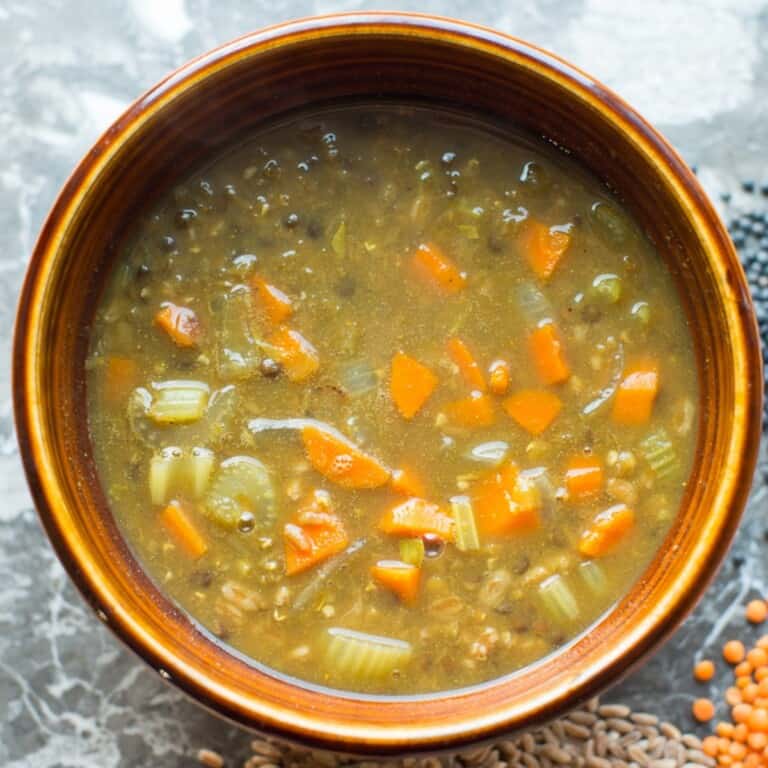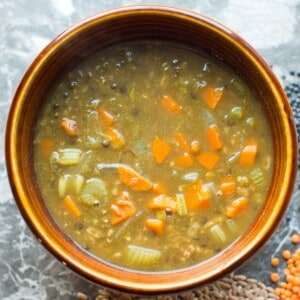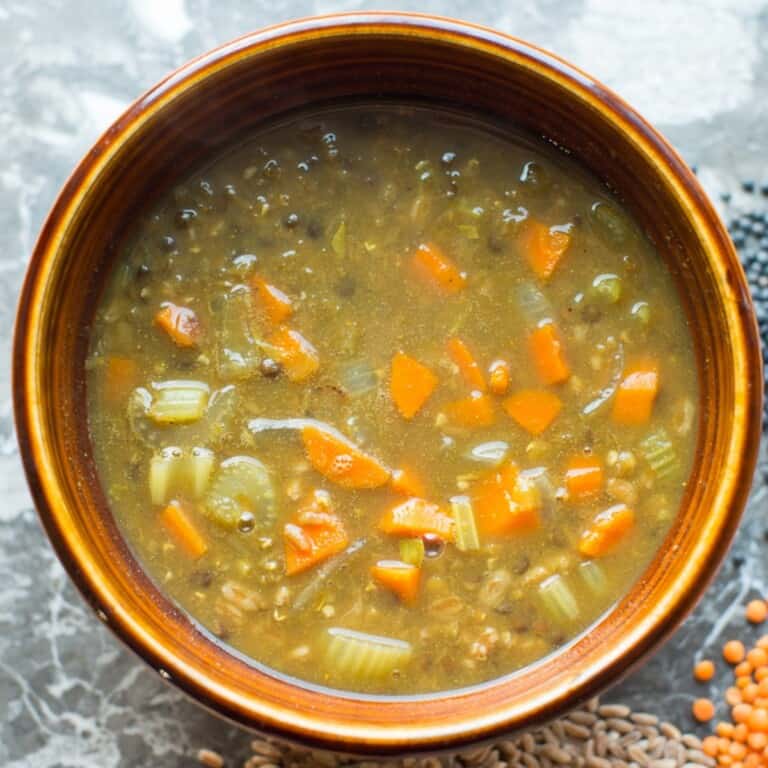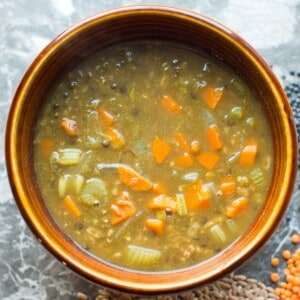 Paleo Cream of Mushroom Soup
This soup is delicious. The coconut milk adds a dairy-free creaminess that will fool your most discerning dairy-lovers.
SEE THE RECIPE
PIN FOR LATER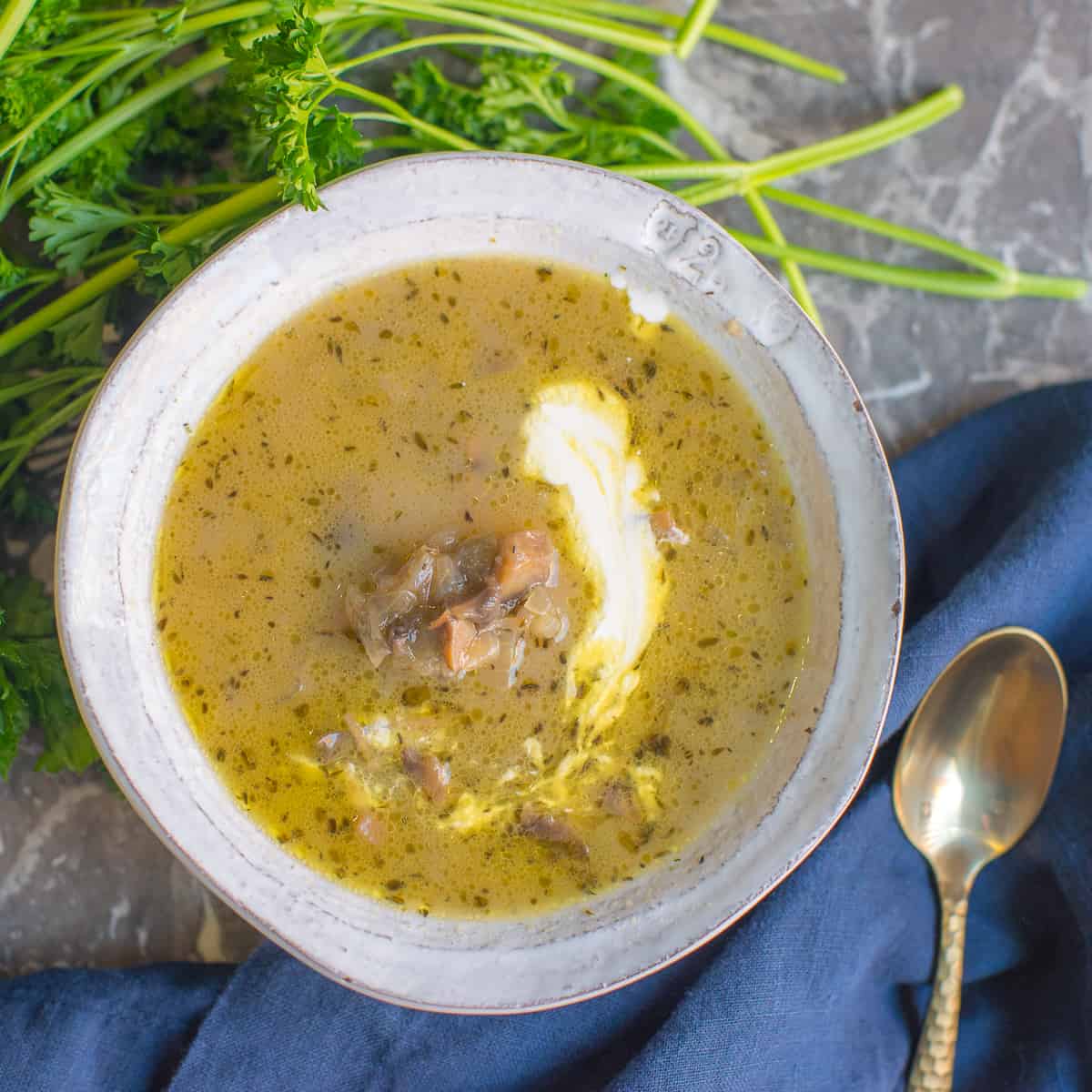 Spicy Chorizo Soup
This soup is full of hearty vegetables - and yes, even kale. It is really fast to cook up. Because the chorizo has so much flavor, you can eat it right away. No need to let it simmer all day!
SEE THE RECIPE
PIN FOR LATER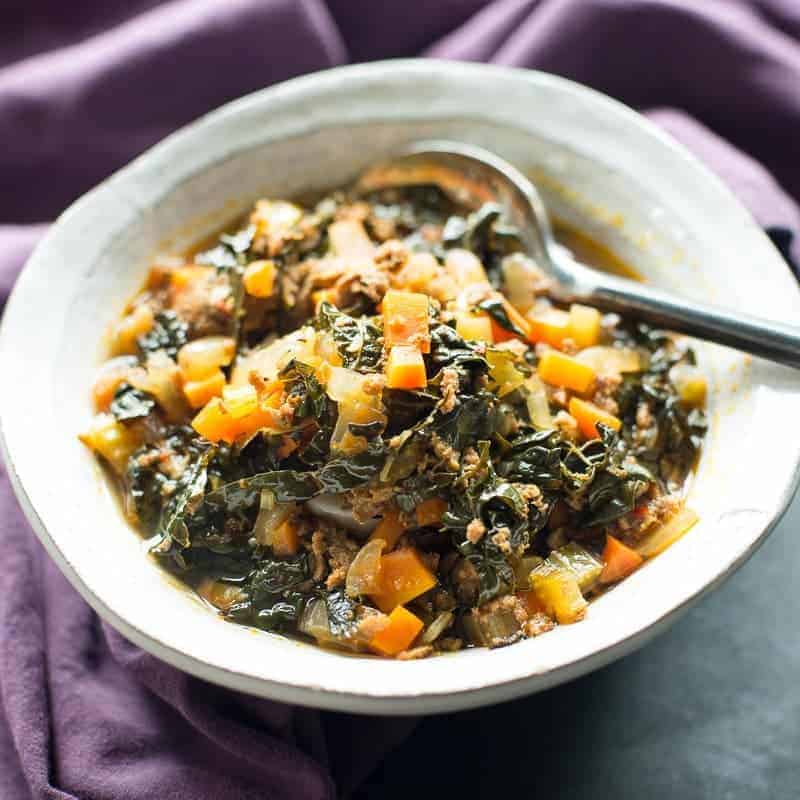 Easy Curry Risotto
A twist on a classic risotto recipe, this curry vegan risotto has a delicious curry flavor and an extra boost of protein from the chickpeas. This risotto recipe is hearty enough for even hardcore carnivores.
SEE THE RECIPE
PIN FOR LATER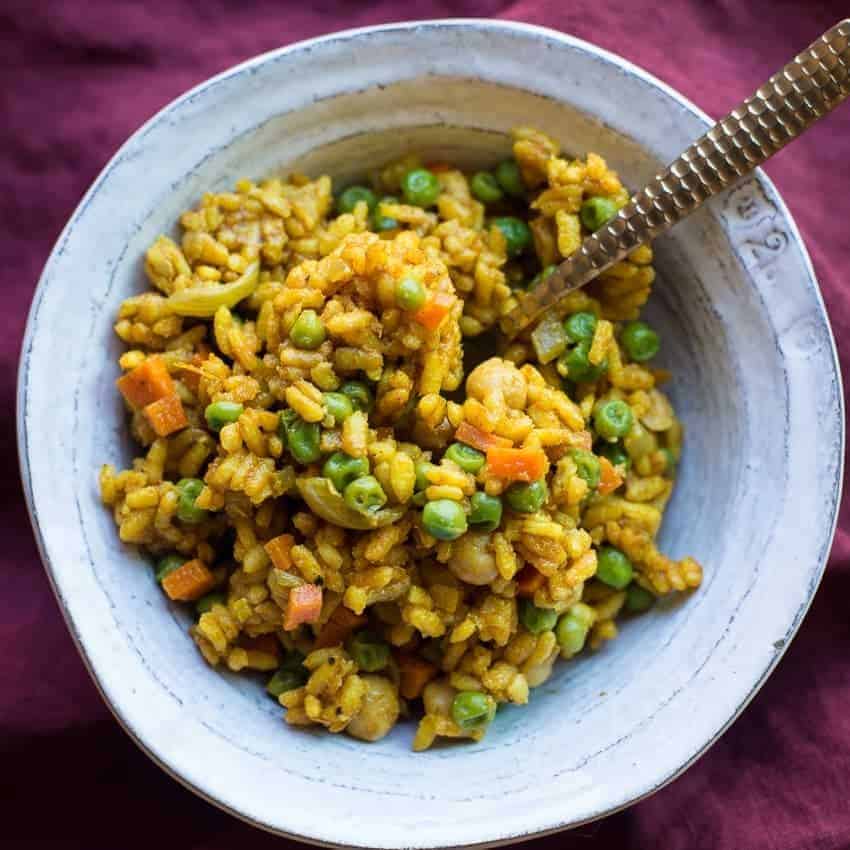 Homemade Noodle Recipe
Homemade dumpling noodles are easy to make. This simple old fashioned noodle recipe is perfect for making chicken noodle soup and even ramen.
SEE THE RECIPE
PIN FOR LATER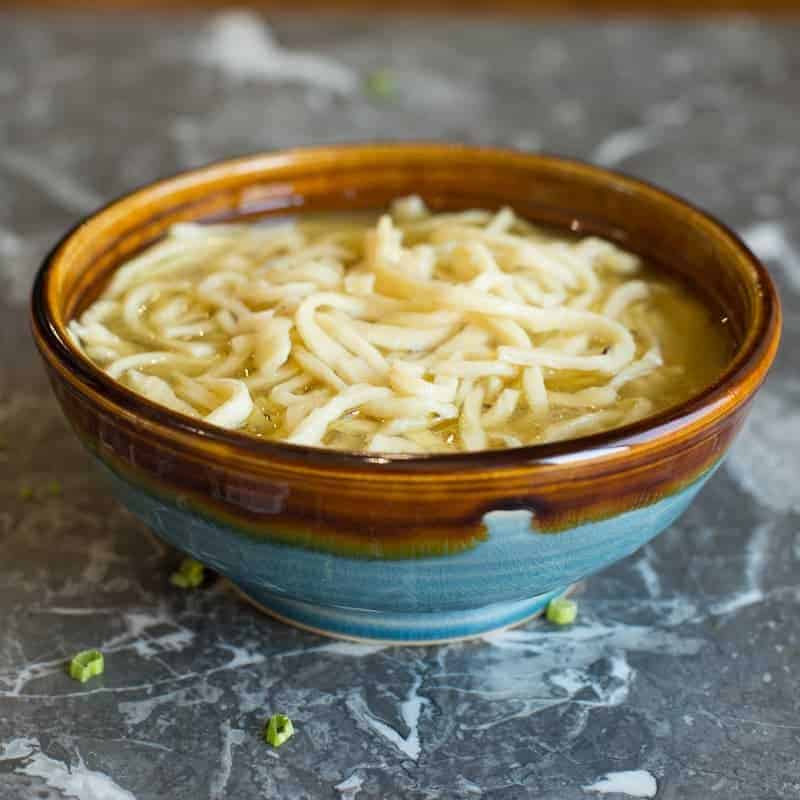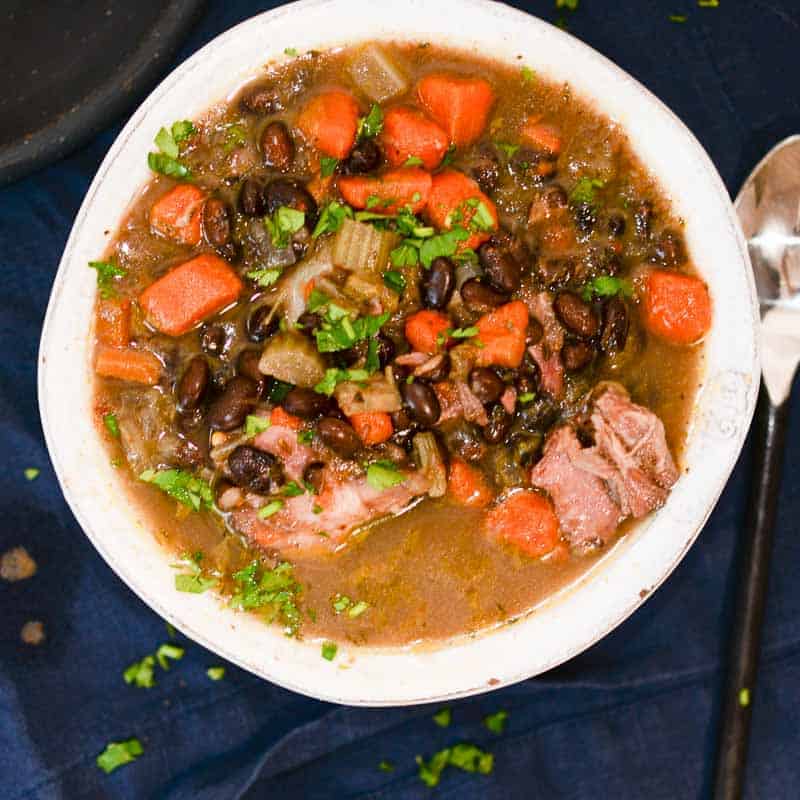 Smoky Ham and Black Bean and Soup
Easy black and ham soup. I make this soup with a ham hock. But you can also used leftover ham.
Ingredients
1

smoked ham shank

,

Cut into 3 pieces by you butcher.

12

ounces

dried black beans

1

tbsp

olive oil

(affiliate link)

,

or butter

1

medium

onion

,

1 cup diced

3

large

carrots

,

1 cup diced

4

stalks

celery

,

1 cup diced

1

tbsp

Knorr caldo de pollo

,

Optional: It's okay to leave this out.

2

tsp

dried thyme

2

tsp

dried cumin

2

tsp

granulated garlic

1

tsp

celery seed

1

tsp

crushed red pepper

8

cups

water

,

Optional: Use chicken broth
Instructions
Soak the beans in water overnight.

Rinse and then set aside.

Add the olive oil or butter to a large stockpot or dutch oven.

Add the mirepoix vegetables to the pot and sauté until fragrant.

Add the spices, including the bay leaves, the cracked ham shank, and the Knorr caldo de pollo.

Add the beans and water to the pot and bring to a boil.

Reduce the temperature and let the soup simmer covered for several hours, until the beans are tender and the pork is falling off of the ham shank.

Remove the ham shanks, preserve as much meat as you can and add it back to the soup. Toss the bones.

Serve with crusty bread or cornbread.
Laura's Tips + Notes
Substitutions:
Use any type dried beans that you prefer. You can even use a mix of beans.
Split peas are another option for making this soup.
Using canned beans:
If you want to use canned beans, follow the instructions for the soup except for the step where the beans are added.
Add the ham hock, simmer the soup covered for at least an hour, or until the meat is falling off of the bone.
Remove the bone, add the meat to the soup and discard the bone.
Add the canned beans and heat until the soup is hot.
If you are using a ham bone:
Add the ham bone to the soup at the same time as you would add the smoked ham hock.
If you have any diced ham, add it in the last 30 minuts before you serve the soup.
YOUR OWN NOTES
Sign In to add your own private notes
Nutrition
Serving:
1
cup
Calories:
235
kcal
Carbohydrates:
31
g
Protein:
14
g
Fat:
6
g
Saturated Fat:
2
g
Cholesterol:
18
mg
Sodium:
246
mg
Fiber:
8
g
Sugar:
3
g
Calcium:
95
mg
Iron:
3
mg