Ham and Black Bean Soup Recipe
This ham and bean soup recipe uses a smoked ham hock to give it a rich smokey flavor. This rich and hearty black bean soup is ultra satisfying on those chilly nights.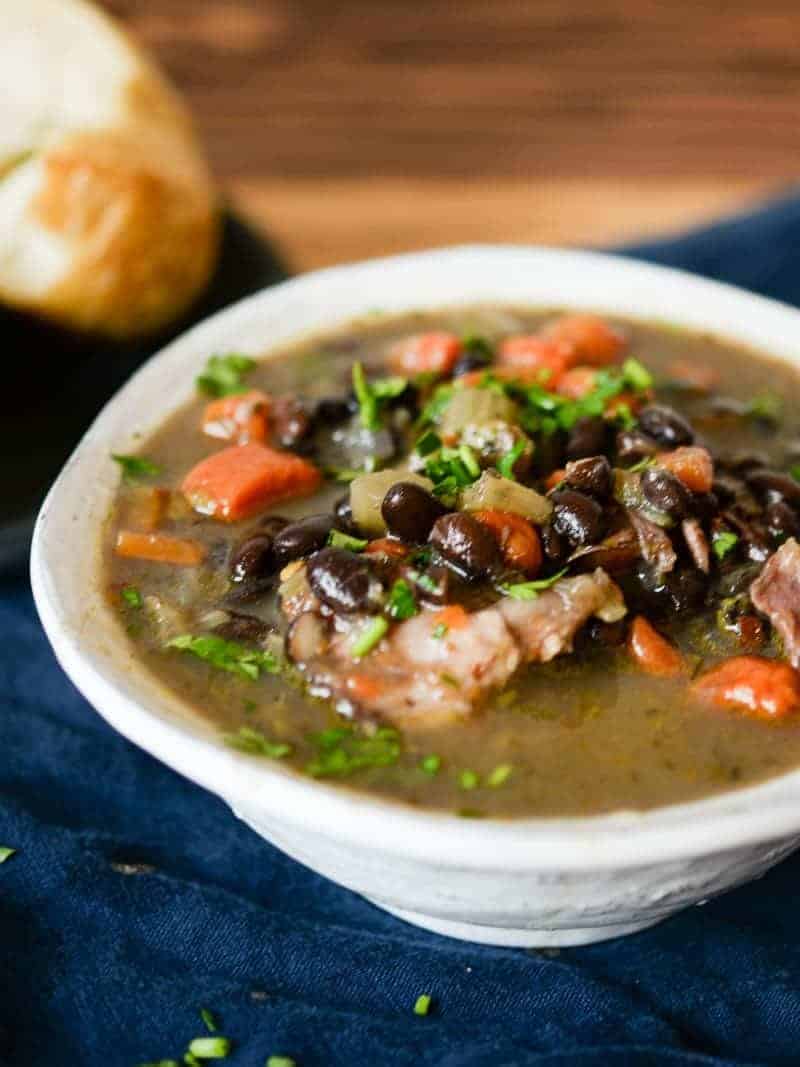 Smoked Ham Hock Soup is a recipe that I remember fondly from my childhood
My mom used to make this easy ham and bean soup every year after Easter.
We always had a bone-in ham at Easter. After dinner, my mom would pack up all of the leftovers and start a slow cooker filled with dried navy beans and the leftover ham hock.
The beans would cook in the slow cooker overnight, and the next day we would eat bowls of the ham and bean soup topped with diced white onions and tabasco sauce.
Of course, there was always a side of fresh cast-iron baked cornbread
This simple meal was an easy dinner to put together. It was also a really satisfying meal.
Sometimes I think the simple things are the things that you remember the most.
This easy black bean soup recipe is also simple and satisfying
I got this recipe from my Aunt Sheila. I made a few tweaks to it, as I do with most recipes. But, for the most part I followed the instruction that she told me over the phone.
The foundation of this recipe can just as easily be used with red beans, white, beans, or even split peas. I use black beans for the recipe.
You can also find bags of pre-mixed beans that are intended for bean soup.
I will also give you a few tips if you would rather use canned beans for this recipe.
Making black bean soup with ham bone requires a few easy steps
Buy a smoked ham hock
Where to buy smoked ham hock?
You can usually find a smoked ham hock in the meat department of your grocery store.
I usually buy one ham hock and then ask my butcher to cut it into three pieces.
When I make a smoked ham hock soup, I usually only use one-third of the ham hock.
I use smoked ham hock to make other recipes like collard greens and split pea soup.
ALTERNATIVELY: You can use a leftover ham bone from a bone-in ham to make black bean soup with ham. If you have any lefover ham, dice it nd add it to the soup as well.
How to prepare black beans
Prepare Black Beans by soaking them overnight.
To cook dried beans, you should first rinse the beans and then place the beans in a large bowl or pot. Cover them with 6 to 8 cups of hot water.
Let the beans soak overnight.
In the morning, strain the beans and set them aside.
SHORTCUT FOR PREPARING DRIED BLACK BEANS: You can also cover the dried beans with water, in a large pot. Bring them to a boil once. Drain them and add clean water. Then procede with the recipe.
Make a Mirepoix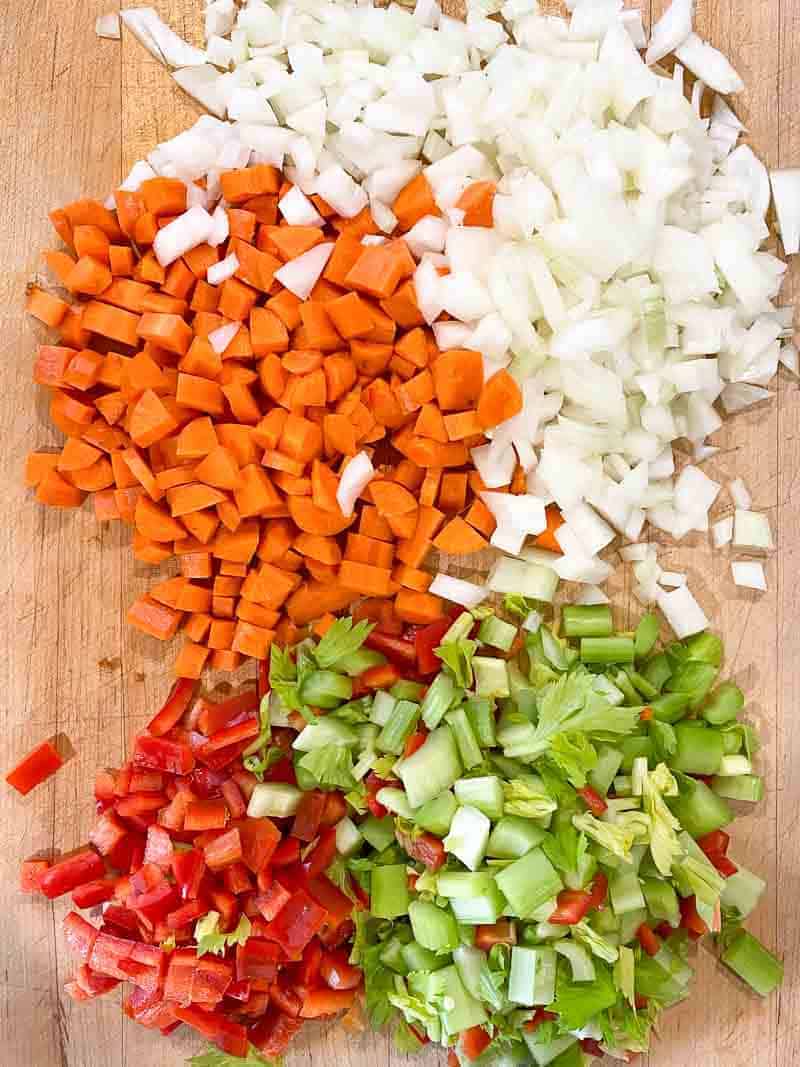 Mirepoix is a vegetable mixture that is used in most soup bases.
The French version of mirepoix, which is most commonly used, is made of carrots, celery, and onions.
For this recipe, I've added a diced red pepper.
To prepare the mirepoix, dice all of the vegetables approximately the same size.
To start the smoked ham hock soup
Sauté the mirepoix in a few teaspoons of oil or butter. About 5 minutes.
The vegetables should be tender and fragrant.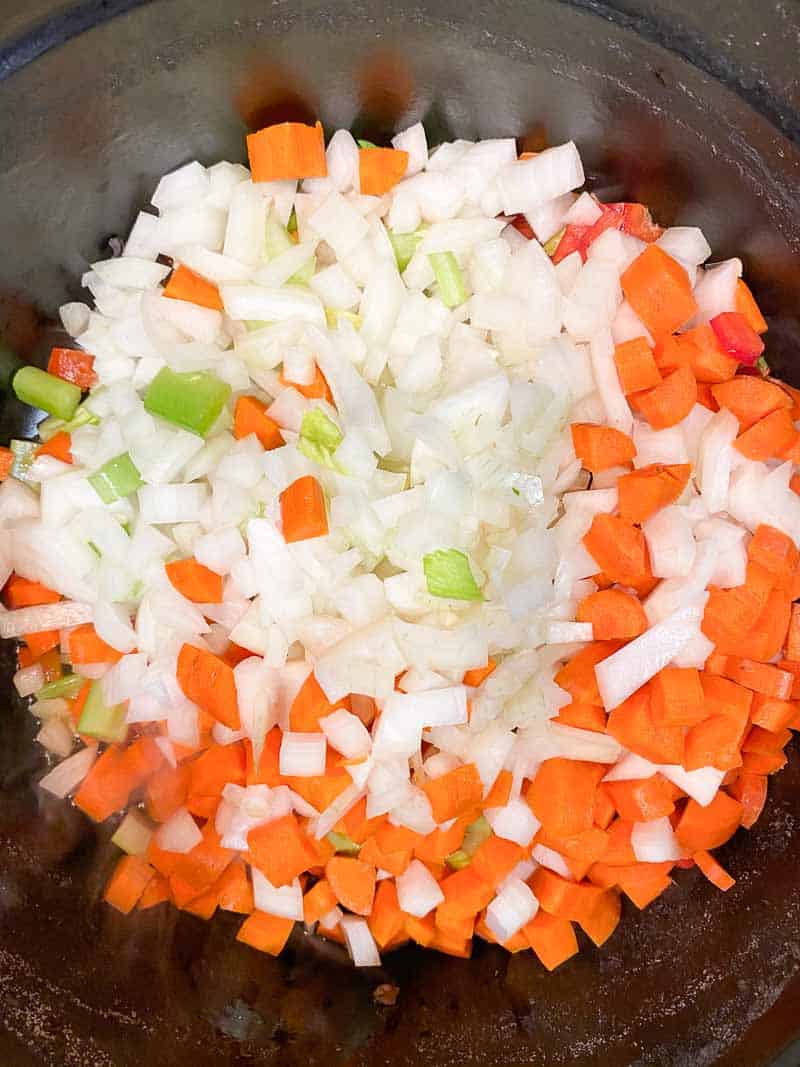 Add the smoked ham hock or ham bone.
After cooking the soup, you can remove the ham hock entirely. The ham hock adds excellent flavor to the soup.
I prefer to pull the meat off of the bone and shred or dice it. Then I add it back to the soup.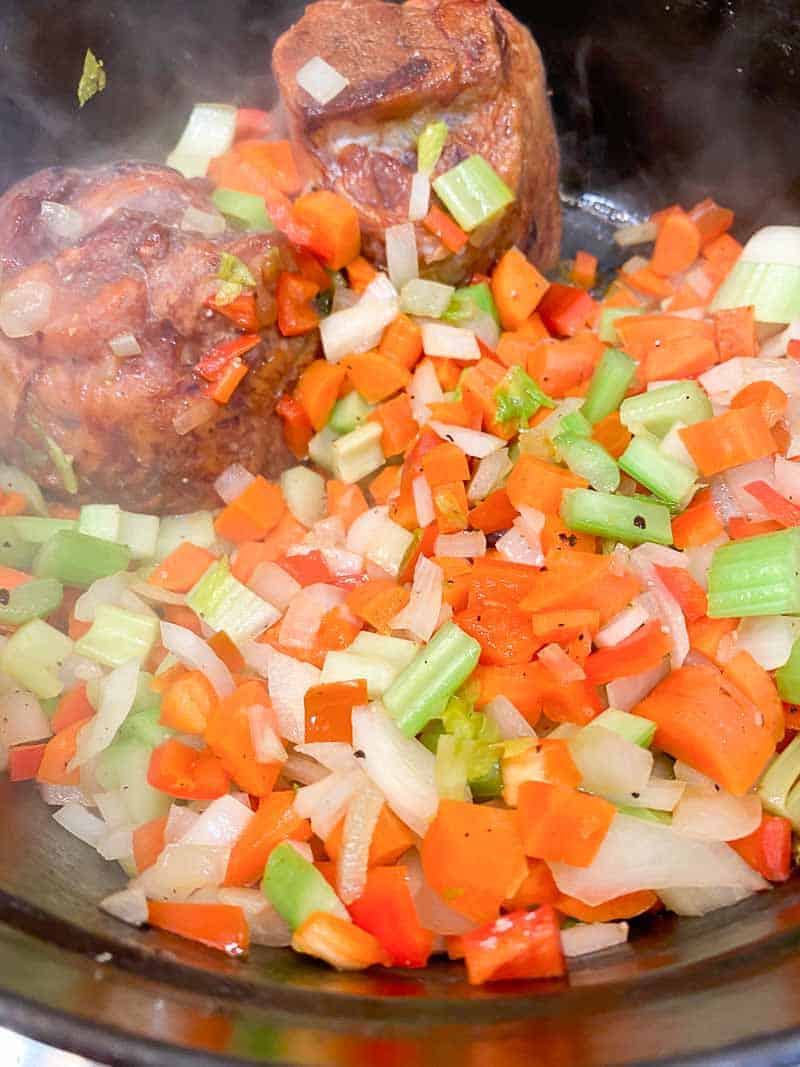 Add the presoaked beans.
Prepare the black beans for cooking by following the directions above.
An overnight soak helps to release some of the chemicals in beans that give you that gassy feeling.
Soaking is totally optional. I have made black bean soup without soaking the beans overnight. I've been fine with it.
I leave the decision up to you. No matter what, do make sure you rinse the beans thoroughly.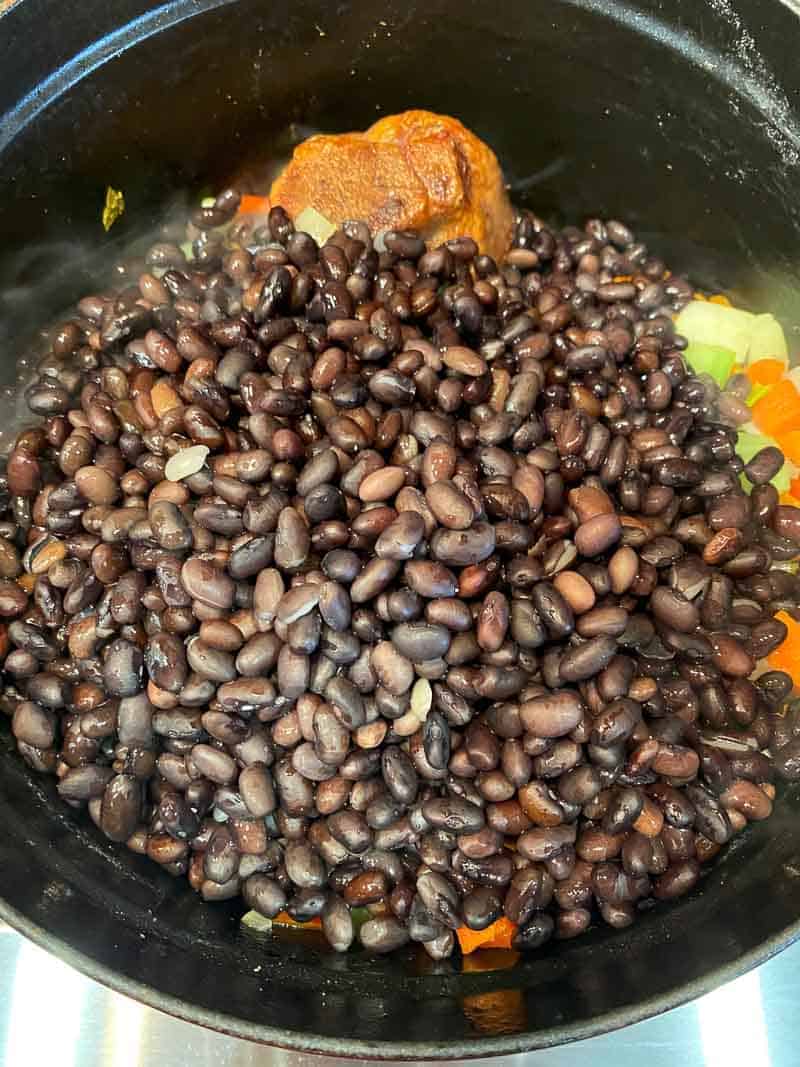 Add the spices.
Celery Seed, thyme, cumin, crushed red pepper, and then a few bay leaves.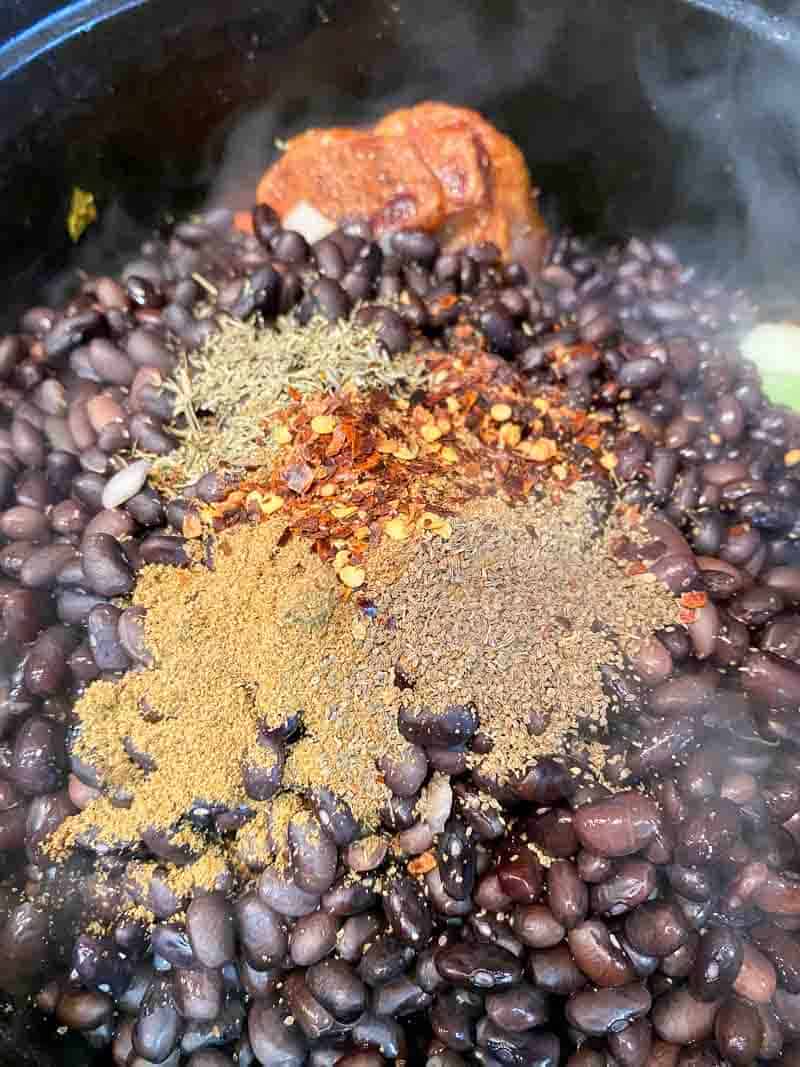 Cover with water or broth.
You can use plain filtered water for this recipe. The ham hock gives the black bean soup a ton of flavor.
Chicken or vegetable broth is also an option.
I like to use water and Caldo de Pollo, which is a powdered chicken bouillon flavoring.
I have tried making this soup with all of the methods listed above. They are all delicious. The Caldo de Pollo just gives me the flavor that I remember. So, I stick with it.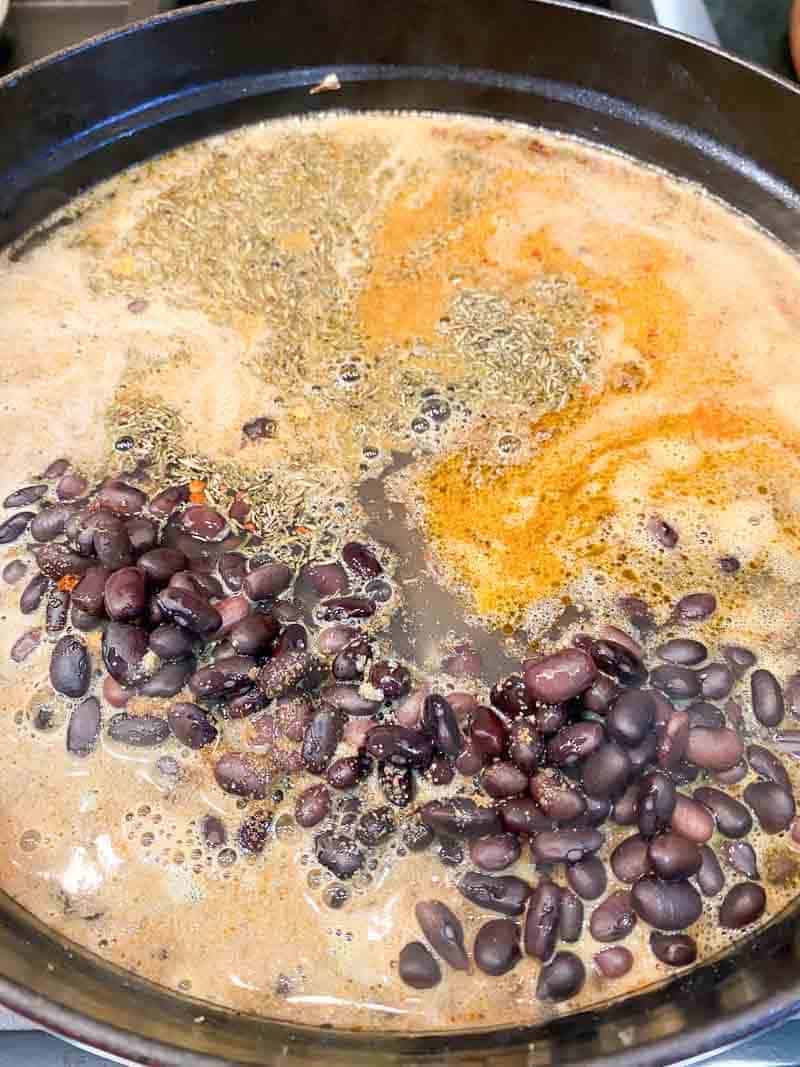 Simmer with the lid on for 2 hours.
Simmer until the beans are tender and the ham is falling off of the bone.
How to make Ham and Bean Soup In the Slow Cooker
Making black bean and ham soup in a slow cooker or crockpot is super easy too!
Follow the instructions on how to prepare the black beans.
Add all of the ingredients to the slow cooker and cook on low overnight or all day while you are at work.
When you are ready to eat, you can pull out the smoked ham hock. Pull off and shred or dice as much meat as possible and then add it back to the soup.
How to make Ham and Bean Soup In the Instant Pot
Ham and bean soup in the Instant Pot takes no time at all.
Follow the instructions for preparing black beans.
Add all of the ingredients to your instant pot.
Seal it and set the manual pressure for 30 minutes.
When you are ready to eat, you can pull out the smoked ham hock. Pull off and shred or dice as much meat as possible and then add it back to the soup.
To thicken your black bean soup
If you want a thicker black bean soup, you can add half of the soup to a blender and puree. Then add the pureed part back to the soup pot.
It's best to ladle out the half portion of soup before you add the smoked ham back into the soup.
Add vegetables, broth, and all to the blender, it doesn't have to be an exact measurement.
Some people like to have a completely smooth black bean soup and use an immersion blender to blend the entire batch of the soup.
Blending is entirely optional.
What to serve with Black Bean Soup
Other Comfort Food Recipes that You might Like
➽ Did you make this recipe? I love to see what's going on in your kitchen. Show me what you're cooking. 🍳 Tag me @foodologygeek on your favorite social channel! Facebook, Instagram & Pinterest. If you loved ❤︎ this recipe, please leave a five ★ review and a comment!