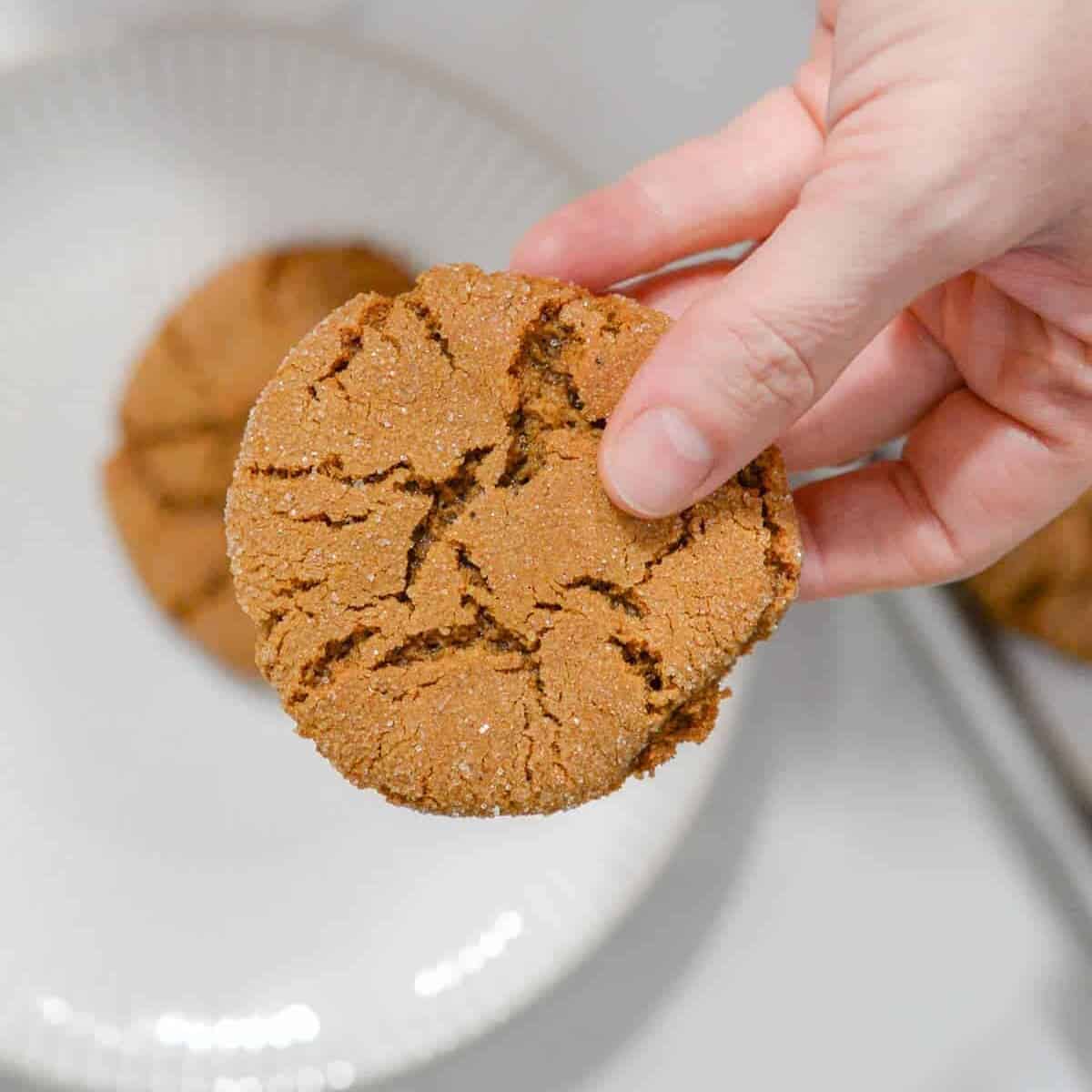 Recipe
Comments
Save
Go to Collections
This post may contain affiliate links. Please read my
disclosure policy.
These chewy molasses cookies are irresistibly delicious. The BEST molasses cookies are chewy, soft, and full of spices like cinnamon, ginger, and cloves. This old-fashioned ginger spice drop cookie is everything a holiday cookie should be.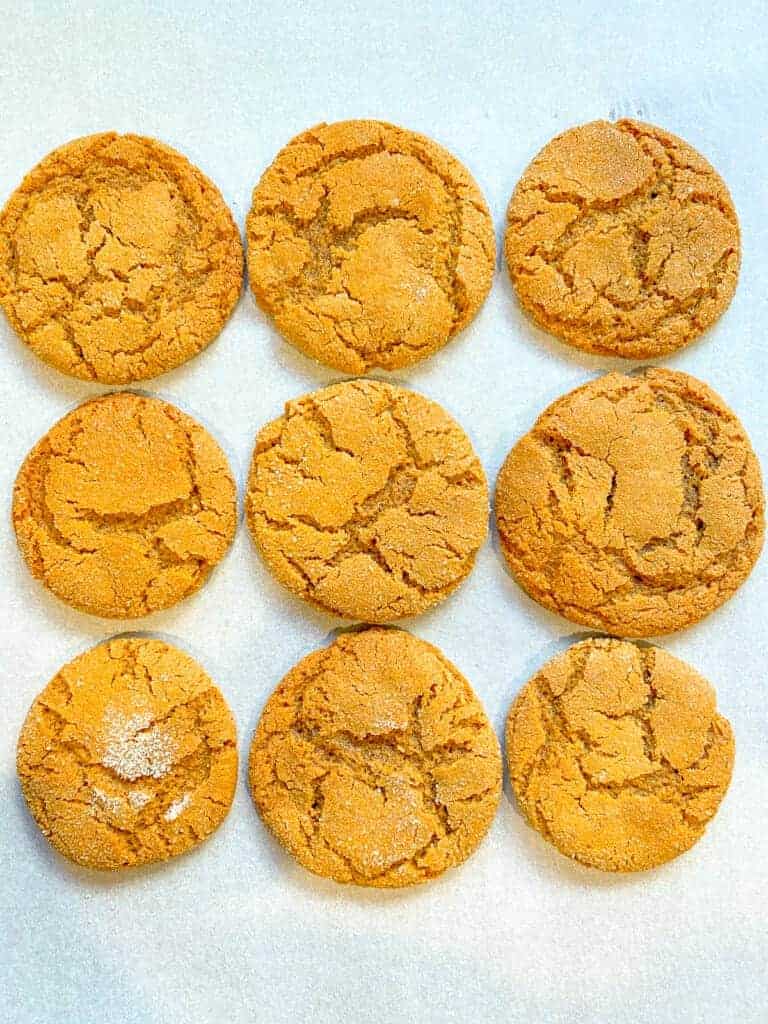 You probably have your go-to holiday cookies if you're anything like me. You know what I mean… these are the cookies that bring back all the nostalgia. This chewy ginger molasses cookie recipe is a holiday favorite in our house.
While I was growing up, my mom would make this recipe every year. If you've been reading a while, you know I grew up in a military family. There were lot of years that we were far from family during the holidays.
Holiday cookies were just one of the ways that we felt a little closer to those that were far away. We all knew we were enjoying the same foods and baked goods together, even though we were apart.
These cookies are drop cookies that you roll in sugar before baking. The result is a lovely sugar-coated crinkle cookie full of holiday spice.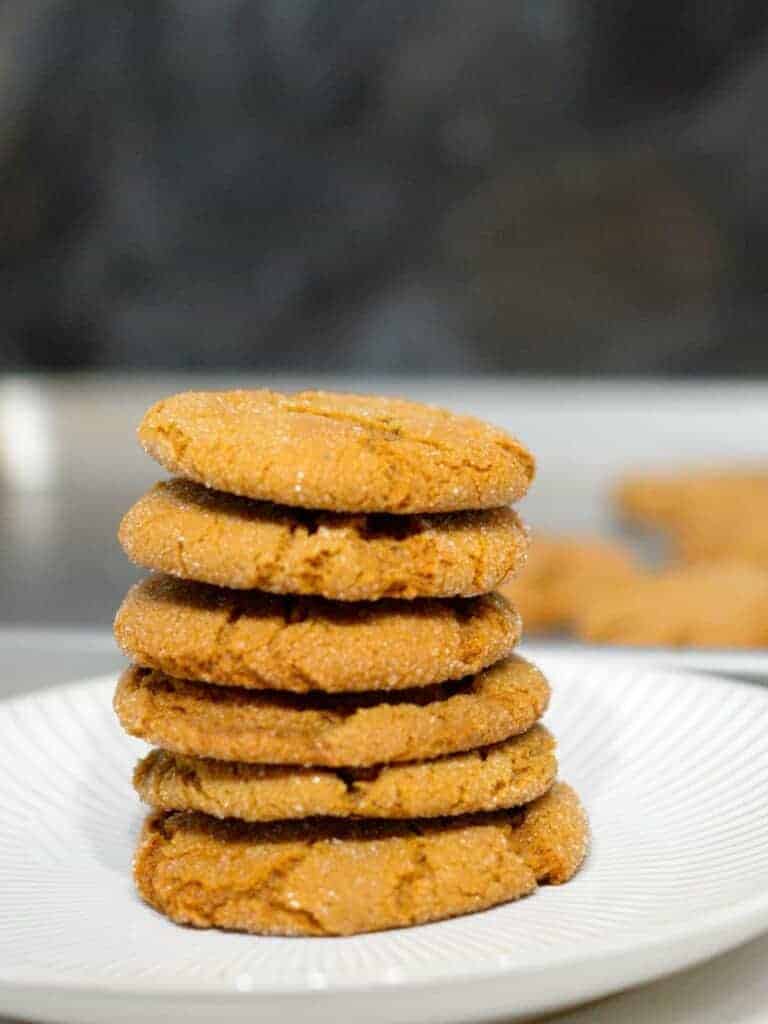 What You'll Love About This Recipe
This is an easy, simple Christmas cookie recipe.
These cookies are a GREAT recipe to enjoy with a cup of coffee.
You can freeze these cookies and enjoy them months after all the holiday chaos is over.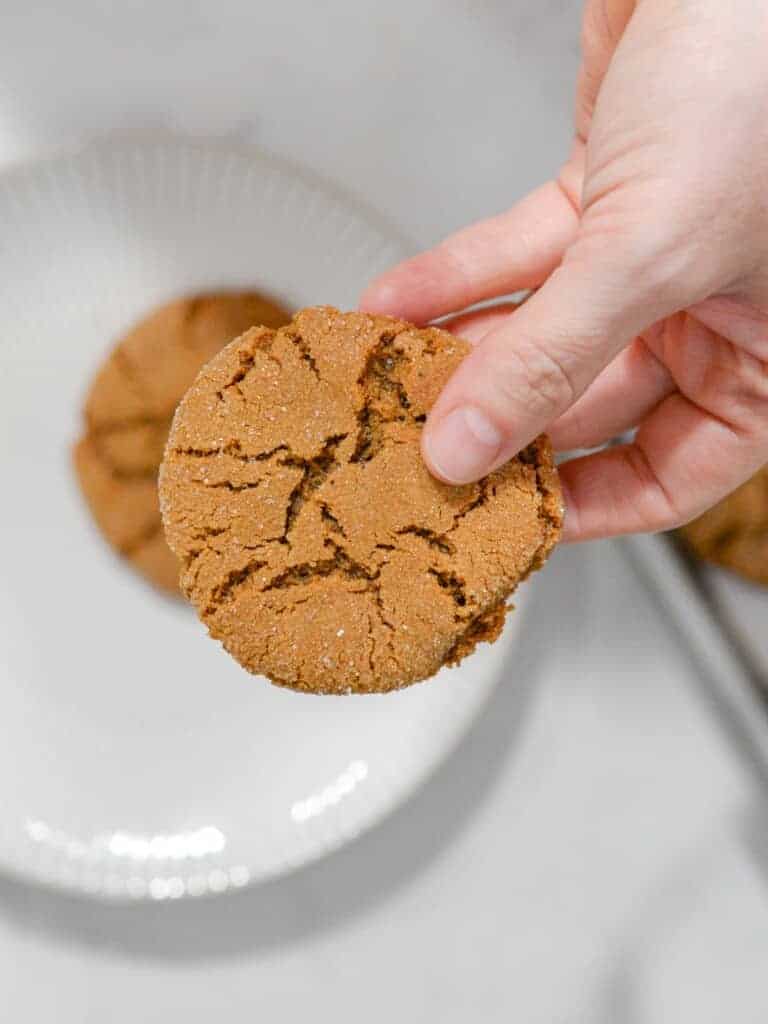 Recipe Notes
Molasses cookies are an easy drop cookie recipe. They are rolled in sugar before baking. These cookies have that classic crinkle texture on the outside.
Can't you just taste it? Mmm.
Ingredients
Butter: I use unsalted butter in this recipe. However, my Grammy used butter flavored shortening in her recipe when she taught me. You can use whichever one you prefer. Shortening will give you a slightly crisper cookie.
Sugar: I use organic cane sugar, which has a slightly more caramel, brown sugar flavor than white granulated sugar.
Sugar for Rolling: Use granulated sugar or turbinado sugar if you want a crunchier outside. You can also add finely chopped candied ginger to the sugar before you roll the cookie dough. This gives you more ginger flavor. Candied ginger will give the cookies a lovely chewy layer of texture on the outside.
Flour: Regular all-purpose flour is fine. You can substitute whole wheat flour or even rye flour for a more robust flavor.
Eggs: Always bring eggs to room temperature for this recipe. Fun fact: if you are lucky enough to get farm-fresh eggs, you can store them at room temperature.
Spices: Cinnamon, ginger, cloves.
Molasses: Use unsulfured molasses. You can use a lighter or full-flavored molasses. It depends on your taste.
Baking Soda: Baking soda acts as a leavening agent.
Salt: I use Kosher salt. Stay away from iodized salt.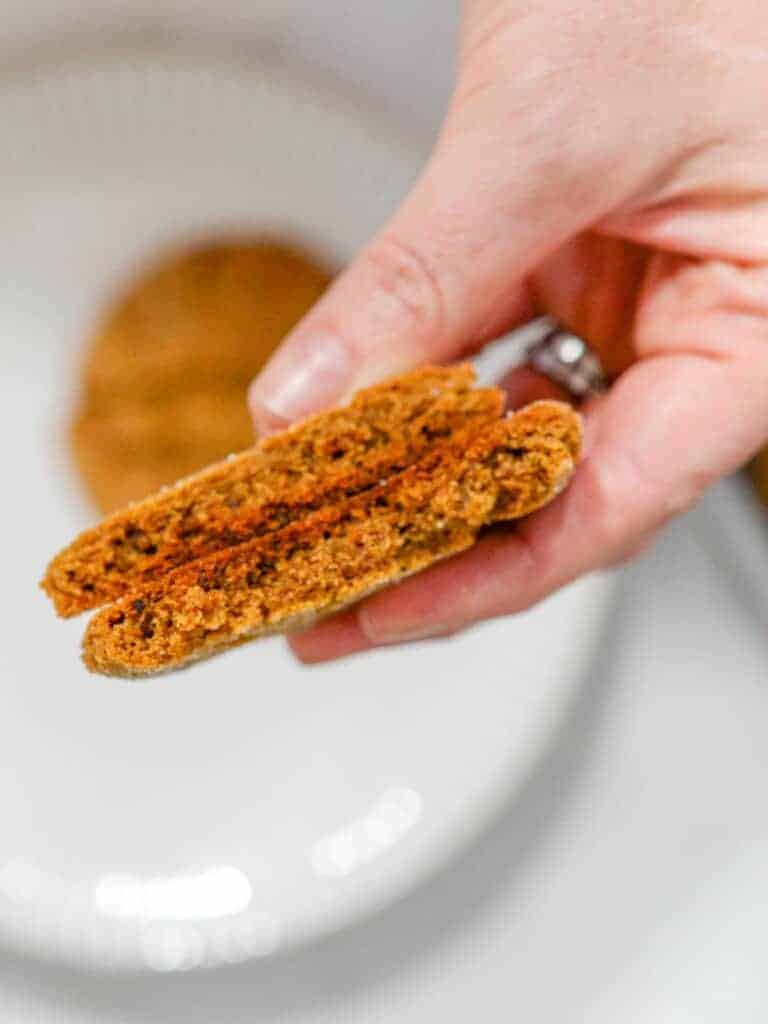 Step-by-Step Instructions
One of my favorite things about these soft molasses cookies is the smell that fills the house when they're baking.
Mix together all of the dry ingredients. Flour, baking soda, salt, and spices in a large bowl and set aside.
Combine the sugar and butter. Melt the butter in a saucepan. Add the molasses and sugar to the melted butter. Mix the butter, sugar, and molasses together heat until the sugar is dissolved.
Beat the butter and sugar. Add the butter and sugar mixture to the bowl of your mixer. Blend with the paddle attachment.
Add the egg. Add the egg to the mixture and beat again.
Add the dry ingredients. Stop the mixer, and then add the mixture of dry ingredients. Mix until the flour and spices are incorporated.
Cover and chill the dough. Refrigerate the cookie dough for at least 30 minutes, or, preferably, for a few hours.
Preheat the oven. Preheat the oven to 350℉. Line a few baking sheets with parchment paper.
Make the cookie dough balls. Set up a bowl with sugar in it for rolling cookie balls. Using a cookie scoop or a teaspoon, form balls that are about an inch and a half in diameter. Roll into neat balls and then drop into the bowl of sugar.
Bake. Bake for 8 to 10 minutes. You want the cookies to be puffed up with slightly golden brown edges. Set on a wire rack to cool.
FAQs and Expert Tips
Why do molasses cookies go flat?
The moisture from both the butter and the molasses can cause these cookies to spread. You can increase the flour if your dough is too flat. I have found that using a higher fat European butter does lead to a flatter cookie in this recipe.

What is the difference between gingersnaps and molasses cookies?
There are two main difference between gingersnaps and molasses cookies. First, molasses cookies are chewy and gingersnaps are crispy. Second, gingersnaps usually have more ginger in the recipe than molasses cookies.
Can I substitute butter for shortening in molasses cookies?
You can use either butter or shortening in this recipe. My Grammy always used butter flavored shortening, including in pie crust. I steer clear of hydrogenated oils, so I use butter.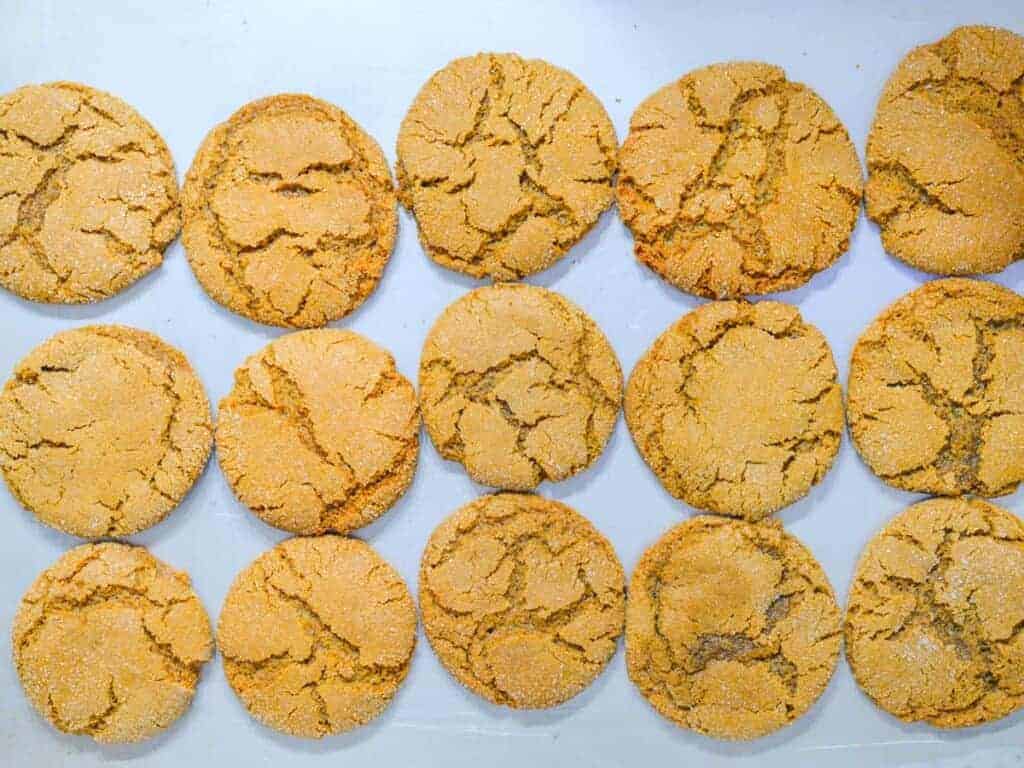 Possible Variations
Candied ginger — You can use finely chopped candied ginger in this recipe.
Frosted — I've included the recipe for frosting in the recipe card below if you want to make frosted molasses cookies.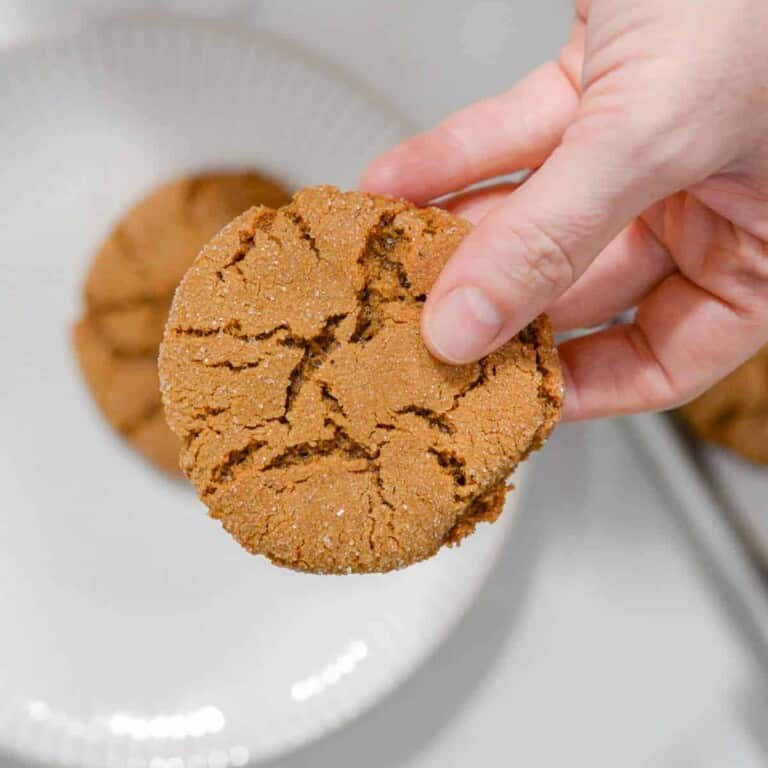 Chewy Ginger Molasses Cookies
These molasses cookies are soft and chewy and irresistibly delicious. They are chewy, soft, and full of spices like cinnamon, ginger, and cloves. This old fashioned ginger spice cookie is everything that a holiday cookie should be.
Instructions
Whisk together the dry ingredients.

2 cups all-purpose flour,

½ tsp ground cloves,

¾ tsp ground ginger,

1 tsp ground cinnamon,

2 tsp baking soda,

½ tsp Kosher salt

Melt the butter in a saucepan over low heat.

Add the sugar and molasses to the melted butter. Remove the heat and let the butter mixture cool slighlty.

½ cup granulated sugar,

½ cup packed brown sugar,

¼ cup dark molasses

Pour the mixture into a mixing bowl and beat well.

When the mixture is mostly cool, add the egg and beat again.

Add the dry ingredients to the butter mixture. Beat until the dry ingredients are combined.

Cover and chill the mixture for a few hours.

Preheat the oven to 350°F.

Line a baking sheet with parchment paper and bake for 8 to 10 minutes. The cookies should be slightly puffy and light golden brown around the edges.

Form the cookie dough into 1 inch balls. I use a #20 cookie scoop.

Drop each cookie dough ball in sugar.
YOUR OWN NOTES
Nutrition
Serving:
1
cookie
Calories:
67
kcal
Carbohydrates:
10
g
Protein:
1
g
Fat:
3
g
Saturated Fat:
2
g
Cholesterol:
11
mg
Sodium:
103
mg
Fiber:
1
g
Sugar:
5
g
Calcium:
6
mg
Iron:
1
mg