Deviled Eggs with Smoked Salmon, Capers, and Pickled Onions
These Smoked Salmon Deviled Eggs are like a Bagel Schmear in deviled egg form. Take your classic deviled egg recipe to the next level with these ultra-gourmet deviled eggs.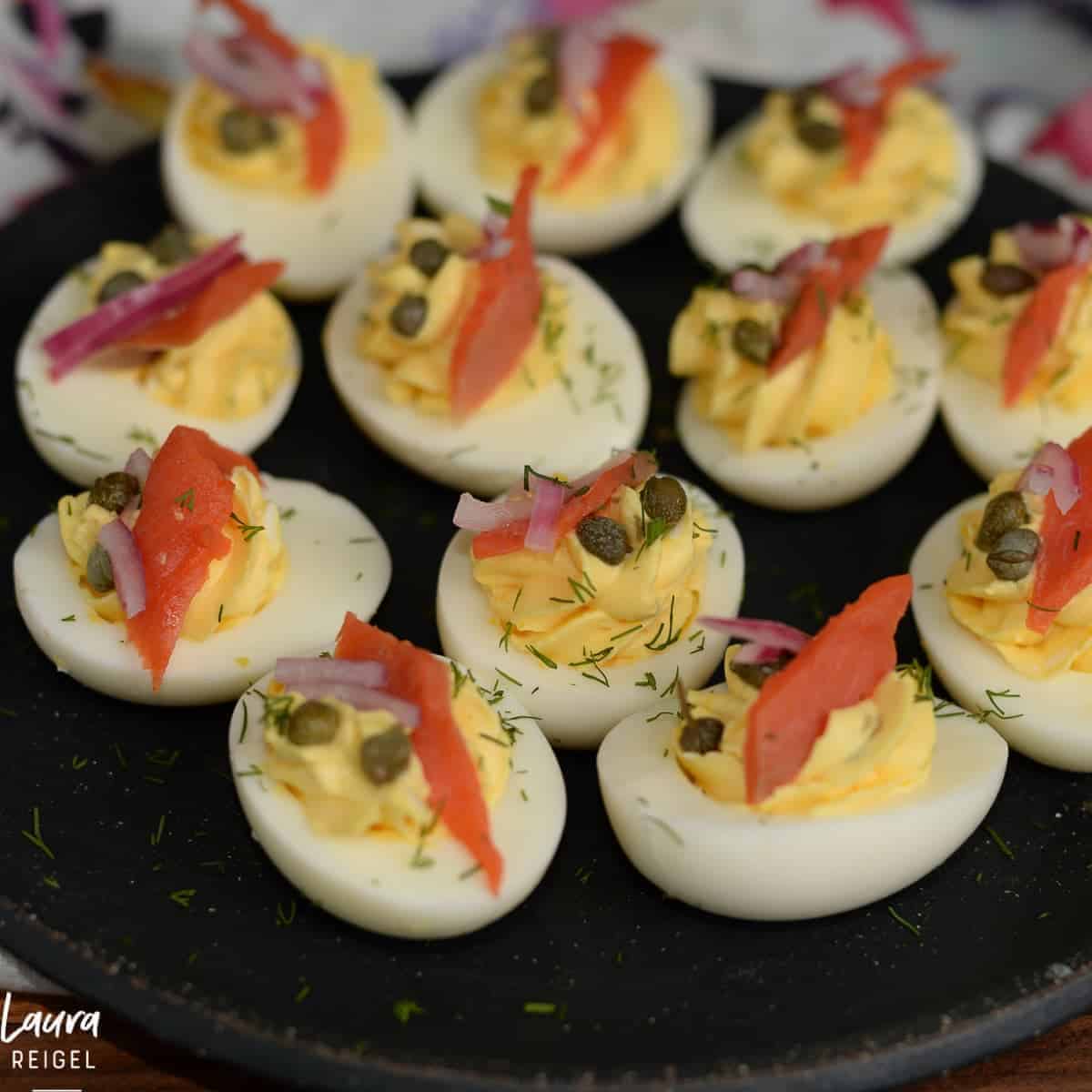 Deviled eggs have a good amount of protein and healthy fats. This is my favorite healthy deviled eggs recipe because it has so much flavor.
This whipped deviled egg filling is made with a mixture of cream cheese and caper brine. This combo adds a mouthwatering flavor to these deviled eggs.
If that wasn't enough to convince you, just imagine they're then topped with smoked salmon, red onions, and capers.
This deviled eggs recipe was inspired by the traditional gravlax schmear.
How to Boil Eggs For Deviled Eggs
Making deviled eggs is easy when you know the secret to perfect boiled eggs.
Following the instruction below will make sure you have perfectly cooked, easy to peel hard-boiled eggs every single time.
Easy To Peel Eggs 101
Bring the water to a boil BEFORE you add the eggs!
Add the eggs to the water using a spoon.
Set up an ice bath.
Boil for 7 to 8 minutes.
Drain the water off of the eggs and add them to the ice bath.

Ingredients For Deviled Eggs with Salmon
12 hard-boiled eggs: Follow the instructions above to make the hard-boiled eggs.
Capers

(affiliate link)

: Buy capers that are packed in liquid.
Cream Cheese: I like to use full-fat cream cheese.
Smoked Salmon or Gravlax

(affiliate link)

: Smoked salmon can be found dry smoked or wet smoked. I use wet smoked salmon in this recipe.
Quick Pickled Red Onions: Thinly sliced red onions add a savory crunch and gorgeous color to these deviled eggs. Quickly pickle them with a little bit of sugar, salt, and white vinegar.
Fresh dill: Fresh dill adds a nice bright flavor to these deviled eggs.
How to Make Deviled Eggs
Boil the eggs: When the eggs are cool peel them and slice in half, add the yolks to a bowl.
Make the filling: Mix together the egg yolks, the softened cream cheese, and the caper liquid. adjust the amount of caper liquid to get the correct consistency. Use a mixer to beat the filling until it is smooth and creamy.
Fill the eggs with the yolk mixture: I use a piping bag

(affiliate link)

fitted with a large tip

(affiliate link)

to fill these deviled eggs because it makes them look a little fancier. If you don't have a piping bag you can use a freezer bag with the corner cut off.
Add the toppings: Add a small slice of salmon, a few capers, and a thin slice of red onion to the top of each deviled eggs.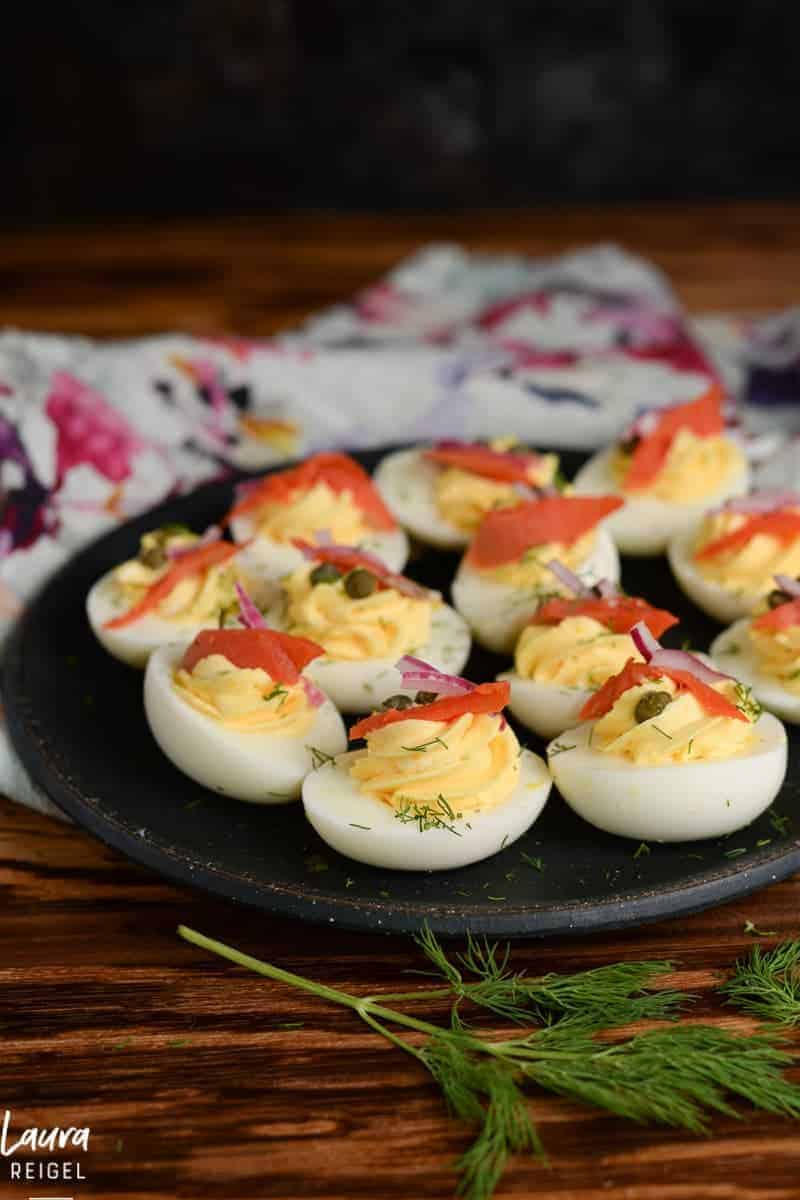 Get all of my Best Deviled Egg Recipes:
➽ Did you make this recipe? I love to see what's going on in your kitchen. Show me what you're cooking. 🍳 Tag me @foodologygeek on your favorite social channel! Facebook, Instagram & Pinterest. If you loved ❤︎ this recipe, please leave a five ★ review and a comment!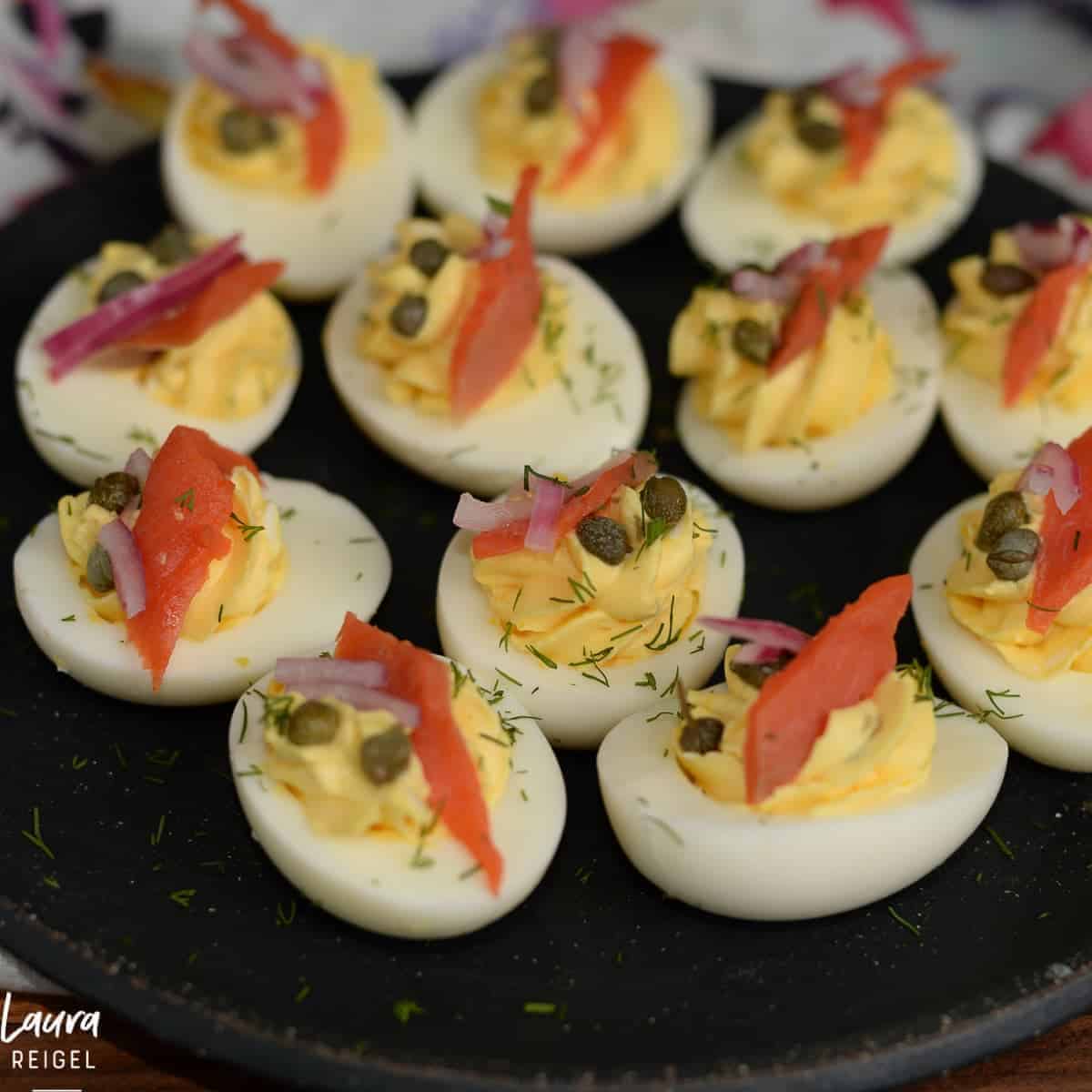 Deviled Eggs with Smoked Salmon and Capers
These deviled eggs are everything that you love about a New York-style gravlax and bagel schmear. Smoked salmon, pickled onions, and capers. You are going to love this gourmet twist on deviled eggs.
Ingredients
Instructions
PERFECT HARD-BOILED EGGS
Start with room temperature eggs.

Bring a medium pot of water to a slow boil.

Add the eggs using a slotted spoon.

Prepare an ice bath and transfer the eggs to an ice bath for 5 minutes before peeling.

Slice the peeled hard-boiled eggs in half and place the yolks in a small bowl to make the filling.
QUICK PICKLED ONIONS
Add all of the ingredients to a non-reactive bowl (glass or plastic). Toss and let sit for about 20 minutes.
MAKE THE FILLING
Add the cream cheese and the caper liquid to the reserved egg yolks.

Using a hand mixer, mix on medium-high until the mixture is smooth and creamy.

Add a little more caper juice if the mixture seems too thick.
FINAL TOUCHES
If you are using the piping bag and the number 21 star tip, assemble and fill the piping bag with the filling mixture.

Alternatively, use a freezer or sandwich bag. Fill the plastic bag with the egg mixture filling. Cut off one corner, making sure the opening is about the width of a pencil.

Pipe the filling into each egg white half.

Slice the salmon into small pieces that can fit on top of the eggs. I make mine about the size of the first knuckle of my index finger.

Place a small slice of salmon, 2 to 3 capers, and a few pickled red onions on top of each egg.

Chill until you are ready to serve them.
Laura's Tips + Notes
You can make the filling the day before and store in an airtight container in the fridge. For the best results assemble the eggs right before you serve them.
YOUR OWN NOTES
Nutrition
Serving:
1
deviled egg
Calories:
113
kcal
Carbohydrates:
1
g
Protein:
7
g
Fat:
8
g
Saturated Fat:
3
g
Cholesterol:
197
mg
Sodium:
154
mg
Calcium:
34
mg
Iron:
0.7
mg