How to Make Easy Homemade Rum Truffles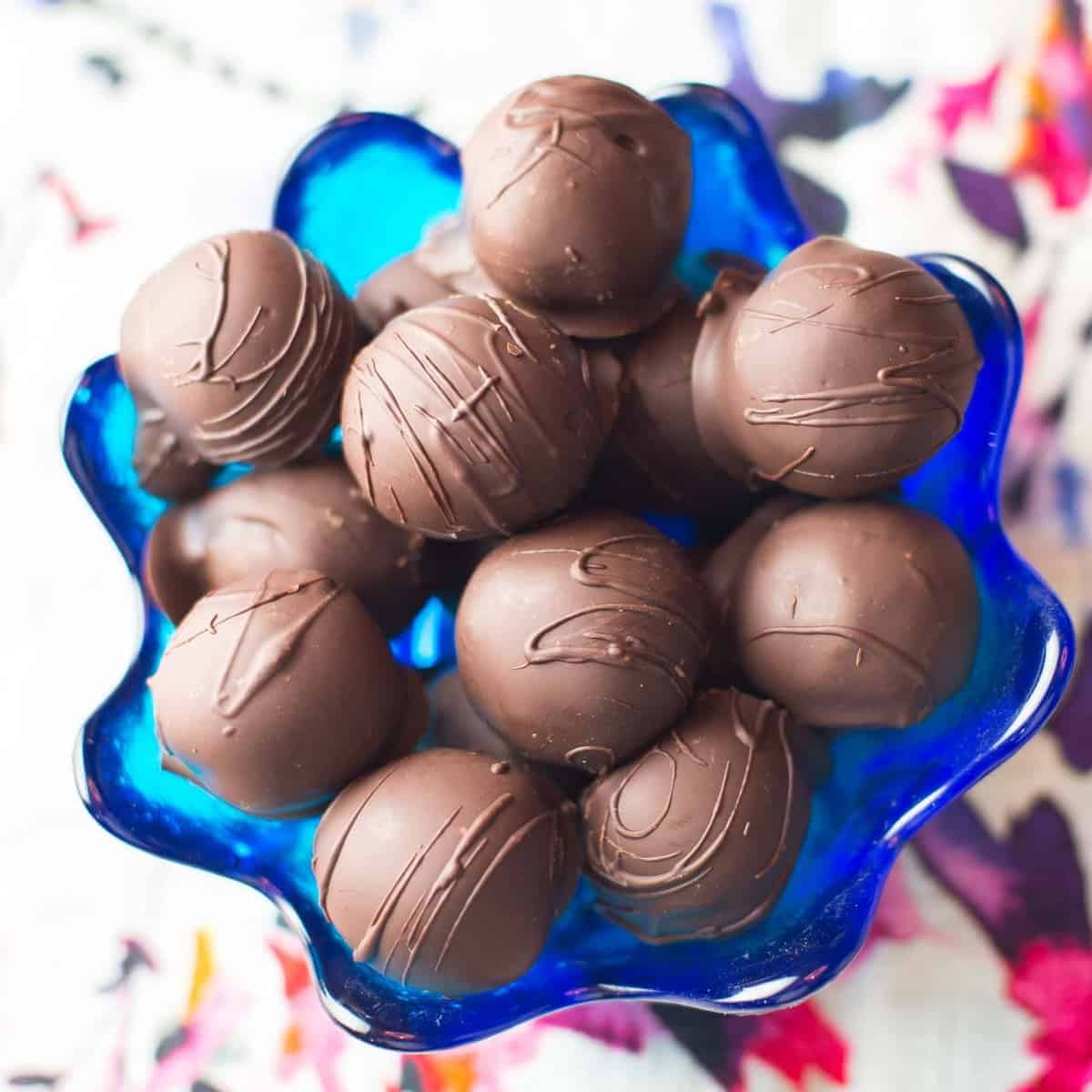 Recipe
Comments
Save
Go to Collections
This post may contain affiliate links. Please read my
disclosure policy.
You only need 4 ingredients to make these easy boozy truffles. This homemade rum truffle recipe is easy and even fun to make. Making these Christmas truffles is one of my holiday traditions.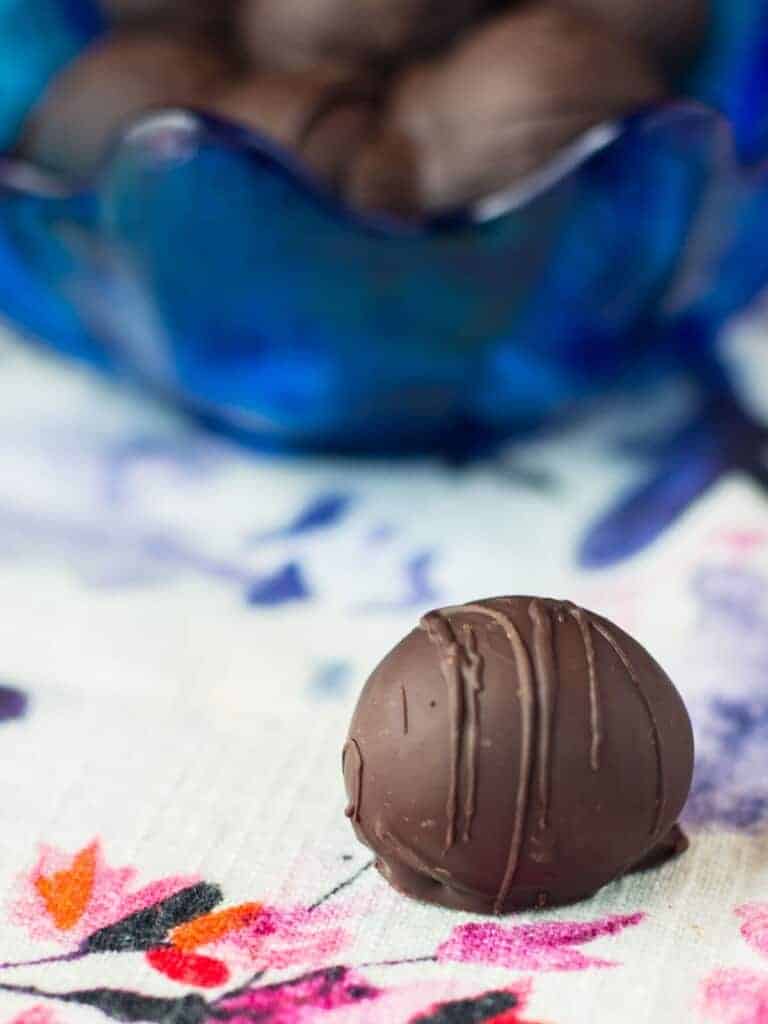 Making these easy boozy truffles at home
You only 4 ingredients for these super easy chocolate truffles:
Chocolate

Heavy Cream

Booze

Decorations
Christmas truffles are a holiday tradition
But you don't need to save this recipe for your holiday baking. Homemade chocolate truffles are perfect for any occasion, and you can get creative with different fillings and decorations.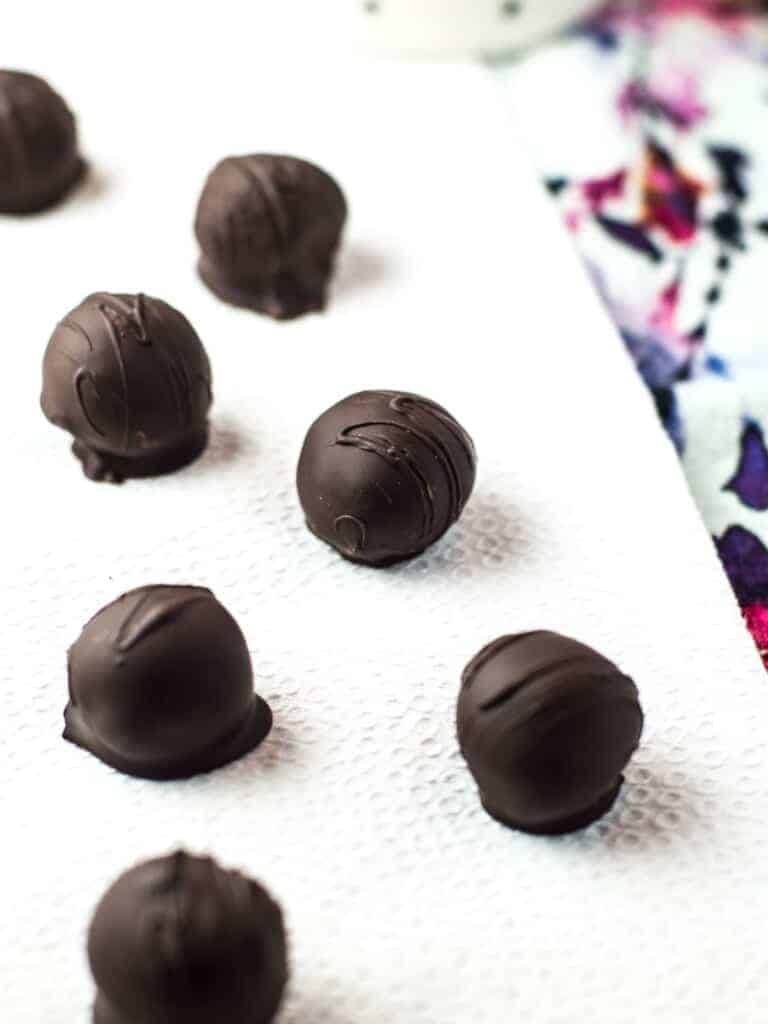 What are truffles?
Technically, these are "truffles" because the chocolate ganache rum balls are dipped in melted chocolate after they are chilled.
I know once you give this recipe a try, you will wonder why you haven't tried to make them before. When you think about how much a standard box of gourmet chocolates costs, you will kick yourself for not making these sooner. (I even have the microwave instructions in the recipe.)
How to make rum truffles
Start by making a rich and creamy chocolate rum

filling.

Let the filling chill.

Scoop with a small #60 cookie scoop.

Roll and then refrigerate for a few hours.

Dunk in melted chocolate.

Let the chocolate outside set.

Decorate with gold dust, or sprinkles, or toss in dark cocoa powder.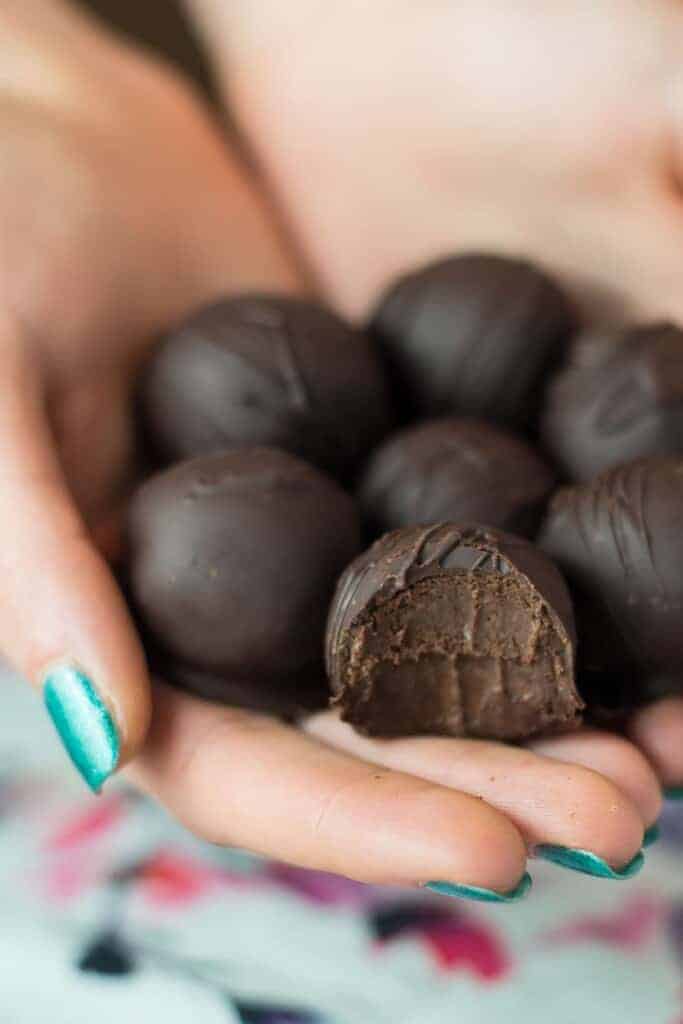 Variations
The rum chocolate recipe can be modified to use your favorite liquor.
A few of my favorite

boozy truffles

are:
You can also modify the rum chocolate to be booze-free.
Just use food-grade extracts (affiliate link) in place of the liqueur. LorAnn oils makes a variety of bakery oil and other harder-to-find baking ingredients. I have their website saved in my favorites.
You can find a variety pack of mini oils on Amazon if you can't commit to just one flavor.
Coconut Flavor
Orange Flavor
Coffee Flavor
Peppermint Flavor
Rum Flavor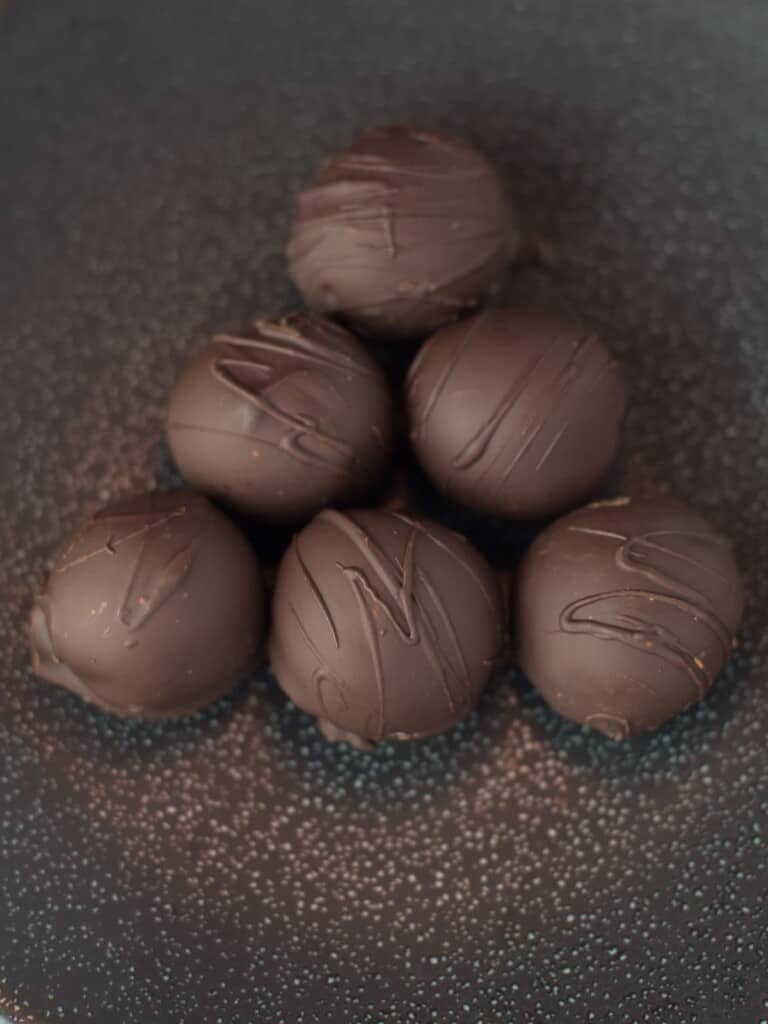 The best part of making
homemade chocolate rum balls
is decorating them.
I love fun decorations that make me look like a pro. It's a little known secret that I am horrible at decorating. I'm pretty good at faking it when I have to. I like to keep my rum truffles sophisticated and straightforward by using a few go-to decorations that require absolutely no decorating skills.
Drizzled chocolate
The easiest decoration is just drizzling melted chocolate on top of each rum truffle ball. You can use dark chocolate or white chocolate in its natural state or colored white chocolate.
Cocoa Powder
For a simpler finish, drop the rum balls into a bowl of cocoa powder. You don't even have to dunk them in the melted chocolate first.
Sprinkles
Who doesn't love sprinkles? If you are looking for some high-end spectacular sprinkle choices, check out Sprinkle Pop (affiliate link).
Decorate the truffles with the sprinkles before the chocolate has completely set. This will ensure that the sprinkles stick on the chocolate shell as it sets.
Metallic food-grade dust
If you want truffles with edible blingedible glitter or metallic foils are the way to go.
Using a small craft paintbrush, you can pick up a little gold dust with the tip and then tap the brush lightly to release the powder onto the chocolate. Check out Global Sugar Art and get some inspiration for your bling.
Amazon (affiliate link) also has a million options.
Whatever you decide to use, keep it simple these chocolate truffles will look homemade, and that's okay because handmade gifts are the best.
Nothing says I love you more than a gift of
homemade rum truffles.
If you are so inclined, make a few different varieties and decorate them differently, so you know what is inside.
You can make a few batches with different spirits, and then give out sampler boxes as hostess gifts. Gift boxes are readily available at your local craft stores. Or order them here. And don't forget to pick up those cute little paper cups.
More homemade candy recipes
The butter toffee is beautiful and delicious.
You can make it topped with roasted and chopped nuts or merely top it with a little craft salt. I love making a big batch of this and then eating it on top of ice cream. I have also chopped this toffee up and added it to a cookie dough along with chocolate chips for an extra special batch of chocolate chip cookies.
My post will show you how to make toffee. After you read it, you will be ready to tackle candy-making. If you can read a thermometer (affiliate link), you can make this toffee. Check out the recipe here.
Homemade butter toffee makes a delicious and impressive gift.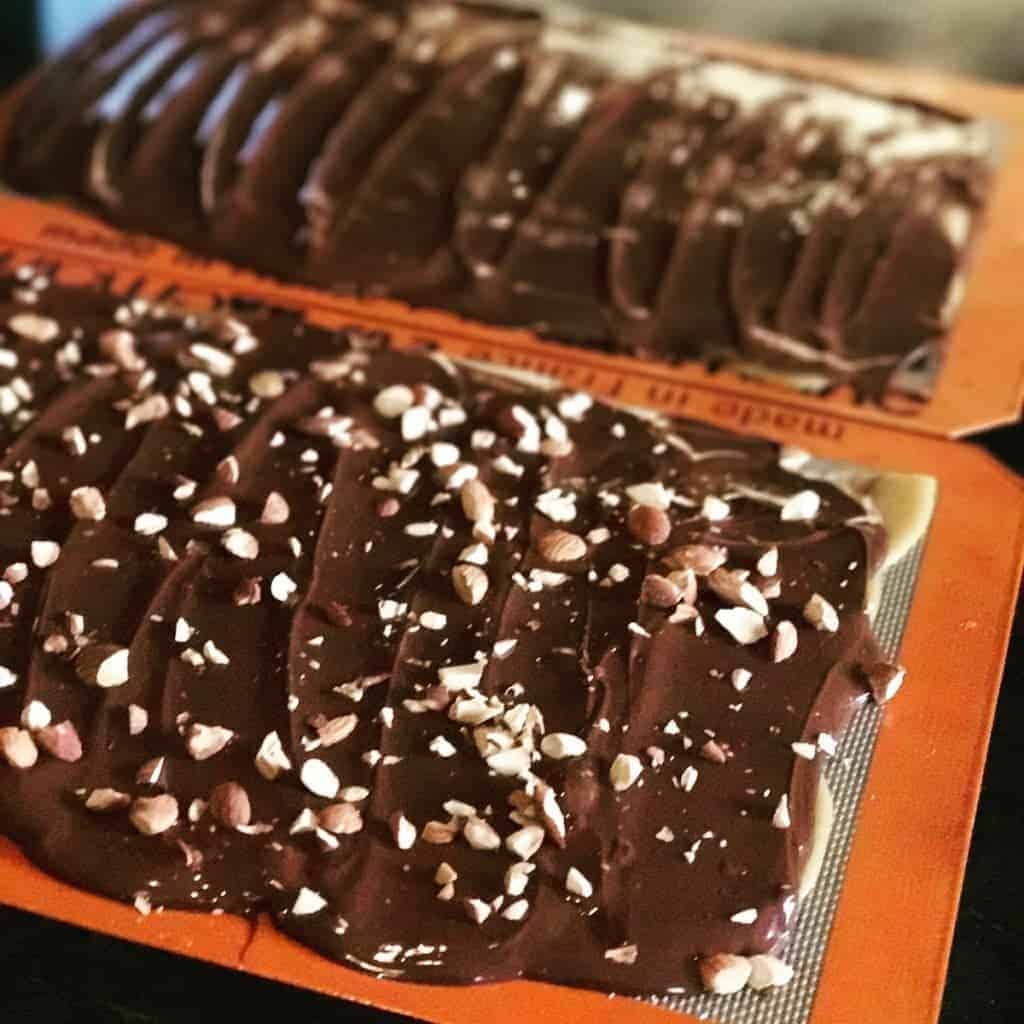 This recipe takes 5 minutes to make in the microwave. I don't tell anyone that I make this in the microwave. I mean seriously, it's so easy.
Best of all, it doesn't look or taste like you only spent 5 minutes! It is DELICIOUS!
The other great thing about this vegan fudge is that you can make it rocky road style, or you can drop in almost any variety of mix-ins that your imagination can conjure up. Check out the FULL POST HERE!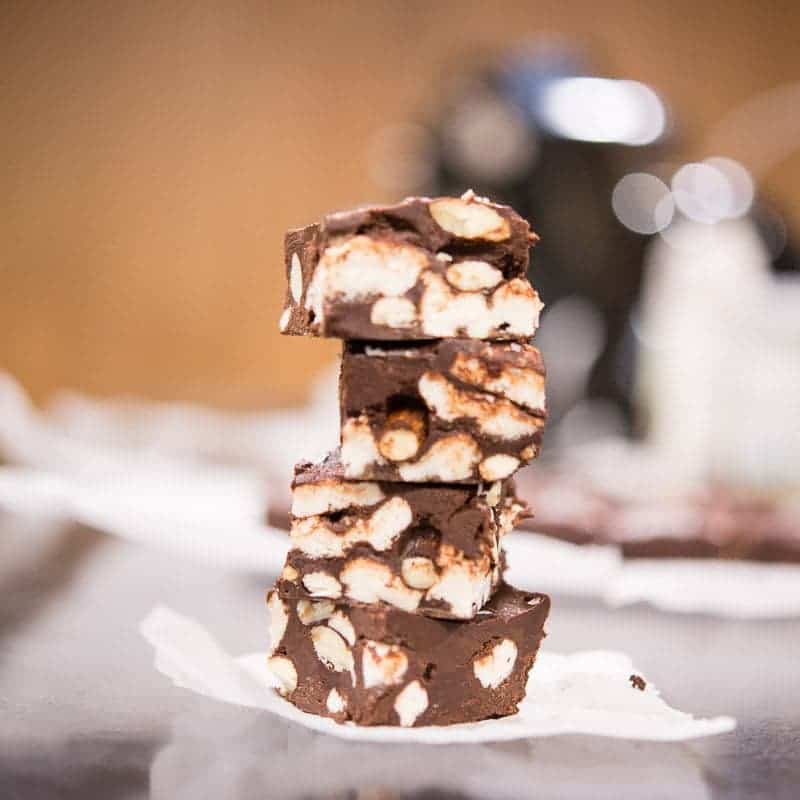 Almond bark is naturally dairy-free. It is also super flexible because you can mix-in almost any type of dried fruit and nuts.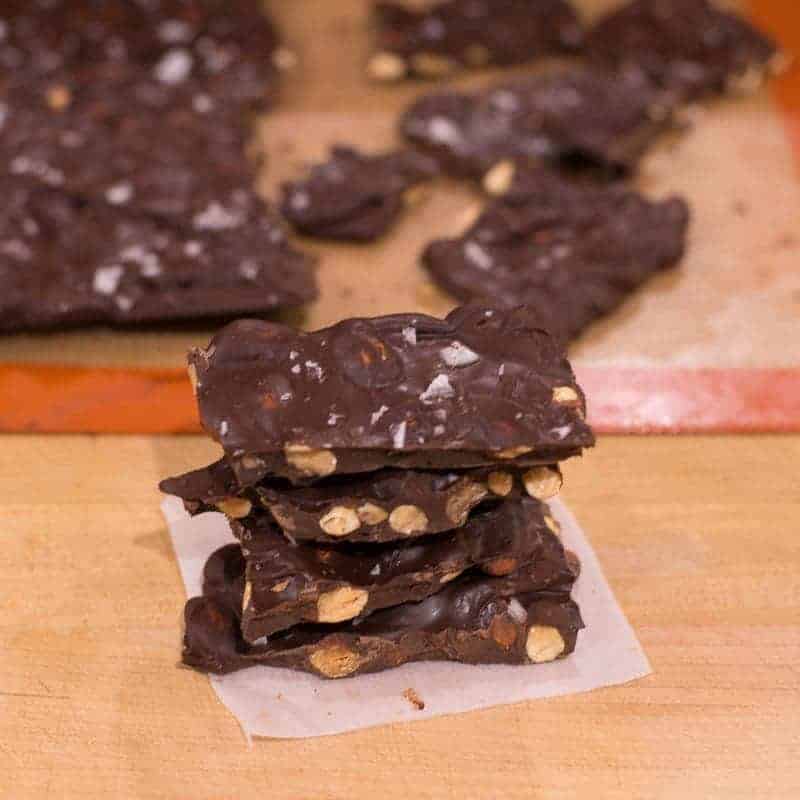 If you are looking for MORE HOLIDAY GIFT IDEAS check out this post on 10 edible homemade gifts.
These super easy 3 ingredients coconut candies are like mini mounds candy bars.
Nothing could be easier!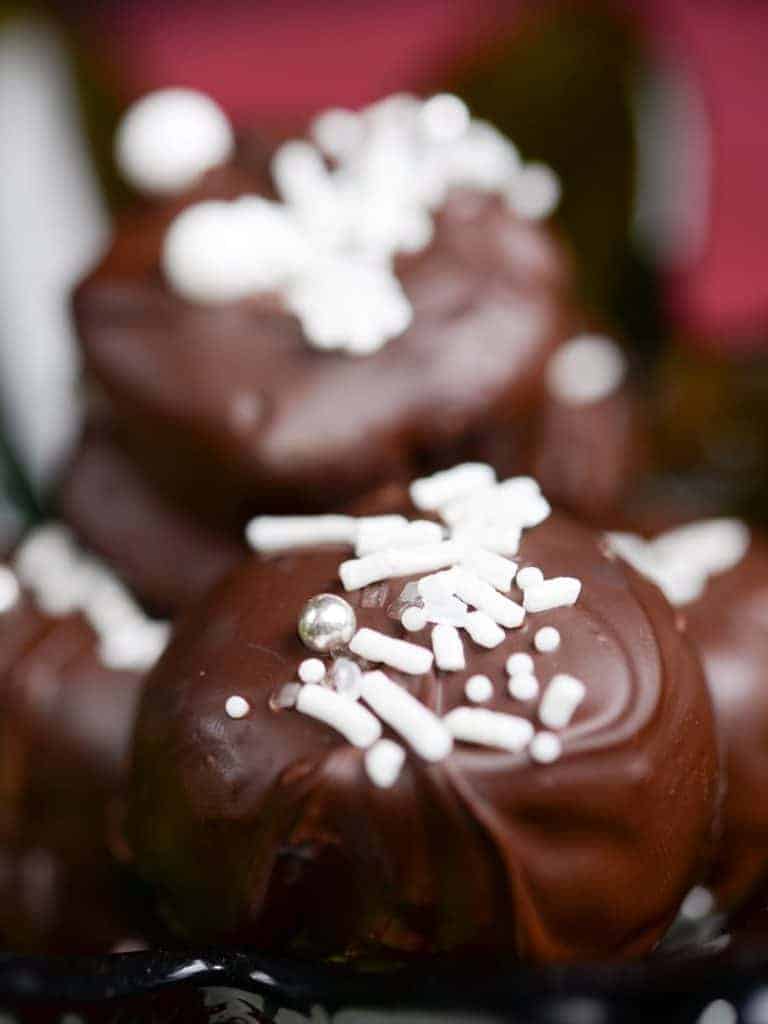 Other Sweets That You Might Like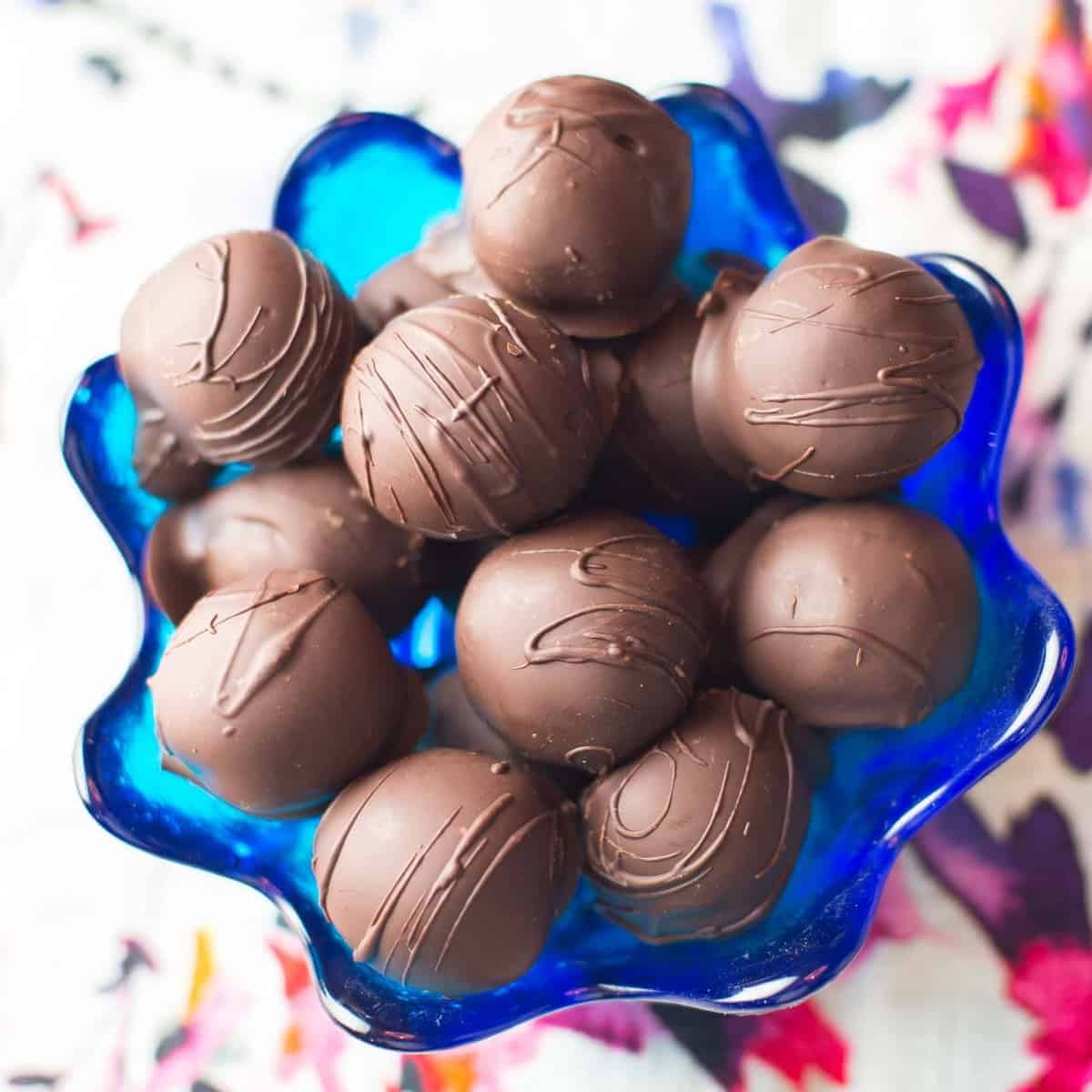 Chocolate Rum Truffles
Delicious, rich chocolate rum truffles. Make them with rum or another one of your favorite spirits.
Ingredients
Optional Flavorings (See notes for options)
3

tbsp

good quality rum

,

or another spirit like bourbon or Bailey's
Coating
Instructions
Place 16 ounces of chocolate in a large glass bowl.

Heat the cream in a saucepan to 90 to 110℉. Pour the hot cream over the chocolate. Let it sit for a few minutes, begin to whisk.

Whisk until the chocolate is melted and shiny. (If chocolate doesn't melt completely it can be microwaved for 30 seconds at a time or placed over a double boiler until melted.)

Add the rum (or another optional flavoring) and stir until everything is well-combined.

Pour the chocolate onto 9" x 13" baking pan. (Can be lined with parchment or plastic wrap.) Refrigerate for about 60 minutes, until the mixture is thick and "scoopable."

When the mixture is cool enough to hold its shape, scoop small balls of the chocolate onto a baking sheet that's been lined with parchment paper. For perfectly round truffles, quickly roll each one between the palms of your hands. You have to do this quickly, or the chocolate will become too soft.

Cover the truffles with plastic wrap and freeze the rolled balls for about 60 minutes, until they are firm and very cold.

Heat the 23 ounces of chocolate over a double boiler until melted and smooth. See notes for microwave directions.

Remove frozen chocolate centers from the freezer. Drop into melted chocolate one by one. Make sure each one is evenly coated.

Using a fork or chocolate dipping tool, remove and place on parchment paper. Cool completely.

Optional: as you make them, sprinkle each truffle with the decoration of your choice. (chopped nuts, toffee, jimmies, sprinkles, or gold dust)
Laura's Tips + Notes
Alternate Flavors: You can use different flavorings for the centers, but you should use no more than 3 tbsp of liquid. When using extracts use only ½ tbsp at the most, some flavorings are stronger than others. LorAnn extracts are very concentrated so you will need less. Test the flavor before adding more extract.
Some suggestions:
½ tbsp of raspberry flavoring + 2 ½ tbsp raspberry jam
½ tbsp orange oil + 2 ½ tbsp orange liqueur like Curaçao
3 tbsp of really strong espresso
Vegan Adaptable: Use full-fat coconut milk in place of cream.
Microwave Directions for Melting Chocolate: Alternatively, microwave chocolate for 30 seconds at a time until thoroughly melted. Reheat if the chocolate starts to get warm. I prefer using the double-boiler method just because it allows the chocolate to stay at a more consistent temperature instead of having to reheat it if you aren't working fast enough.
YOUR OWN NOTES
Sign In to add your own private notes
Nutrition
Calories:
198
kcal
Carbohydrates:
16
g
Protein:
2
g
Fat:
13
g
Saturated Fat:
9
g
Cholesterol:
9
mg
Sodium:
24
mg
Fiber:
2
g
Sugar:
9
g
Calcium:
68
mg
Iron:
1.7
mg