This tasty seafood marinade is one of my go-to summer grilling recipes. While I mostly use it to make fish or shrimp tacos, I also love it as a grilled chicken marinade.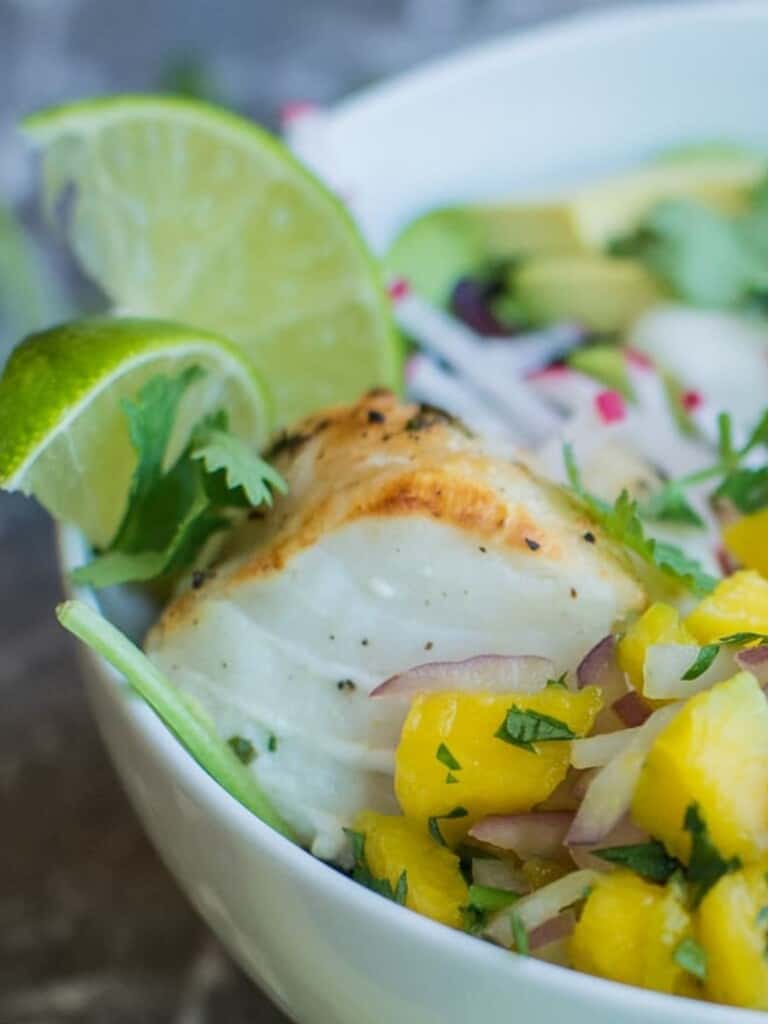 My recipes are never boring. Yep, I said it, and I stand by it! Believe me, this tequila-lime marinade recipe is no exception.
Not only is this fish marinade super easy to make, but it also tastes excellent on almost any protein.
What You'll Love About This Recipe
Easy: Making a marinade is so easy. It may be the easiest way to add flavor to meat and seafood.
Versatile: Tequila-lime marinade is delicious on fish, shrimp, and chicken.
Healthy: Marinades are a great way to add healthy flavor to otherwise boring protein.
Marinade Science
I'm about to get a little geeky, so skip ahead if you want to eat.
There is a formula for making a marinade. Each component helps the marinade to do its only job, which is to add massive flavor to a piece of protein.
All marinades have the same essential ingredients. When you want to change up the flavor profile, you just use a different variety of each element.
Acid: Acid helps to tenderize the protein and creates an environment for maximum flavor absorption. In this recipe, both the lime juice and the alcohol act in this manner.
Salt: Salt adds flavor and acts as an osmotic equalizer. (Wait, what?? I'll explain.) When you add salt to the outside of a protein, the salt sucks out the water that is inside the protein. Then, as the liquids balance themselves back out, the salt is drawn back into the protein. Because we've added flavor, the cells in the protein will absorb the flavors in the marinade along with the salt. It's magic! (Not really, it's science!)
Oil: Oil acts as a carrier for the flavors that don't get reabsorbed into the meat. The oil will help to keep the spices, salt, and any other flavorings attached to the protein surface. The oil will also help with browning during cooking, and plus, it helps prevent sticking.
Flavor: Flavor in this recipe is present in the tequila and the cilantro. Don't forget about the salt and the pepper for a little extra zip.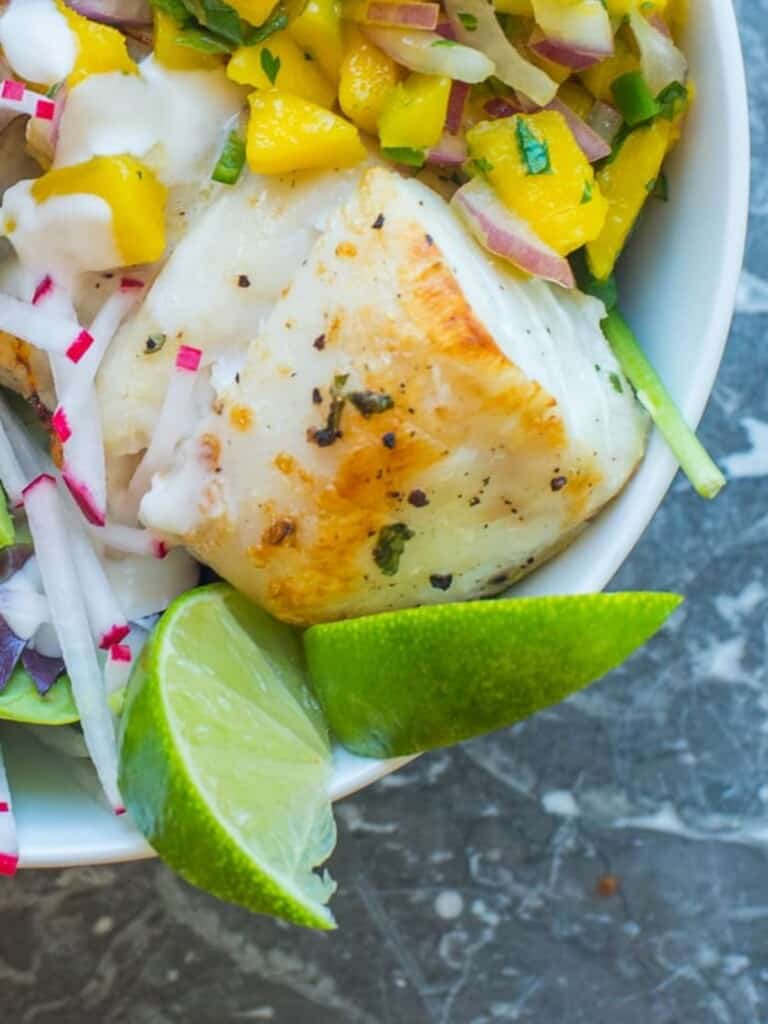 Recipe Notes
Whenever I make a marinade, I always double the recipe. This is one of my time-saving meal prep secrets. I make a double batch, freeze one, and then I have dinner waiting with almost zero prep time. Just thaw and cook!
Ingredients
Tequila: Make sure you use a tequila that you would drink. Never cook with something that isn't palatable on its own.
Limes: You will use the juice and the lime zest. You should use about two tablespoons of lime juice for this recipe. Sometimes limes aren't super juicy, so buy a few extra just in case.
Cilantro: Fresh cilantro adds an herbaceous note to this marinade. If you are a cilantro hater, you can substitute green onions for the cilantro.
Oil: I adore avocado oil. I use it in almost everything that I cook. If you don't have avocado oil, a mild olive oil or neutral-flavored vegetable oil will work just fine here.
Step by Step Instructions
Making a marinade couldn't be easier. Start with a zip-top bag or a glass container with a snap-top lid. You'll want to marinate the fish for a few hours to make sure it has time to absorb a ton of flavor.
Step 1: Get set up
Set up a medium bowl and place a zip-top bag inside of it. (You'll be using the bowl simply to hold the bag steady.) If you are using a glass container, get it out now.
Step 2: Add all of your ingredients
It makes no difference what order you add the ingredients for this fish taco marinade. The only thing you have to chop is the fresh cilantro.
Add your marinade ingredients to whatever vessel you will using to marinate your meat, either the bag or the glass bowl.
Step 3: Marinate
Fish can be delicate so I don't like to marinate it for more than a few hours. The acid in the lime juice will break down the protein in fish pretty quickly, actually cooking it! This is the secret to ceviche, a delicious cured seafood dish.
A steakier fish, like swordfish or mahi-mahi, can tolerate a longer marinating time and can even be frozen with great results.
Chicken and shrimp can be marinated overnight, and they both freeze very well.
Step 4: Cool
Grab a plate and chow down!
This tequila-lime marinade is versatile. When you are ready to cook, the hardest part is deciding which method to use!
What to make with Tequila-Lime Marinade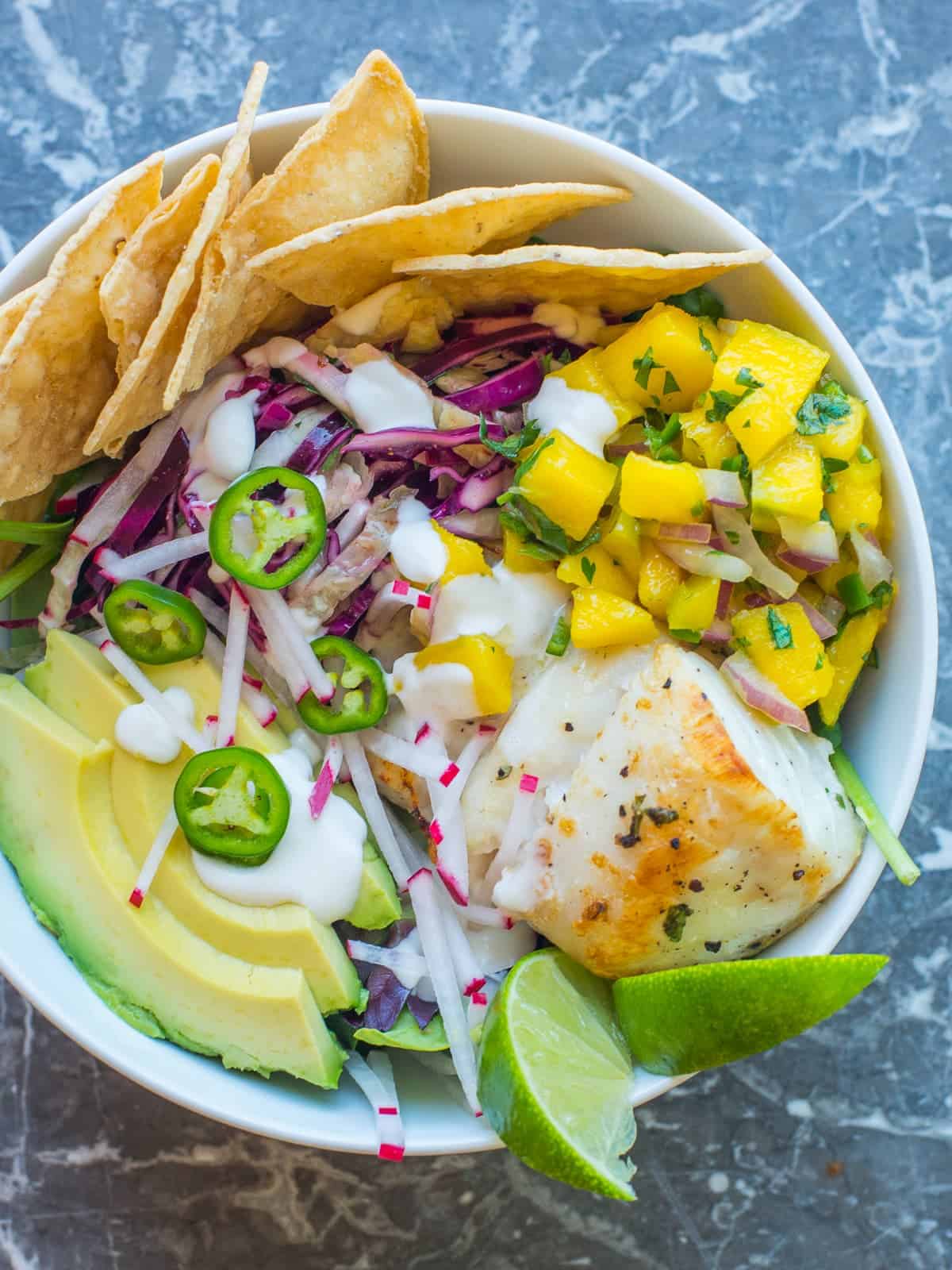 I typically use this recipe as a fish taco marinade and use it with my Fish Taco Bowl. I almost always serve it with Mango Salsa or my Fresh Pineapple Salsa.
My second favorite use for the marinade is this Tequila Lime Chicken. I usually grill the chicken and make bomb tacos.
Fish Taco Bowl with Mango Salsa
Tequila-Lime Marinated Fish with Mango Salsa. This bowl is packed with protein and with flavor. You cannot go wrong fueling up on a healthy fish taco power bowl. + Mango Salsa
SEE THE RECIPE
PIN FOR LATER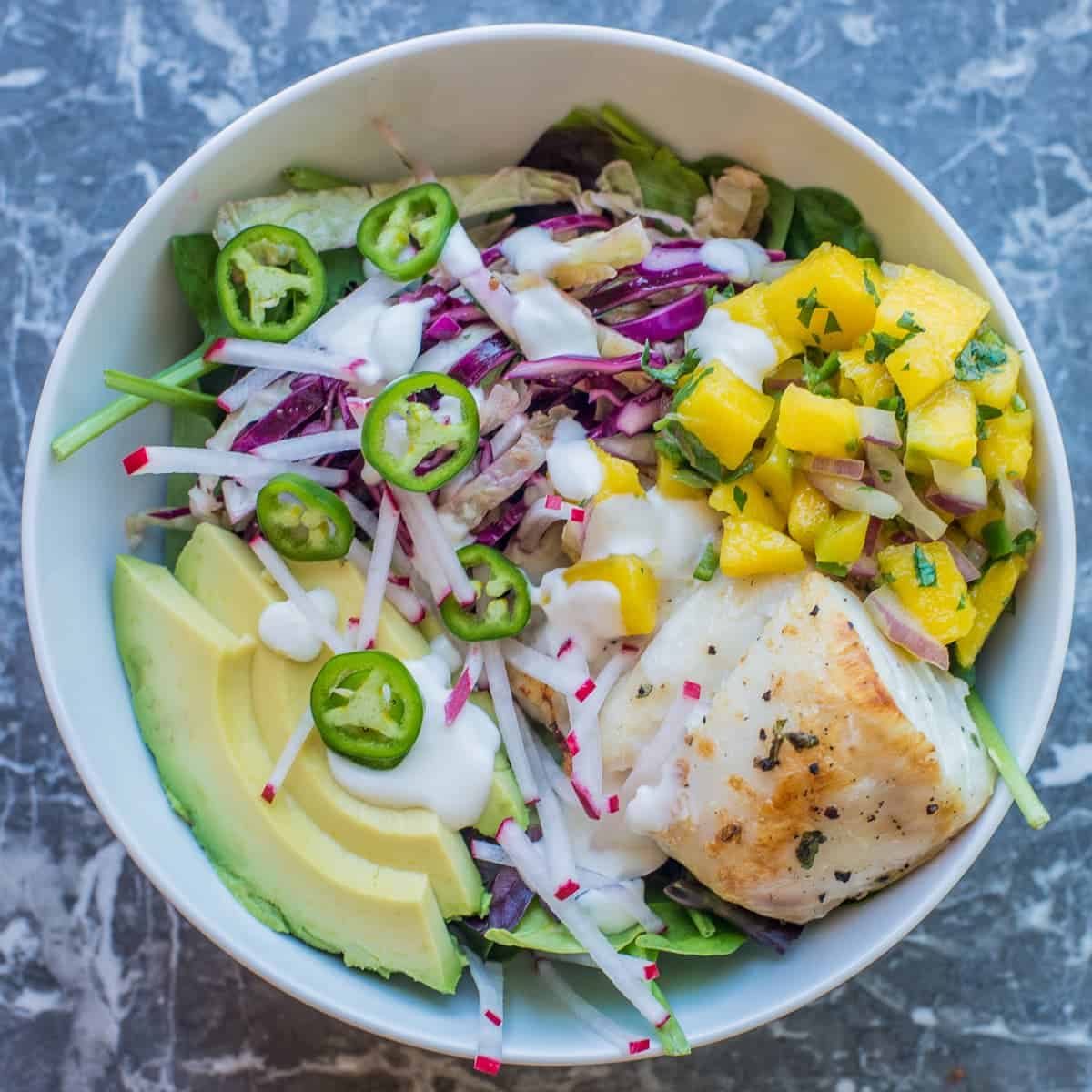 Mango Salsa
Sweet and spicy fresh mango salsa recipe. This salsa is my go-to summer fruit salsa. It pairs perfectly with grilled fish or chicken.
SEE THE RECIPE
PIN FOR LATER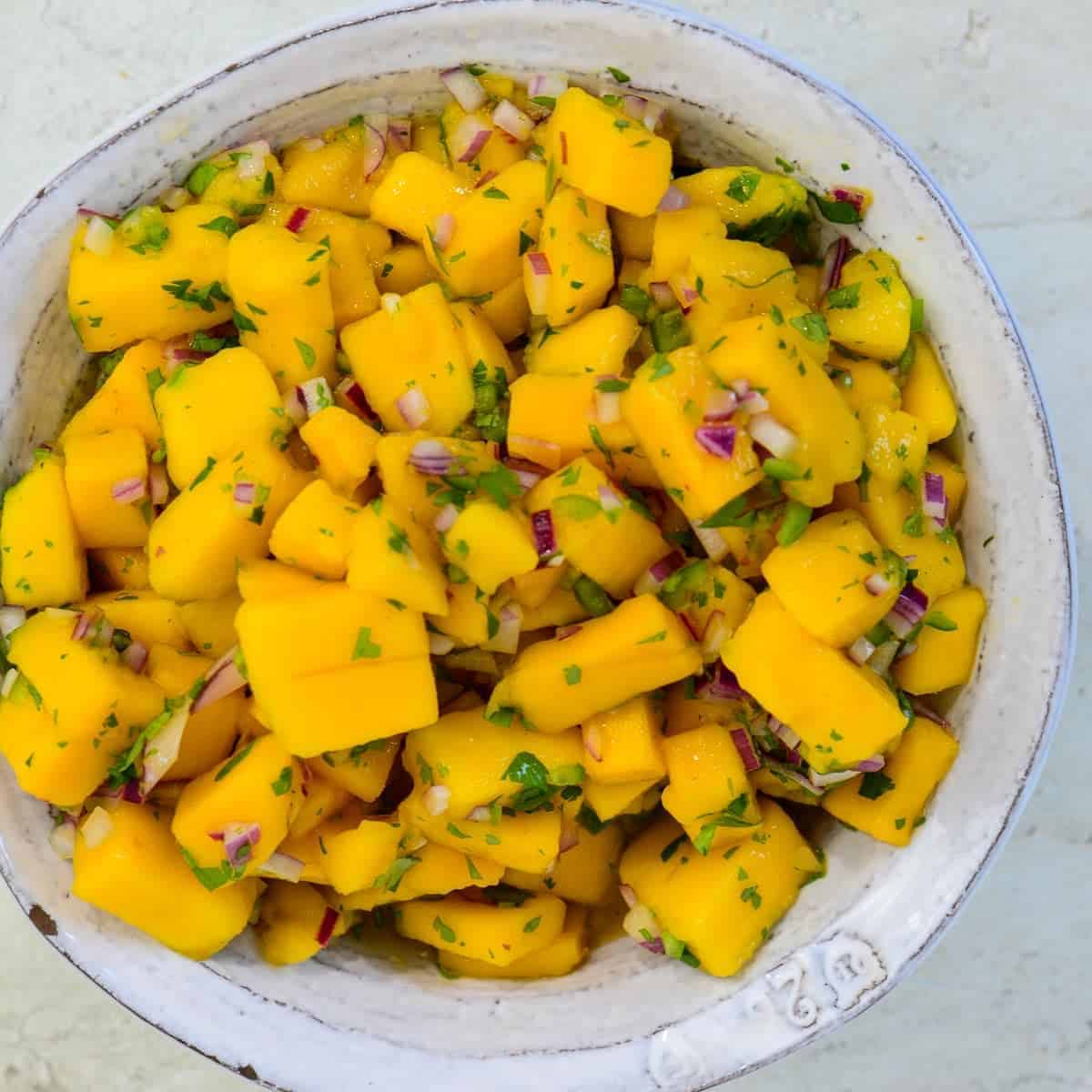 Other Healthy Meal Prep Recipes
➽ Did you make this recipe? I love to see what's going on in your kitchen. Show me what you're cooking. 🍳 Tag me @foodologygeek on your favorite social channel! Facebook, Instagram & Pinterest. If you loved ❤︎ this recipe, please leave a five ★ review and a comment!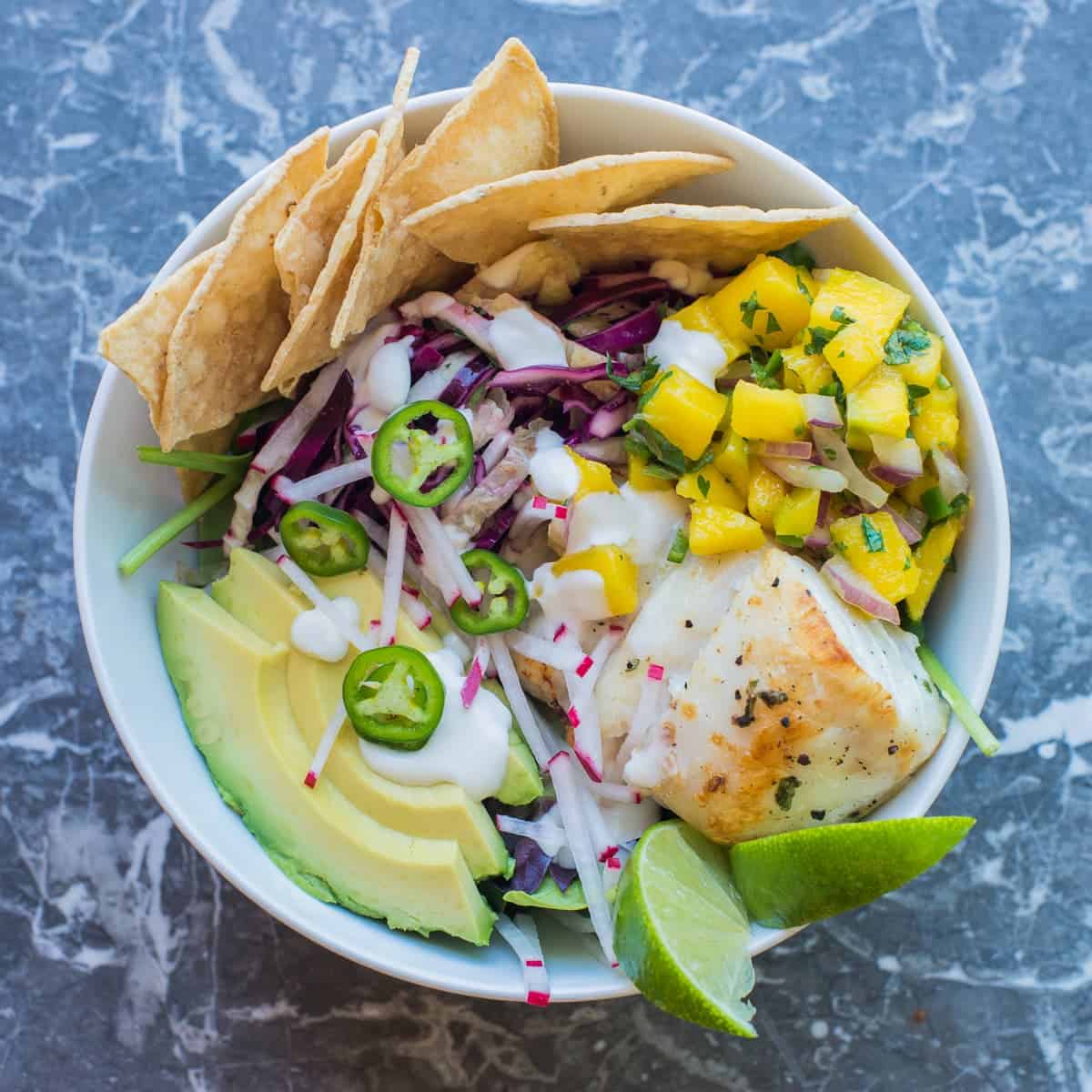 Tequila Lime Marinade Recipe
This flavorful and is the perfect fish taco marinade. It's versatile flavors can also be used to marinate shrimp or chicken.
Ingredients
1

shot

tequila

1

lime

,

juiced and zested

1 to 2

tablespoons

fresh cilantro

,

minced

½

teaspoon

Kosher salt

½

teaspoon

black pepper,

freshly ground

1

tablespoon

vegetable oil

,

I use avocado oil
Instructions
Open up the zip-top bag and place it into a medium size bowl to hold the bag steady.

Add the tequila, lime juice, lime zest, cilantro, salt, and pepper to the bag.

Add 24 ounces of your choice of protein. (Recommended: cod, halibut, shrimp, or chicken)

Seal the bag and turn it over several times to make sure that the protein is coated and the ingredients are mixed well.
Laura's Tips + Notes
This marinade is used for approximately 2 pounds (24 ounces) of fish, chicken, or shrimp.
Serving Suggestions:
Tequila Lime Chicken
Fish Tacos
Shrimp Tacos
Time Saving Meal Prep Tip:
Double the recipe, make two batches, and freeze one for later. This method works extremely well for chicken and shrimp.
YOUR OWN NOTES
Nutrition
Calories:
58
kcal
Carbohydrates:
1
g
Protein:
1
g
Fat:
4
g
Saturated Fat:
3
g
Sodium:
291
mg
Fiber:
1
g
Sugar:
1
g