Grilled Steak Chimichurri Bowl With Tostones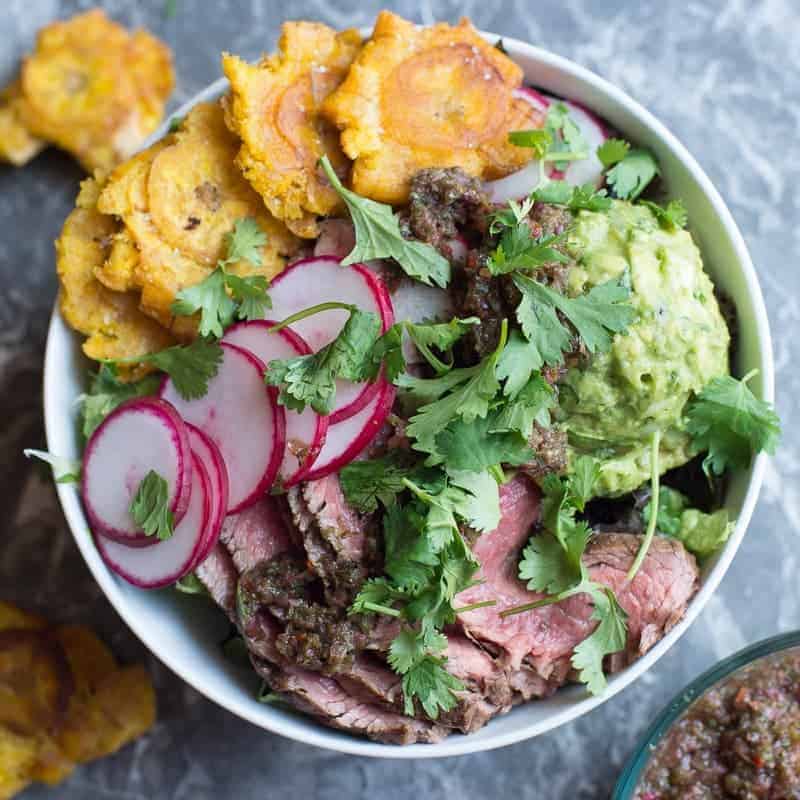 Recipe
Comments
Save
Go to Collections
This post may contain affiliate links. Please read my
disclosure policy.
This power bowl recipe is one of my personal favorites. This bowl has so much flavor. Spicy, grilled marinated steak, topped with a cool chimichurri sauce and creamy guacamole! If that isn't enough there are also made from scratch tostones!!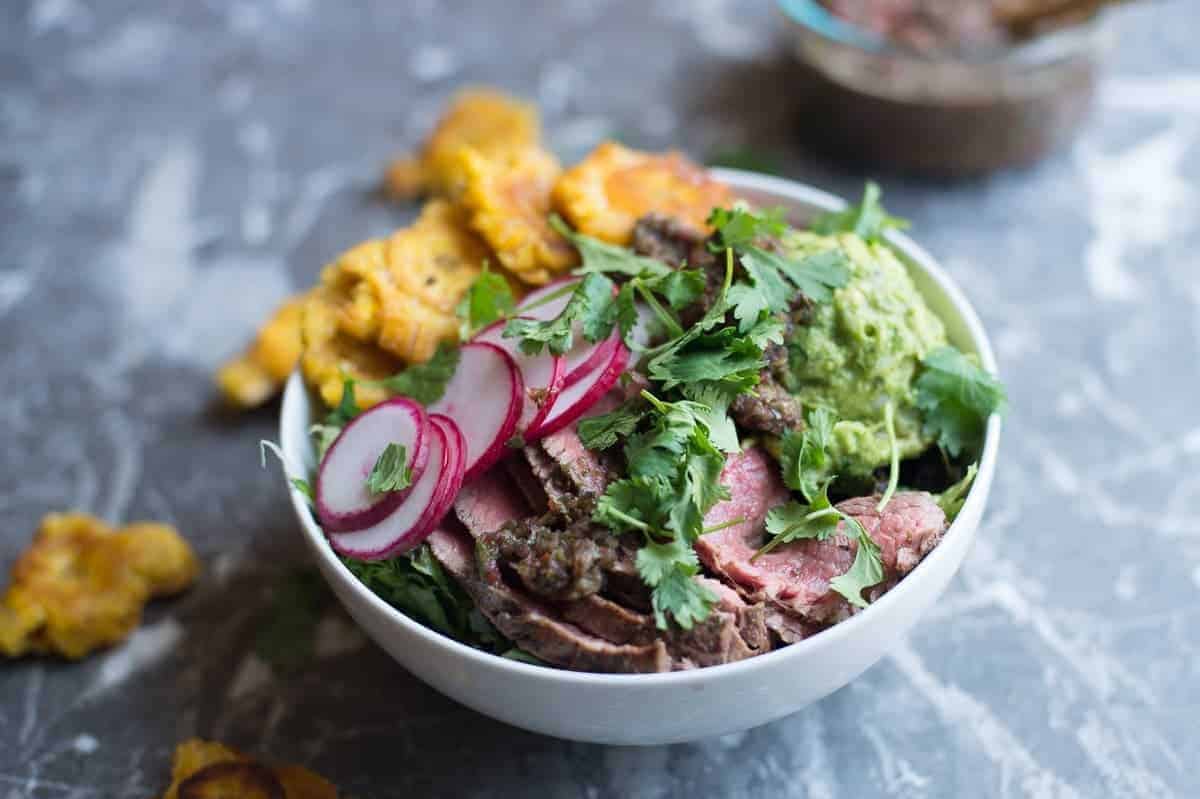 Here's my latest obsession…
This grilled steak chimichurri Beast Bowl is satisfying in so many ways.
First, grilled marinated flat iron steak. This lean cut of meat is an easy and affordable way to get in your daily protein.
Second, the spicy chimichurri sauce is a win-win that can be eaten on steak, chicken, fish or veggies.
Third, tostones! Tostones are fried green plantains. If you are up for it, these are worth making from scratch. The process is easy if you aren't afraid of heating up some coconut oil in a skillet. (Substitution: You can buy plantain chips but I promise they won't be as amazing 😉)
Let's Get Cooking
Start by marinating the steak. You can use flank steak or hanger steak. Heck, actually any cut of steak would be delicious. It's a good idea to plan enough time for your meat to chill in the marinade for at least a few hours. To save time, make the marinade the night before and let your meat swim in flavor all night long.
Cooking Tip: Let your steak set out for at least an hour before you grill it. Meat should be room temperature in order to cook properly.
On Cook Day
Make chimichurri.
Make guacamole.
Make tostones.
Grill meat then let rest.
Get your bowl fixin's ready to go.
Slice meat, assemble your bowl and eat.
Do the Tostones!
Seriously, just do the tostones. You can make them from scratch in under 15 minutes.
To make tostones – all you need is about a half a cup of coconut oil (heated on medium-high) and a few green plantains.
Peel them and cut them in 2-inch pieces. Fry for a few minutes on each side,
Next, remove and smash the plantain slices between two plates.
Then, return smashed plantains back into the hot oil. After a few additional minutes on each side, they will be nice and crispy.
Remove from the oil and place on a paper towel-lined plate. Sprinkle with coarse salt.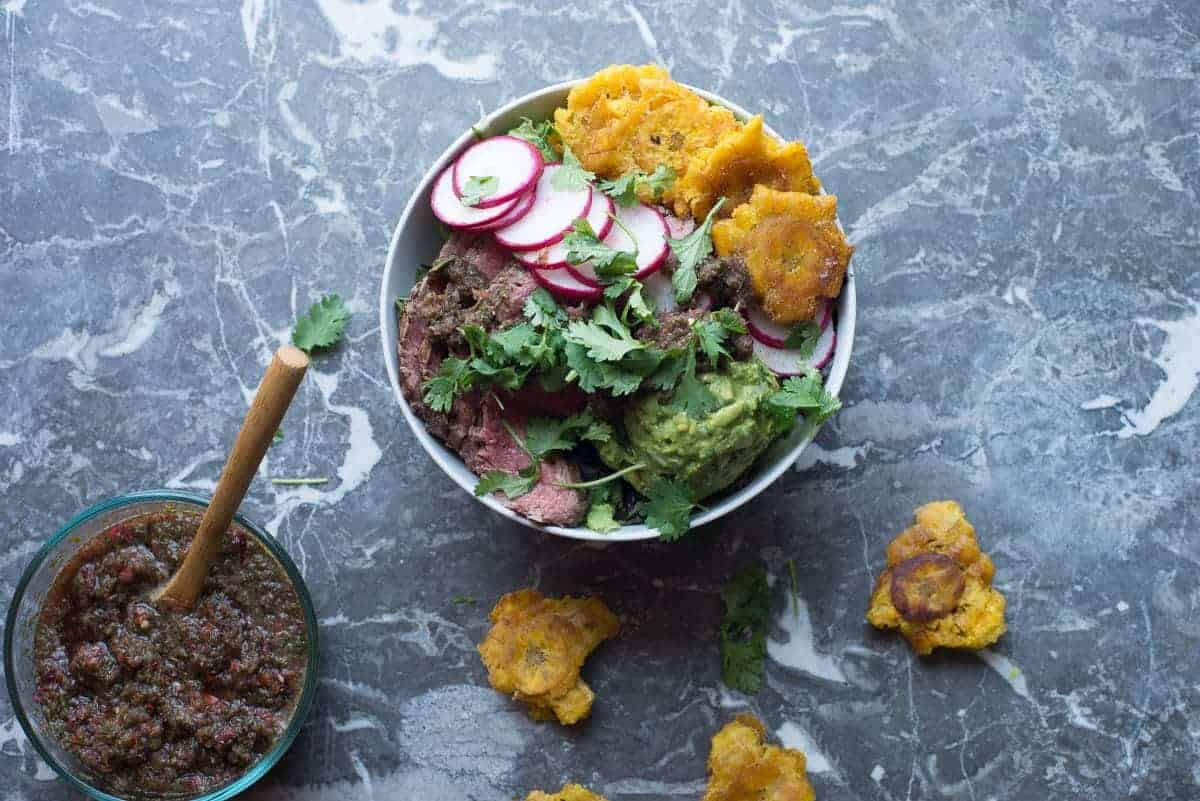 How to Grill Flank Steak:
Flank steak is a lean cut of meat. It's really tasty if it's cooked correctly; which is hot and fast.
Your fire should be hot. Grill the flank steak for about 2 minutes on each side for medium-rare.
The key to getting steak done to the right temperature is to grill it – then cover it and let it rest.
Resting allows the juices to settle back into the meat. The meat actually continues to cook just a bit after you take it off the heat.
As the meat rests it will reach the correct doneness and perfect juiciness.
How to Rest Steak:
Pull your meat off of the grill and place it on a clean plate or platter.
Cover tightly with aluminum foil (I usually use 2 layers.)
Set a timer for 10 minutes.
Walk away.
After 10 minutes, remove foil, serve meat or slice and serve larger cuts.
Helpful Tips
More Meal Prep Bowls
Steak and Sweet Potato Meal Prep Bowl
Buffalo Chicken Meal Prep Bowl
Fish Taco Meal Prep Bowl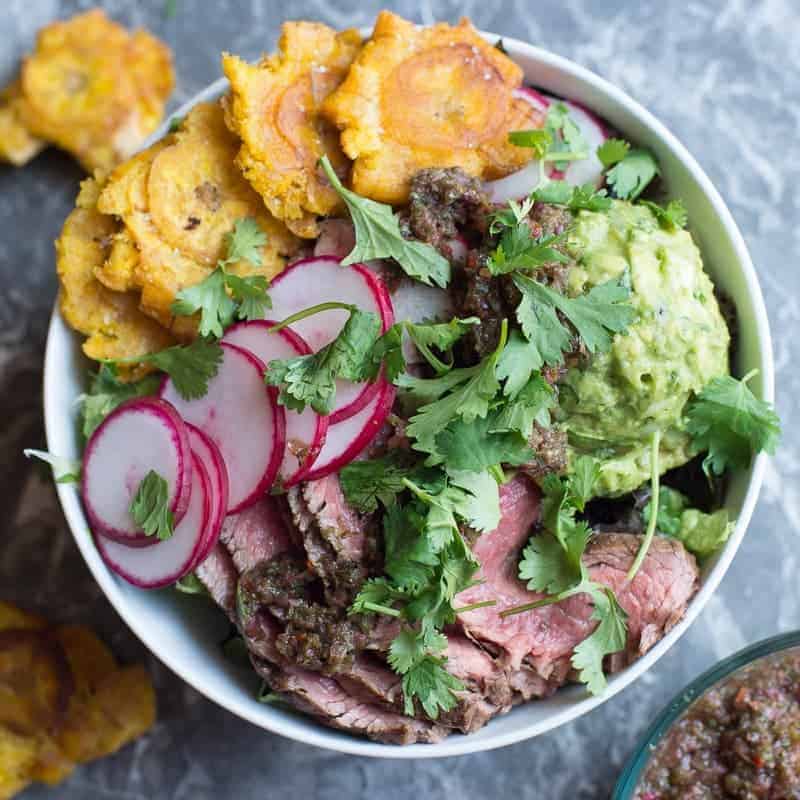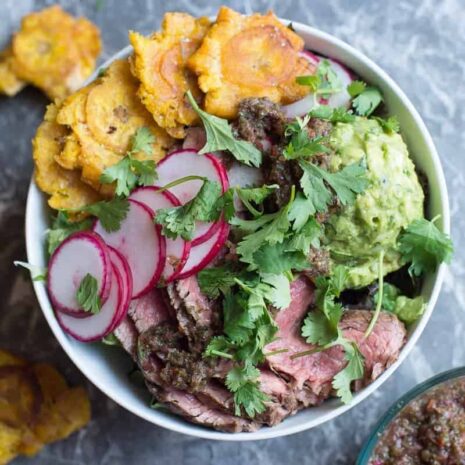 Chimichurri Steak Meal Prep Bowls
Marinated Grilled Steak with Columbian Guacamole and Chimichurri Sauce. Serve with Fresh Fried Plantain Chips
Ingredients
Protein
2 to 3

lbs

flat iron steak
Bowl Fixin's
lettuce

spinach

radishes

fresh cilantro
Columbian Guacamole
4

avocados

½

Vidalia onion

,

finely diced

2

serrano peppers

,

finely diced

¼

cup

fresh cilantro

1

lime

,

juiced (more if desired)

1

tsp

kosher salt
Instructions
Grilled Steak
Make the marinade in a shallow dish or in a zip top bag. Add the steak and allow to marinate for a few hours up to overnight.

Heat the grill to high heat. On my gas grill I heat it up to about 500℉. Grill the steak on a very hot grill, 2 to 4 minutes on each side. Use a probe thermometer to ensure desired doneness.

Remove the steak to a platter. Cover and seal with foil. Rest for 10 minutes before slicing.
Chimichurri Sauce
Add all ingredients to a the bowl of a food processor or high speed blender.

Pulse until ingredients are finely minced.
Columbian Guacamole
Add all ingredients to a medium bowl and mix with a fork until still chunky, but blended together.
Tostones
Peel the green plantains, and then cut each one into 2 inch pieces.

Heat about ½ cup of coconut oil in a cast iron or other heavy bottomed skillet.

Working in batches. When hot, set pieces of plantain in skillet flat side down. You don't want to overcrowd the plantains. Fry 5 to 6 pieces at a time.

Fry on each side until golden brown. (I use chopsticks to turn mine)

Once brown, remove the plantains from the oil and place on a plate.

Use a second plate to press the fried pieces flat.

Quickly dip the smashed tostones in water and the return to oil.

Fry on each side for a few minutes.

Remove and place on a paper towel. Sprinkle with kosher salt.
Build Your Meal Prep Bowl
Add a few handfuls of greens to a large bowl.

Top with steak, Columbian guacamole, chimichurri and tostones.

Add sliced radishes and fresh cilantro.
Laura's Tips + Notes
Vegan Adaption: Use roasted cauliflower instead of the steak. I used purple cauliflower and it was gorgeous.
You can cut cauliflower into steaks or just break it up into large pieces, toss with salt and coconut oil. Roast for about 20 minutes @ 400℉. Sprinkle with chopped parsley and serve with chimichurri sauce.
Substitution For Tostones: Use prepared plantain chips. Roasted sweet potatoes would also be delicious in place of tostones.
YOUR OWN NOTES
Nutrition
Calories:
385
kcal
Carbohydrates:
26
g
Protein:
27
g
Fat:
20
g
Saturated Fat:
4
g
Cholesterol:
68
mg
Sodium:
581
mg
Fiber:
8
g
Sugar:
9
g
Calcium:
49
mg
Iron:
2.8
mg