Chimichurri Sauce Recipe: The Serve-With-Everything Sauce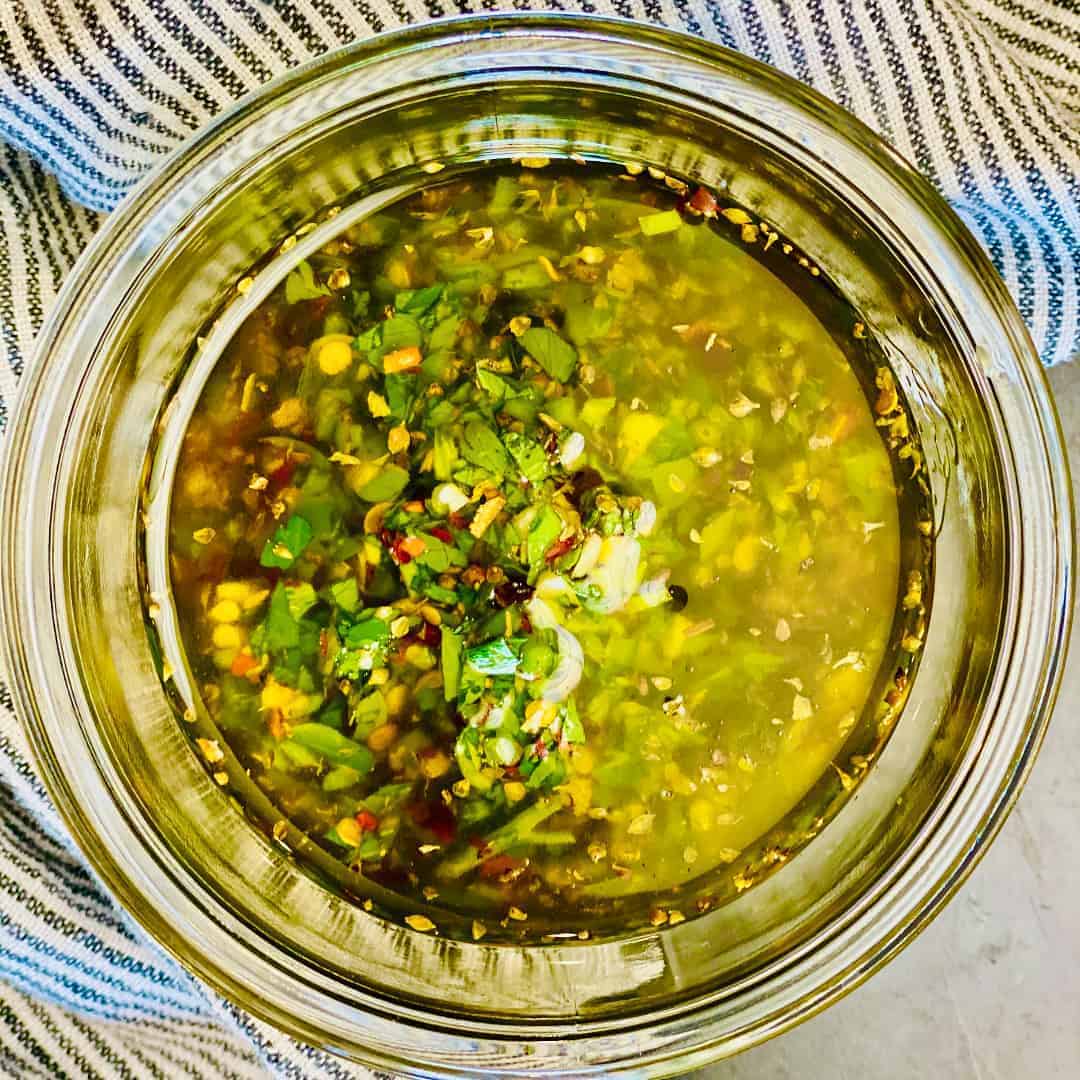 Recipe
Comments
Save
Go to Collections
This post may contain affiliate links. Please read my
disclosure policy.
Argentinian chimichurri is made with chopped fresh parsley, oregano, garlic, olive oil, vinegar, and red pepper flakes. Chimichurri is a spicy herbaceous condiment, originally from Uruguay and Argentina. It is best paired with grilled meats and vegetables. This recipe is based on authentic chimichurri sauce, but there are so many varieties of this flavor bomb of a sauce!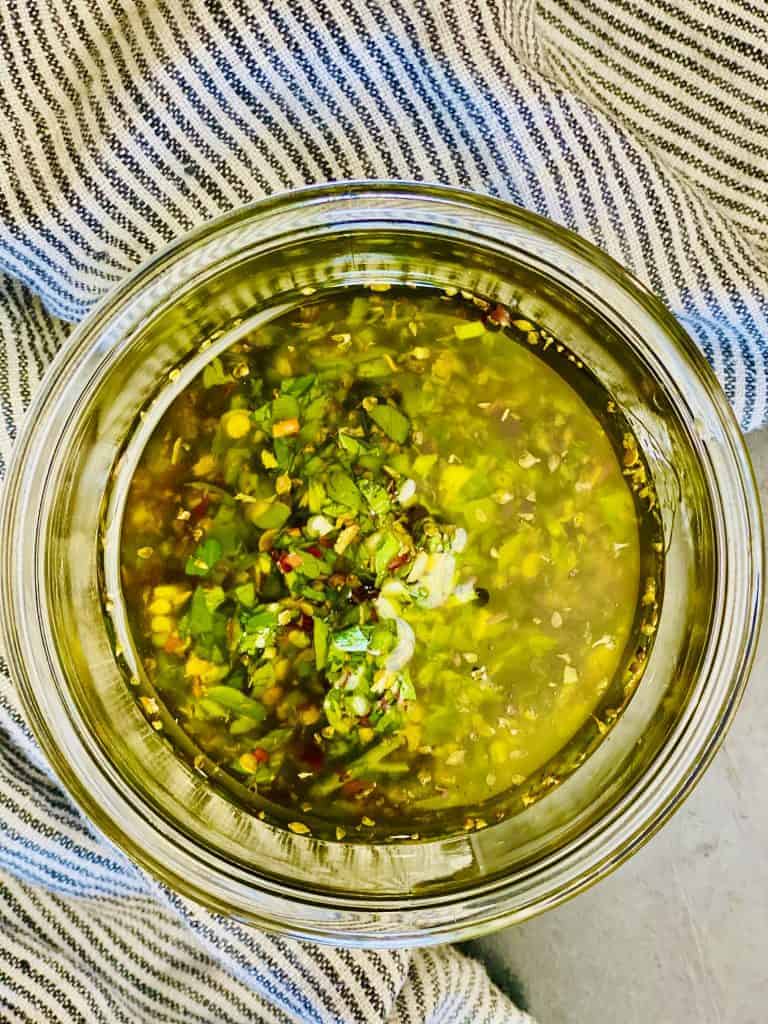 I've had my best chimichurri recipe buried in my post for my Chimichurri Steak Bowl. But this delicious, spicy sauce is a total show stopper! It absolutely needed to be featured as the star that it is.
This version is my Argentinian chimichurri recipe. It's more similar to the authentic chimichurri sauce that you'll find in chimichurri steak recipes, otherwise known as churrasco.
The truth is there are a lot of different varieties of chimichurri, but the main components stay the same. Aromatics + oil + vinger + red pepper flakes.
Chimichurri is extremely versatile and has so much flavor. Grilled meat and veggies are the perfect pair for this flavor-packed sauce. Chimichurri chicken, HELLO!
There is probably nothing that I have eaten with this chimichurri sauce that wasn't delish!
What you'll love about this recipe
Easy: Making this easy chimichurri sauce takes less than ten minutes, it only requires a few simple ingredients, and it keeps so well in the fridge. This is one reason why I use it for meal prep all the time.
Versatile: Chimichurri sauce can be eaten in so many different ways. Once you make a batch, I know it'll be one of your new go-to recipes.
Recipe Notes
This recipe requires no cooking at all and no power tools! All you need is a sharp knife and bowl. This is a simple version of my Chimichurri Sauce. If you want to see a different version check out the Chimichurri Meal Prep Bowl Recipe.
Ingredients You'll Need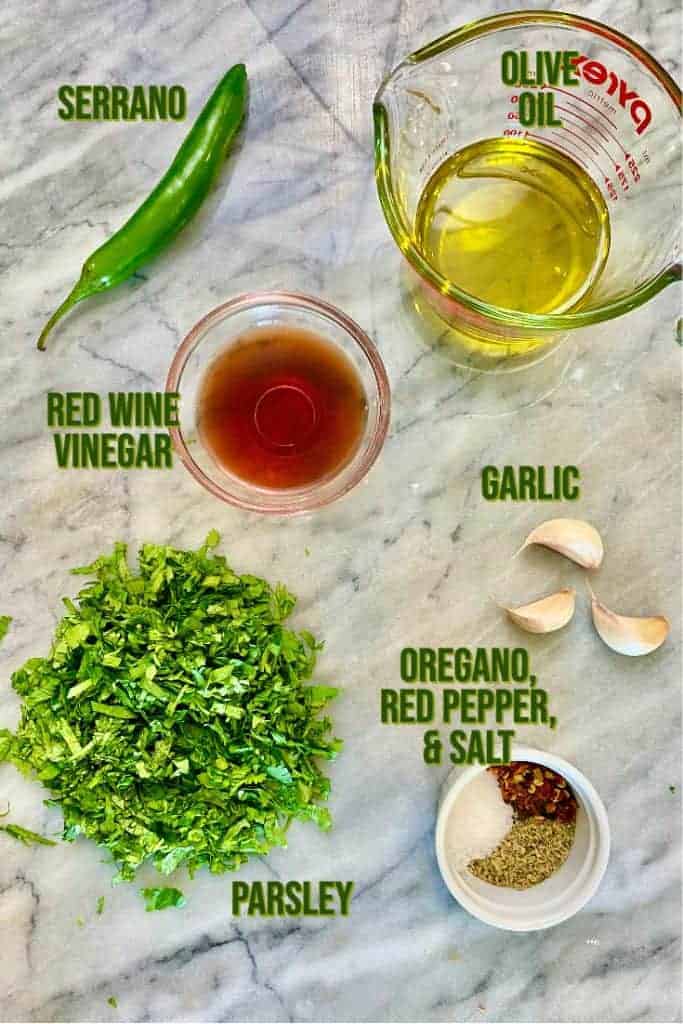 Extra Virgin Olive Oil
Fresh Parsley (traditional) OR Cilantro (non-traditional)
Serrano Pepper (a red one if you can find it)
Red Wine Vinegar OR Sherry Vinegar
Dried Oregano
Crushed Red Pepper
Kosher Salt
Step-by-step instructions: How to Make Chimichurri
Making traditional chimichurri sauce is as simple as chopping the parsley and the garlic and then combining them with the remaining ingredients. You can have this delicious condiment on the table is less than 5 minutes.
Step 1: Chop and add the parsley to a bowl.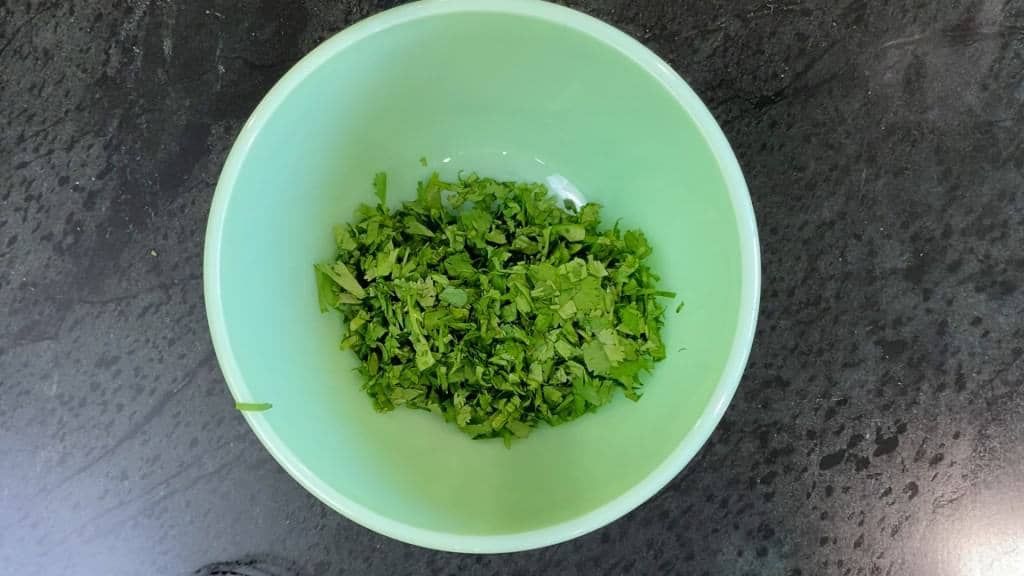 Step 2: Finely dice and add the serrano pepper to the bowl.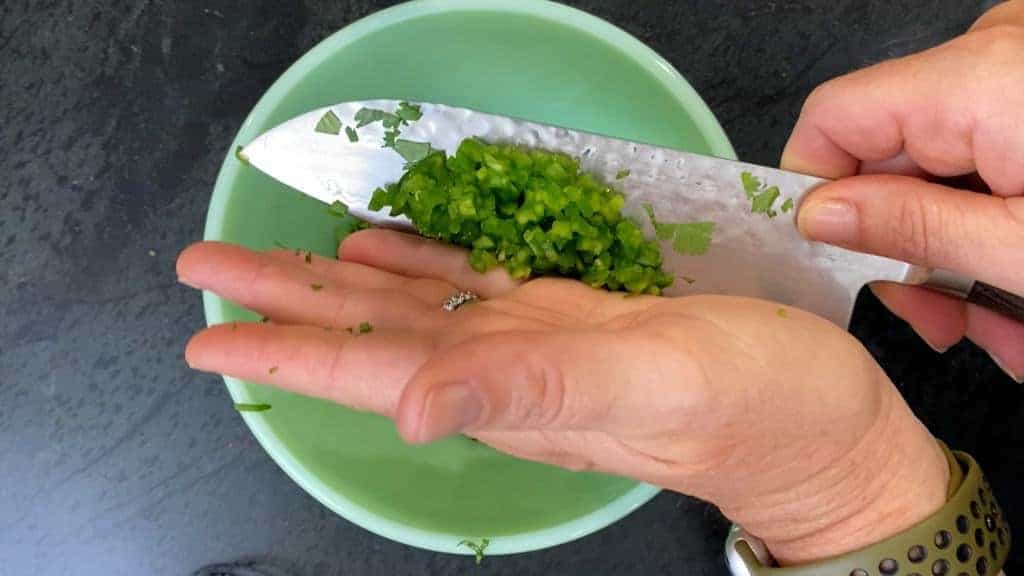 Step 3: Dice or press the garlic and add it to the bowl.
I forgot to photo this step! But you should know what to do. 😜
Step 4: Add the salt, red pepper, and oregano to the bowl.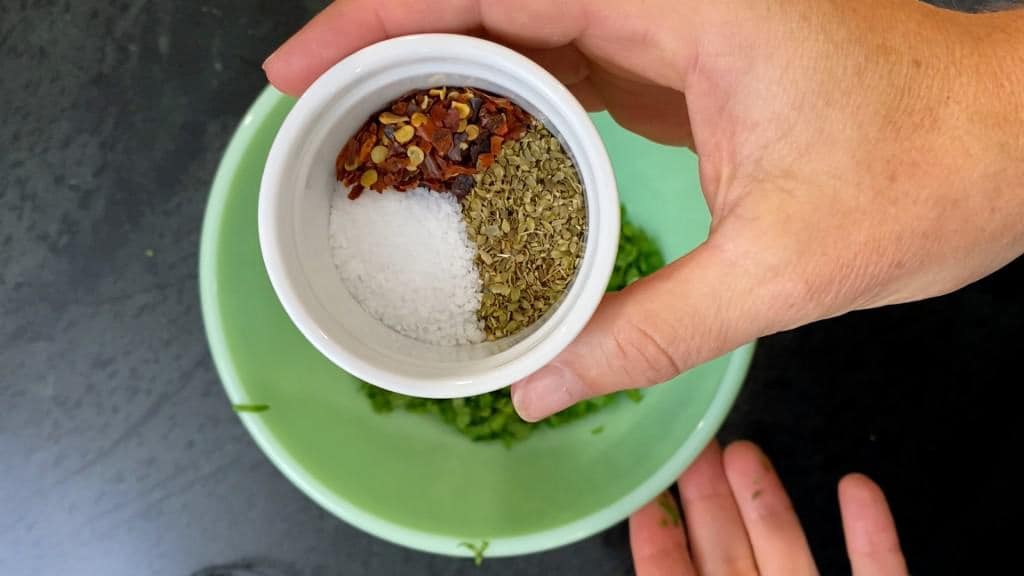 Step 5: Add the vinegar.
The vinegar will start to extract the flavor and color out of the herbs. If you want to do a make-ahead chimichurri sauce, leave the vinegar out until the day you are going to serve it.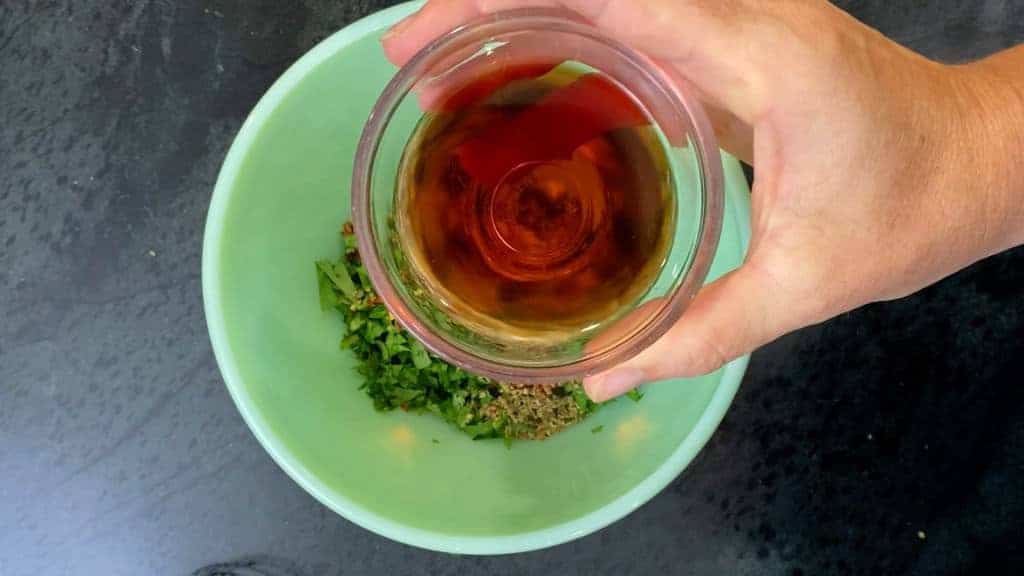 Step 6: Add the olive oil.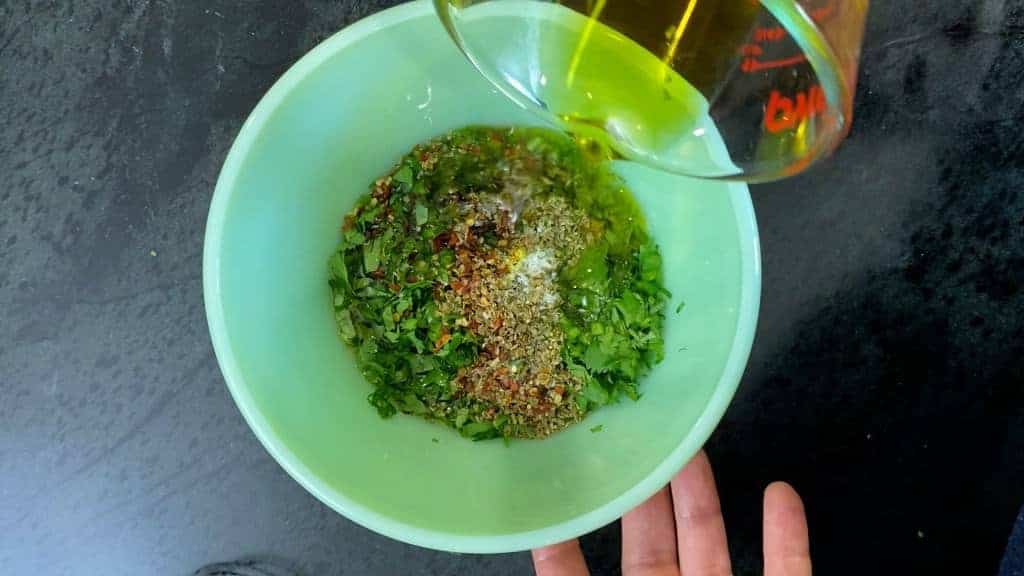 Step 7: Whisk and then eat with reckless abandon!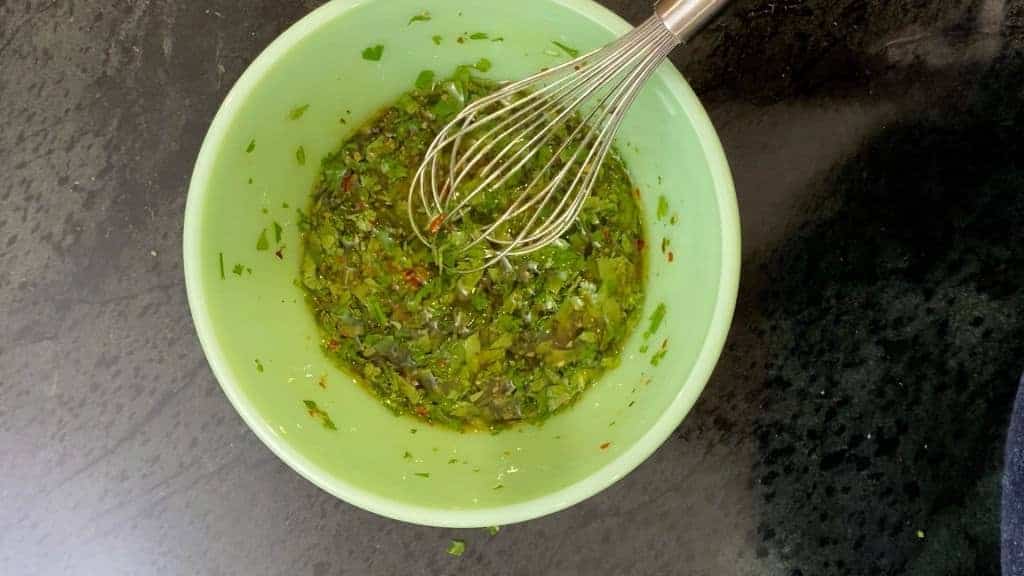 Variations
The aromatics in this chimichurri recipe are extremely flexible. Just take the original authentic ingredients and swap them out for the same amount of aromatics.
Example: 1/2 cup of parsley for 1/2 cup of the aromatics below. You can use one of them or a mixture of a few. You really can't mess it up!
Cilantro: I have often swapped out the parsley in this recipe for cilantro.
Green Onions: I sometimes add a few green onions.
Shallots: I like a few tablespoons of finely diced shallot in my chimichurri, especially with grilled steak.
What is Chimichurri Sauce?
Chimichurri is an oil-based condiment, traditionally from Uruguay and Argentina. It's used to accompany barbecued meats or churrasco.
How to use chimichurri.
Chimichurri is traditionally served with grilled meats and vegetables. I love making chimichurri steak or chimichurri shrimp. You can use the chimichurri as a marinade, but I honestly prefer to just drizzle it over the meat after it's been grilled. .
How do you store chimichurri?
Chimichurri sauce will keep in the fridge for 3 to 4 days. You can keep longer, but it will start to look flat after a few days. If you want to make it ahead, you can mix all of the ingredients except the vinegar. Add the vinegar the day that you are going to serve it.
Other recipes you might like
I love to drizzle chimichurri on my Grilled Chimichurri Steak Bowl and over a big helping of Roasted Potatoes.
Most recently I created a new recipe: Chimichurri Grilled Chicken with Goat Cheese Mashed Potatoes (coming soon)!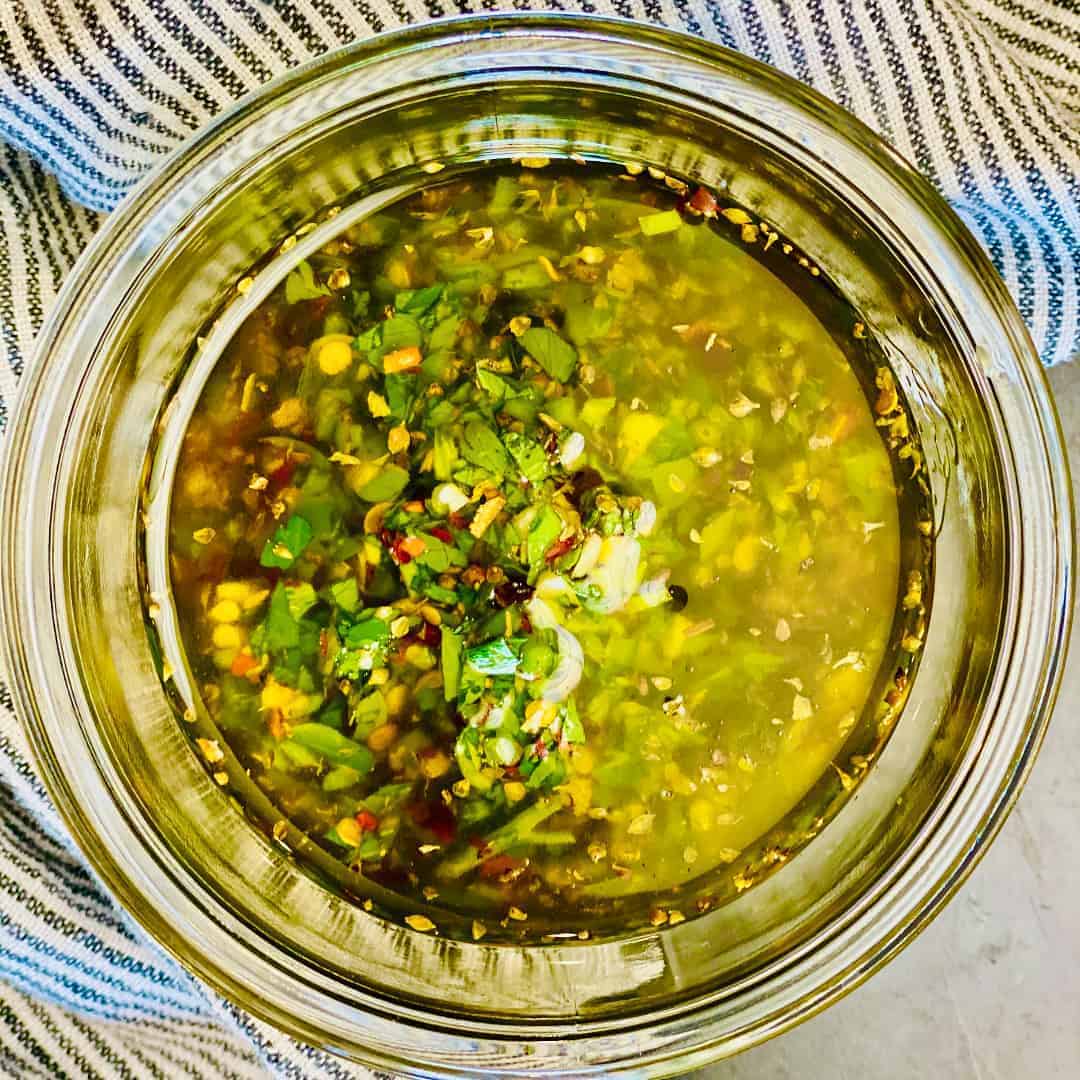 Chimichurri Sauce
Chimichurri sauce is a spicy, herbaceous sauce that adds a flavor bowl to grilled meats and vegetables. Use as a marinade, dipping sauce, or a condiment.
Ingredients
½

cup

olive oil

½

cup

fresh parsley

,

or cilantro

½

cup

red wine vinegar

(affiliate link)

1

tablespoon

fresh oregano

,

or 1 teaspoon of dried oregano

3

cloves

garlic

,

finely minced or grated

1

teaspoons

kosher salt

1

teaspoon

red pepper flakes

1

serrano pepper (red if you can find it)

,

seeded and finely diced
Instructions
Herbs: Rinse and dry the parsley and the oregano, and remove the leaves from the stems. Chop the herbs into a fine texture.

Garlic: Remove the skin from the garlic. Chop finely, or I like to use a garlic press.

Serrano Pepper: Remove the seeds from the pepper and finely dice.

In a medium bowl or jar, combine the onion, parsley, oregano, garlic, salt, and red pepper. Add the oil and vinegar and mix well.

Store covered for a couple of days and use before the herbs start to turn brown.
Laura's Tips + Notes
This recipe makes about 2 cups of chimichurri sauce.
Food Processor Instructions
Add all ingredients to the bowl of a food processor. Pulse until ingredients are finely minced.
Make Ahead
You can make chimichurri sauce up to 4 days ahead.
Mix all of the ingredients together in a Mason jar, but then do not add vinegar until the day that you will be serving the chimichurri.
YOUR OWN NOTES
Nutrition
Calories:
64
kcal
Carbohydrates:
1
g
Protein:
1
g
Fat:
7
g
Saturated Fat:
1
g
Sodium:
149
mg
Fiber:
1
g
Sugar:
1
g
Calcium:
9
mg
Iron:
1
mg