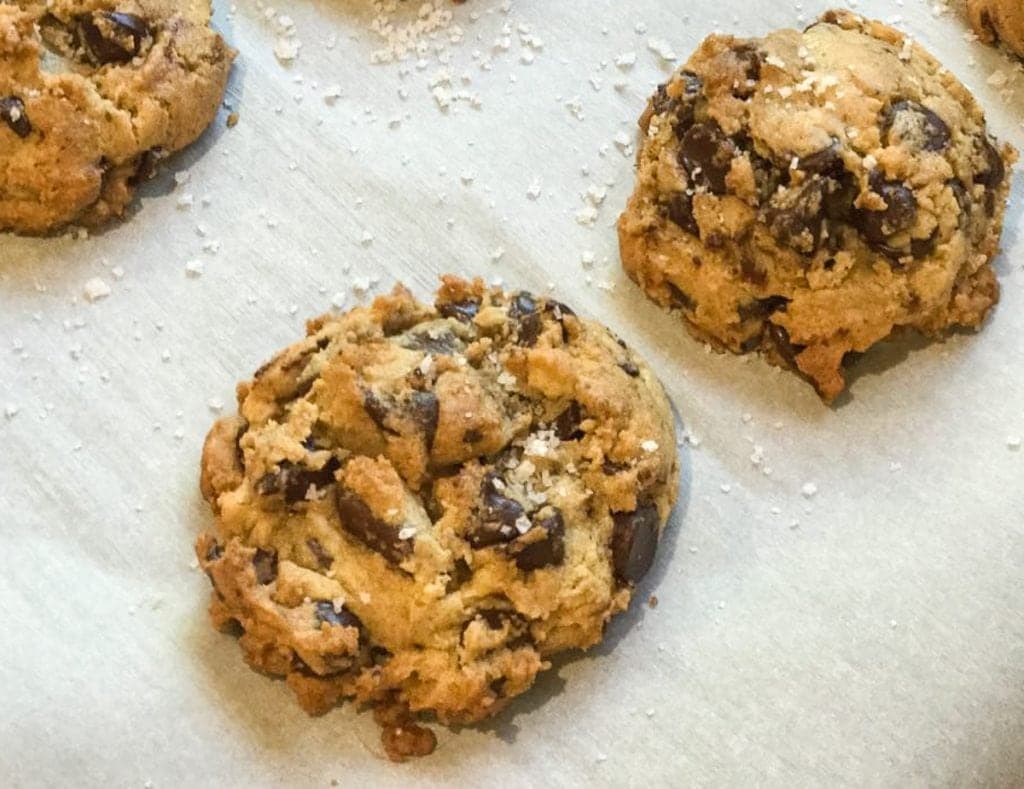 I MUST CONFESS THIS RECIPE IS STOLEN...MOSTLY!
I came across the Infamous Jacques Torres Fleur de Sel Chocolate Chip cookies a few years ago
I got the recipe here.
When I made these cookies for the first time I knew that I had found THE chocolate chip cookie recipe. You know what I mean, right?
The chocolate chip cookie that has the perfect texture, the perfect flavor, and the perfect chocolate to cookie dough ratio. Not to mention it has the salty-sweet thing in the bag too!
Cut to...a sprinkling of fleur de sel right when they come out of the oven. OMG Heaven!!!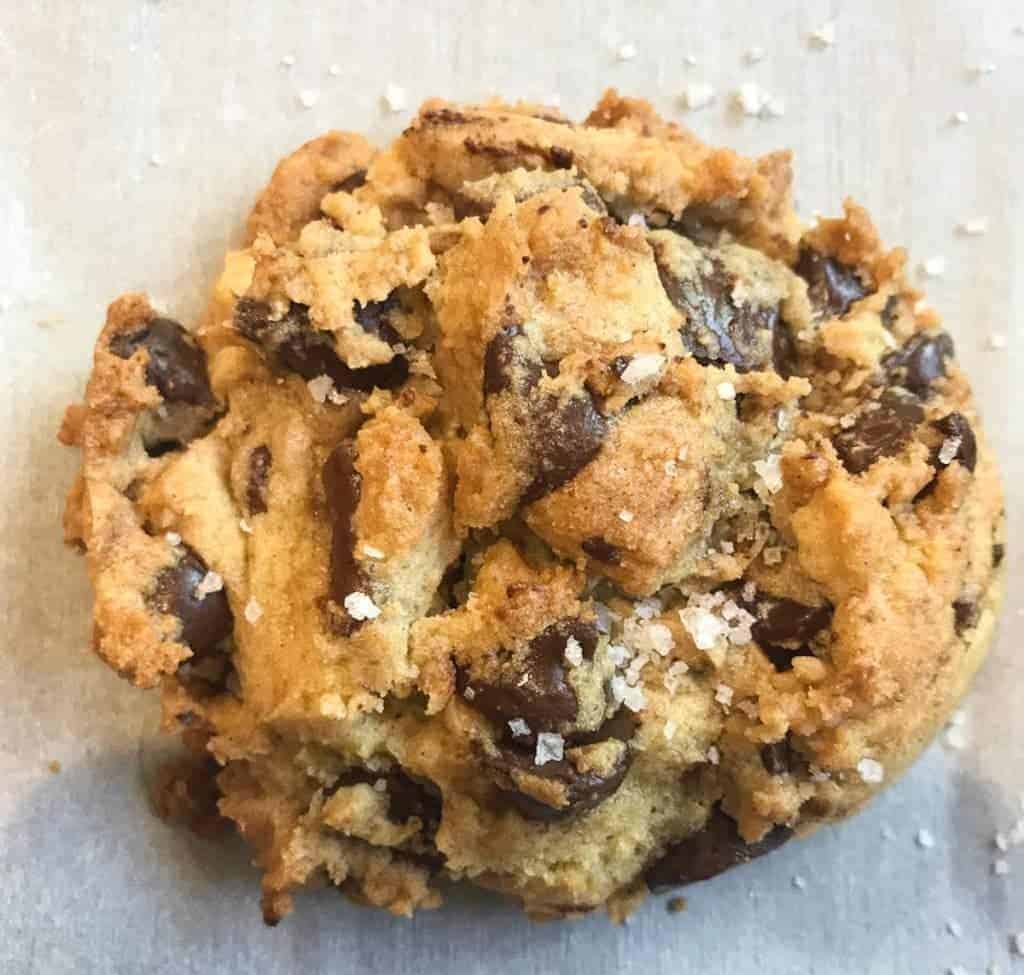 Over the years I've changed a few things in this recipe
I've added a little bit more salt, a little bit more vanilla, and a LOT more chocolate chips. I have seriously tested the threshold of the chocolate chip to cookie dough ratio - pushing it to the absolute limit.
I like to add enough chocolate chips so that there is just enough cookie dough to hold the chips together.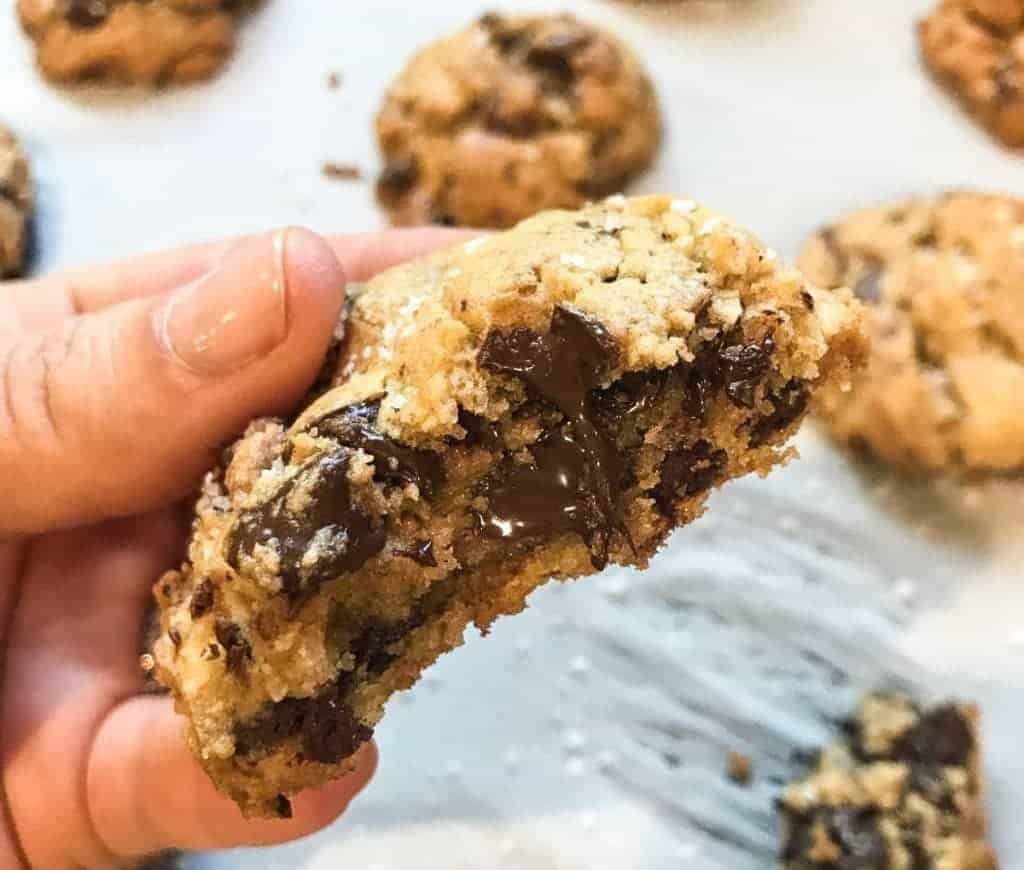 The importance of chocolate chips
I'm extra picky about using the best chocolate chips you can find. The ratio and specific kind of chips is up to you.
I usually use a full 12 oz bag of bittersweet chocolate, a full 12 oz bag of semisweet chocolate and then I top it off with at least a half of a bag of milk chocolate chunks.
My favorite chocolate for baking is Guittard. The flavor profile is just decadent. However, for my chocolate chunks, I go back to Nestle.
There is something traditional and comforting about huge chunks of Nestle's chocolate in this cookie. The three different types of chocolate really give this cookie a magical flavor.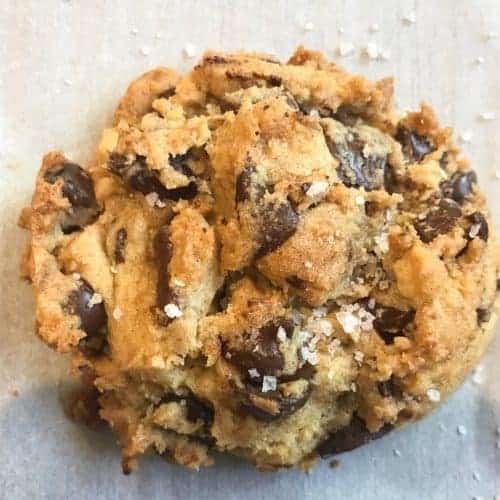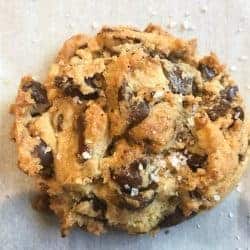 Fleur De Sel Chocolate Chip Cookies
These are a modified version of the 'Infamous Jacques Torres' Chocolate Chip Cookies.' The texture of these cookies is amazing. I have tweaked the ingredients just a bit and added a 'metric ton' of chocolate chips.
Instructions
Whisk together the dry ingredients in medium to large bowl and set aside.

Beat the butter and sugar together until light an fluffy.

Add the eggs one at a time to the butter and sugar mixture. Beat in each egg before adding the next.

Add the vanilla extract to the egg, butter and sugar mixture. Beat to incorporate.

Add the flour mixture gradually stirring until it is just incorporated. (I use my stand mixer fitted with the paddle attachment on a low speed.)

Stir in the chocolate chips. (You can still use the mixer or fold them in by hand to keep the larger chocolate chunks from getting broken into smaller pieces.)

Special instructions: You can bake these right now. But for best results refrigerate the dough overnight and then let it come to room temperature before you bake. [Nerd Alert: Doing this allows the gluten in the dough to 'relax'. This is important if you have stirred it a lot after adding the flour. It helps you to avoid a 'tough' cookie. If you have been 'kind' to your dough, this is less critical. I try to be 'kind' so that I don't have to wait!]

Bake @ 350℉ for 14 minutes.

***Keep in mind that ovens vary so watch the first batch. You want them to be a nice golden brown. They will be pretty soft when you take them out of the oven. As they cool they become crispy on the outside and soft/chewy on the inside.
Nutrition
Calories:
134
kcal
Carbohydrates:
17
g
Protein:
2
g
Fat:
6
g
Saturated Fat:
4
g
Cholesterol:
7
mg
Sodium:
156
mg
Fiber:
1
g
Sugar:
10
g
Calcium:
29
mg
Iron:
0.8
mg
(Visited 1,476 times, 9 visits today)