The Easiest Recipe for Dairy Free Rocky Road Fudge
This fudge is perfect!
It's rich and dark chocolaty.
This fudge is creamy, chock full of nuts and fluffy marshmallows. Then it is sprinkled with just the right amount of flake salt. These elements all come together as the most perfect flavor combination.
Another reason that this fudge is perfect is because it only takes 5 minutes to make. Yep, 5 minutes.
Chocolate chips and coconut cream make the perfect fudge base. If you are a fudge purist you can even omit the nuts and marshmallows, resulting in creamy smoothness. Alternatively, if you like a little adventure – be bold and mix in any number of crunchy, chewy tidbits. Just imagine any combination of dried fruits and nuts.
Don't forget the flake salt it really adds a level of unexpected sophistication.
Do those close to you think adding coconut to fudge will ruin good chocolate flavor? Rest assured that the coconut cream provides amazing texture without making the fudge taste the least bit 'coconutty.' [Try it! See if they can tell.]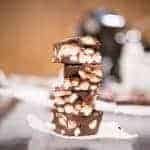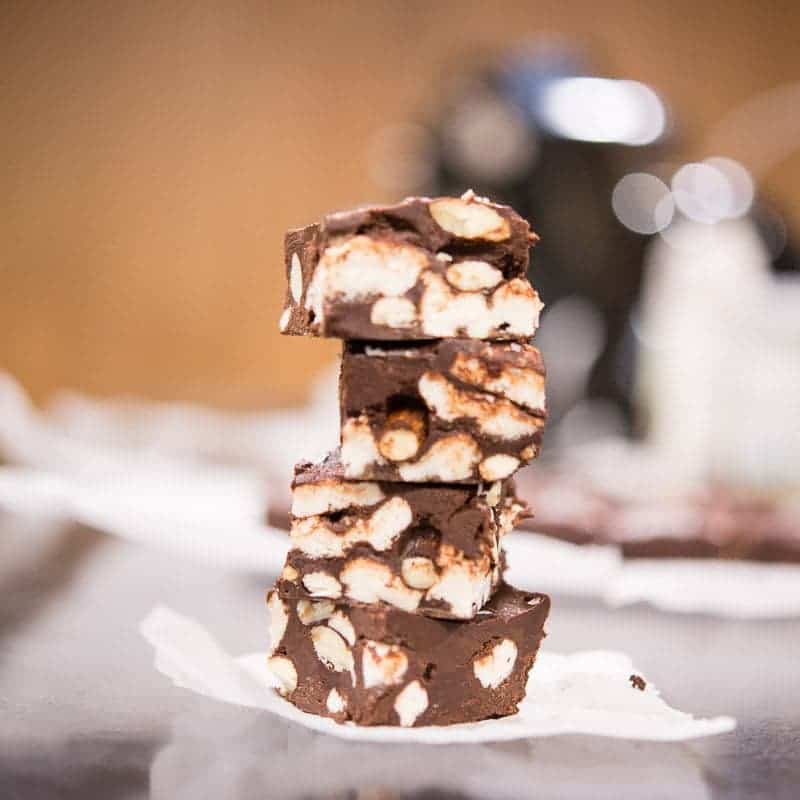 Dairy Free Rocky Road Fudge
This fudge is so rich and chocolaty – you will never guess it is dairy free. It has the perfect balance of bittersweet chocolate, crunchy almonds, and soft fluffy marshmallow. It all wraps up into a chocolaty crunchy salty sweet bite.
Print
Instructions
Microwave chocolate chips for 1 min on high, stir. Repeat 3xs or until melted and smooth.

Add coconut cream, stir until well blended.

Add nuts and marshmallows.

Pour into a square silicon baking pan or a pan lined with foil or parchment.

Freeze until firm. Remove from pan.

Sprinkle with flake salt.

Cut into bite size pieces. 😎
Recipe Notes
Store in an airtight container in the refigerator.