Shortbread cookies are probably my favorite kind of cookie. I make a massive batch of butter shortbread cookies every Christmas. I usually dip them if dark chocolate, which makes them extra special.
If you're worried that a chocolate shortbread cookie recipe is hard, let me change your mind. Perfect shortbread cookies are effortless when you have the right steps!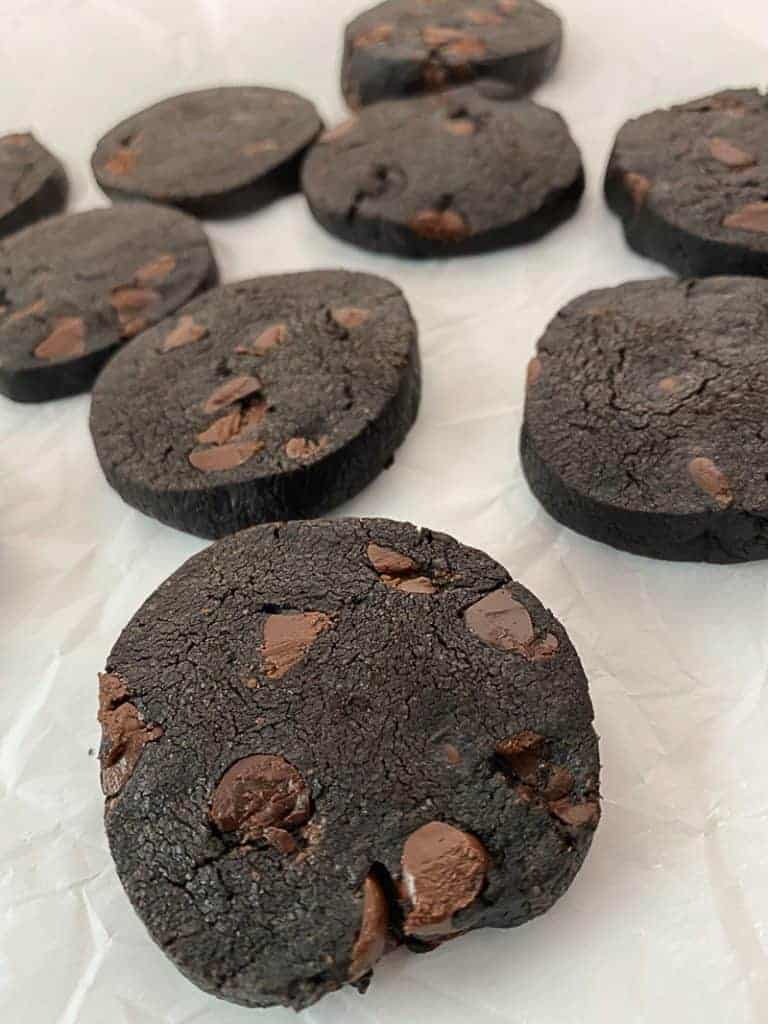 Double Dark Chocolate Shortbread Cookies
If dark chocolate isn't your thing take a look at some of my other shortbread recipes on the blog. My Parmesan Shortbread is fantastic if you're in the mood for something buttery and savory. My Pecan Shortbread is probably my most requested cookie recipe.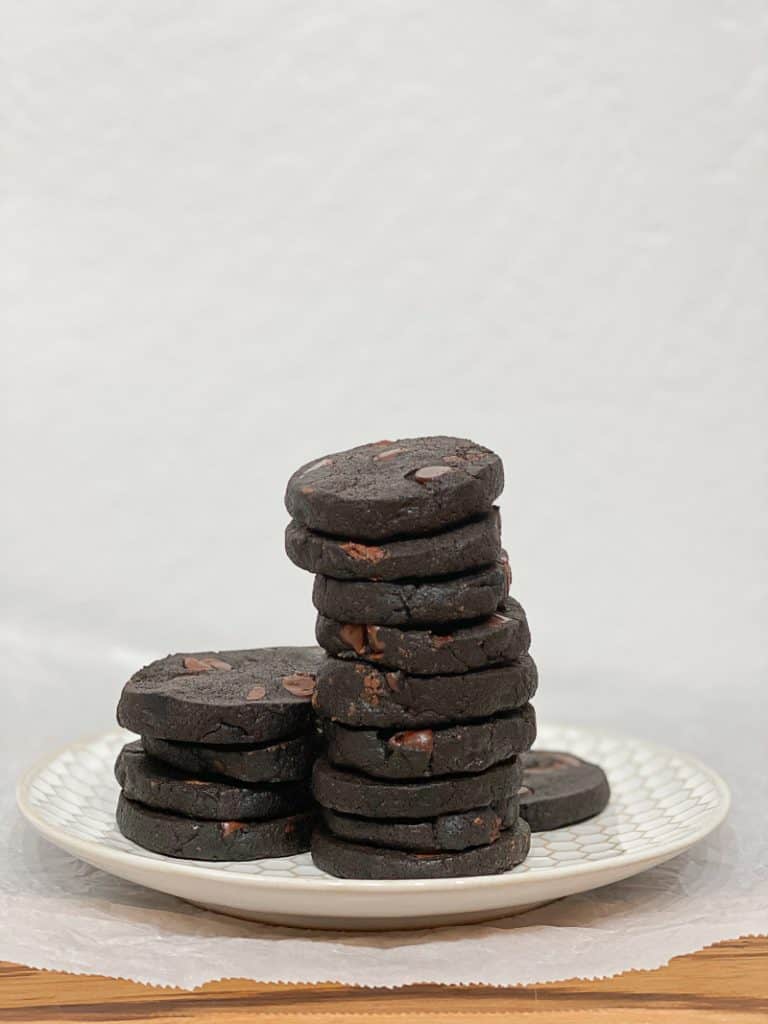 First of all: What is a Shortbread anyhow?
Shortbread or a short dough is a dough that has a high amount of butter to flour in it.
The result is a crumbly dough. Imagine it as having just enough flour to break up the butterfat into pieces. Plus, the high butter content keeps the gluten proteins from interacting which gives this cookie it's crisp texture. This ratio of butter to flour is what makes a shortbread cookie so delicious.
I usually have running cartoon strips in my brain that helps me understand how things work. For shortbread cookies, I imagine a whipped butter with some flour and sugar mixed in. You turn this dough into a sliceable log and then refrigerate it.
During the baking process, the butter heats up and lightly toasts the flour and sugar giving it a buttery, savory flavor with just a hint of sweetness. The flour is merely holding all of the butterfat molecules in place so that they don't run off the baking sheet.
Good job butter and flour!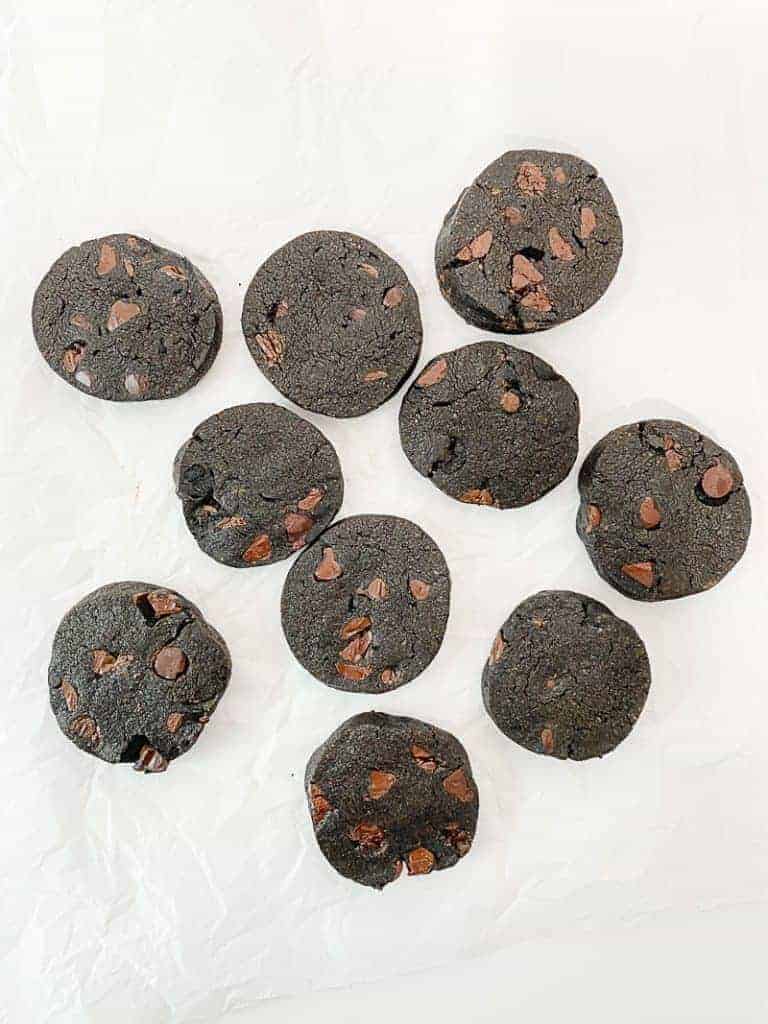 Making Chocolate Shortbread Cookies
Chocolate shortbread involves replacing some of the flour in traditional butter shortbread with cocoa powder.
Cocoa powder has a different chemical composition than flour. You may not realize how much flavor variety there is in cocoa powders.
You're probably familiar with Hershey's Unsweetened Cocoa Powder. Hershey's is a pretty standard and super easy to find cocoa powder. Hershey's cocoa has a well-rounded flavor and is suitable for most baking applications.
Hershey's also has a Special Dark variety of cocoa powder which is double processed, yeilding and darker flavor. It's more like the flavor that you know from an Oreo cookie.
PRO-TIP: This shortbread cookie recipe does call for dark or black cocoa powder. However, you can substitute any unsweetened cocoa powder.
My favorite Cocoa Powders
I encourage you to try different cocoa powders and find your signature chocolate shortbread cookies.
Using a different cocoa powder than most people are used to tasting gives your cookies that extra special something that leaves everyone wondering what you did to get that amazing flavor!
How to make shortbread
Butter and eggs should always be room temperature.
Make sure you have plastic wrap.
Use parchment paper to line your cookie sheets.
A stand mixer with a paddle attachment makes easy work of shortbread.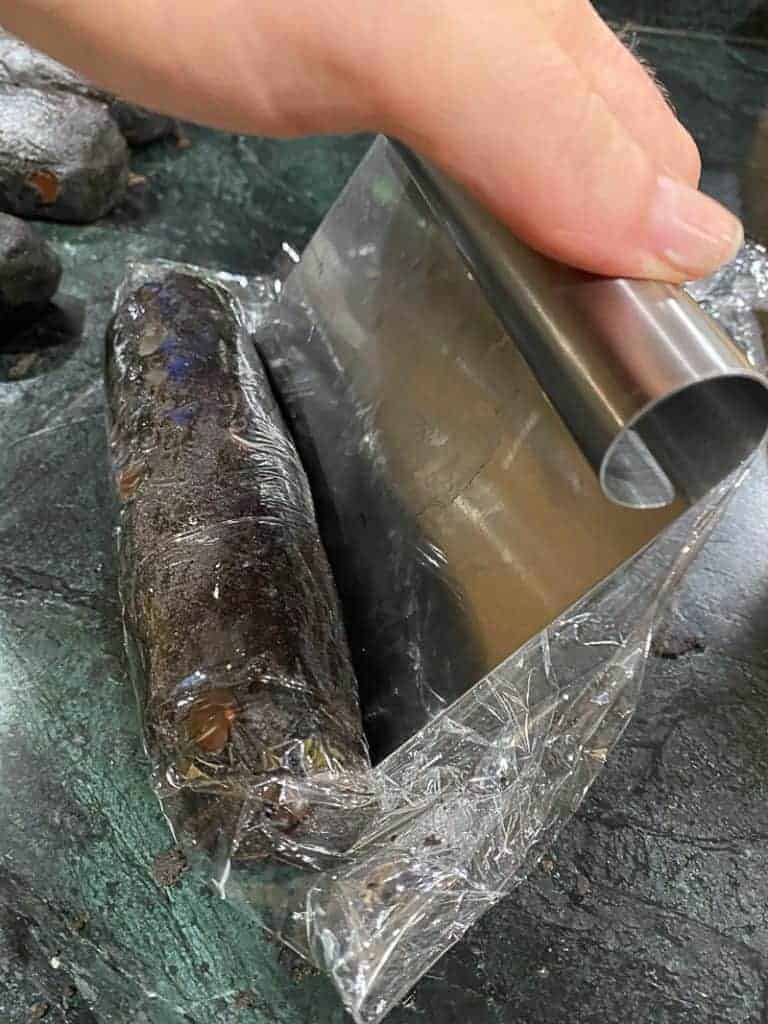 Ingredients that you will need to make shortbread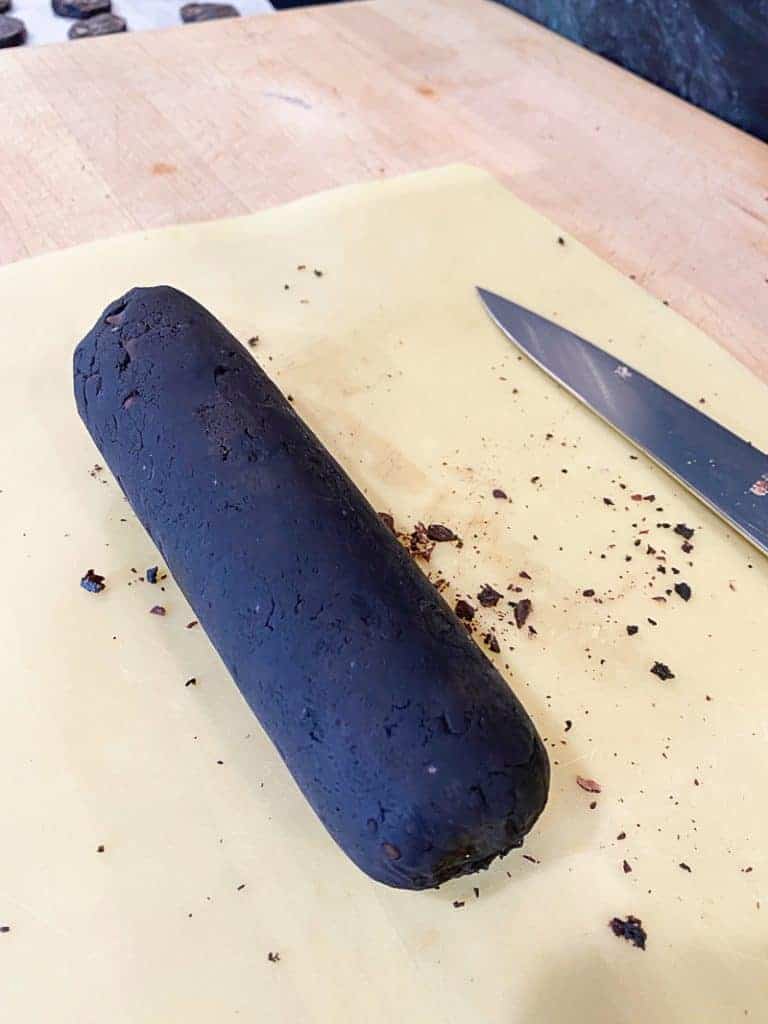 How to make chocolate chip shortbread cookies
Set all of your ingredients out, make sure the butter and flour are room temperature.
Start by sifting together the dry ingredients. I usually add my dry ingredients to a medium bowl and then give them a quick stir with a whisk.
Add the butter to your stand mixer, fixed with a paddle attachment, and beat until it is soft and creamy.
Add the sugar. Beat until light in color about 3 minutes.
Add the egg and the vanilla. Beat again
Scrape down the sides and beat one more time.
Add all of the dry mixture in at once.
Turn the mixer on low. Beat very slowly until the mixture becomes crumbly.
Scrape all of the mixture onto the countertop and then press it together.
Divide the dough into 4 equal portions and make four eight-inch logs.
Wrap in plastic and refrigerate for a few hours.
Slice into quarter-inch slices and place on your parchment-lined cookie sheets.
Bake for 11-13 minutes.
PRO_TIP: How to tell when they are done. Touch the edges, and they should feel firm and crispy. Because the cookies are dark, you can't really see if they are browned. I use this "feel" test to figure out if they are done or not.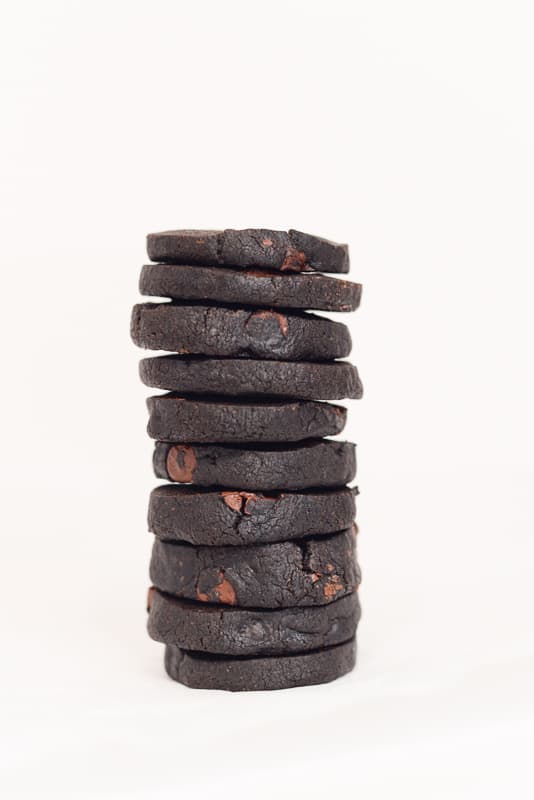 Some of my other cookie recipes that you are sure to love.
My Favorite Homemade Holiday Gifts
The Best Holiday Breakfasts
➽ Did you make this recipe? I love to see what's going in your kitchen. Show me what you're cooking. 🍳 Tag me @foodologygeek on your favorite social channel! Facebook, Instagram & Pinterest. If you loved ❤︎ this recipe, please leave a 5 ★ review and a comment!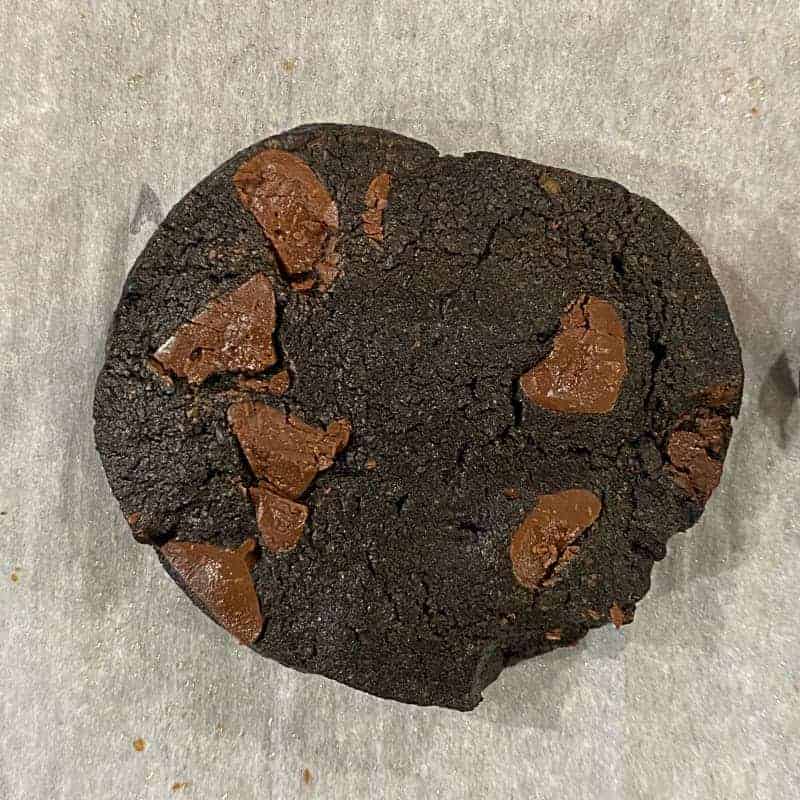 Chocolate Shortbread
Chocolate shortbread cookies. Double dark shortbread with chocolate chunks.
Ingredients
Optional
5

ounces

Bittersweet Chocolate

chips or shopped
Peppermint White Chocolate for Dipping
White Chocolate

Peppermint Extract
Instructions
Add flour, cocoa powder, salt, and baking soda to a large bowl, whisk to combine.

Add butter to a mixing bowl. Beat until soft and creamy. About 2 minutes.

Add sugar and beat an additional 3 minutes.

Add the vanilla extract and egg white. Beat one more time.

Add the flour mixture to the butter and sugar.

Beat slowly until the mixture is crumbly.

OPTIONAL: Mix in chopped chocolate if you are using it.

Scrape down the sides of the bowl again.

Dump the entire mixture onto the countertop.

Press together and divide the mixture into 4 equal portions.

Roll each portion into an 8-inch log.

Wrap tightly in plastic wrap.

Wrap tightly in plastic wrap.

Chill for at least 4 hours.

The dough can be made a month ahead of time.
Bake
Preheat the oven to 350°F (325°F for convection)

Slice each log into half-inch-thick rounds.

Place them on a parchment-lined cookie sheet.

Remove from the oven, rest for 2 minutes. Then cool on a cooling rack until they are room temperature.

Store in an airtight container.
Dip In White Chocolate
Melt the white chocolate in a double boiler.

ALTERNATIVELY: Microwave the white chocolate on high for 30 seconds at a time. Stir after every 30 seconds until the chocolate is smooth.

Add a few drops of peppermint extract. Every brand is different so taste to make sure the strength is right.
Nutrition
Serving:
1
cookie
Calories:
86
kcal
Carbohydrates:
10
g
Protein:
1
g
Fat:
5
g
Saturated Fat:
3
g
Cholesterol:
10
mg
Sodium:
37
mg
Fiber:
1
g
Sugar:
5
g
Calcium:
8
mg
Iron:
1
mg