Chai Latte with Homemade Chai Spice Blend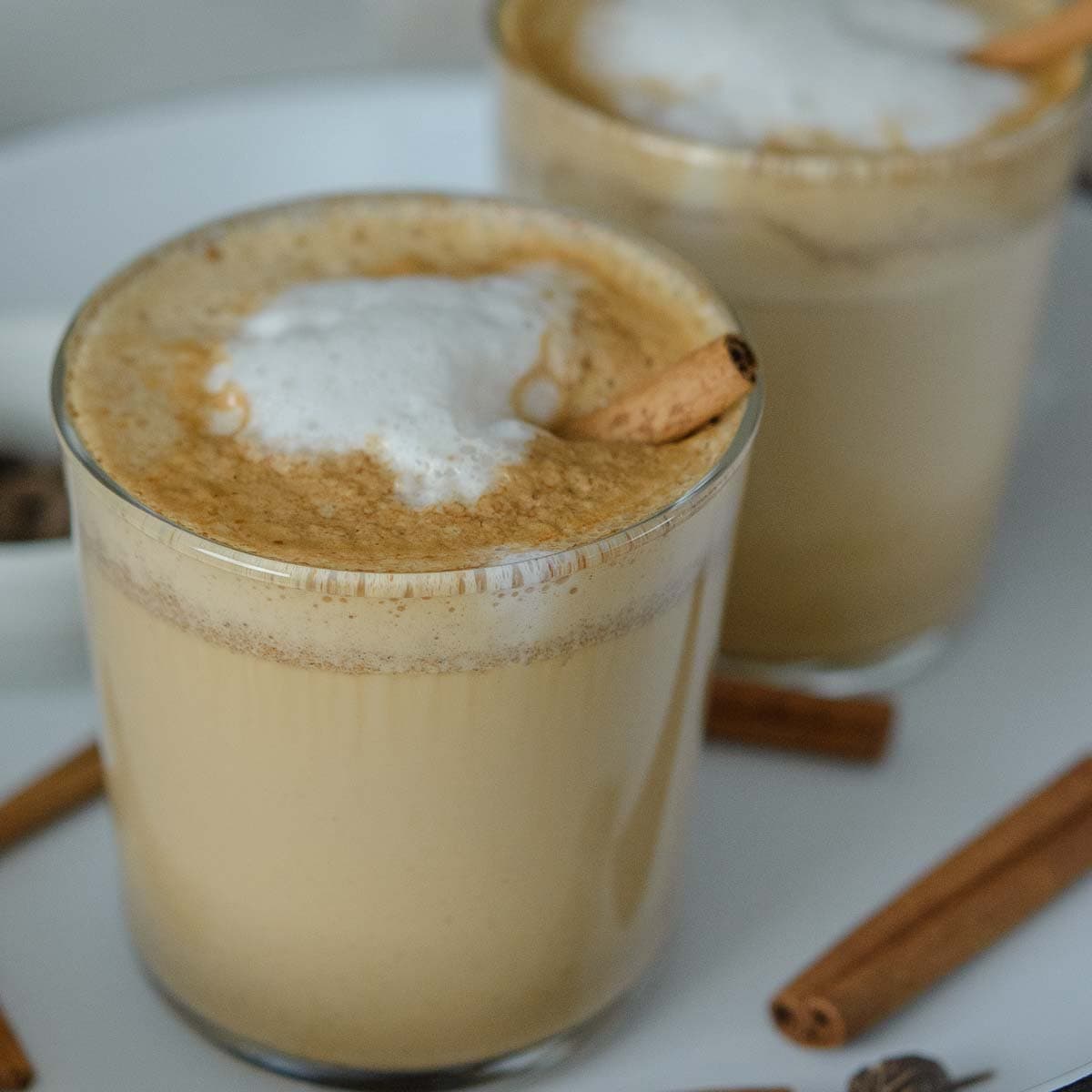 Recipe
Comments
Save
Go to Collections
This post may contain affiliate links. Please read my
disclosure policy.
The Chai Latte is a quintessential comfort beverage. Find out the difference between a Chai Tea Latte and the Dirty Chai Latte. Both homemade chai latte recipes are equally delicious and soul-warming.
When it's cold outside, there is nothing better than being able to cozy up with a warm latte. Start with mixing up the recipe for chai latte spices, and then add your favorite sweetener and milk.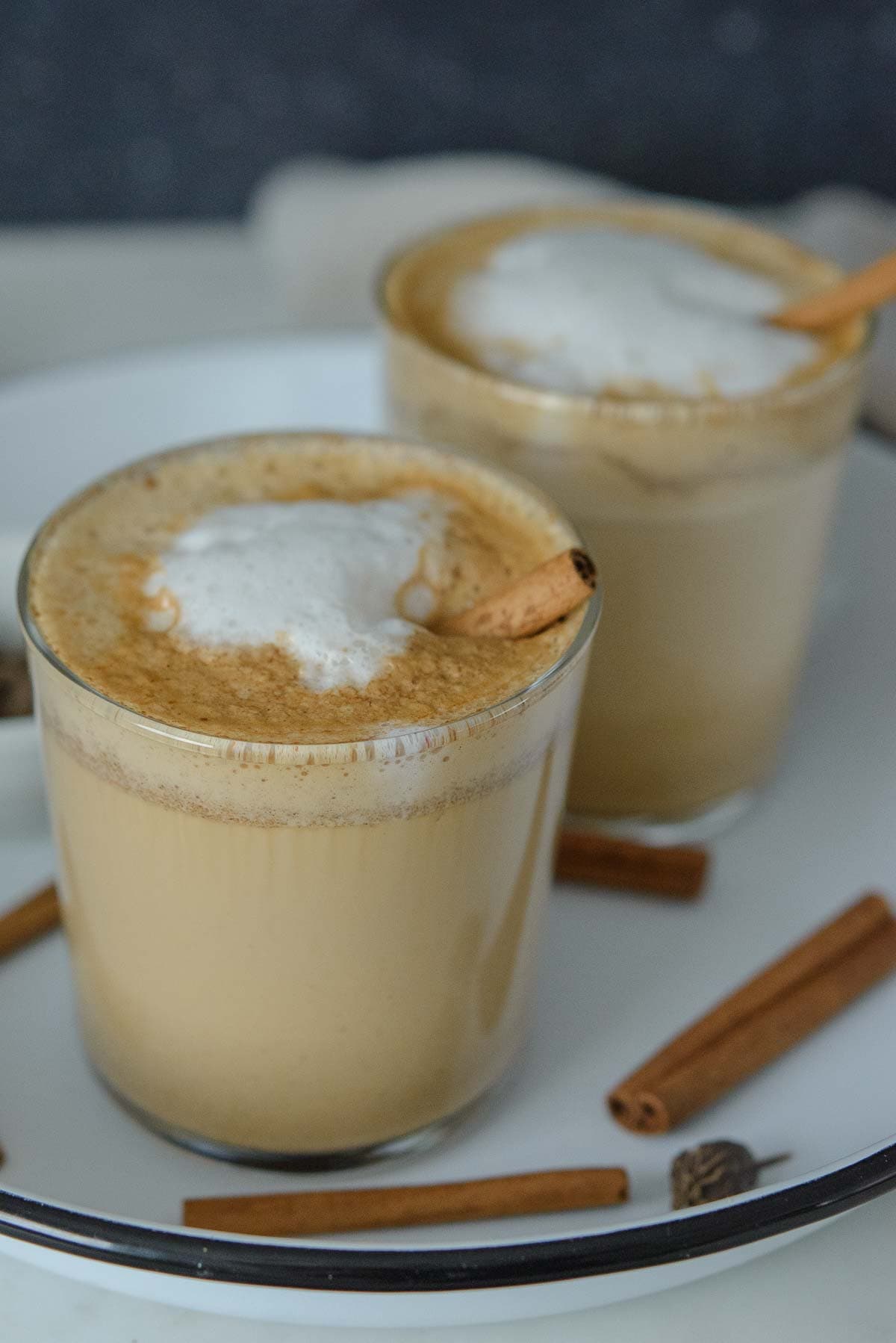 What Is Chai?
The word chai itself is the Hindi word for tea. Traditionally Chai is a blend of strong black tea (or tea concentrate), spices, hot milk, and sugar.
Chai Spice Blend Ingredients
Make a batch of chai spices using ground spices. This recipe will give you about one-third of a cup. It's usually about 20 servings. Store the spices in an airtight container and use one to two teaspoons of the mixture when you want to make a latte.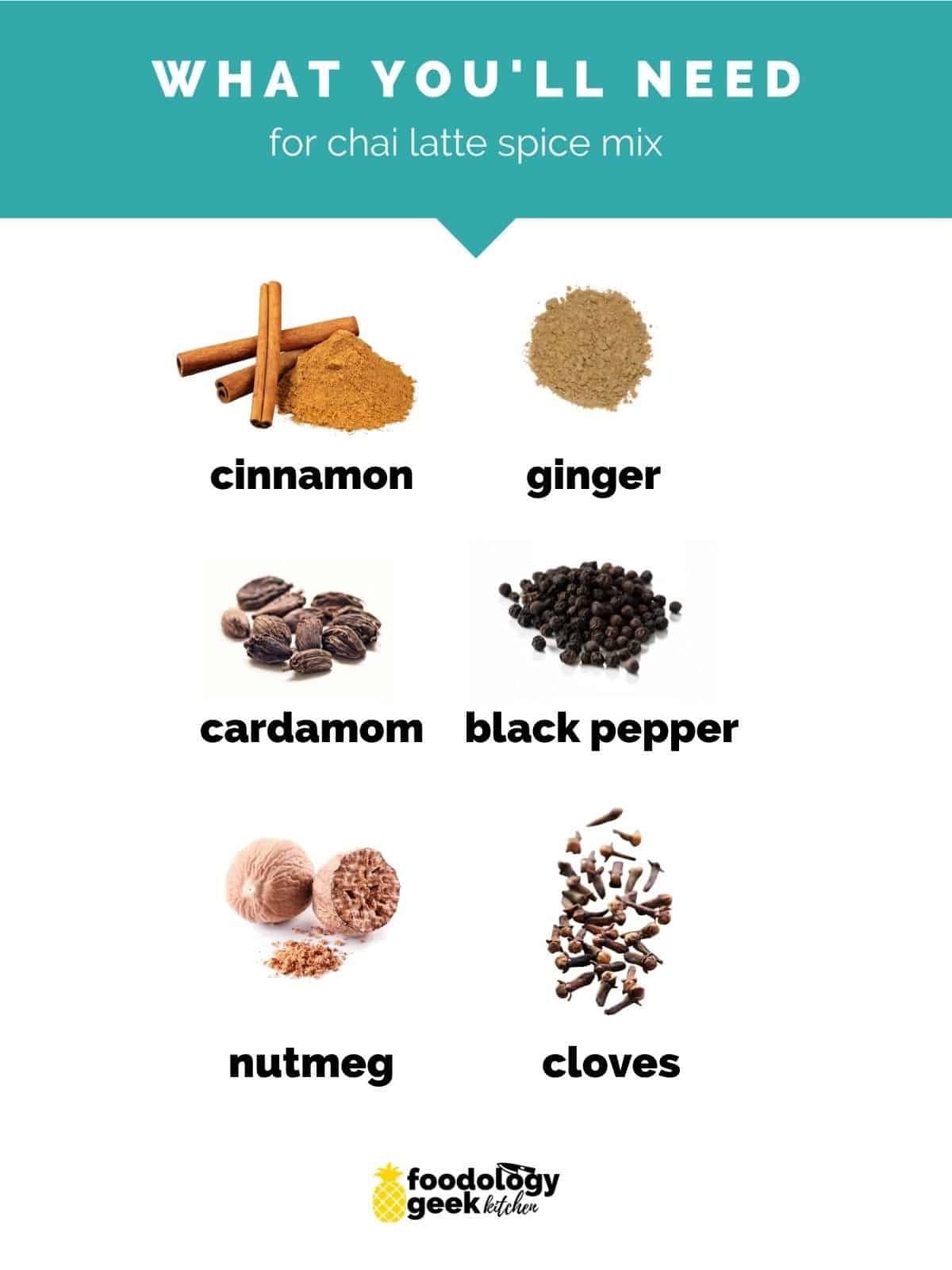 ground cardamom
ground nutmeg
How to make a chai tea latte
Traditionally a Chai Latte is a warm tea beverage made with strong brewed black tea, sugar, milk, and a blend of spices. The best thing about making this recipe at home is that it is made with super clean ingredients, no funny additives, and you can customize it to your taste. This latte recipe rivals your favorite coffee shop.
Step 1– Mix up the Chai Spice Blend using the recipe below.
Step 2 – Add one to two teaspoons of spice mix to your favorite mug.
Step 3 – Add your sweetener of choice.
Sweetener: Sugar, honey, and maple syrup all work perfectly in this recipe. Adjust the amount of sugar to your personal preference.
Step 4 – Brew strong black tea.
Step 5 – Warm your milk of choice over medium-high heat. If you have a milk frother, use it to steam your milk.
Milk: Use your favorite milk. This can be dairy milk or your favorite non-dairy milk. I recommend whole milk, coconut milk, or oat milk.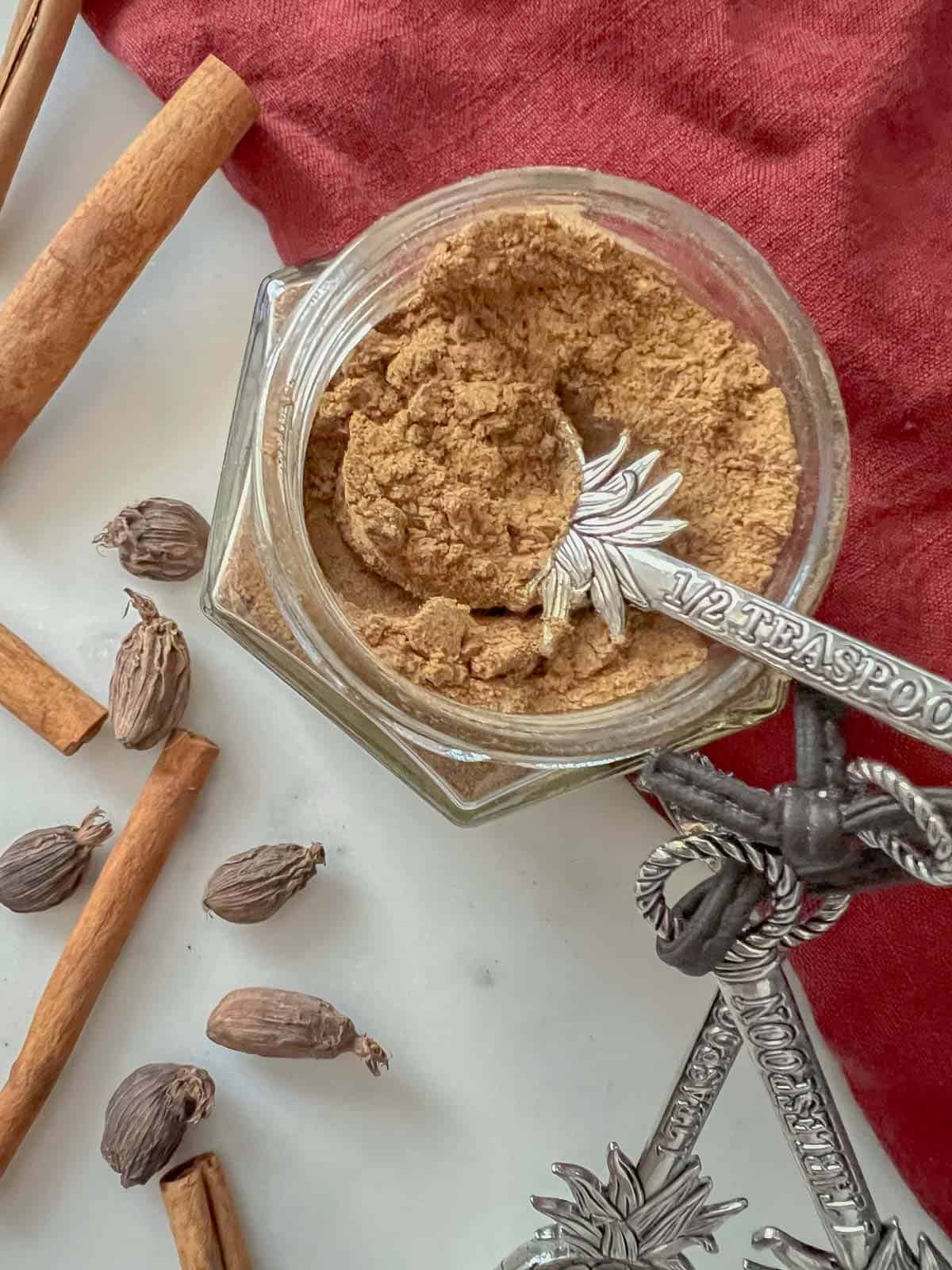 What is a Dirty Chai Latte?
A dirty chai latte is made with a double shot of espresso instead of a strongly brewed black tea. The result is a creamy, spicy coffee drink that can be served hot or iced.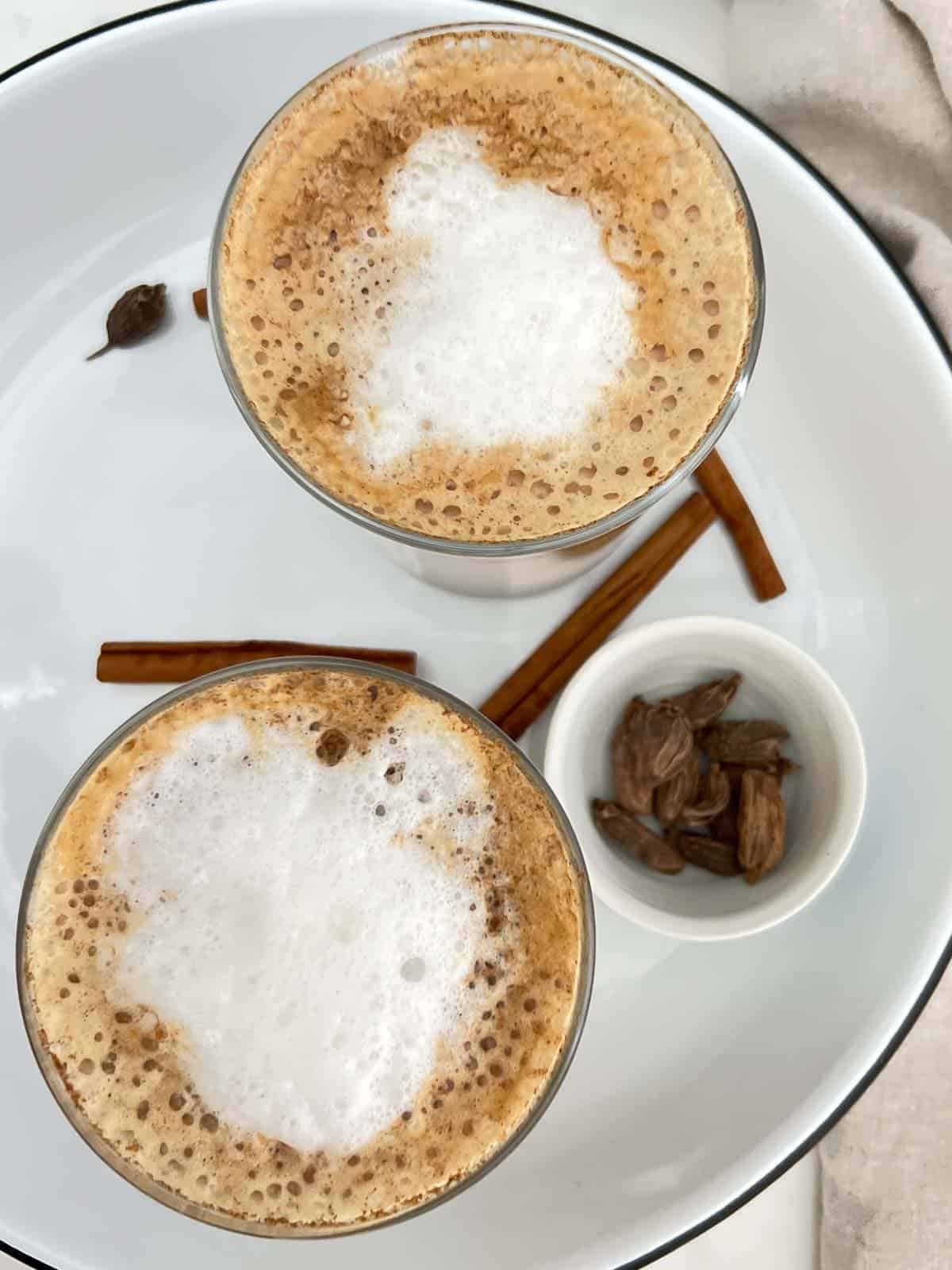 Iced Chai Latte
To make an iced latte:
Mix the spices and the sweetener with the hot tea or espresso.
Add a generous helping of ice cubes to a tall glass.
Add the spice mixture, and then top that off with your milk of choice.
What does chai latte taste like?
Imagine the delicious creaminess of milk flavored with warm spices and subtle sweetness.
Does a chai latte have caffeine?
Yes. Chai is typically made with tea, so it does contain some caffeine. How much caffeine will depend on how it is brewed; a chai latte may contain between 20 to 100mg of caffeine. The longer you steep the black tea the more caffeine you will extract from the tea.
If you're making a dirty chai latte, the espresso contains about 75 mg of caffeine per espresso shot. This amount will also vary depending on the roast of coffee bean that is used.
For a caffeine-free version, you can leave out the tea or the espresso entirely. A warm blend of the chai spices, sweetener, and milk is entirely caffeine-free.
What makes chai spicy?
The spices used in chai can vary, but common chai spices like ginger and black pepper are the main sources of chai's spiciness. You can vary the amount of warmth in this spice blend by reducing or increasing these two ingredients.
If you love chai flavor, try this:
This chia pudding recipe is cold, creamy, and full of chai spice. This healthy snack is made with collagen protein for an extra boost of gut-healing protein.
Hungry for more easy spice blends?
If you are as excited about flavor as I am, make sure you check out all of my Spice Blend Recipes.
You're sure to find one that makes your next chicken dinner recipe quick and easy:
Leave A Review
Did you make this recipe? Leave a comment and a 5 ★ review. Your feedback helps other readers and helps me continue to offer recipes at no cost. Happy Cooking!!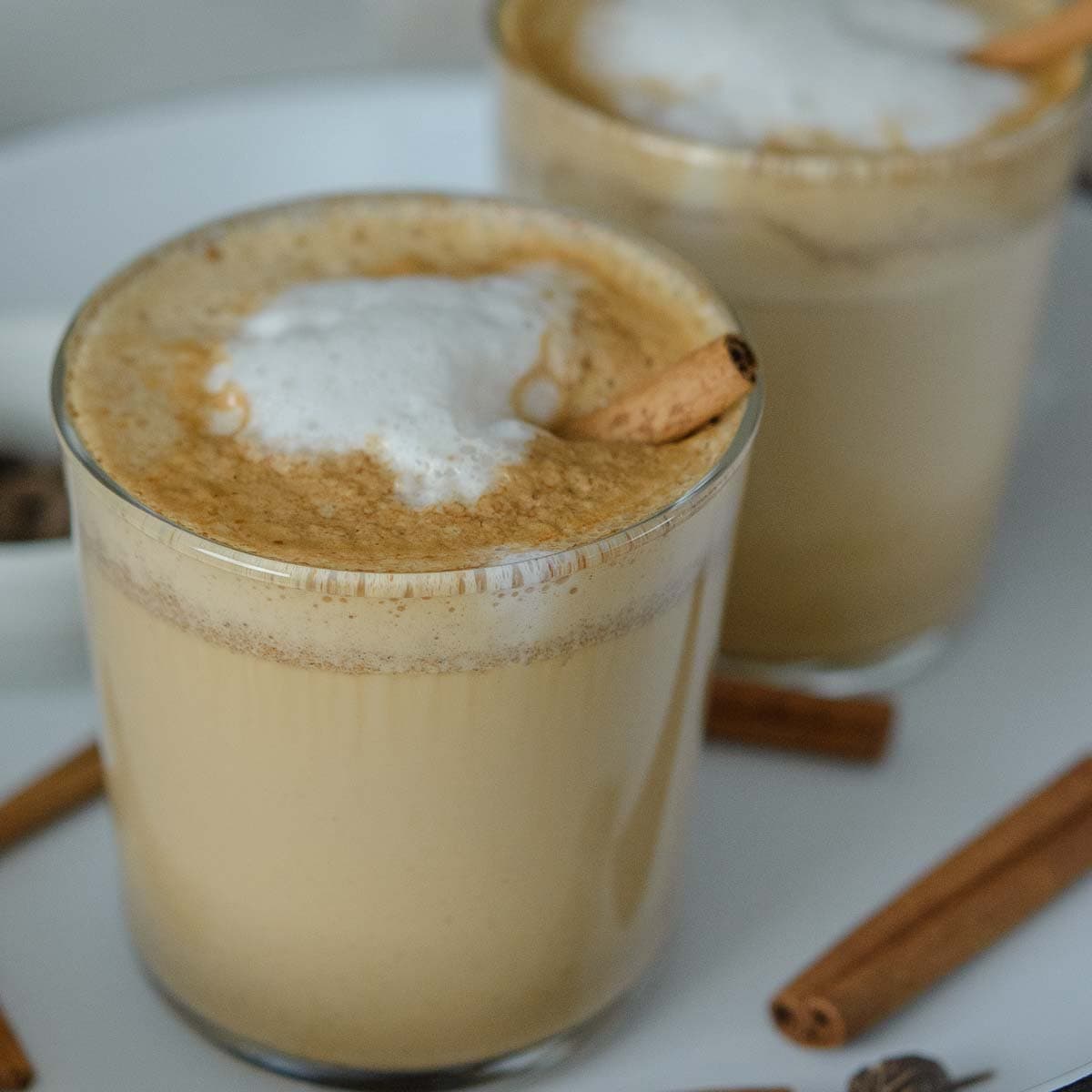 Chai Latte Recipe
The Chai Latte is a quentessential comfort beverage. It's soothingly warm and spicy. Find out the difference between a Chai Tea Latte and the Dirty Chai Latte. Both are equally delicious and soul-warming. Get the spice blend!
Ingredients
Chai Spice Blend [20 servings]
Chai Latte Ingredients
1 to 2

teaspoons

Chai Spice Blend

,

see the recipe above

2

ounces

strong black tea

,

or espresso for a "dirty" chai latte

8

ounces

milk

,

steamed

1 to 2

tablespoons

honey,

sweeten to taste with honey, maple syrup, or sugar
Instructions
Make the spice blend: Mix all the spices together to make the Chai Latte spice blend.

4 tablespoons ground cinnamon,

3 tablespoons ground ginger,

4 ½ teaspoons ground cardamom,

1 tablespoon black pepper,

¾ teaspoon ground nutmeg,

¾ teaspoon ground cloves

Add the chai spice blend and the sweetener to your mug.

For Chai Tea Latte: Brew a serving of strong black tea. You want about ¼ cup of stong tea.

For Dirty Chai Latte: Express a double shot of espresso.

Pour the hot tea or espresso over the spice blend and sweetener. Stir to dissolve.

Steam milk: Steam or warm about 8 ounces of milk. The milk you use can be dairy milk or your favorite dairy-free variety.

Add the steamed milk to the mug. Stir and enjoy!
Laura's Tips + Notes
Nutrition Info for this recipe was calculated with espresso and almond milk. Values will vary depending on the milk you choose.
YOUR OWN NOTES
Sign In to add your own private notes
Nutrition
Serving:
1
beverage
Calories:
106
kcal
Carbohydrates:
21
g
Protein:
1
g
Fat:
3
g
Saturated Fat:
0.1
g
Sodium:
304
mg
Fiber:
2
g
Sugar:
18
g
Calcium:
295
mg
Iron:
0.3
mg