Hawaiian Food & A Pineapple Martini Recipe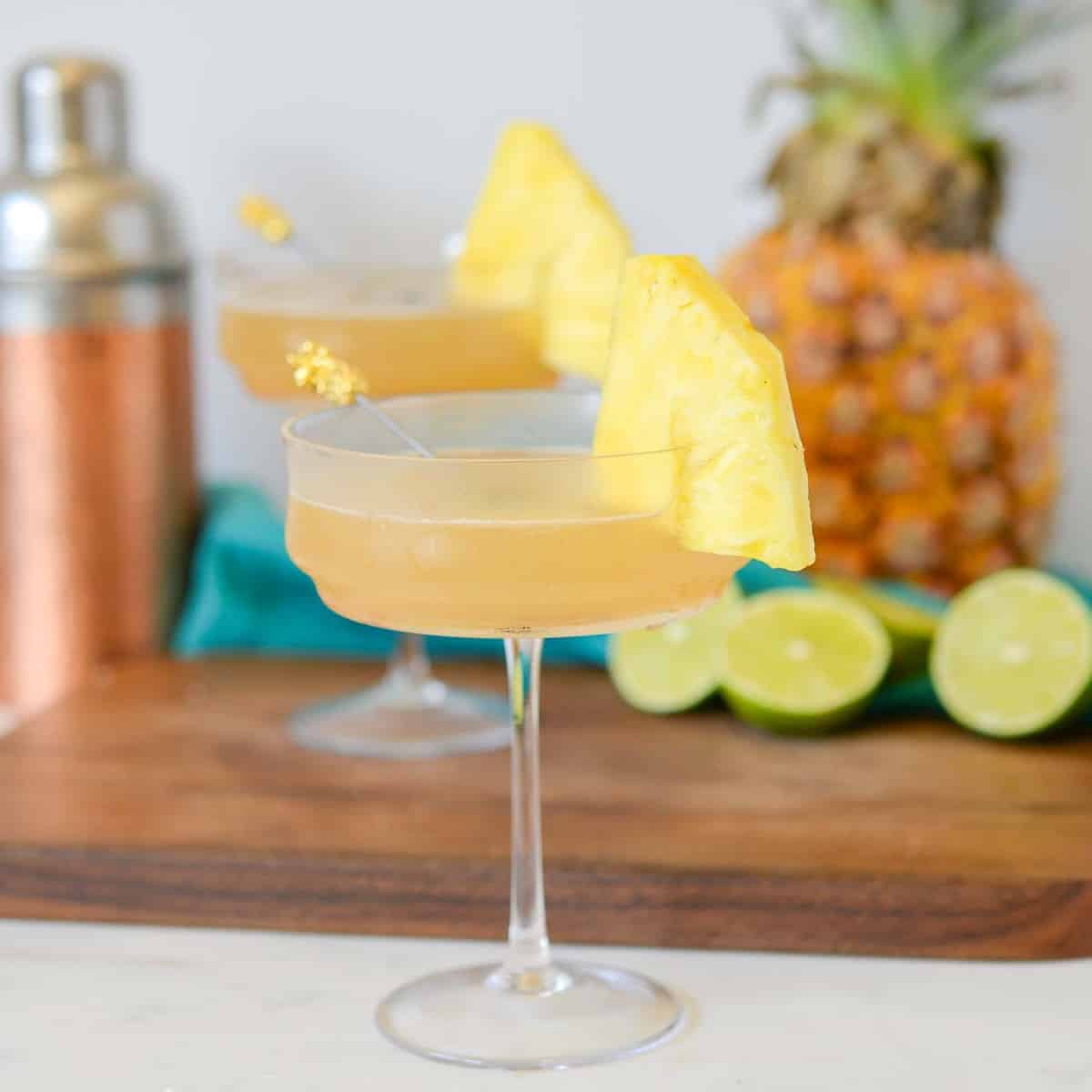 Recipe
Comments
Save
Go to Collections
This post may contain affiliate links. Please read my
disclosure policy.
Hawaiian food is great for summer entertaining. 🏝 Planning a luau party this summer? I've got you covered with a few of my Island favorites. Tropical cocktails, like my Pineapple Martini Recipe, island-inspired summer side dishes, and appetizers are a perfect start to a Hawaiian party menu.
Growing up in Hawaii inspired me to bring some of my favorite Hawaiian recipes to the mainland when I moved to Southern California.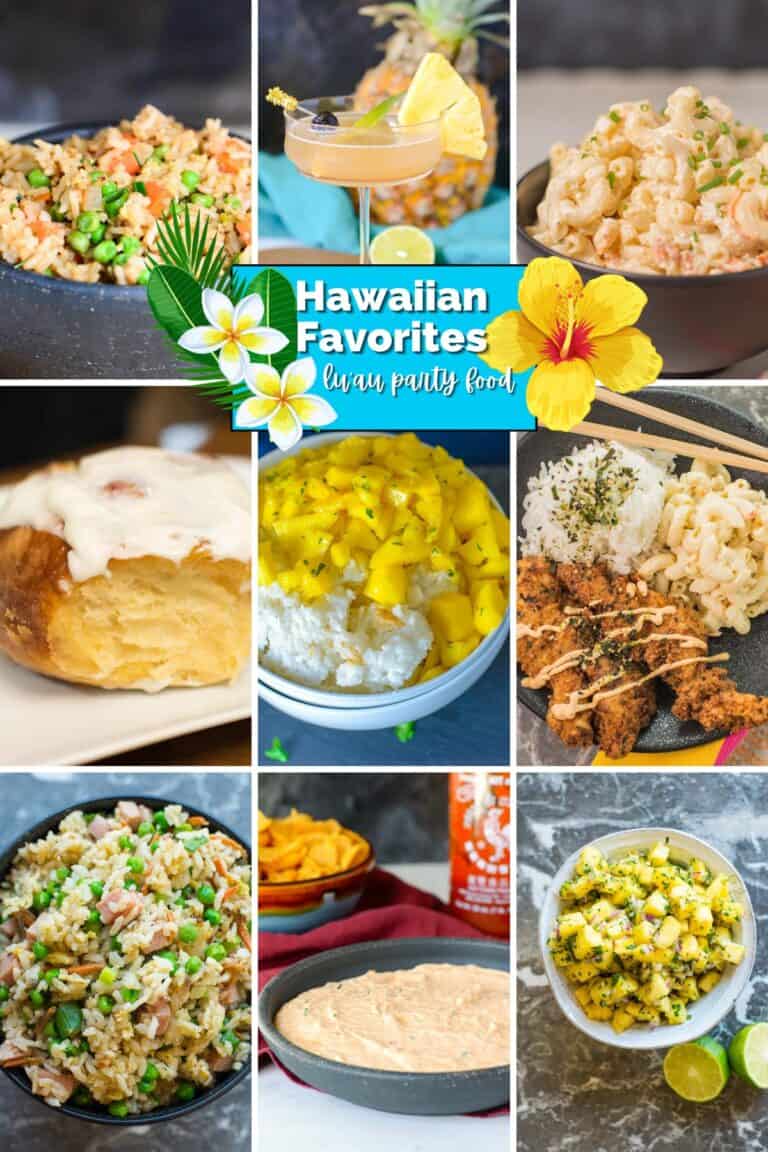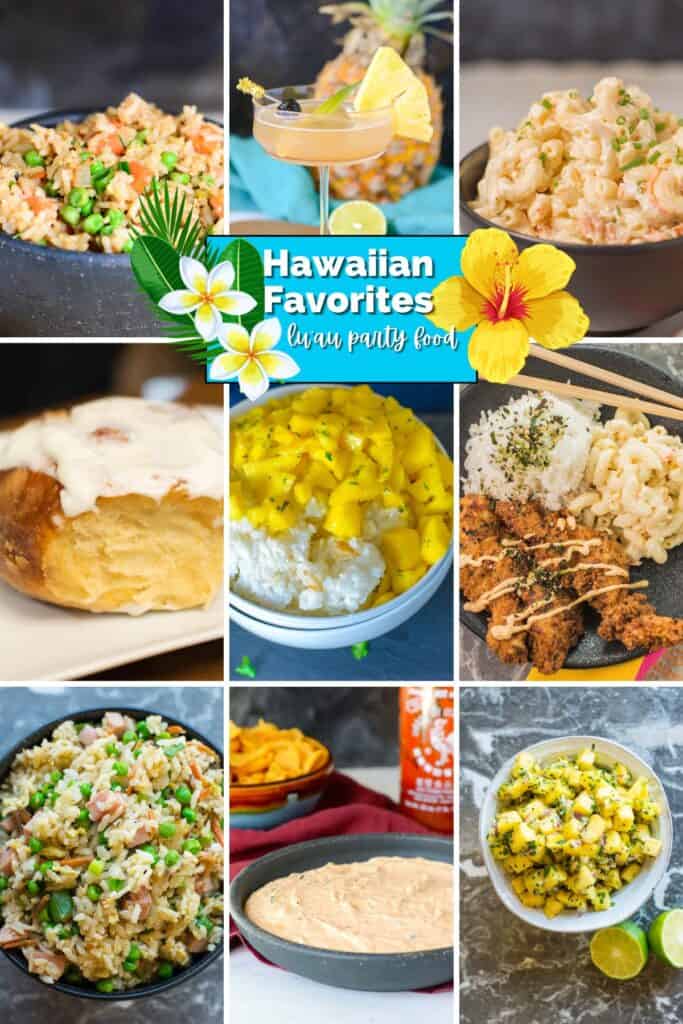 The interesting thing about Hawaiian food is that it's heavily influenced by different cultures that settled on the Islands. You can commonly see influences from Filipino food, Japanese food, Chinese food, Portuguese food, and even Guamanian (Chamorro) food.
Like most food, Modern Hawaiian food is a blend of cultures. One stand out of this evidence of this cultural fusion is SPAM itself. SPAM was a wartime food and ended up on the Islands.
During WWII SPAM found its way to the Asian Pacific and has since become signature fare amongst the Islands. SPAM fried Rice, SPAM Musubi, and plain old fried SPAM and eggs are commonly seen in Hawaiian cooking.
Summer Party Ideas: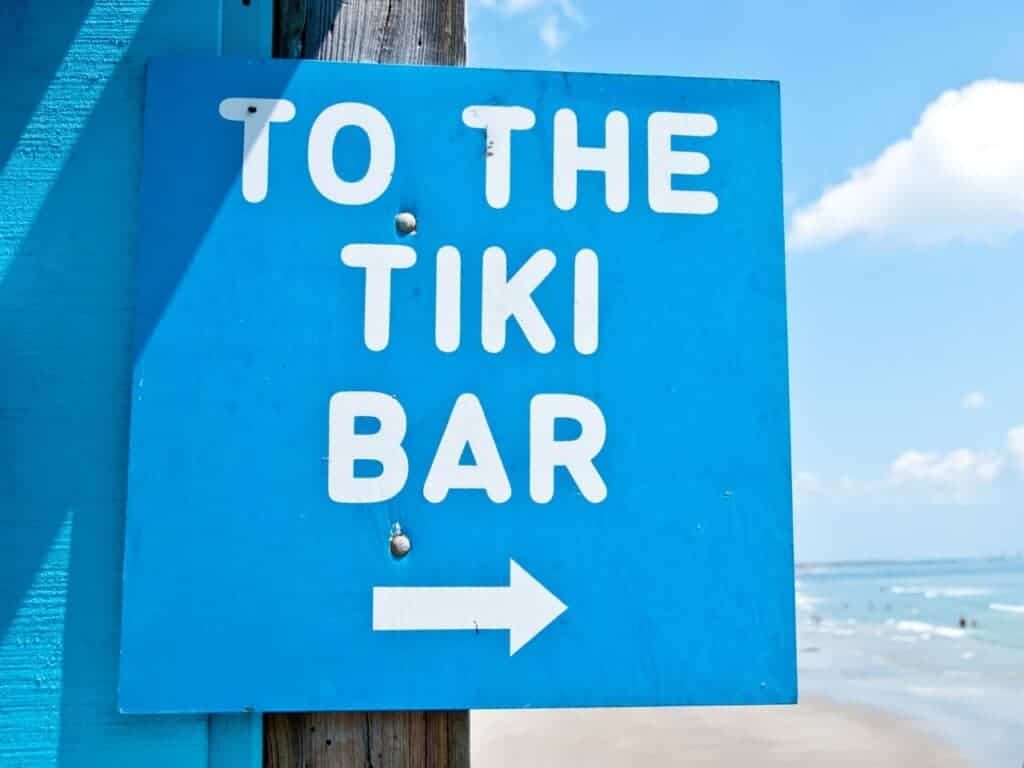 How To Plan A Simple Backyard Luau
Set up a backyard tiki bar and serve a few of your favorite Hawaiian appetizers, some luau food, and a few 🍹 tropical cocktails and now you've got a party.
Figure out how many guests you will have a set up a long table with all of the food! Add a few tiki torches to the yard and you're done. Make sure you have plenty of leis to go around.
Start with a few easy Hawaiian Appetizers
Both of these tropical salsa recipes are great to serve with grilled chicken. If you are grilling outside simply whip up a batch of Easy Grilled Chicken Breasts and serve it with PIneapple Salsa and/or Mango Salsa.
Kimchi Dip
Kimchi Dip, usually called Kimchee Dip in Hawaii is a local style potluck recipe that's inexpensive and easy to make.
Kimchi dip is served with chips, typically Fritos or wonton crisps; but you can also serve it with a side of sliced veggies. This recipe might sound weird but it's ultra delicious.
This creamy spicy dip also makes a delicious burger sauce. Trust me here, you need to try it.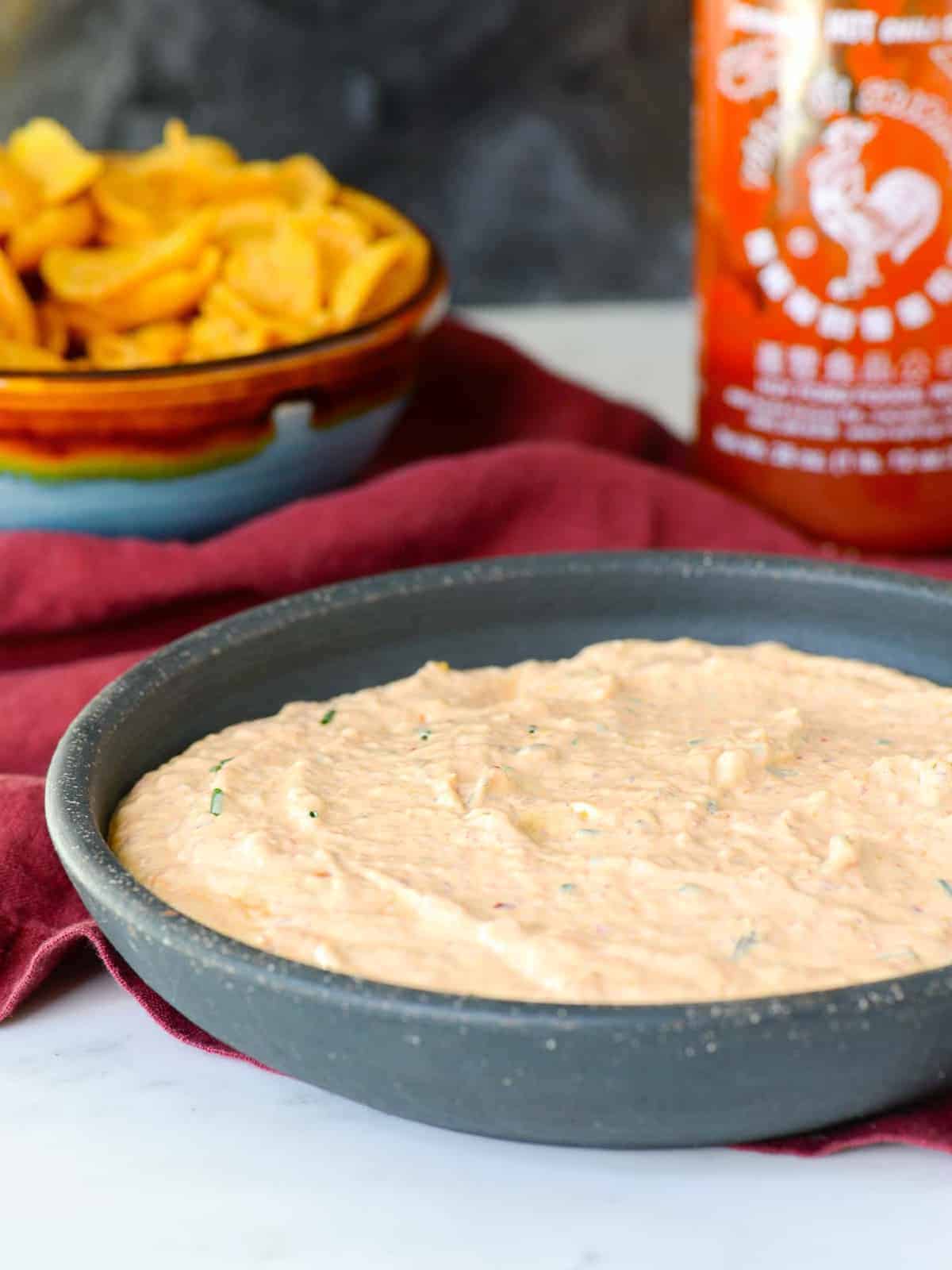 Kimchi Dip (aka Hawaiian Kimchee Dip)
Kimchi dip otherwise known as "Kimchee Dip", in Hawaii, is a creamy spicy dip made with Korean Kimchi, cream cheese, and sour cream. Serve this creamy kimchi dip with Fritos or sliced cucumbers. This spicy kimchee dip also makes a delicious burger sauce. Trust me!
SEE THE RECIPE
PIN FOR LATER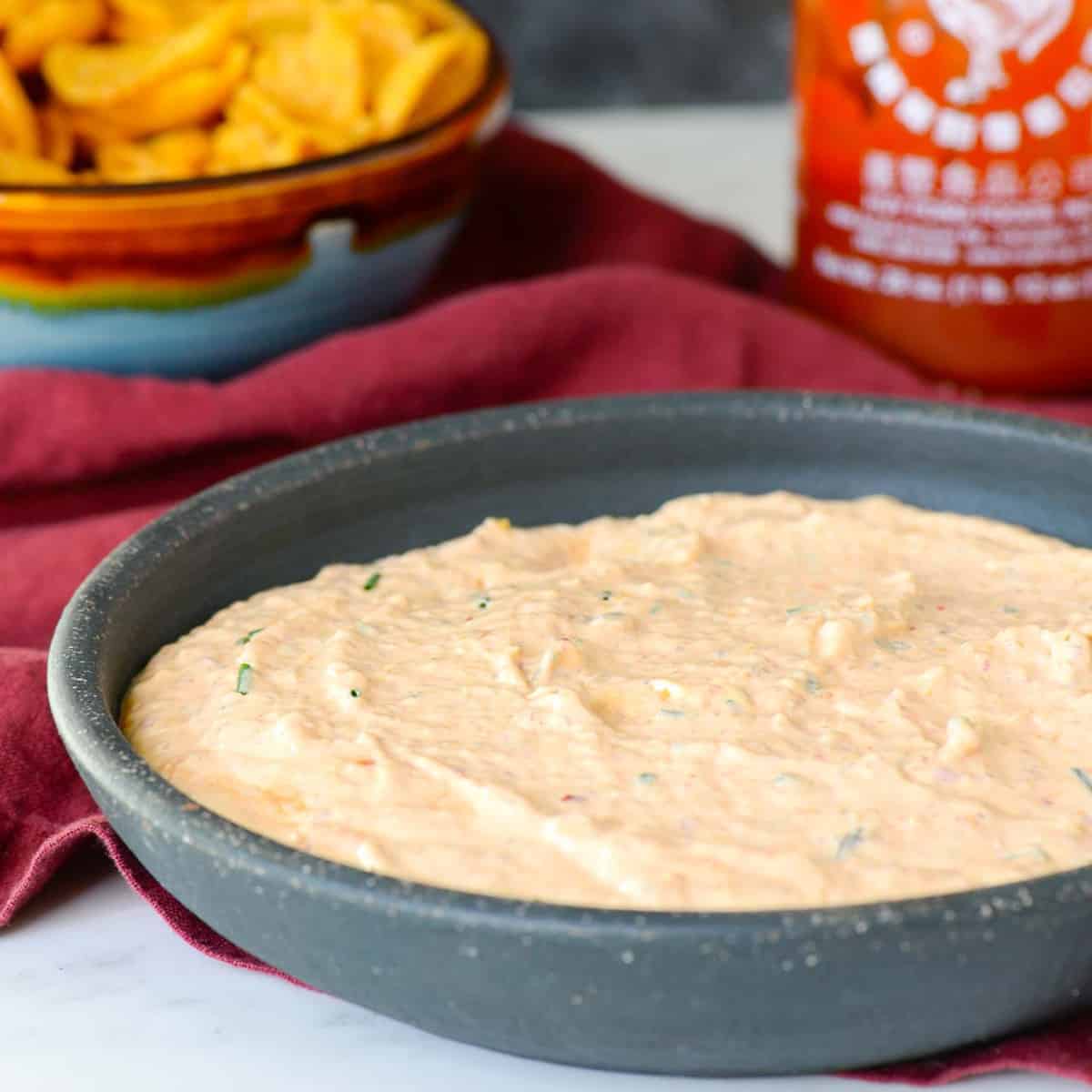 Pineapple Cheese Ball
This Pineapple Cheese Ball recipe was kicked up a notch to give it even more flavor and a spicy bite. This cheese ball is savory and sweet with crunchy toasted pecans on the outside. It's the King of appetizers at every holiday party.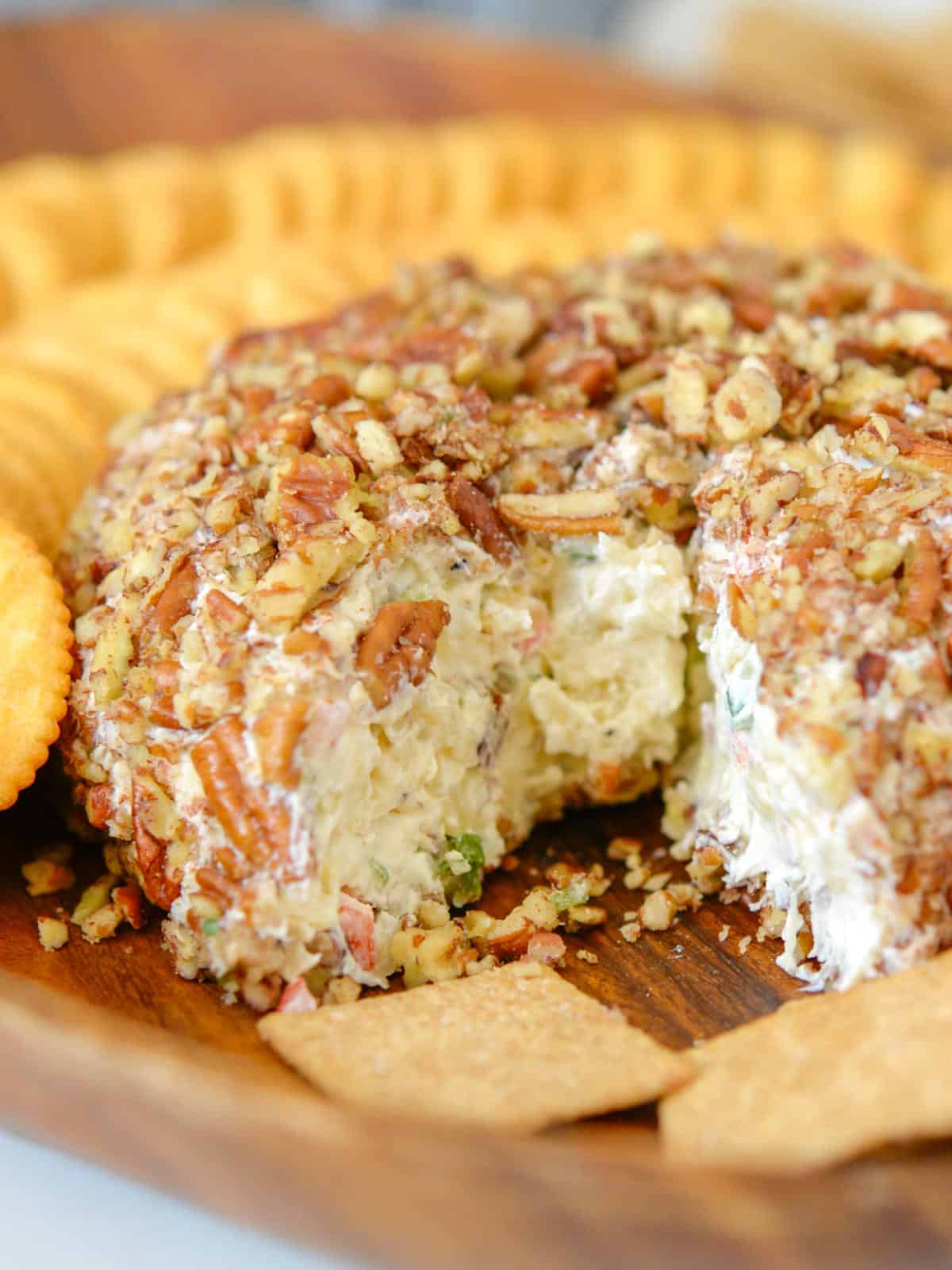 Pineapple Cheese Ball
This cheese ball recipe is bound to be the star of your next cheese and crackers tray. The pineapple cheese ball is a classic old-school Kraft recipe. Its one of my go-to easy appetizer recipes and always one of my holiday appetizers.
SEE THE RECIPE
PIN FOR LATER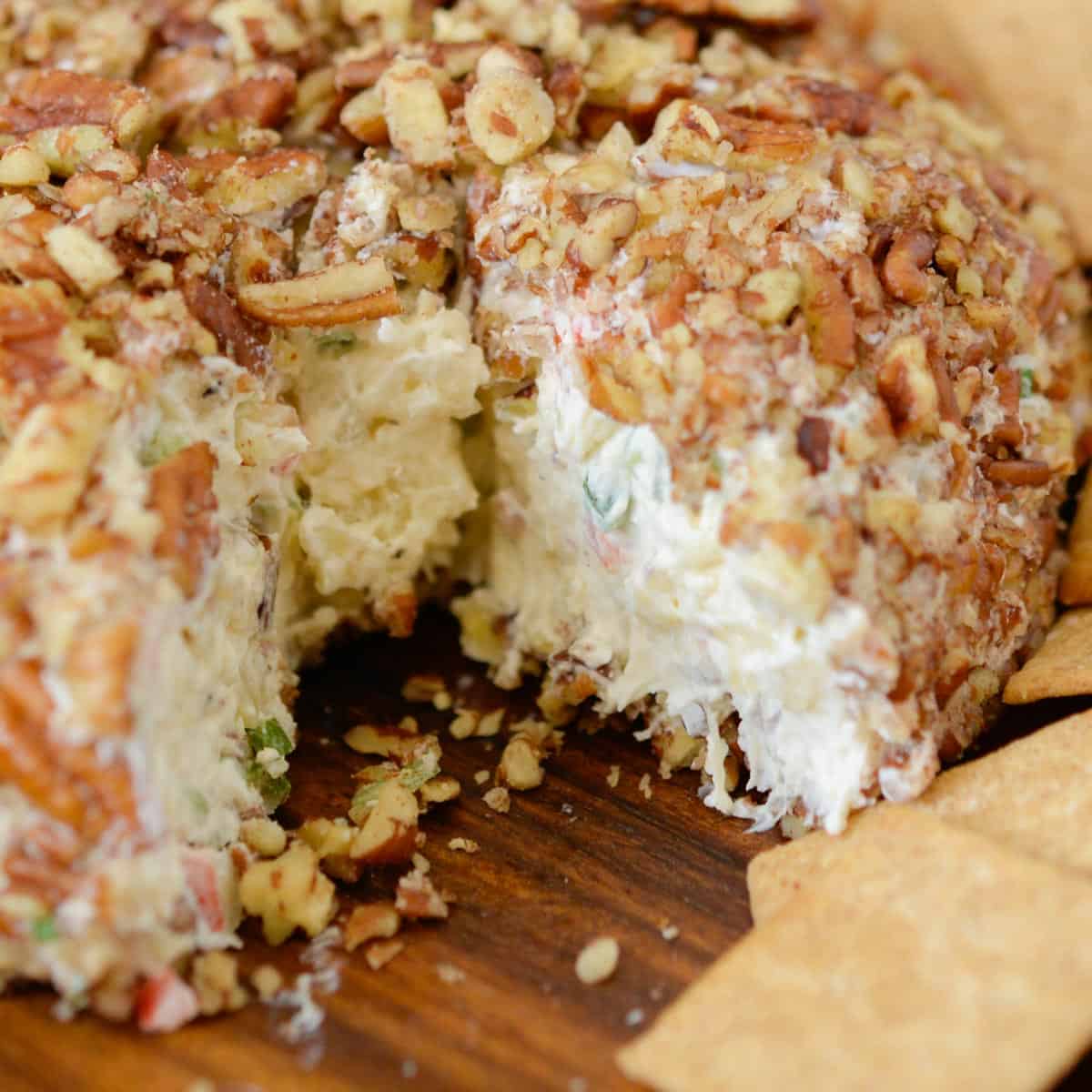 Pineapple Salsa
We would be remiss if we didn't talk about pineapple while we are talking about Hawaiian food. Pineapple Salsa 🍍 adds a sweet and spicy kick to grilled fish or fish tacos.
I also love eating this on my Teriyaki Tacos 🌮, which are basically shredded chicken, taco slaw, fresh tomato, cheddar cheese, and some teriyaki sauce.
It might sound like an odd combination, but trust me, top these Island Tacos off with some fresh pineapple salsa and you're right on the Islands, baby. It's barely a recipe, you can just throw it together.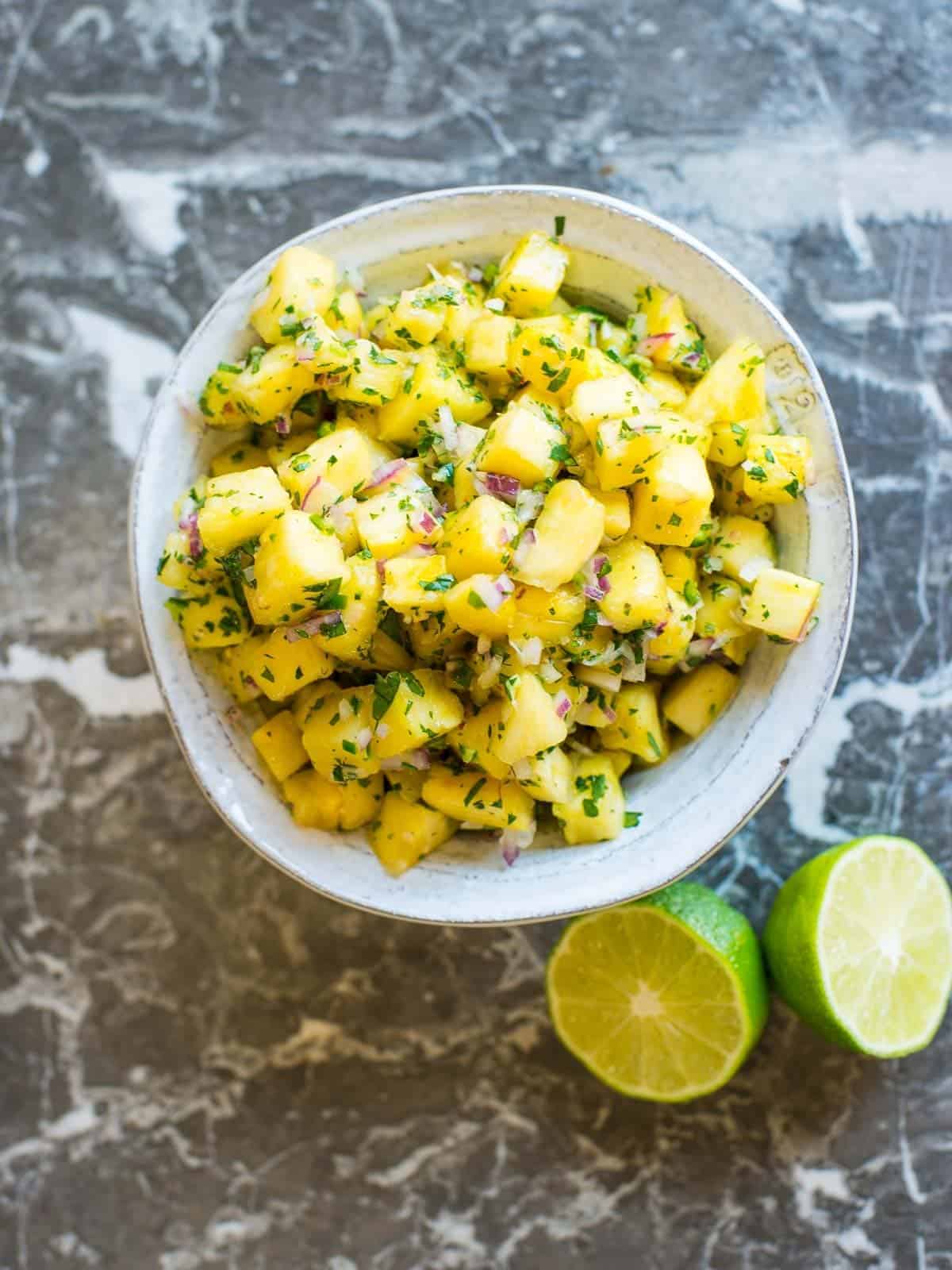 Pineapple Salsa Recipe
Pineapple salsa is a sweet, juicy, spicy addition to grilled meat. Serve on top of tacos or with your favorite tortilla chips.
SEE THE RECIPE
PIN FOR LATER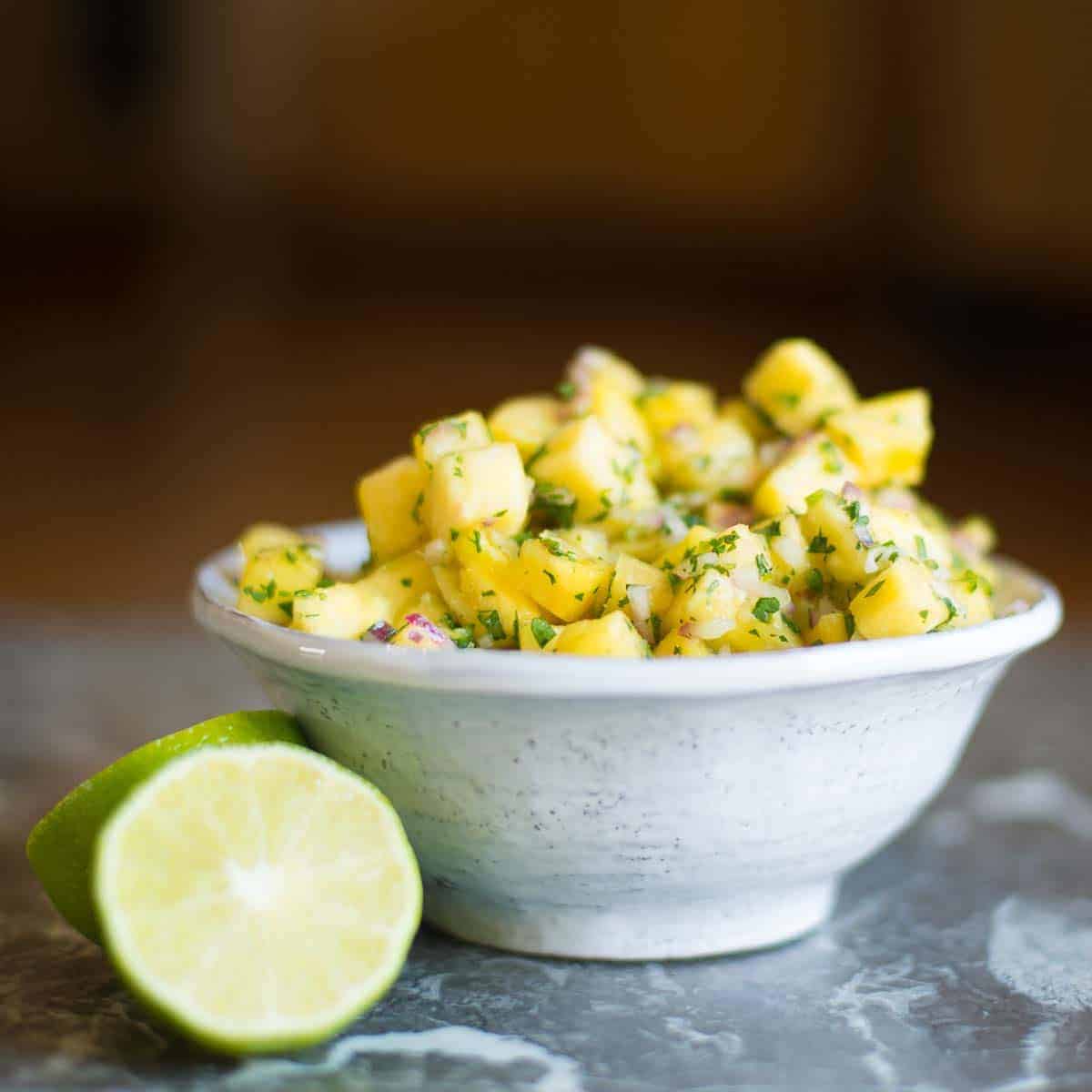 Mango Salsa
Mango Salsa 🥭 is going to be one of your new favorite salsa recipes. If you haven't tried it before you've been missing out. This is my go-to salsa recipe for my Fish Taco Bowl. Add some crunchy taco slaw and sriracha mayo and you have a delicious and easy dinner recipe.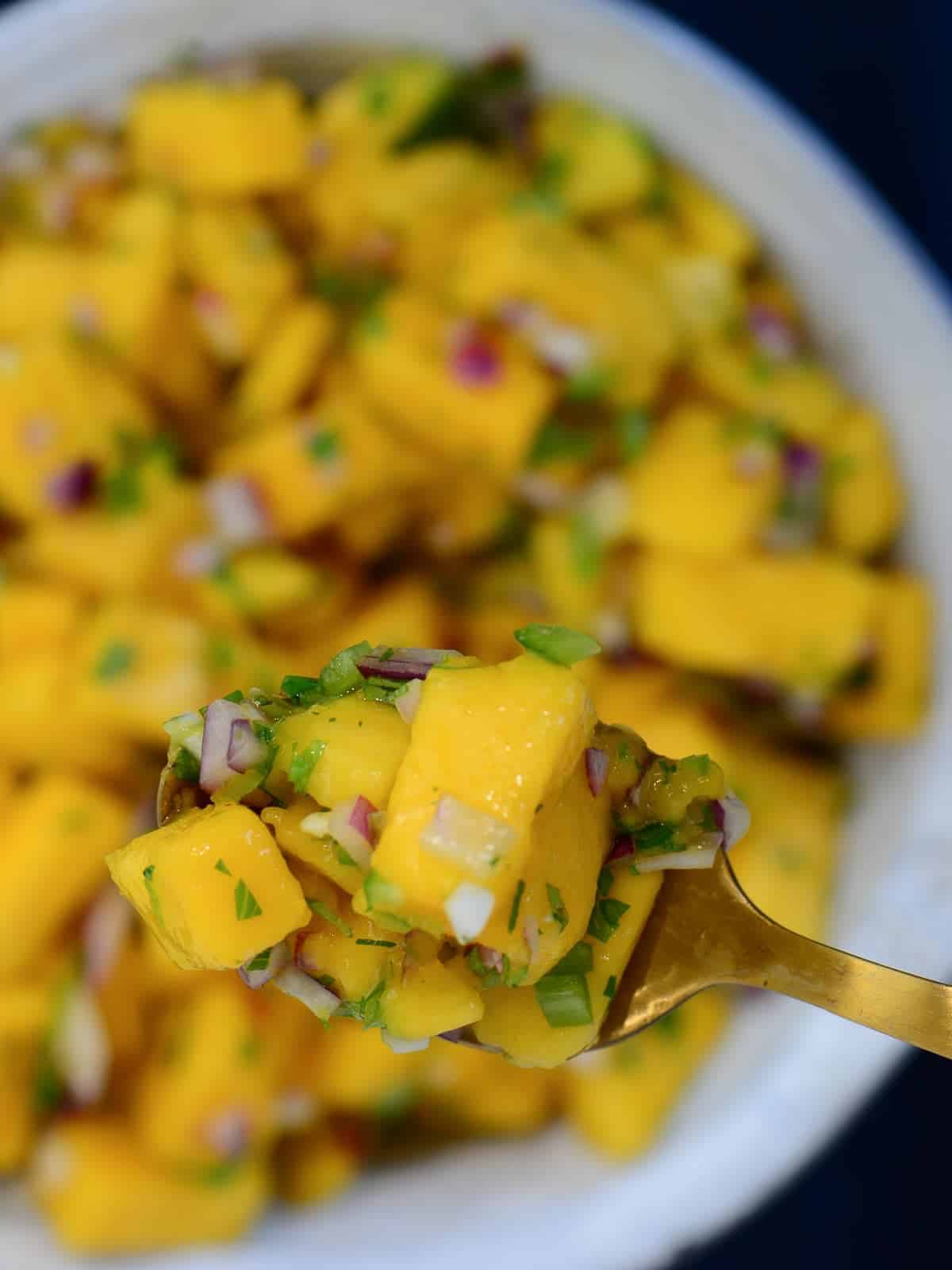 Mango Salsa
Sweet and spicy fresh mango salsa recipe. This salsa is my go-to summer fruit salsa. It pairs perfectly with grilled fish or chicken.
SEE THE RECIPE
PIN FOR LATER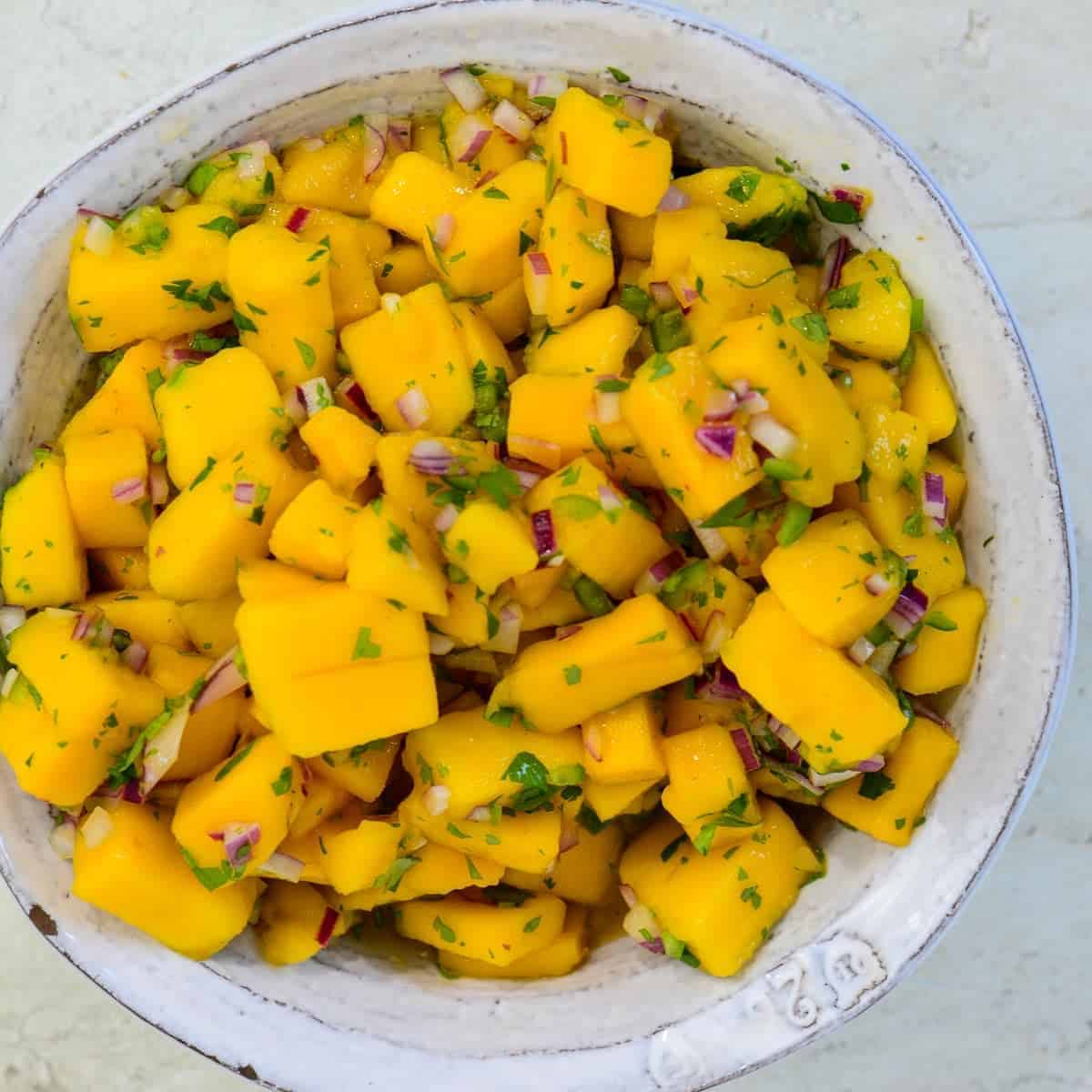 Add a few Hawaiian Side Dish Recipes
Two of my favorite Hawaiian sides are my Spam Fried Rice Recipe and my Hawaiian Macaroni Salad. Both of these summer side dish recipes are great for any summer cookout but they are a must for a backyard luau.
Spam Fried Rice
Spam Fried Rice 🍚 is probably my favorite ways to cook spam. You can find this amazing fried rice all over Hawaii and it's often served as a breakfast side dish. Sometimes you'll see the SPAM in this recipe replaced with Portuguese sausage.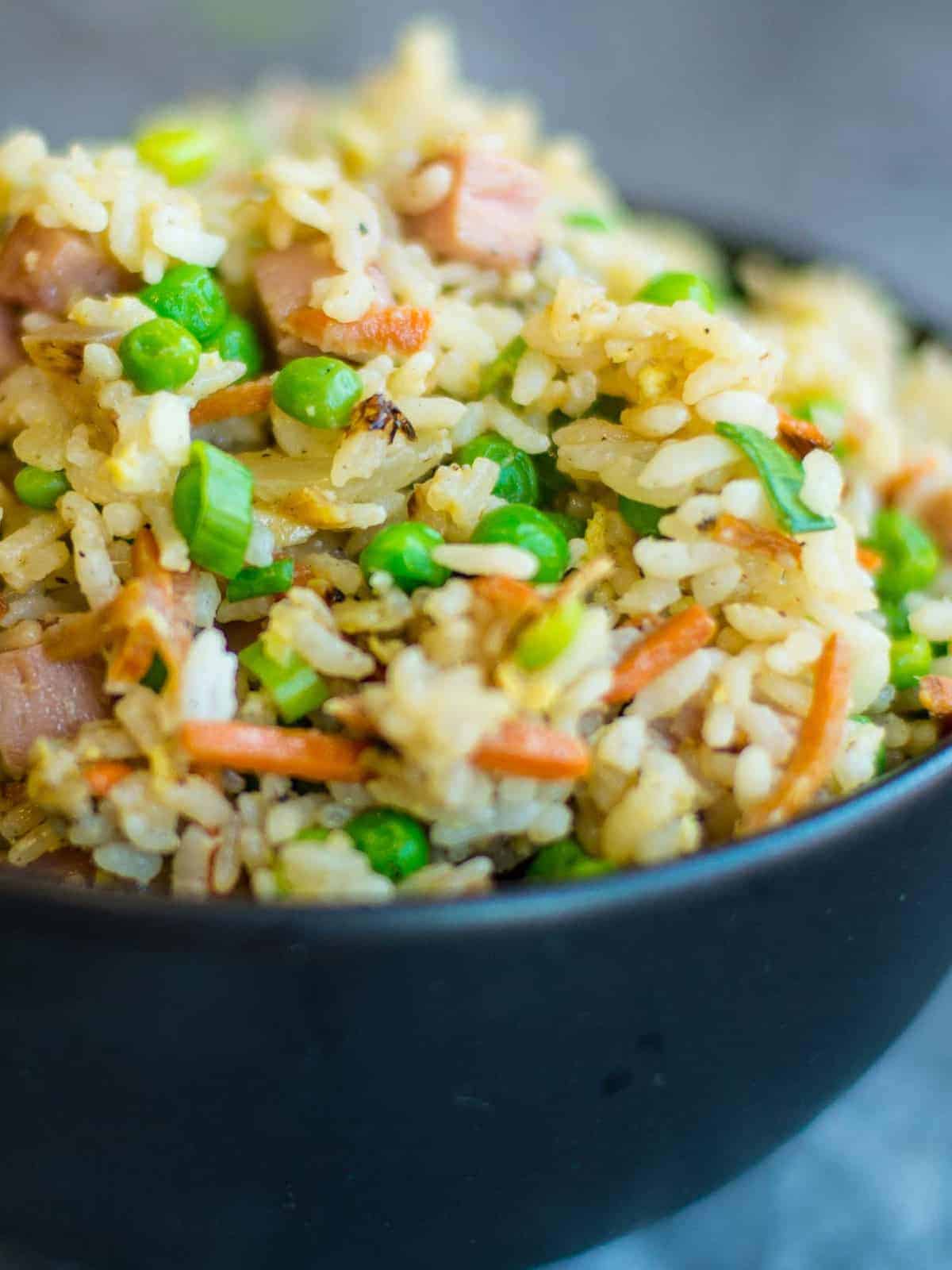 This fried rice recipe is one of the most popular recipes at Foodology Geek for good reason, it's so good! In Hawaii, you can say it's 'Broke da Mouth' good. Spam Fried Rice is a definite must-have at your next backyard luau 🌺.
Spam Fried Rice Recipe – Authentic Hawaiian
SPAM Fried Rice is a Hawaiian fried rice recipe that is served as a side and even as a breakfast fried rice in Hawaii. If you've ever wondered what to cook with SPAM, this Fried Rice Recipe is a definite must-try.
SEE THE RECIPE
PIN FOR LATER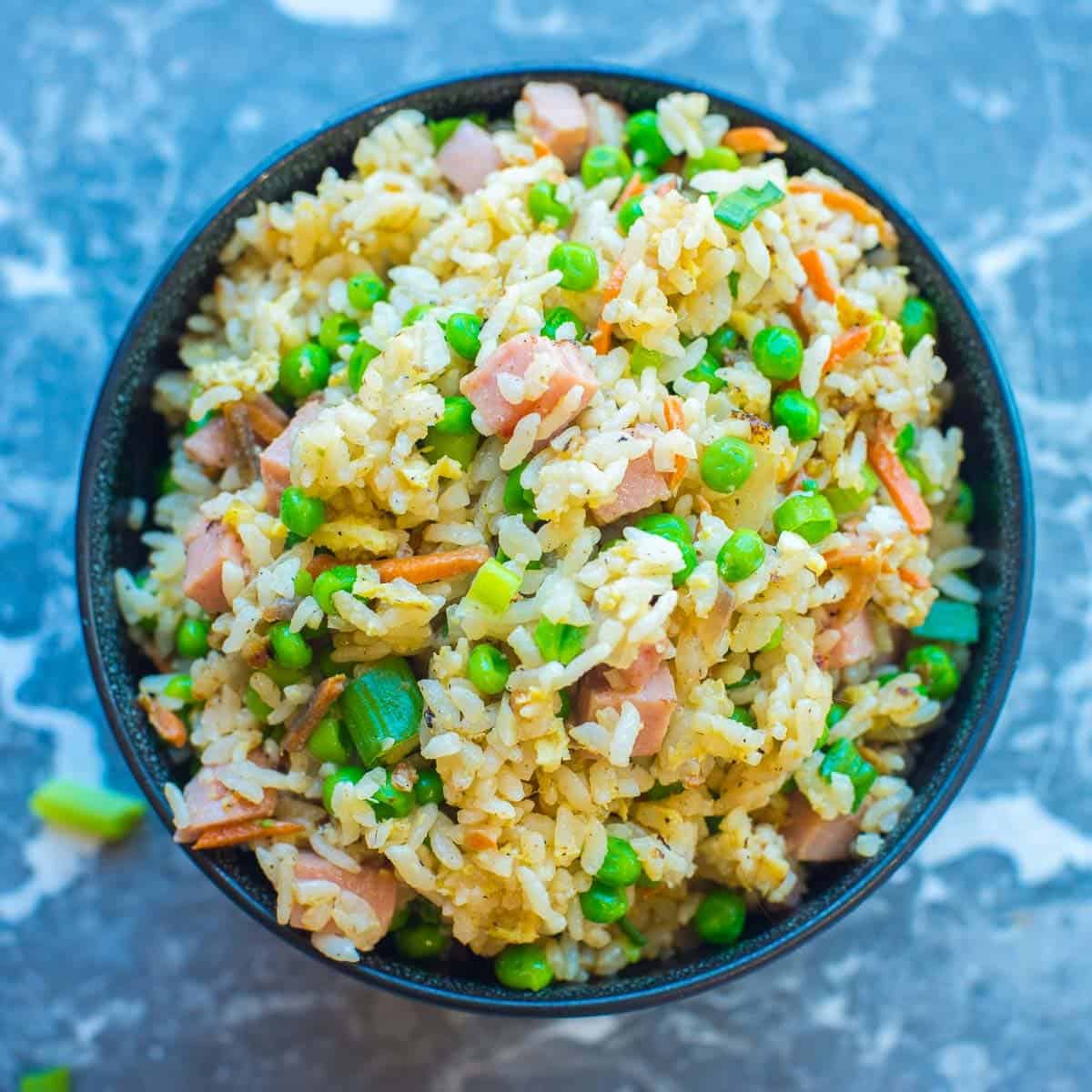 Mac Salad
On the mainland, we might call this Hawaiian Macaroni salad. But on the Islands, it's just Mac Salad. Authentic Hawaiian Mac Salad has a flavor that is distinctly its own. It's served with every plate lunch 🍱 and it's an Island staple.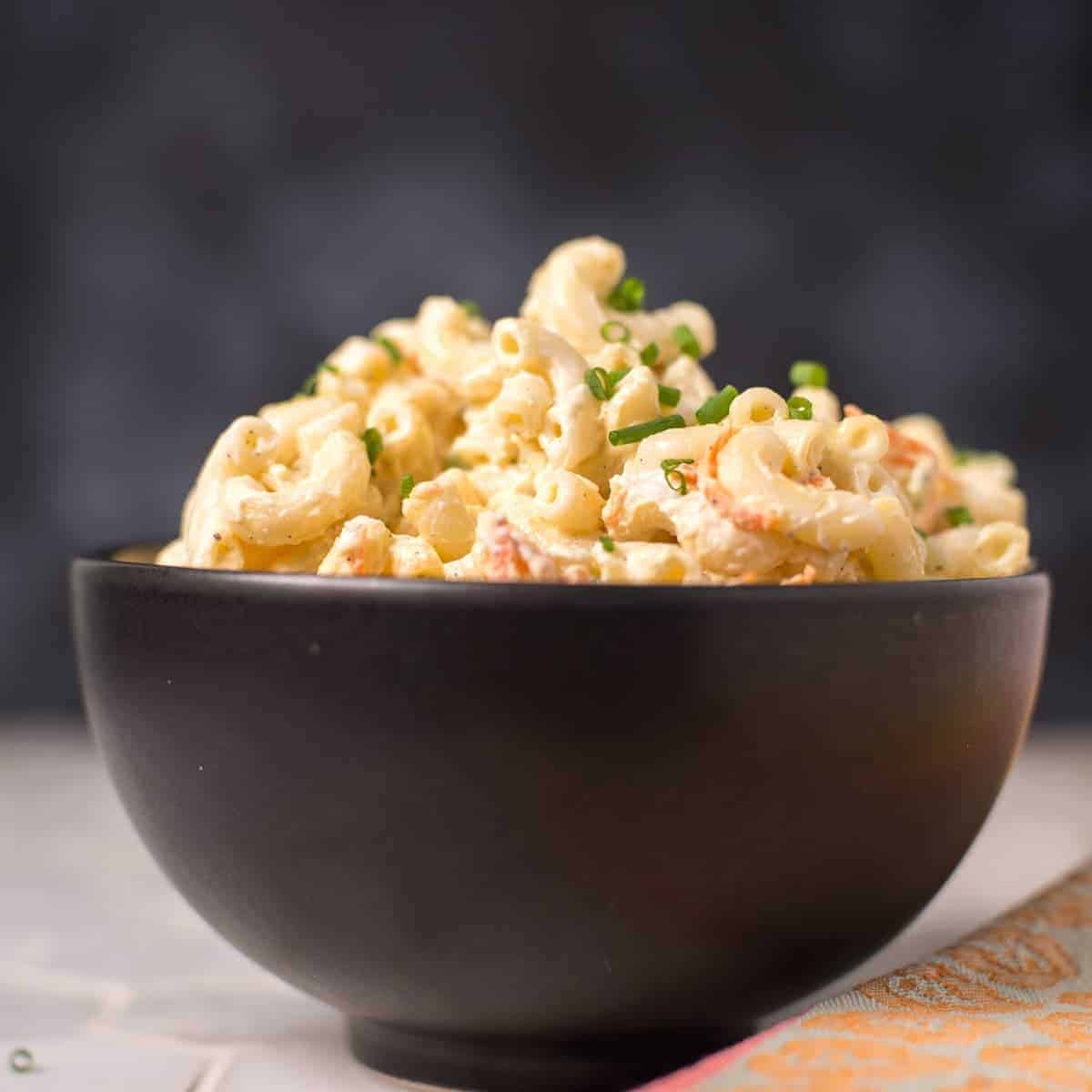 There's a secret in the sauce and you have to prepare it just right. Luckily, I have the secret and now you do too.
Recipe Variations: Sometimes you'll find that Mac Salad is made with macaroni and potatoes in it and I've even seen it made with the addition of canned tuna. All of them are delicious but, I prefer the original Mac only, mac salad.
Hawaiian Mac Salad Recipe
Hawaiian Mac Salad – This is just like the mac salad that comes with plate lunch in Hawaii. It's so good and super authentic.
SEE THE RECIPE
PIN FOR LATER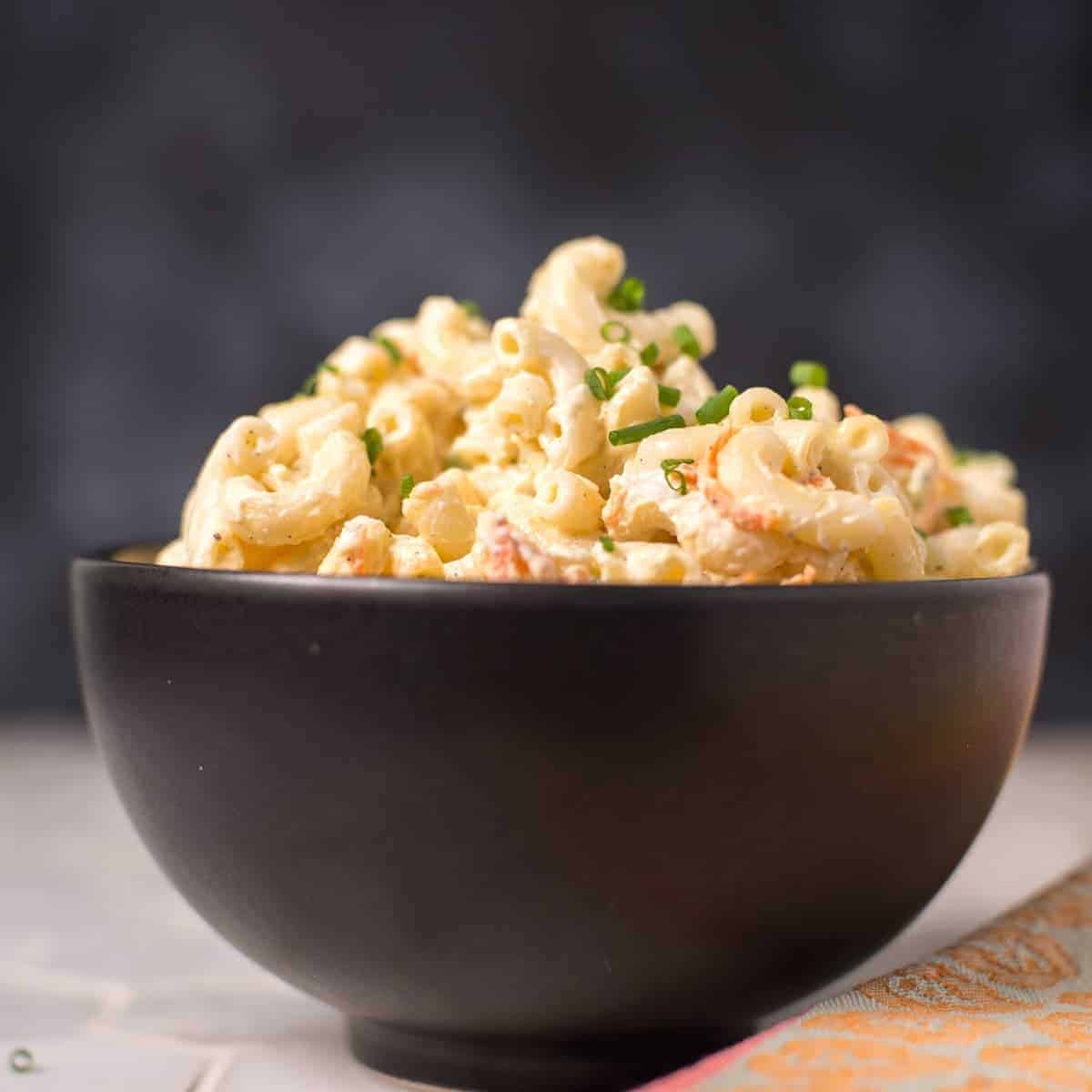 Furikake Fried Chicken
I apologize in advance because once you have tasted this Hawaiian Style 🍗 Furikake Fried Chicken all other fried chicken is just a little plain.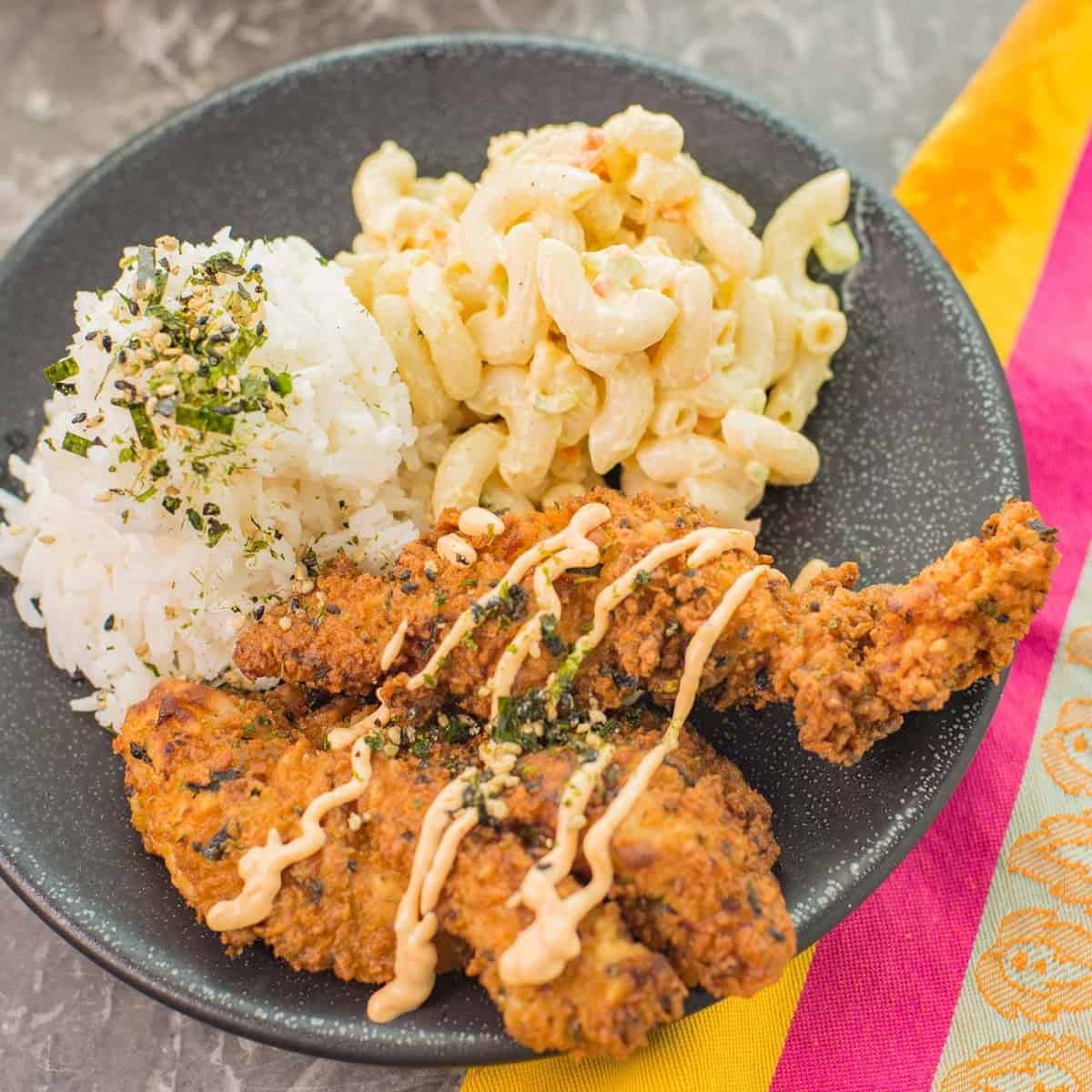 Furikake is another signature Hawaiian flavor. Although furikake is a condiment that reigns from Japan. Furikake in its simplest form is made of roasted seaweed and toasted sesame seeds plus a little salt. It's sprinkled on rice to add an umami crunch.
I first tasted furikake at a friend's house after school. She would make us onigiri (Japanese Rice Balls) and sprinkle them with furikake. It was love at first bite.
Furikake is the perfect addition to this Hawaiian fried chicken recipe. I serve this flavor-packed fried chicken with a side of Sriracha Aioli.
Furikake Fried Chicken
This Hawaiian style fried chicken is impressively umami-filled. Top it with spicy sriracha aioli. Are your taste buds ready?
SEE THE RECIPE
PIN FOR LATER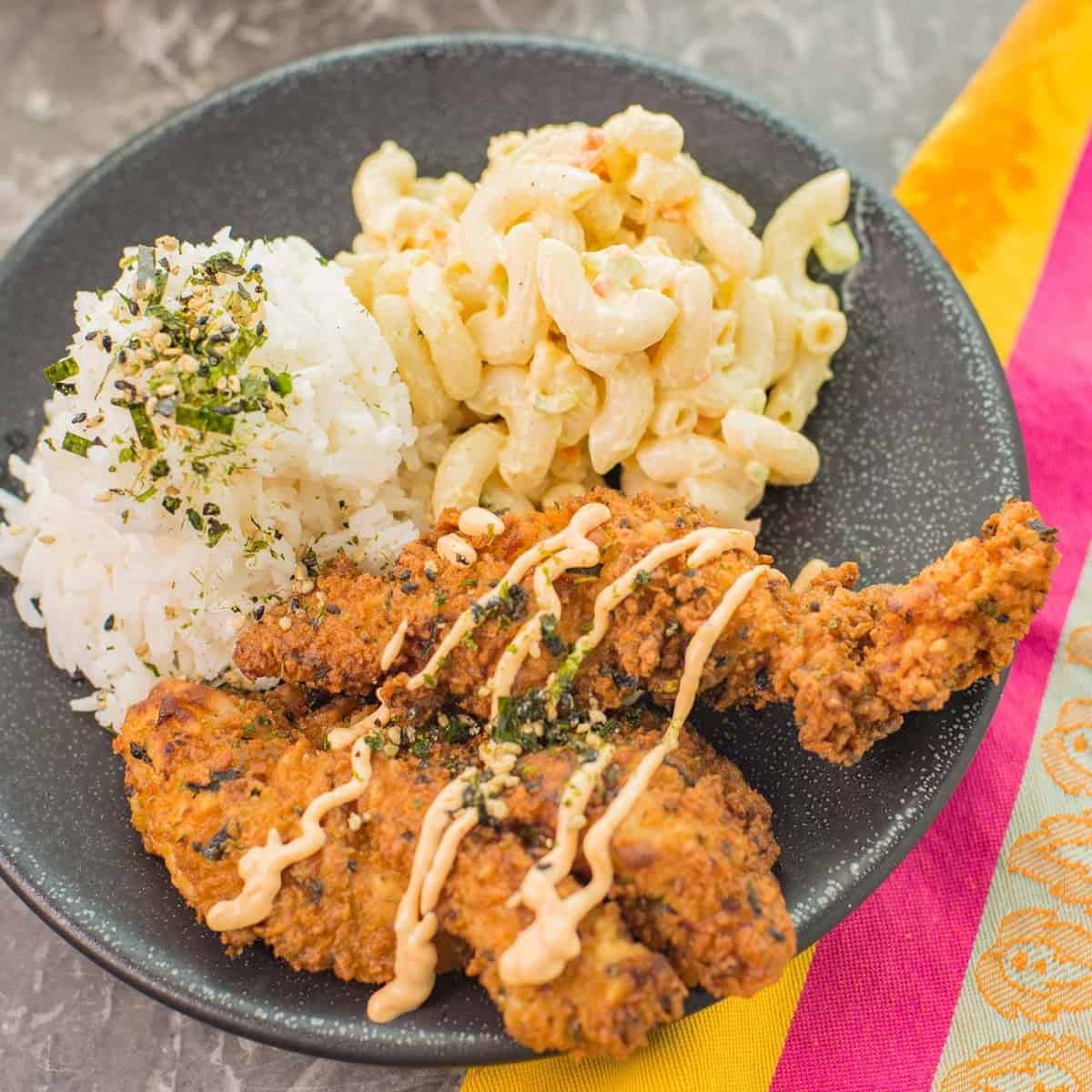 Pineapple Sweet Rolls
These Pineapple Sweet Rolls 🍍 just might be the crown jewel of all of my Hawaiian recipes because they are truly everything Hawaii. My daughter told me that these sweet rolls were my soul in bun form.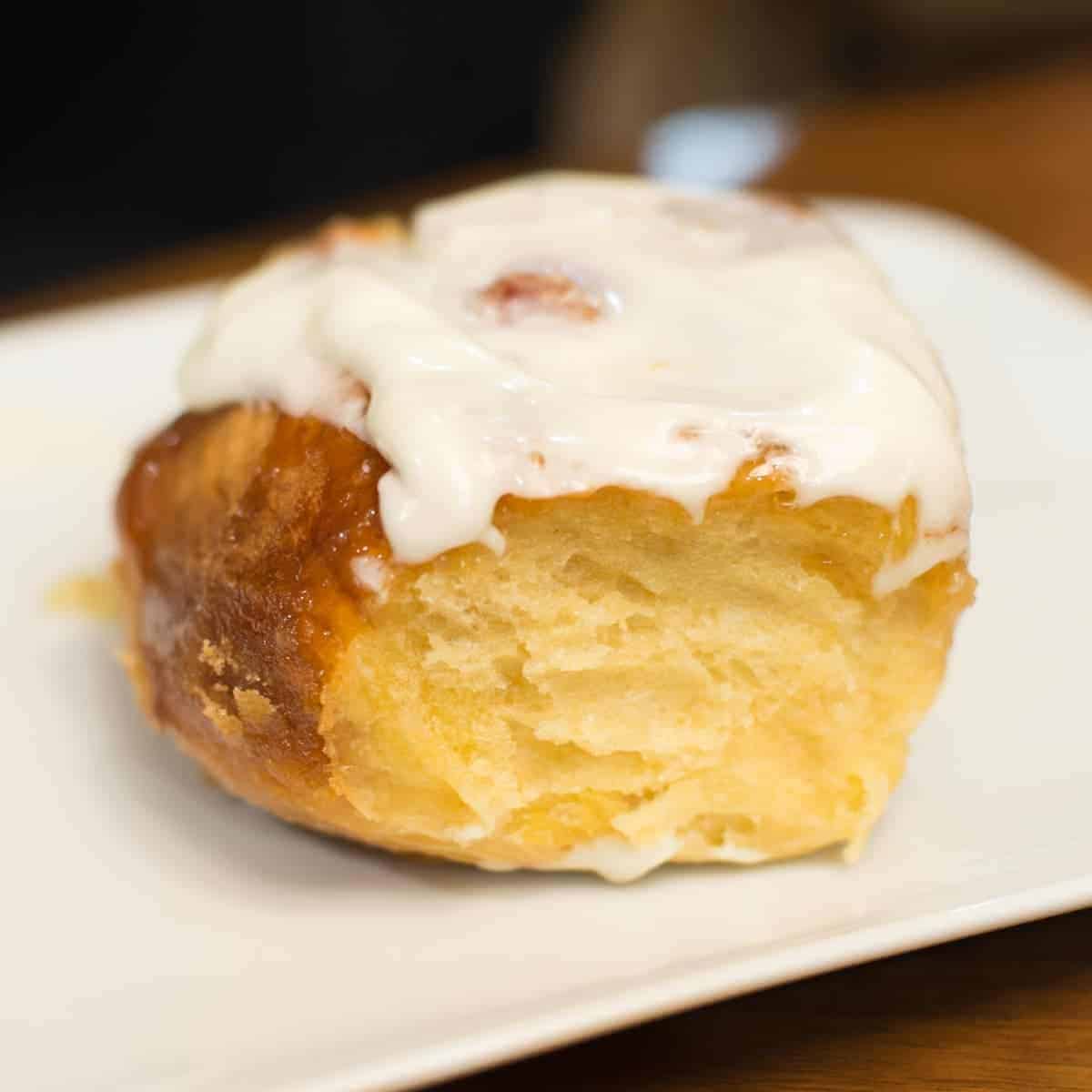 This recipe starts with sweet brioche dough, If you've ever had King's Hawaiian Rolls, then you know what I mean. Then I fill these with pineapple caramel and pineapple curd. I mean come on. Who's not drooling, right now?
After baking and cooling these pineapple sweet rolls are topped with a layer of pineapple cream cheese frosting.
Pineapple Sweet Rolls
Hawaiian sweet bread dough swirled with caramelized pineapple and pineapple curd. Topped with a tangy-sweet pineapple cream cheese icing.
SEE THE RECIPE
PIN FOR LATER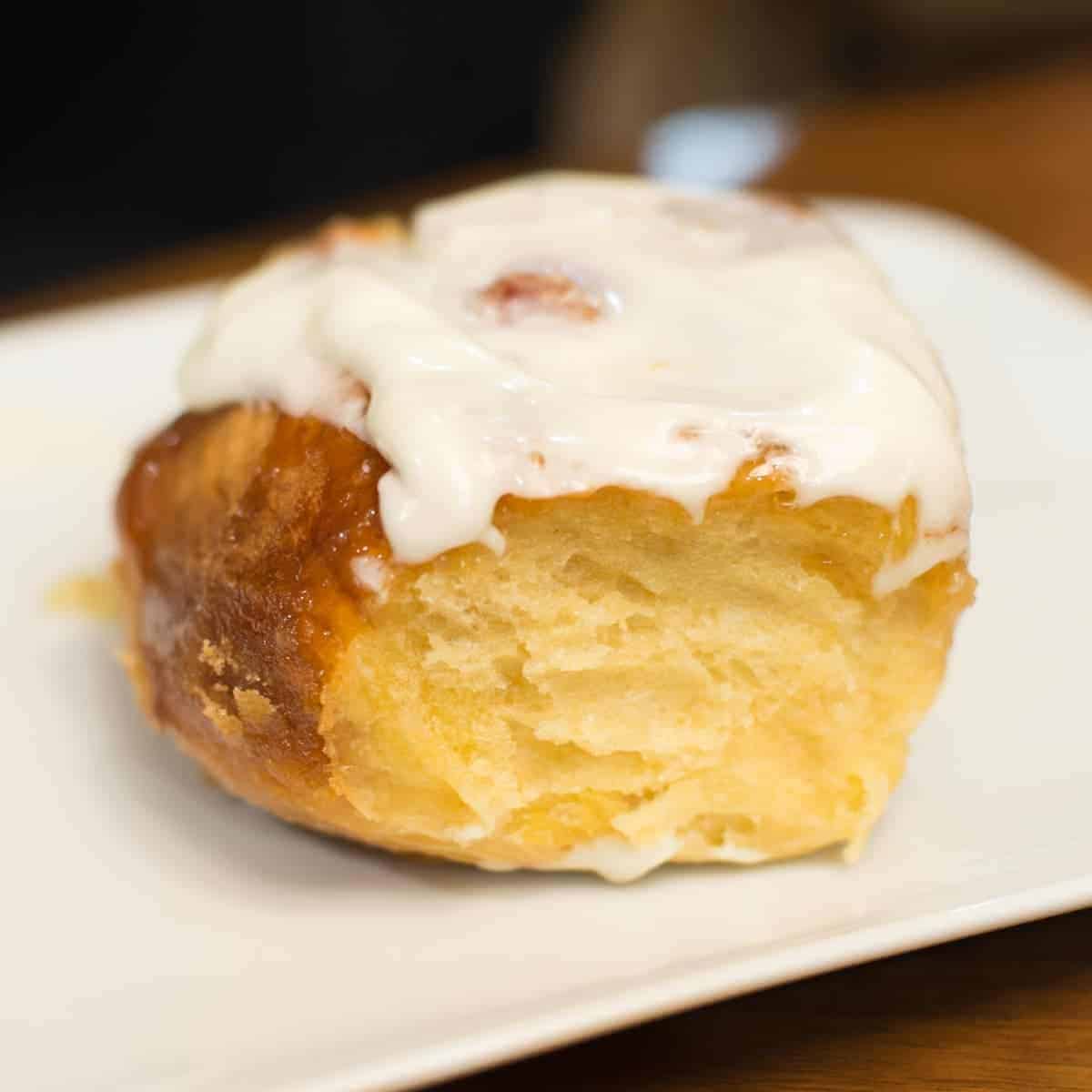 Coconut Rice With Mangoes
Coconut Rice With Mangoes can be served as a side dish or as a dessert. The sticky rice is made with coconut milk and sweetened just a touch.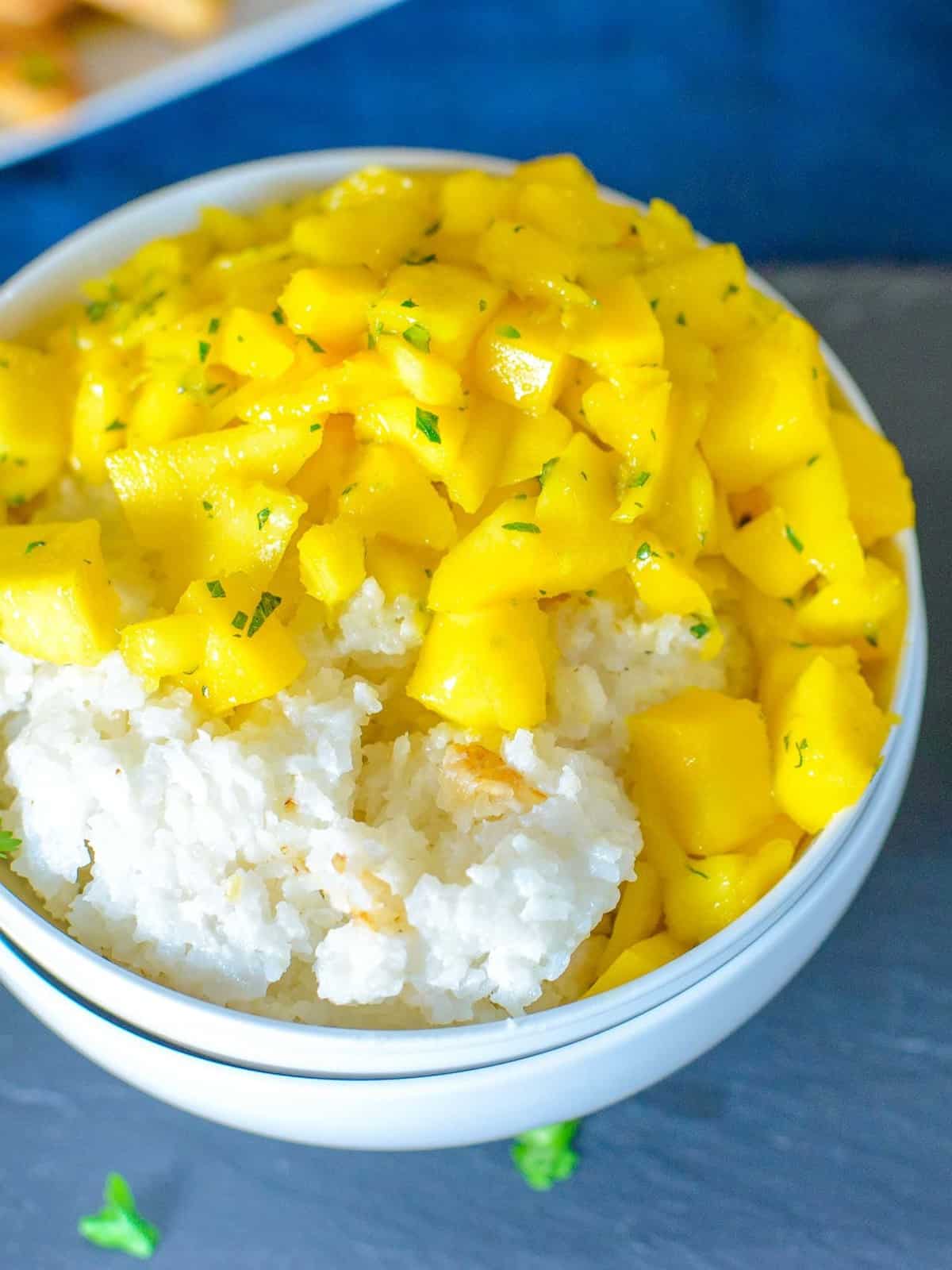 Fresh ripe mangoes are tossed with a little fresh mint and lime juice and then served on top. Coconut Rice with Mangoes is a satisfying and not too sweet dessert recipe.
Coconut Rice with Mangoes
Sticky Rice With Mangoes is made of fragrant sticky rice cooked in coconut milk, served with freshly chopped mangoes and minced mint. This recipe is easy and delicious.
SEE THE RECIPE
PIN FOR LATER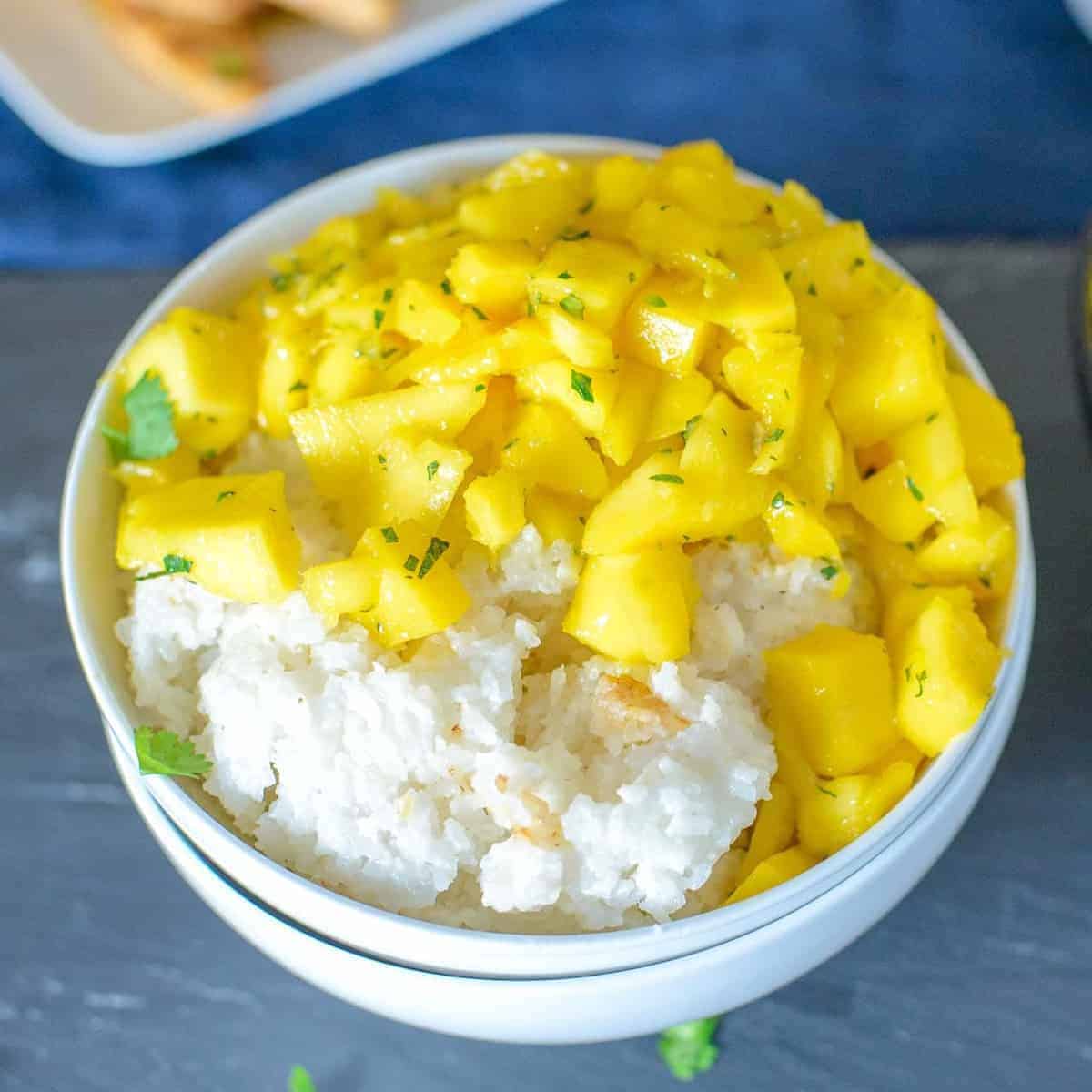 Blue Hawaii Cocktail
The Blue Hawaii Cocktail is a tropical cocktail that needs to be at your next luau party. This cocktail recipe is a rum cocktail that's made with pineapple juice, blue curacao, and vodka. It's like ☀️ sunshine and a summer breeze served on crushed ice.
The Blue Hawaii Cocktail recipe was invented in 1957 by the legendary bartender at the Hilton Hawaiian Village in Waikiki, Hawai'i, Harry Yee. Yee was asked to design a cocktail featuring blue Curacao, hopefully, to bolster the sales of this curious blue liquor.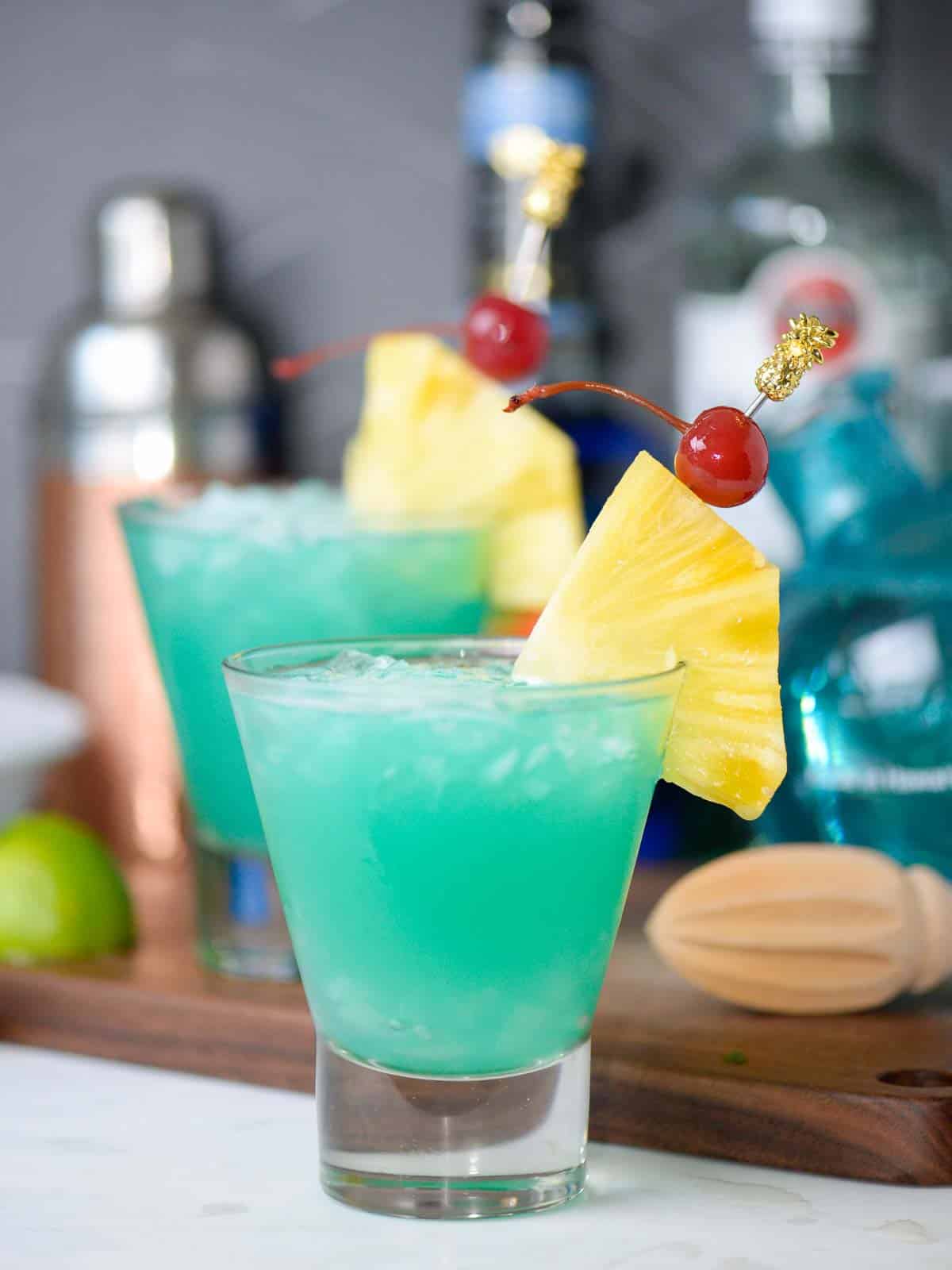 Blue Hawaii Cocktail
The Blue Hawaii Cocktail is a tropical cocktail that needs to be at your next luau party. This festive party beverage is a rum cocktail that's made with pineapple juice, blue curacao, and vodka.
SEE THE RECIPE
PIN FOR LATER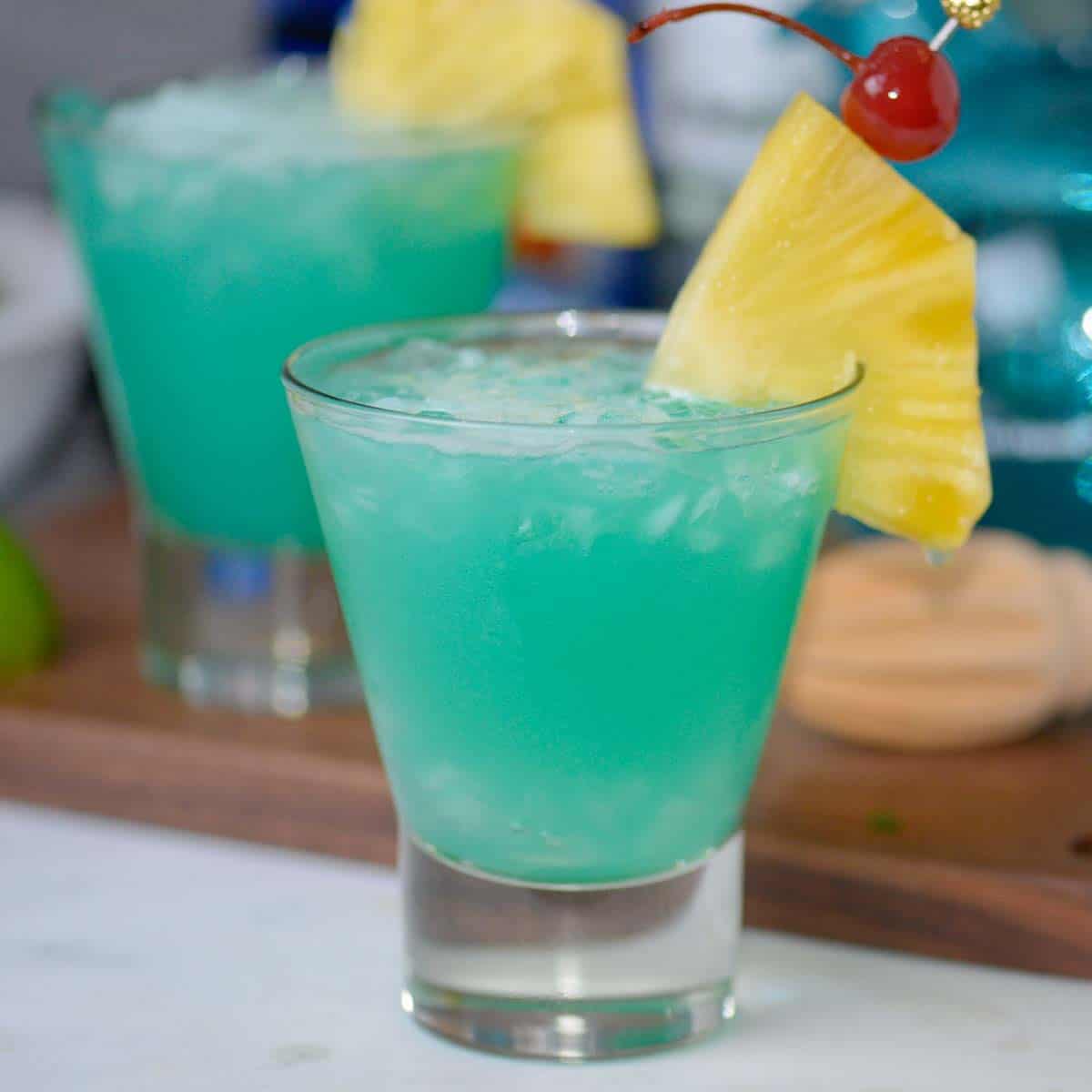 The Original Mai Tai
The Original Mai Tai recipe is a classic tiki bar cocktail created by Victor J. Bergeron (Trader Vic) in the 1940s. The recipe was so popular that it nearly depleted the world's supply of rum.
The drink was simple and showcased a 17-year old Jamaican Rum. The drink was thusly named when several Tahitians had the drink and exclaimed "Maita'i roa a'e," which means "Out of this world." The Tahitian translation for "Maita'i" is "The Best."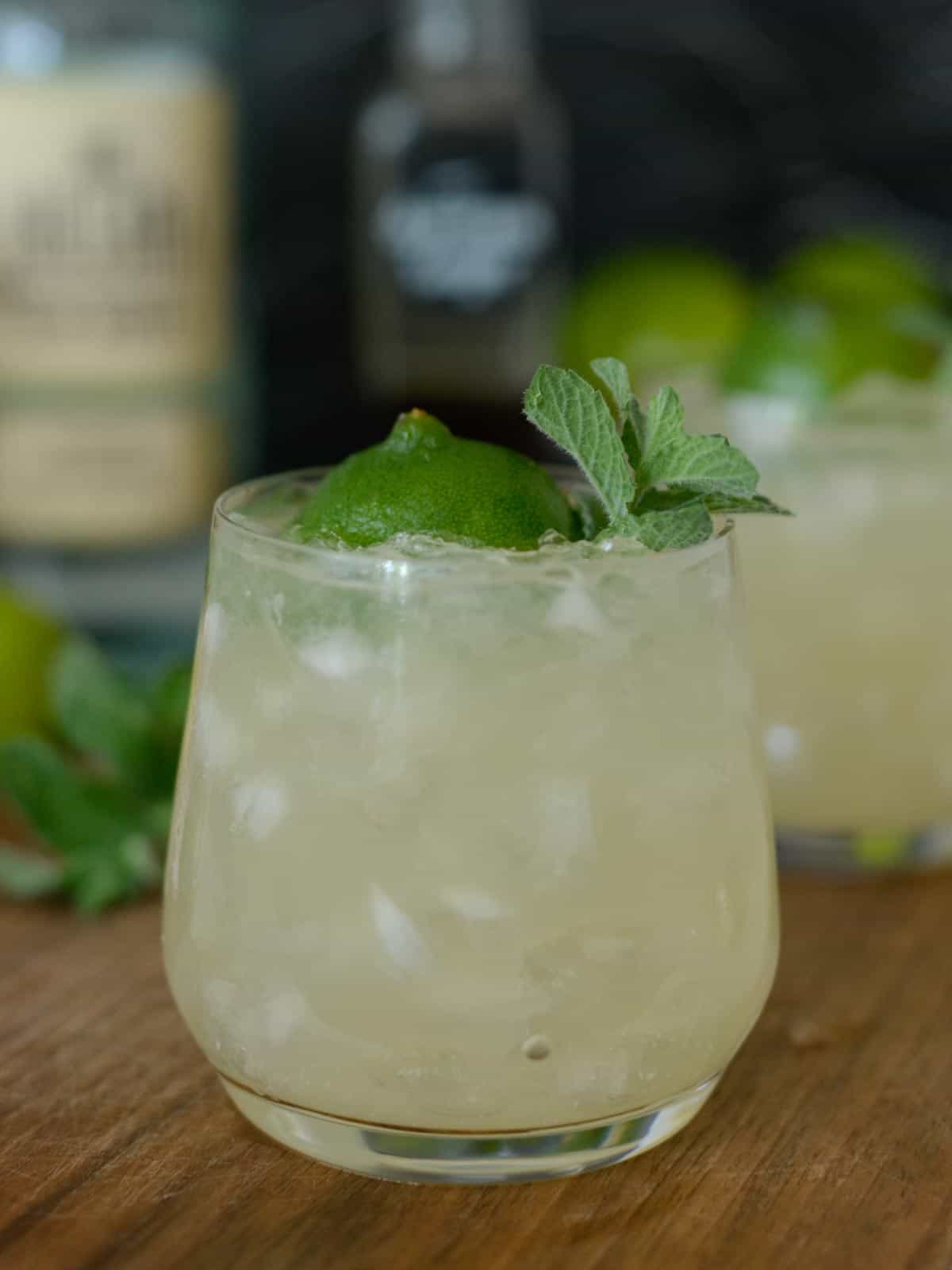 Mai Tai Recipe (The Original)
The Mai Tai might be the most famous Hawaiian cocktail. There are many different Mai Tai recipes that claim to be original. This version is the original Mai Tai cocktail recipe and is adapted from the Mai Tai that's served at Smuggler's Cove.
SEE THE RECIPE
PIN FOR LATER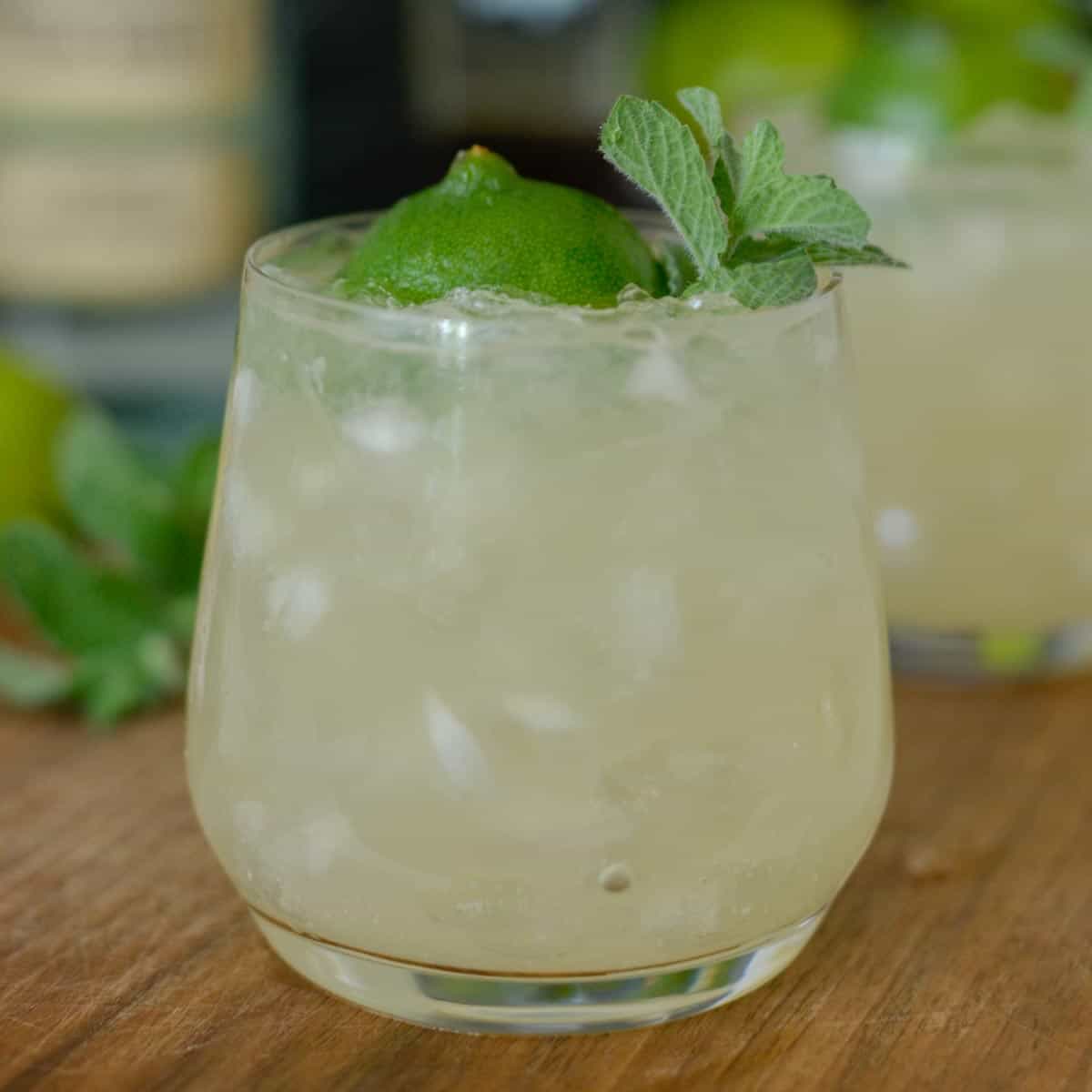 Hawaiian Mai Tai (Royal Hawaiian Recipe)
This mai tai recipe is adapted from the Royal Hawaiian Mai Tai Bar in Waikiki. If you've ever been to Hawaii you probably know that the quest for the best mai tai recipe is endless. There are so many places to try.
Check out this post on the Hawaiian Mai Tai recipe and find out how this version of the cocktail came to be and where you can find the best Mai Tai in Hawaii.
Hawaiian Mai Tai Cocktail (Royal Hawaiian Recipe)
This Mai Tai is the cocktail that you might have in mind when you think of that Tiki Cocktail you had the last time you visited Hawaii. Originally created for the menu at the Royal Hawaiian Hotel in Waikiki, this version's made with pineapple juice and orange juice, and a classic dark rum float.
SEE THE RECIPE
PIN FOR LATER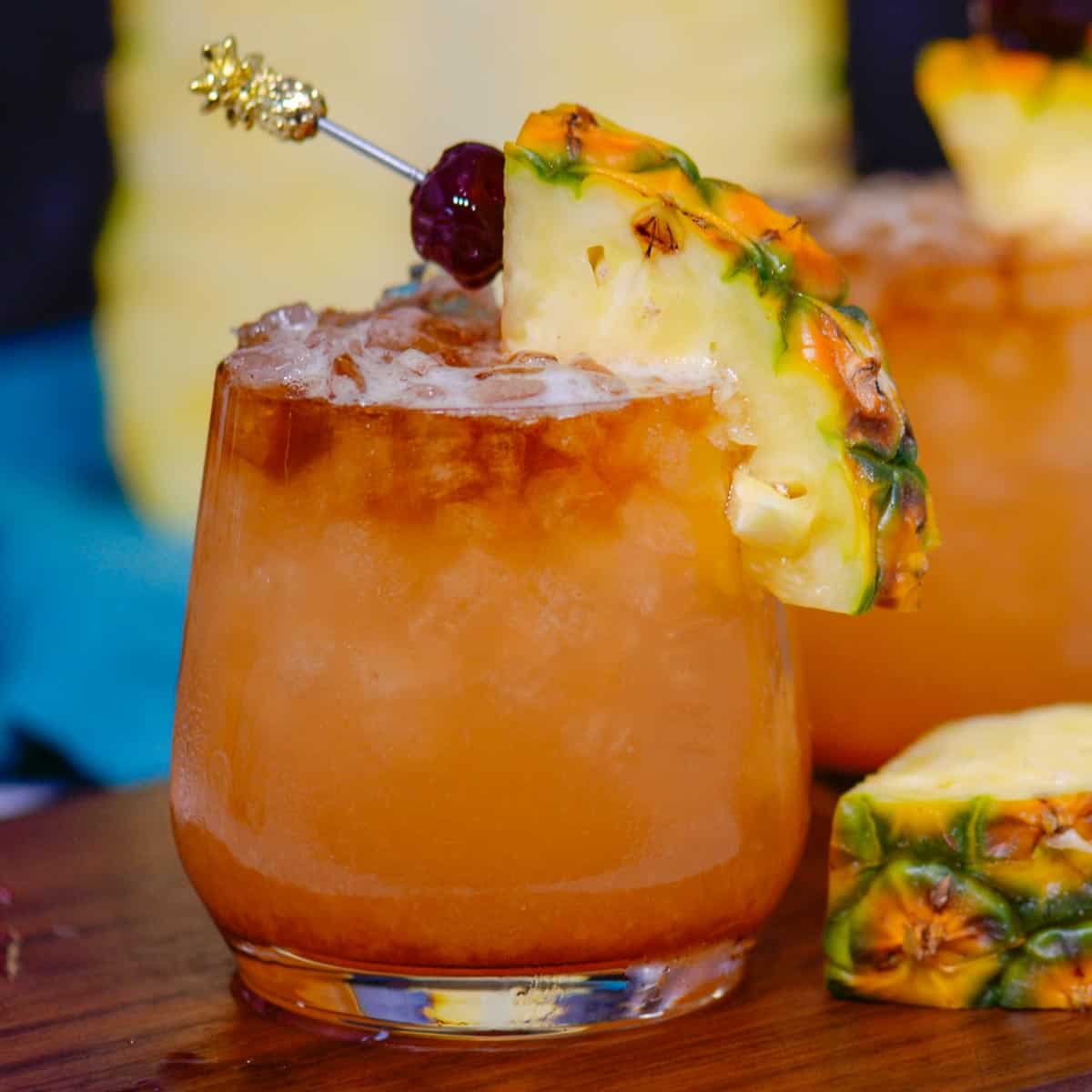 Pineapple Vodka Martini
The star of any luau party, of course, is the tropical cocktail. This Pineapple Martini recipe is next-level delicious and it's fit to be the star of your next party.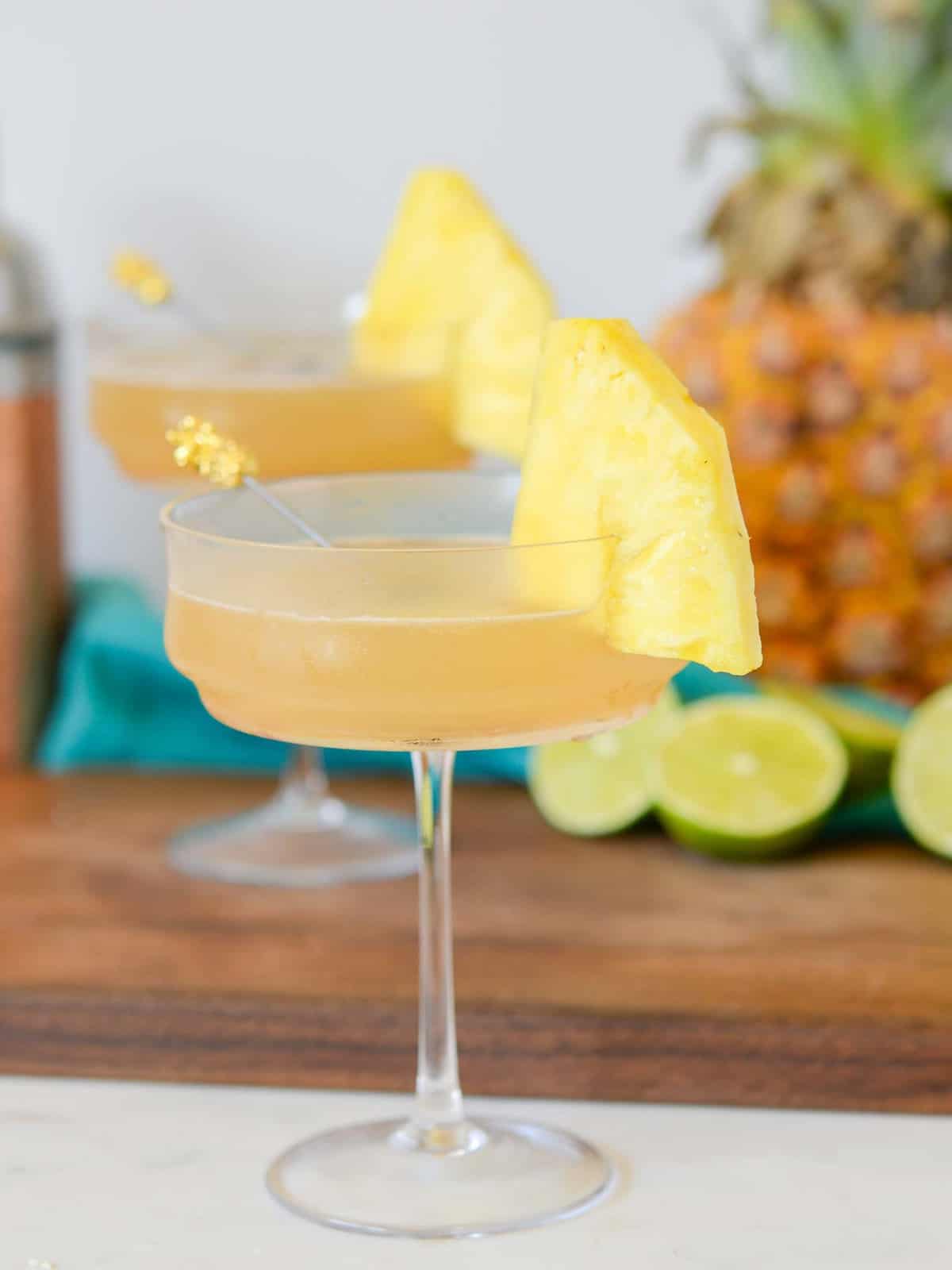 This Pineapple Martini recipe is more than just vodka and pineapple juice. This recipe is an impressive craft cocktail. With its sweet pineapple flavor, a kick of spiced bitters, and lime juice, this Hawaiian cocktail will surely have your guests asking for the recipe.
You can make also this recipe up in bulk and serve it in a pitcher or drink dispenser. Just be careful, these will knock you on your face in no time. They are certainly fully ledded.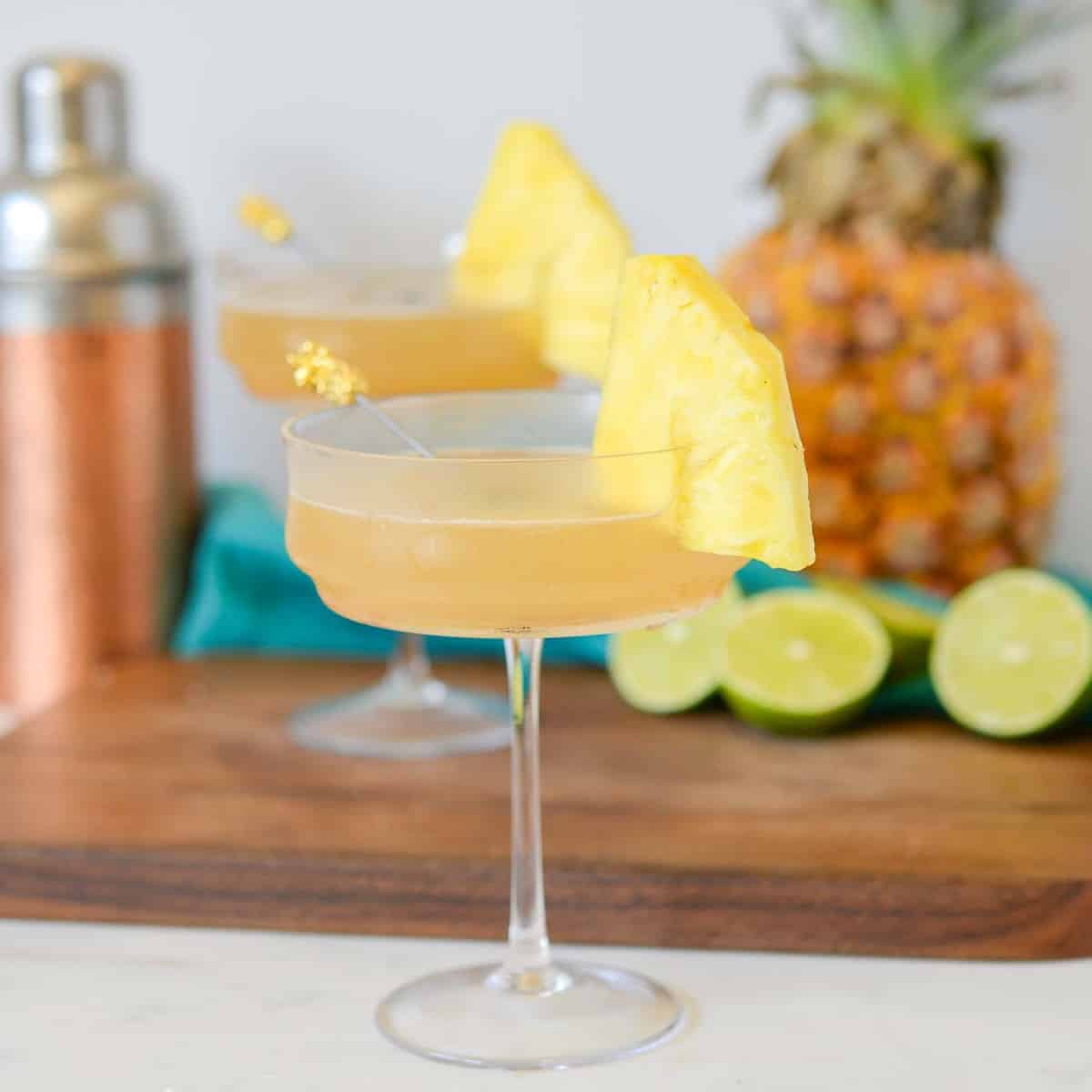 Pineapple Martini Recipe
Fresh and fruity, this Pineapple Martini is a summer craft cocktail dream. Nothing brings summer in quite like a Hawaiian Cocktail. Make this recipe as a single cocktail or as a large batch to serve in a beverage container.
Ingredients
1

fl ounce

pineapple Juice

,

fresh or canned

2

fl ounces

Vodka

,

2 shots

½

fl ounce

pineapple liqueur

,

½ shot

½

fl ounce

Lime juice

,

Fresh squeezed

⅓

fl ounce

sugar syrup

,

rich (2:1)

2

dashes

tiki bitters

1 or 2

fresh pineapple chunks

,

I used vodka infused pineapple chunks

1

Luxardo cherries

(affiliate link)
Instructions
Add all of the ingredients to a cocktail shaker filled with ice. Shake and serve in a chilled martini glass.

Garnish with one maraschino cherry and one pineapple chunk on a cocktail pick.
Laura's Tips + Notes
Large Batch Measurements
750 ml Vodka (3.25 cups)
375 ml Pineapple juice (1.5 cups)
188 ml Lime juice (0.75 cups)
188 ml Pineapple liqueur (0.75 cups)
125 ml simple syrup (0.33 cups)
1 teaspoon bitters
Serve pineapple chunks and maraschino cherries on the side with toothpicks
To lighten up the alcohol
If you want to go a little lighter on the alcohol content you can add soda water to this recipe. It's more of a pineapple sparkling punch but it's still delicious and you can have a few more.
YOUR OWN NOTES
Sign In to add your own private notes
Nutrition
Serving:
1
cocktail
Calories:
238
kcal
Carbohydrates:
18
g
Protein:
1
g
Fat:
1
g
Saturated Fat:
1
g
Sodium:
8
mg
Fiber:
1
g
Sugar:
15
g
Calcium:
7
mg
Iron:
1
mg