Healthy Baked Mediterranean Fish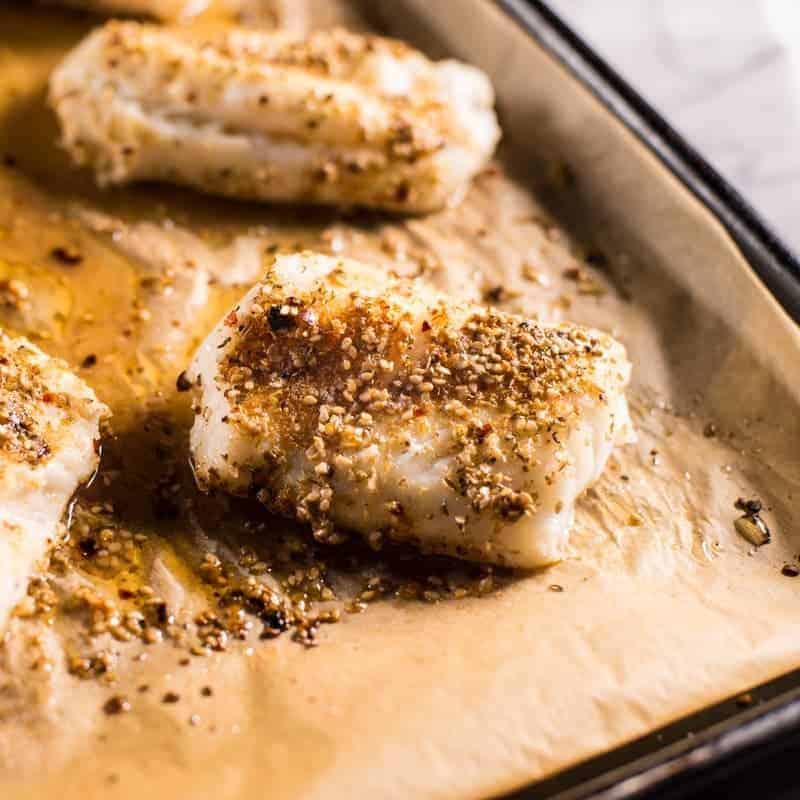 Recipe
Comments
Save
Go to Collections
This post may contain affiliate links. Please read my
disclosure policy.
This easy baked fish recipe is the main protein in the Mediterranean Meal Prep Bowl. I like to prep a big batch of protein each week so that I can make fast and easy meal prep bowls all week long! This Mediterranean seasoned fish 🐟 is just one of my go-to meal prep proteins.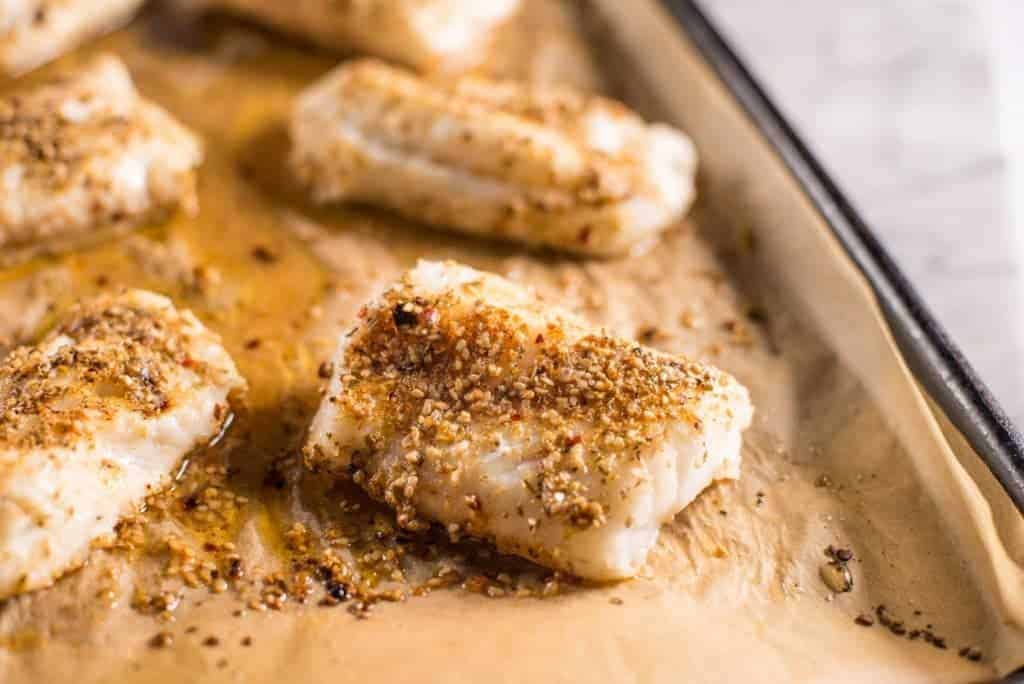 Getting a healthy meal on the table every night can be a daunting task. We might as well face it, we're all way too busy. This constant busy-ness is what prompted my own love of meal prep. Even in college, I was a meal prepper.
I worked nearly full-time and went to school more than full-time as well. I spent a lot of time commuting and studying, so there was just no way to survive without having leftovers to pack.
Even back when I was cooking just for myself, I always cooked my proteins with versatility in mind. To this day, I still think about proteins as the cornerstone of my meal. Once I settle on baked fish, or grilled chicken, or whatever sounds great, I decide what else I can add to my weekly menu.
What you'll love about this recipe
Recipe Notes
This recipe uses my Mediterranean Seasoning Blend recipe. I like to pair it with a big green salad, quinoa, and my Lemon Tahini Dressing in my Mediterranean Meal Prep Bowl.
Flavorful and Super Fast — It's the spices that give this Mediterranean fish recipe an extra special flavor. You can also use this healthy seasoning blend on chicken, shrimp, and even roasted vegetables.
I cannot stress enough how spice blends can take your cooking game to the next level. Making cooking easy is all about finding ways to add flavor without needing hours to build a sauce. This is exactly why I make so many custom spice blends. Mediterranean recipes are all about adding spice to life!
Mediterranean Seasoning Blend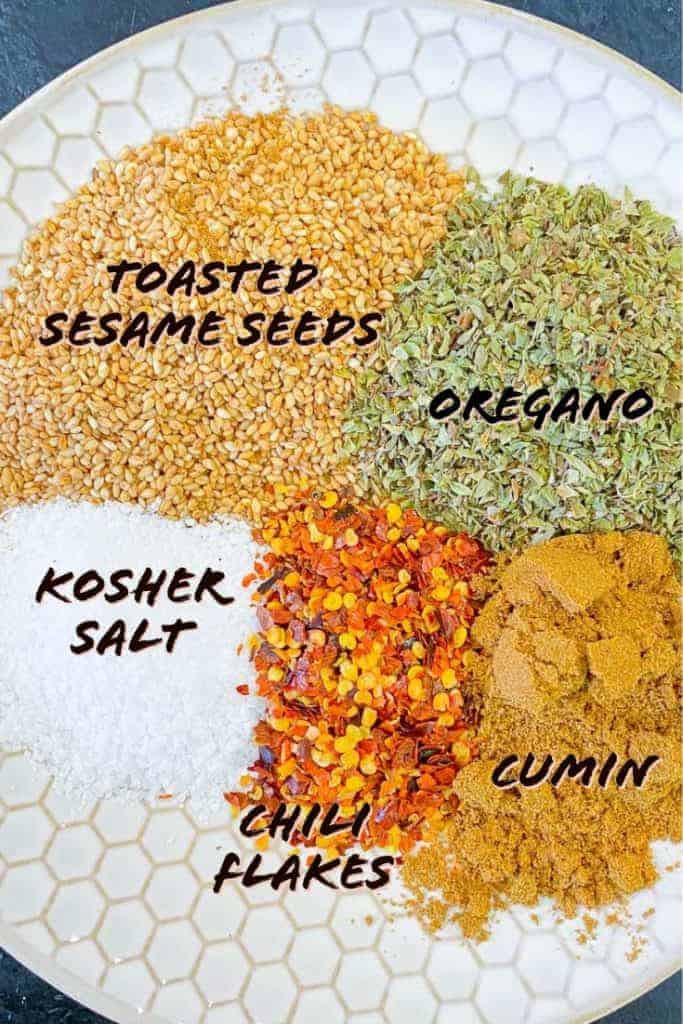 This is easily the most-used spice mix in our house. Here is a list of just a few things that we use it on. Mediterranean recipes are famously healthy and super flavorful!
What you'll need for this recipe
Step By Step Instructions
This recipe takes less than 20 minutes to prepare. Whenever I cook a protein recipe, I always double it so that I have leftovers. This is an essential secret to getting better at meal prep.
Prep once — Eat twice! 🙌
Step 1: Rinse and pat dry
Rinse the fish fillets in cool water and then pat dry with a paper towel or lint free kitchen towel.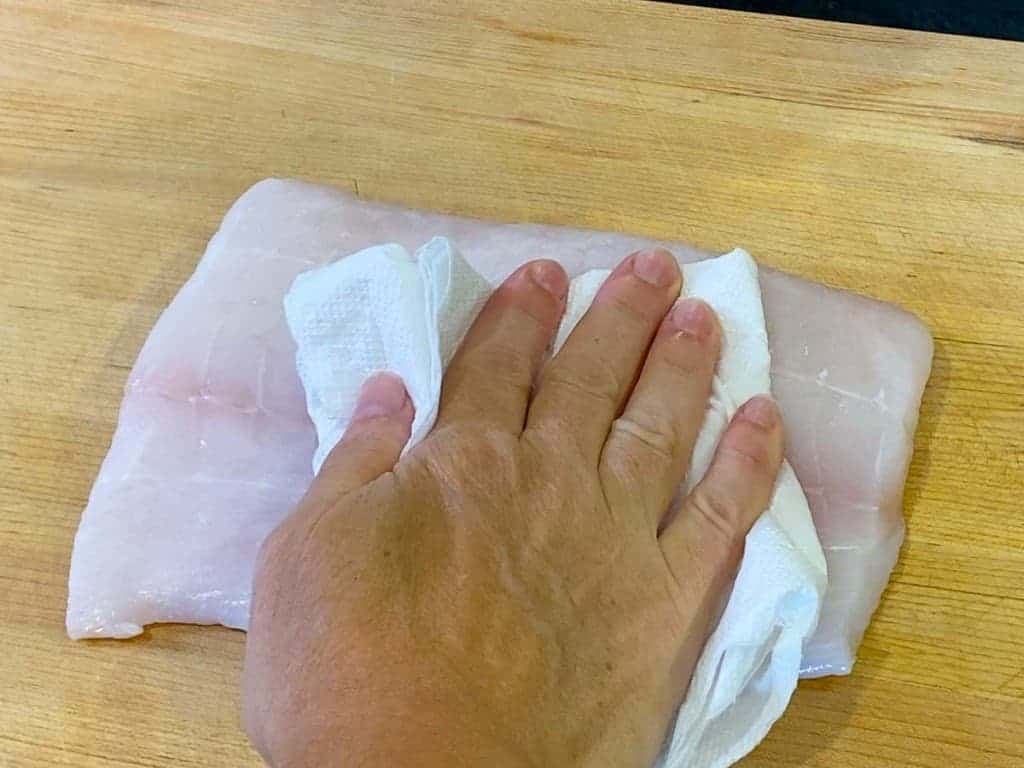 Step 3: Cut into portions
Slice the fish into equally sized pieces. I usually shoot for 6-ounce portions. You can measure them with a scale if you're counting macros or just eye it. The size will be about the same as a deck and a half of playing cards.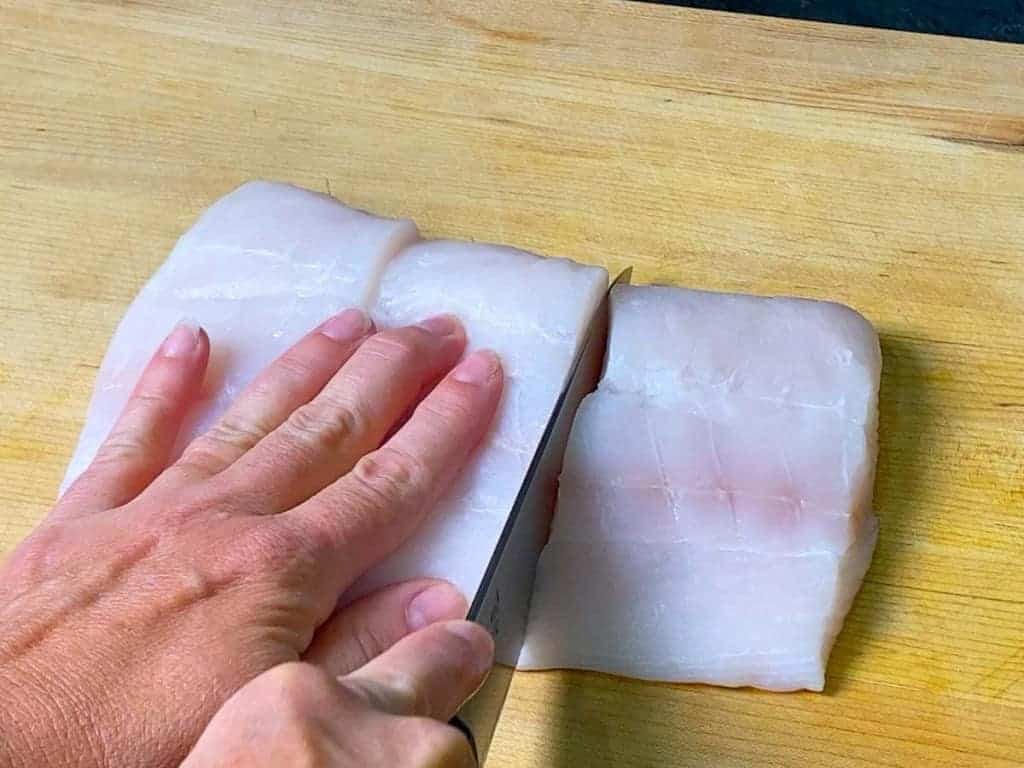 Step 3: Place the fish on your baking sheet
I always line my sheet pans with parchment paper. This saves you a ton clean up time.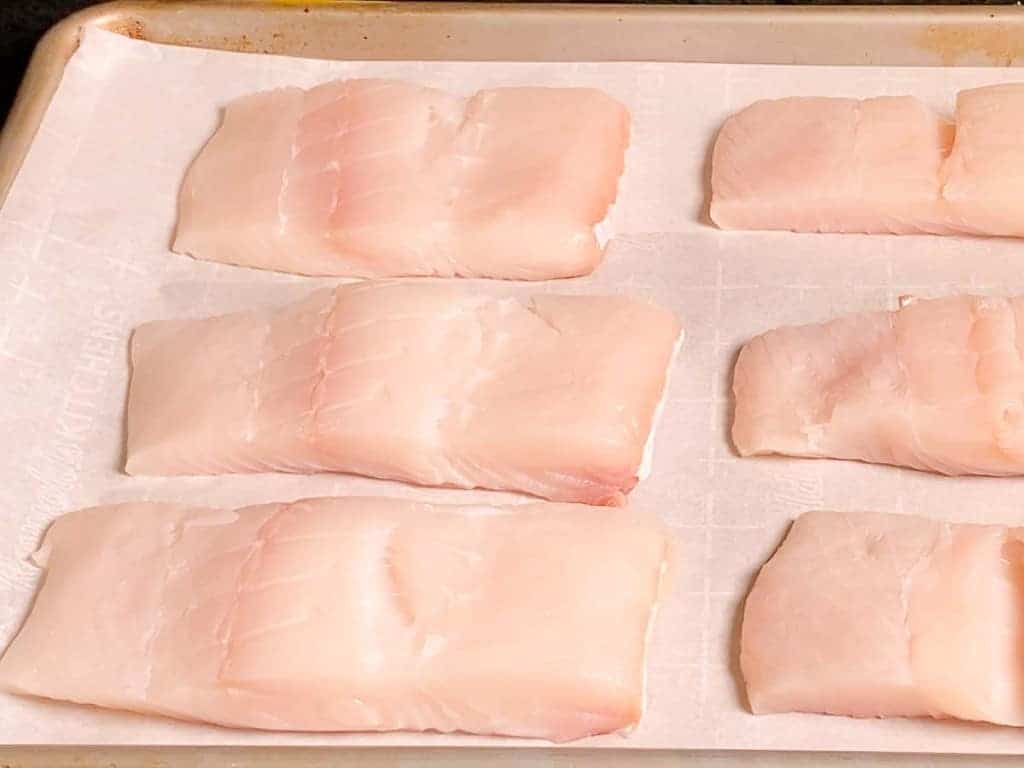 Step 4: Season
Sprinkle each halibut fillet with the Mediterranean Seasoning Blend. I usually use 2 to 3 teaspoons of seasoning for a batch this size. I also like to season both sides of the fish.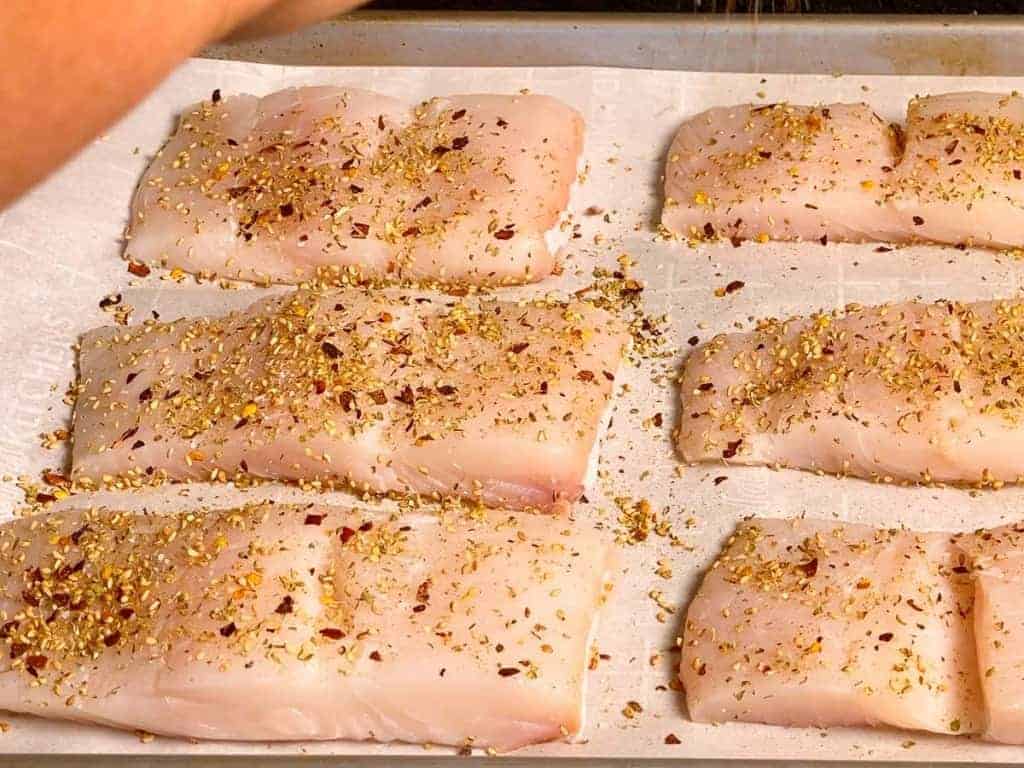 Step 5: Add oil
Drizzle each piece of halibut with avocado or olive oil. Then rub the oil in with your fingers. You can also use a brush or a pressurized oil sprayer if you don't like touching meat.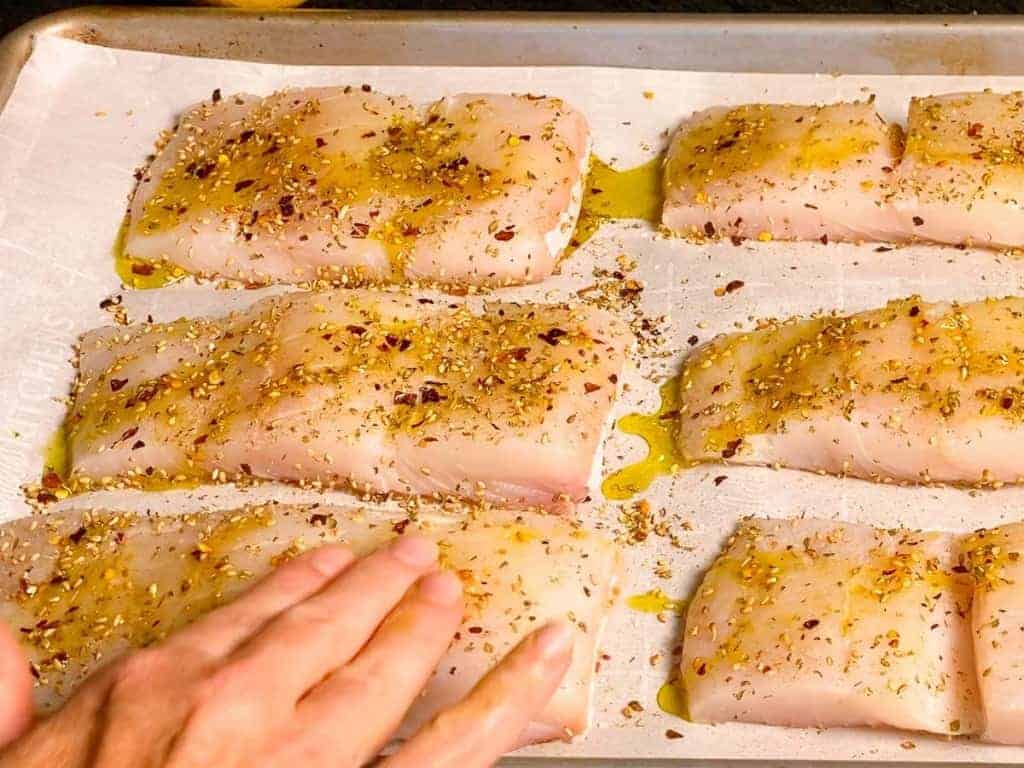 Step 6: Bake
Preheat your oven to 425℉. Bake the fish for 10 to 12 minutes. Turn the oven up to broil if you want to brown the top. Broil for 2 minutes or untl golden brown.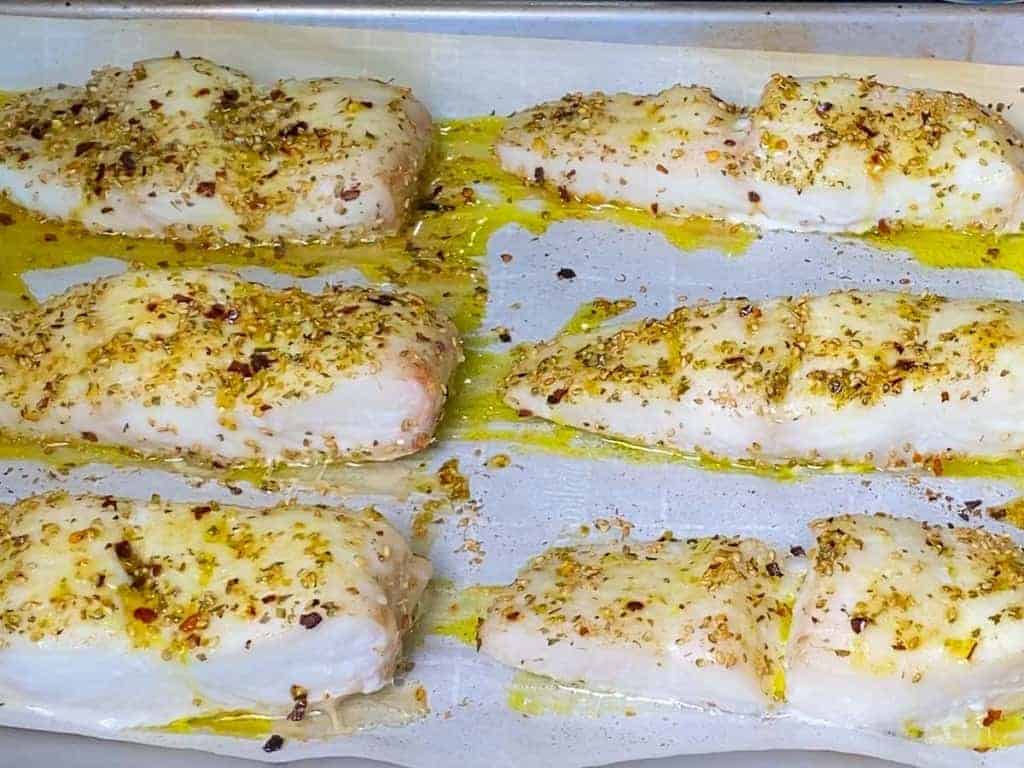 What to serve with this Easy Baked Halibut Recipe
Serve it in a bowl!
The Mediterranean Meal Prep Bowl is centered around the fantastic Mediterranean Seasoning Blend.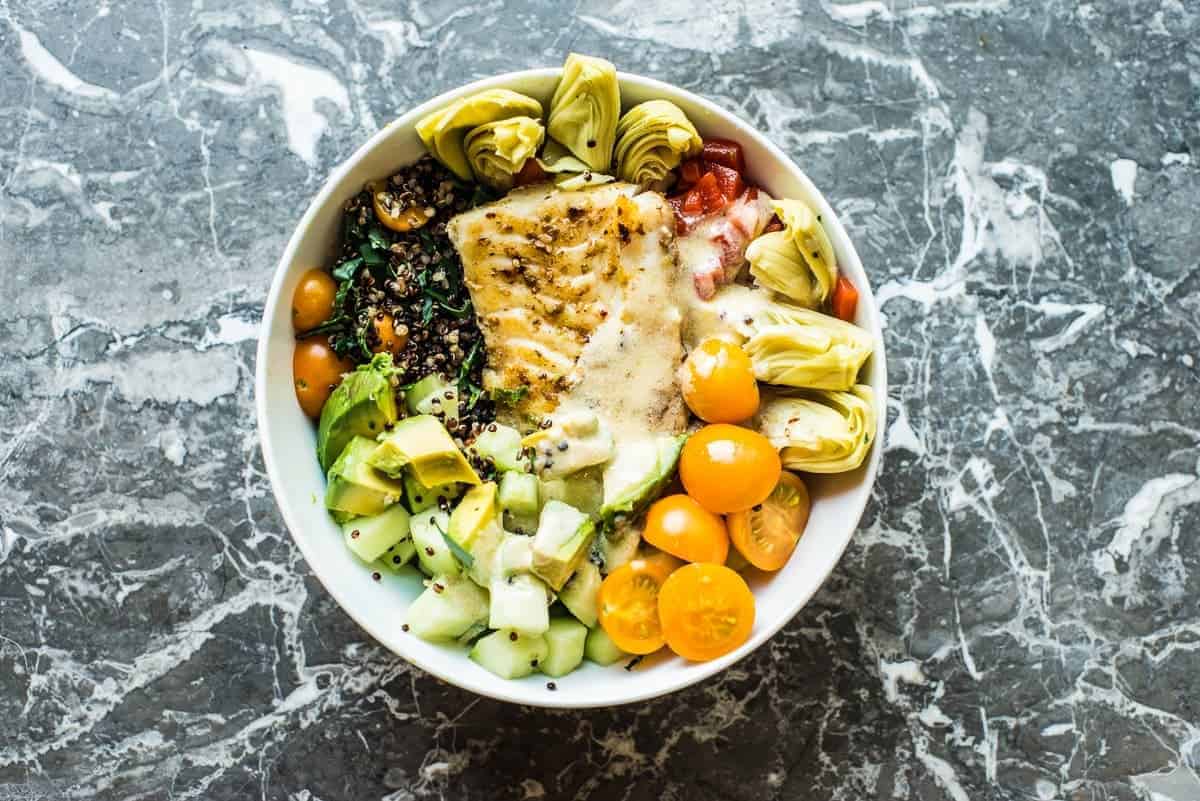 More Meal Prep Protein Recipes To Try
I have a bunch of meal prep bowls right here on Foodology Geek, and if you really want help with meal prep, you can download my handy dandy MEAL PREP GUIDE. You can find my Favorite MEAL PREP TOOLS here.
FAQs and Expert Tips

How to buy fresh fish and shellfish
Fish should smell like the ocean. You shouldn't smell a strong 'fishy' smell.

Most grocery store seafood has been previously frozen and then thawed for display. You can ask the meat counter specialist if they have any frozen potions in the back. I do this all the time with shrimp.

Check out this resource on buying sustainable seafood.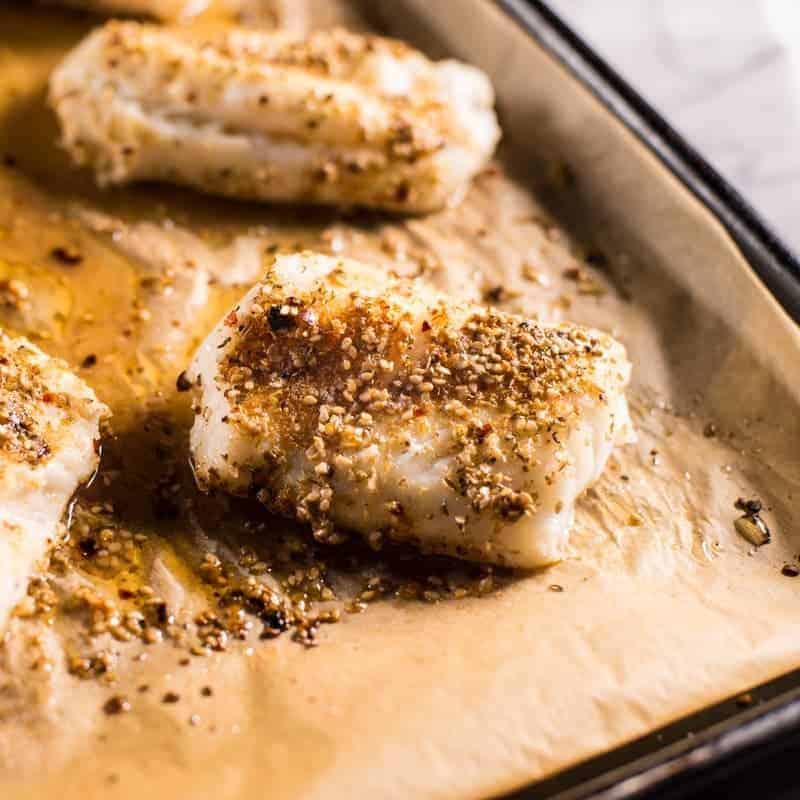 Mediterranean Baked Halibut
Halibut fillets are the perfect choice for this super easy Mediterranean baked fish recipe. This fish is one of my go-to meal prep recipes. I use this fish in my Mediterranean Meal Prep Bowl. You can serve with a big salad and my Lemon Tahini Dressing.
Ingredients
2 to 3

lbs

white fish

,

halibut, mahi-mahi, or cod

2 to 3

tablespoons

Mediterranean seasoning blend

1 to 2

tablespoons

olive oil

(affiliate link)

,

or avocado oil

1 to 2

lemons

,

freshly squeezed
MEDITERRANEAN SEASONING BLEND
Instructions
Line a baking sheet with parchment paper.

Sprinkle each each piece of fish with Mediterranean Seasoning Blend.

Bake for 10 to 12 minutes.

OPTIONAL: Turn the oven to broil and broil for 2 to 3 minutes.

Remove from oven and rest for 5 minutes before serving.
Laura's Tips + Notes
Alternative proteins: Salmon, Chicken, Tofu
Serve with a big salad and Lemon Tahini Dressing OR Build the Mediterranean Meal Prep Bowl.
Store leftovers in an airtight container for up to a week.
YOUR OWN NOTES
Sign In to add your own private notes
Nutrition
Serving:
6
ounces
Calories:
198
kcal
Carbohydrates:
2
g
Protein:
35
g
Fat:
5
g
Saturated Fat:
1
g
Cholesterol:
85
mg
Sodium:
979
mg
Fiber:
1
g
Calcium:
90
mg
Iron:
2.8
mg
Beast Bowl Nutrition | The Cookbook
If you need more healthy recipes, check out the cookbook. BEAST BOWL NUTRITION will give you all the recipes you need to build a weekly meal prep routine that isn't boring. No more steamed broccoli and flavorless chicken.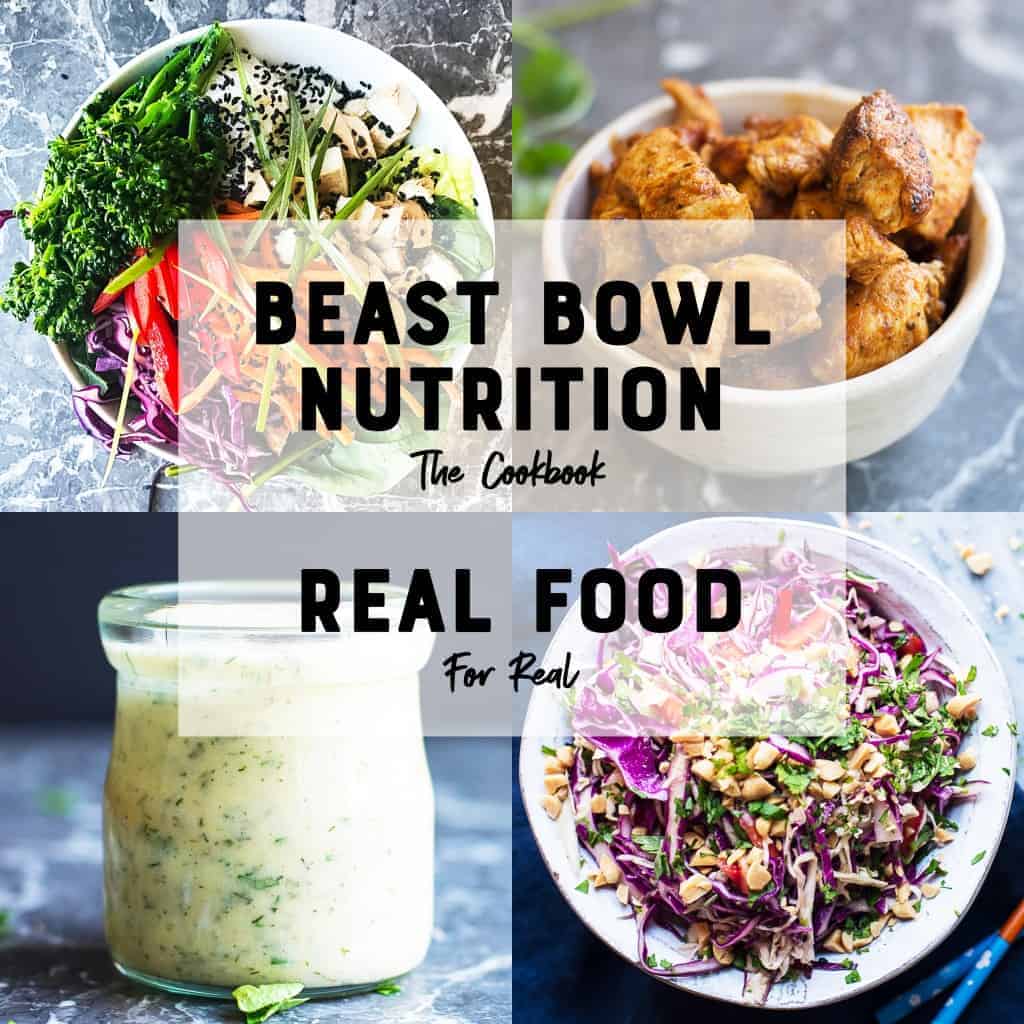 Get the details
Over 100 macro balanced recipe that are perfect for meal prep.
Core Proteins
Tasty Sides
Dressings and Sauces