How To Cook Quinoa—The Ultimate Guide!
Quinoa is having a moment. Celebs like Gwyneth Paltrow and Kim Kardashian are crediting it for their amazing physiques, and foodies everywhere are singing its praises for its high-quality protein and fiber content. But what the heck IS quinoa, anyway? And how do you cook it? Keep reading to find out!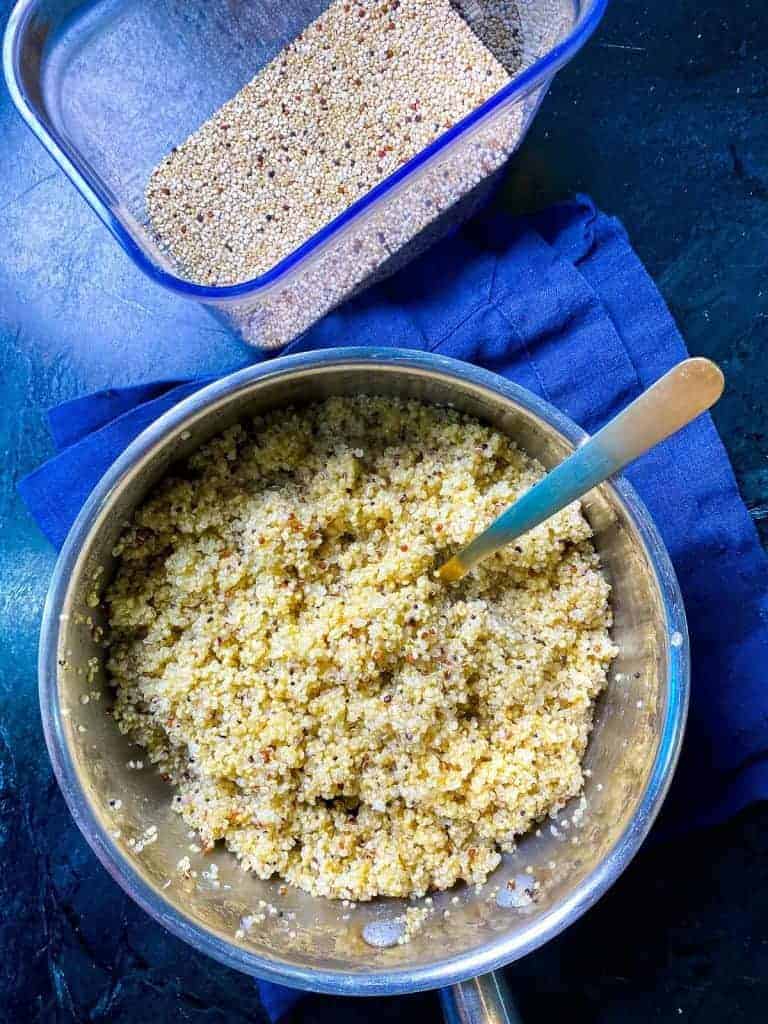 First of all, let's discuss—What is quinoa (pronounced "keen-wah")?
Quinoa is a seed that is often substituted for rice because of its nutritional composition.
If you thought that quinoa was a grain, you're not alone. Quinoa is considered to be a complete protein, and it is valued for its macronutrient balance.
Quinoa is harvested from a plant called chenopodium quinoa, native to Peru, Bolivia, and Chile in South America. Interestingly enough, the quinoa plant is related to beets, chard, and spinach.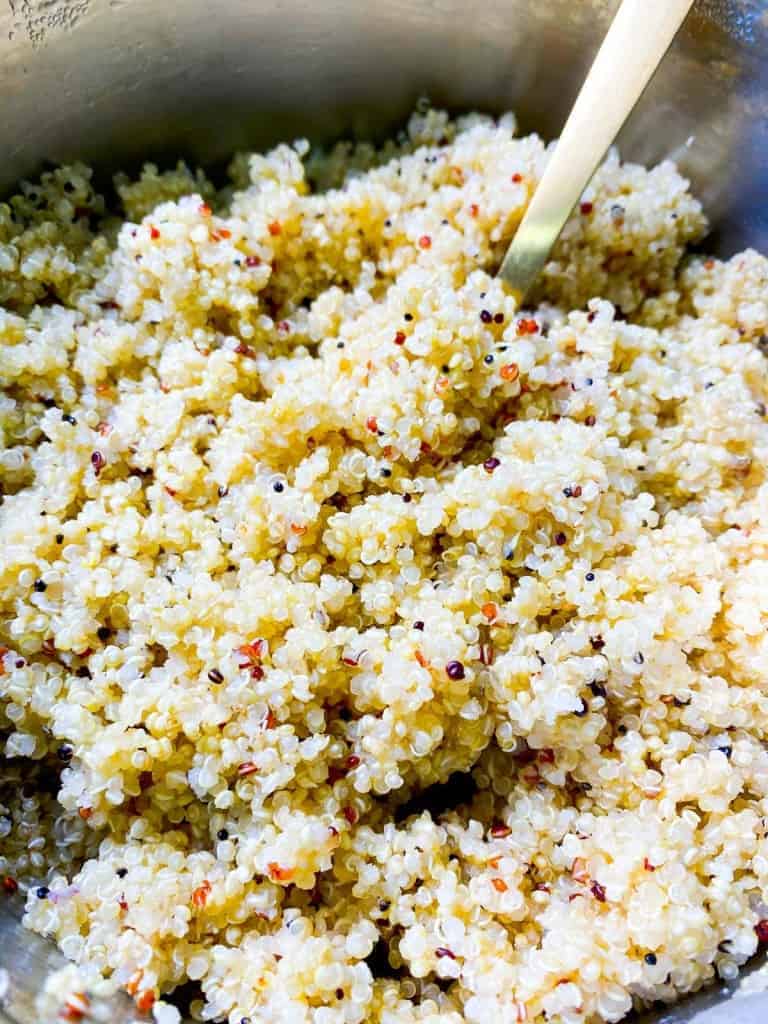 What you'll love about tiny seed
Fast: Quinoa takes less than 20 minutes to prepare.
Tasty: Quinoa has a nutty flavor that adds flavor to salads. You can also use it as the base to build your favorite quinoa bowl recipe. Try out my personal favorite, the Mediterranean Quinoa Bowl.
Nutritious: Quinoa is high in protein and fiber. It has been shown that a diet high in protein and fiber may help you lose weight or maintain a healthy weight.
Couscous vs. Quinoa
Couscous is made of crushed durum wheat. Quinoa can be used as a substitute for recipes that call for Mediterranean Couscous (the smallest variety of couscous) if you're sensitive to gluten.
Quinoa vs. Rice
Quinoa has more protein, more fat, and more fiber per serving than white rice. Thanks to its higher fiber content, it's lower on the glycemic impact scale!
Recipe Notes
To make quinoa, you only need one ingredient: quinoa! Well, and water. But we all have that at home, usually.
What you'll need to cook quinoa
You only need a few things to whip up a pan full of fluffy, perfectly cooked quinoa.
Quinoa: There are several varieties of quinoa: red quinoa, white quinoa, black quinoa, and rainbow quinoa, which is a mixture of all three.
Strainer: A fine mesh strainer will help you to rinse the quinoa well.
Water: 1 and 3/4 of a cup of water for every cup of quinoa.
How to cook quinoa
Quinoa cooks pretty quickly. I almost always cook it on the stovetop. You can also cook quinoa in a rice cooker or using an Instant Pot, but I find that these methods leave you with a mushier texture.
Step-By-Step Stove Top Directions
Step 1: Rinse
Start by rinsing the quinoa in a fine-mesh strainer for at least 30 seconds. This will remove any digestion-inhibiting saponins.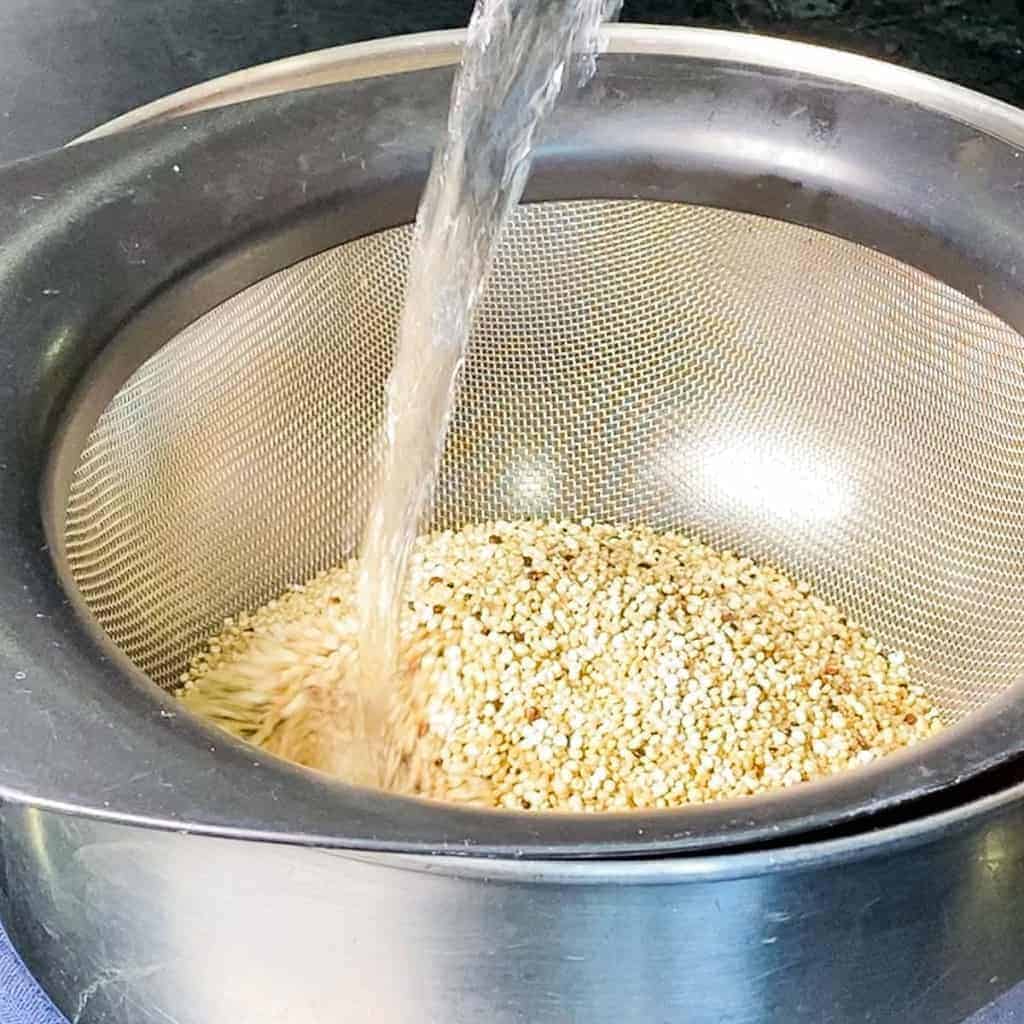 Step 2: Add to a pan
Add the quinoa and the water to a medium saucepan.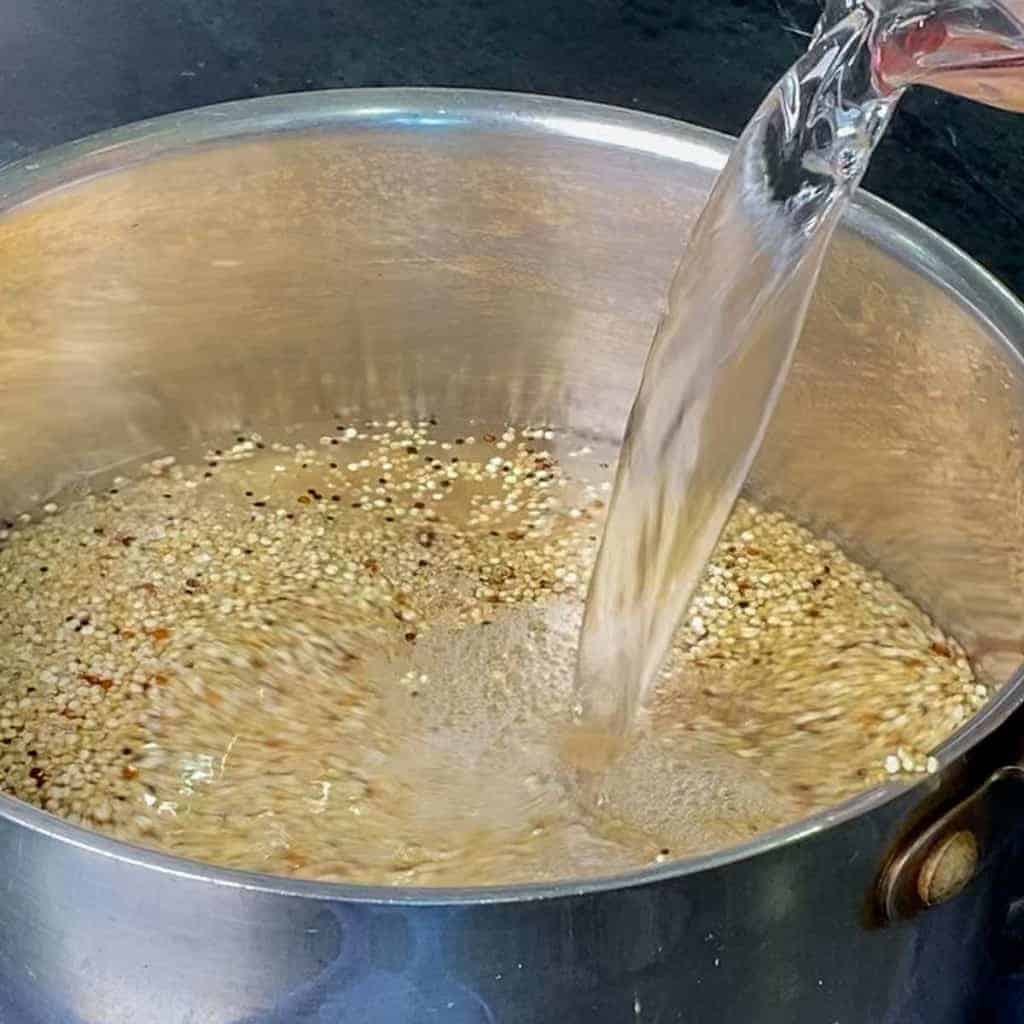 Step 3: Bring to a boil
Place the quinoa on the stovetop and turn the heat to medium-high. Allow the quinoa to come to a boil and then reduce the heat to simmer.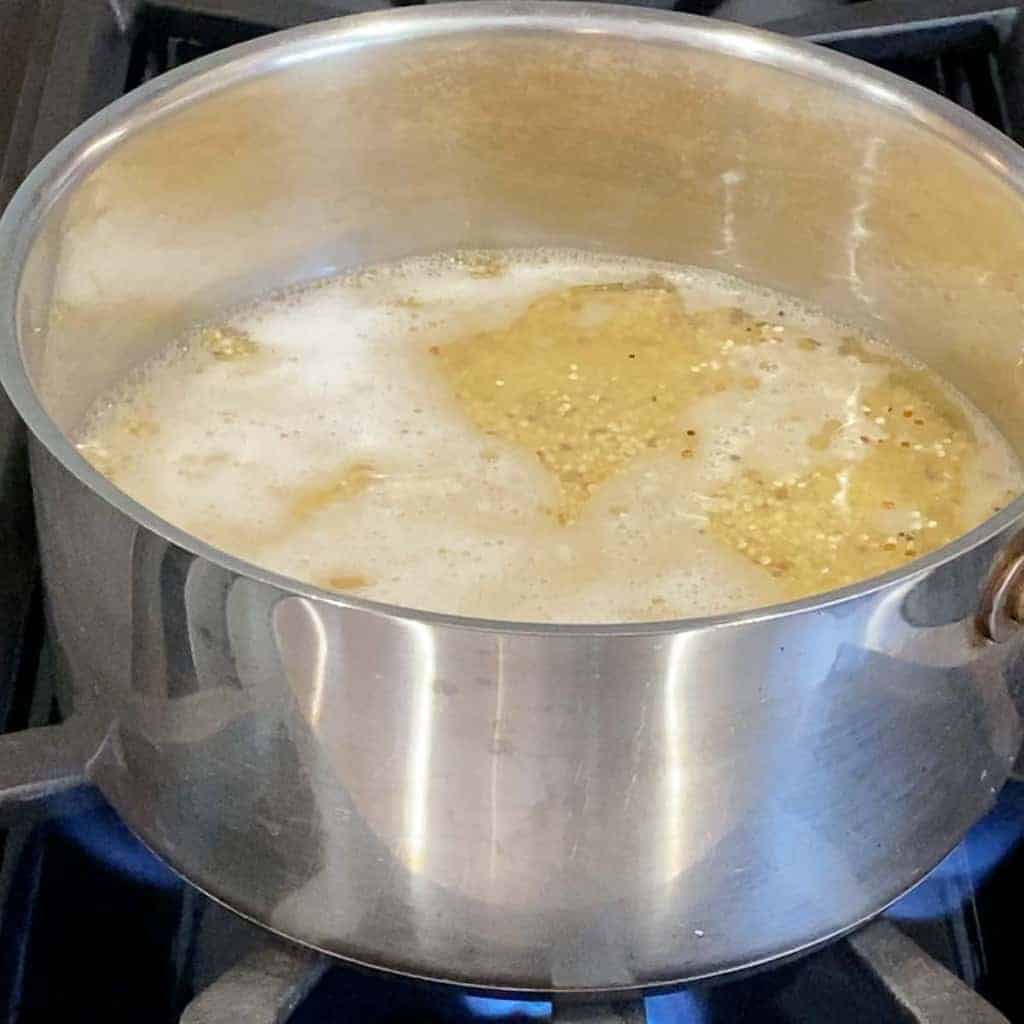 Step 4: Simmer
Simmer the quinoa until all of the liquid is absorbed.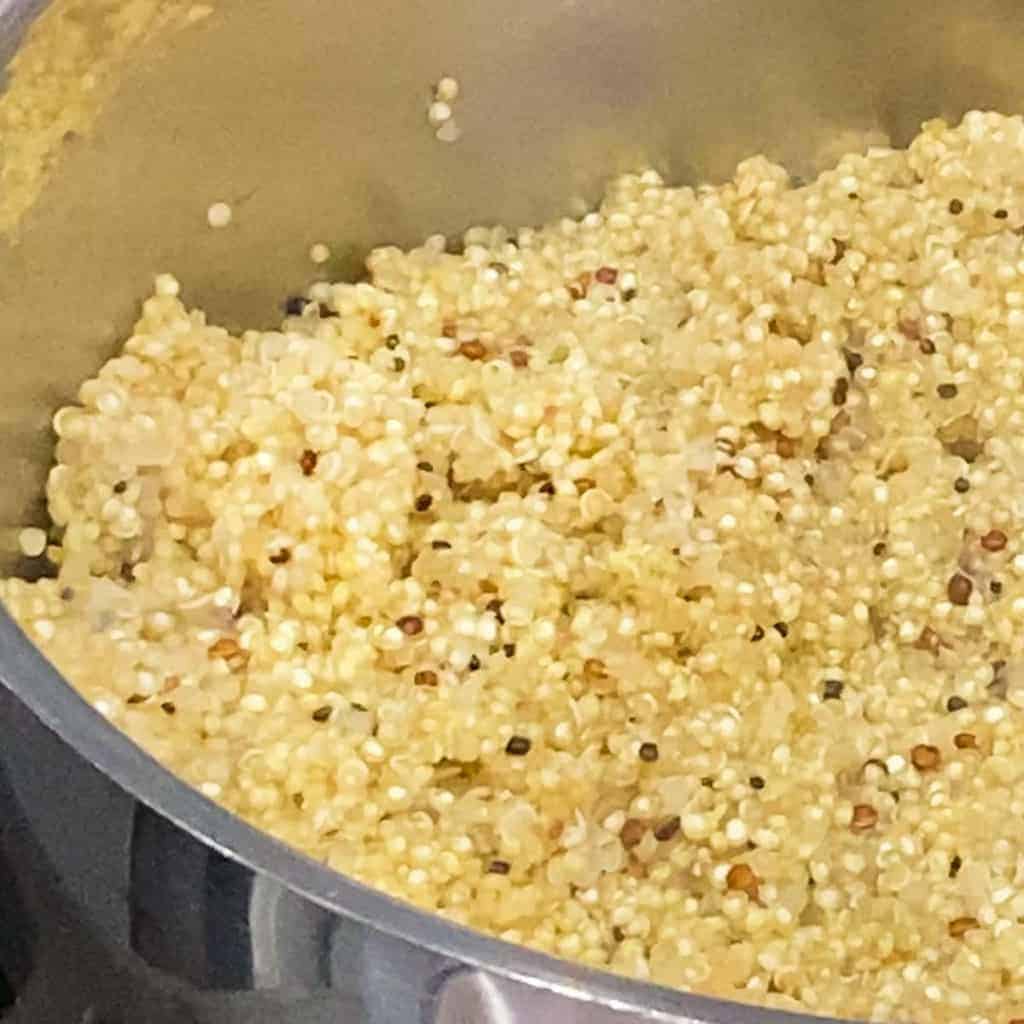 Step 5: Cover
Remove the quinoa from the heat and cover with a lid. Allow the quinoa to steam off the heat for 5 to 10 minutes before fluffing.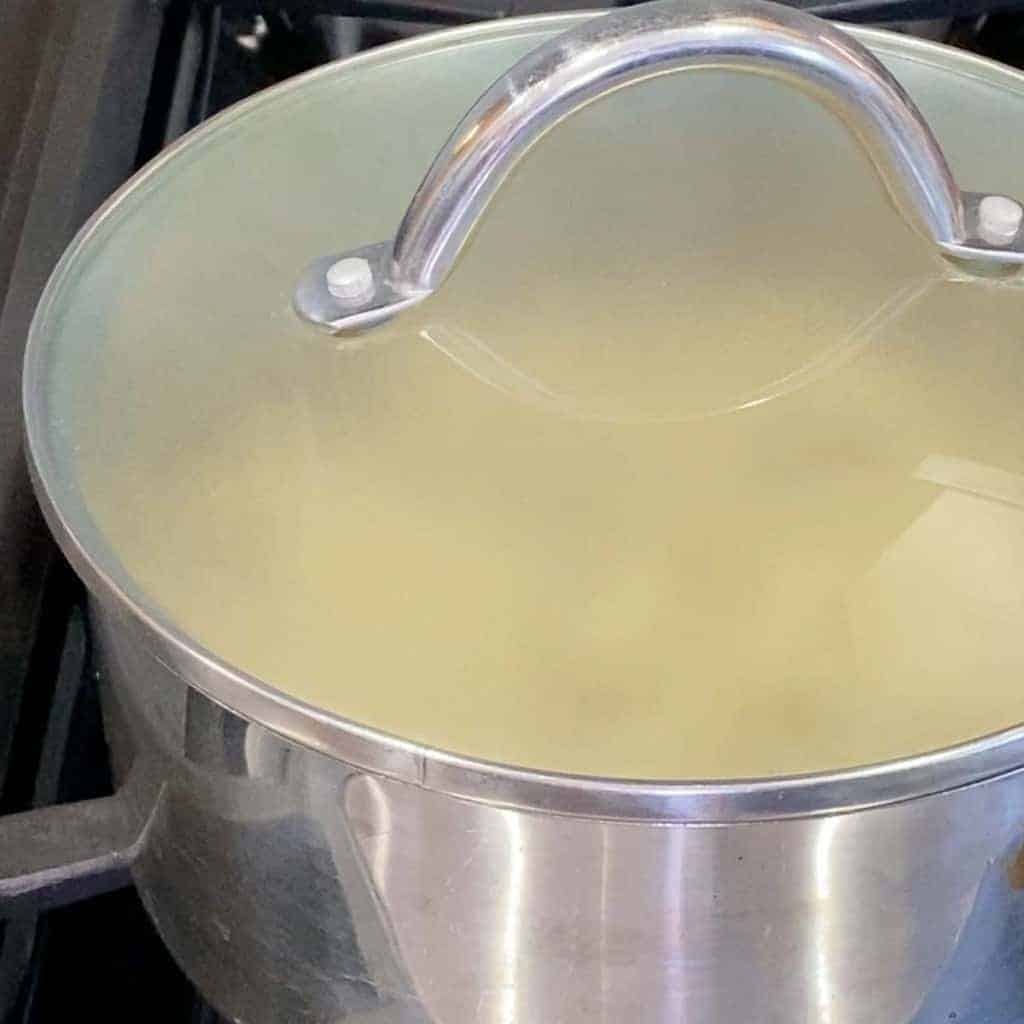 Step 6: Fluff
Use a fork to fluff the steamed quinoa. Now you have perfectly cooked quinoa!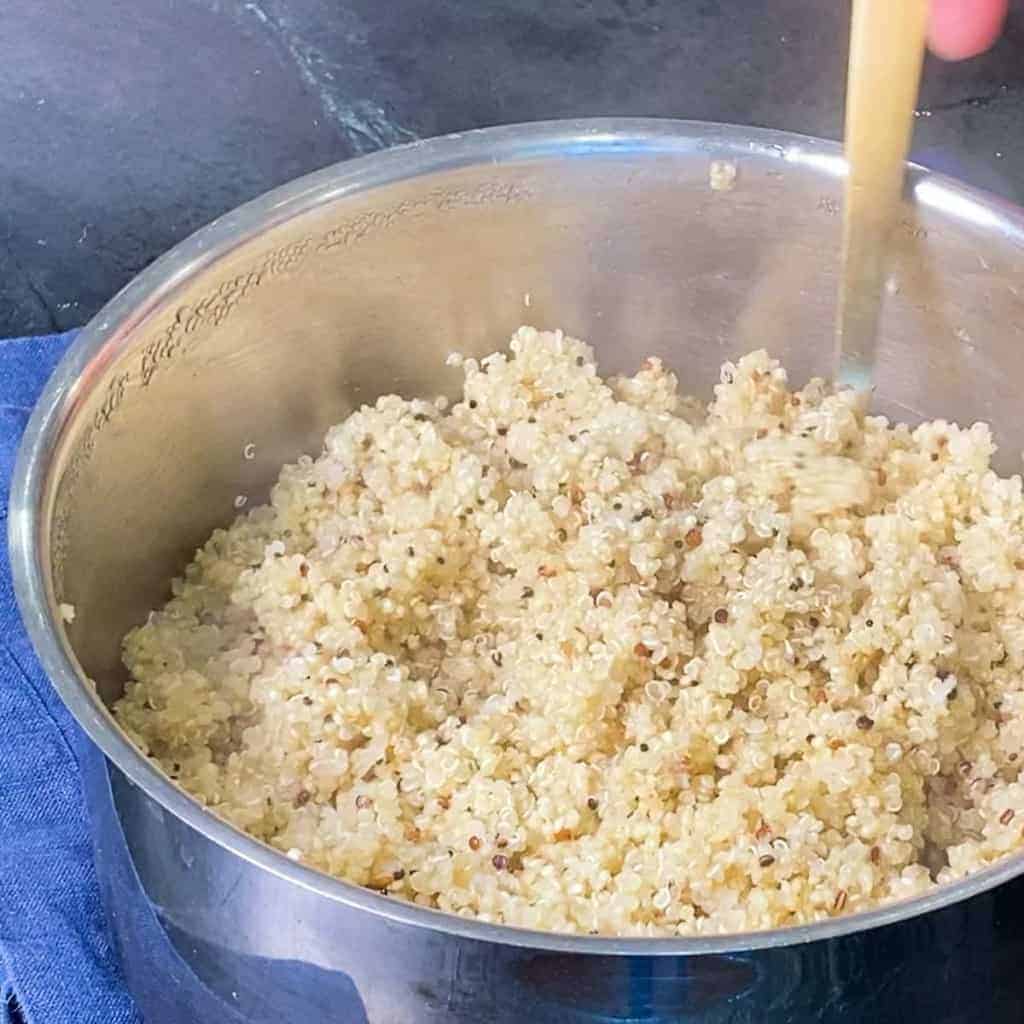 Ways to Serve Quinoa
My favorite way to eat quinoa is in my Mediterranean Quinoa Bowl.
More Quinoa Recipes
FAQs and Expert Tips
Is quinoa good for you?
According to the USDA National Nutrient Database, 1 cup of cooked quinoa contains:
222 calories
8 grams of protein
3.5 grams of fat
39 grams of carbohydrates
5 grams of fiber

Quinoa is considered a complete protein because it contains all of the essential amino acids that our bodies cannot make on their own.

Quinoa should be rinsed thoroughly before cooking to remove saponins, which can cause inflammation and reduce the digestion and absorption of protein.
Is quinoa gluten-free?
Yes, quinoa is gluten-free. If you are gluten intolerant, quinoa is safe to eat as long as it has been processed in a plant that doesn't process wheat. (Or at least not on the same machines.)

Quinoa can also be processed into a flour that can used for baking and making pasta.
Is quinoa keto?
No, quinoa is not considered keto. However, quinoa is only a 53 on the glycemic index, which is considered to be a low score.

Therefore, quinoa does not spike your blood sugar, making it much more keto-friendly than other carb foods. (In comparison, white rice is a 73 on the glycemic index.)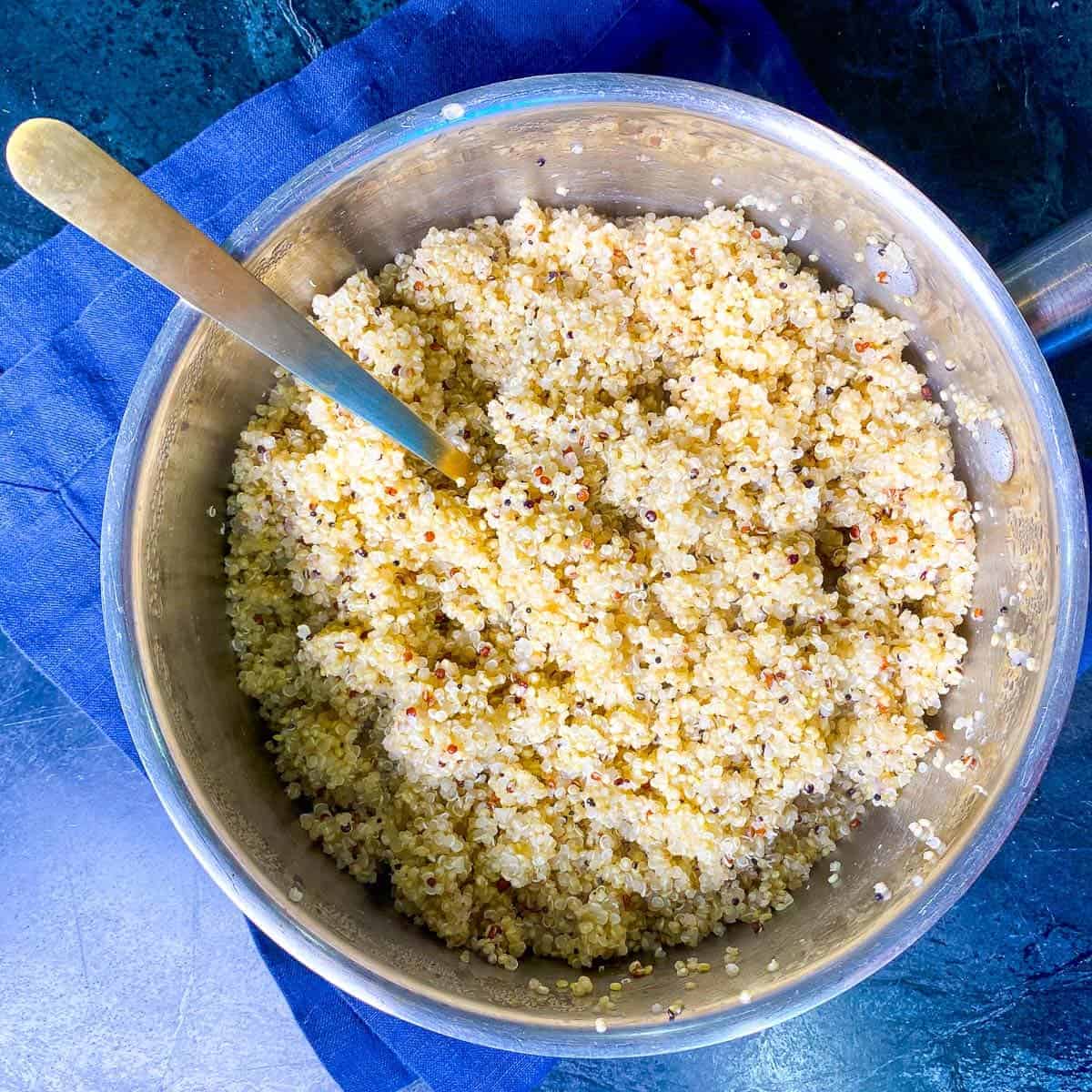 How To Make Quinoa
The ultimate guide to making perfect fluffy quinoa, every time. Each cup of dry quinoa yields 3 cups of cooked quinoa.
Instructions
RINSE: Place the quinoa into a fine mesh strainer and rinse under cool water for at least 30 seconds.

COMBINE: Add the quinoa, salt, and water to a medium saucepan. Bring to a boil over medium-high heat.

REDUCE: Reduce the temperature to a simmer and allow the quinoa to cook until all of the water is absorbed. This can take 10 to 20 minutes. .

COVER: Remove the saucepan from the heat and cover. Let the quinoa sit for 5 to 10 minutes.

FLUFF: Remove the lid and fluff with a fork.
Laura's Tips + Notes
SERVINGS SUGGESTIONS: I usually add a drizzle of olive oil and sometimes massaged lacinato kale to cooked quinoa. I serve it with my Mediterranean Meal Prep Bowl.
Quinoa is a great substitute for Moroccan Couscous if you're avoiding gluten.
STORAGE SUGGESTIONS: Leftover quinoa can be stored in the fridge in an airtight container for up to a week.
YOUR OWN NOTES
Nutrition
Calories:
156
kcal
Carbohydrates:
27
g
Protein:
6
g
Fat:
3
g
Saturated Fat:
1
g
Sodium:
153
mg
Fiber:
3
g
Calcium:
23
mg
Iron:
2
mg