Chocolate Sandwich Cookies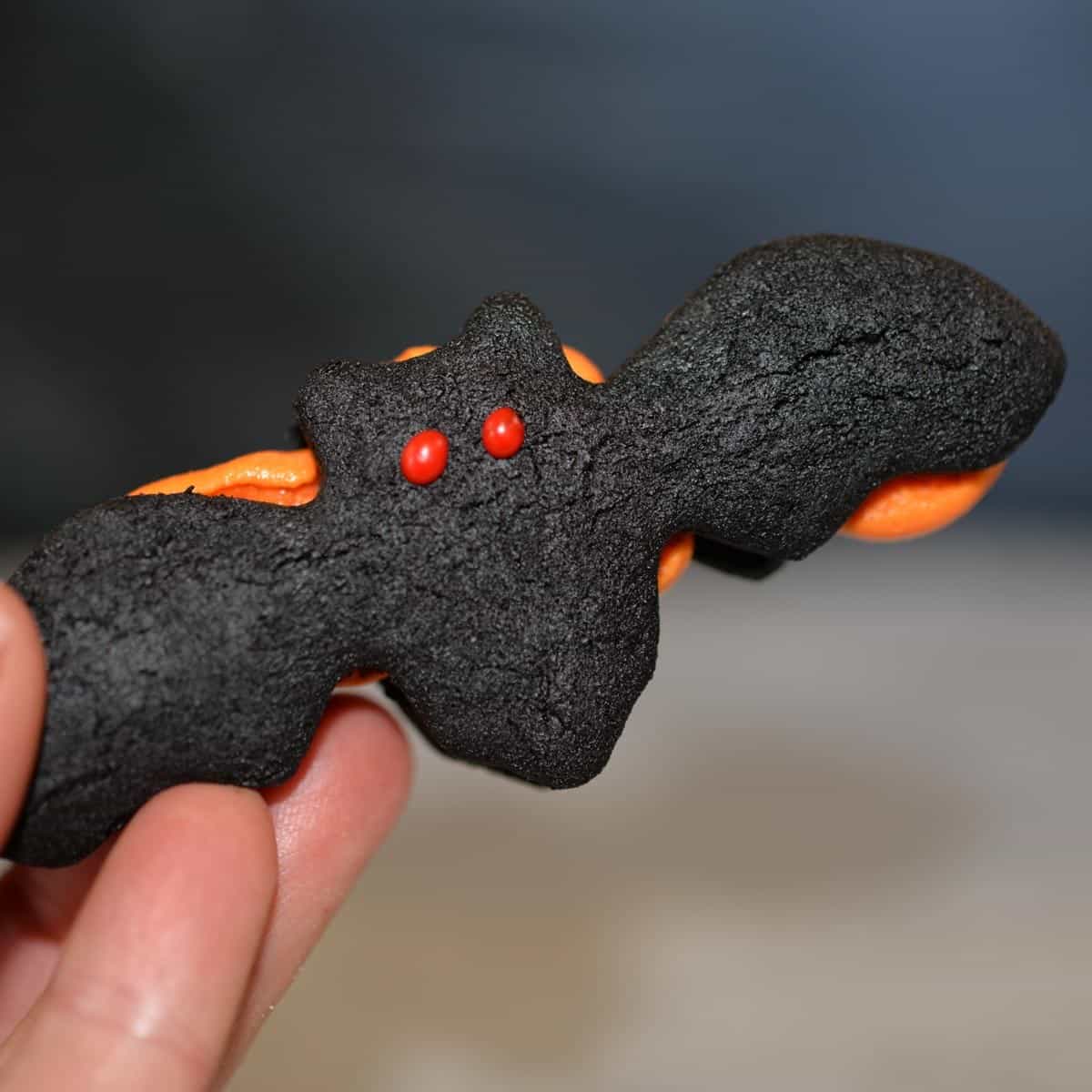 Recipe
Comments
Save
Go to Collections
This post may contain affiliate links. Please read my
disclosure policy.
I don't know about you, but Oreos are my favorite sweet treat. This dark chocolate sandwich cookie is the homemade gourmet version of Oreos.
For Halloween, you can make these cookies in fun shapes, like these adorable bat cookies.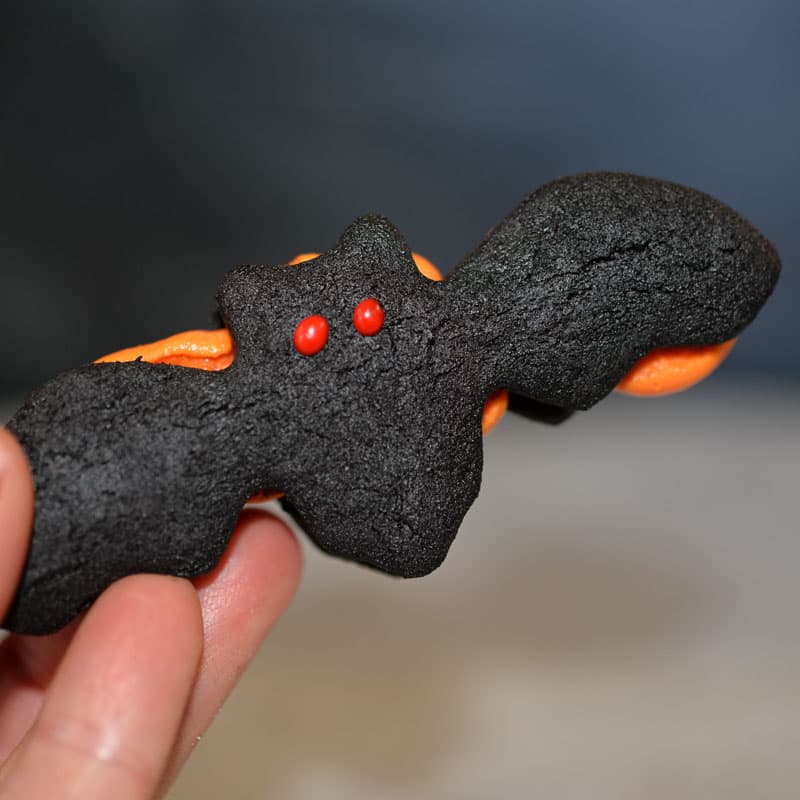 Coming up with Halloween party food recipes is one of my favorite types of recipes to create. I love finding creative and creepy ways to serve fun savory Halloween party treats.
If you haven't seen my Savory Parmesan Monster Fingers, then you need to check them out.
A recent trip to Austin, Texas inspires this bat oreo cookie
If you didn't know this fun fact already, Austin Texas has the largest bat population in the county. For a few species, in the actual world.
What? Yeah, I didn't realize this when I first got there.
While I was staying at my hotel, which happened to be located at one end of the Congress Street Bridge, I found out that 1.5 million bats come out every single night to feed on 30 thousand pounds of insects.
These bats live under the Congress street bridge right on the edge of Austin's bustling downtown. Every single night at sunset these bats exit their lair, which takes about 3 hours.
Watching the bats was surreal. I couldn't believe how many of them there were. But secondly, how many mosquitos would be in Austin without these bats and their insect control service? The city of Austin thanks you!
These cute Halloween cookies are a cutout cookie
What that means is that you will need to roll out the cookie dough like a sugar cookie dough and use cookie cutters (affiliate link) to cut out whatever shape you want.
I decided to make my chocolate sandwich cookies as bats. I also created a simple round sandwich cookie filled with a bright Frankenstein green buttercream. You can make these cookies as fancy or as simple as you want to.
Chocolate cookies are one of my favorite kinds of cookies. Especially Oreos! I'm usually a baked goods snob. I don't bother with packaged cookies at all, except for Oreos.
There's something right about the deep dark chocolate cookie and the irresistible creme filling. I'm sharing the secret!
I had to pick up a bat cookie cutter at one of the gift shops.
Wherever I travel, I am always looking for how to bring something back to cook.
Sometimes I am inspired by a local dish I've never tried. Sometimes the inspiration comes in the form of a story. I live my life through food and my memories, and I love sharing them with you!
Here are some Halloween cookie cutters
Just in case you don't already own your own bat cookie cutter. These can be used for these chocolate sandwich cookies or for making Halloween sugar cookies.
What You'll Need homemade Oreo recipe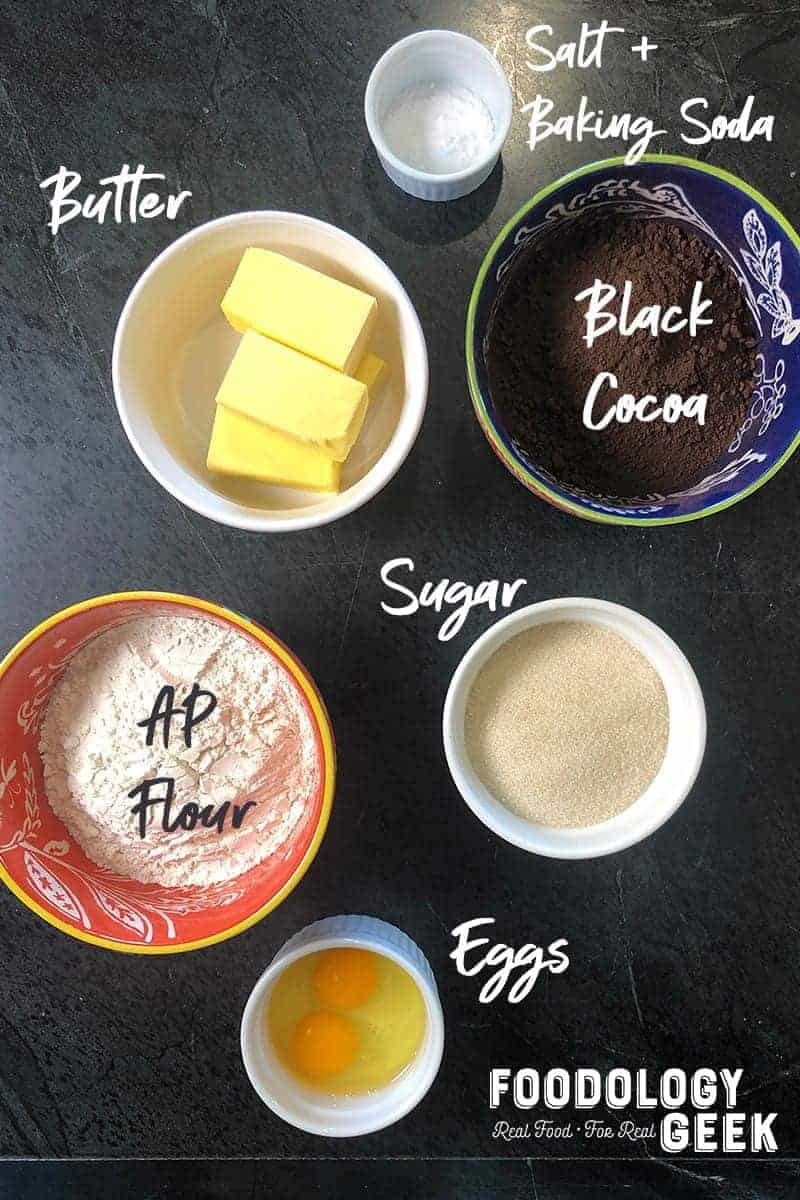 Step 1—Start with the basic cookie ingredients
Butter
Flour
Sugar
Eggs
Salt
Baking Soda
Black cocoa

(affiliate link)
Black cocoa is ultra-processed Dutch cocoa. This extra processing gives this version of unsweetened cocoa powder that extra dark color and extra dark cocoa flavor that you will recognize if you've ever mowed down a row of Oreos.
Step 2—Make The chocolate cookie dough
Start by creaming the butter and the sugar together.
Add in the eggs one at a time. Beat until fluffy.
Add in the dry ingredients. Mix until the dough is just coming together.
Turn the dough out on parchment paper. Smoosh it all together with your hands.
Wrap it up in the parchment and store it in the fridge for about an hour before rolling it out.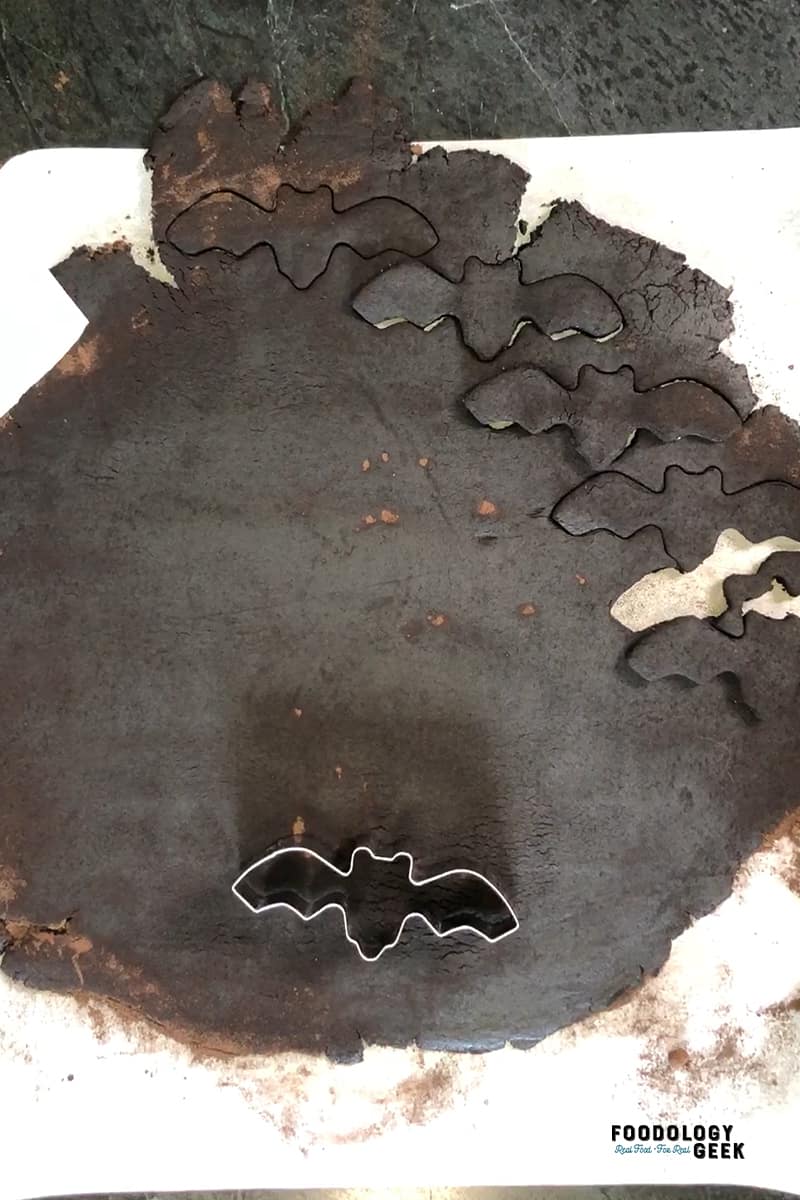 Step 3—Cut Out the Cookie Dough
Cut the chilled dough in half. Working with one-half of the dough is more manageable.
Form the dough you are working with into a compact disc or rectangle and press flat.
Add parchment paper over the top. With a rolling pin

(affiliate link)

, roll out to the desired thickness. (Use thickness guide rings

(affiliate link)

to make this easier.)
PRO-TIP: This dough isn't super sensitive to overworking because it has a high concentration of cocoa and not as much flour. Therefore, this dough is perfect for rolling out, smashing back together, and re-rolling out without ending up with tough and chewy cookie dough.
Bake the dough and crumble to make crushed Oreos. Top ice cream.
How to make sandwich cookies.
Hungry For More Treats for Halloween?
Whenever I host a Halloween party, I have a few favorite dishes that I serve up.
Delicious parmesan shortbread in the form of edible monster fingers— Anyone? If you are looking for Halloween treat ideas 😜— I'm your girl! If you…
Creepy bleeding cupcakes are a fun Halloween dessert! This Halloween cupcake is a deep, dark devil's food chocolate cupcake filled with a dark cherry and…
Leave A Review
Did you make this recipe? Leave a comment and a 5 ★ review. Your feedback helps other readers and helps me continue to offer recipes at no cost. Happy Cooking!!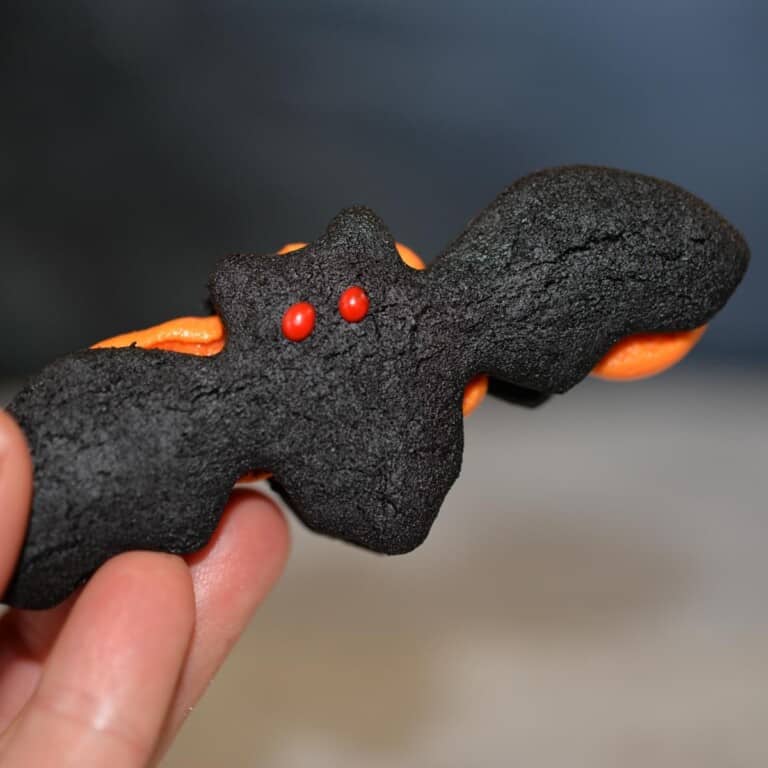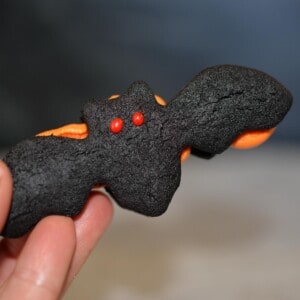 Halloween Cookies (Bat Oreos)
These cookies are basically homemade gourmet oreo cookies. The dark chocolate cookie dough can also be baked alone and then crushed or crumbled on top of ice cream.
Ingredients
Dark Chocolate Cookie Dough
Instructions
Cookie Dough
Add the flour, cocoa powder, and baking soda to a medium bowl. Whisk to combine. Set aside.

Cream the butter, sugar, and salt with a mixer until the butter is light and fluffy.

Add the eggs one at a time. Mix each one in with the mixer.

Add one half of the flour mixture. Mix in slowly until just combined.

Add the second half of the flour mixture. Mix in slowly until just combined.

Turn out the dough onto a piece of parchment paper and press together with your hands until the dough forms a consistent mass.

Fold the parchment paper over the dough and refrigerate for about an hour.*
Butter Cream
Cream the butter, using a mixer, until it is light and fluffy.

Add in the confectioner sugar.

Start the mixer slowly and incorporate the sugar.

Once the sugar is incorporated add the vanilla paste.

Turn the mixer on high until the buttercream is a thick, fluffy consistency.

Add the milk if you need to adjust the consistency.

Set the buttercream aside and preheat the oven to 350°F
Rolling and cutting the cookie dough.
Preheat oven to 350°F (325°F if using convection)

Line your cookie sheet with parchment paper.

Cut the dough in half and place one half on a large piece of parchment paper.

Press slightly to flatten the dough.

Cover the dough with a second piece of parchment paper.

Roll out the dough to a thickness of ¼ inch. (use rolling pin guards)

Remove the parchment paper from the top and then dust the top of the dough with about one tablespoon of cocoa powder. Spread over with hands.

Return the parchment to the top side and then flip the dough over.

Remove the parchment paper from the second side and dust this side with an additional tablespoon of cocoa powder. Spread over with hands.

Cut out as many rounds as you can.

Place each round on the parchment-lined baking sheet. Cookies can be close, there is very little spreading.

Gather up the remaining dough, smash it together and continue to roll the dough out between parchment paper until you have enough rounds to fill your baking sheet.

Bake for 12 minutes. Watch closely as oven temperatures vary.

Place the cookies on a wire rack to cool.

PRO TIP: Simply slide the enter pied of parchment with all the cookies onto the rack.

Repeat the rolling out and baking until you have used all of your dough.

Any remaining dough scraps can be baked and then saved for crumbling on top of ice cream.
Laura's Tips + Notes
Dough can be refrigerated over night. When you are ready to use it remove it from the refrigerator and let it sit at room temperature for about 30 munite before rolling.
Dough can also be frozen for a few months.
YOUR OWN NOTES
Sign In to add your own private notes
Nutrition
Calories:
201
kcal
Carbohydrates:
26
g
Protein:
2
g
Fat:
11
g
Saturated Fat:
7
g
Cholesterol:
36
mg
Sodium:
151
mg
Fiber:
1
g
Sugar:
19
g
Calcium:
10
mg
Iron:
1
mg