This ultra-easy cake recipe is a super dark chocolate cake with a hint of coffee flavor. It's wonderfully delicious! Mocha cake is one of my favorite chocolate cake recipes because it's always perfectly moist and never too sweet.
This mocha cake recipe is a cake recipe that was given to me by my good friend Kit.
Her Aunt Cherie used to make this cake for her when she was growing up! It used to be her go-to birthday cake recipe!
We made this cake one afternoon and I fell in love with so many things about this rich but fluffy and moist cake.
What you are going to love about this recipe
Minimal Ingredients: It only requires a few easy-to-find ingredients and has minimal instructions.
Fool-proof: It's impossible to mess up this chocolate cake.
Always Delicious: I can't think of a time that it hasn't come out moist and delicious.
Fluffy Mocha Frosting: The mocha cake frosting is so ridiculously fluffy. I love that it's not too sweet! It complements the rich dark chocolate cake perfectly.
PRO-TIP: You can also make this recipe as a sheet cake instead. It is YOUR cake!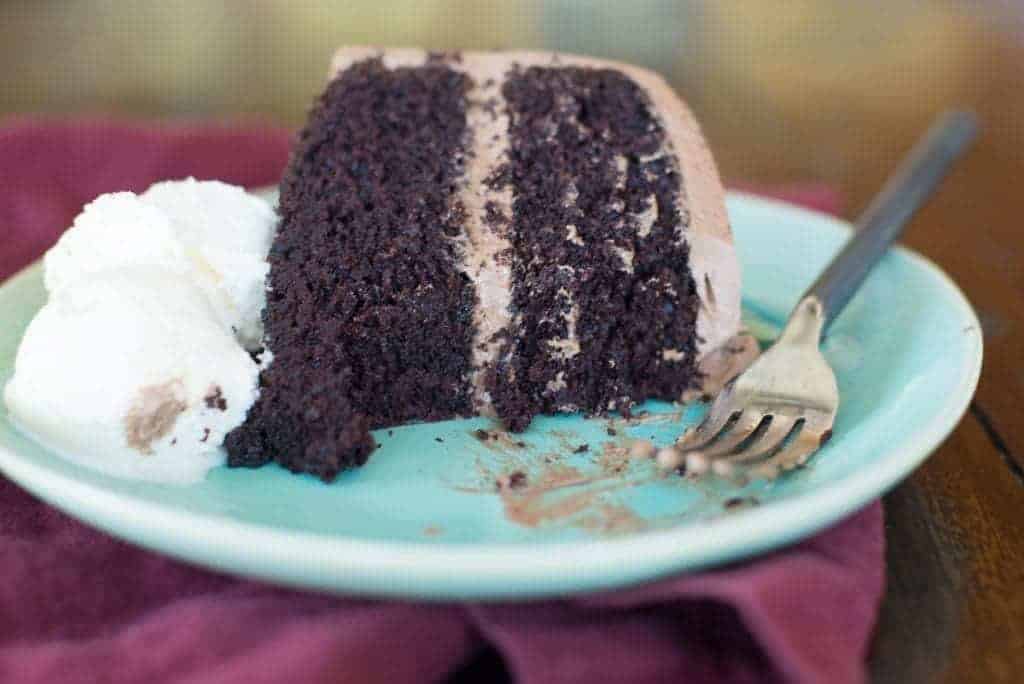 Foodology Geek Recipe Tips
Ingredients Needed For Mocha Cake with Chocolate Whipped Cream Frosting
Dry Ingredients: Sugar, all-purpose flour, and cocoa powder.
Leavening: Baking soda, baking powder, and salt.
Wet Ingredients: Eggs, milk, oil, strong brewed coffee, and vanilla extract.
Frosting: Heavy whipping cream, powdered sugar, vanilla, and cocoa powder.
How To Make a Mocha Cake
Get Ready to Bake: Preheat the oven to 350℉. Grease and flour 2 round cake tins.
Mix: Add ALL of the cake ingredients (except the coffee) to a large mixing bowl. Mix until everything is combined.
Add strong hot coffee: Then mix everything one more Time.
Bake: Bake the cake for about 30 minutes. If you have a probe thermometer the internal temperature of the cake should be about 205℉.
Cooling: Remove the cakes from the oven and let them cool completely before frosting, at least 2 hours.
How to make Mocha Cake Frosting
Make sure the heavy whipping cream is extra cold.
Add the ingredients to your mixing bowl. Besat until the frosting is fluffy and has stiff peaks.
FAQs and Variations
9 x 13 - inch cake pan: The baking Time may increase slightly for a 9 x 13-inch pan. I find it most accurate to use a probe thermometer to make sure the case is done without a doubt.
If you like this cake, I have a few more dessert recipes that you definitely should try:
Banana Cake with Cream Cheese Frosting
A wonderful change of pace from traditional Chocolate, Yellow, or White cakes. This delicious banana cake is great for any occasion from picnics to birthday parties!
SEE THE RECIPE
PIN FOR LATER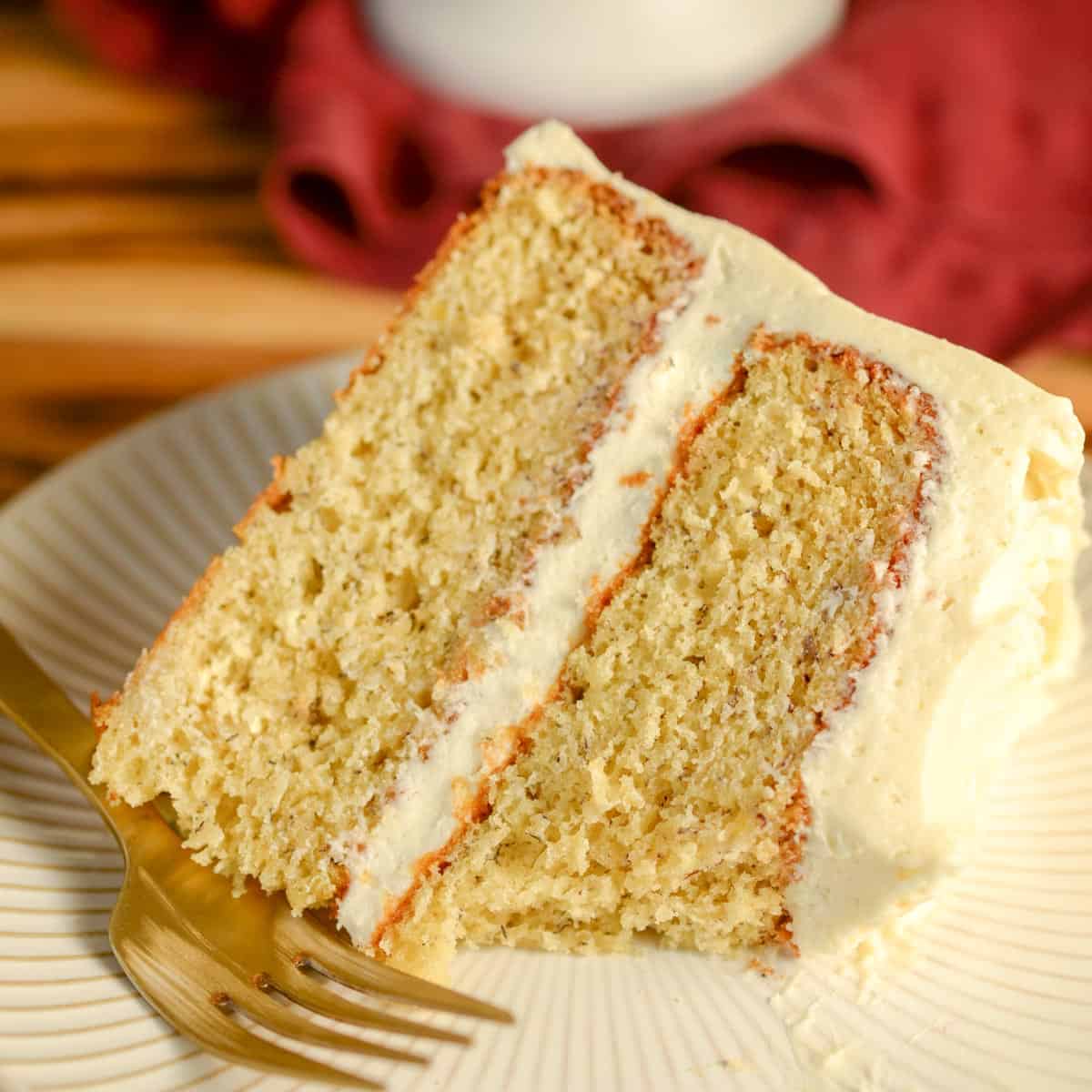 Homemade Apple Cake Recipe
This easy cake is an ideal any occasion. It's great for breakfast, can be taken to a potluck, stands on its own as dessert...or is right at home for any coffee break.
SEE THE RECIPE
PIN FOR LATER
Carrot Cake
This isn't your average carrot cake. Oh no, this recipe features a secret ingredient that takes it to the next level: pineapple! The sweet and tangy fruit pairs perfectly with the spices in the cake, resulting in a tasty cake that you'll love. Plus, it's easy to make - perfect for the days when you need some baking therapy. So go ahead and give it a try - we promise you won't be disappointed!
SEE THE RECIPE
PIN FOR LATER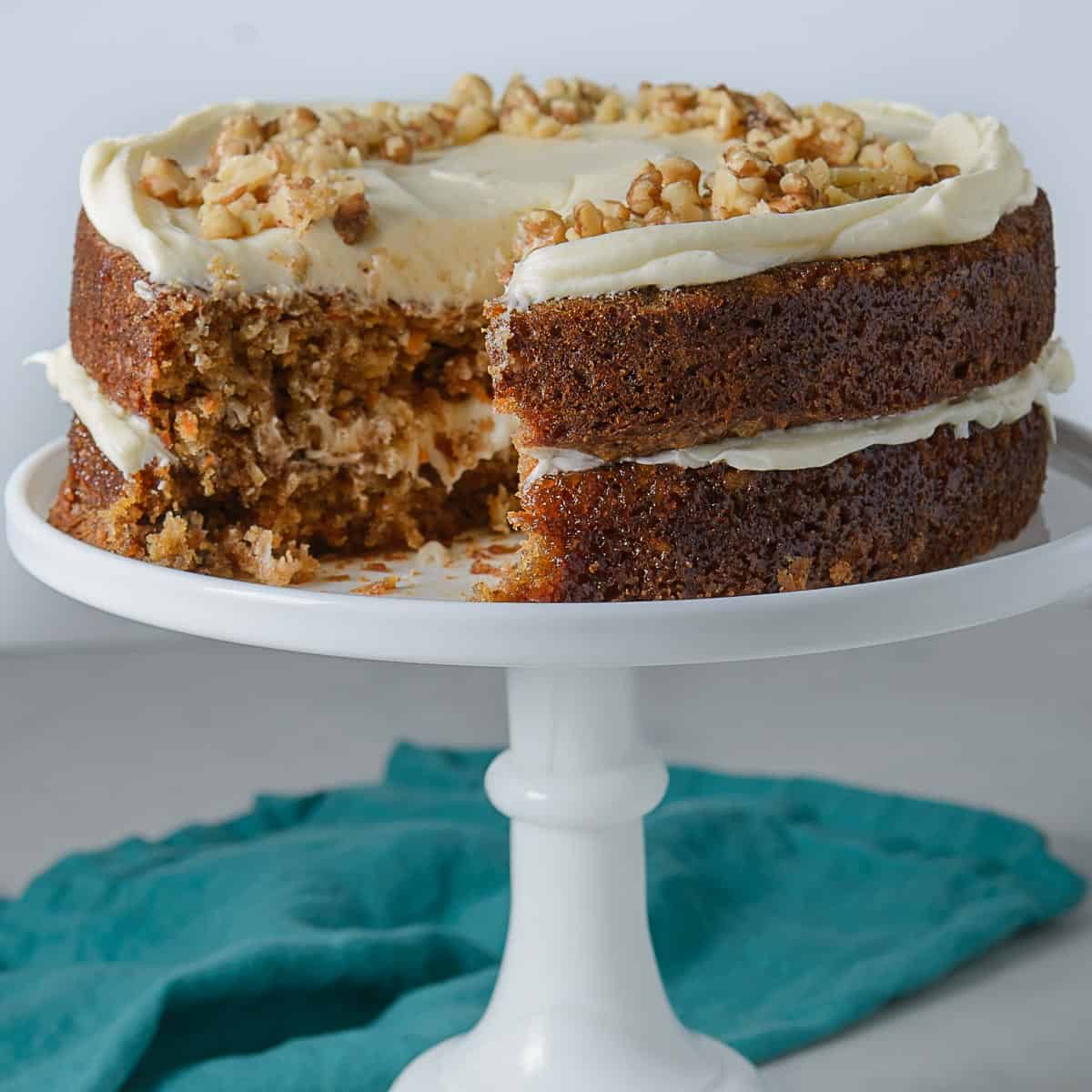 Vanilla Cupcakes
Ultimate Vanilla Cupcakes
This recipe is from our friend Stef at The Cupcake Project. She is the undisputed queen of cupcakes.
PIN FOR LATER
St. Patrick's Day Cupcakes
These rich dark chocolate Guinness cupcakes with Bailey's frosting are filled with Jameson's whiskey filling. Top them off with St. Patrick's day cupcake sprinkles.
Honestly, I could eat these cupcakes every day. They're moist and chocolaty and the Bailey's frosting is divine.
SEE THE RECIPE
PIN FOR LATER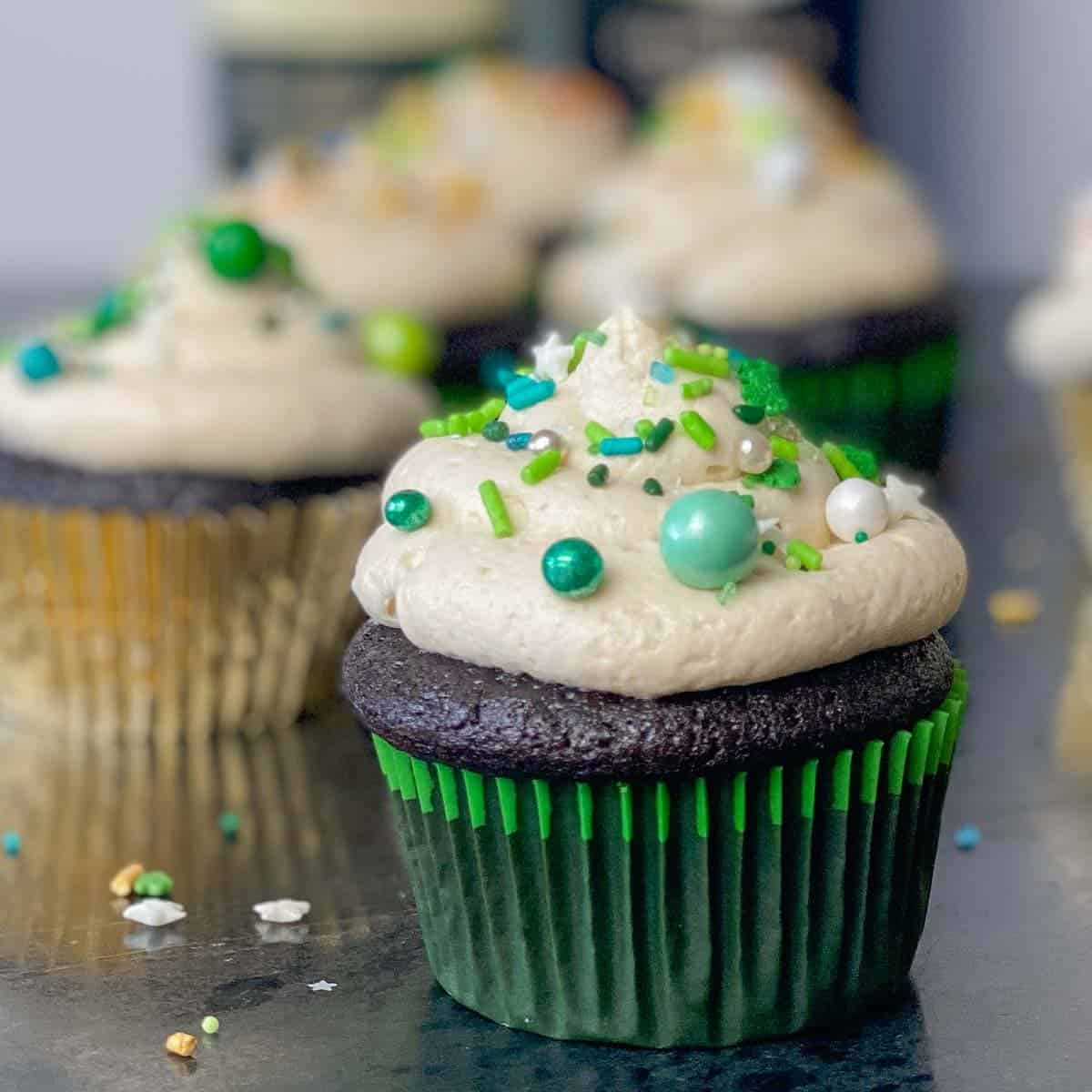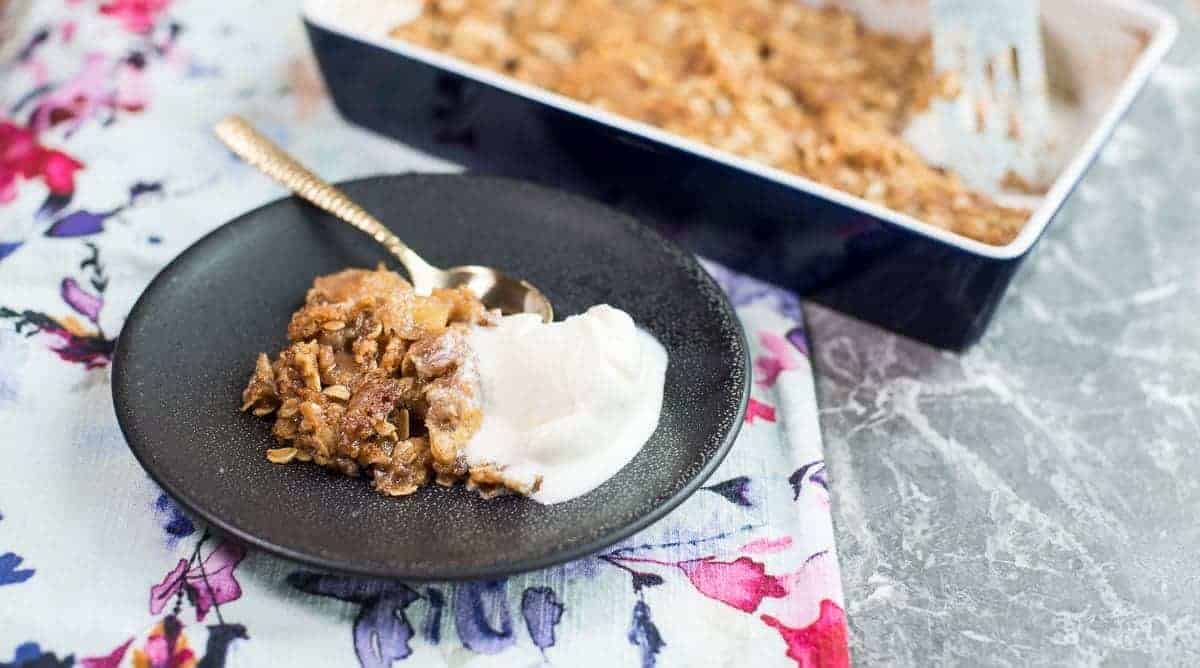 ➽ Did you make this recipe? I love to see what's going on in your kitchen. Please show me what you're cooking. 🍳 Tag me @foodologygeek on your favorite social channel! Facebook, Instagram & Pinterest. If you loved ❤︎ this recipe, please leave a five ★ review and a comment!
Dark Chocolate Mocha Cake
This delicious chocolate mocha cake is perfect for the first-time baker. It is EASY!
Instructions
Chocolate Mocha Cake
Grease and flour 2 - 9" round pans (or one 13" x 9" pan).

Combine all of the ingredients - EXCEPT the coffee. Mix until blended.

Add the hot coffee. Mix again.

Bake the cakes for 30 minutes or until a toothpick inserted in the center comes out clean. (Approx. 45 mins for 13" x 9" pan)
Whipped Chocolate Icing
Put all of the ingredients in a mixing bowl with beaters. REFRIGERATE AT LEAST 2 HOURS.

Beat until there are stiff peaks and the icing is a spreadable consistency.
Laura's Tips + Notes
Refrigerate or keep cool until ready to serve. This is NOT the cake to transport on a hot day! If you want to take it to a potluck, we recommend using a cream cheese icing instead. There are two on the site: Banana Cake and Cinnamon Rolls.
YOUR OWN NOTES
Nutrition
Calories:
488
kcal
Carbohydrates:
69
g
Protein:
5
g
Fat:
23
g
Saturated Fat:
16
g
Cholesterol:
55
mg
Sodium:
334
mg
Fiber:
2
g
Sugar:
49
g
Calcium:
65
mg
Iron:
2.1
mg