Spicy Carrots and Jalapeños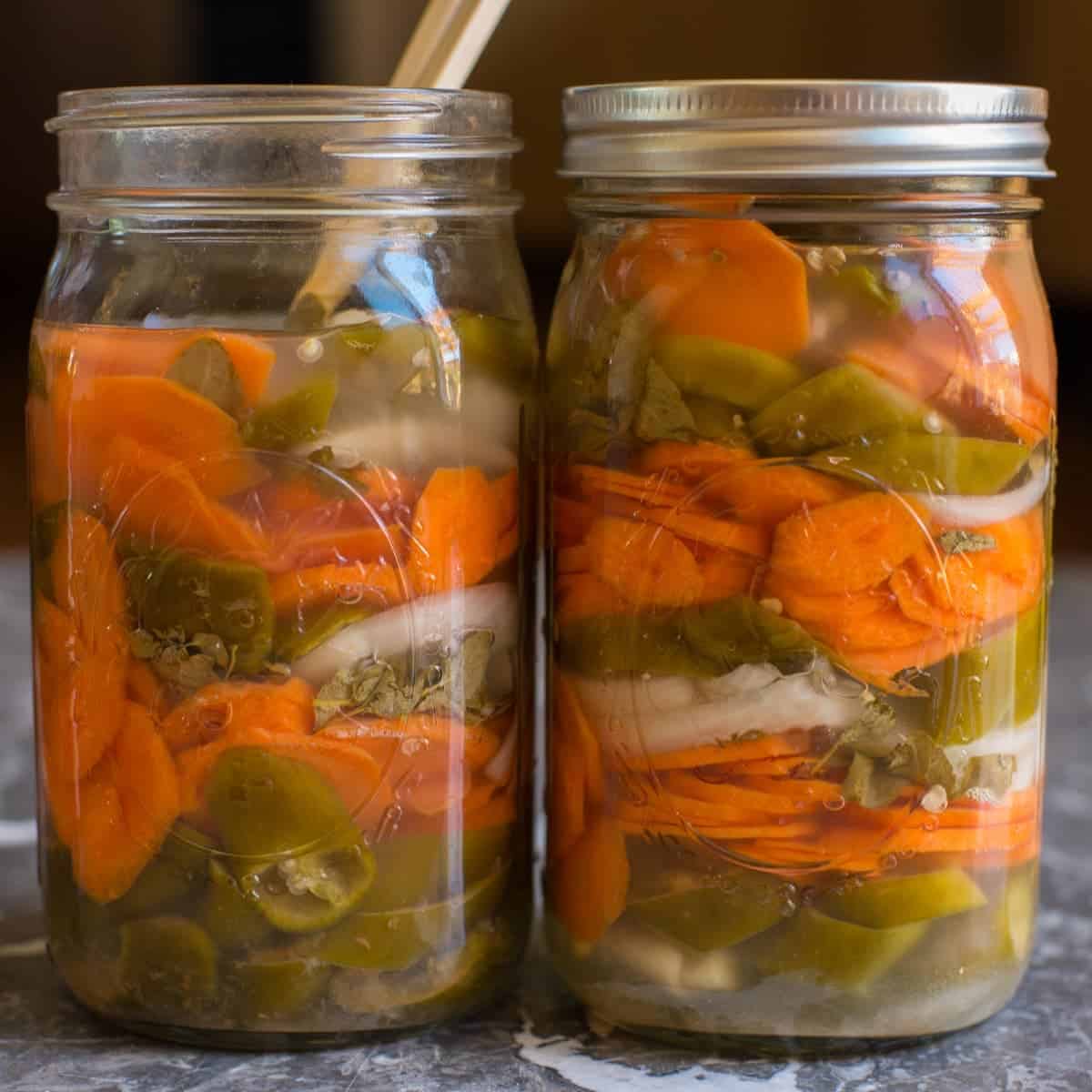 Recipe
Comments
Save
Go to Collections
This post may contain affiliate links. Please read my
disclosure policy.
This veggie combo is one of my favorites – the spicy jalapeños and carrots remind me of taco shops in Baja where the spicy carrots aka escabeche were always free at the salsa bar.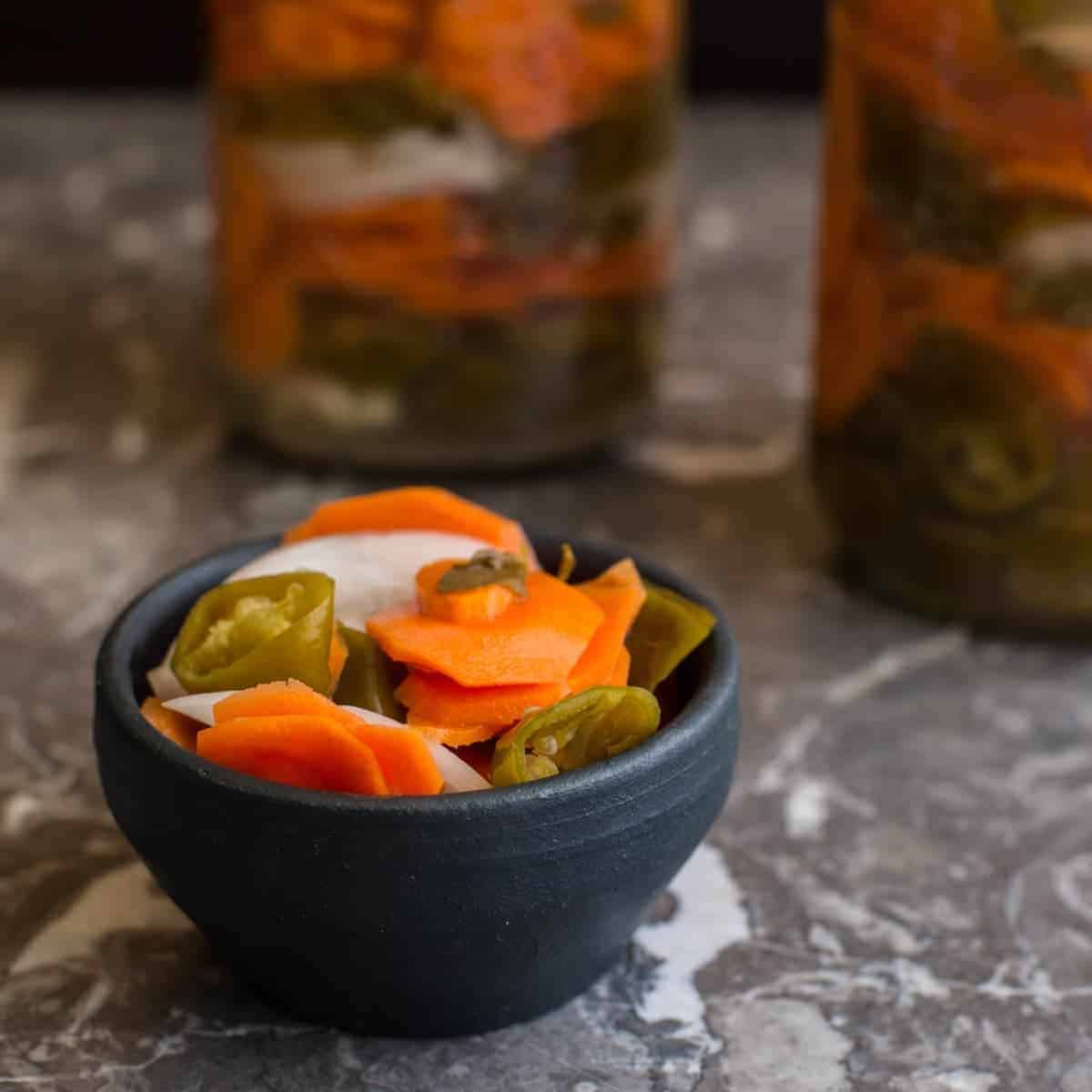 This is where I totally geek out!
I promised you a series on pickles and here it is!
I'm such a nerd when it comes to food, I can easily spend hours reading books about how to smoke the perfect brisket. I even own a book about butchery, so of course, I'm going to make my own fermented veggies!
Kimchi is my favorite, but these spicy carrots and jalapeños are a close second. They're spicy and crunchy and perfectly pickled.
These pickles are made in the classic lacto-fermented way.
This method can be used with almost any vegetable, and once you've done it a few times you'll wonder why you haven't tried this sooner.
Making homemade pickles and sauerkraut is not only super easy, but the result is also tasty and extremely beneficial for your health.
All You Need is your favorite veggie combination, Some Salt, and Filtered Water.
The magic takes place in a few mason jars.
This combo is one of my favorites – the spicy jalapeños and carrots remind me of taco shops in Baja where the spicy carrots were always free at the salsa bar.
Ahhh… summer days, grilled carne asada tacos, and spicy carrots – now that is the stuff summer memories are made of!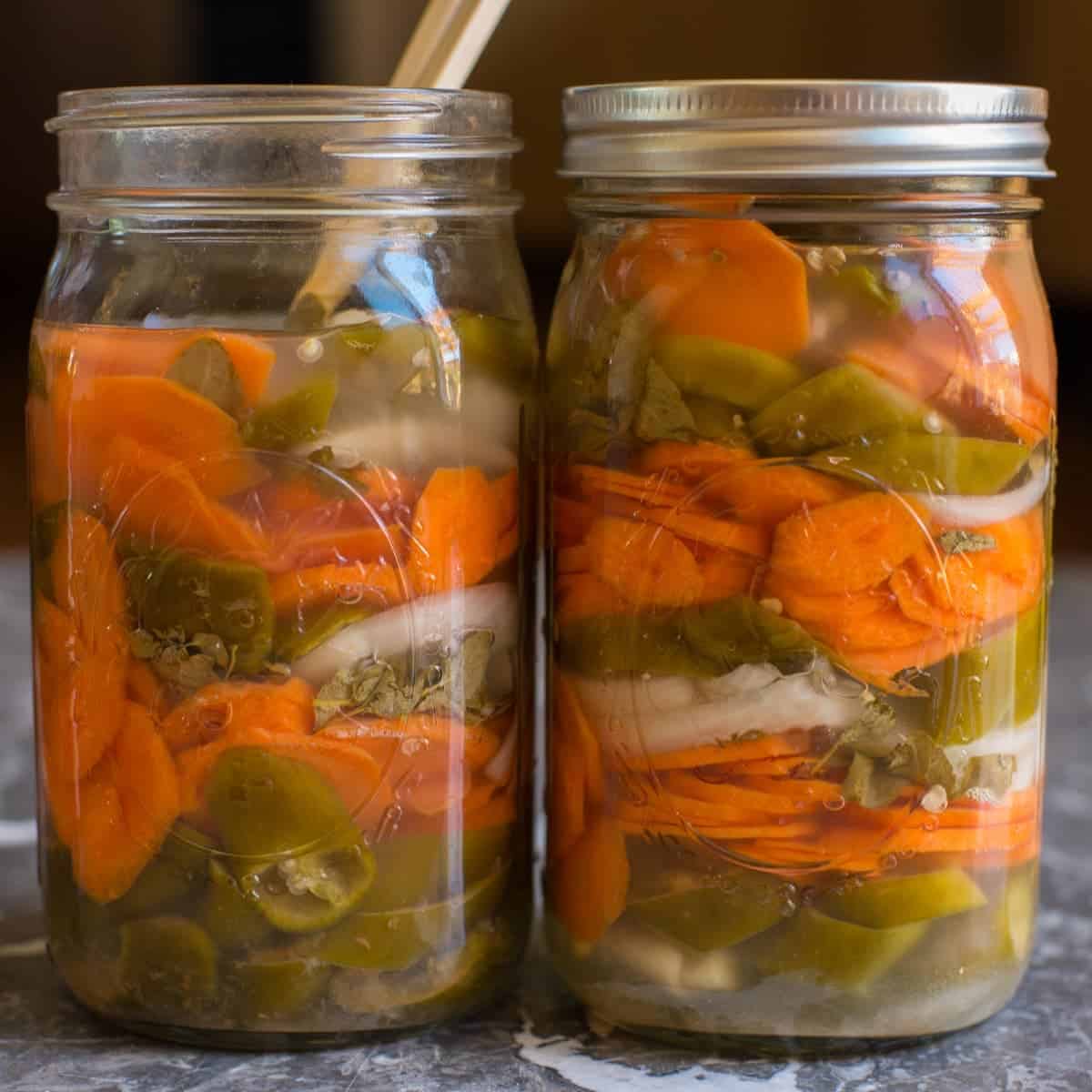 There are Quick Pickles and then There Are Fermented Veggies.
Quick pickles are made by adding a vinegar brine to the veggies – the brine is usually heated and then poured over the veggies. There is decent flavor in these quick pickles, but they aren't the same as Lacto-fermented veggies, which achieve great flavor with not much more effort except time fermentation!
Lacto-fermentation is extremely beneficial for gut health – the more we learn about gut health, the more we understand how important it is.
"If there's one thing to know about the human body; it's this: the human body has a ringmaster. This ringmaster controls your digestion, your immunity, your brain, your weight, your health and even your happiness. This ringmaster is the gut" ― Nancy S, Mure
Scientists now believe that gut health is strongly linked to Alzheimer's disease, arthritis, obesity, depression, anxiety, and has also been linked to autoimmune conditions like chronic eczema. A lot of research now shows your gut as the largest part of your nervous system.
It's safe to say gut health may be a primary factor in overall health and longevity. In cultures where fermented fruits and veggies are eaten regularly there are significantly lower cancer rates and higher rates of overall health.
Lacto-fermentation is something our grandparents did all the time, but it's become kind of a lost art. The complex flavors that develop here are so fantastic that I can't even begin to describe them!
"All Disease Begins in The Gut." – Hippocrates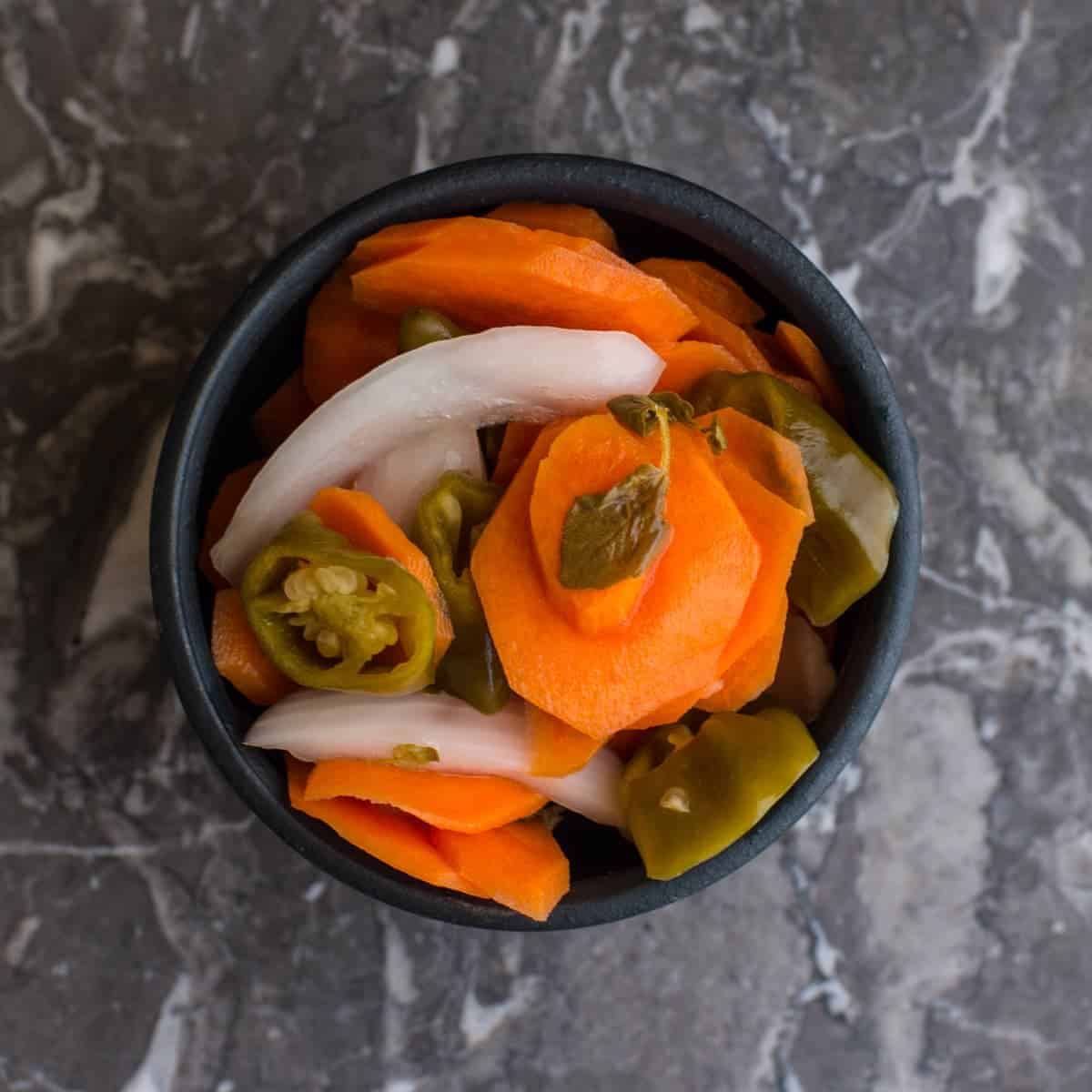 Like Any Good Project – The Right Tools make all the difference.
These tools will make the job of packing veggies for fermenting so much easier. I started with the wide mouth jars and the canning kit and then upgraded by adding a few airlock lids.
Other fermented vegetable recipes:
I'd love To Hear IF you Give These Spicy jalapeño Carrots a Try.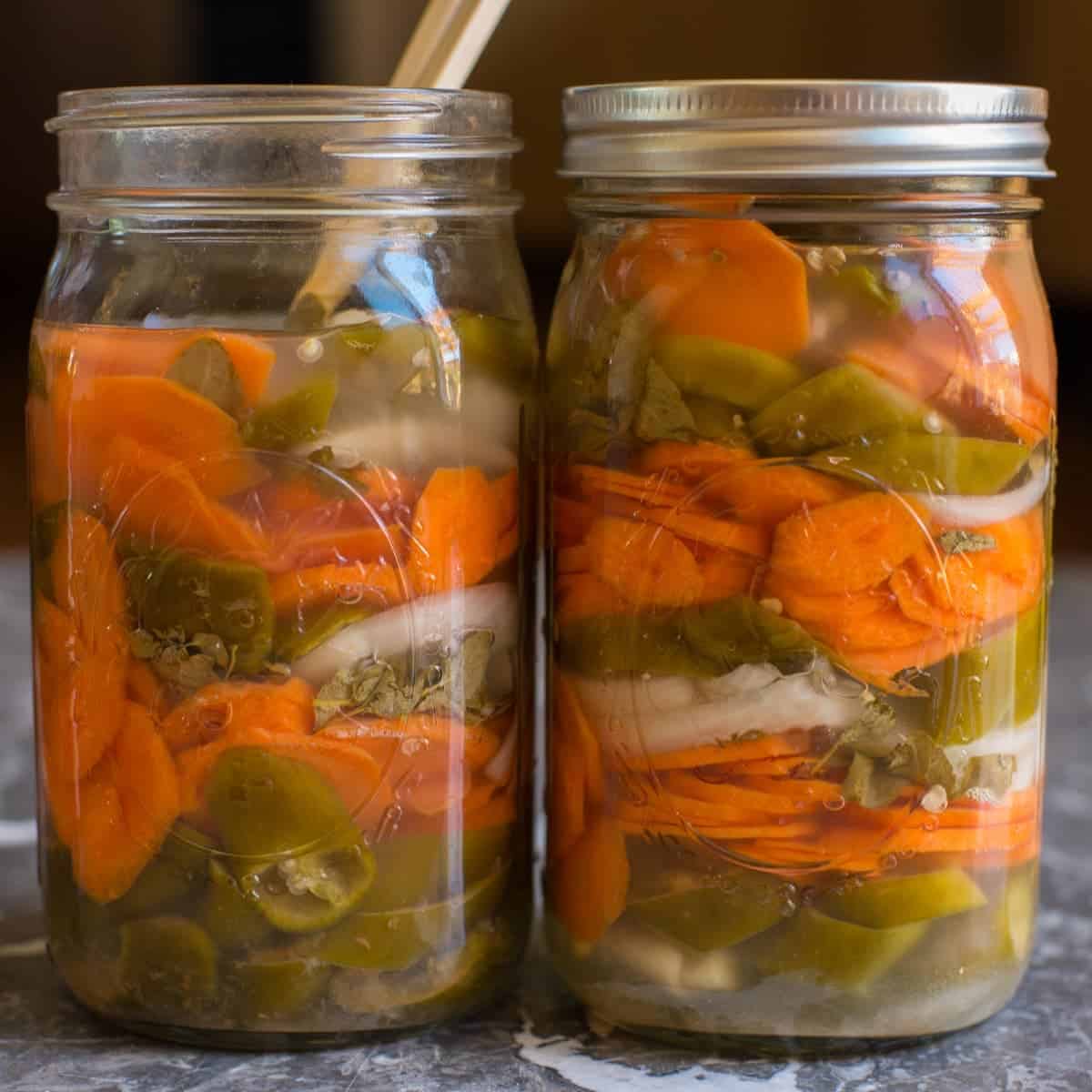 Spicy Carrots and Jalapeños
Lacto fermented carrots and jalapeños have so much flavor and so many health benefits.
Ingredients
4

cups

Carrots

,

peeled and diced on the diagonal

8

jalapeño peppers

,

sliced

1

White Onion

,

sliced

4

Garlic

,

peeled and smashed, 2 for each jar

1

tbsp

dried oregano,

fresh, rough chopped
Brine
4-6

tbsp

sea salt,

Himalayan or sea salt, do not used iodized salt

2

quarts

filtered water

,

8 cups
Instructions
Layer carrots, peppers, onions and oregano in wide-mouth jars. Press them down so they are packed tight.

Pour over brine. Leave about an inch of space at the top of the jar.

I drop in pickle pebbles to weight the veggies down. The weight is optional cut the veggies should stay under the brine. The weight makes sure this happens.

Cover the jars. Use airlock lids or fermentation lids designed for wide mouth jars. Airlock lids will reduce the fermentation smell in your kitchen. If you leave the tops on tight, you should burp them daily to release the pressure.

Ferment at room temperature for a minimum of 7-10 days. Taste the brine to make sure you like the flavor. I like mine a little more ferment-y, so I leave them fermenting closer to 3 weeks.

When the carrots are the flavor that you like, seal them with a tight lid and store in the refrigerator.
YOUR OWN NOTES
Sign In to add your own private notes
Nutrition
Calories:
26
kcal
Carbohydrates:
6
g
Sodium:
2363
mg
Fiber:
1
g
Sugar:
2
g
Calcium:
32
mg
Iron:
0.4
mg