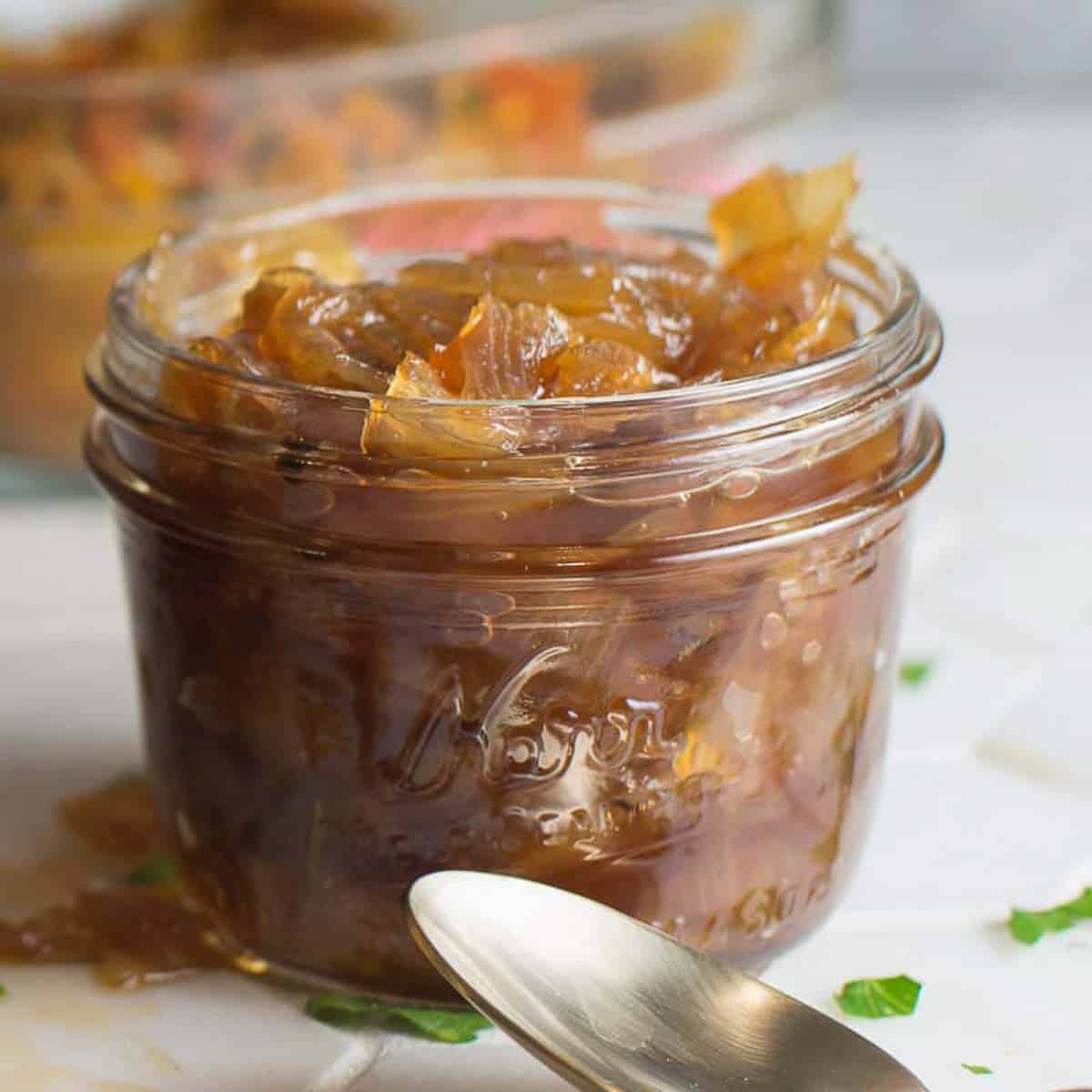 Recipe
Comments
Save
Go to Collections
This post may contain affiliate links. Please read my
disclosure policy.
Onion Jam is a symphony of savory-sweet flavors made with loads of caramelized onions and savory herbs. Slather it all over a juicy burger or with baked brie in puff pastry.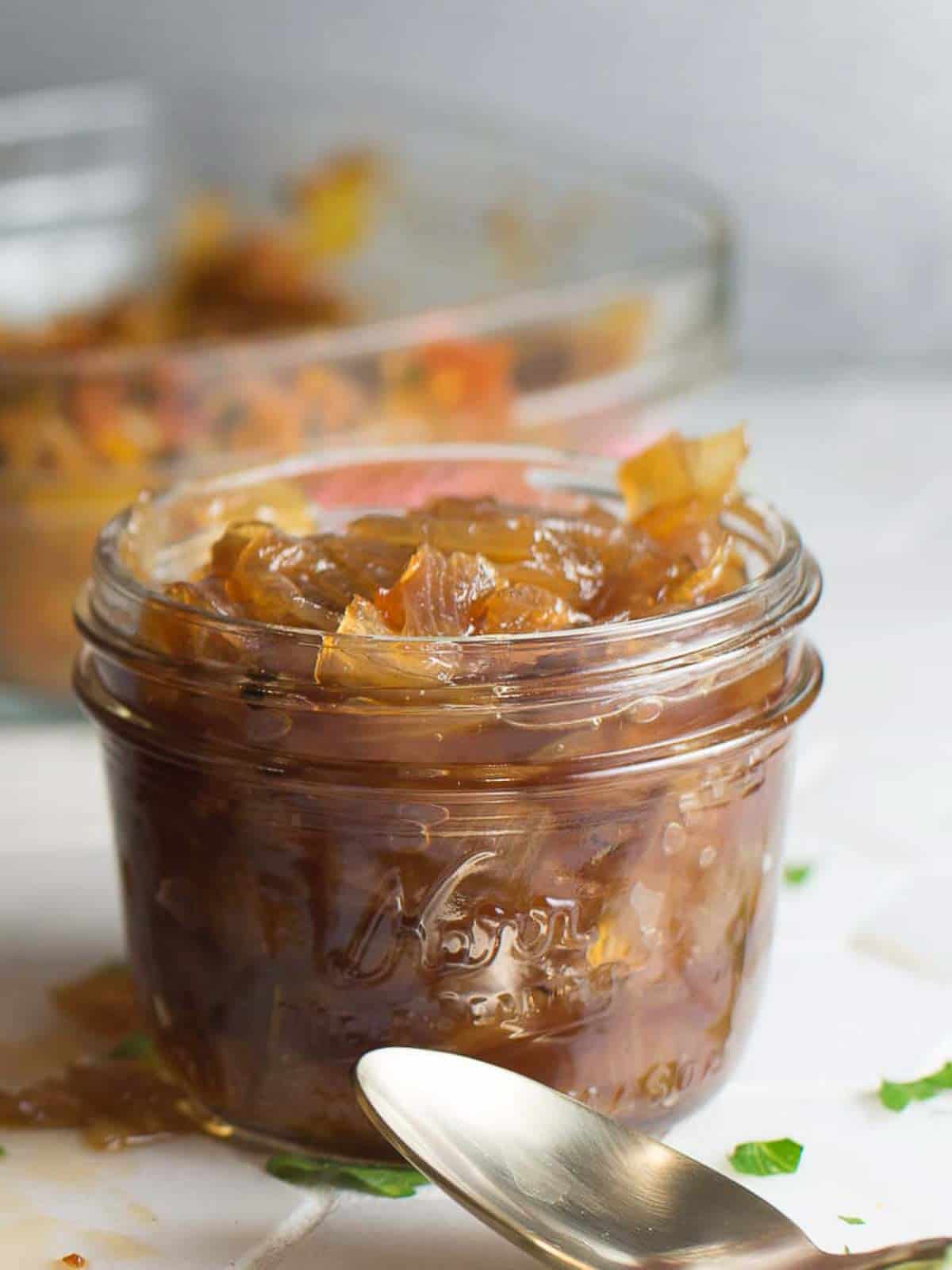 What can you do with Onion Jam?
Onion jam sounds weird at first, but once you've tasted it, you won't believe you waited so long to try it.
This savory-sweet condiment adds an element of sophistication to dishes that are rich and have a higher fat content. Burgers and my Meatloaf Sandwich are two things that are only made better with a few dollops of this sweet onion jam.
Baked Brie is an impressive but quick and easy appetizer that uses jam.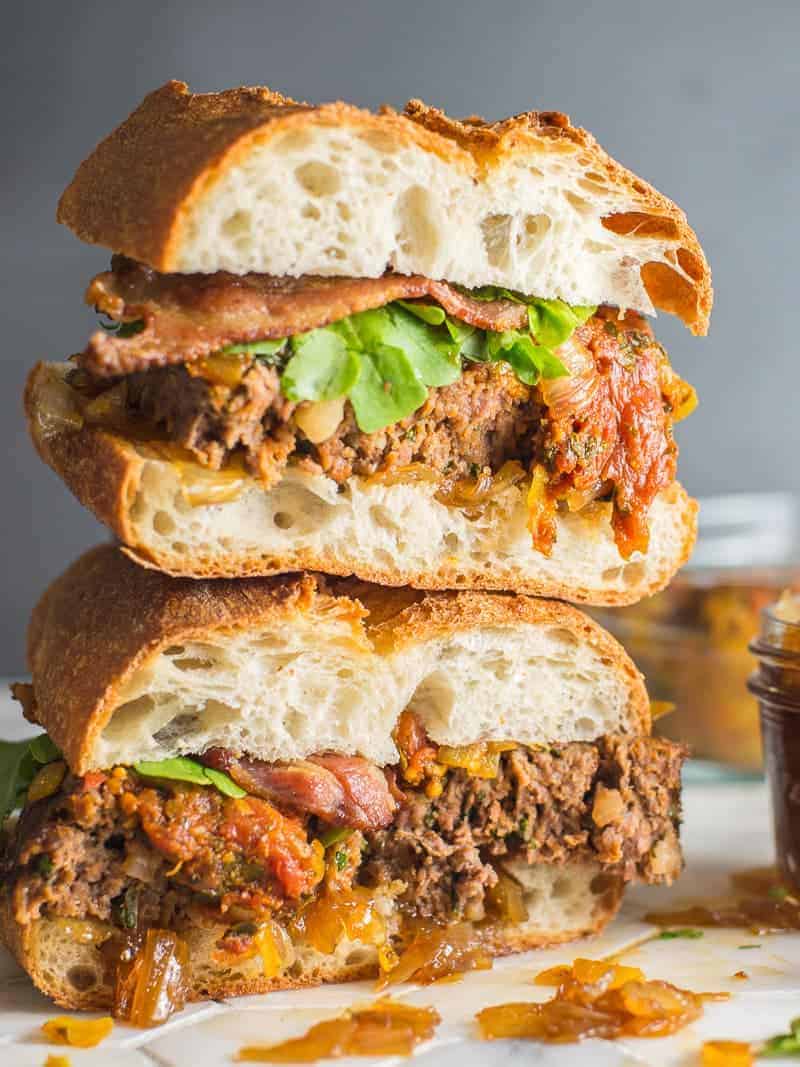 What does Caramelized Onion Jam Taste Like?
Onion jam is the perfect balance of sweet and savory. It's sweet and backed with a smooth caramelly onion flavor. It also has a little tang from the white vinegar.
Ingredients In Onion Jam?
Oil. I like extra virgin olive oil for this recipe.
Vidalia onions. I used sweet Vidalia onions. Brown or yellow onions are also fine.
Fresh herbs. Parsley and rosemary add flavor and complexity to this onion jam recipe.
Granulated sugar is caramelized to produce sweetness and help to thicken the mixture.
Champagne vinegar adds an acidic component to the jam.
Kosher salt to balance the flavor.
Here are the step for making Onion Jam or Onion Marmalade.
Cut up all the onions: A handy tip, if you have the onion crying gene installed, is to wear sunglasses or even swimming goggles while cutting up onions. To cut up onions quickly, first cut off both ends. Then cut them in half. This makes peeling off the outer skin super easy. Set each half on the flat side and then dice them.
Caramelize the onions: Add the oil and the onions to a large heavy-bottomed skillet. You will want to use medium heat for this. You don't want the onions to burn, you just want to get a nice light golden brown color on the onion. This process takes a while, be patient and watch the heat. If it starts to get too hot, just turn it down. Continue to stir the onions as they cook gently so they caramelize evenly.
Add the herbs and the sugar to the pan. DO NOT STIR: For this step, you will want to sprinkle the sugar to cover the onions evenly. However, don't stir.
Raise the heat to HIGH: With this step, you just need to step back and witness the miracle of sugar science. Watch the sugar closely it will start to bubble, and then it will turn a nice golden brown. You will be watching around the edges. The center of the sugar may still be a light color; that is fine.
Once the edges are brown and the entire mixture bubbles, reduce the heat to low. (DO NOT AT ANY TIME TRY TO PUT YOUR FINGER IN THE SUGAR)
Add the vinegar: Now, you can stir the entire mixture.
Bring to a simmer: Bring the mixture back to a simmer and simmer until the strong vinegar smell is gone. This will take a few minutes. Then remove the pan from the heat.
Let the jam cool: After the Onion Jam is completely cooled, you can store it in an airtight container in the fridge for about 3 months.
How to make a 🥓 Bacon Onion Jam
Here, we take a master recipe and do a few tweaks to make a different version of savory jam. You already know the basic formula for a savory onion jam so how can we make it next-level delicious?
SWAP: EVOO for Bacon Grease.
You will need a one-quarter cup of bacon grease: Which means it's time to cook up some bacon!
Follow the remainder of the recipe the same. You can also add a little finely diced bacon after taking the mixture off the heat. I will leave it up to you to determine how much bacon is enough.
When you are cooking bacon, please, for the love of God, do not burn it.
Bacon should be cooked slow and low. You want to GENTLY carmelize the bacon while rendering out all the delicious bacon fat. There is no bigger sin than scorched bacon.
I would use a half-pound of bacon. Depending on how lean your bacon is that should give you enough bacon grease. You may have more or less. You can save any extra bacon fat in the fridge.
PRO-TIP: Buy the thick-cut bacon from the butcher's counter. It has much less water than package bacon, so you get less of that evil bacon grease popping.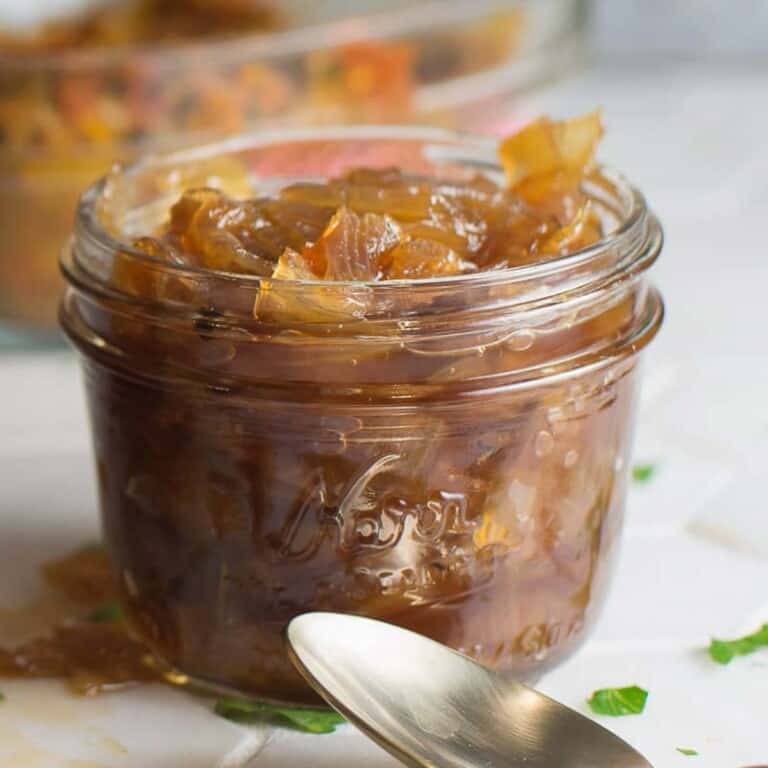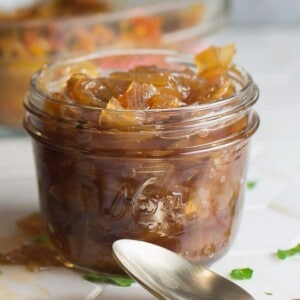 Onion Jam
Onion jam is a sweet and savory condiment that's delicious on burgers or served with rich and creamy cheese, like brie.
Instructions
Onion Jam Instructions
Add the diced onions and the oil to a large saucepan.

Caramelize onions on med-high heat until translucent and golden brown. Stir occasionaly.

Add in herbs and sugar. DO NOT STIR.

Raise the heat to high and let sugar melt until the mixture becomes golden and bubbly. Still DO NOT STIR.

After the mixture is golden and bubbly, reduce the heat to low and the add vinegar and salt. Now you can stir.

Cook until the mixture no longer has a strong vinegar smell. Approximately 3 to 5 minutes.

Let the mixture cool. Remove the herbs.

Serve immediately or store in the fridge in an air tight container for up to 3 months.
YOUR OWN NOTES
Sign In to add your own private notes
Nutrition
Serving:
1
tablespoons
Calories:
67
kcal
Carbohydrates:
11
g
Protein:
1
g
Fat:
2
g
Saturated Fat:
1
g
Sodium:
53
mg
Fiber:
1
g
Sugar:
10
g
Calcium:
9
mg
Iron:
0.2
mg