Spicy Jalapeño Sauerkraut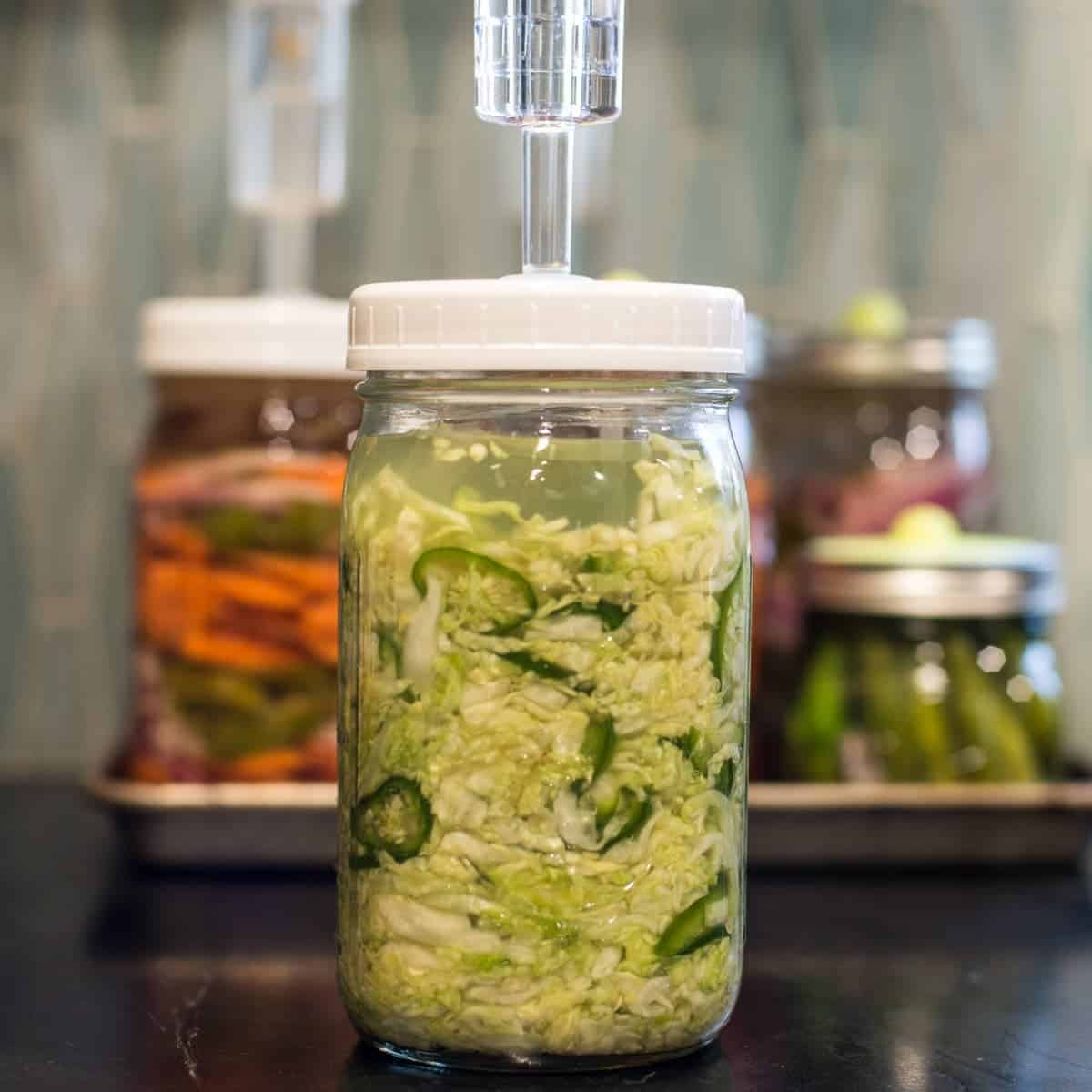 Recipe
Comments
Save
Go to Collections
This post may contain affiliate links. Please read my
disclosure policy.
This Spicy jalapeño sauerkraut will change your mind about what sauerkraut should taste like! It's just the right amount of spicy. It's perfectly briny and crunchy.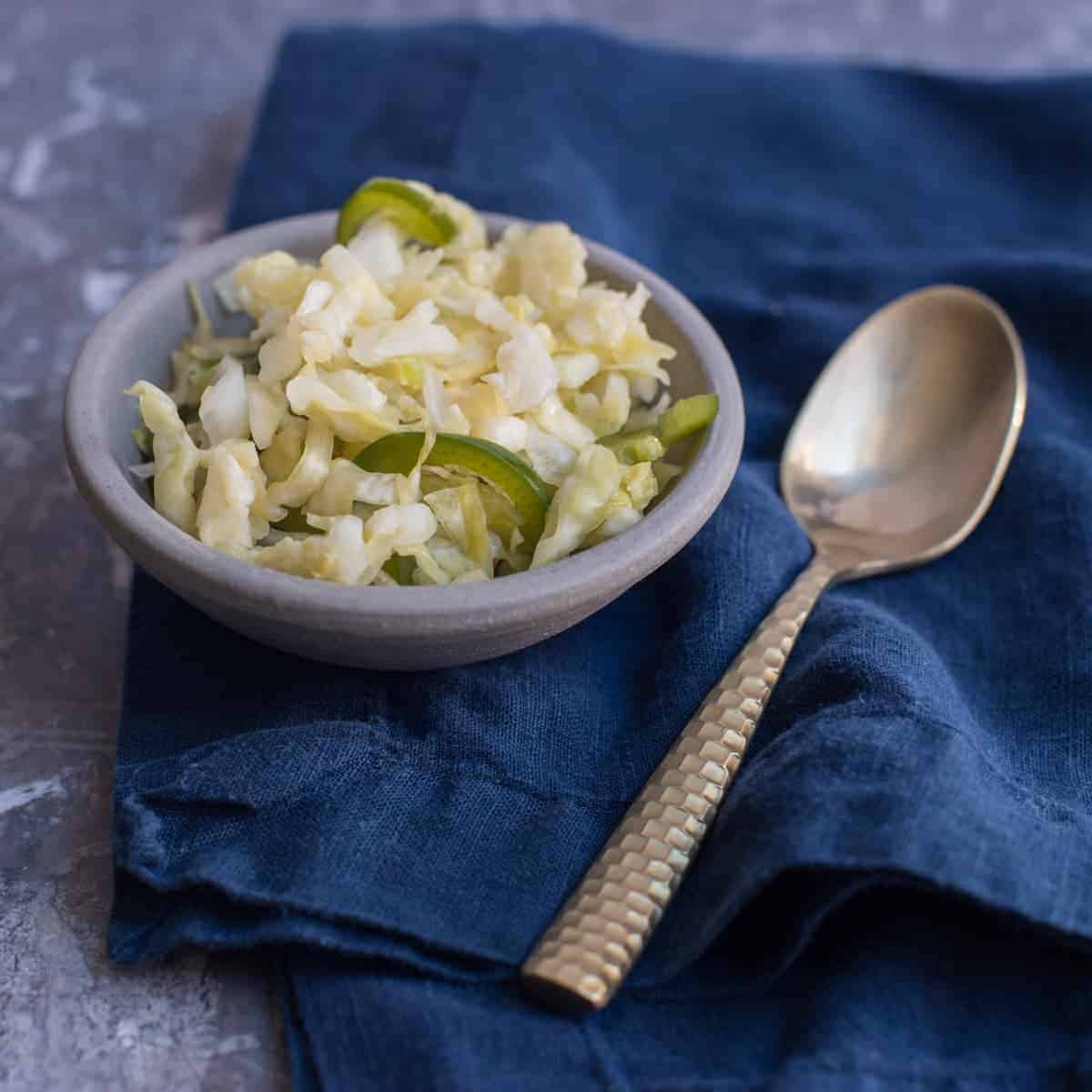 If you're like most people, when you think of sauerkraut you think of a jar of whiteish-yellow shredded cabbage that's super brine-y. You might have seen your old uncle from the East Coast throw it on a bratwurst or hot dog with some spicy mustard. Most people either love it or hate it.
Sauerkraut means "sour cabbage" in German.
Sauerkraut making is a very old tradition, dating back over 500 years. It's commonly believed that the Germans invented sauerkraut, but China began fermenting cabbage (known as kimchi) at least 1000 years before Europe.
My kimchi recipe is on its way soon, but until then I hope this recipe will convince you to give traditional sauerkraut a try!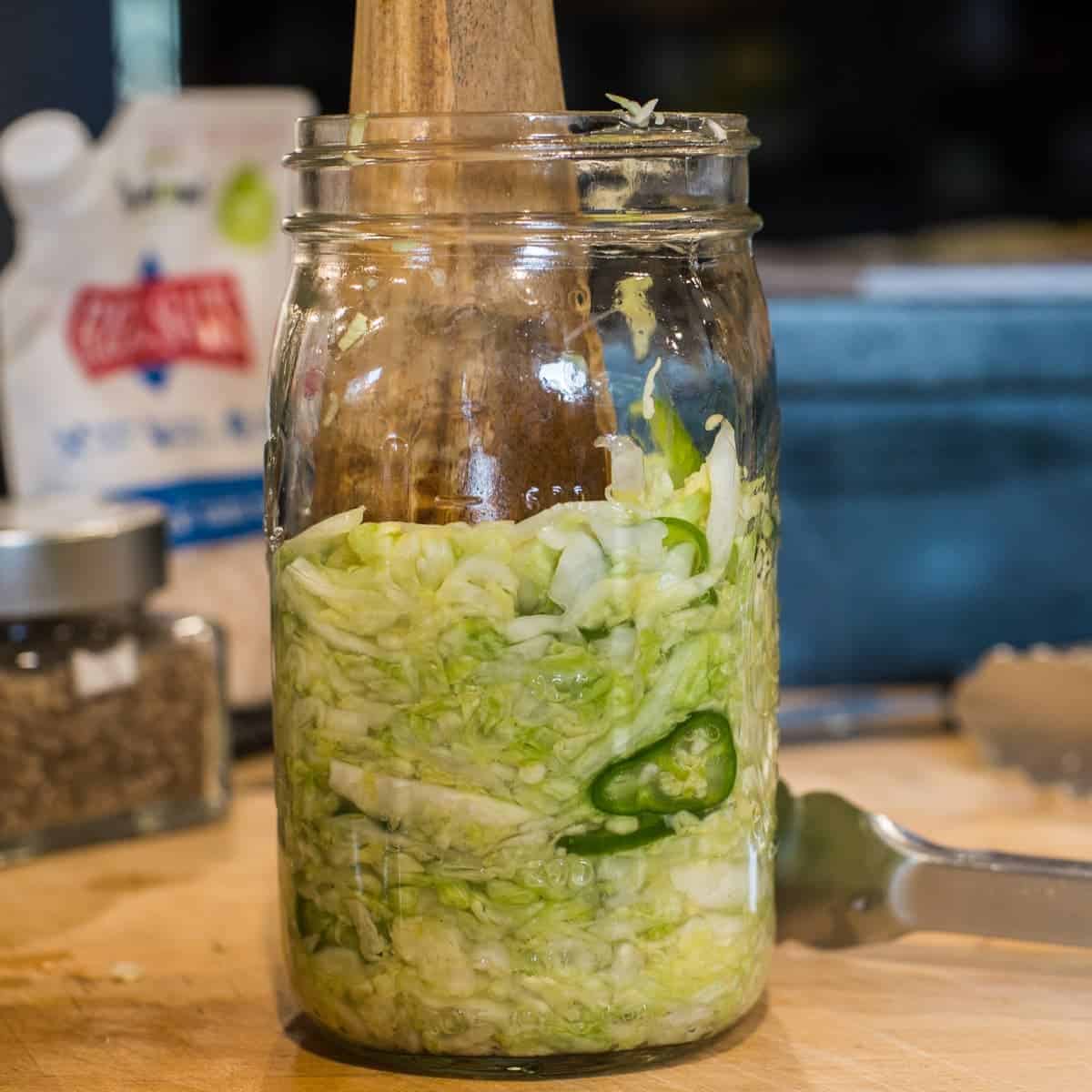 The process of fermentation yields a powerful family of probiotics called Lactobacillus. We most commonly associate this healthy little bacterium with yogurt.
The health benefits of lacto-fermentation has been known for centuries.
But we somehow forgot about it, stopped eating it, and our health has suffered significantly.
Lactobacillus acidophilus is a bacterium that's naturally part of the microbiome contained in our mouths, guts, vaginas, and even our skin.
When this little ecosystem of bacteria becomes imbalanced, it can wreak havoc on our health. If you've ever suffered from issues related to any of these organs you'll want to pay attention.
Most significantly, dietary intake of probiotics like lactobacillus acidophilus has been shown to alleviate many digestive issues such as chronic diarrhea and/or constipation.
Gut inflammation is also linked to food sensitivities. Which you probably have noticed are on the rise.
Having a healthy gut can help to reduce food sensitivities.
It has also shown a significant impact on chronic candida and has been linked to an improvement of symptoms related to eczema and other autoimmune disorders.
So why are you not eating this stuff every single day?
You are scared to give sauerkraut making a try.

You think sauerkraut is just rotten cabbage.

You've never had good sauerkraut so you've just written the whole thing off!

Your gut health is already super fantastic and you don't need no stinking cabbage!
Comparing homemade sauerkraut to the stuff in the jar is kind of like comparing a Hungry Man frozen dinner to your mom's home-cooked meal.
I'm assuming your mom is a fantastic cook of course. There's really is no comparison, not to mention that you cannot get the superpower-level health benefits from the stuff in a jar.
DIY-ing your own sauerkraut is soooo easy – sauerkraut only has 2 ingredients! Come on – I know you can mix together 2 ingredients and stuff them in a jar.
Disclaimer: if you add the jalapeños you technically have 3 ingredients, but I still think you can do it! I know you can do it, and your gut will love you for it!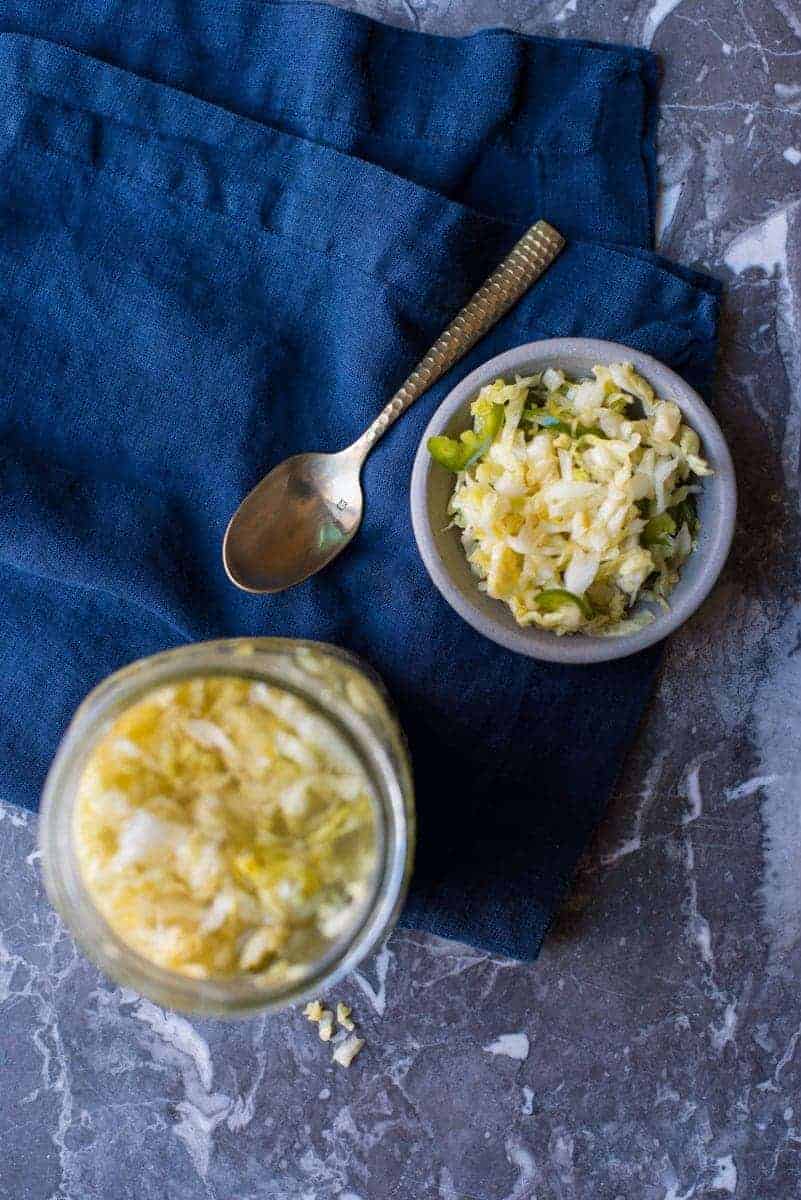 Tools that you need to make homemade fermented vegetables.
Wide Mouth Jars
You can use any brand of jars that you like. I live the 32-ounce size for most everything.
I have one large gallon-sized jar that I make Orangecello and Limoncello in.
Then I have a few 16-ounce jars for smaller batches.
Glass Weights
There are a lot of different brands of these. I use pickle pebbles or the Kerr brand weights.
You can even weight your vegetables down with a smaller sized jar.
Airlock Lids
I prefer airlock lids, especially for making kimchi. Airlock lids have a reservoir that stores a few tablespoons of water.
This water layer traps the stinky smells that can be produced during the Lacto-fermentation process.
Plus, you never have to burp them. Occasionally you can swab out the water in them if needed.
OR
Fermentation Lids
There are a few different brands that I have used and a few of them are also burpless.
Sauerkraut Smasher
This tool will help you to smash your sauerkraut or other vegetables into the jab before setting them up for fermentation.
It's not absolutely necessary. You can also use your hands or a wooden spoon.
How long does it take to make sauerkraut?
Because the fermentation process is temperature and other factors, the timing can be variable depending on time of year.
I typically ferment my sauerkraut for a minimum of 3 weeks up to 3 months before putting in cold storage.
How do you know when sauerkraut is done?
When you are making homemade fermented vegetables of any kind it's important to taste them along the way to find the flavor that you like best.
The longer you let sauerkraut ferment the more flavorful it becomes.
In the first week or so there is sort of a stink cabbage smell and taste. For first time fermenters, it might seem like you're doing something wrong or that your cabbage has gone bad.
I assure you this is not the case. The flavor of your sauerkraut starts to mellow and get a little bite effervescent as the fermentation magic happens.
It's kind of hard to explain if you haven't ever made homemade fermented vegetables before. The flavor is reminiscent of a really wheaty beer and pickles.
I realize that that might sound like a strange flavor combination, but I can't really describe it.
The point to all of this is, you should let the cabbage ferment for at least two weeks at room temperature and then start tasting it.
When you like the flavor of it you can seal it up and store it in the fridge.
How long does sauerkraut keep?
Sauekraut will keep indefinitely is stored properly.
Once you move your sauerkraut to cold storage it should keep for a long time. Even years.
The biggest thing to look out for is if your lids are not 100% airtight, the liquid might evaporate.
You want the cabbage to stay submerged in the brine. The brine has the perfect balance of microbiome to keep the cabbage preserved and tasty.
When the cabbage is exposed to air, this balance is thrown off and mold can grow.
Check out more fermented veggies:
Spicy Carrots and Jalapeños
Lacto fermented carrots and jalapeños have so much flavor and so many health benefits.
SEE THE RECIPE
PIN FOR LATER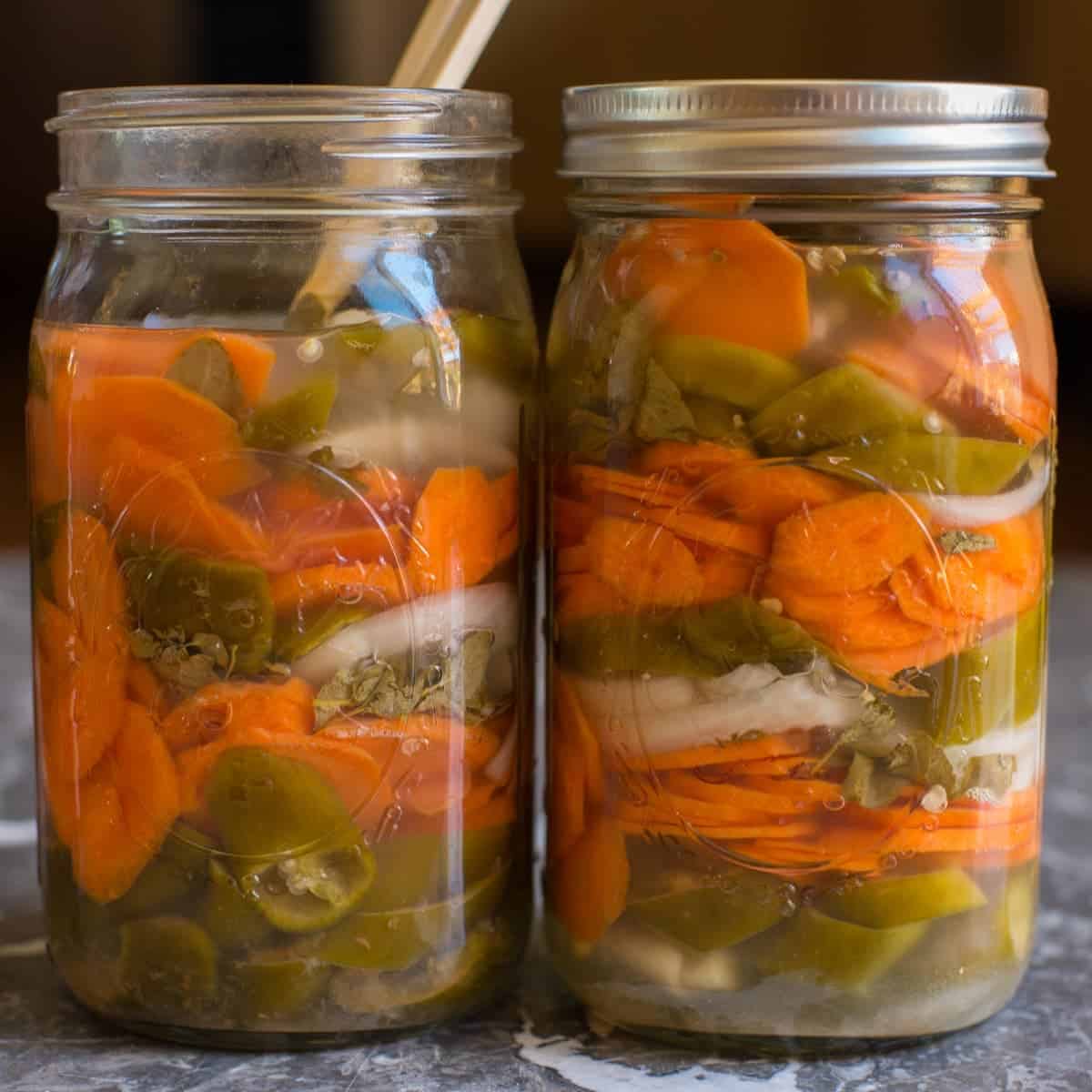 Moroccan Carrots
These Moroccan Spiced Carrots are the perfect side and snack for those who like a little more twist than your average fare can give. They're perfectly crispy, tangy, sweet, and salty!
PIN FOR LATER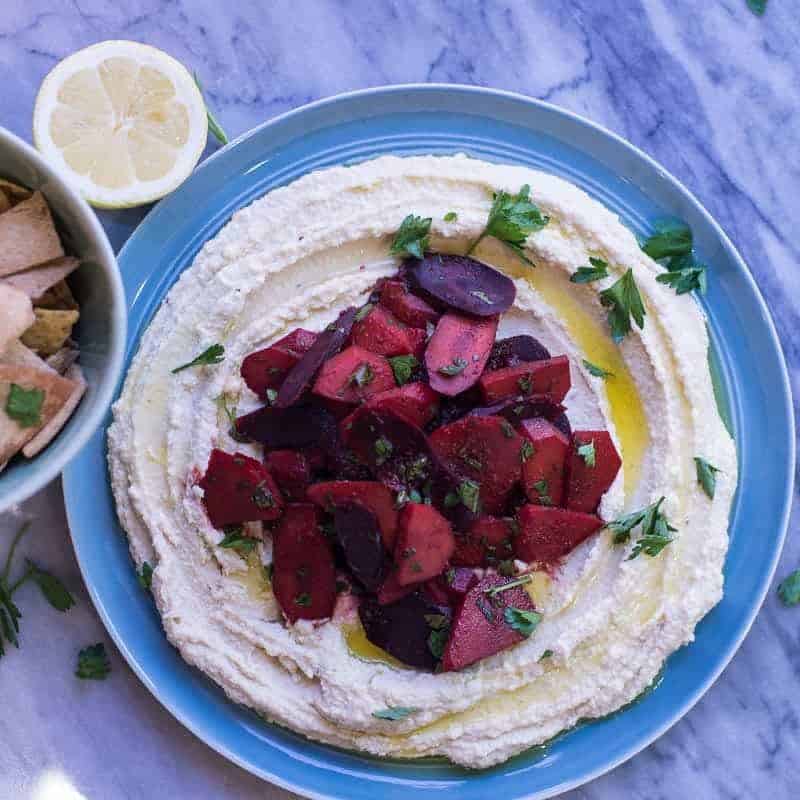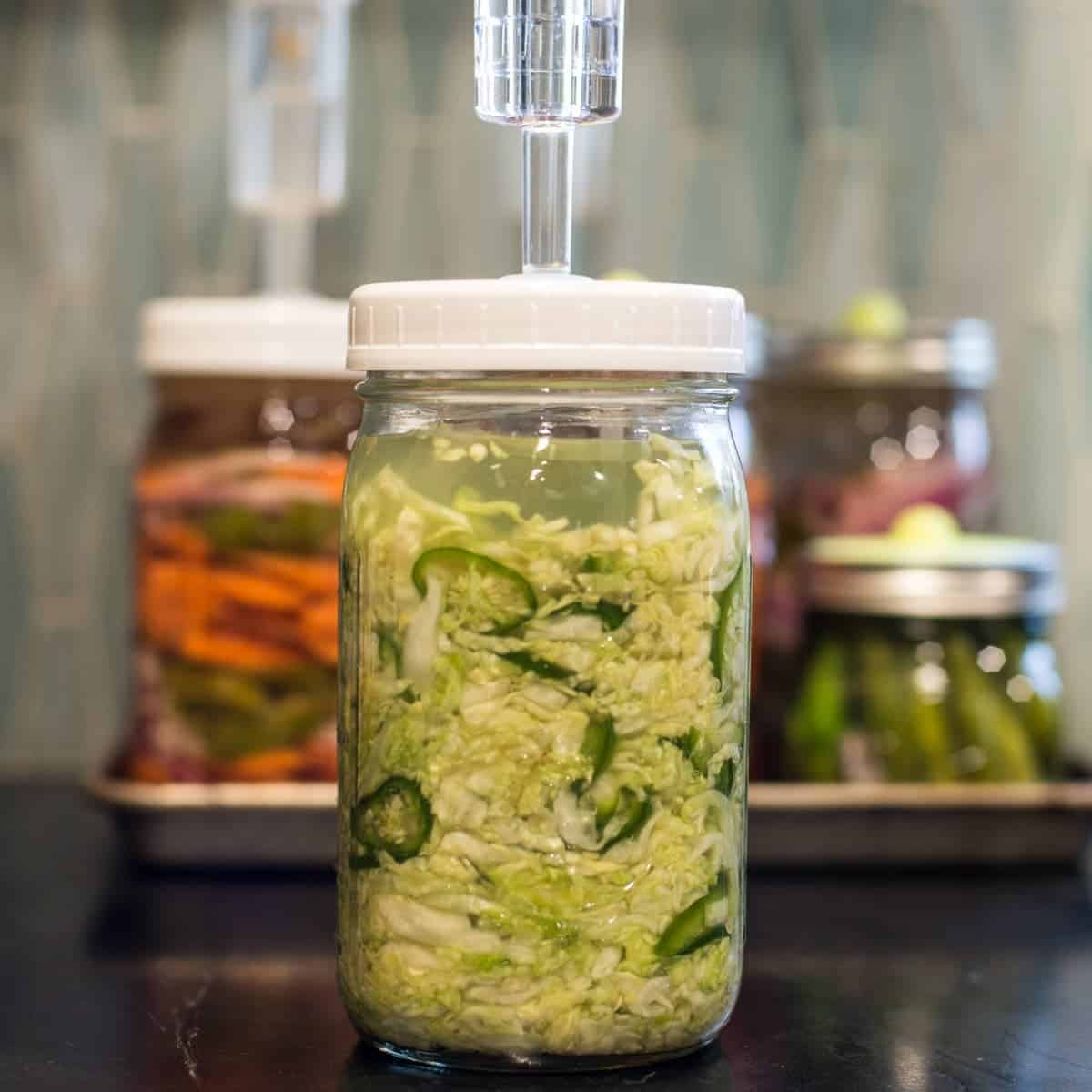 Spicy Jalapeño Sauerkraut
This recipe is an easy way to spice up sauerkraut. Jalapeños give this DIY fermented veggie recipe a spicy kick.
Ingredients
1

head

Green Cabbage

2-4

jalapeño peppers

,

sliced

1

tbsp

sea salt,

Pink Himalayan or Real Salt or other high-quality salt

2

tsp

smoked sea salt
Special Equipment
1

32 ounce-sized

mason Jar

1

fresh grape leaves

,

totally optional
Instructions
Remove any wilted outer leaves of the cabbage.

Slice the cabbage into quarters and remove the core.

Slice the cabbage into thin ribbons and place in a large plastic or glass bowl.

Roughly massage the cabbage. I mean get in there like a deep-tissue massage!

Let the cabbage sit for a few hours.

Toss in the sliced jalapeños.

Pack the cabbage into your Mason jar, using your sauerkraut smasher to push the cabbage into the jar. Be careful to apply an ample amount of pressure but don't break the Mason jar!

Pour any brine that's left in the bowl onto the cabbage. You should have about a finger's width of liquid on top of the packed cabbage.

OPTIONAL: Add the grape leaf by pressing it over the surface of the cabbage. The grape leaf will keep everything submerged.

Add the pickle pebble to the jar.

Add the airlock top to the jar. If you aren't using an airlock or a vented top, you will have to burp the contents daily to relieve the pressure. Gas forms during the fermentation process.

Ferment for a minimum of 7-10 days at room temperature in a relatively cool location, away from direct sunlight. Sauekraut can be fermented for as long as three months. Longer fermentation times will give you a more complex flavor. I like to leave my cabbage fermenting for about a month.

Taste your sauerkraut! If you like the flavor, it's time to seal with a regular lid and store in the refrigerator. If you want to keep fermenting it, you can seal it back up and let the fermentation go on.

Store sauerkraut in the refrigerator for as long as you like the flavor. The fermentation process will continue, slowly in the fridge. Lacto fermentation is a method of preservation. Sauerkraut will keep for years.

Although, in my house, it never lasts that long!
Laura's Tips + Notes
Eat a few tablespoons every day to help support digestive health. This sauerkraut is so much cheaper than a probiotic supplement.
Variations of this kraut:
Leave out the jalapeños if you want something less spicy.
My Favorite Alternate Combinations:
Shredded carrots and ginger
Caraway seed
Dill
YOUR OWN NOTES
Nutrition
Calories:
29
kcal
Carbohydrates:
6
g
Protein:
1
g
Sodium:
892
mg
Fiber:
2
g
Sugar:
3
g
Calcium:
45
mg
Iron:
0.5
mg