This Spicy jalapeño sauerkraut will change your mind about what sauerkraut should taste like!


If you're like most people, when you think of sauerkraut you think of a jar of whiteish-yellow shredded cabbage that's super brine-y. You might have seen your old uncle from the East Coast throw it on a bratwurst or hot dog with some spicy mustard. Most people either love it our hate it.
More...
Sauerkraut means "sour cabbage" in German.
Sauerkraut making is a very old tradition, dating back over 500 years. It's commonly believed that the Germans invented sauerkraut, but China began fermenting cabbage (known as kimchi) at least 1000 years before Europe. My kimchi recipe is on it's way soon, but until then I hope this recipe will convince you to give traditional sauerkraut a try!
The process of fermentation yields a powerful family of probiotics called Lactobacillus. We most commonly associate this healthy little bacterium with yogurt.
The health benefits of LACTOBACILLUS has been known for centuries. But we somehow forgot about it, stopped eating it, and our health has suffered significantly.
Lactobacillus acidophilus is a bacterium that's naturally part of the microbiome contained in our mouths, guts, vaginas, and even our skin. When this little ecosystem of bacteria becomes imbalanced, it can wreak havoc on our health. If you've ever suffered from issues related to any of these organs you'll want to pay attention.
Most significantly, dietary intake of probiotics like lactobacillus acidophilus has been shown to alleviate many digestive issues such as chronic diarrhea and/or constipation. It has also shown significant impact on chronic candida, and has been linked to improvement of symptoms related to eczema and other autoimmune disorders.
So why are You not eating this stuff every single day?
Comparing homemade sauerkraut to the stuff in the jar is kind of like comparing a Hungry Man frozen dinner to your mom's home cooked meal.
I'm assuming your mom is a fantastic cook of course. There's really is no comparison, not to mention that you cannot get the superpower-level health benefits from the stuff in a jar.
DIY-ing your own sauerkraut is soooo easy – sauerkraut only has 2 ingredients! Come on – I know you can mix together 2 ingredients and stuff them in a jar.
Disclaimer: if you add the jalapeños you technically have 3 ingredients, but I still think you can do it! I know you can do it, and your gut will love you for it!
If you're enjoying this fermented vegetables series I'd love to hear about it. Leave me a comment or Follow me on Instagram, On Pinterest, of On Facebook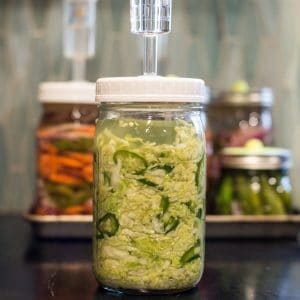 Spicy Jalapeño Sauerkraut
This recipe is an easy way to spice up sauerkraut. Jalapeños give this DIY fermented veggie recipe a spicy kick.
Print Recipe
Pin Recipe
Ingredients
1

head

Green Cabbage

2-4

Jalapeños

sliced

1

tbsp

Salt

Pink Himalayan or Real Salt or other high-quality salt

2

tsp

Smoked Salt
Special Equipment
1

32 ounce-sized

Mason Jar

1

Fresh Grape Leaf

totally optional
Instructions
Remove any wilted outer leaves of the cabbage.

Slice the cabbage into quarters and remove the core.

Slice the cabbage into thin ribbons and place in a large plastic or glass bowl.

Roughly massage the cabbage. I mean get in there like a deep-tissue massage!

Let the cabbage sit for a few hours.

Pack the cabbage into your Mason jar, using your sauerkraut smasher to push the cabbage into the jar. Be careful to apply an ample amount of pressure but don't break the Mason jar!

Pour any brine that's left in the bowl onto the cabbage. You should have about a finger's width of liquid on top of the packed cabbage.

Add the grape leaf by pressing it over the surface of the cabbage. The grape leaf will keep everything submerged.

Add the pickle pebble to the jar.

Add the airlock top to the jar. If you aren't using an airlock or a vented top, you will have to burp the contents daily to relieve the pressure. Gas forms during the fermentation process.

Ferment for a minimum of 7-10 days at room temperature in a relatively cool location, away from direct sunlight. Sauekraut can be fermented for as long as three months. Longer fermentation times will give you a more complex flavor. I like to leave my cabbage fermenting for about a month.

Taste your sauerkraut! If you like the flavor, it's time to seal with a regular lid and store in the refrigerator. If you want to keep fermenting it, you can seal it back up and let the fermentation go on.
Notes
Eat a few tablespoons every day to help support digestive health. This sauerkraut is so much cheaper than a probiotic supplement.
Variations of this kraut:
1) Leave out the jalapeños if you want something less spicy.
2) Add a few tablespoons of fresh dill.
Nutrition
Calories:
29
kcal
|
Carbohydrates:
6
g
|
Protein:
1
g
|
Sodium:
892
mg
|
Fiber:
2
g
|
Sugar:
3
g
|
Calcium:
45
mg
|
Iron:
0.5
mg
(Visited 1,821 times, 10 visits today)