Cauliflower Rice is easy to make and is a delicious side dish. You can mix it up a thousand different ways.
Who knew that this humble and homely cruciferous vegetable would become a worldwide sensation. Now featured in everything from Fried Rice Recipes to Pizza Crust.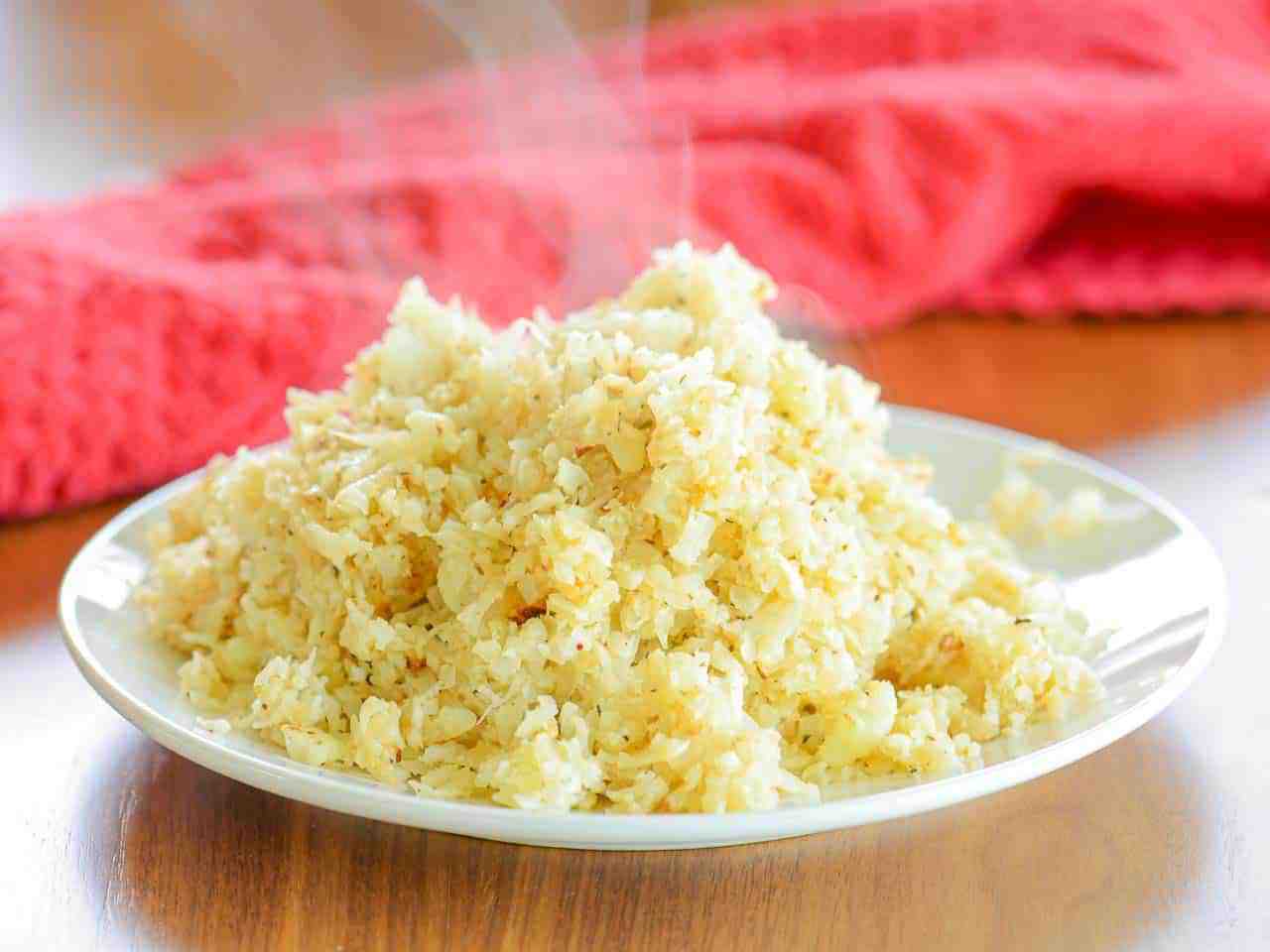 No one could have predicted this highly underrated vegetable's rise to fame. Cauliflower was once only seen drowning in cheese sauce, sometime paired with its friends broccoli and sliced carrots.
I've since become an expert on making this keto-friendly substitute for rice. And now I'm going to share all of my tips with you.
What You'll Love About This Recipe
Budget-friendly. You can always buy riced cauliflower, usually in the frozen food section at the grocery store. But making riced cauliflower is a lot cheaper.
Healthy. Cauliflower is the perfect stand-in for turning all of your favorite rice and rice bowl recipes into keto-friendly rice recipes.
Versatile. Cauliflower can be used to make keto rice, keto pizza crust, and even keto mashed potatoes. There are a million recipe variations for this healthy low-carb vegetable.
Recipe Notes
This simple recipe can be eaten as is. However, making simple riced cauliflower is only the beginning. Once you've gotten the hang of making this dish in its simplest form, you can spin it a million different ways.
Ingredients you'll need to make cauliflower rice
All you really need to make this dish in it's most basic form is one head of cauliflower, riced, a little bit of fat, and salt and pepper.
Cauliflower. 1 head of cauliflower, riced.
Oil or butter.
Salt and pepper.
Step-by-Step Instructions
Step 1 - Wash and dry the cauliflower
Rinse the cauliflower with cool water, pat it dry.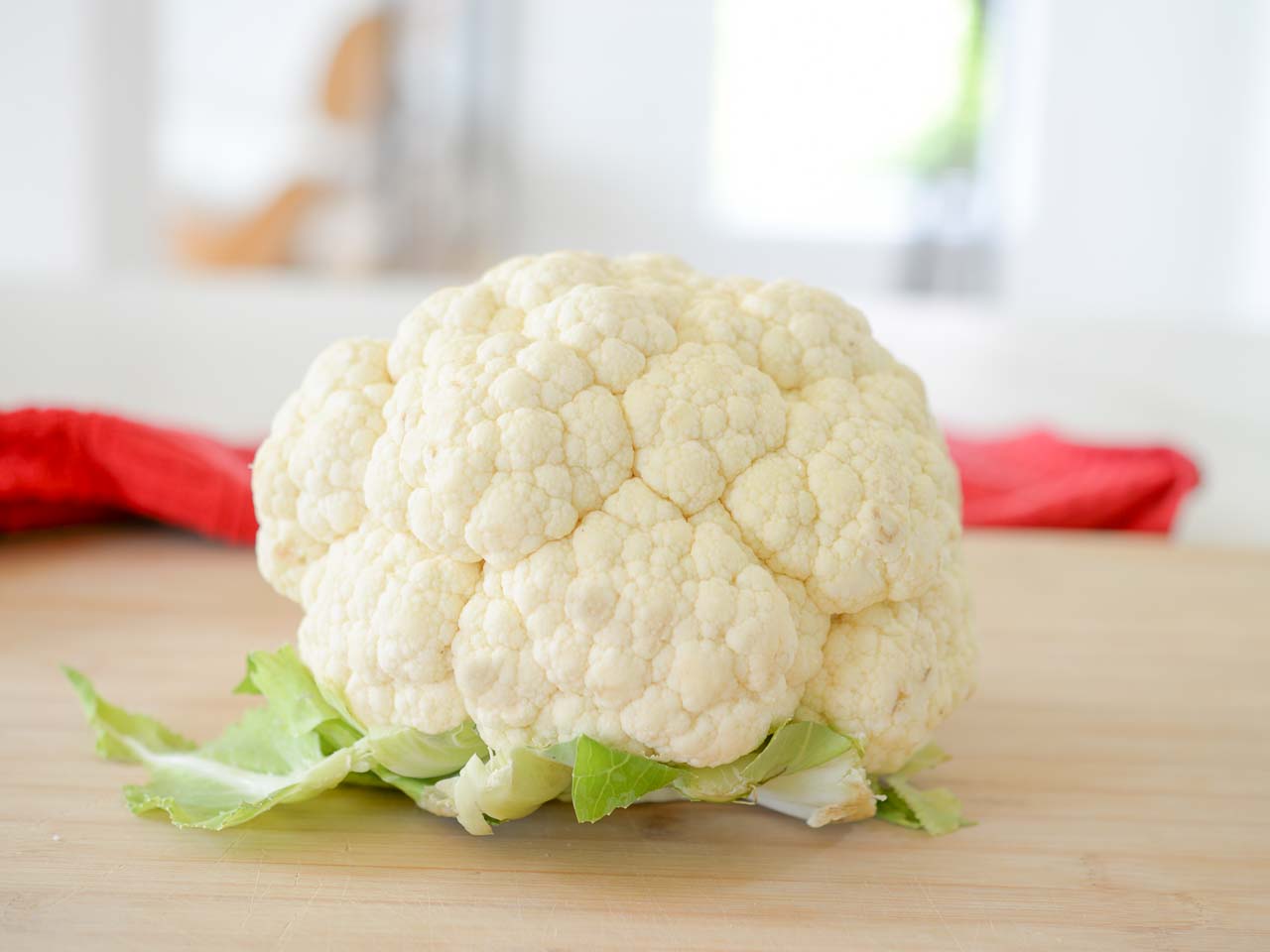 Step 2 - Quarter the cauliflower
To get started, half the cauliflower and then cut it into quarters along the stem.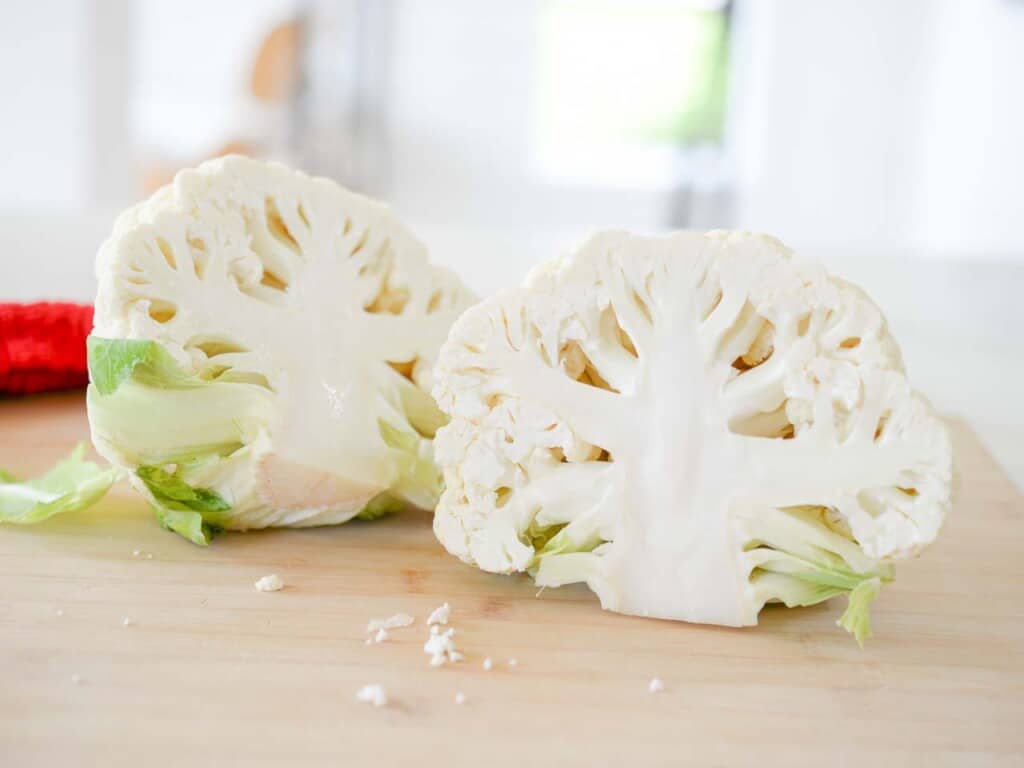 If you're using a box grater you can hold onto the stem as you are grating. Just cut away the end of the core that has the leaves attached.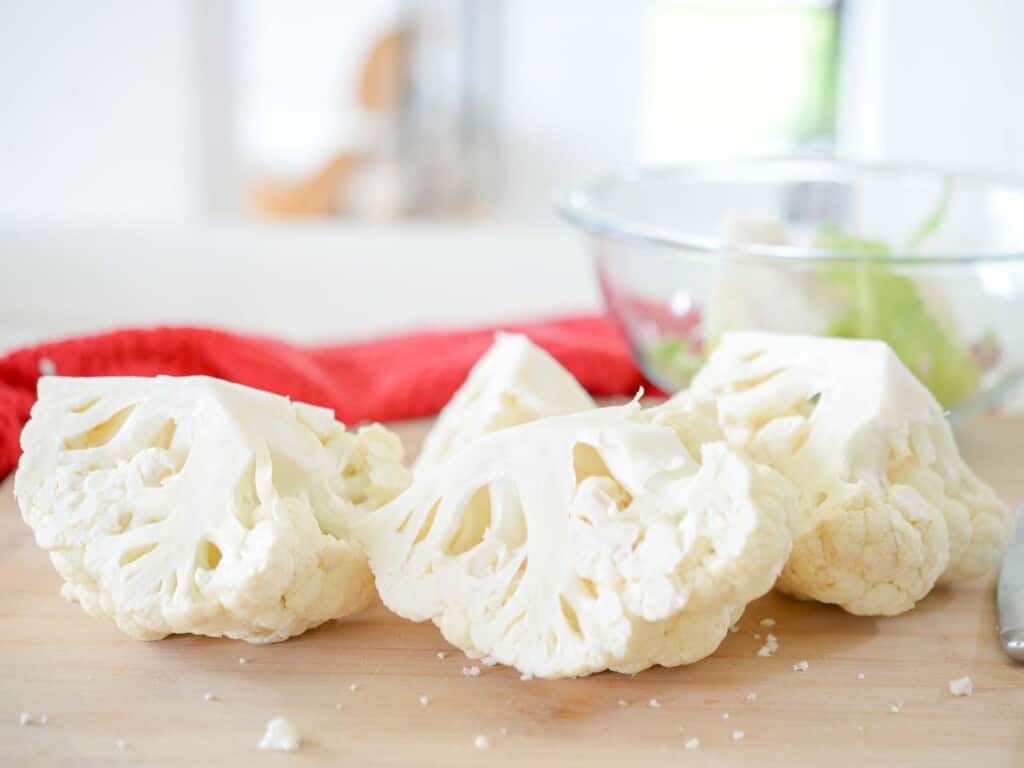 If you plan to use a food processor, remove the stem and add the florets to the bowl of your food processor bowl.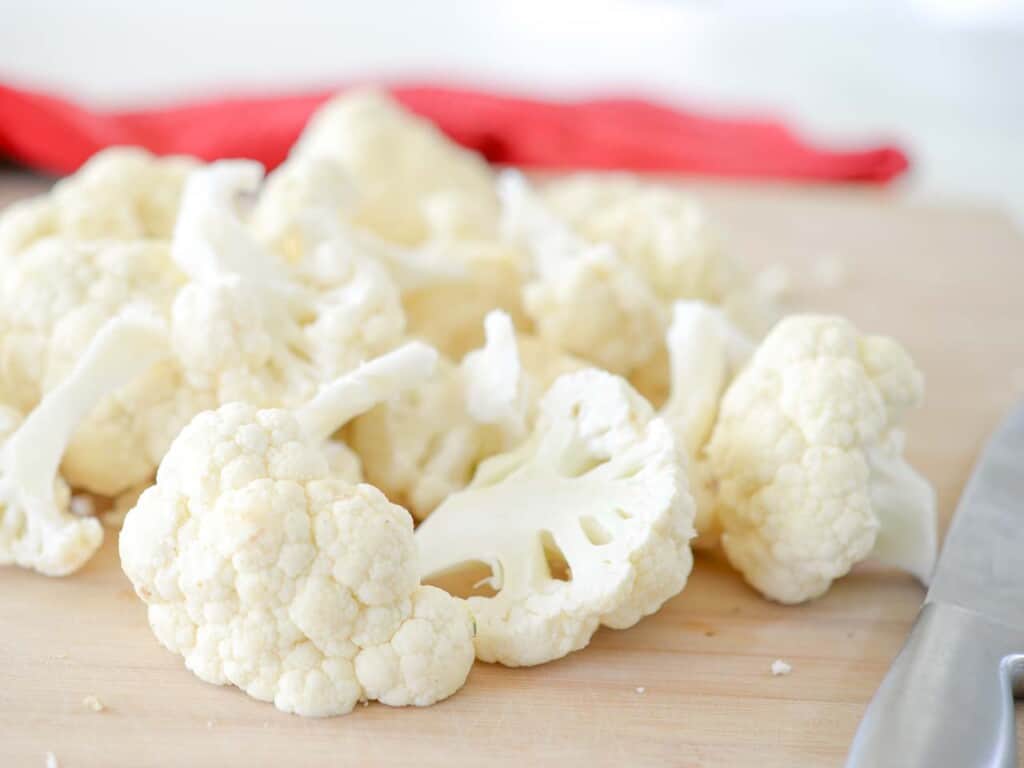 Step 3 - How to rice cauliflower
Turn the cauliflower into rice by grating it through a box grater.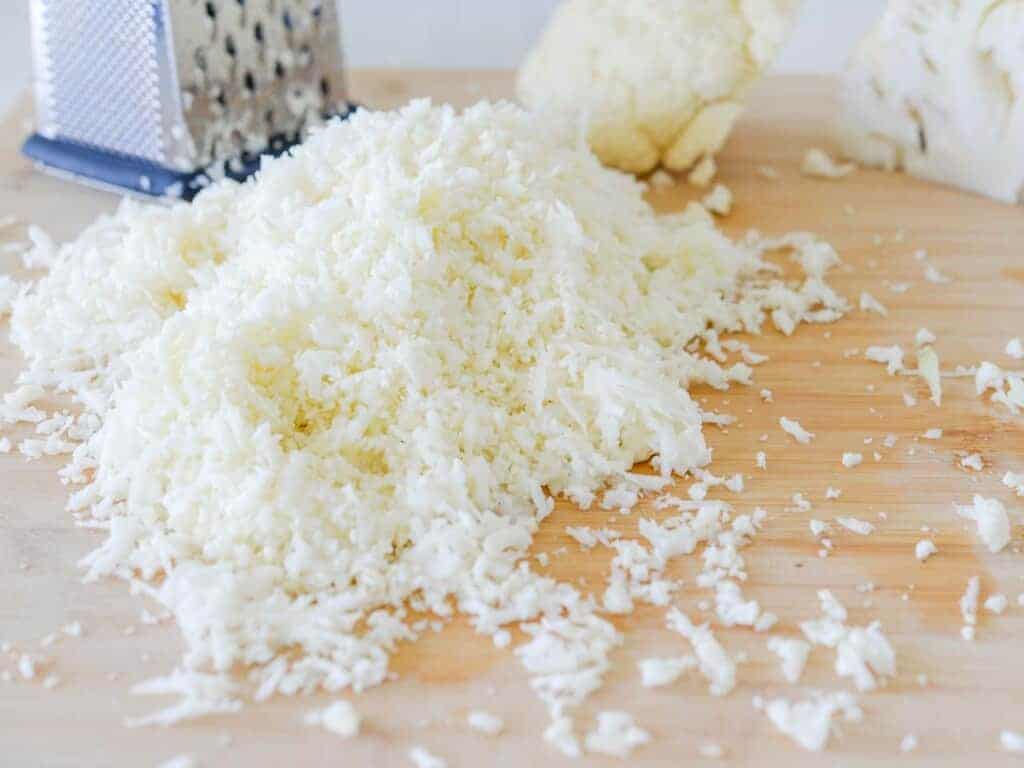 Alternatively, you can pulse the cauliflower florets in a food processor until they are the texture of rice. Usually, 10 to 15 pulses are the sweet spot for the right texture.
Step 4 - How to drain priced cauliflower
This step is optional. Sometimes cauliflower can have a lot of water and make your dish too soggy.
There's no need to drain the cauliflower before cooking if you'll be making fried rice with the riced cauliflower. Most of the water will evaporate as you're sautéing it in the pan.
To make a cauliflower pizza crust or a keto rice casserole, you might want to take the extra step of draining excess water off of the cauliflower.
To drain the riced cauliflower, add the riced cauliflower to a flour sack towel and then squeeze the cauliflower tightly to press out as much water as possible.
Step 5 - How To Cook It
There are many ways that you can cook with riced cauliflower. These are just a few.
Sauté. The fastest and easiest way to cook priced cauliflower is in a sauté pan with a little oil or butter. You can season it simply with salt and pepper or try one of the recipe variations below.
Make a low-carb casserole.
Make keto pizza crust.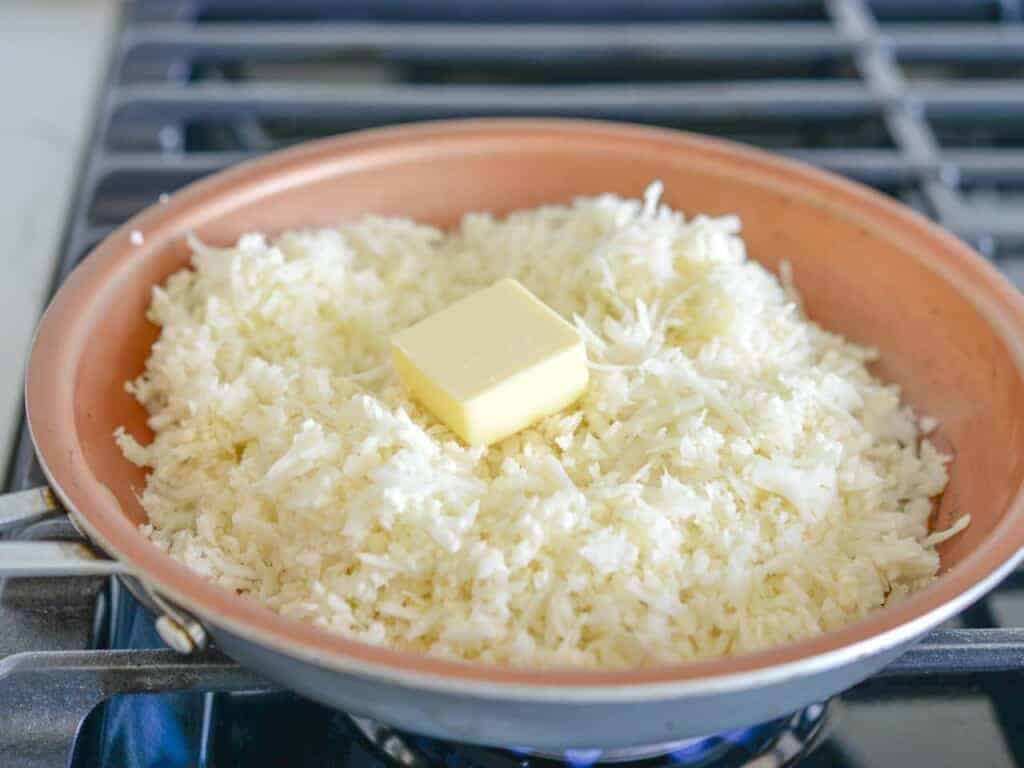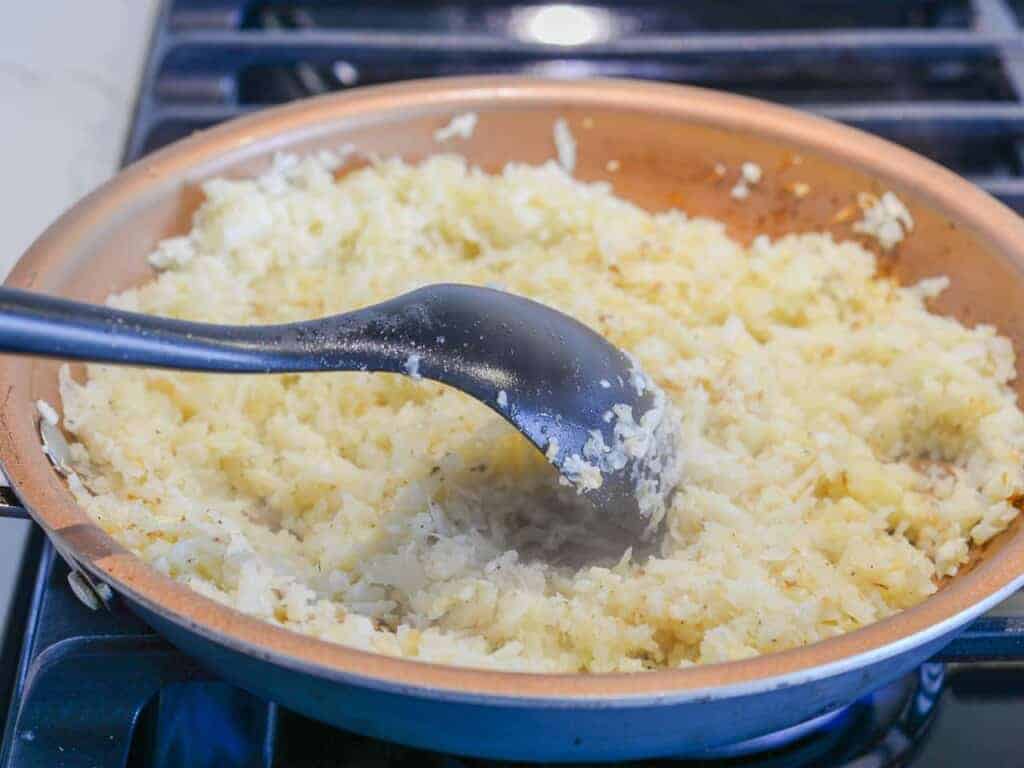 Storage Tips
Leftovers can be stored in the fridge and freezer beautifully. You can also store raw riced cauliflower in the fridge and freezer. Stasher bags work great for this.
How to store In the Fridge
Store raw riced cauliflower in the fridge for up to a week in an airtight container.
Store cooked cauliflower ride in the fridge in an airtight container for up to a week.
How to freeze
If it's raw, add it to a plastic freezer bag or silicone bag and freeze for 3 to 4 months.
If it's cooked, let it cool, and then add a portion to a plastic freezer bag or a silicone bag. I like Stasher Bags from freezing. Store for 3 to 4 months.
How to reheat or cook frozen riced cauliflower
Sautéing. You can sauté uncooked riced cauliflower straight from the freezer. Any excess water will evaporate during the cooking process.
Keto Rice Casserole OR Keto Pizza Crust. If you will be using frozen uncooked cauliflower in either of these, it's best to thaw the riced cauliflower and then press out any excess water before using it for cooking.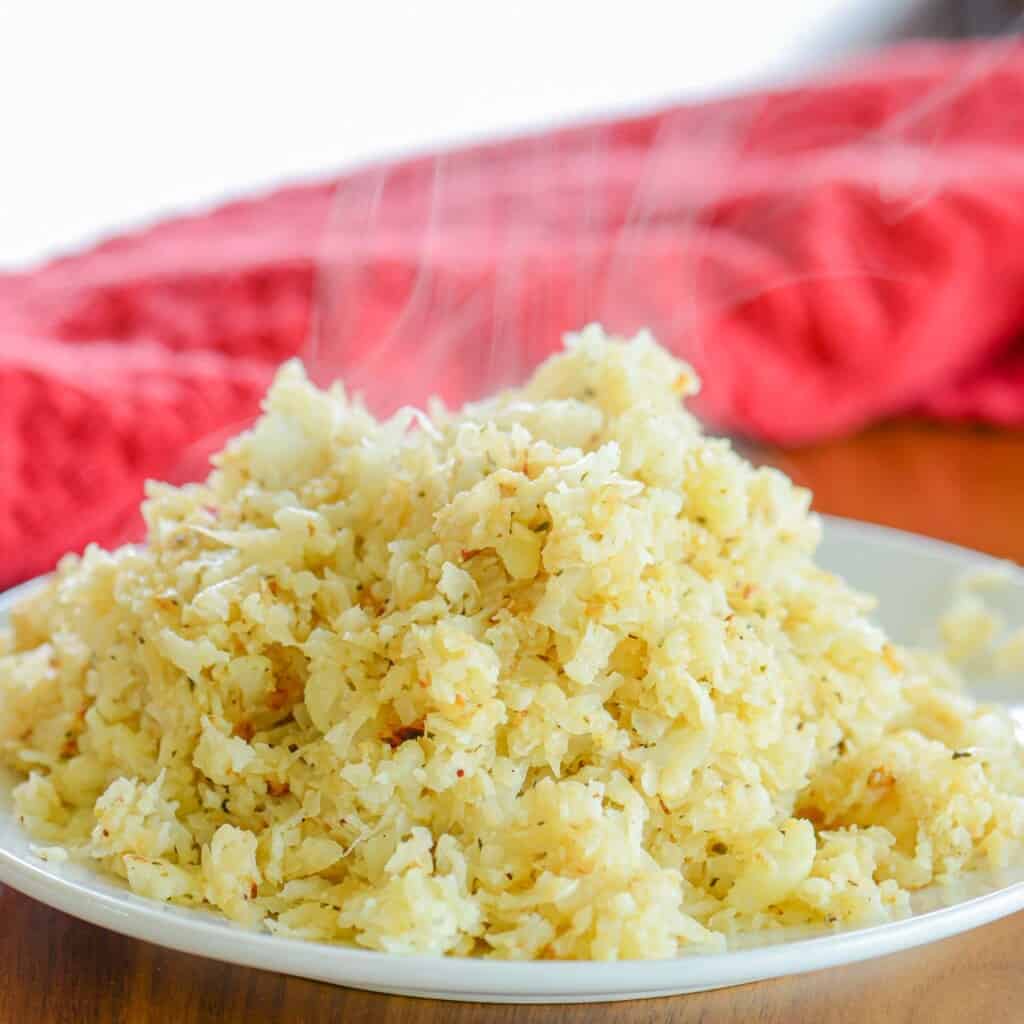 Recipe Variations
Check out these super yummy low-carb keto rice recipes if you need more low-carb recipe ideas.
Other Side Dish Recipes That You'll Love
If you're looking for more low-carb side dishes like this recipe, you'll love my Quinoa Recipe which is also super easy to make.
Cucumber Salad is always a family favorite. But Crunchy slaws, like Taco Slaw and Matchstick Salad, are delicious with almost any protein.
A Classic Wedge Salad is a delicious low-carb salad that is easy to make and eats like a meal.
➽ Did you make this recipe? I love to see what's going on in your kitchen. Please show me what you're cooking. 🍳 Tag me @foodologygeek on your favorite social channel! Facebook, Instagram & Pinterest. If you loved ❤︎ this recipe, please leave a five ★ review and a comment!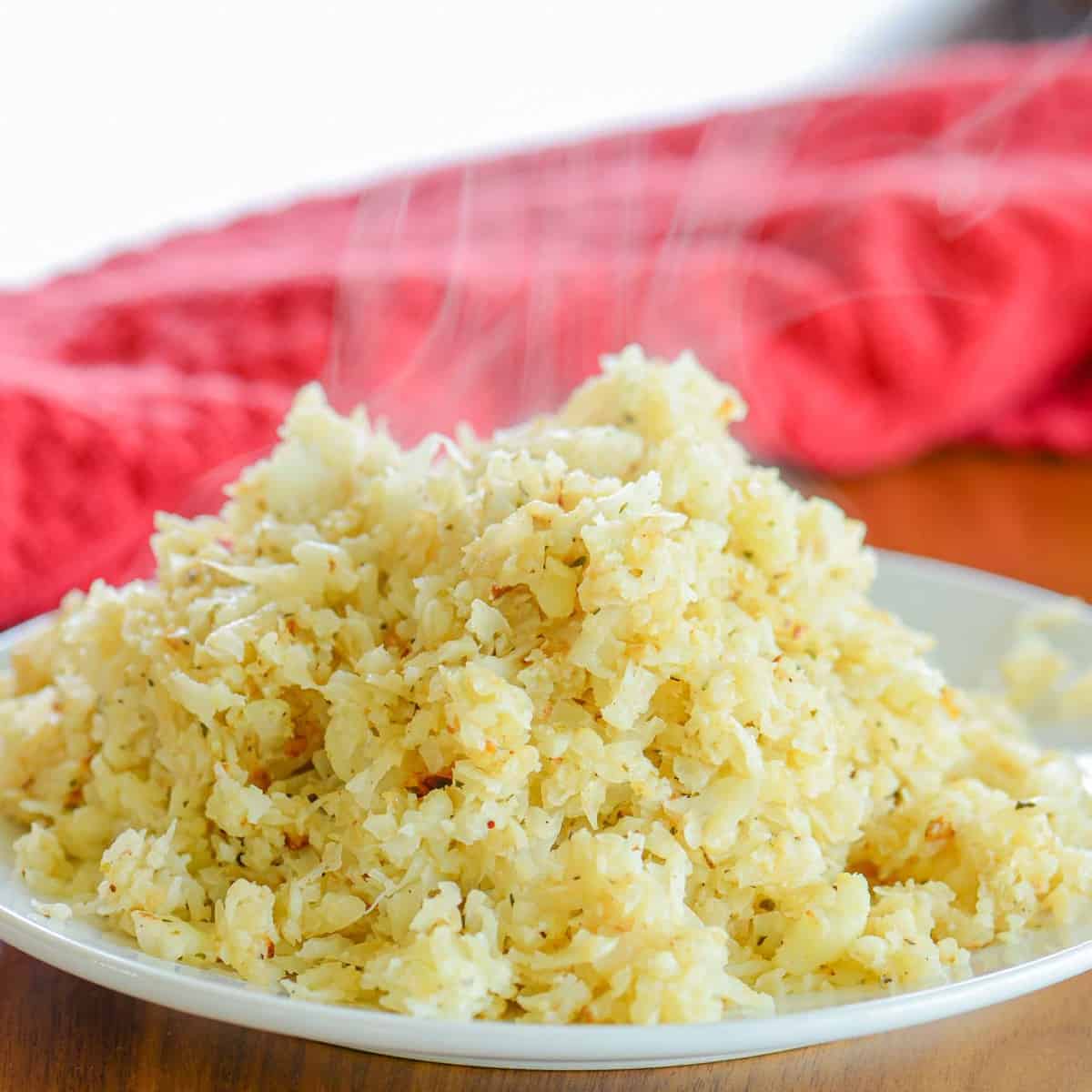 Easy Cauliflower Rice
Step-by-step instructions for making cauliflower rice. This basic recipe can then be used to make any recipe that calls for riced cauliflower. It's the perfect base for rice casseroles, cauliflower fried rice recipes, and even cauliflower pizza crust.
Ingredients
1

head

cauliflower

grated
Instructions
Rinse and dry the cauliflower.

Cut the cauliflower in quarters and remove all of the green leaves.

Box Grater Instructions: Use a box grater to grate the quartered pieces of cauliflower into "cauliflower rice."

Food Processor Instructions: Break up the cauliflower quarters into smaller florets. Add the florets to the bowl of your food processor, fitted with a metal S-blade. Pulse the cauliflower until the texture is similar to rice.

To Drain The Cauliflower. [optional]: To remove any excess water from the cauliflower, place the riced cauliflower on a clean dry kitchen towel (flour sack towels are perfect for this). Tightly squeeze the cauliflower in the towel to remove all of the water.

The riced cauliflower is ready to use in any recipe.

To Cook: Add a teaspoon of oil to a sauté pan. Add the riced cauliflower and sauté for a few minutes, until the riced cauliflower is warm. Season with salt and pepper to taste.
Laura's Tips + Notes
Recipe Variations
Cauliflower Rice Pizza Crust. 2 cups riced cauliflower + 2 eggs + 2 cups shredded mozzarella + 3 teaspoons Italian seasoning + 1 teaspoon of fennel. Spread on a Silpat and bake at 450℉ for 15 to 20 minutes. Top with your favorite toppings and then return to the oven.
Mexican Cauliflower Rice. 4 cups riced cauliflower + ½ cup each of corn and black beans + ¼ cup salsa.
Cilantro Lime Cauliflower Rice. 4 cups riced cauliflower + ¼ cup each diced onion and chopped cilantro + juice of 1 to 2 limes.
YOUR OWN NOTES
Nutrition
Calories:
36
kcal
Carbohydrates:
7
g
Protein:
3
g
Fat:
1
g
Saturated Fat:
1
g
Sodium:
43
mg
Fiber:
3
g
Sugar:
3
g
Calcium:
32
mg
Iron:
1
mg
FAQs and Expert Tips
Is Cauliflower Rice Keto?
Yes, its commonly called keto rice because it is super low in carbs and often used to make keto-friendly rice recipes.
Where to buy cauliflower rice?
You can buy riced cauliflower at the grocery store. You can find it in the produce section and frozen food section. If you don't have time to make your own, buying it premade can save you a little time in the kitchen.
How many carbs are in cauliflower rice?
Cauliflower has 3 net grams of carbs per cup. This is quite a bargain compared to white rice at nearly 50 grams of carbs per cup.
Can you freeze cauliflower rice?
Yes, it can be frozen. You can freeze the riced cauliflower before cooking to use it later. Any keto rice dish you've made with cauliflower can also be frozen and reheated later.
Is cauliflower rice good for you?
Cauliflower is high in fiber, low in calories, and may help with weight loss and healthy weight maintenance it's also a great substitute for white rice if you're watching your carbs or following a keto diet.
How much cauliflower rice does one head of cauliflower make?
The size of a head of cauliflower can vary greatly. However, I have found that one standard head of cauliflower will usually yield 3 to 4 cups of riced cauliflower.