As I kid I HATED candied citrus!
What? You too. Or maybe you've never tried it all. If not, that's truly a shame. This stuff is so good!
My grandmother used to always have chocolate dipped candied citrus around during Christmas.
She had a candy dish on the sideboard in her dining room. As kids we'd make a beeline to it upon arrival at her house – to see what treats it held in store. Imagine our disappointment to discover that the enticing chocolate sticks we found were hiding a candied peel interior! Looking back it may have been part of her master plan to keep us from eating all her special candy. She was no idiot!
Suffice to say with maturity* my tastes have changed!
Candied citrus is now one of my favorite things! Seriously, it's snack-ably delicious! [*Not to worry, maturity hasn't infiltrated all aspects of my life. While my palate has improved, I'm still a card-carrying dork.]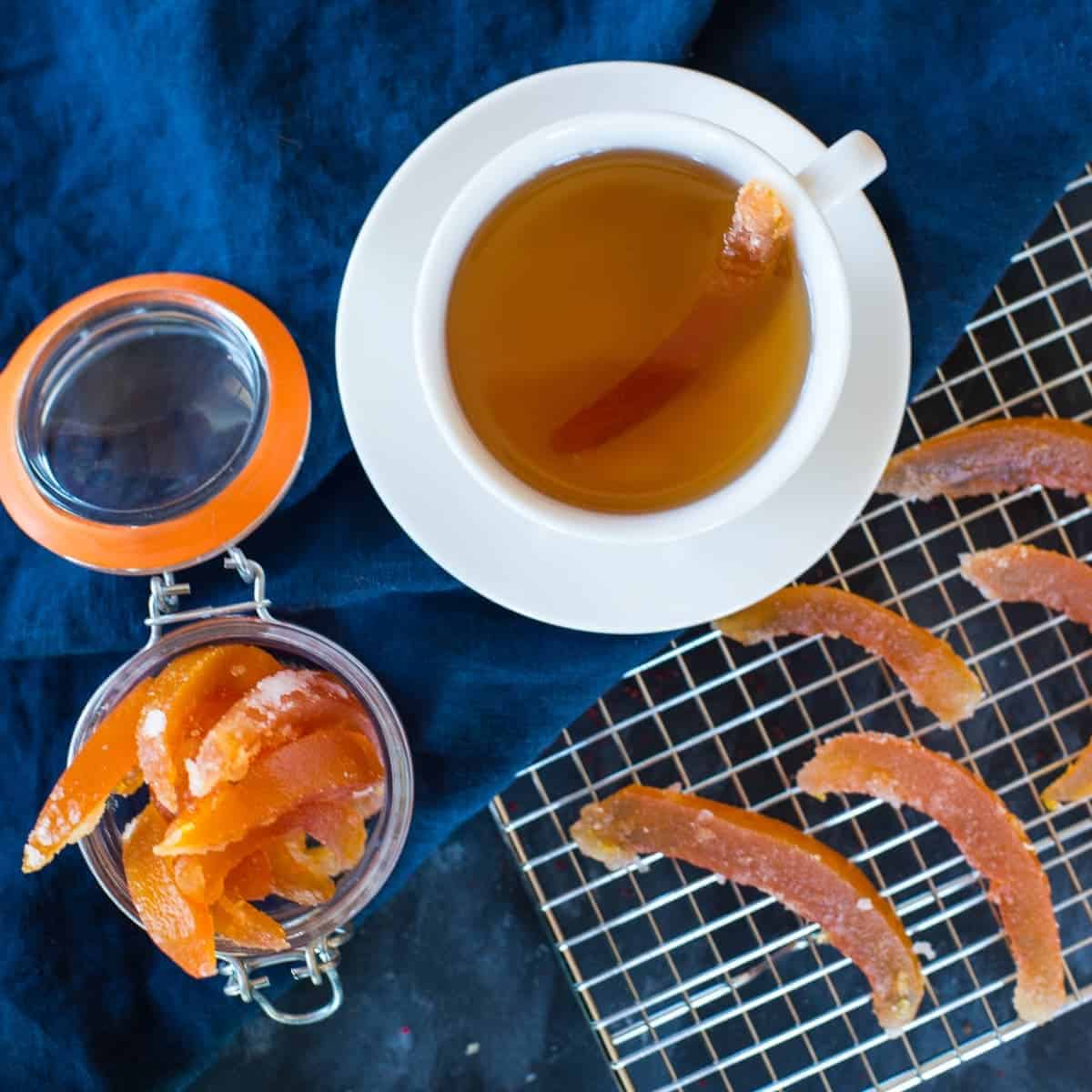 I encourage you to try it! It is easy to make, not to mention is a unique hostess gift to bring to a holiday party. Think of it as grown up gummy candy! Candied citrus rind with a cup of tea can be downright elegant. It is also a special treat that can be enjoyed by your gluten free, grain free and vegan friends. Don't forget to try this dipped in your favorite dark chocolate. These little jeweled toned bits of deliciousness can also be chopped and added to scones or muffins. There are so many options here.
Let us know if you give it a try and if you are as impressed as we are.
PRO TIP: Save citrus rinds and then when you have a good batch make up a batch of candied citrus rind. It is a great way to use citrus rinds and after they are candied they keep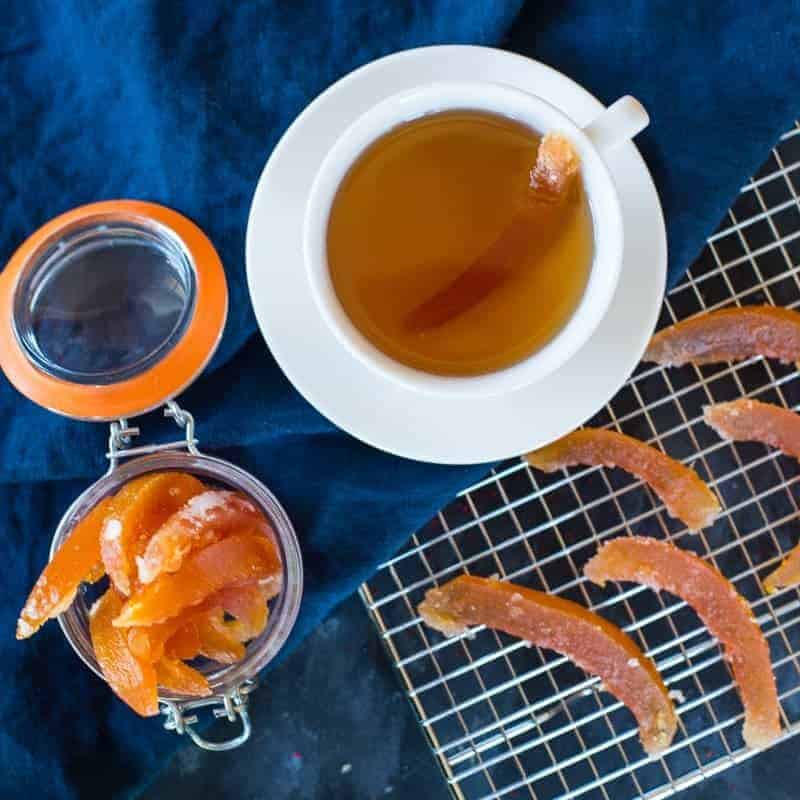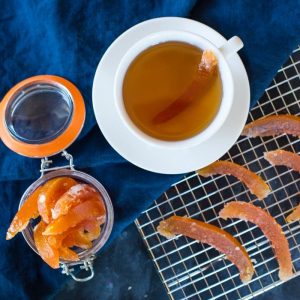 Candied Peel
Cook Time:
1
hour
25
minutes
Total Time:
1
hour
50
minutes
Serve with cookies. Dip in chocolate. Use in recipes in place of crystallized ginger or dried fruit. Use to sweeten herbal tea. These also make a nice gift, especially when also dipped in chocolate.
Print Recipe
Pin Recipe
Ingredients
5

navel oranges

or grapefruit

2 3/4

cups

sugar

divided

1

cup

water
Instructions
Cut the oranges in 1/2 and scoop out the fruit. Leave the white pitch on the peel. Cut the peel into long strips about 1/2" wide.

Using a large saucepan, bring about 1 1/2 quarts of water to a boil. Add the peel and simmer for 5 minutes. Drain the strips in a colander. Repeat this process 3 MORE times - for 4 cycles total. Use fresh water each time. (PRO TIP: Use 3 pots to save time.) Dry the peel gently at the end of this process.

In a heavy saucepan, combine the cup of water with 2 cups of the sugar. Swirl over low heat until the sugar dissolves.

Bring the sugar syrup to a boil and add the peel. Simmer over low head partially covered until most of the syrup has been absorbed by the peel. (Be patient: This takes approximately an hour.)


Lay the peel out evenly on a parchment-lined baking sheet to cool. Once cool, toss them with the remaining 3/4 cup sugar.

Spread on cooling racks to dry overnight. Store in airtight containers - or pack in jars or cellophane bags for use as a gift.
Notes
The candied peel with last 3 months in the refrigerator in an airtight container.
Makes approximately 2 pounds.
NOTE: The thicker the peel, the nicer the end result. Oranges and grapefruit work best. Lemons can be too bitter. The skin of limes and tangerines is too thin to achieve the desired texture in the end result.
(Visited 25 times, 1 visits today)