Homemade Candied Orange Peel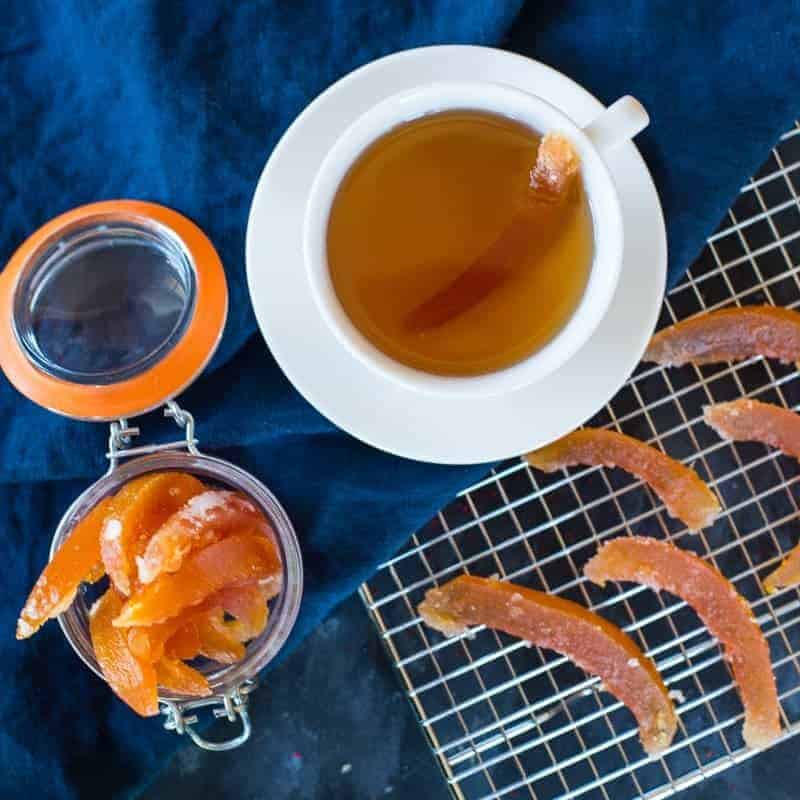 Recipe
Comments
Save
Go to Collections
This post may contain affiliate links. Please read my
disclosure policy.
Candied citrus peel is a great way to preserve citrus rind. The candied peel can be eaten on its own, dipped into chocolate, or used in your favorite baking recipes.
Once you learn this method, you can use it to candy not only citrus rind but ginger. Candied orange and ginger are a flavorful addition to many baked treats.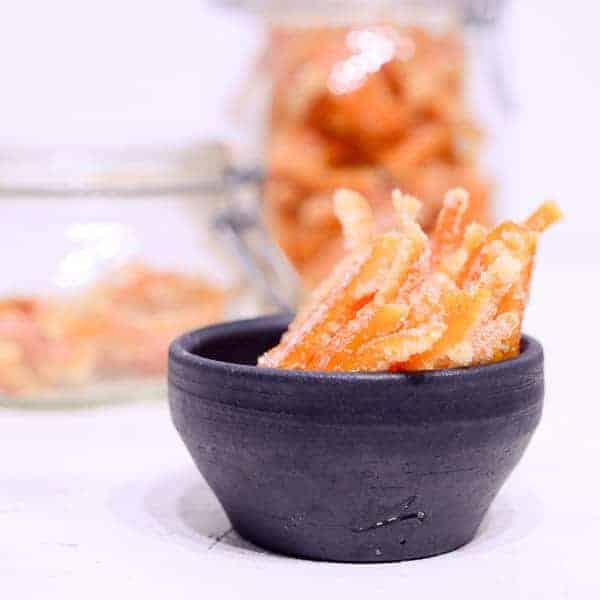 I don't like wasting things. So whenever I find an opportunity to turn and normally discarded part of food into something edible and delicious you know I'm going to jump on it!
You might be wondering why you would want to candy citrus peel.
Candied orange and ginger are often used in baking recipes. They have so much flavor. Once you bake with them you'll be hooked!
After making this candied orange peel, I whipped up a batch of Cranberry Orange Scones.
The candied orange peel gave these scones a next-level flavor and the chewy bits of candied orange added to the texture experience of eating these scones.
You, of course, can buy candied orange peel and candied ginger in the store but it's rather pricey.
If you can make it at home for pennies then I say let's do that.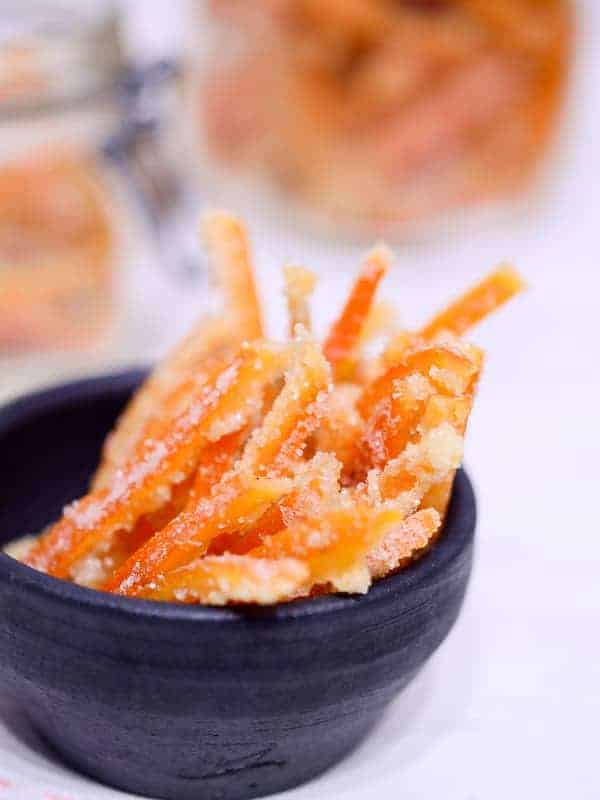 What is Candying?
The method of Candying is basically cooking the citrus rind in a sugar syrup until the peels are infused with the sugar.
After you boil the citrus rinds in sugar syrup they are taken out to dry, then they are rolled in sugar.
This method is best used for orange peels, lemon peels, grapefruit and pomelo peels.
Ingredients Needed to Candy Citrus Peels
Citrus Peels: This recipe calls for five oranges. You can use almost any type of citrus. You want to buy unwaxed citrus for this process or use a fruit wash

(affiliate link)

to remove the wax.
Sugar: Plain granulated white sugar is best for this recipe.
Water: To make the simple syrup.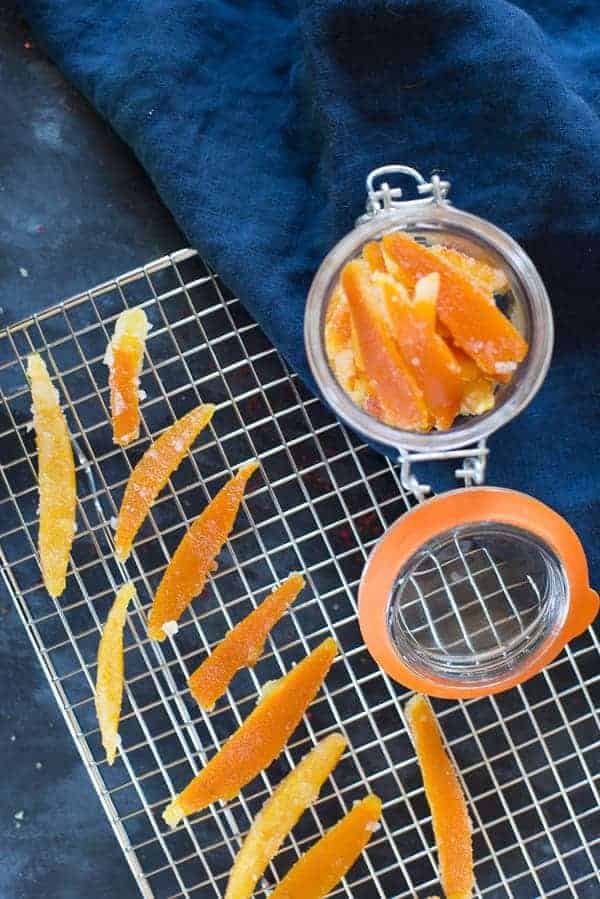 Special Equipment
Here are a few things that make candying a little bit easier.
Wire rack:

(affiliate link)

A wire rack is helpful for drying. If you don't have one you can use parchment paper but your citrus rind will take longer to dry out on the parchment paper.
Quart sized jars:

(affiliate link)

You will want to store your candied citrus in airtight jars.
Large pot:

(affiliate link)

I usually use my 6-quart Dutch oven for this application. Any 6-quart saucepan will do.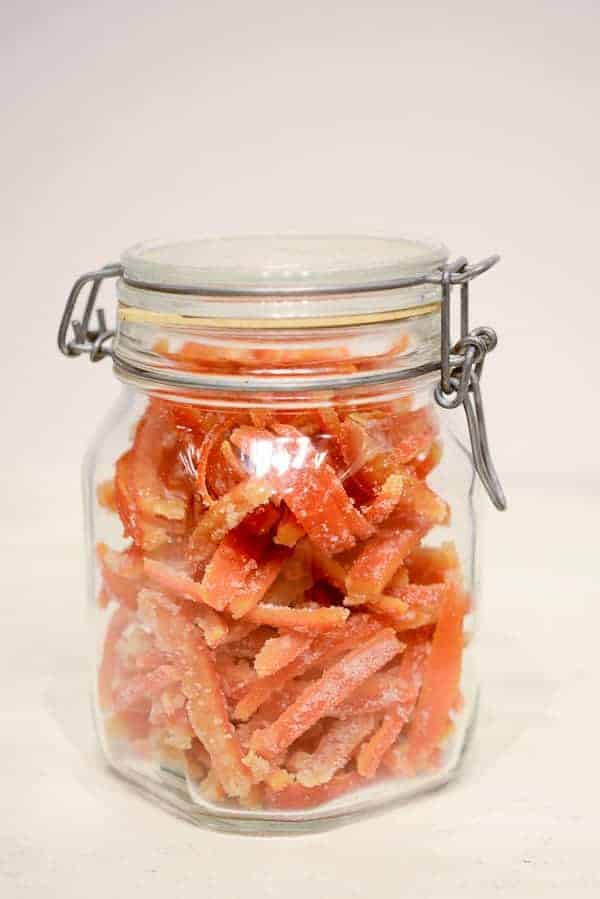 How To Make Candied Orange Peel
Peel the oranges
Remove the peels from the oranges by slicing them in quarters and then carefully removing the peels.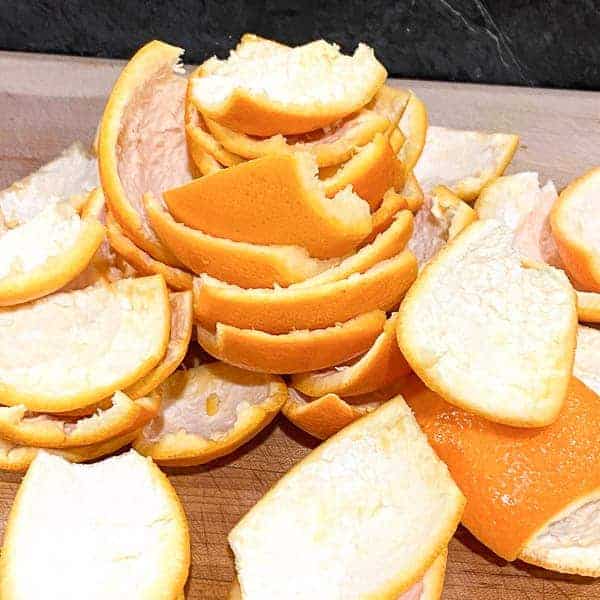 Boil the orange peels
Boiling removes any bitterness that the citrus peels may have.
Add the orange peels to your saucepan and cover with water. Bring to a boil and simmer for 5 minutes. Then drain.
Repeat step one.
For the third boil, simmer for 30 minutes. Drain in a colander.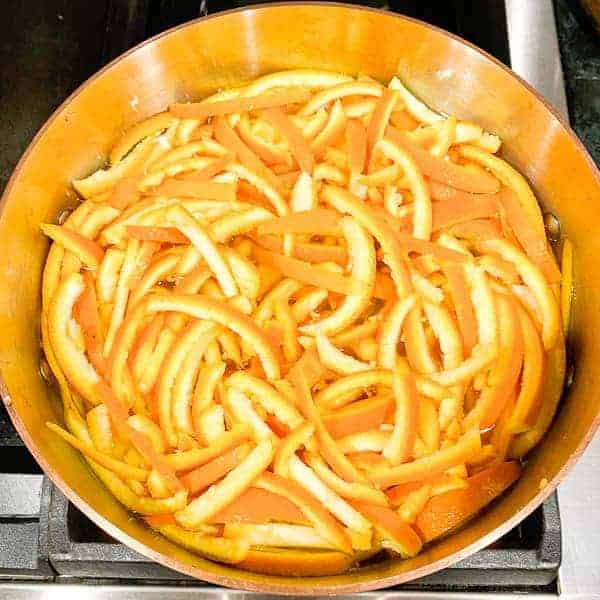 Simmer the orange peels in sugar syrup
Make the sugar syrup: Add the sugar, water, and the drained orange peels to your saucepan.
Simmer the peels: Bring to sugar syrup to a boil. Reduce the heat and then simmer for 30 minutes, or until the peels start to look translucent.
PRO-TIP: Save the orange scented simple syrup to use in cocktails or tea.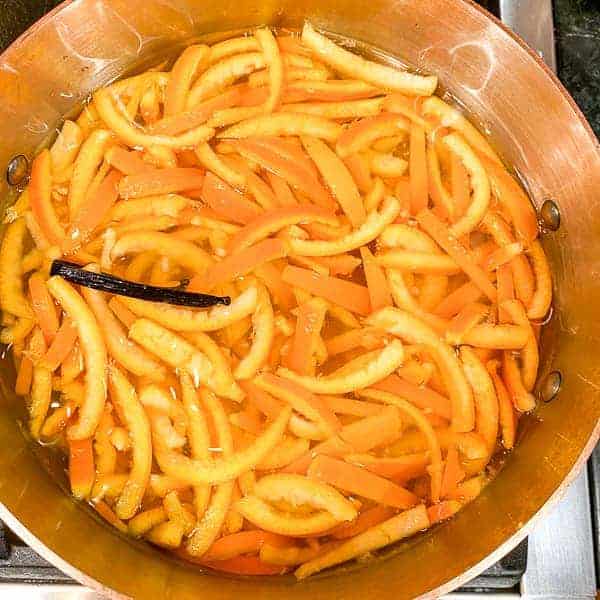 Dry the candied peel on a wire rack
Cool: Allow the sugar syrup to cool with the orange peels in it for about 30 minutes.
Remove peels: Use a fork to remove the peels and place them on a wire rack to dry. (set over a cookie sheet to catch drips)
PRO-TIP: To speed up the drying process you can place the rack in a warm oven (200℉) for about an hour.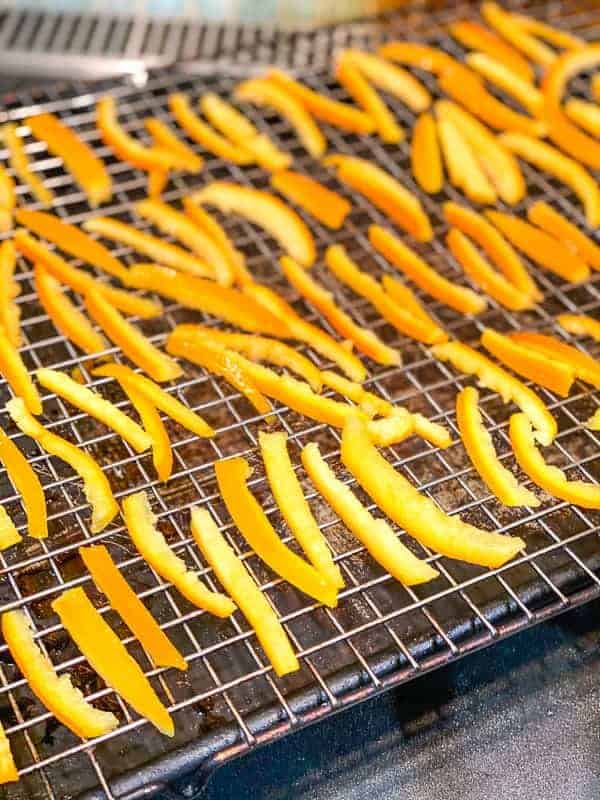 Toss the dried peel in sugar
Place the sugar in a bowl: Use about a cup or so of sugar to start.
Toss: until each peel is coated in sugar. I use chopsticks for this.
Remove and dry: Remove the peels and dry a second time.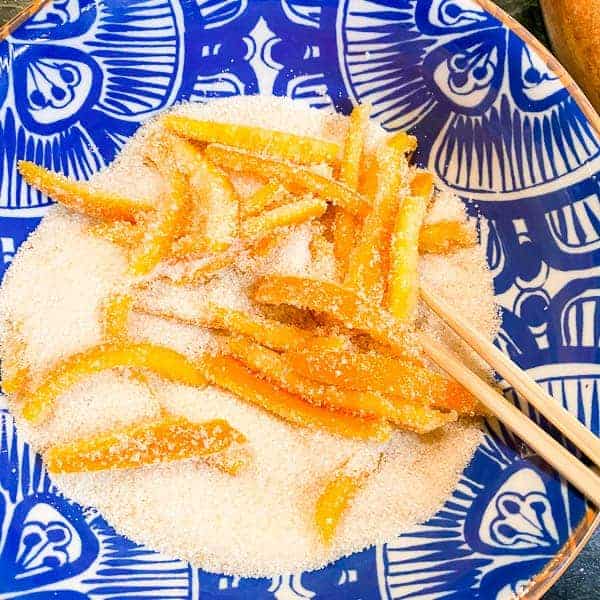 PRO-TIP: I save the orange scented sugar to use baking.
Store in an airtight container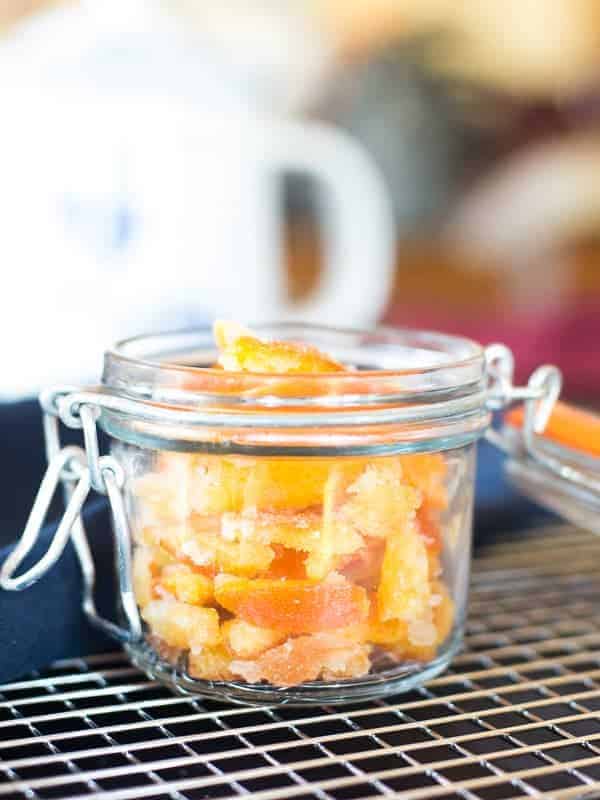 What can you make with candied orange peel?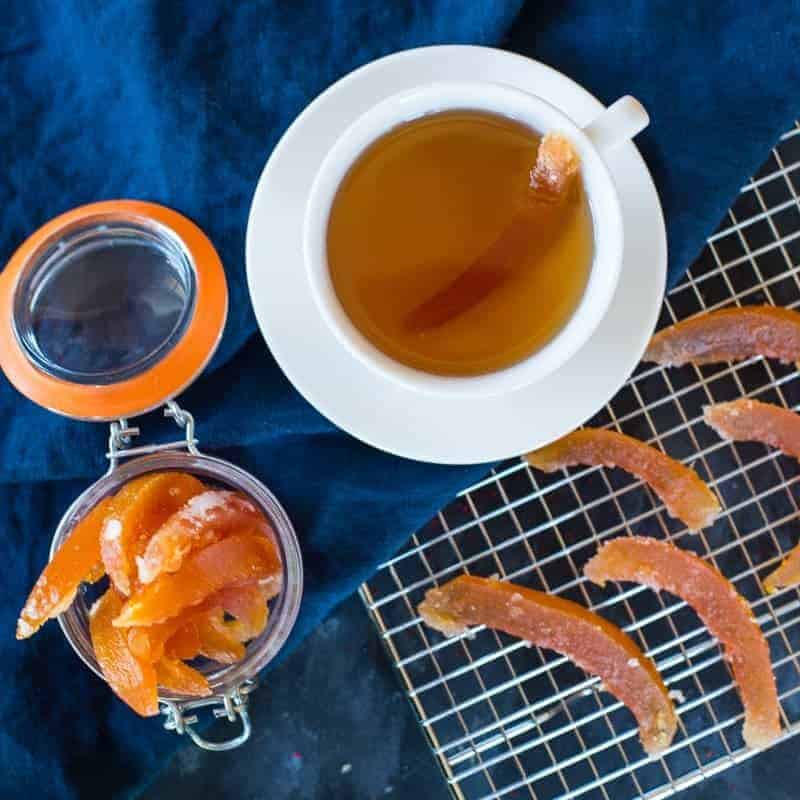 Candied Orange Peel
Serve with cookies. Dip in chocolate. Use in recipes in place of crystallized ginger or dried fruit. Use to sweeten herbal tea. These also make a nice gift, especially when also dipped in chocolate.
Ingredients
5

navel oranges

,

or grapefruit

2 ½

cups

sugar,

divided

1

cup

water
Instructions
Remove the peels: Cut the ends off of the oranges. Slice the peel into 4 segments and gently remove it from the oranges. Cut the orange peels into strips.

Boil the orange peels: Place the orange peels in a saucepan and cover with water. Bring the water to a boil. Drain the strips in a colander. Repeat this process 2 MORE times – for 3 cycles total. Use fresh water each time.

Make the simple syrup: Add the orange peels to a saucepan, combine the 2 cups of water with 1 cup of the sugar. Bring the mixture to a boil. Reduce the heat and then simmer for 30 to 35 minutes.

Lay the peel out evenly on a baking rack that has been set over a baking sheet. OR use a parchment-lined baking sheet.

Let the peels dry for 4 to 5 hours.

BEfore the peels are completely dry, toss them in the remaining sugar and set our again to dry overnight.

Once the peels are completely dry, store in an airtight container.
Laura's Tips + Notes
The candied peel with last 3 months in the refrigerator in an airtight container.
Makes approximately 2 pounds.
The thicker the peel, the nicer the end result.
Oranges and grapefruit work best.
Lemons can be too bitter.
The skin of limes and tangerines is too thin to achieve the desired texture in the end result.
YOUR OWN NOTES
Nutrition
Serving:
4
pieces
Calories:
37
kcal
Carbohydrates:
9
g
Protein:
1
g
Fat:
1
g
Saturated Fat:
1
g
Sodium:
1
mg
Fiber:
1
g
Sugar:
8
g
Calcium:
15
mg
Iron:
1
mg