Rich, creamy, perfectly baked cheesecake couldn't be easier. This is my foolproof recipe for the most delicious New York Cheesecake. This recipe never cracks and always looks super impressive. All the tips to make sure your cheesecake is perfect!
If homemade cheesecake sounds intimidating – Don't let it be!
There are just a few tricks to baking a perfect New York Style cheesecake recipe. I'm going to talk you through all of the steps. Even the water bath.
This cheesecake looks impressive professional even. It has a thick, crispy and buttery graham cracker crust, super tall sides, and a rich and creamy filling.
You can add any kind of cheesecake topping that you like. A simple berry topping is alway divine with cheesecake. My husband loves a jammy blueberry topping with his cheesecake. I love fresh fruit with a citrus glaze and a ton of whipped cream! This cheesecake recipe is amazing every time and it's never cracked on me. So I come back to it over and over again.
Disclaimer: This post does contain Amazon affiliate links. If you click on them Foodology GEEK may receive a small amount of revenue at no additional cost to you. I do appreciate the support.
Equipment you'll need
A 9x13 pan OR a Large roasting pan
Heavy-duty aluminum foil
Stand Mixer with a paddle attachment
Food Processor with a blade attachment
Having the right tools on hand always makes a project easier. All of these tools are the tools that I use and have in my kitchen. Feel free to substitute if you have something different. Of course, you can use a hand mixer if you haven't invested in a Kitchen-Aid yet. And if you don't have a food processor a zip top freezer bag and a rolling pin make crushing graham crackers like therapy.
Once you've gathered all of the necessary equipment. Make sure you have all of the ingredients.
Ingredients to make a cheesecake
Graham crackers
Walnuts
Butter
Brown sugar
Cinnamon
Cream cheese
Sour cream
Heavy Cream
Vanilla
Salt
Oranges or lemons
Vanilla bean
Granulated sugar
Eggs
First: Make the best graham cracker crust recipe.
All graham cracker crusts are not created equal. You know that graham cracker crust that is in the shrink wrapped packaging? The one that is usually by the JELLO? This crust is NOT that graham cracker crust. When you make a graham cracker crust for cheesecake it should be thick and buttery and have a little bit of sweet-cinnamony flavor.
I use walnuts in the crust as well. The toasted walnuts give the crust an extra layer of decadence.
How to make graham cracker crust.
A food processor makes graham cracker crusts foolproof. It's as simple as adding all of the dry ingredients into the food processor bowl and pulsing until you have a perfectly crumbly texture. Once you have a relatively fine texture, add all of the dry ingredients to a large bowl. Melt the butter in the microwave or in a small saucepan. Add the melted butter to the dry ingredients and toss well.
Add the crust mixture to the springform pan and press. You can decide if you have to have a super thick bottom crust or you can press the crust up on to the sides as well.
I find that using a small measuring cup helps to press the crust out evenly around the side.
Then you will prebake the crust and let it cool while you make the most delicious cheesecake filling ever!
Ingredients that you will need for a graham cracker crust.
graham crackers
walnuts
brown sugar
cinnamon
melted butter
How to make a gluten-free graham cracker crust.
So many people I know are avoiding gluten. If you are too, don't despair you can find gluten-free graham crackers on almost any grocery store shelf. Simply substitute the gluten-free version of graham crackers in the recipe and then follow the recipe directions exactly as written.
Another option is using gluten-free graham cracker crumbs.
Make the most deliciously rich and creamy filling.
This is a New York-style cheesecake recipe with sour cream. What makes a cheesecake New York style? The sour cream is what makes this a New York Cheesecake. New Yorker aren't like Californians. They aren't into low fat, healthy conscious, vegan sugar-free desserts. New Yorkers like real food. Extra-large pizza, meatballs, and pasta, so of course when it comes to cheesecake New York does it big!
This cheesecake is giant and has ALL the calories. It has all the full-fat dairy and of course sugar. This cheesecake is definitely a YOLO kind of dessert recipe. But, don't let that stop you. Whenever I make this cheesecake and bring it to a party or a holiday dinner, it's always completely devoured and I get about a hundred requests for the recipe. The cheesecake is the best cheesecake I have ever had.
Finally, Top it with your favorite fruit topping.
There is nothing more delicious than a perfectly baked cheesecake.
Why did my cheesecake crack?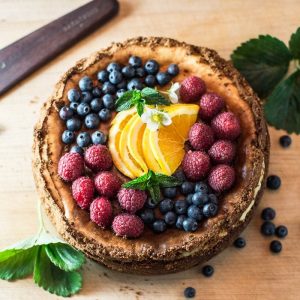 The Best Sour Cream Cheesecake
Total Time:
1
hour
30
minutes
Decadent Sour Cream Cheesecake – This cheesecake is perfect every time. It never cracks.
Print Recipe
Pin Recipe
Ingredients
Crust
2

cups

graham cracker crumbs

½

cup

walnuts

¼

cup

packed golden brown sugar

2

tsp

ground cinnamon

7

tbsp

butter

melted
Instructions
Wrap the outside of a springform pan in aluminum foil and place on top of a baking sheet.
Crust
Finely grind graham cracker crumbs, walnuts, cinnamon and sugar in a food processor.

Add melted butter and process until all crumbs are moist.

Press into the bottom and sides of the spring form pan.

Bake crust until is just begins to brown, for about 15 minutes.

Let crust cool while you make the filling. Maintain the oven temperature.
Filling
Blend cream cheese, sugar and salt until smooth.

Add sour cream, orange peel, vanilla, and the scrapings of the vanilla bean.

Add eggs one at a time. Blend well.

Pour filling mixture into crust.

Bake until edges no longer move, about 1 hr and 5 min.

Remove and place on rack.

Place cheesecake directly into the refrigerator.

Loosen edges by running a knife around the outside of crust.

Release pan, transfer to a cake plate and serve.
Notes
Top with seasonal fruit and whipped cream.
Lemon or Lime zest may be substituted for the orange zest.
(Visited 67 times, 1 visits today)