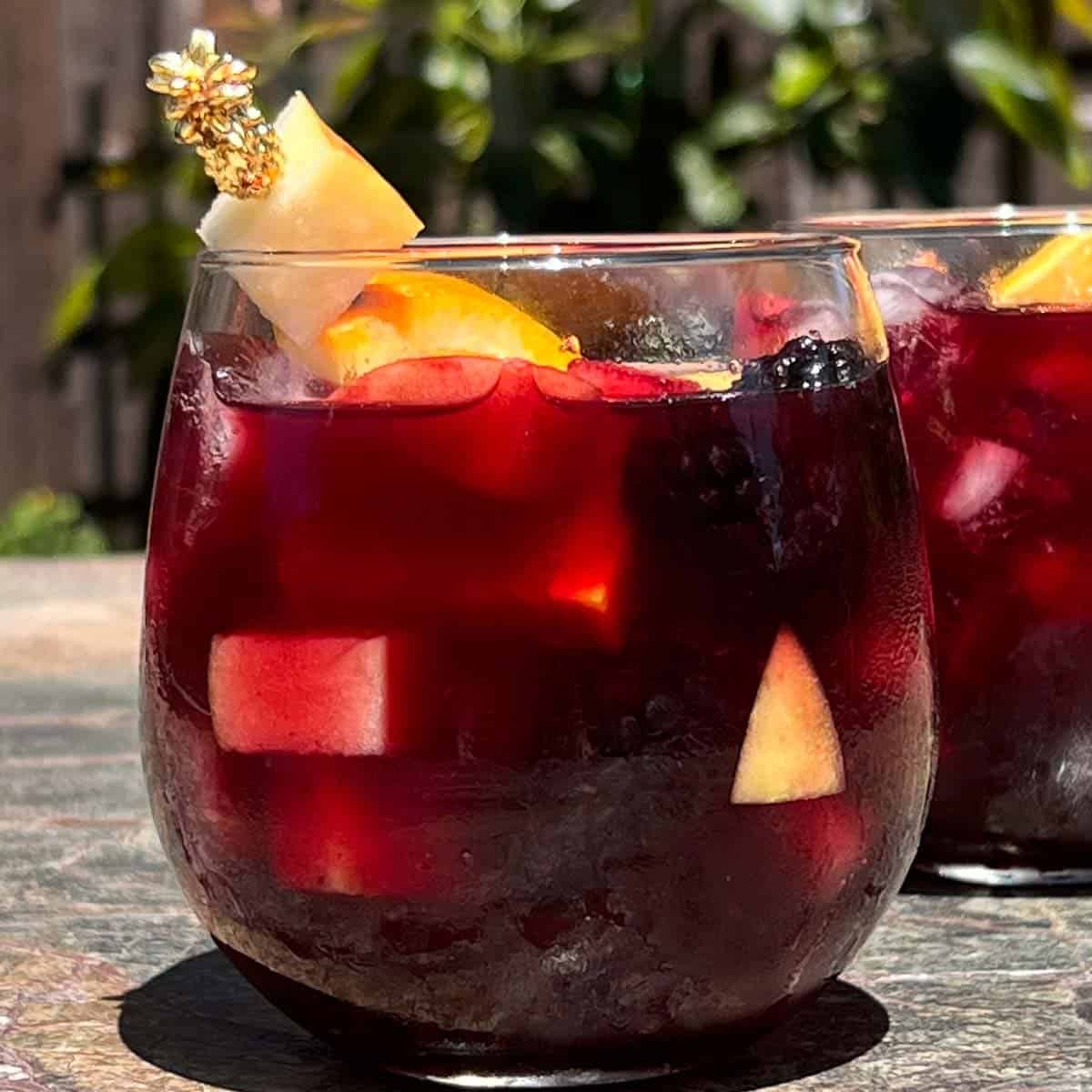 Recipe
Comments
Save
Go to Collections
This post may contain affiliate links. Please read my
disclosure policy.
Wine lovers rejoice! Today we're whipping up a classic red sangria recipe. This festive drink is perfect for parties and gatherings, and best of all, it's easy to make. So grab your favorite bottle of red wine, and let's get started!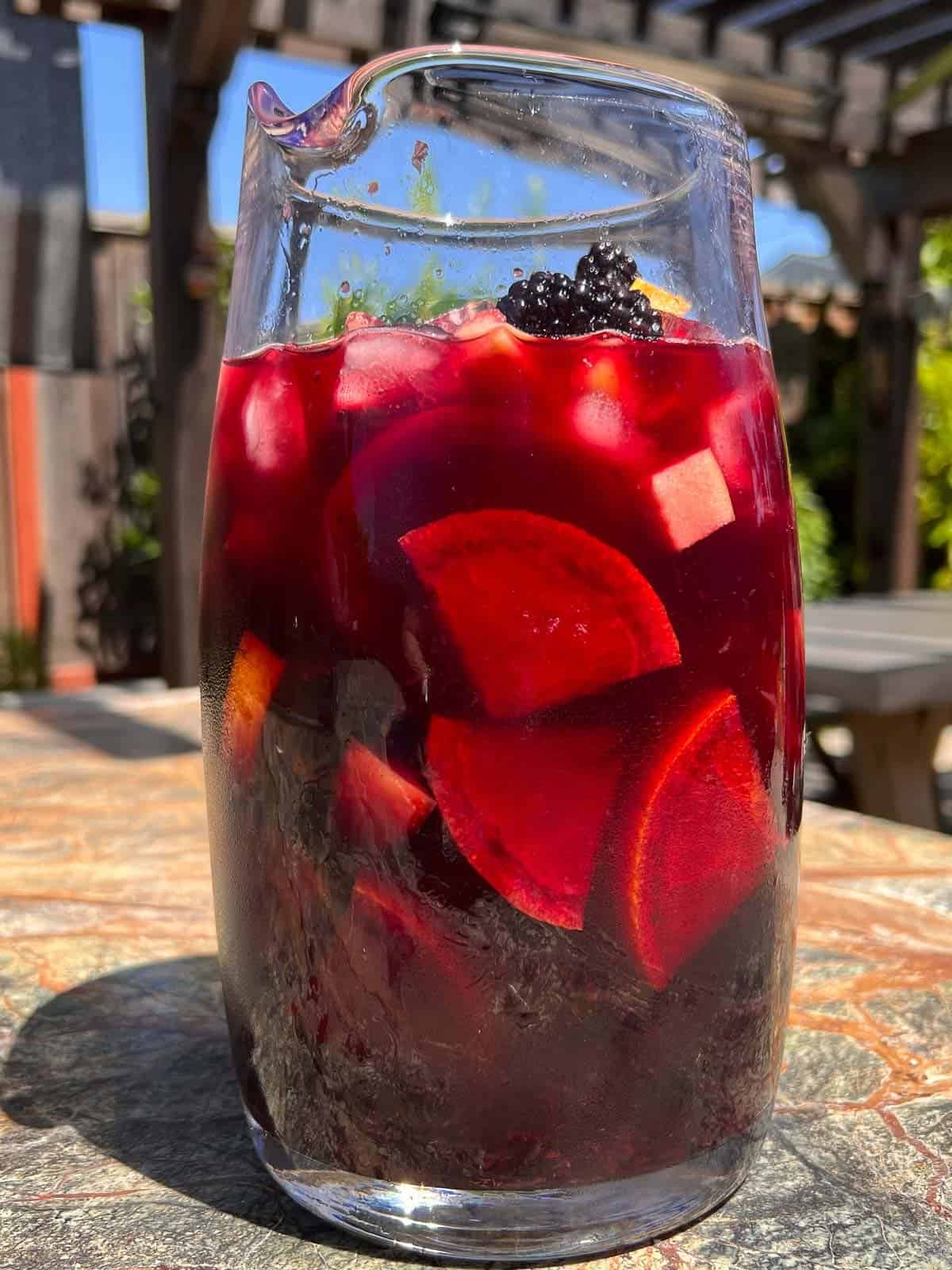 Sangria is the perfect way to serve drinks to a crowd when you're having a backyard party. Especially if it's a hot summer day when it might be too warm for a glass of wine.
This fruity wine punch is an easy batch cocktail recipe that's perfect for an outdoor barbeque during the summer months. If you're a sangria fan already, check out a lighter version of sangria White Wine Sangria.
What is sangria wine?
Traditional Spanish Sangria is made with red wine and brandy and is sweetened with a little bit of fruit juice and sugar. Fresh fruit is added to the sangria pitcher to marinate.
Serve over ice and garnish with fruit from the pitcher. You can also add carbonated water to give the sangria a few bubbles.
Recipe for sangria
There are a lot of ways to make sangria. The essential ingredients are red wine, liqueur, fresh fruit, and a little sweetener. You can use either fruit juice or sugar, and sometimes both.
Here is what I use in my red wine sangria recipe.
Red wine: 2 bottles of red Spanish table wine. Rioja wine is usually the wine that I use.
Liqueur: 1 cup brandy and 1/2 cup triple sec or similar orange liqueur.
Fresh Fruit: Orange slices, lemon slices, apple slices, and blackberries.
Fruit juice: 1 cup freshly squeezed orange juice and 1 cup pomegranate juice
Sweetener: 1/2 cup simple syrup, or more to taste. I usually leave this out. You can also use maple syrup.
Club soda for serving.
Ice.
Orange wedges for garnishing,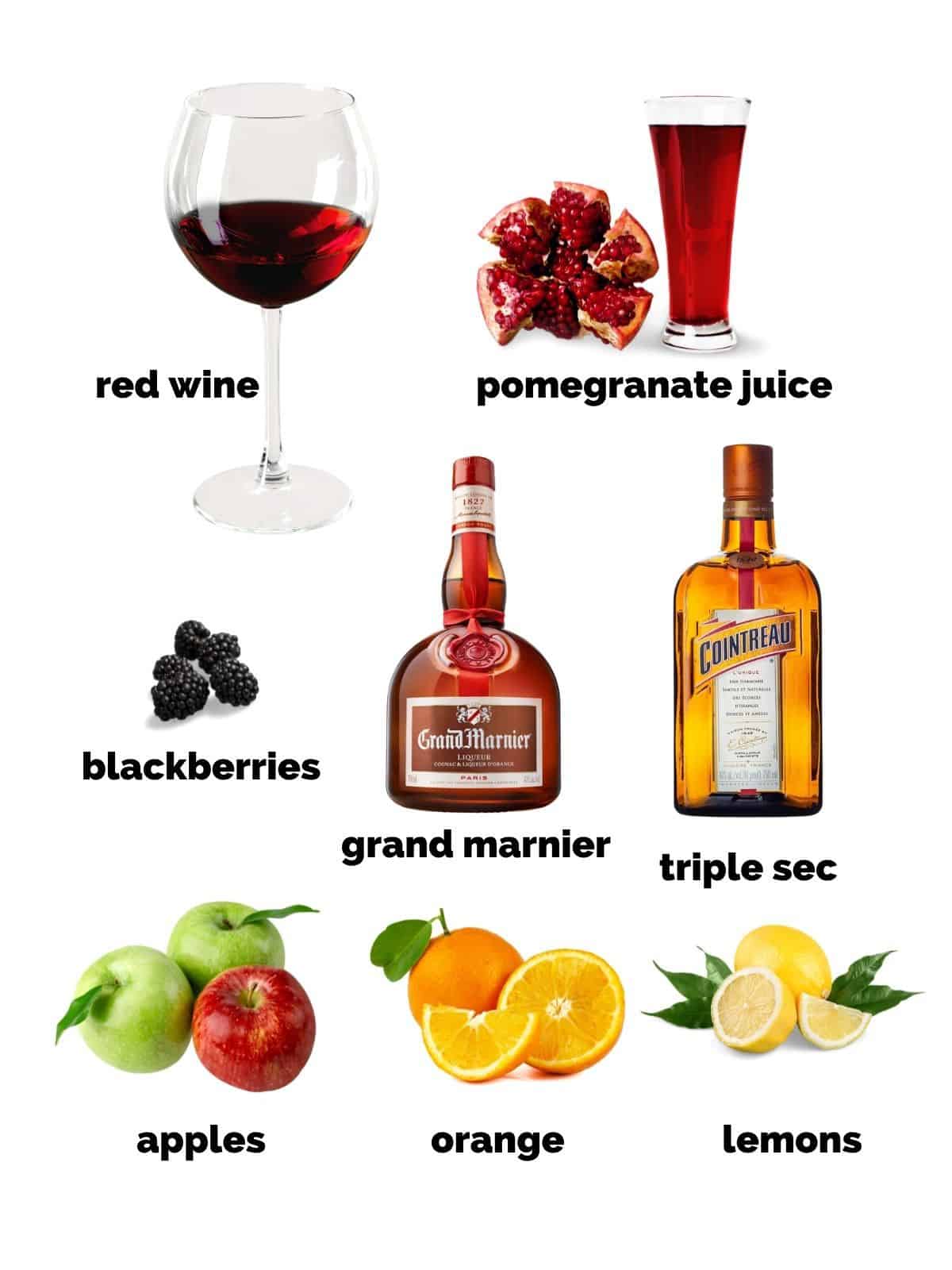 What fruit do you put in sangria?
Fresh seasonal fruit is always best. Oranges and apples are a constant when making classic sangria with red wine. Peaches and mangos can be used to create a white wine sangria. Strawberries and plums pair well with rosé.
Summer fruits are:
apples
berries
cherries
melons
mangos
nectarines
peaches
plums
Best Wine For Sangria
Inexpensive Spanish red wine is best for sangria. Rioja or Garnacha is my go-to affordable wine choice. For red sangria, other wines you can use are pinot noir and cabernet sauvignon.
You want to choose a wine that could be drunk on its own, but it doesn't have to be an expensive bottle.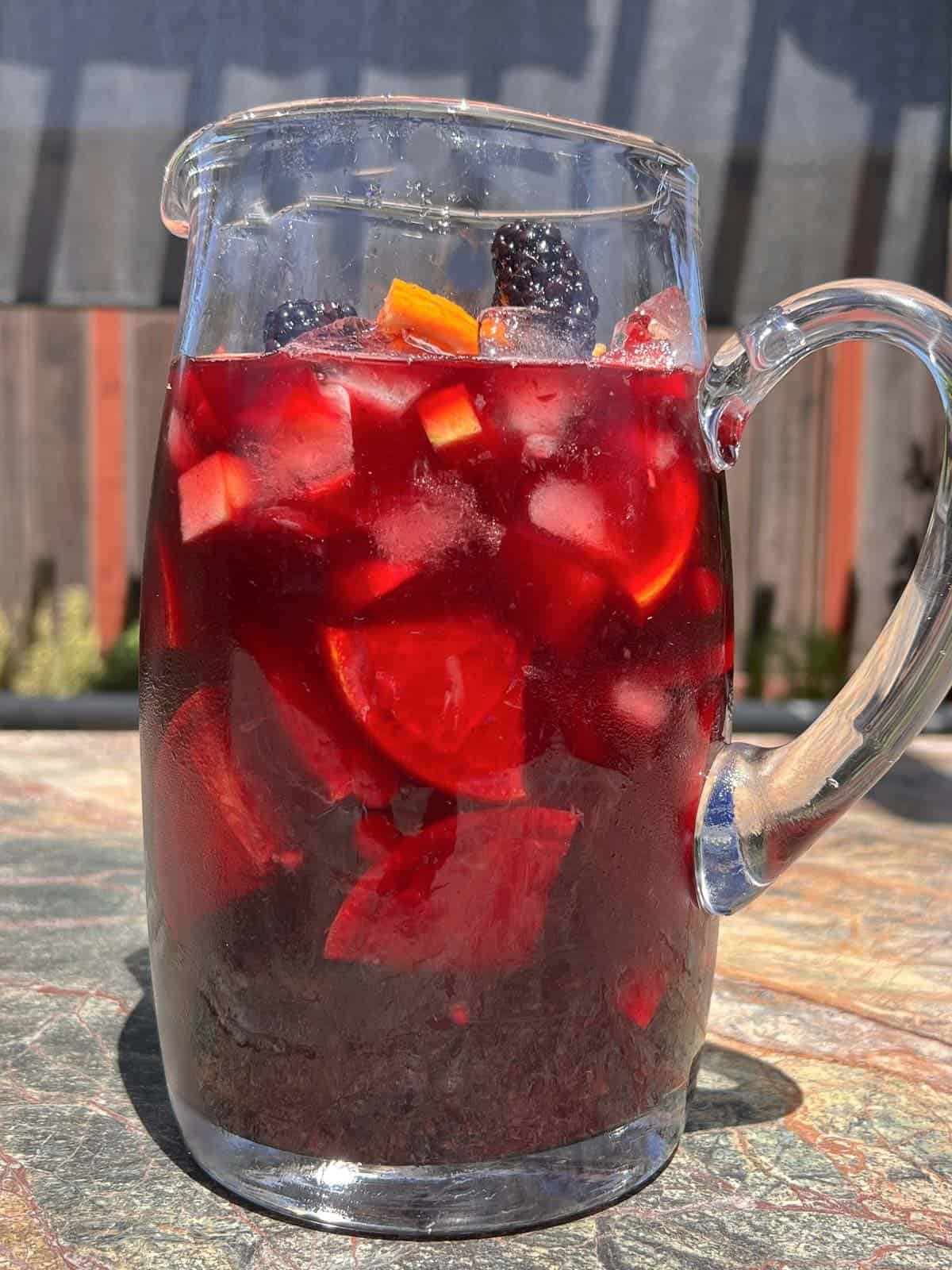 Substitute for brandy in sangria
Brandy is the liqueur that is traditionally used in a Spanish sangria recipe. But you can feel free to switch it up. I like to choose a liqueur that complements the fruit that I am using.
Orange liqueur like Triple sec or Grand Marnier works well with citrus fruits.
Blackberry brandy complements blackberries and plums.
A peach liqueur, like peach schnapps or Drillauds peach liqueur, is delicious if you want to make a white wine sangria with peaches.
A strawberry liqueur, like Drillauds Strawberry, is excellent with a Rosé wine and strawberries.
How To Make Sangria
Mix all ingredients in a tightly sealed container or a large pitcher, covered with plastic wrap, and let stand for at least 24 hours in the refrigerator before serving.
How To Serve Sangria
Sangria is traditionally served over ice and garnished with fruit from the pitcher.
You can also feel free to add soda water to the sangria if you'd like it a little bubbly.
Garnish each glass with a wedge of fresh orange.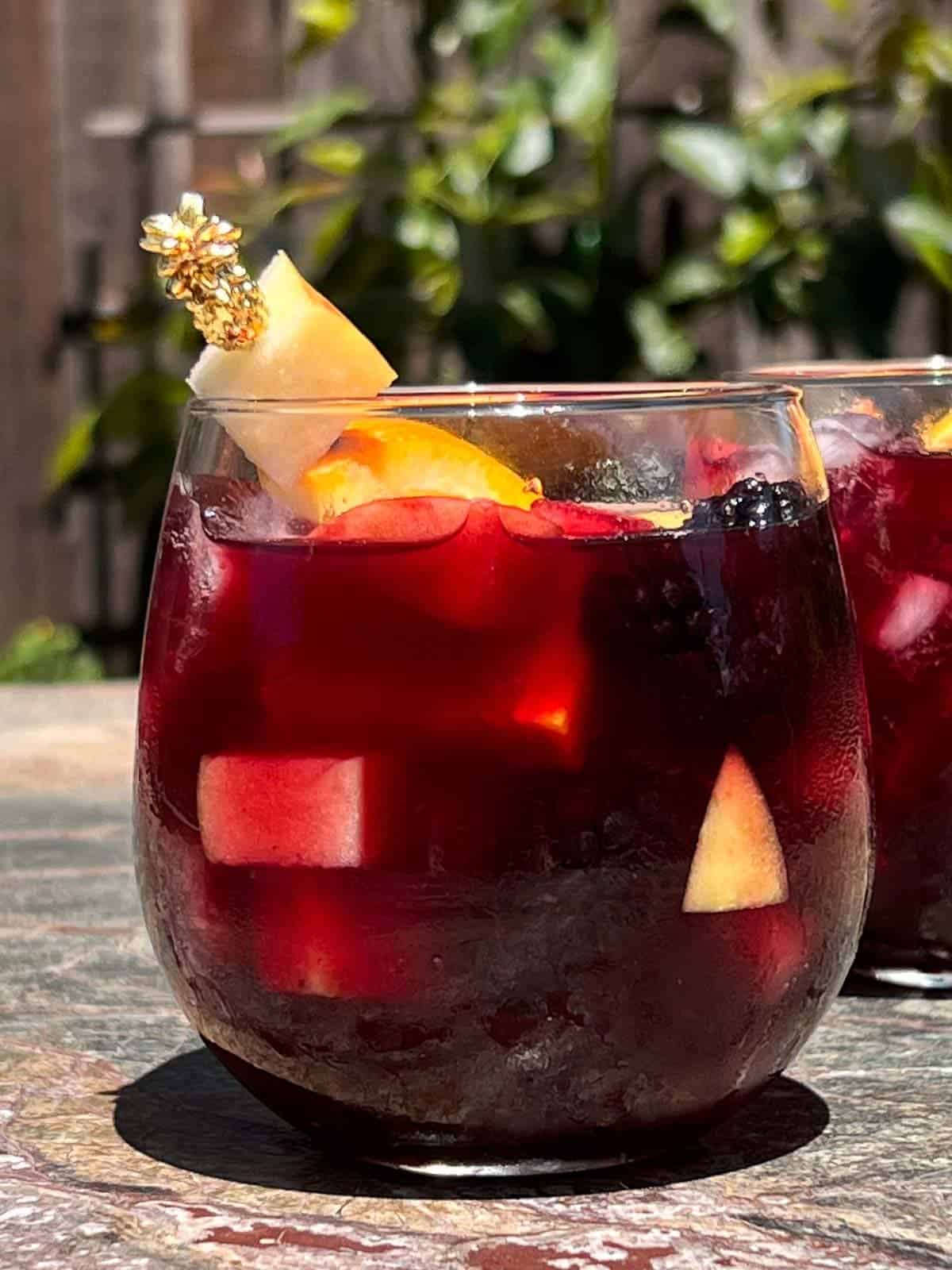 Sangria Variations
Once you're familiar with what goes into the traditional sangria recipe, you can play around with the ingredients and create your favorite version of sangria.
Sangria can also be made with white or rosé. You can use different flavored liqueurs that complement the fruits you are using.
A few common versions of sangria are:
Peach sangria
Watermelon sangria
Sangria with rosé
Check out more sangria recipes!
What to Serve with Sangria
A frosty pitcher of sangria pairs well with Mexican Food, Spanish Tapas, and Grilled Meats. It's the perfect beverage to serve at all of your summer parties.
Leave A Review
Did you make this recipe? I'd love to hear about it. Leave a comment, and don't forget to leave a 5 ★ review.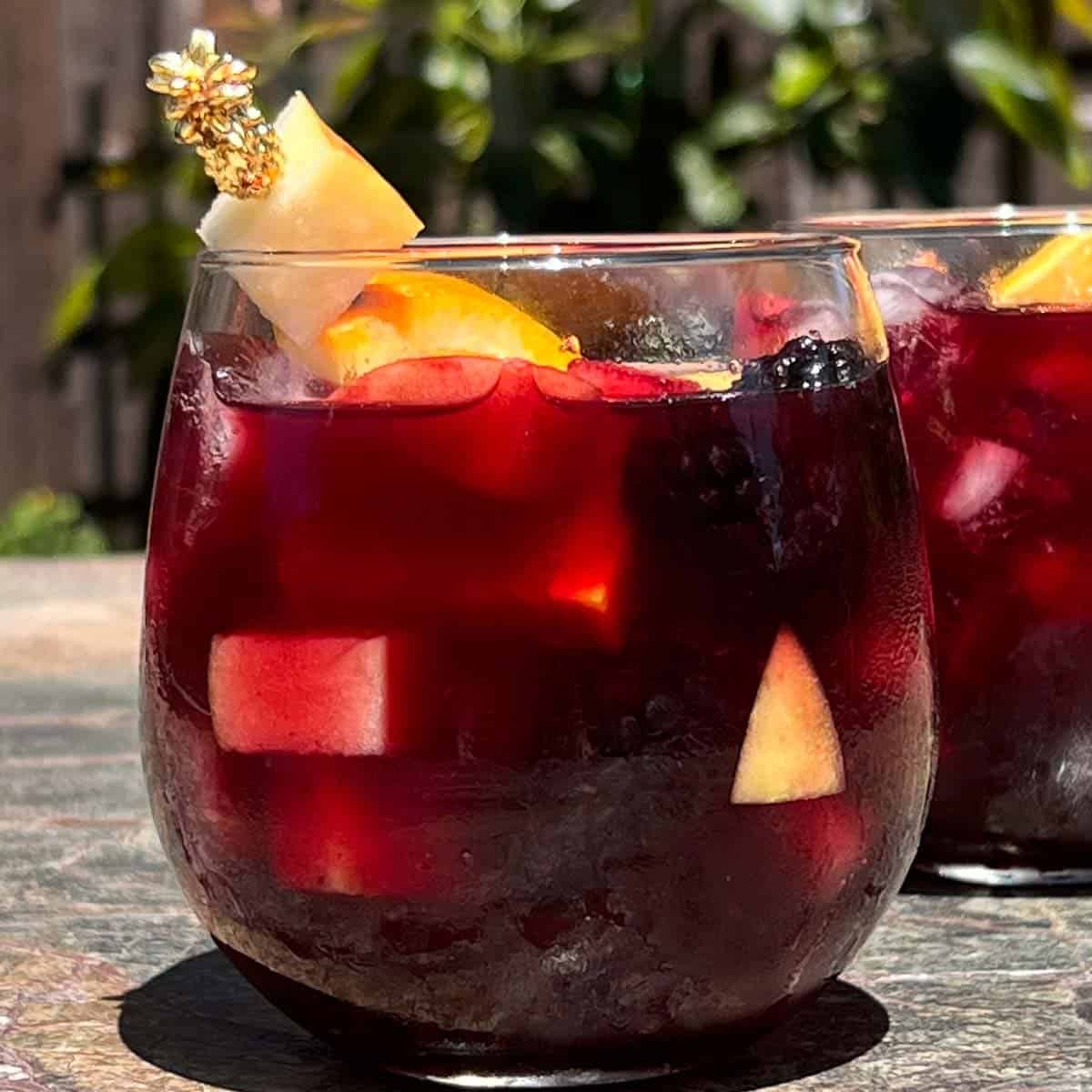 Red Wine Sangria
Sangria is the perfect drink for summertime. It's refreshing, flavorful, and most importantly, easy to make! This red wine sangria recipe is my all-time favorite. It's simple to follow, and always turns out great. Whether you're hosting a party or just enjoying a glass on your porch, this sangria is sure to please. Cheers!
Ingredients
2

bottles

red Spanish table wine

,

Rioja

1

cup

brandy

½

cup

triple sec

1

cup

orange juice

,

juice from 2 oranges

1

cup

pomegranate juice

orange slices

,

2 oranges, plus more for garnishing glasses

Apple slices

,

2 apples

Blackberries

,

1 cup
Optional Ingredients
½

cup

simple syrup

,

or more to taste (equal parts sugar and water, heated until sugar dissolves, cooled)

soda water
Instructions
Mix all ingredients together and let stand in a tightly sealed container or pitcher for at least 24 hours in the refrigerator before serving.
Laura's Tips + Notes
Simple syrup is optional. Use it to adjust the sweetness. You may not need any at all or you may need more. It depends on the variety of wine you use. Nutrition info is calculated without the simple syrup.
Rioja wine is usually the wine that I use.
YOUR OWN NOTES
Nutrition
Calories:
129
kcal
Carbohydrates:
8
g
Protein:
1
g
Fat:
1
g
Saturated Fat:
1
g
Sodium:
2
mg
Fiber:
1
g
Sugar:
7
g
Calcium:
4
mg
Iron:
1
mg