Teriyaki Chicken Bowls (Super Easy Dinner)
Teriyaki Chicken Bowls with juicy umami-packed chicken, a healthy serving of lightly steamed veggies all served on a warm bed of sticky rice. This easy dinner recipe is just what your busy weeknight ordered.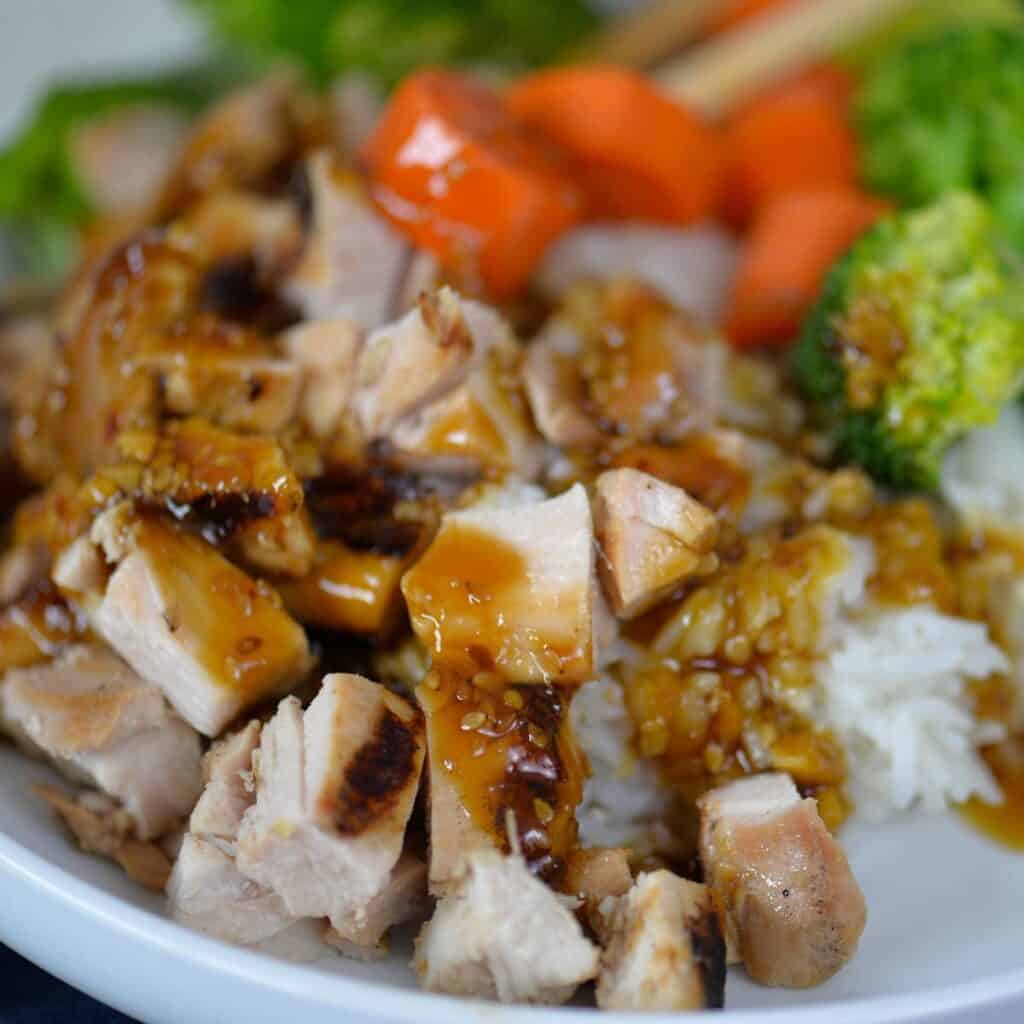 What You'll Love About This Recipe
Besides the fact that this chicken recipe is so easy, you're going to love all the flavor in the Teriyaki Sauce!
Easy: This dinner recipe is easy to make, especially when you can make the marinade and Teriyaki Sauce in one bowl at the same time. It's one of my top-secret meal prep tips!
Healthy: These teriyaki chicken bowls are full of protein and veggies. Add a healthy serving of rice and you have the perfect bowl of yumminess.
Kid-Approved: If you have picky kids, this recipe is perfect for them. I've never met a kid that doesn't fall in love with the sweet teriyaki sauce. And don't worry, it really doesn't have that much sugar in it. Plus, no additives!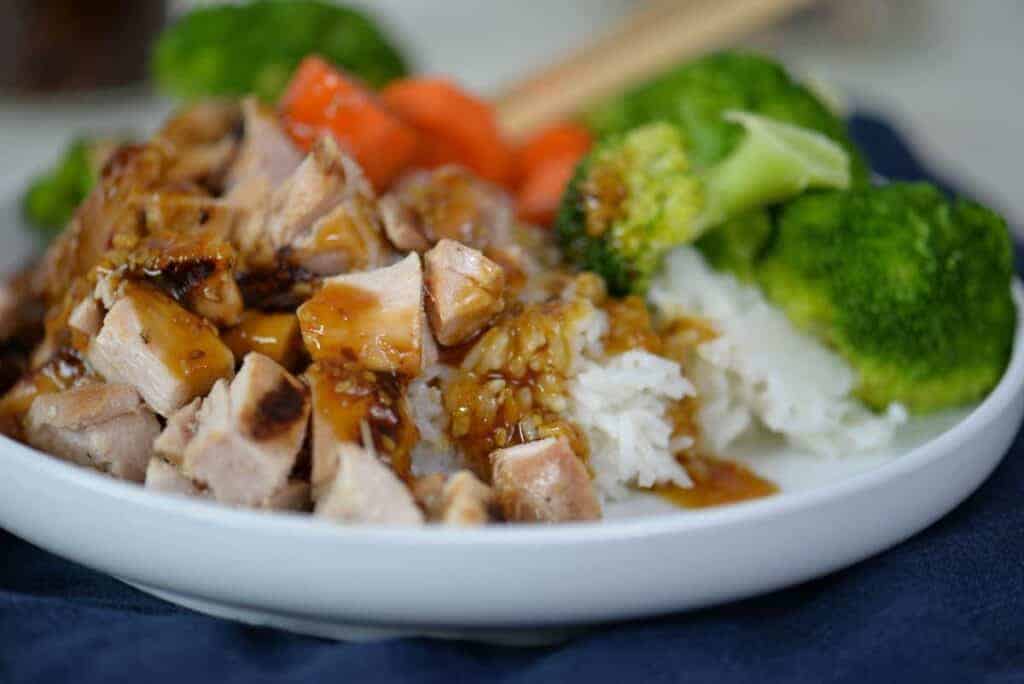 Recipe Notes
You can use chicken thighs or chicken pieces in this recipe. I am partial to chicken thighs. You'll also need to make some steamed veggies and a pot of rice. Check out my post on how to make perfect rice.
Ingredients
This recipe starts with a teriyaki sauce that is going to do double duty as our chicken marinade. You will mix up the ingredients for the sauce and then pull out 1/3 of a cup and dilute it with a cup of water to make the chicken marinade. Genius!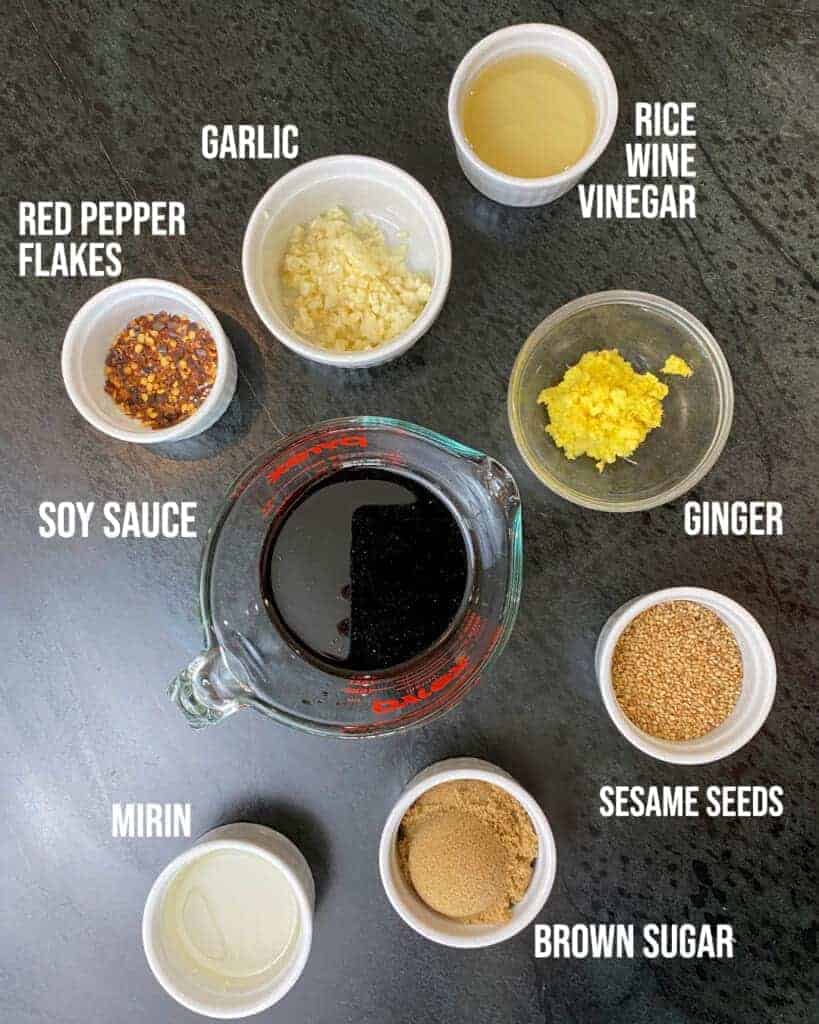 Teriyaki Sauce
Soy Sauce: You can substitute tamari if you are gluten-free, or even coconut aminos if you are avoiding soy.
Brown Sugar: You can also use coconut sugar.
Aromatics: Minced garlic and ginger here! If you need a shortcut, you can use jarred garlic and ginger.
Rice wine vinegar and mirin: Rice vinegar is available in the "ethnic" section of your local store. Mirin is more like a sake. It adds another element of flavor that I love. You can leave it out if you don't have it or can't find it.
Spices: I love sesame seeds and red pepper flakes, and both of these are optional. I like almost everything a little bit spicy🔥.
Thickener: You will also need either cornstarch or arrowroot starch to make a thickening slurry.
Other Ingredients You'll Need
Chicken: I usually make 8 chicken thighs OR 4 chicken breasts.
Steamed Veggies: My go-to veggies for this teriyaki chicken bowl are steamed broccoli, carrots, and cabbage.
Steamed Rice: You will want a 1/2 cup to a cup of rice for each serving.
Let's get saucy
All right, so now, how to cook teriyaki chicken! This sauce recipe can be used for grilled chicken or baked chicken. You can even cut the chicken into bite-sized pieces and pan-fry it.
Start with the teriyaki sauce:
You'll be using a portion of this to make the teriyaki chicken marinade.
Step 1: Add all of the ingredients to a small saucepan.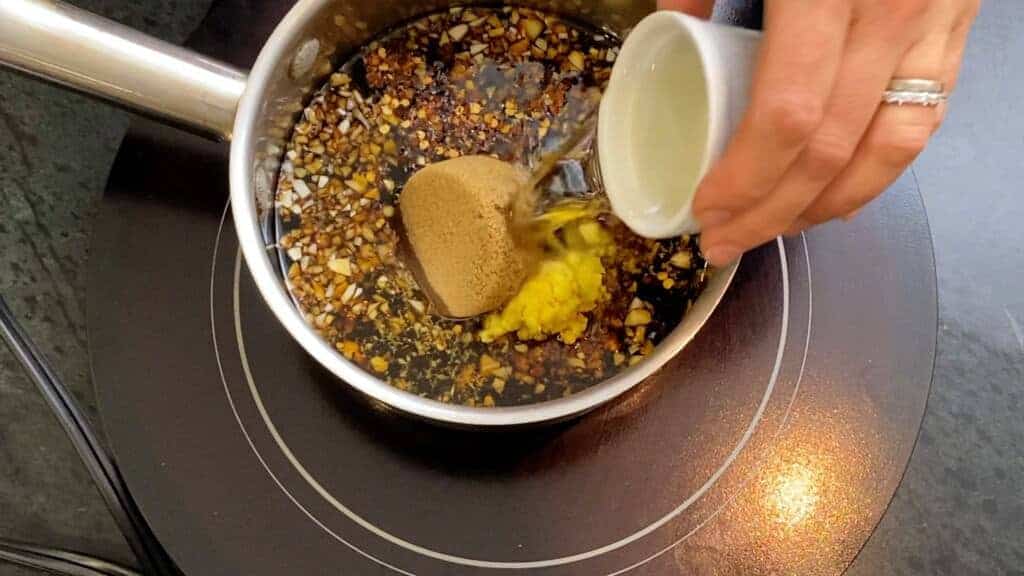 Step 2: Take out 1/3 cup of the sauce and put it in a bowl or a plastic bag. Add 1/2 cup of water to the reserved sauce and then add the chicken into it. Cover and refrigerate.
Step 3: Place the saucepan the stove and bring the sauce to a simmer.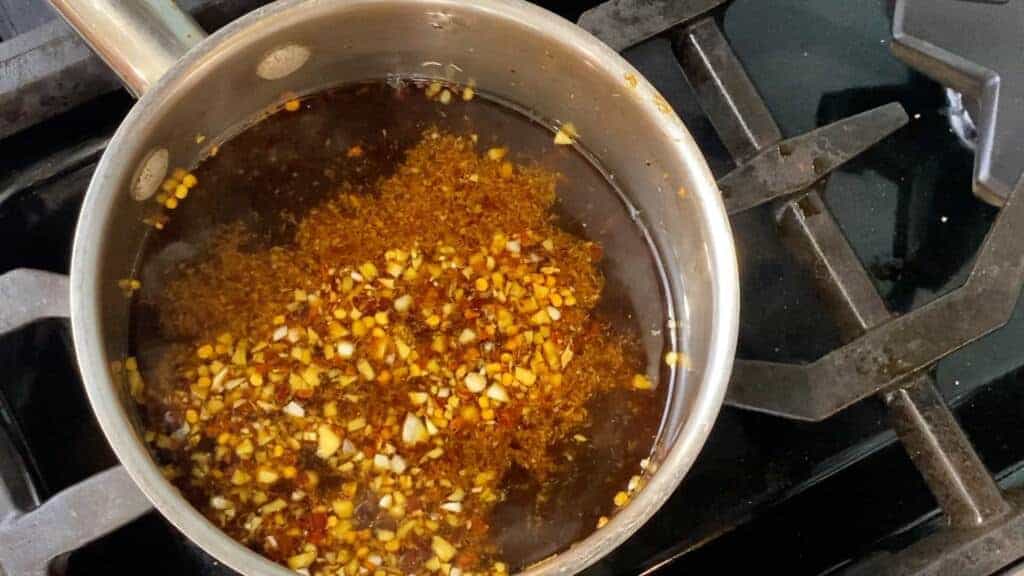 Step 4: Add the cornstarch slurry. Whisk continuously while the sauce thickens.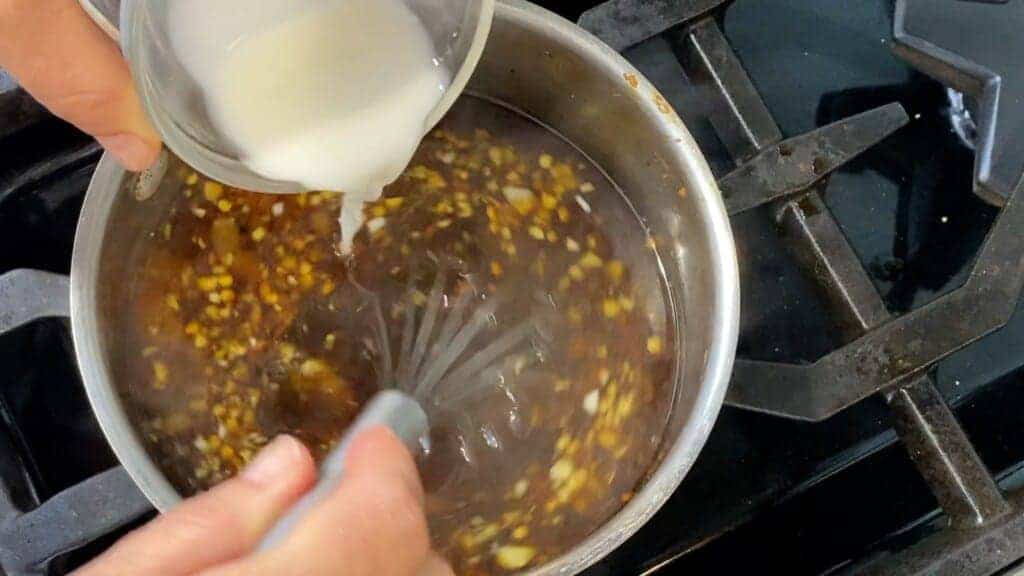 Step 5: Bring the teriyaki sauce to a boil and heat for about 30 seconds. You will want the sauce to coat the spoon. It should be the consistency of warm maple syrup.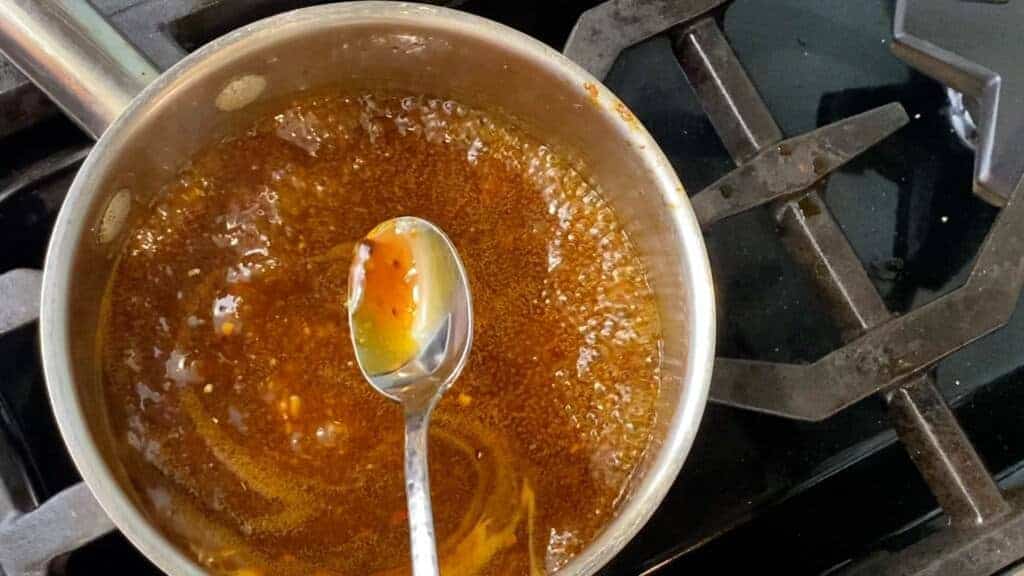 Step 6: Add the sesame seeds.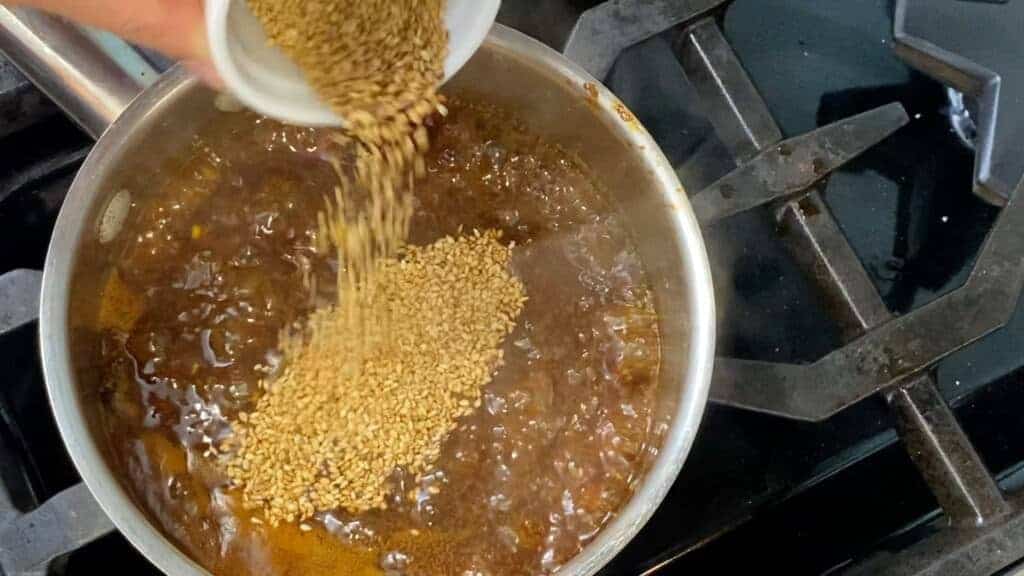 Make steamed rice and veggies:
Steamed rice can be made on the stove top, in your instant pot, or in a rice cooker (my favorite).
I like to steam my veggies in the steamer basket of my rice cooker. Talk about super easy meal prep.
I usually use a combination of broccoli, carrots, onion, and green cabbage. You can use use whatever veggies you like. They all taste amazing when slathered with teriyaki sauce.
If you're feeling decadent, you can also stir fry your veggies in a drizzle of sesame oil.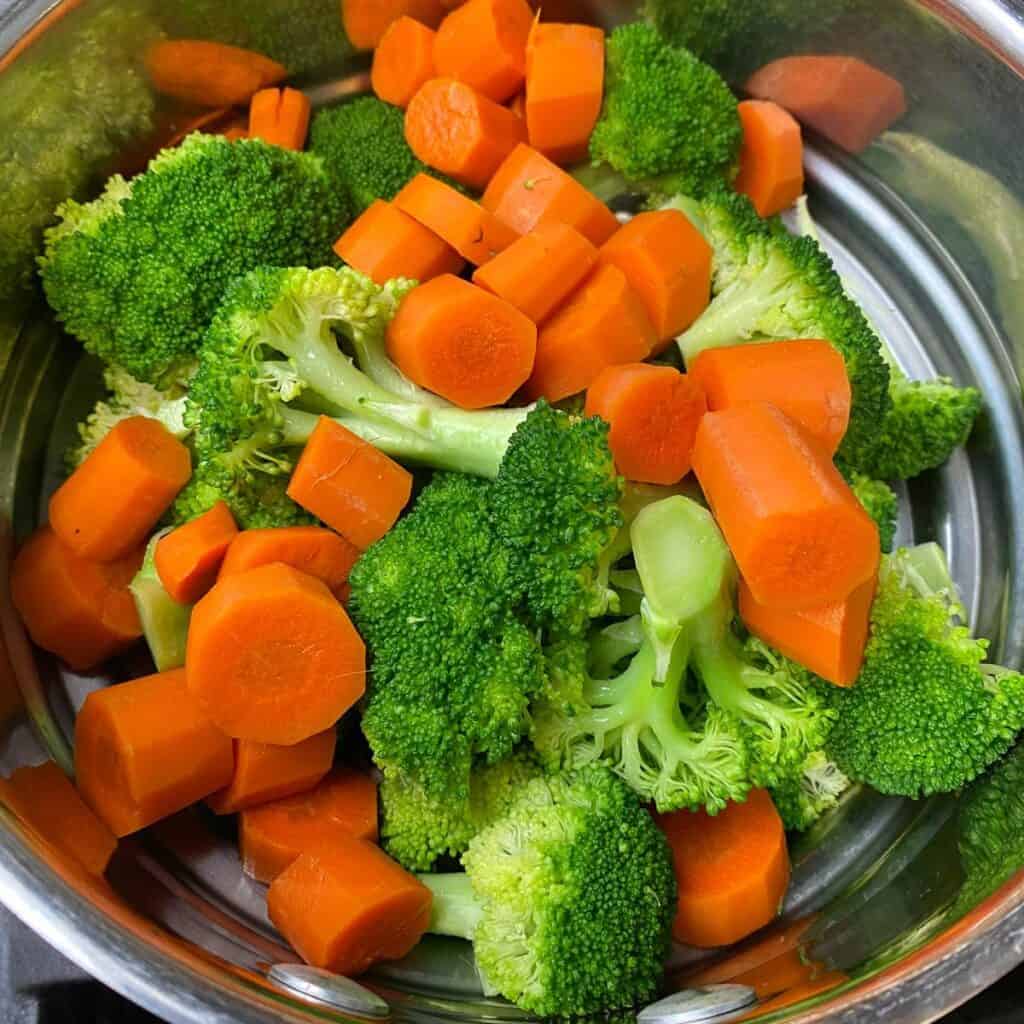 Grill the teriyaki chicken thighs
Remove the chicken and grill it for about four minutes per side. Of course, you can use chicken breasts here as well. Baking in a baking dish or pan-frying the chicken is also perfectly acceptable and delicious!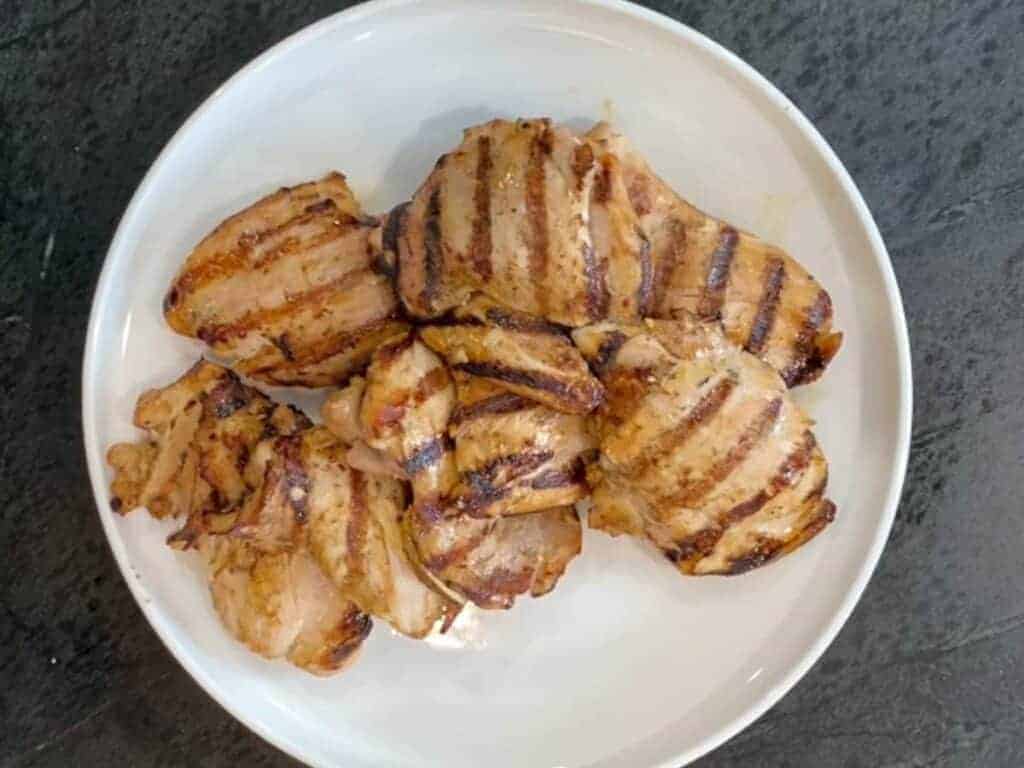 Assembling your teriyaki chicken bowl
You don't have to make this in a bowl, of course. For these photos, I used a small plate.
We make this chicken at least twice a month. I keep a batch in the freezer so it's easy to just thaw out the already marinated chicken and then grill it or bake in the oven. Double the sauce and you'll be set for months!
Step 1: Add about 1 cup of steamed rice.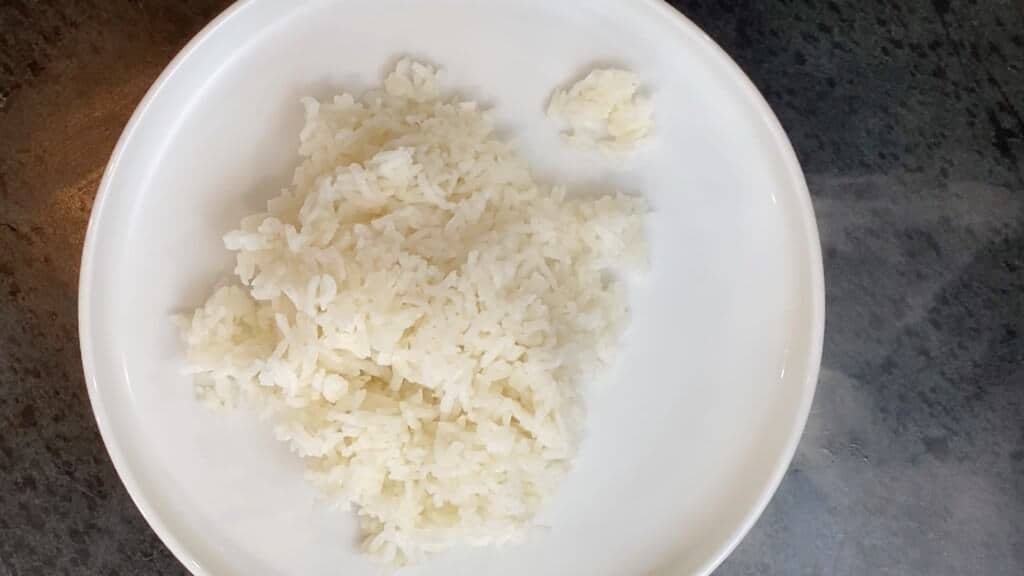 Step 2: Dice the grilled teriyaki chicken thighs and place on top of your rice.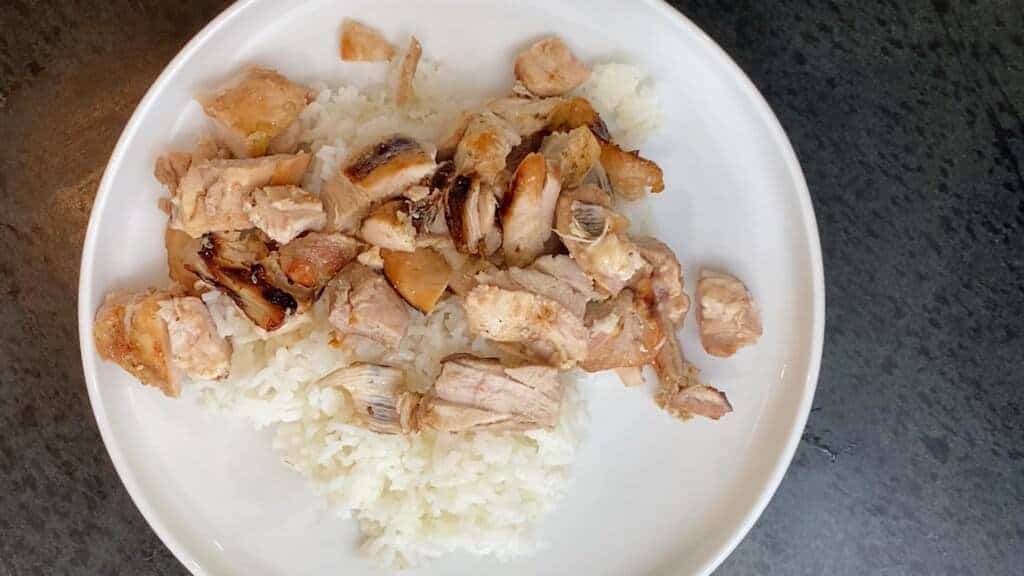 Step 3: Add the steamed veggies.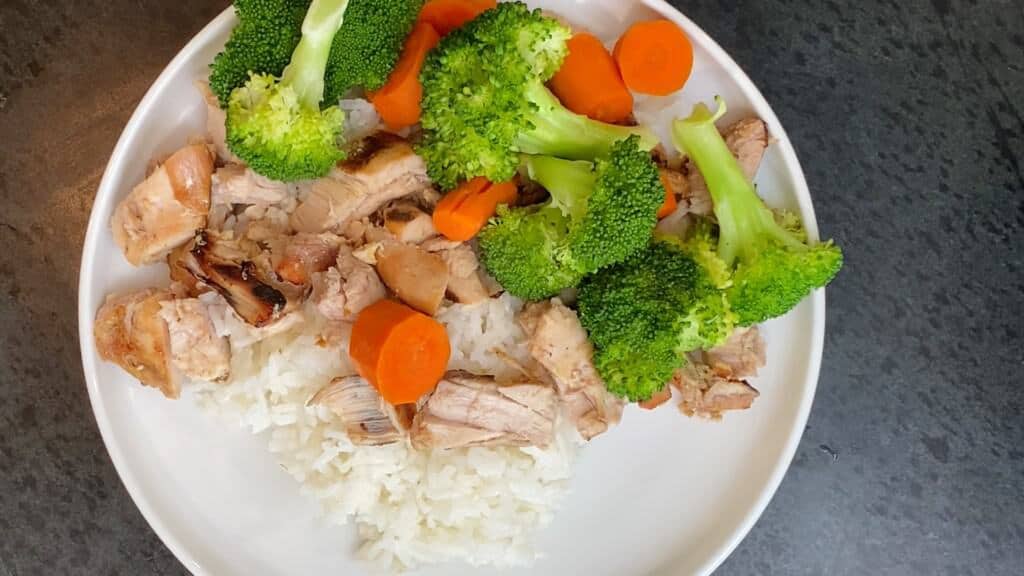 Step 4: Slather with teriyaki sauce.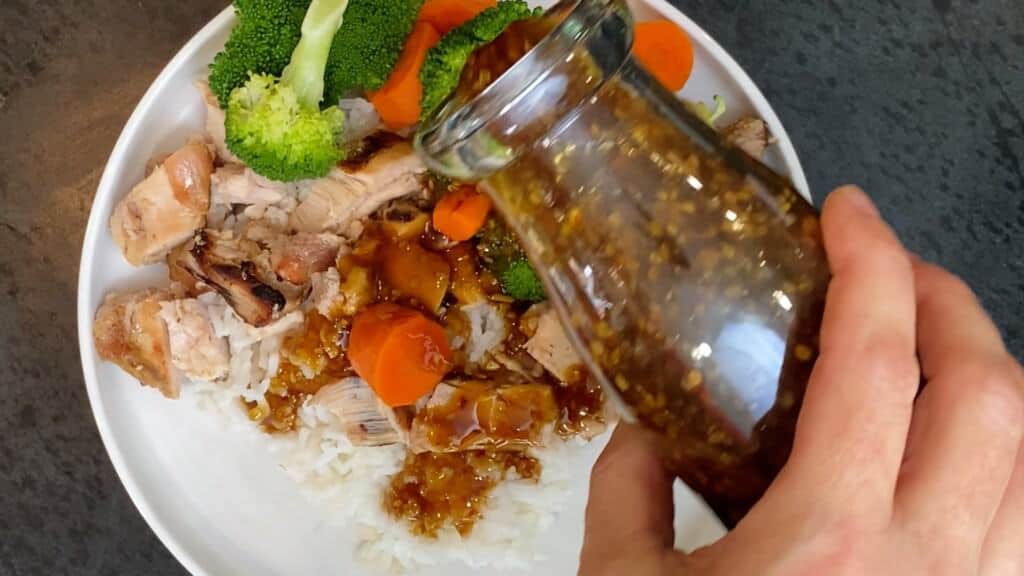 Step 5: Get all that yumminess in your belly!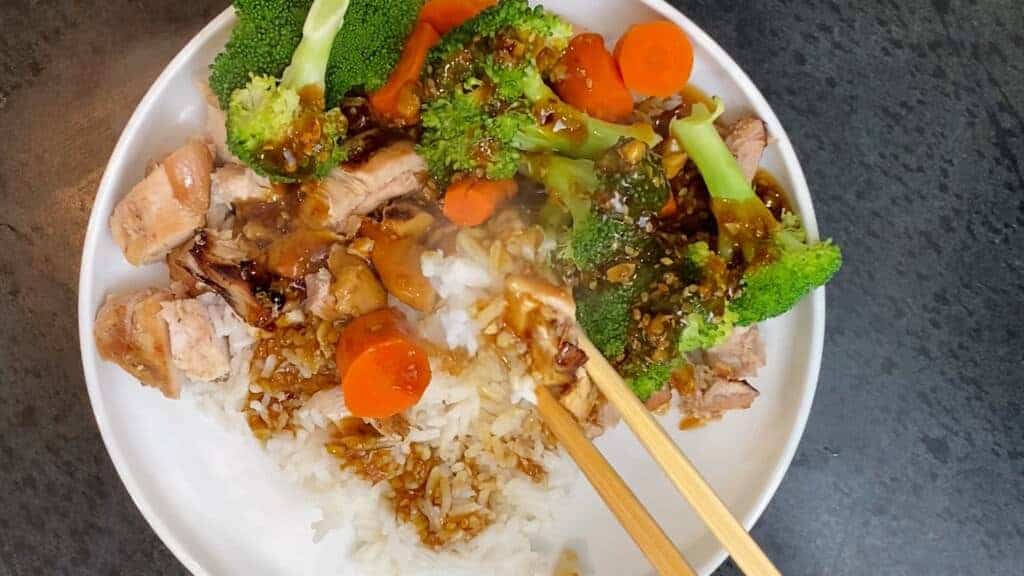 FAQs and Expert Tips
Are teriyaki bowls healthy?

It depends! A lot of times, the teriyaki bowls that are in restaurants have sauce that contain a lot of sugar and additives like MSG. However, this homemade chicken teriyaki bowl is big on flavor and protein with NONE of the artificial ingredients.
Can you freeze teriyaki chicken?

Yep! I do it all the time. In fact, this is one of my go-to make ahead freezer meals. All of the ingredients in this marinade freeze beautifully.
Steak and Sweet Potato Meal Prep Bowl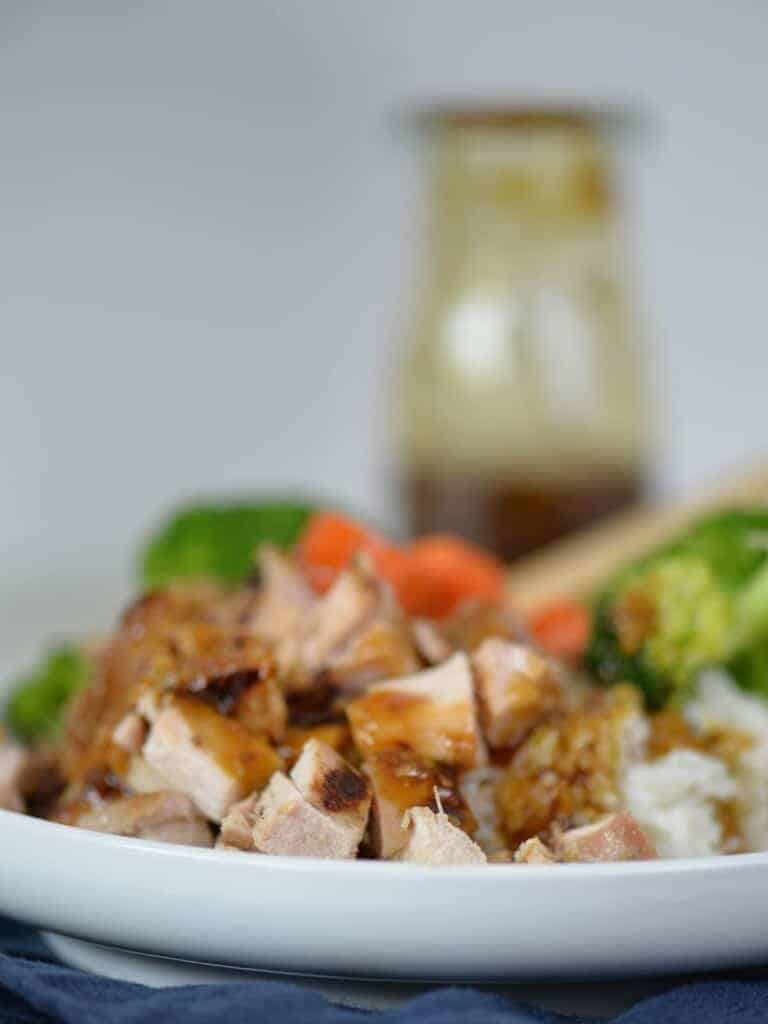 ➽ Did you make this recipe? I love to see what's going on in your kitchen. Show me what you're cooking. 🍳 Tag me @foodologygeek on your favorite social channel! Facebook, Instagram & Pinterest. If you loved ❤︎ this recipe, please leave a five ★ review and a comment!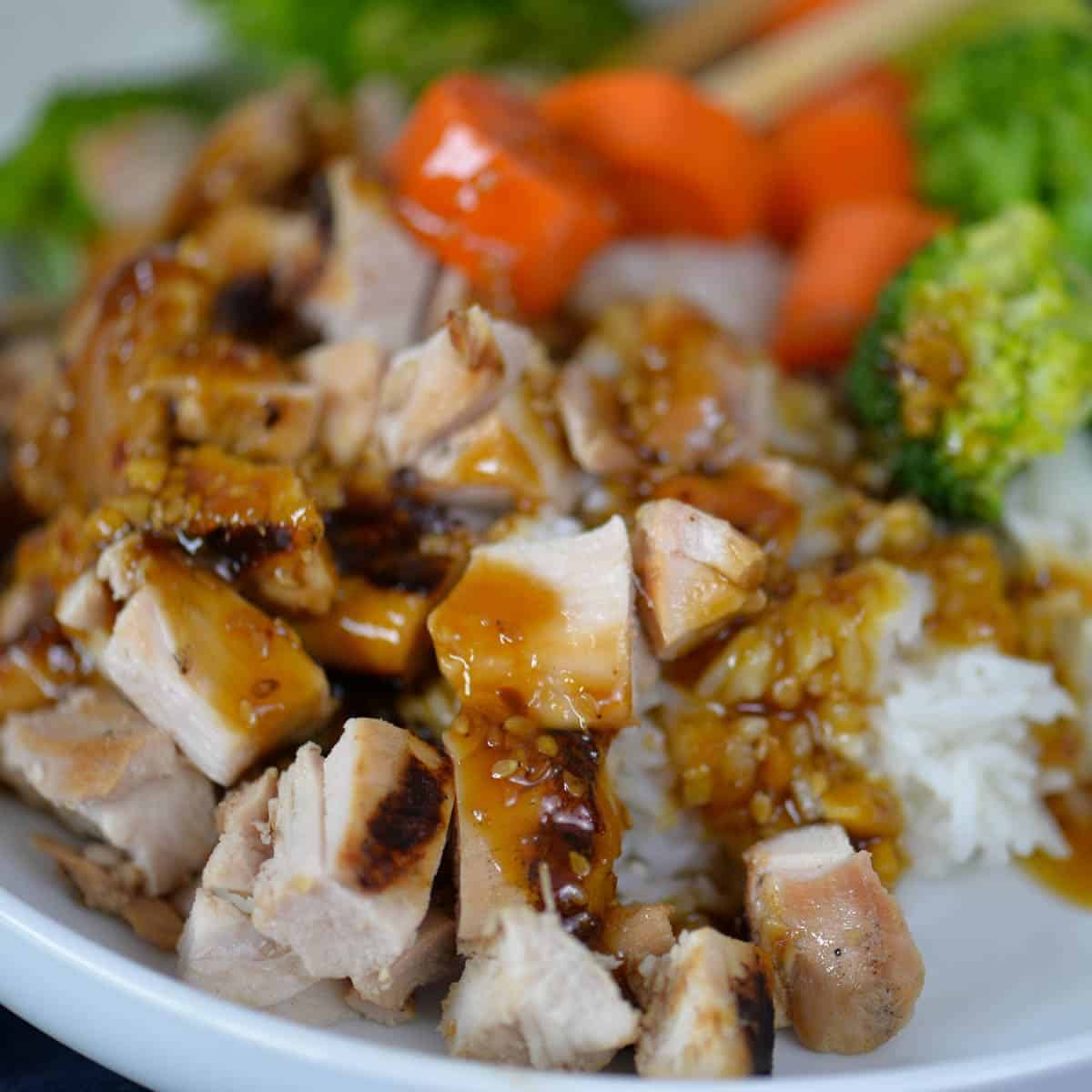 Teriyaki Chicken Bowl Recipe
Teriyaki Chicken Bowls with juicy umami-packed chicken, a healthy serving of lightly steamed veggies all served on a warm bed of sticky rice. This easy dinner recipe is just what your busy weeknight ordered.
Ingredients
2 to 3

lbs

chicken thighs

,

or chicken breasts

⅓

cup

teriyaki sauce

,

below

1

cup

water
Teriyaki Sauce and Marinade
Additional Bowl Fixins
8

cups

steamed rice

6 to 8

cups

steamed vegetables

,

broccoli and carrots
Instructions
Place all of the ingredients in a small saucepan. Whisk to combine.

Take out one-third of a cup and place it in a bowl to make your marinade.

Place the remaining teriyaki sauce in saucepan on medium-high heat and bring the teriyaki sauce to a simmer.

While the teriyaki sauce is heating, mix up the thickening slurry and and set it aside.

Once the sauce is simmering, add the slurry to the pan and whisk. Continue cooking, while stirring continuously until the sauce is thickened, about 30 seconds.

Remove the sauce from the heat and set aside. You will have extra.*

Store for up to 3 weeks in an airtight container.
Teriyaki Chicken
Add one cup of water to the reserved teriyaki sauce.

Add the chicken thighs and marinate for several hours, up to over-night, before grilling, baking or pan frying.
How To Cook Teriyaki Chicken
Grill: Heat the grill to medium-high. Grill for approximately 6 min on each side.

Bake: Heat the oven to 425°F. Bake for 12 minutes on a parchment lined baking sheet

Pan-Fry: Heat a few teaspoons of oil, on medium-high heat, in a skillet. Add the chicken and pan-°fry until the chicken is cooked throughout.*
Laura's Tips + Notes
The internal temperature of chicken should be 165℉. I highly recommend using a probe thermometer.

(affiliate link)
GLUTEN-FREE: Use tamari instead of the soy sauce. You can also use coconut aminos.
VEGAN: Use maple syrup or brown sugar. Marinate slices of extra firm tofu OR just serve the teriyaki sauce with steamed veggies and rice. YUM!
MAKE AHEAD FREEZER MEAL: Double this recipe right from the get-go! Store one portion of chicken and the marinade in a freezer bag. Freeze until you are ready to use it.
When you're ready to cook your second batch of teriyaki chicken, simply remove the chicken from the freezer and thaw either in the fridge or at room temperature.
HOW TO STORE: Store any leftover teriyaki chicken in an airtight container in the fridge for up to a week. You can preassemble the chicken teriyaki bowls and reheat them all week long.
YOUR OWN NOTES
Nutrition
Serving:
4
oz
Calories:
68
kcal
Carbohydrates:
11
g
Protein:
2
g
Fat:
2
g
Saturated Fat:
2
g
Sodium:
1272
mg
Fiber:
1
g
Sugar:
9
g
Calcium:
12
mg
Iron:
1
mg