I am finally getting to the third perfect cake!
According to my family there are only three types of cake: Cherie's Chocolate Cake, Swedish Birthday Cake and Banana Cake. When ever a birthday comes up, there is always a debate about which to make.
If you've been hanging around for any length of time you've already seen – and hopefully tried – Cherie's Chocolate Mocha Cake and Banana Cake. This leaves the final cake of our household's cake triad – Swedish Birthday Cake!
Jump to Recipe
What IS Swedish Birthday Cake? Well to an American, it may feel a bit like strawberry shortcake. It is! I would argue that it is a strawberry shortcake done one better. Imagine a moist white cake or sponge cake with vanilla-banana pastry cream filling, topped with whipped cream and strawberries! It is delicious. I'm not a fan of true American shortcake. It can be a bit dry for my taste. So, this is the perfect alternative. The vanilla-banana cream gives it a more dynamic flavor; not to mention that the cake layers are moister.
This is THE traditional birthday cake in my husband's family.
In my preparations to make it for you, I dug into my recipe files only to discover that I had more than one version of the recipe. After reaching out to both my mother-in-law and sister-in-law for clarification, they explained that there really wasn't a go-to recipe for the cake layers around anymore. My mother-in-law noted that flour had changed over the years – not to mention American flour was also different from what she had used when making the cake in Europe. These two factors made the original recipes less reliable. They both encouraged me to find a better version to carry forward.  So – I took up the challenge.
What IS Swedish Birthday Cake, anyway?
When you break it down, Swedish Birthday Cake is made up of layers of white or a traditional sponge cake. Between each layer is a healthy slather of vanilla or almond pastry cream and bananas or berries. The whole cake is then topped with whipped cream (as icing) and more berries. Traditionally, cut strawberry halves are used to cover the entire top of the cake.
For my version I made a white cake, filled it vanilla pastry cream and mashed bananas, topped it with whipped cream, and decorated it with berries. My mother-in-law will also sometimes layer sliced canned pears on the cream between the layers. For this particular cake, I didn't add any berries between the layers. This is also an option.
This flavor profile not your thing? For some, berries = dessert. For others, dessert MUST include chocolate! Cooking is creative, remember? Make your creation uniquely you! I actually also made a test version of this cake with chocolate fudge filling and coffee buttercream icing. You can take this white cake in almost any direction.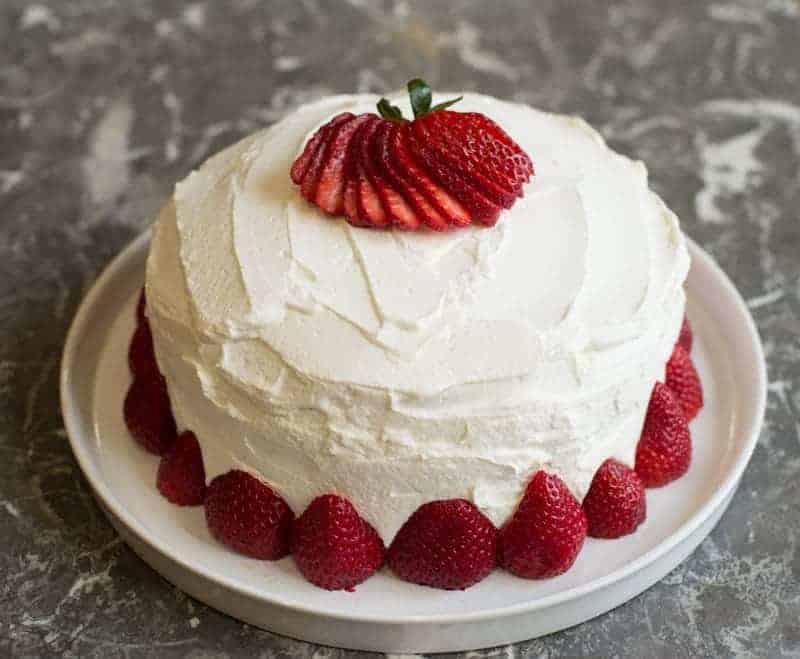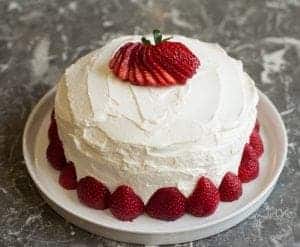 Swedish Birthday Cake
Cooling & Assembly:
1
hour
15
minutes
This cake is a bit like strawberry shortcake. Imagine a moist white cake with vanilla-banana pastry cream filling, topped with whipped cream and strawberries!
Print Recipe
Pin Recipe
Ingredients
Classic White Layer Cake (America's Test Kitchen Version)
1

cup

Whole Milk

room temperature

6

Egg Whites

room temperature (Save the yolks for the pastry cream.)

1

tsp

Vanilla

2 1/4

cups

Cake Flour

1 3/4

cups

Sugar

4

tsp

Baking Powder

1

tsp

Salt

12

tbsp

Unsalted Butter

softened, cut into 12 pieces
Cake Assembly
3

cups

Whipped Cream

2

Bananas

peeled and mashed

1

batch

Vanilla Pastry Cream

(see recipe below)

2

pints

Strawberries

halved or sliced, as desired
Instructions
Classic White Layer Cake (America's Test Kitchen Version)
Preheat oven to 350 degrees. Grease two 9-inch round cake pans. (I used three 8-inch rounds.) Line with parchment paper. Grease parchment and flour pans.

Whisk milk, egg whites and vanilla together in a bowl. Set aside.

Using a stand mixer fitted with a paddle, mix flour, sugar, baking powder and salt on low speed until combined. Add the butter, 1 piece at a time, and mix until only pea-sized pieces remain.

Add all but 1/2 cup of the milk mixture to the dry ingredients. Increase speed to medium-high and beat until light and fluffy. Reduce speed to medium-low and add the remaining 1/2 cup of milk mixture. Beat until incorporated. Give it a final stir by hand.

Divide the batter evenly between prepared pans. Smooth tops with a spatula and gently tap the pans on the counter to settle the batter. Bake 23-25 minutes, until a toothpick inserted in the center comes out clean. Let cakes cool in pans on a wire rack for 10 minutes. Remove cakes from pans, remove parchment and let cool completely on a rack.
Assemble Cake
Stack cake layers. Adding a thick slather of pastry cream and mashed bananas between each layer.

Cover the entire cake with whipped cream, using it like icing.

Decorate the whipped cream with berries. [The traditional approach is to cover the top with halved strawberries.]
Notes
Other berries, berry jam and/or sliced pears may be added between the cake layers if desired.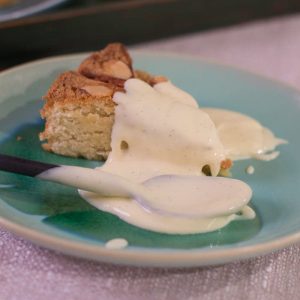 Vanilla Pastry Cream
This recipe makes a thick pastry cream. Thin it with cream or milk to make a sauce of the desired consistency.
Print Recipe
Pin Recipe
Instructions
Mix the egg yolks, sugar and cornstarch in a bowl. Whisk until sugar has dissolved (and the mixture has become lighter in color).

Pour the milk and cream into a saucepan. Add the vanilla pod. Bring to a simmer over medium heat.

Pour 1/3 of the hot milk mixture into the eggs. Vigorously whisk the eggs so that the hot milk doesn't cook them!

Pour the eggs mixture into the pot with the rest of the milk. Vigorously whisk until combined.

Place the pot back on the heat. Heat while stirring continuously with the whisk until the mixture begins to thicken. Continue to cook for up to another 5 minutes.

Remove the pot from the heat and continue to stir for another 2 minutes. Transfer the pastry cream into a bowl and remove the vanilla pod. Let cool at room temperature. Once at room temperature, refrigerate.

Thin the pastry cream as desired by stirring with a whisk and/or adding a bit of cream or whole milk.
Nutrition
Calories:
171
kcal
|
Carbohydrates:
13
g
|
Protein:
2
g
|
Fat:
11
g
|
Saturated Fat:
6
g
|
Cholesterol:
132
mg
|
Sodium:
24
mg
|
Potassium:
59
mg
|
Sugar:
11
g
|
Vitamin A:
520
IU
|
Vitamin C:
0.2
mg
|
Calcium:
55
mg
|
Iron:
0.3
mg
(Visited 983 times, 6 visits today)