Berry Pavlova Recipe w/ Lemon Curd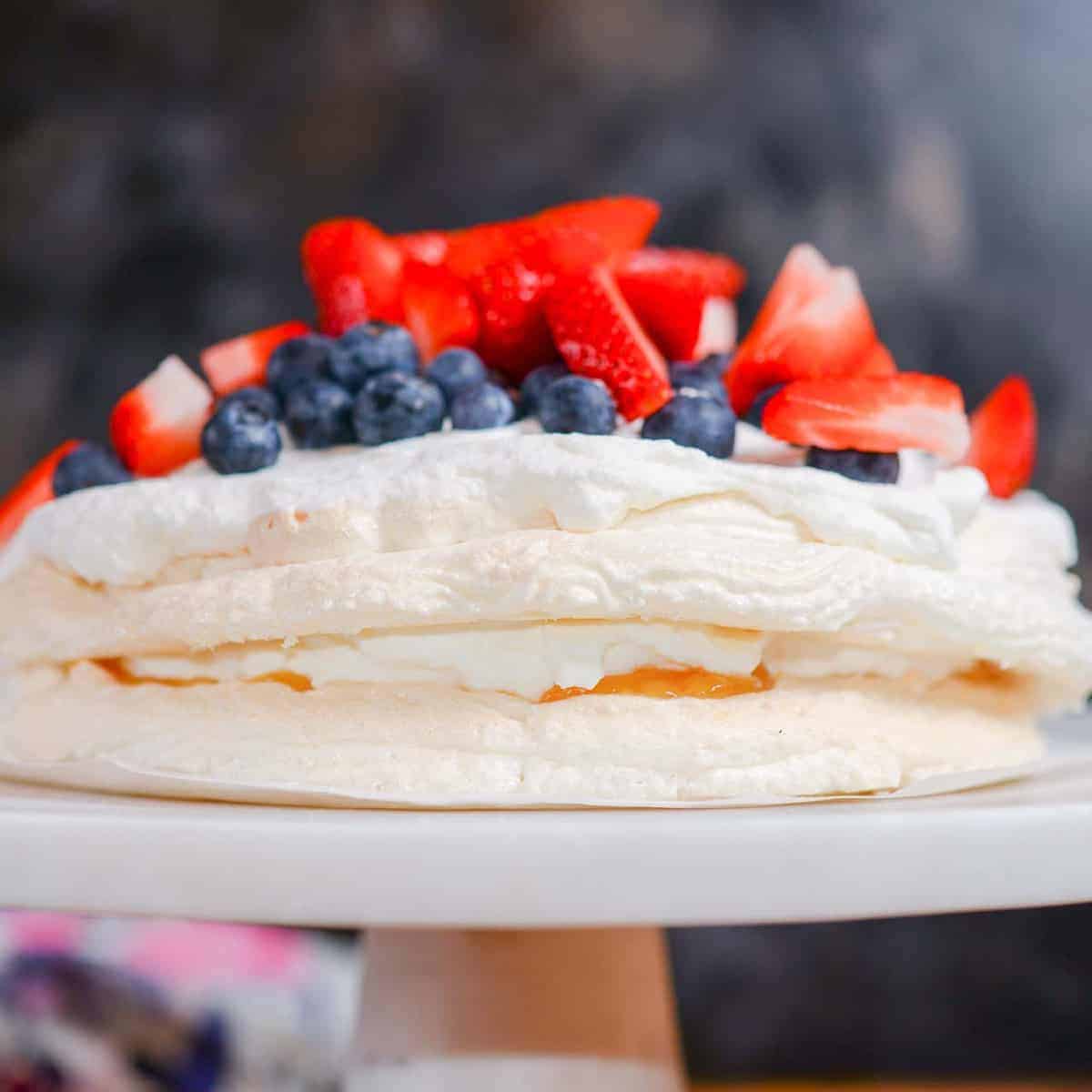 Recipe
Comments
Save
Go to Collections
This post may contain affiliate links. Please read my
disclosure policy.
This pavlova recipe is assembled as a gorgeous pavlova cake, layered with fresh whipped cream and homemade lemon curd. This is the perfect summer dessert recipe. I love making this a 4th of July dessert because it's so red, white, and blue.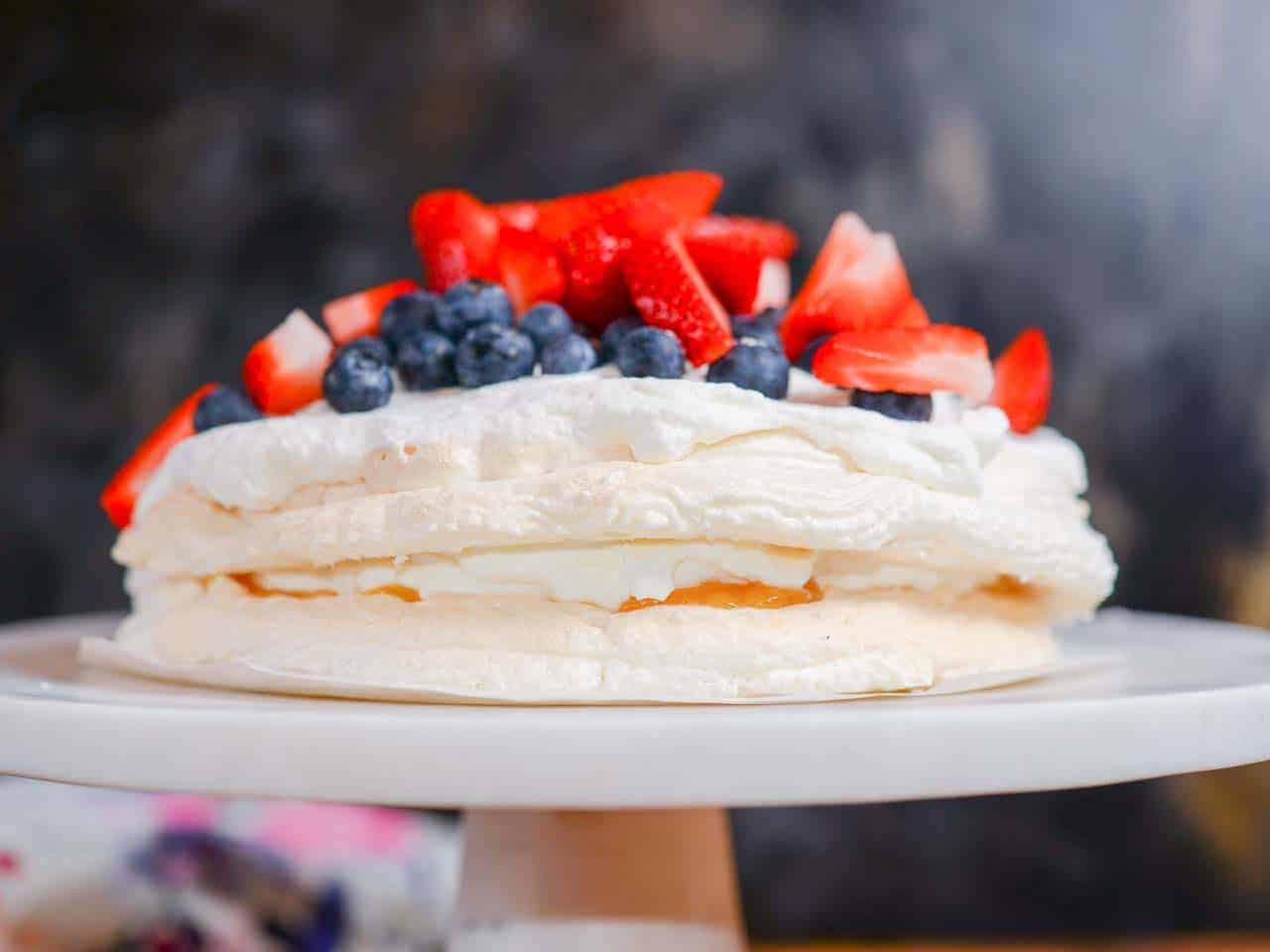 First of all, what is pavlova?
This dessert originated in New Zealand and Australia. It's made of a baked meringue shell then filled with all sorts of delicious fresh fruit toppings.
The pavlova shell is lightly crispy on the outside. The inside magically chewy and perfectly sweet, plus it tastes like marshmallow.
Typically the pavlova shell is slathered with a fruit curd, fresh whipped cream, and fresh fruit. You're only limited by your imagination here. You can even make a chocolate pavlova.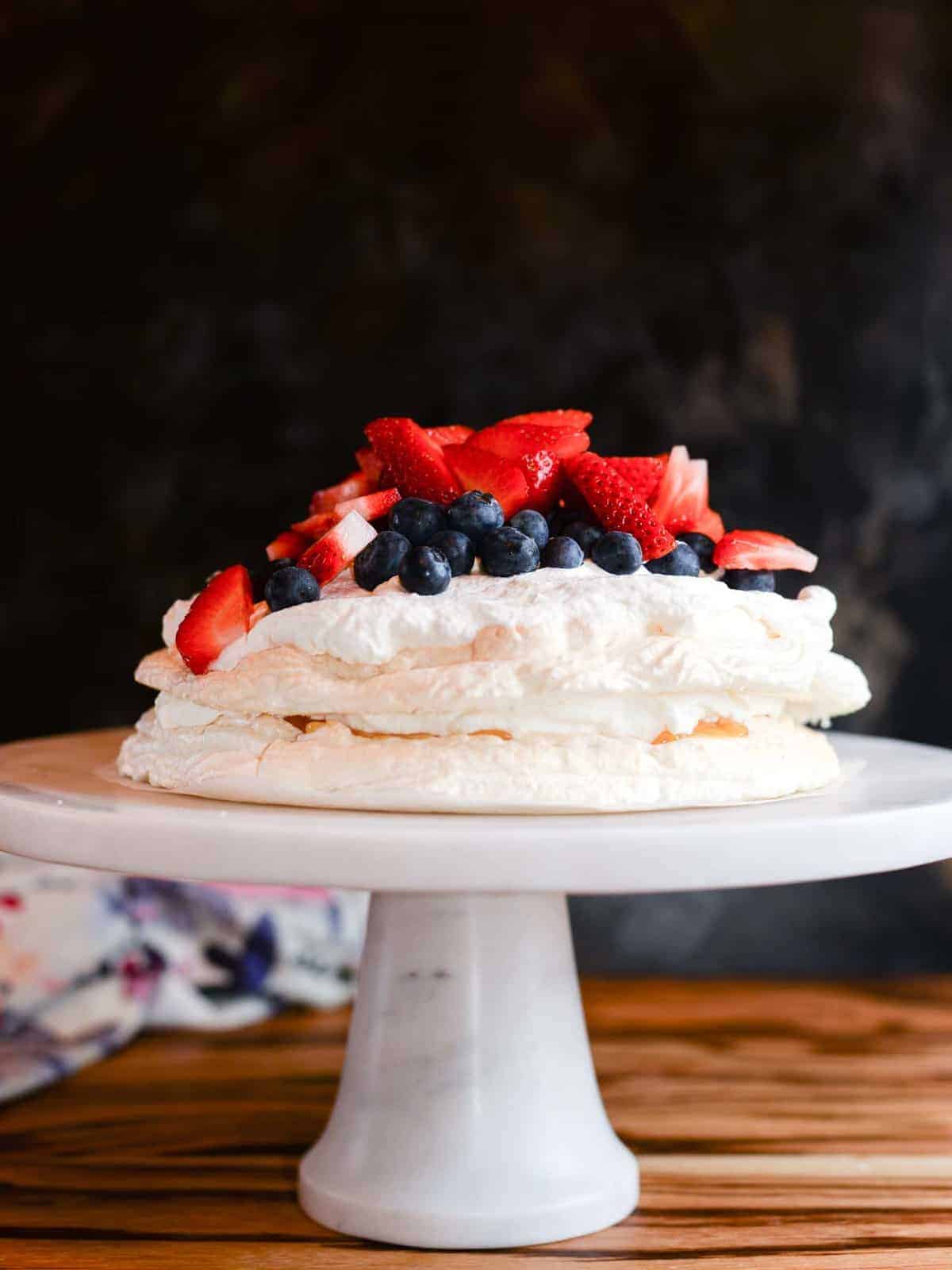 How to make the pavlova dessert shell
You probably have all the ingredients in your kitchen right now to make this classic pavlova recipe. Did I mention that pavlova is naturally gluten-free?
Ingredients you will need.
Six egg whites
sugar
cream of tartar or vinegar
corn starch
vanilla
boiling water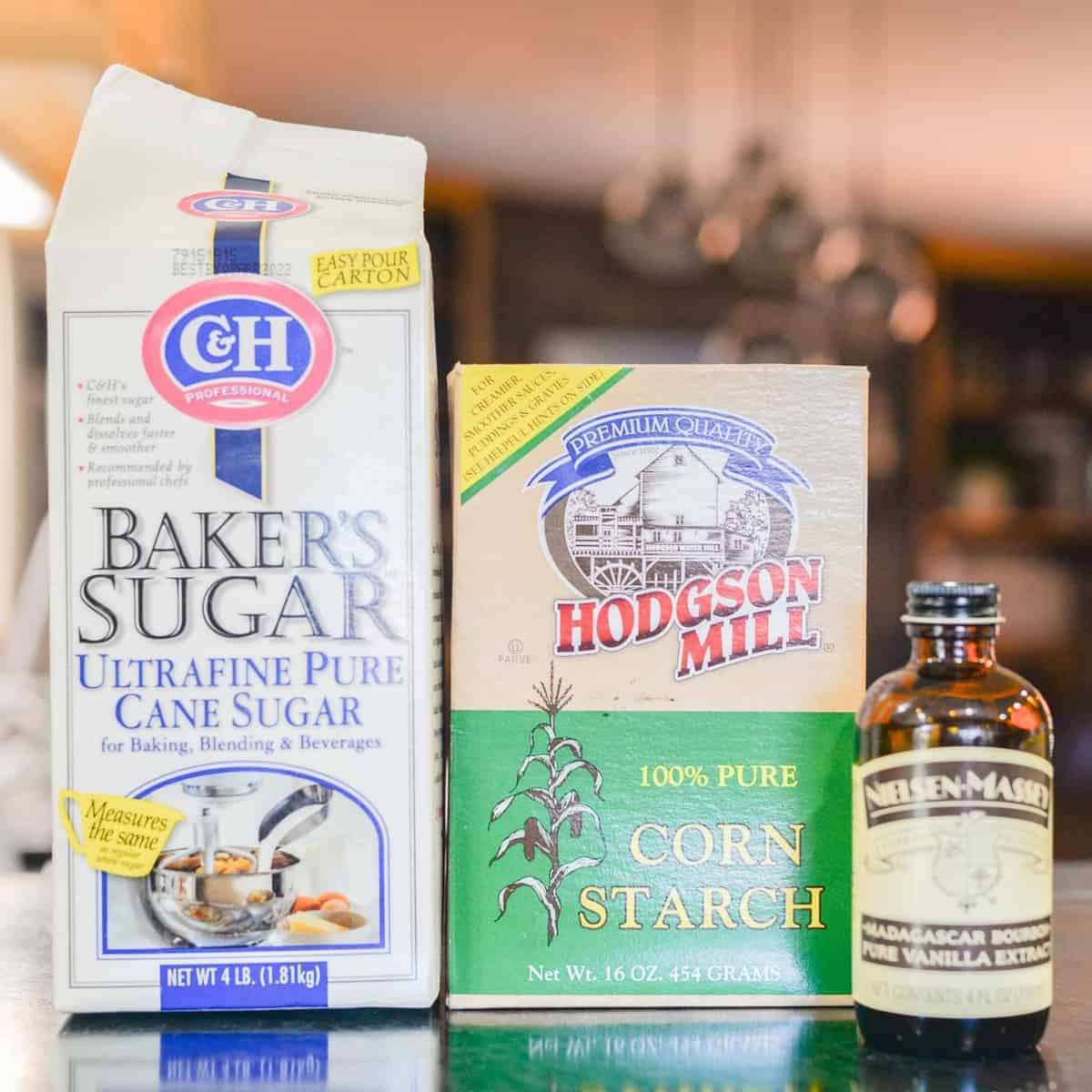 Special equipment
Baking sheet
Parchment paper
Stand Mixer OR Hand Mixer
Piping bag (optional)
Piping tip (optional)
If you have a high-speed mixer, this meringue is seriously effortless. All you have to do is add everything, except the water, to the mixing bowl. Using the whisk attachment beat until stiff peaks form. Add the boiling water in and continue to beat for another minute. Yep, that's it!
The meringue peaks should be stiff enough that if you held the bowl or whisk upside down the meringue will not fall off the whisk.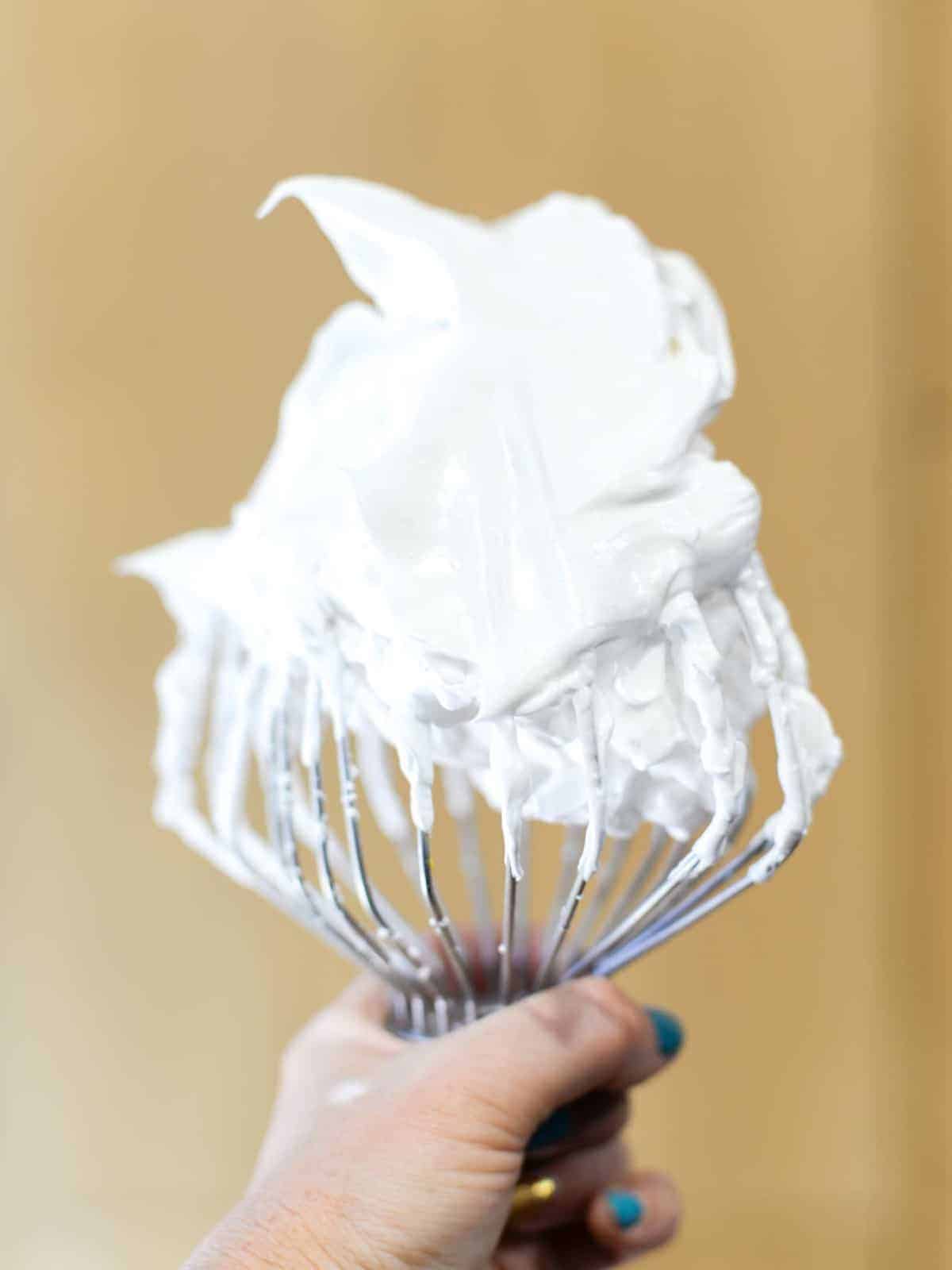 Do you want mini pavlovas OR one big pavlova?
The beauty of this dessert is that it is so simple. Once you've created a perfect meringue shell, you can build your pav any way you like. Just remember you'll want to have room for all the fillings, so make sure to create a little well in the center.
There are two methods for making pavlova shells.
The Spoon Method: spoon a cloud of meringue onto a baking sheet lined with parchment paper. Then use the back of the spoon to create a well in the center.
Piping Method: Fill a piping bag with meringue and pipe out circles of meringue in your desired size. Make sure to leave a well in the cent for all of you toppings.
You can draw a circle on the parchment of just wing it. If I am making a layer cake, I will draw the circles. Because you will be stacking them, it's more important for them to be as close in size as possible.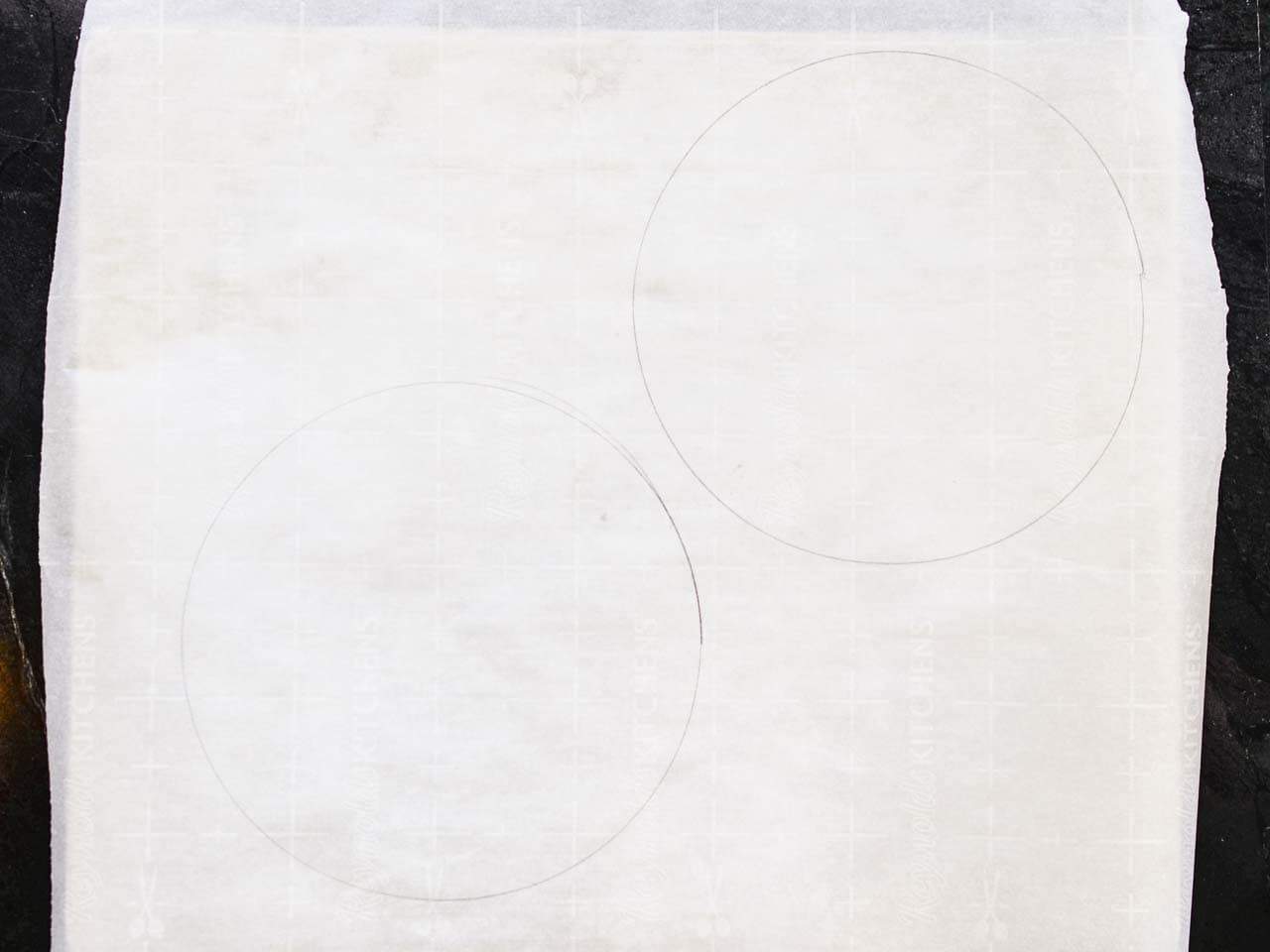 Recommended sizes for pavlova dessert shells.
One Large Pavlova: Spread or pipe the meringue out on a parchment-lined baking sheet. The meringue should be about three fingers tall on the edges and about one and a half to two fingers tall in the middle. This is not an exact measurement. The size of your baking sheet will determine how large of a circle you can make. An elongated shape is also beautiful too.
Pavlova Layer Cake: A pavlova layer cake is an impressive presentation. If you want to make two or three layers of meringue and stack them, you can pipe out two to three circles I recommend 8 to 10 inches in diameter. Each circle should be flat on not have a well in the center.
Individual Pavlovas: Mini pavlova is very popular, and they are so cute. You can make them as large or as small as you want. I recommend 4-inch shells of meringue. These should have a well in the center for fillings.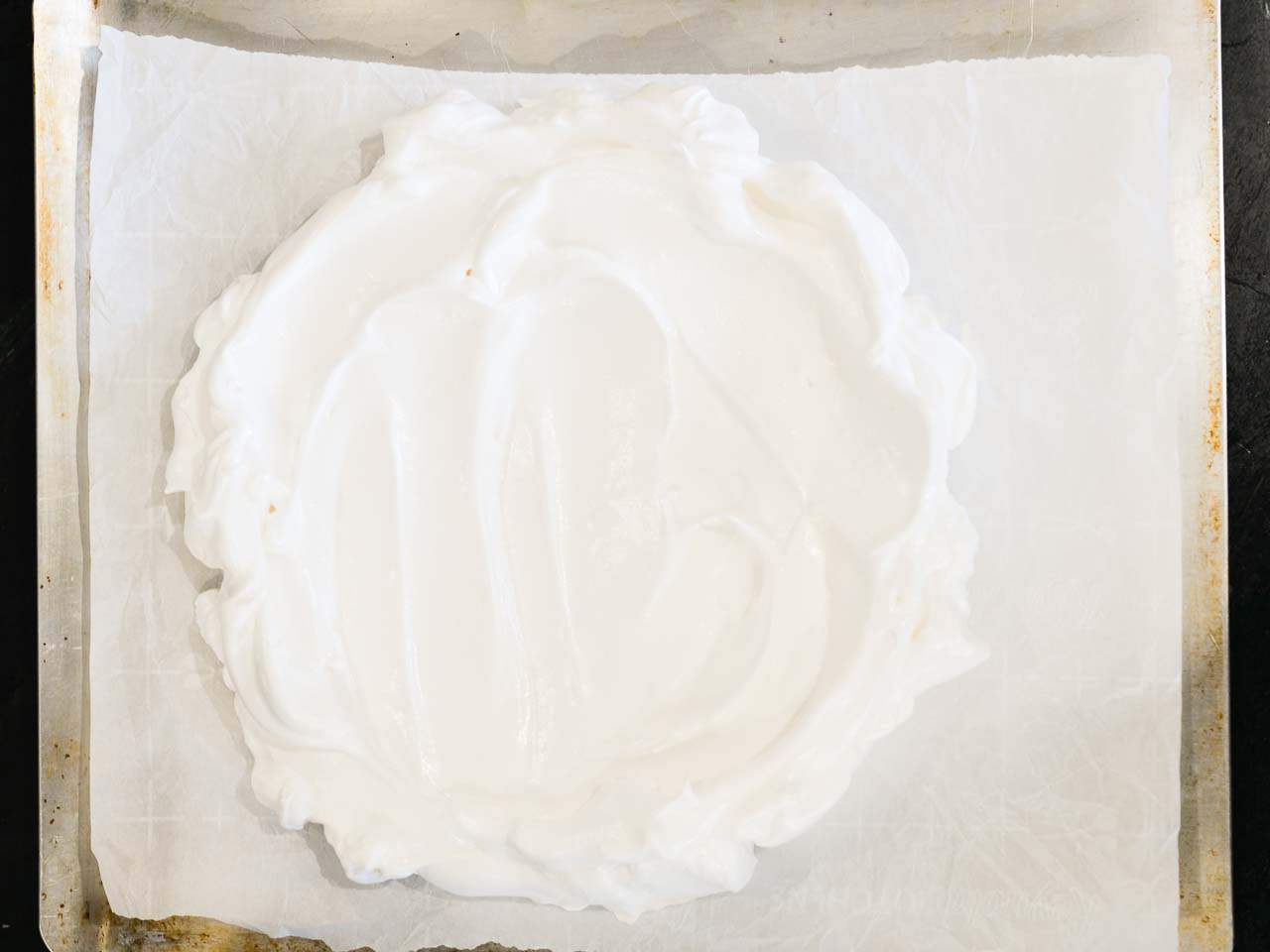 Baking a meringue shell
Pavlovas need a low oven temperature. Start by preheating the oven to 350℉. As soon as you place the pavlova shells into the oven and shut the door, you will reduce the temperature to 200℉. Let the shell bake until it is dry and crispy on the outside. This usually takes about sixty to ninety minutes.
You should keep the oven door closed the whole time. Check it by using the oven light.
As the meringue shells dry out in the oven, you end up with a rough, cracked exterior and a fluffy chewy marshmallowy inside. A perfectly baked pavlova should be light in color.
Once you are confident that the pavlova shell is done, turn the oven off and let it set in the oven until it is completely dried out.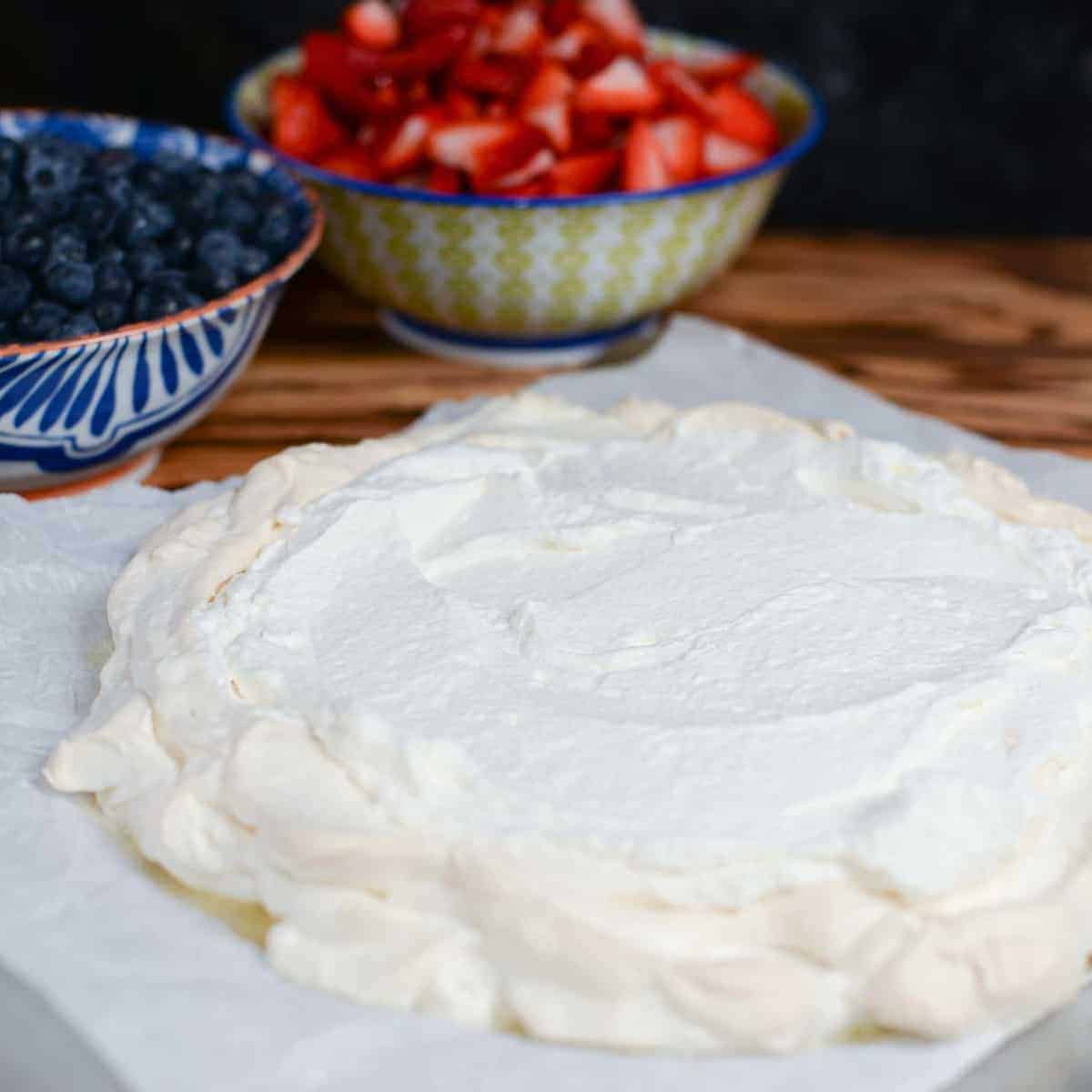 A Few Tips
The meringue shells can be baked ahead, however, they should be filled immediately before serving.
This recipe does not freeze well or keep in the refrigerator.
If you are making this for a dinner party, a large pavlova can be cut beautifully into pie-shaped slices.
If you just need a few servings I recommend making mini pavlovas. You can store them in an airtight container for a few days and have this dessert on repeat.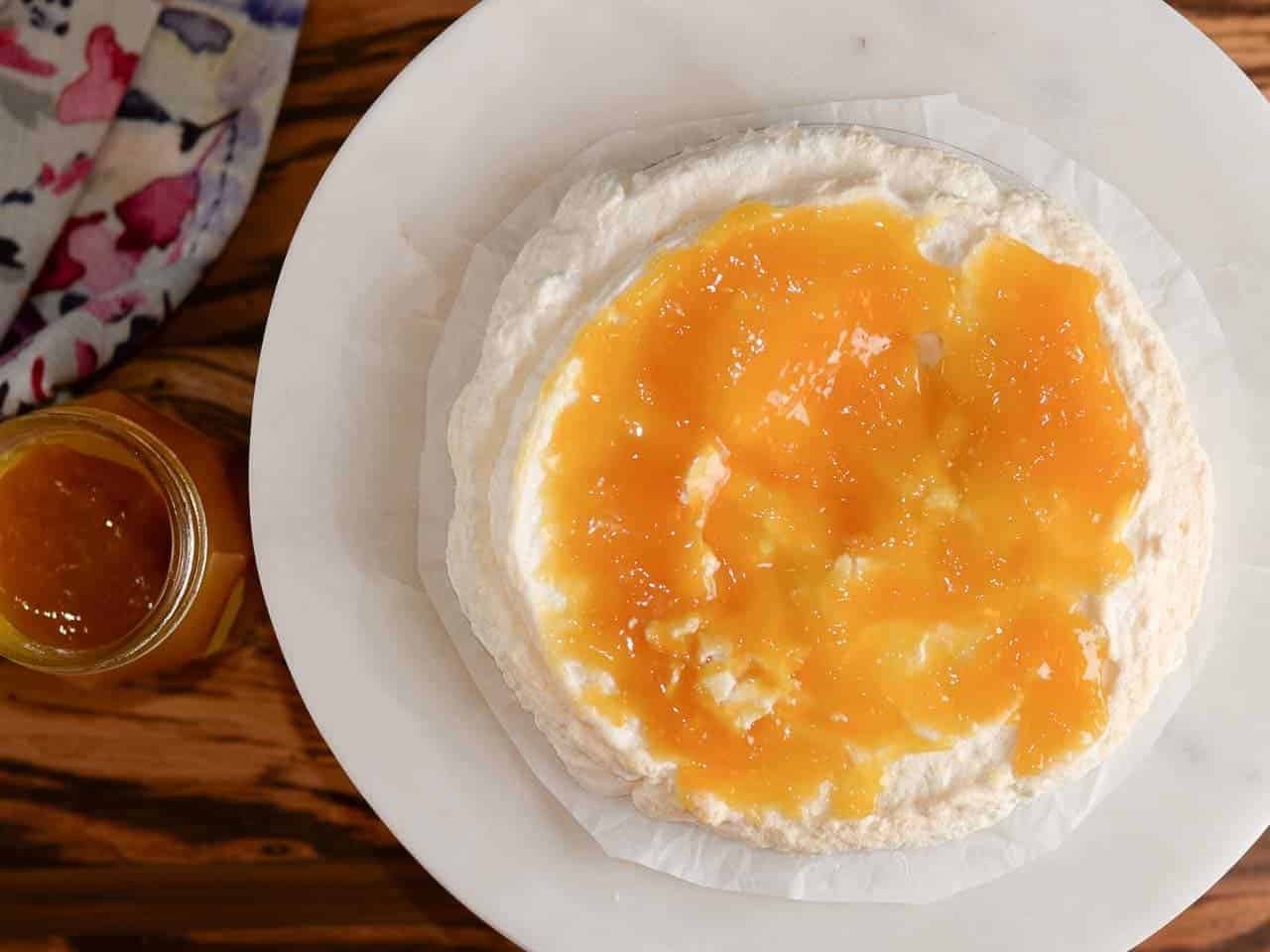 Pavlova Toppings Ideas
Pastry cream.
Fruit curd is perfect because you already have leftover egg yolks. I always make a fruit curd even if I just put it in the fridge for pancakes later. Lemon is one of my favorites. Or try my pineapple curd.
Whipped heavy cream.
Fresh seasonal fruit.
Macerted Berries.
Shaved bittersweet chocolate.
See the recipe card to find out how you can make a chocolate pavlova.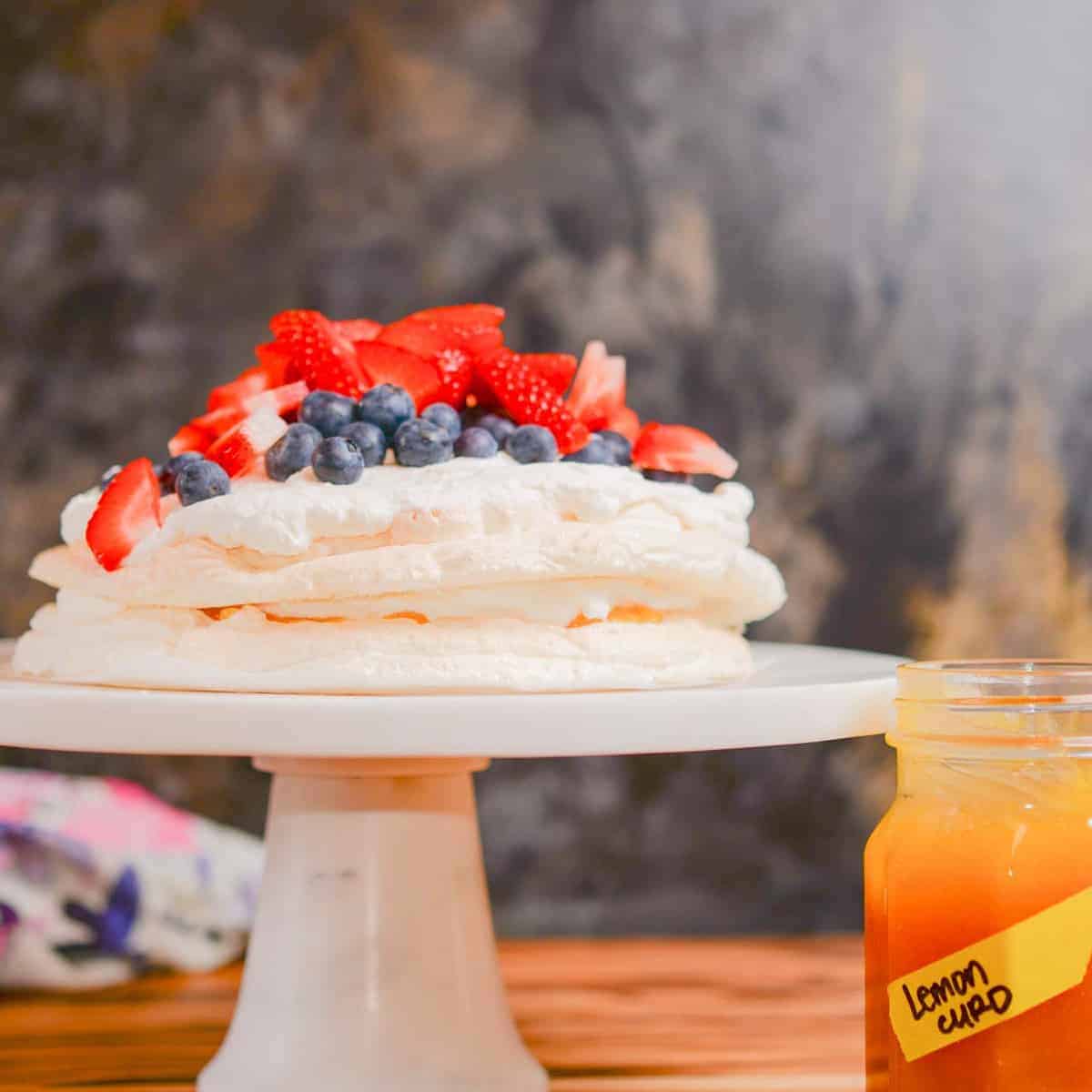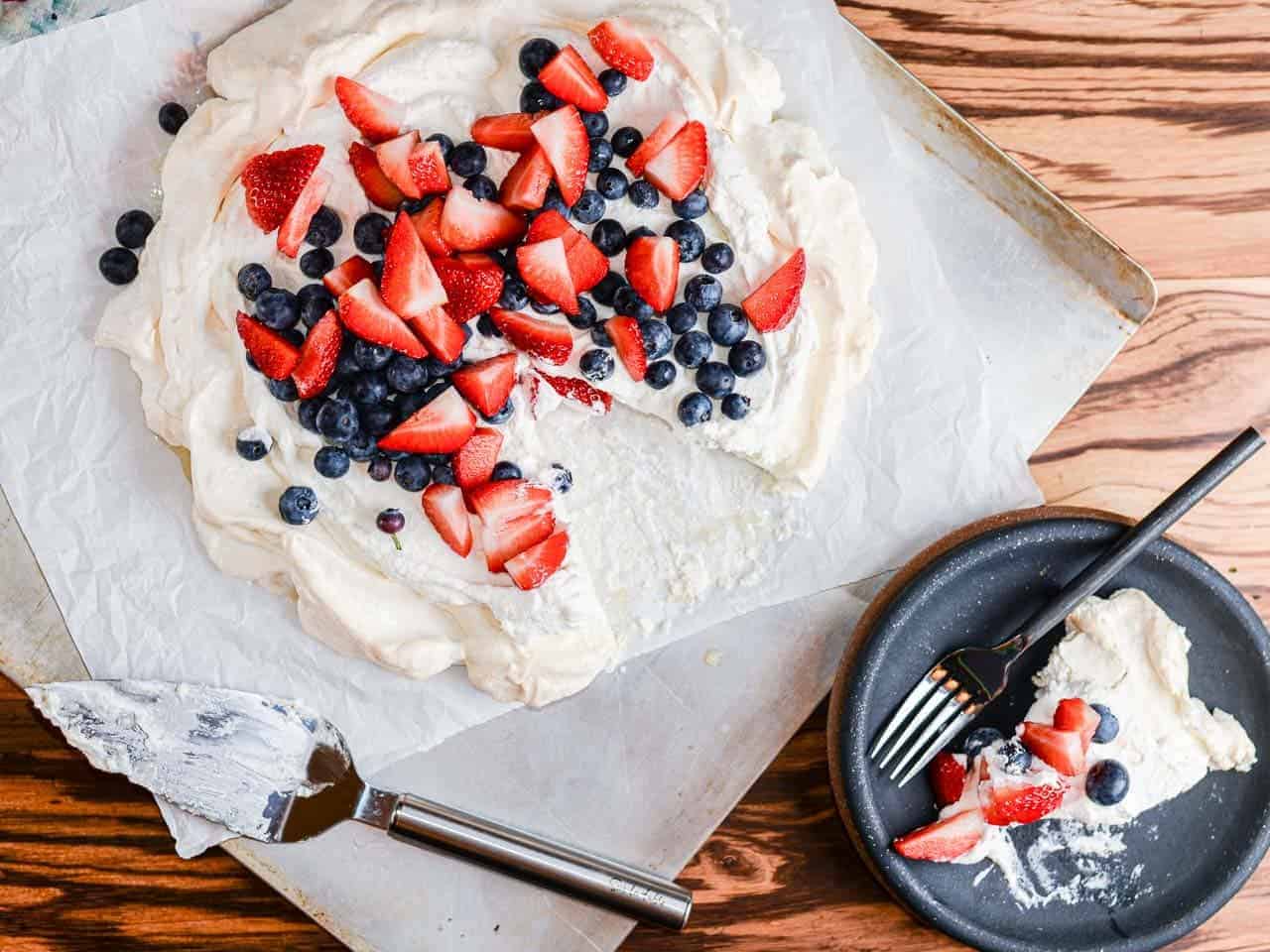 It seems like our favorite summer desserts are full of juicy berries.
🍓 Strawberry Shortcake or 💙 Blueberry Hand Pies are always on the top of the list. But who can resist a Banana Cream Pie?
Light and fluffy Strawberries and Cream Cake is another summer favorite.
Lemon Curd Recipe
If you want to make the lemon curd in this recipe here are the full instructions.
Lemon Curd
Lemon Curd is a sweet-tart-creamy-lemony summer dessert dream. You can use it on pancakes, or crepes, even nestle it between shortbread cookies. I absolutely love this in my Fresh Berry Pavlova.
SEE THE RECIPE
PIN FOR LATER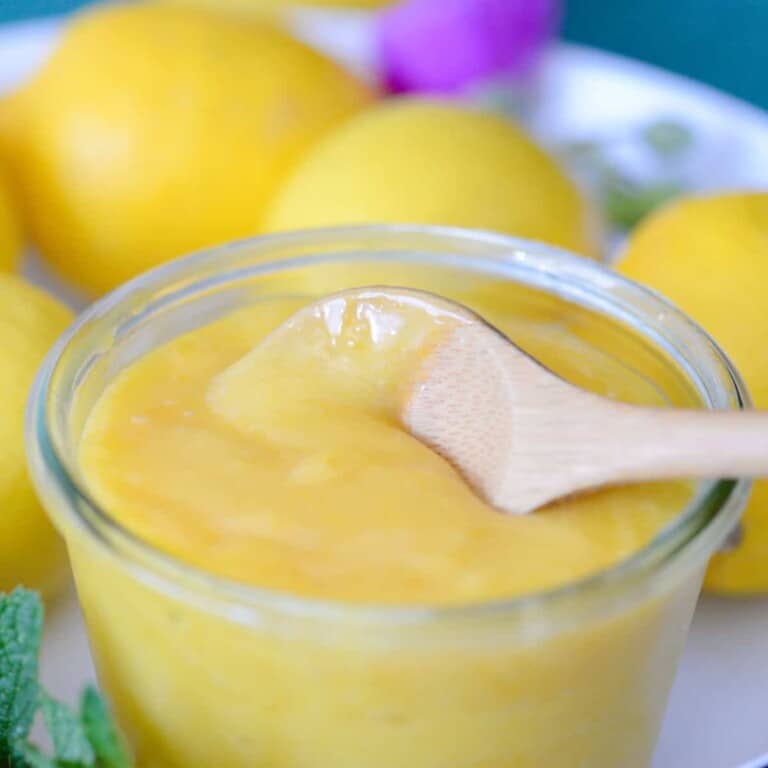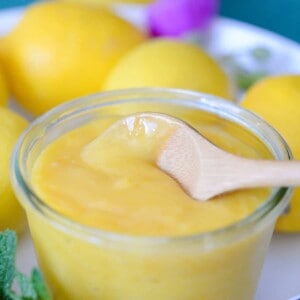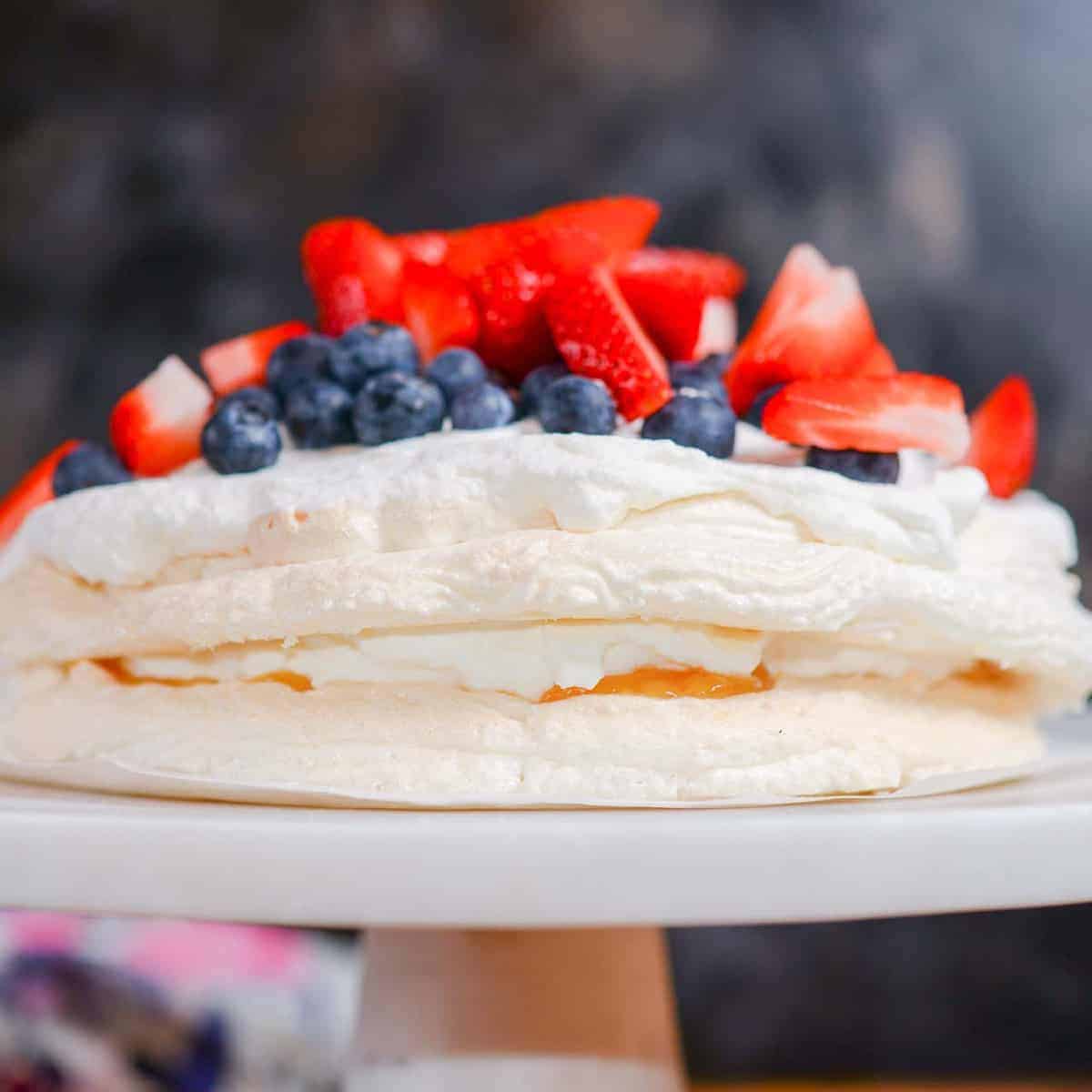 Fresh Berry Pavlova
Pavlova is fluffy meringue, baked to have a crispy outside and a fluffy chewy marshmallow inside. Top it with fresh whipped cream and seasonal fruit.
Ingredients
Pavlova
6

Egg whites

1

cup

Superfine sugar

1 ½

tsp

Corn starch

1

tsp

Distilled white vinegar

,

or ½ tsp cream of tartar

½

tsp

Vanilla

¼

cup

Boiling water
Toppings
1

pint

Whipped cream

4

cups

Fresh berries
Instructions
Pavlova Shells
Add the egg whites, sugar, cornstarch, vinegar and vanilla to a grease-free mixing bowl.

Beat on high until eggs are fluffy and doubled in volume.

Add boiling water all at once.

Continue to beat on high until stiff glossy peaks are formed.

Spread on a baking sheet lined with parchment paper. Smooth out into a 9×13 inch oval.

Place in oven. Close the door.

Immediately reduce oven temperature to 200℉, continue to bake for 60 to 90 minutes.

Without opening the door, turn oven off and let the pavlova sit in the oven for 1 hour, until completely cooled.
Toppings
Whip one small carton of heavy whipping cream until stiff peaks form.

Spread over the top of the pavlova.

Add fresh berries and serve immediately.
Laura's Tips + Notes
Special Equipment: Stand Mixer

(affiliate link)

| Hand Mixer

(affiliate link)

| Parchment Paper

(affiliate link)

| Piping Bag

(affiliate link)

| Piping Tip

(affiliate link)
Acid: If you don't have white vinegar you can substitute Apple Cider Vinegar or even lemon juice. Alternatively, ½ tsp of cream of tartar will also work to stiffen the egg white mixture.
Chocolate Pavlova: Add three tablespoons of sifted unsweetened cocoa and 2 ounces of finely chopped bittersweet chocolate to the egg mixture.
YOUR OWN NOTES
Sign In to add your own private notes
Nutrition
Calories:
202
kcal
Carbohydrates:
28
g
Protein:
3
g
Fat:
9
g
Saturated Fat:
5
g
Cholesterol:
30
mg
Sodium:
29
mg
Fiber:
1
g
Sugar:
24
g
Calcium:
45
mg
Iron:
0.1
mg