Halloween is Fast Approaching
It's time to start thinking about spooky Halloween treats!
These rich black chocolate cakes are stuffed with Amarena cherries and topped with a magnificent cream cheese butter cream. Don't let their gory looks fool you, they taste amazing! When topped with homemade sugar glass shards and edible blood, they are sure to impress both kids and adults!
These Halloween cupcakes will WOW all of your party guests.
The cupcake is a rich, moist dark chocolate cake. If that isn't fantastic enough, there is a whole Amarena cherry hiding inside. Then I added about a half of a teaspoon of the cherry juice into the well created by the cherry to give the whole cupcake a decadent Black Forest flavor.
Cutting out the center is super easy. Just like with my St. Paddy's Cupcakes (shown below), I use a small pairing knife at 45 degrees to carve out a small cone shape. It's much easier than it sounds. Once you get this technique down, you can fill any cupcake with anything – like a pro. No need to overthink it, just make a little hole.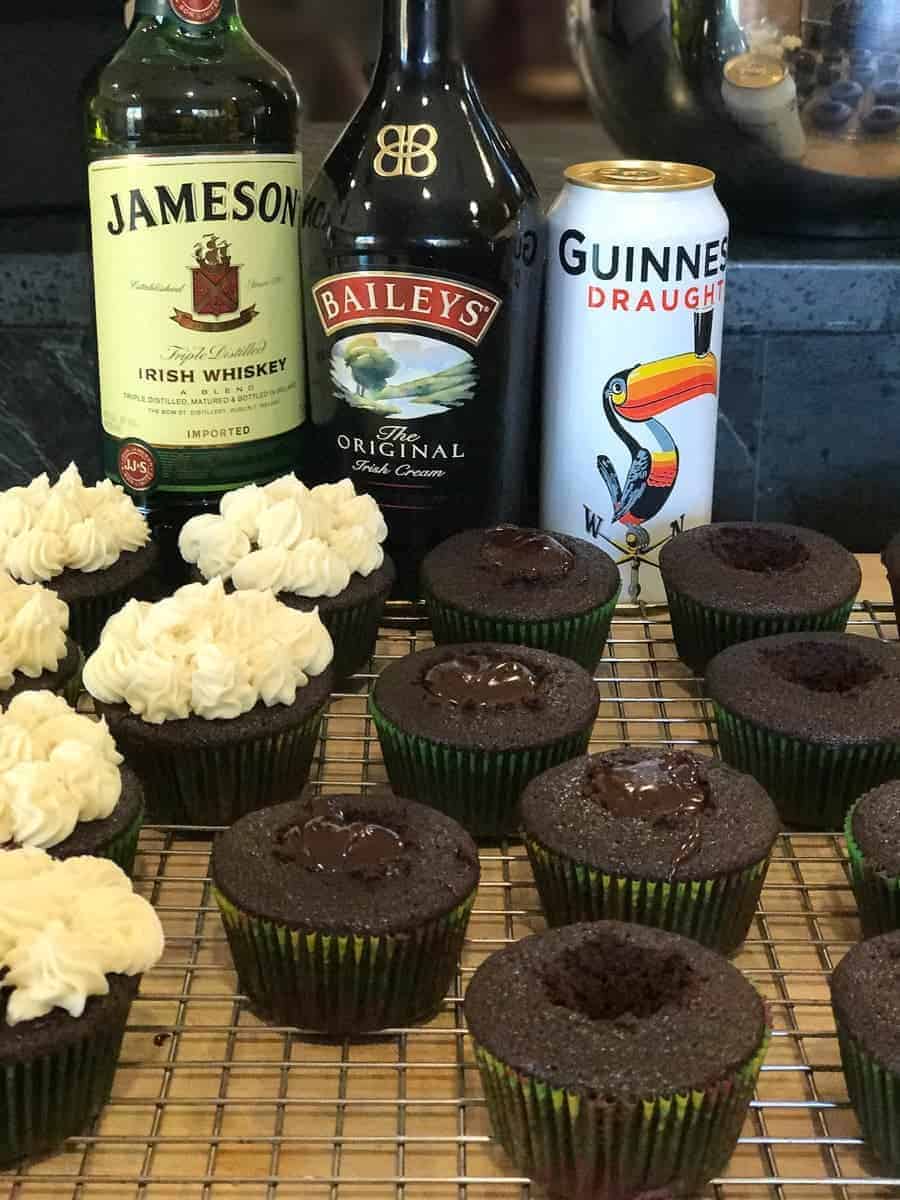 Like the St. Paddy's Cupcakes, the frosting on these is a rich, cream cheese buttercream. It isn't overly sweet. Decorating them with spattered blood may just be the best part about making these cupcakes – it is fun! This might just be my inappropriate sense of humor talking; but, I legitimately feel like everyone should love eating bleeding cupcakes with bloody shards of glass coming out of the top on Halloween. Am I right?
Making the Glass Shards
Sugar glass is another really easy technique that sounds intimidating at first. All it involves is heating sugar and water in a pan – it couldn't be simpler. Making sure the candy glass comes out perfectly does require a candy thermometer. That tool is your secret weapon for creating sugar glass. Buying a candy thermometer is a small price to pay to amaze your friends with these fantastic creations. You can usually pick one up for less than 10 bucks.
Once the sugar gets to 275℉ pour it on a cookie sheet prepared with non-stick spray, or onto a non stick mat. I use a silpat silicone mat to do this. Nothing sticks to these mats.  Once you have poured your sugar, use a heat resistant silicon spatula to quickly spread it into a thin sheet. The mat makes it easy to spread the hot sugar nice and evenly.
Let the sugar cool and then crack it into shards. I like to dip the shards in the edible blood and the stab them – lovingly, of course – into the blood-spattered cupcakes.
Happy Halloween
I hope that you will enjoy serving and eating these Halloween cupcakes as much as we did.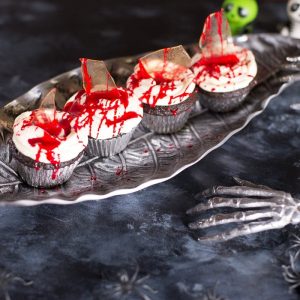 Creepy Bleeding Halloween Cupcakes
Total Time:
1
hour
30
minutes
Rich dark chocolate cupcakes filled with Amarena cherries, topped with a cream cheese butter cream and sugar glass shards, then decorated with edible blood. Happy Halloween
Print Recipe
Pin Recipe
Ingredients
Black Chocolate Cupcakes
2

cups

all-purpose flour

2

cups

sugar

2

tsp

baking soda

2

tsp

baking powder

1

cup

unsweetened cocoa powder

1

tsp

kosher salt

⅔

cup

butter

2

cups

water

2

eggs

beaten

2

tsp

vanilla extract
Cream Cheese Buttercream
8

ounces

cream cheese

softened

1

stick

unsalted butter

softened

4

cups

powdered sugar

¼

cup

heavy whipping cream

½

tsp

salt

1

tsp

vanilla extract
Sugar Glass
⅔

cup

sugar

superfine, if possible

1 ½

cups

water
Food Grade Blood
1

tbsp

Lyle's golden syrup

6

tbsp

powdered sugar

1

tsp

red gel food dye

frosting coloring, use more if needed.

1

tsp

water

use a little water to thin if needed.
Extras and Special Equipment
Instructions
Cupcakes
Preheat oven to 350℉

Mix dry ingredients in a large bowl.

Add water and butter to a sauce pan and bring to a boil.

Add hot liquid to the dry ingredients and mix.

Add beaten eggs and vanilla.

Portion out into lined cupcake pans. Should make approximately 18 cupcakes.

Bake for 30 minutes. Until wooden stick comes out clean.

Set aside and cool before frosting.
Cream Cheese Butter Cream
Beat together cream cheese and butter until slightly fluffy.

Add sugar, 1 cup at a time. Incorporate slowly at first.

Add cream and vanilla, beat on high until fluffy.

Refrigerate for about and hour before using.

Place in a piping bag and pipe frosting onto cupcakes.
Sugar Glass
Add sugar and water to a sauce pan.

Using a candy thermometer, bring to boil and then to 275℉

Stir occasionally and watch very closely. Sugar termprature will rise very quickly once it gets over 200℉

When the sugar is heated, quickly pour out onto a non stick surface and the spread with a non-stick, heat-resistant spatula.
Blood
Mix all ingredients together in a small bowl.

Add more red gel to get a darker color.

Thin with water if needed.

Spatter all over the cupcakes.
(Visited 58 times, 1 visits today)