Halloween Cupcakes with Edible Blood
Creepy bleeding cupcakes are so fun! This Halloween cupcake is a deep, dark devil's food chocolate cupcake filled with a dark cherry and edible blood. Top this creepy confection off with an edible sugar glass shard and more edible. Your Halloween party guests will be so delighted.
Don't miss the juicy cherry inside. Devil's food cupcakes filled with cherries for a Black Forest cupcake vibe!
I adore Halloween and I'm in LOVE with creepy Halloween cupcakes.
What you are going to love about these cupcakes
The cupcake is a rich, dark chocolate devil's food cupcake.
Filled with Luxardo cherries and syrup.
Topped with a magnificent cream cheese buttercream.
Decorated with a homemade sugar glass shard and edible blood.
Recipe Notes
This recipe is so fun to make and even more fun to eat. The cupcake flavor profile is a lot like a black forest cake. You can swap out the cream cheese frosting for a whipped cream frosting if that feels more authentic to you.
Ingredients
Dark Chocolate Devil's Food Cupcakes
Dry Ingredients: all-purpose flour, cocoa powder, baking soda, and baking powder, kosher salt.
Wet Ingredients: unsalted butter, sugar, eggs, water, vanilla extract.
Ingredients for Cream Cheese Buttercream Frosting
Cream cheese, butter, and heavy whipping cream.
Powdered sugar
Salt and vanilla extract
Ingredients for the Sugar Glass Recipe
Superfine sugar (sometimes called bakers sugar or casters sugar)
Water
Edible Fake Blood Ingredients
1 tbsp of Lyle's golden syrup or corn syrup
6 tbsp of powdered sugar
1 tsp of red gel food dye
1 tsp water
Extras and Special Equipment
How to make bloody Halloween cupcakes.
The first step is to core out the cupcakes.
You can do this with a cupcake corer tool (affiliate link). OR a small pairing knife.
MY METHOD: Just like with my St. Paddy's Day Car Bomb Cupcakes, I use a small paring knife at a 45-degree angle to carve out a small cone shape. It's much easier than it sounds. Once you get this technique down, you can fill any cupcake with anything – like a pro. No need to overthink it, just make a little hole.
Once you have the cupcakes cored, you can fill them with a Luxardo cherry and a few teaspoons of the syrup that is in the cherries. This will give you the most fabulous faux blood-filled cupcakes.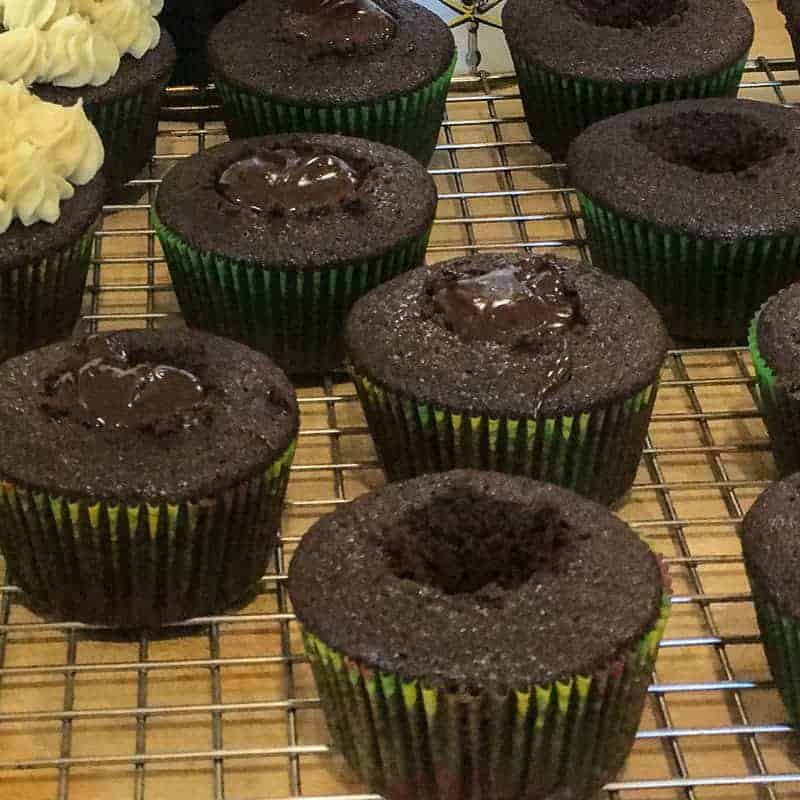 The decorations
Sugar glass, edible fake blood, and cream cheese buttercream frosting. Decorating cupcakes with spattered edible blood may be the best part about making these cupcakes – it is fun!
Maybe it's my inappropriate sense of humor talking; but, I legitimately feel like everyone should love these cupcakes with bloody shards of glass coming out of the top. Am I right?
How to make sugar glass
Making sugar glass is another straightforward technique that sounds intimidating at first.
Step 1: Heating sugar and water in a pan.
A candy thermometer (affiliate link) is your secret weapon for creating sugar glass.
The shards of sugar glass have only one requirement. Make sure you heat the sugar to the correct temperature. 275℉ is the hard candy stage.
Step 2: Once the sugar syrup reaches 275℉
Pour it on a cookie sheet prepared with non-stick spray, or onto a nonstick mat. I use a Silpat silicone mat to do this. Nothing sticks to these mats.
The mat makes it easy to spread the hot sugar nice and evenly.
Once you have poured your sugar, use a heat resistant silicone spatula (affiliate link) to spread it into a thin sheet quickly.
PRO-TIP: Watch the sugar syrup very closely. Once it starts getting hot the temperature climbs very quickly. And whatever you do DO NOT TOUCH THE SUGAR with your finger.
Step 3: Let the sugar glass cool and then crack it into edible glass shards.
I like to dip the sugar glass into the edible blood, and the stab them — lovingly, of course —into the blood-spattered cupcakes.
Be warned the sugar glass will start to melt inside the cupcakes after a few hours, so it is best to stab your cupcakes relatively close to the time that you are serving them.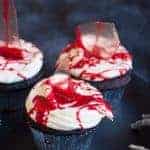 How to make edible blood
I know you have been waiting all of your life to have this question answered.
Edible blood is a mixture of corn syrup (affiliate link) and food-grade gel coloring (affiliate link). Confectioners or powdered sugar is used to thicken it. It is easy to make, and it stains everything so be careful. Definitely, DO NOT use edible blood as costume blood unless you want to be stained red.
Start with a quarter cup of corn syrup and then add true red food-grade gel until you get a bright red blood color. Add in confectioners sugar a tablespoon at a time until you get a consistency that is like thick honey.
Scary Halloween Cakes and Cupcakes, for the win!
I hope that you will enjoy these Halloween themed cupcakes as much as we did. These are the perfect cupcakes for a Halloween party. And I hope that this will be one of your go-to Halloween cupcakes recipes.
More of my fantastically creepy Halloween food ideas
My favorite Savory Halloween Party food – Since you can't live on bleeding cupcakes.
Pork Ragu — Labeled as something gross and served with a brain mold of polenta.
My Spam Fried Rice is a crowd-pleaser no matter what the occasion.
More cupcake recipes on Foodology Geek
Less Boring Vanilla Cupcakes
➽ Did you make this recipe? I love to see what's going on in your kitchen. Show me what you're cooking. 🍳 Tag me @foodologygeek on your favorite social channel! Facebook, Instagram & Pinterest. If you loved ❤︎ this recipe, please leave a five ★ review and a comment!
Creepy Bleeding Halloween Cupcakes
Rich dark chocolate cupcakes filled with Amarena cherries, topped with a cream cheese buttercream and edible sugar glass shards, then decorated with edible blood. Happy Halloween
Ingredients
Instructions
Cupcakes
Preheat the oven to 350℉.

Mix the dry ingredients in a large bowl. Whisk slightly to blend.

Add the water and butter to a saucepan and bring to a boil.

Add the hot liquid to the dry ingredients and mix.

Add the beaten eggs and vanilla.

Portion out into lined cupcake pans. Should make approximately 18 cupcakes.

Bake for 30 minutes. Until wooden stick comes out clean.

Set aside and cool before frosting.
Cream Cheese Butter Cream
Beat together the cream cheese and butter until slightly fluffy.

Add the powdered sugar, 1 cup at a time. Incorporate slowly at first.

Add the cream and vanilla, beat on high until fluffy.

Refrigerate for about an hour before using.

Place the frosting into a piping bag and pipe frosting onto cupcakes. (optional)
Edible Sugar Glass
Add the sugar and water to a saucepan.

Using a candy thermometer, bring to boil and then to 275℉

Stir occasionally and watch very closely. The sugar syrup's temperature will rise very quickly once it gets over 200℉

When the sugar is heated, quickly pour out onto a non stick surface and the spread with a non-stick, heat-resistant spatula.
Edible Blood
Mix all of the ingredients together in a small bowl.

Add more red gel to get a darker color.

Thin with water if needed.

Spatter all over the cupcakes using a spoon.
YOUR OWN NOTES
Nutrition
Calories:
449
kcal
Carbohydrates:
71
g
Protein:
4
g
Fat:
19
g
Saturated Fat:
11
g
Cholesterol:
68
mg
Sodium:
448
mg
Fiber:
2
g
Sugar:
56
g
Calcium:
54
mg
Iron:
1.5
mg