If you've been looking for a way to make healthy meals more fun, a vegetable spiralizer might be the thing. Spiralized vegetables add an exciting new twist to fruits and vegetables, and you might find yourself eating more veggies than you expected.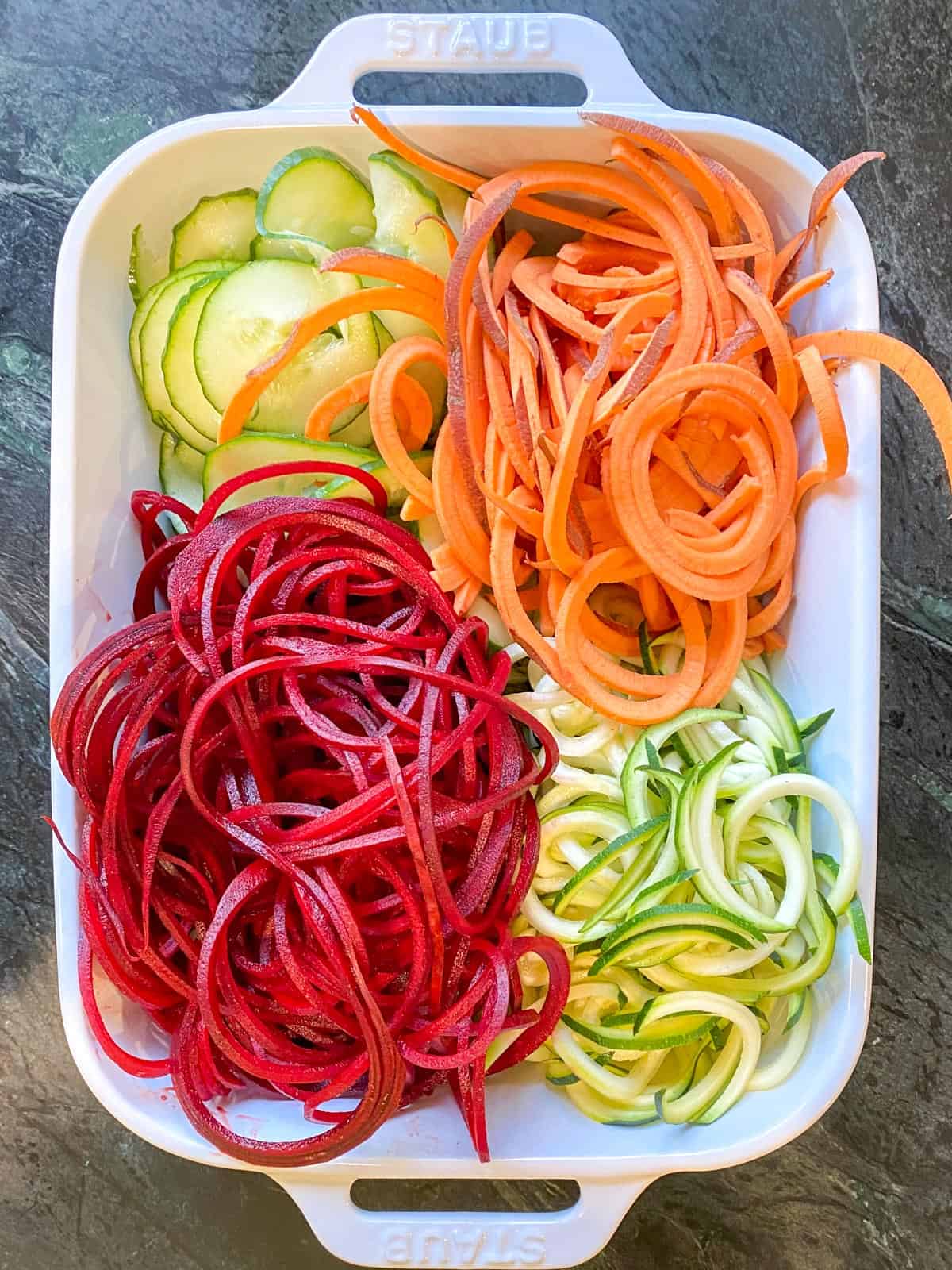 We all know that upping your veggie game is easier said than done, and it takes time and effort to prep and cook vegetables.
What if you had a tool that not only made vegetable prep super fast and efficient but also fun?
🙌 Enter the spiralizer.
I have to admit that I'm a huge fan of zoodles. It was actually kind of a surprise to me because I don't usually like to eat "healthy" stand-ins for my favorite foods.
However, when I discovered that a high-carb diet wasn't the best for me, I tried a vegetable spiralizer and made a batch of zucchini noodles, topped with my favorite marinara and meatballs. Voila, I was hooked.
To my surprise, veggie noodles were fantastic, and I haven't looked back since. And to this day, I use a spiralizer to make delicious recipes all the time.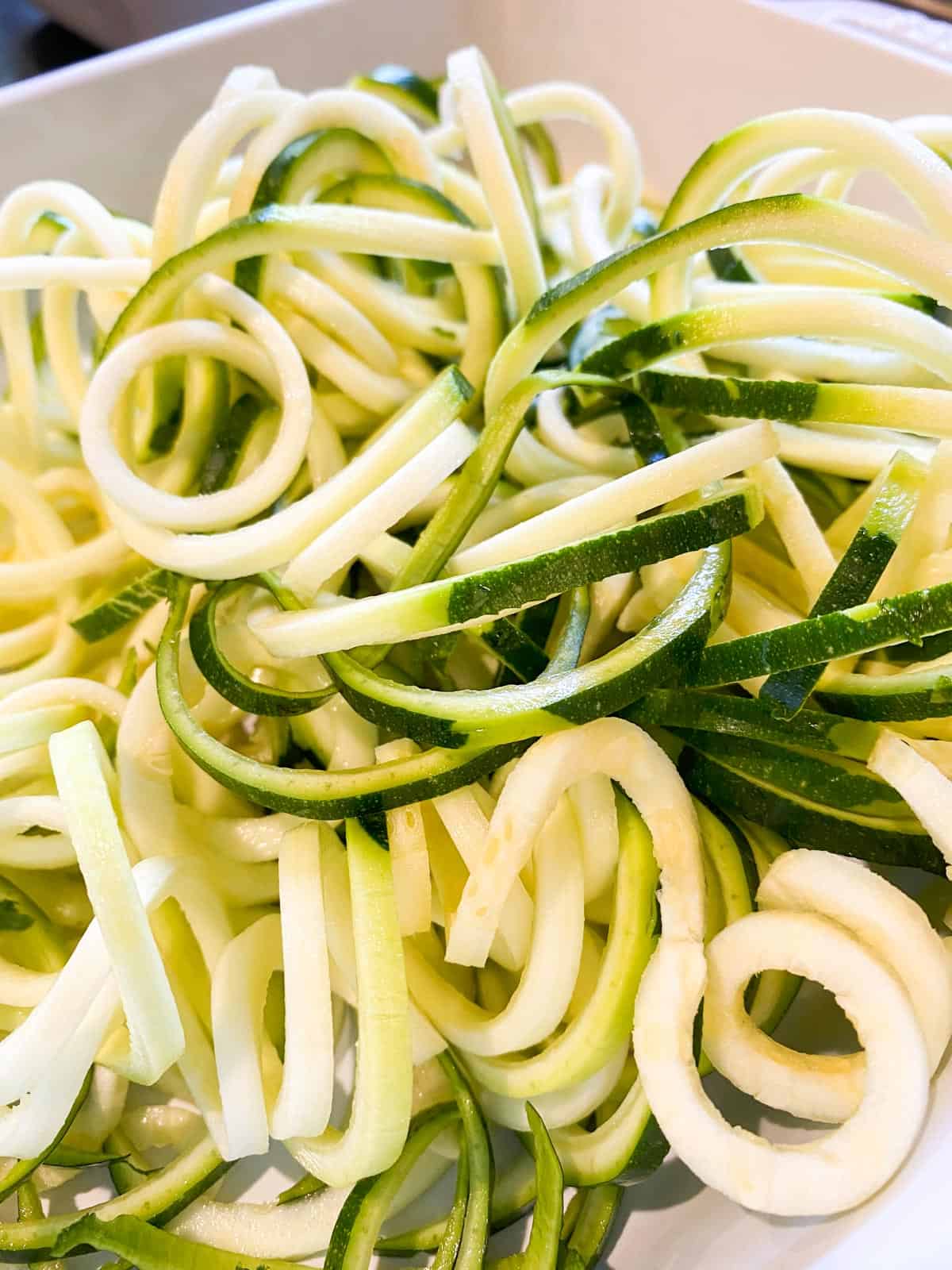 Why you should own a spiralizer
A spiralizer is a tool that you need in your kitchen if you're wanting to add healthy vegetables to your diet that you'll actually want to eat.
1) It's a time-saving kitchen tool
A spiralizer will save you tons of time in the kitchen by cutting down on the amount of time you need to prep veggies for recipes.
2) Healthy & diet friendly
Using zoodles (vegetable noodles) is a healthy alternative to pasta and tastes fantastic with most traditional pasta sauce recipes.
3) Versatile & easy to use
A spiralizer can be used to make healthy raw salads and veggie chips.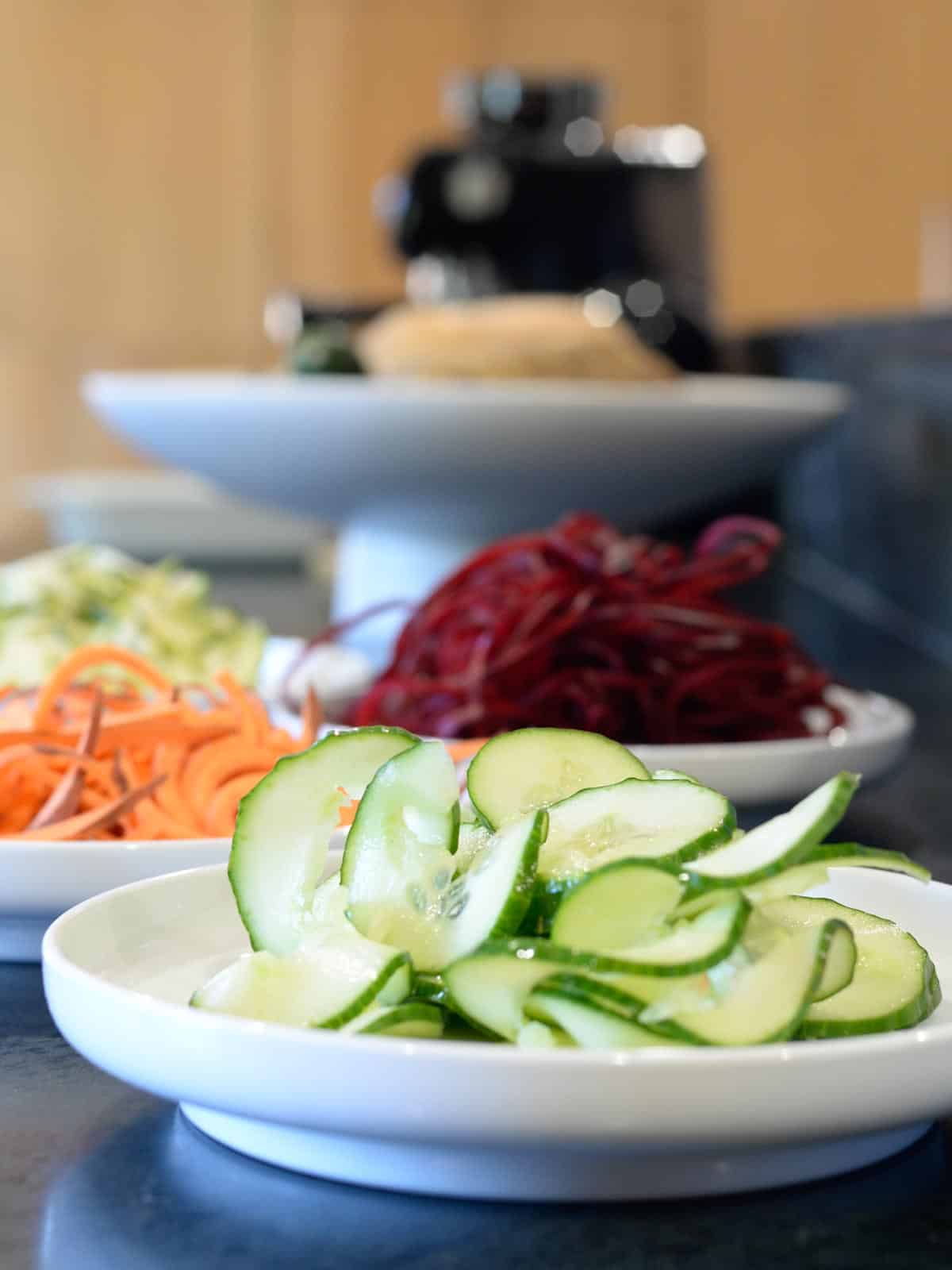 What you can make with your spiralizer
A spiralizer use a blade and spiralized slicing to slice fruits and veggies into long spiral noodles. It's best used with firm fruits and vegetables.
Some of the best fruits and vegetables to use with a spiralizer are:
Fruits: Apples, pears, and firm melons.
Vegetables: Cucumber, beets, butternut squash, sweet potatoes, zucchini, jicama, white potatoes, and onions.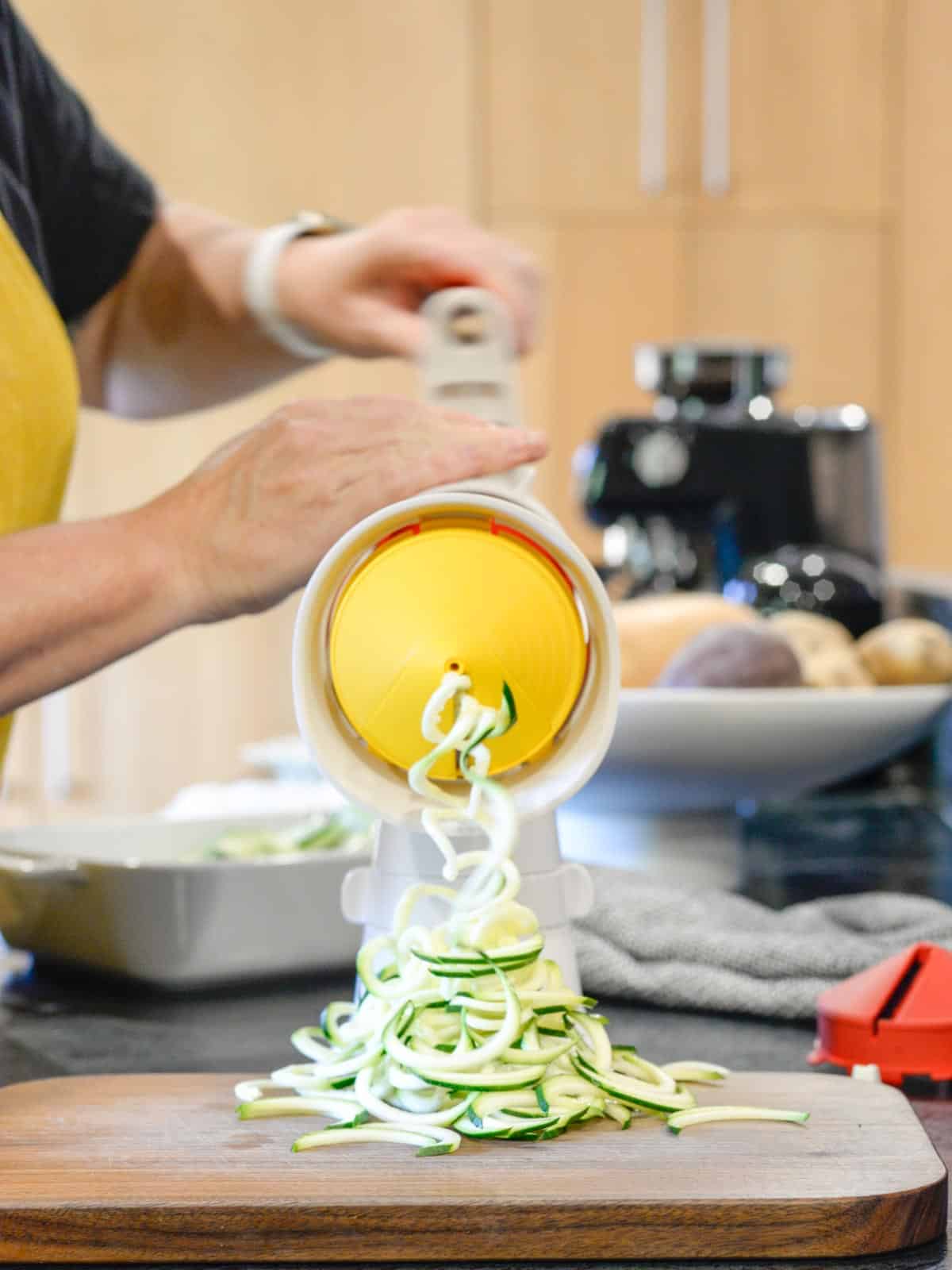 How to buy the right spiralizer
Finding the right spiralizer all depends on what your intentions are. There are a lot of styles, features, and price ranges out there.
If you already have a Kitchenaid stand mixer, you might want to add on to your arsenal of tools and purchase the Kitchenaid spiralizer attachment.
Shop handheld
If you want a simple, inexpensive, but reliable spiralizer, a handheld model is perfect. This type of spiralizer usually has one blade and will make one type of veggie noodle.
If you mostly want to make veggie zoodles from zucchini now and then, a handheld spiralizer might be the way to go.
Pros: Handled spiralizers are inexpensive, small, and easy to store.
Cons: Limited blades work best with smaller and softer veggies, like zucchini and summer squash.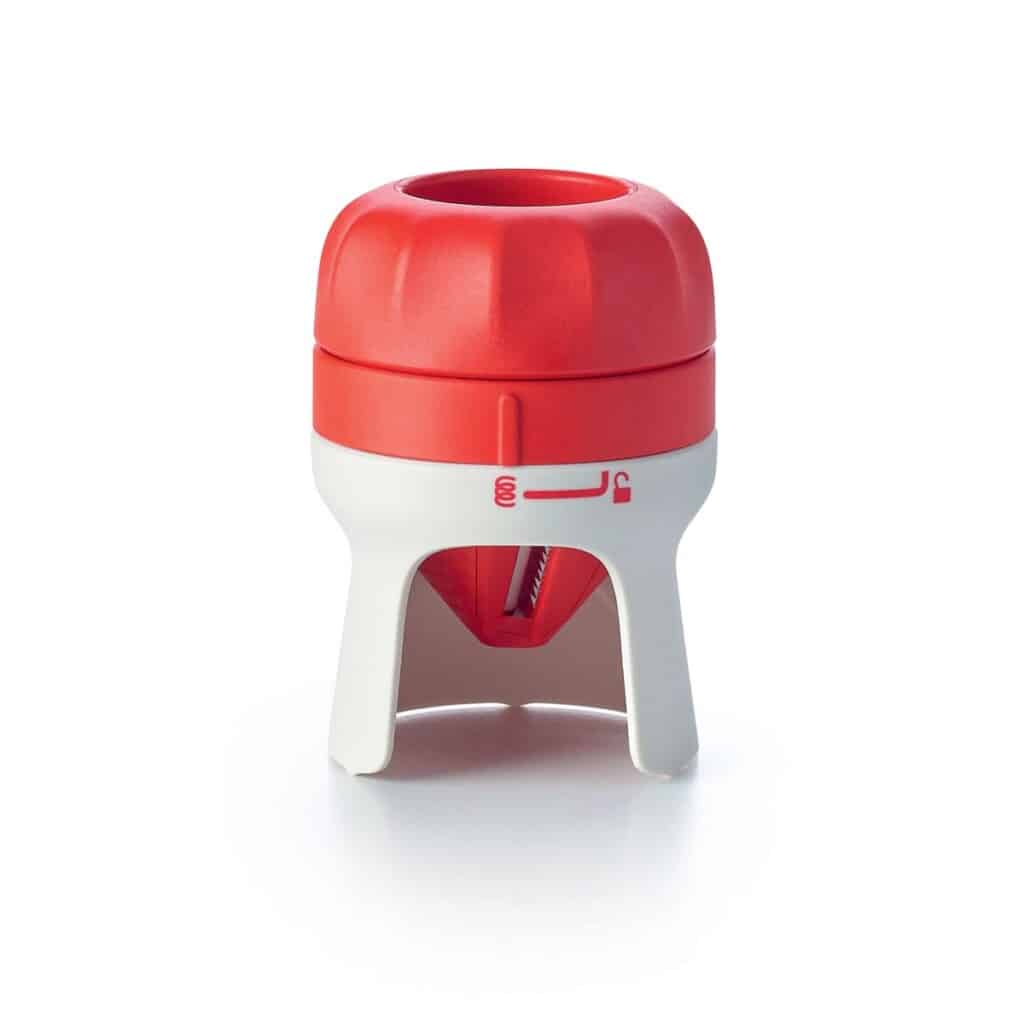 Tupperware Handy Spiralizer
on Tupperware
Shop Countertop
You might want a countertop model if you're ready to experiment a little more in the kitchen and try your hand and some veggie chips or curly fries.
A countertop spiralizer will mount to your counter, usually with a suction cup. They also contain 5 to 10 different interchangeable blades that can be used to make a variety of sizes of veggie noodles in addition to a thin spiralizing blade to make chips.
Pros: More blades, secures to your countertop for safe and easy use. Also relatively inexpensive.
Cons: Countertop models are larger and harder to store.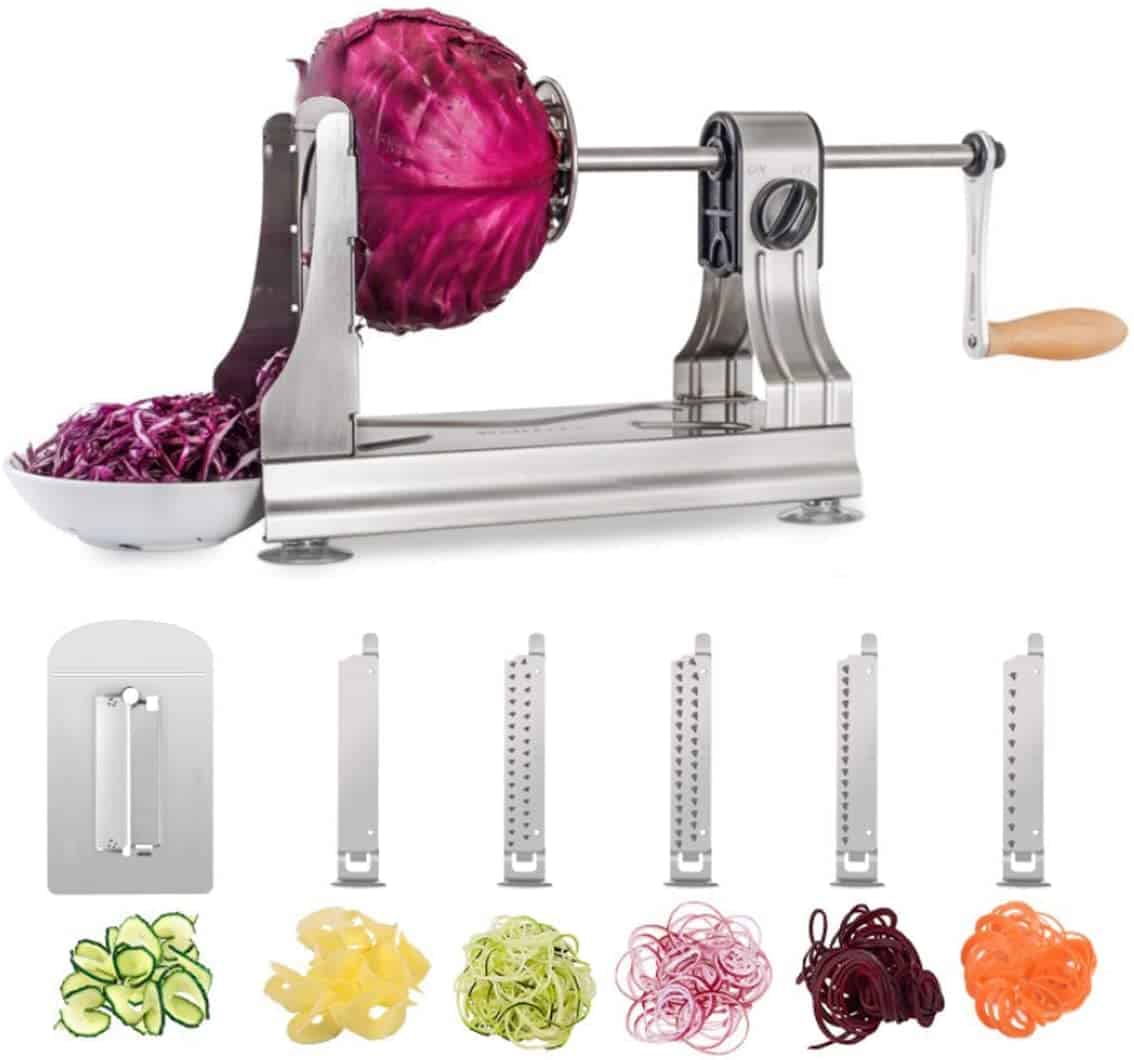 WellToBe 6-Blade Vegetable Spiralizer
on Amazon
Shop Kitchen Aid
If you already have a Kitchenaid stand mixer, you might want to add on to your arsenal of tools and purchase the Kitchenaid spiralizer attachment.
Pros: The peeler attachment works great for peeling potatoes and apples.
Cons: I found the blades on this spiralizer were hard to use and there was a large amount of waste. This spiralizer was the worst one out of all the ones that I tested.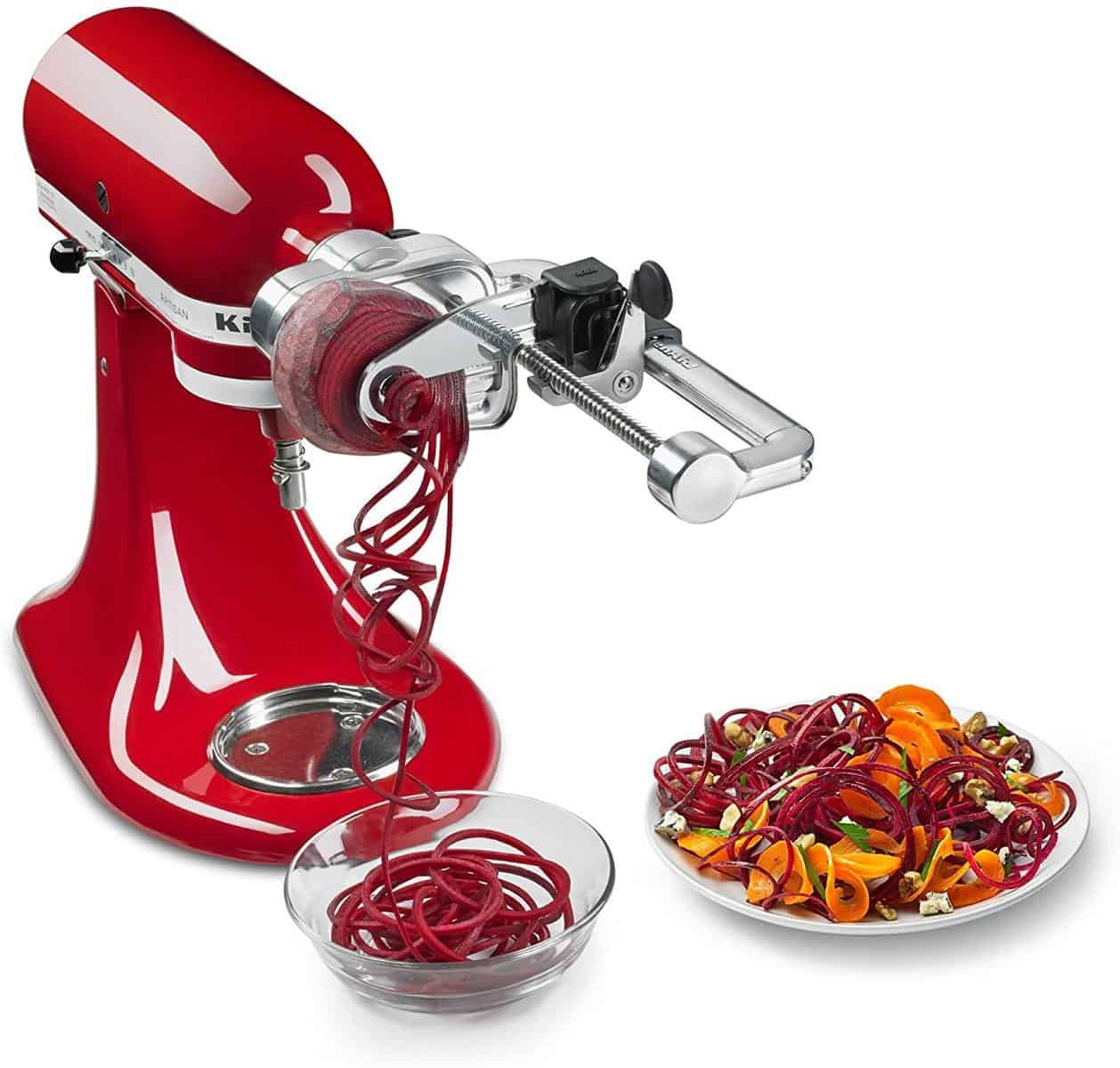 KitchenAid Spiralizer Plus Attachment
on Amazon
What to make with a spiralizer
Sauté. Zucchini and butternut squash noodles cook up quickly in a saute pan. Sauteing is my favorite way to cook veggie noodles. Simply add a small amount of oil or butter to a sauté pan over medium-high heat. Cook the veggie noodles for 3 to 5 minutes.
Stirfry. Spiralized vegetables make a fun addition to stirfrys. You can add carrots, onions, and peppers are easy to spiralize and make fun stirfry noodle bowls.
Soups. Adding veggie noodles to your favorite soups keeps them low carb and adds a ton of extra fiber. Try Chicken Noodle Soup or a Low Carb Ramen recipe.
Salads. Lemon tahini dressing is a fantastic salad dressing for spiralized beets, zucchini, and carrots. You can add crunchy roasted chickpeas to make this a fast and easy protein-packed lunch or light dinner.
Boil. You can boil veggie noodles in salted water for a few minutes. Time will vary depending on how thick the spiralized noodles are. Butternut squash noodles are more tender if you boil them. I suggest a Vegan Alfredo Sauce plus some spinach or kale.
Deep fry. Deep frying spiralized noodles are perfect for making curly fries, veggie fritters, or latkes. Give beets or zucchini a try and serve with Tzatziki.
Bake. If you're not into deep frying, baking is always and option.
How to clean
Most models clean up super easily with a quick rinse under warm water. You can use a brush if you do need to scrub off any stubborn bits of food.
How to store
Store spiralized veggies in an airtight container in the fridge for up to a week.
I like to use either a zip-top bag or a glass sealable container. You can buy spiralized vegetables nowadays in most grocery stores. But why when you can save tons of cash by making zoodles at home.
Find More Healthy Recipe Ideas
I'd love to hear about your adventures with your brand new vegetable spiralizer or the one that you pulled out of the cabinet to try again.
I hope you've enjoyed this post and that I've convinced you how versatile and easy this kitchen tool is and that you'll give it a try.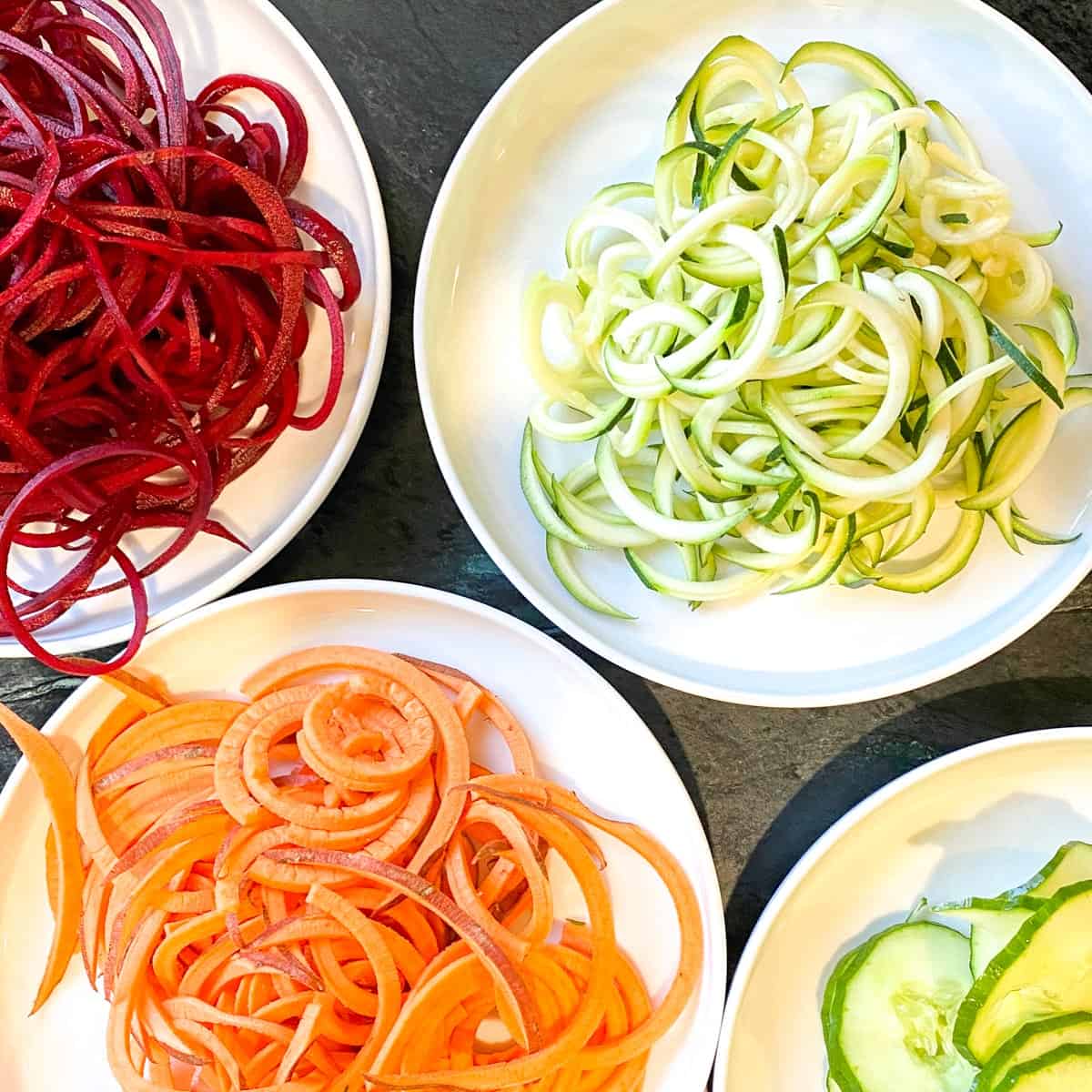 How To Make Veggie Noodles
Use a spiralizer to make noodles from zucchini, daikon radish, sweet potato, butternut squash, cucumbers, and other vegetables.
Ingredients
Zoodles (Zucchini Noodles)
Other Options for Vegetable Noodles
sweet potatoes

cabbage

daikon radish

summer squash

cucumbers
Instructions
Make the vegetable noodles using a spiralizer with a noodle blade,
Cooking Vegetable Noodles
Saute: Add a few teaspoons of oil to a sauté pan and heat to medium-high. Add the zoodles and sauté for 3 to 5 minutes. Salt and pepper to taste.

Bake: Preheat the oven to 400℉. Lay your noodles in a single layer on a baking pan. Bake for 10 to 15 minutes. Salt and pepper to taste. This method is perfect for baking curly fries.

Boil: Bring salted water to a boil. Add noodles and boil for 3 minutes. Remove from the water and strain. This method is best for sweet potato or butternut squash since they are both firmer vegetables.
YOUR OWN NOTES
Nutrition
Serving:
1
cup
Calories:
25
kcal
Carbohydrates:
5
g
Protein:
2
g
Fat:
1
g
Saturated Fat:
1
g
Sodium:
12
mg
Fiber:
1
g
Sugar:
4
g
Calcium:
24
mg
Iron:
1
mg