I have a few Apple Pie Recipes but THIS one is by far the Best Apple Pie Recipe that I've made in a long time. This pie recipe was inspired by my Bourbon Caramel Sauce Recipe. I took my go-to apple pie filling and added caramel sauce to it. It came out FANTASTIC!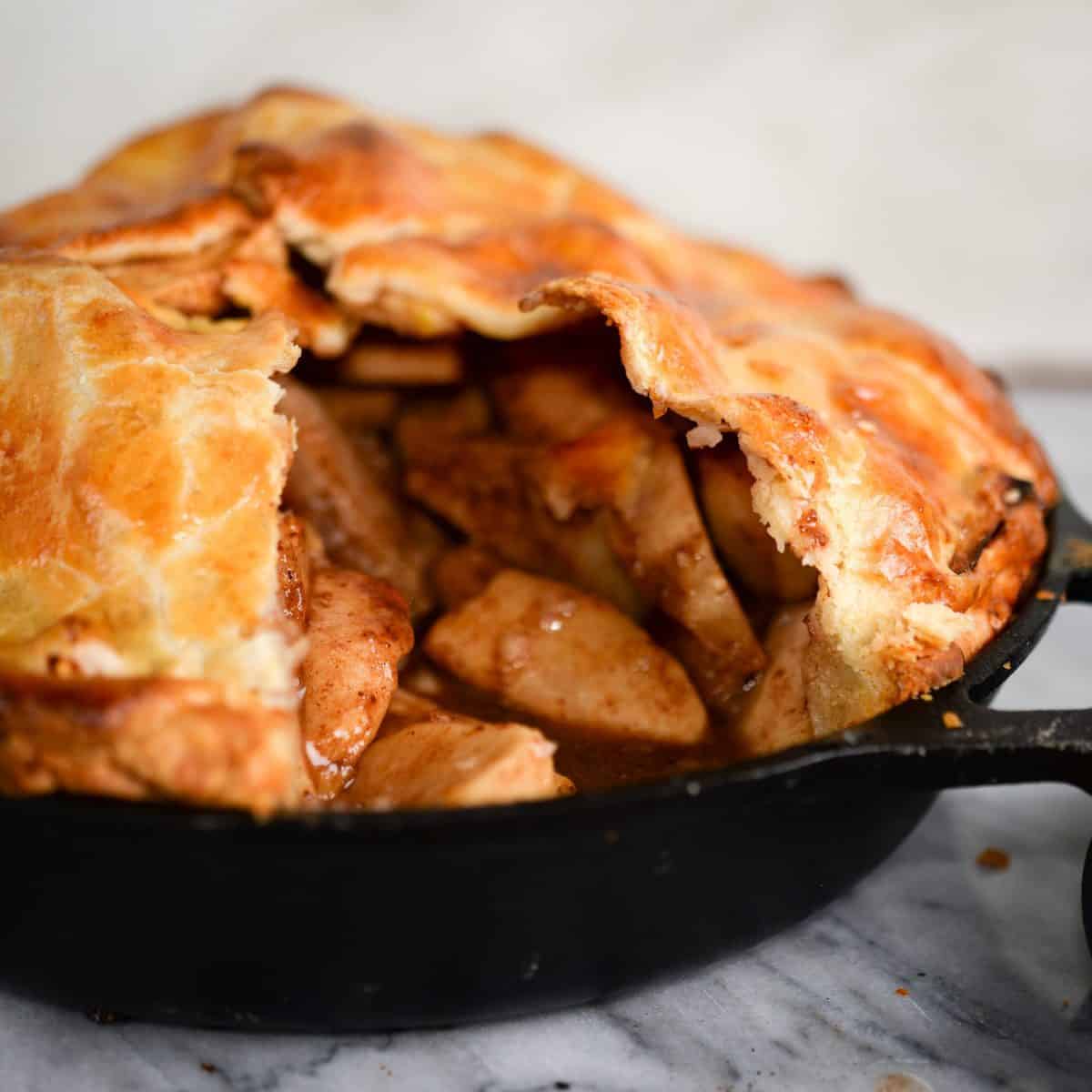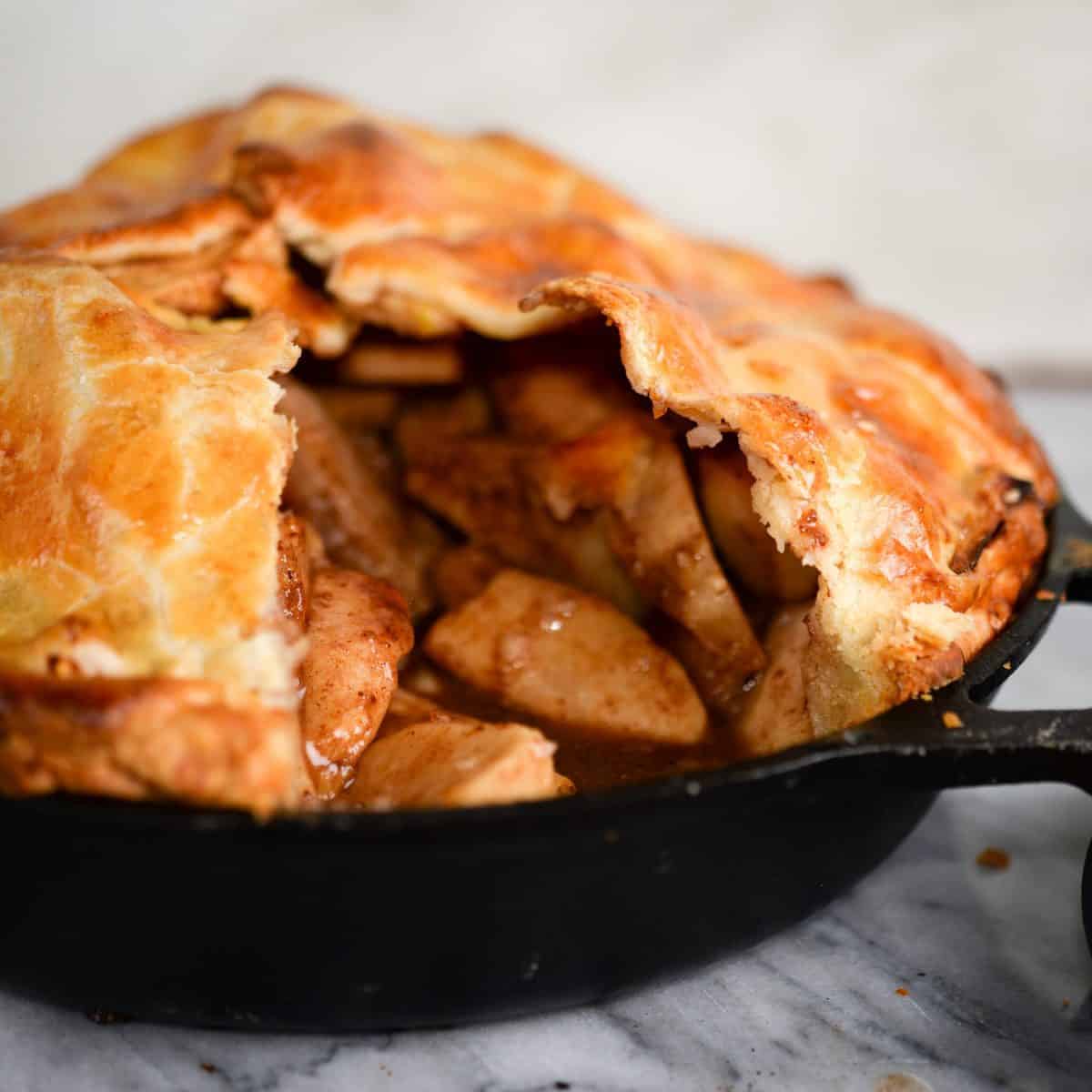 This post does contain affiliate links. Please see my Affiliate Link Policy.
When I was a kid I was definitely more of a cake person. I would rather have a rich slice of decadent chocolate cake over a slice of pie, any day.
However, as I've gotten older I have developed more of an appreciation for pie.
I've also learned that there was a reason as a kid that I didn't like pie. Most of the pie that I happened to taste when I was a kid was store-bought pie.
Comparing a store-bought pie to a homemade pie just isn't fair.
After many years of figuring out how to make pies in my own kitchen, I am now a pie lover. This doesn't mean that I no longer appreciate a really good cake.
I've come to the realization that when it comes to anything baked if it's not from scratch, it's just not worth eating.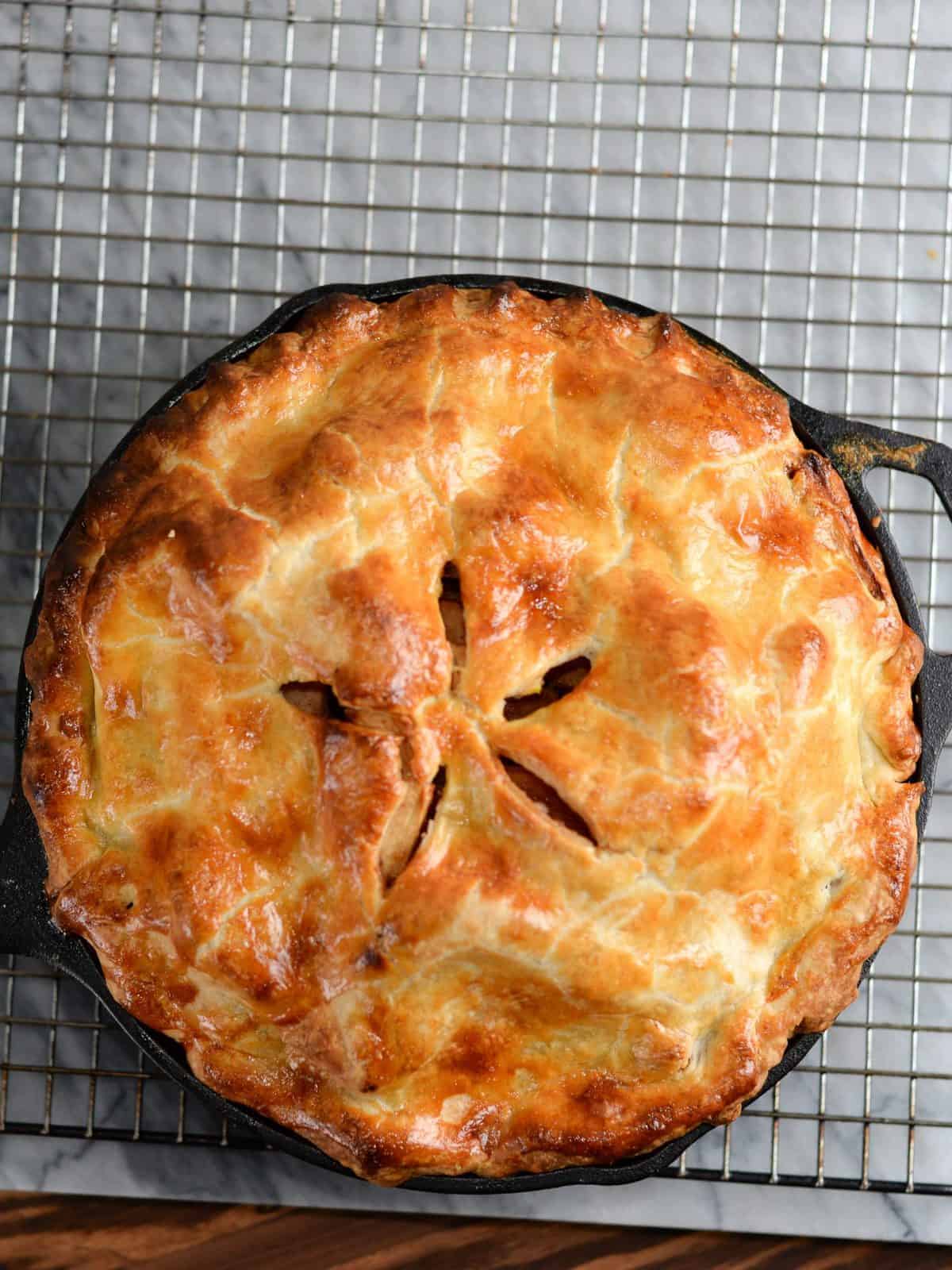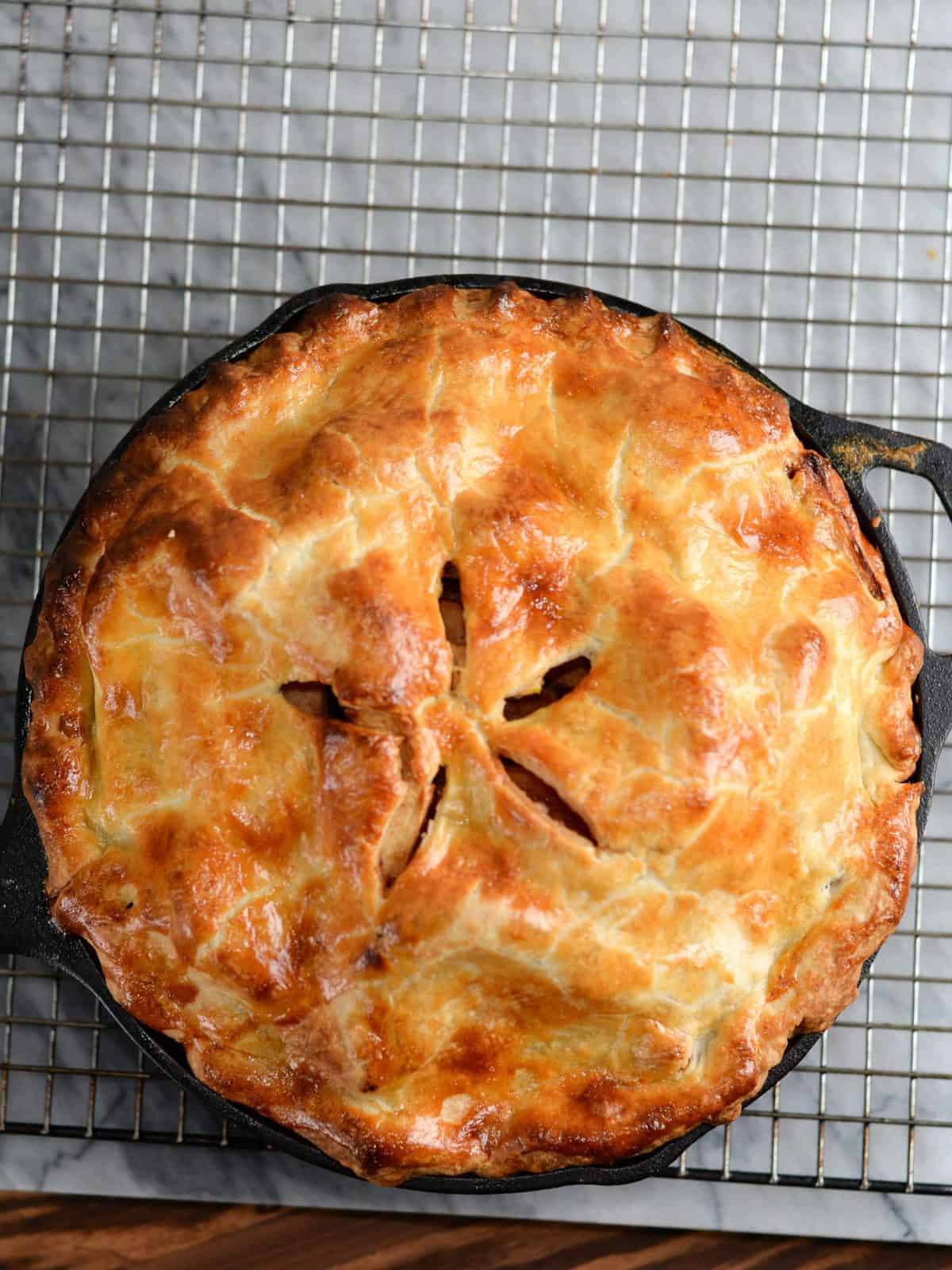 What I love About this Caramel Apple Pie Recipe
This is an easy apple pie recipe that I've been making for years. I bake this pie in my cast iron skillet and it comes out perfect every single time.
This is a homemade apple pie recipe that is made from scratch — is there anything better than that?
This apple pie filling is hands down the BEST apple pie filling that I have ever tasted.
This apple pie is made with fresh apples.
The buttermilk pie dough that I use to bake this apple pie makes the most amazing apple pie crust.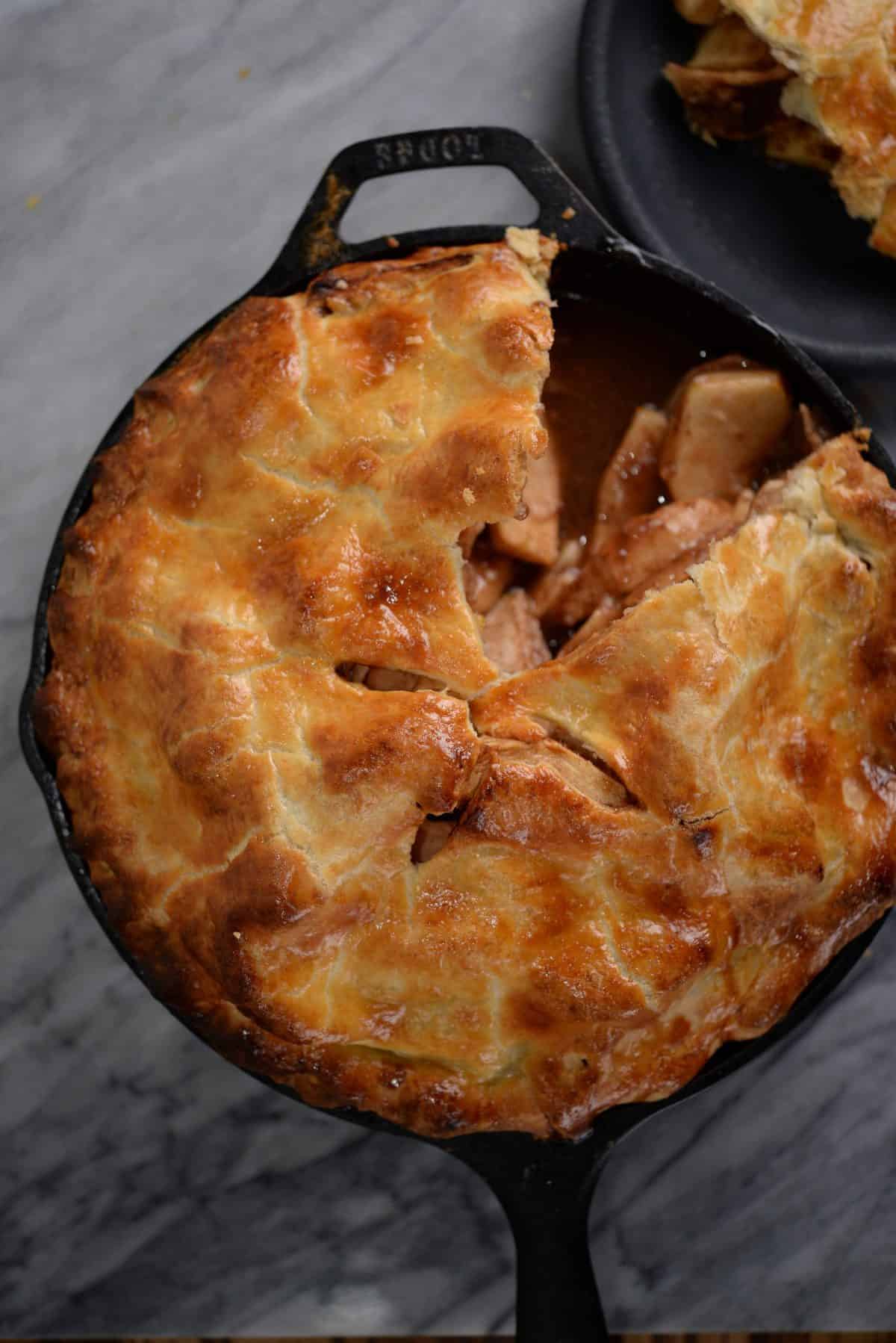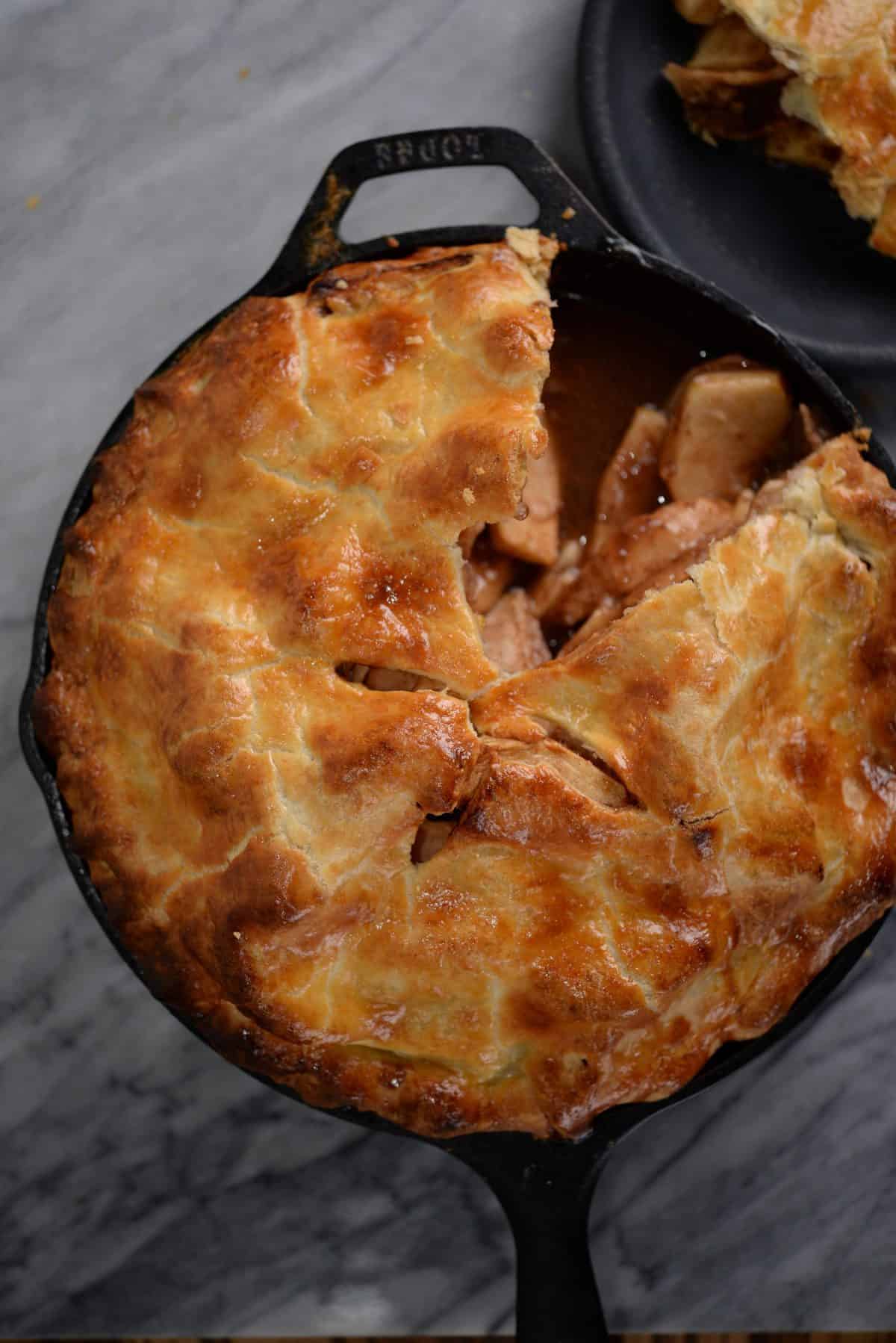 Recipe Notes
This recipe will work fine when baked in a pie pan or in 10-inch cast-iron skillet.
Ingredients
Pie Dough: I have two recipes that are my go-to pie crust recipes; Buttermilk Pie Crust and All-Butter Pie Crust. Either of these work! Or feel free to use your own favorite pie dough.
Fresh Apples: The best apples to use for apple pie are Granny Smith (tart), Fuji (sweet), and Pippin Apples (tart and sweet.) I like to use a variety of apples in the filling. You'll need about 8 to 10 apples.
Apple Pie Spice: Cinnamon, sugar, nutmeg, and all-spice.
Thickeners: Flour and cornstarch.
Caramel Sauce: I use my Homemade Bourbon Caramel in this recipe. If you don't want to make homemade caramel sauce you can use a store-bought variety.
Special Equipment
You will need either a pie dish or a cast-iron skillet to bake the pie in. I also use a baking sheet to set the skillet on while it is baking, just in case there is any fruity bubble over.
I use a food processor to make my pie dough. This is completely optional. If you don't have a food processor you will want to have a pastry cutter.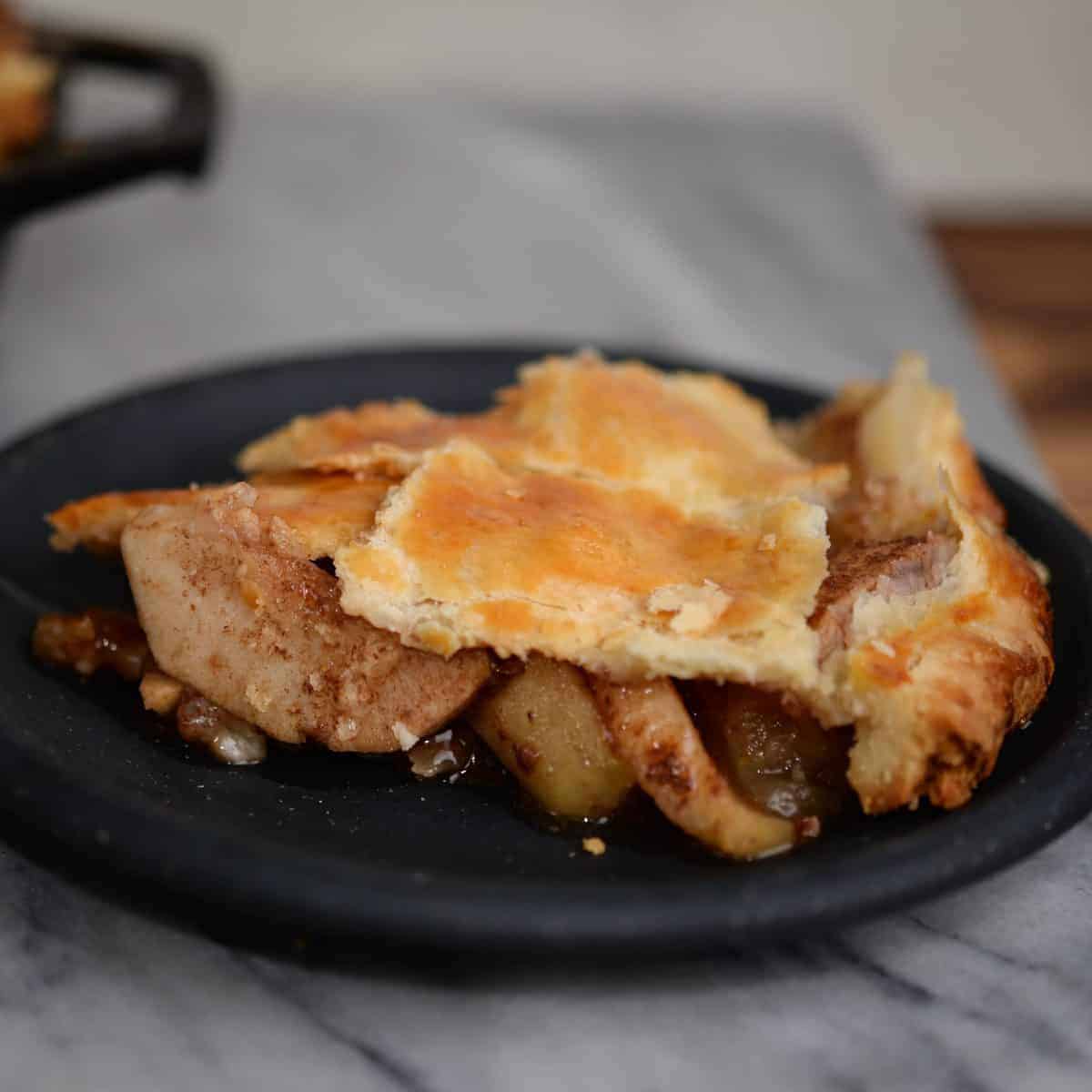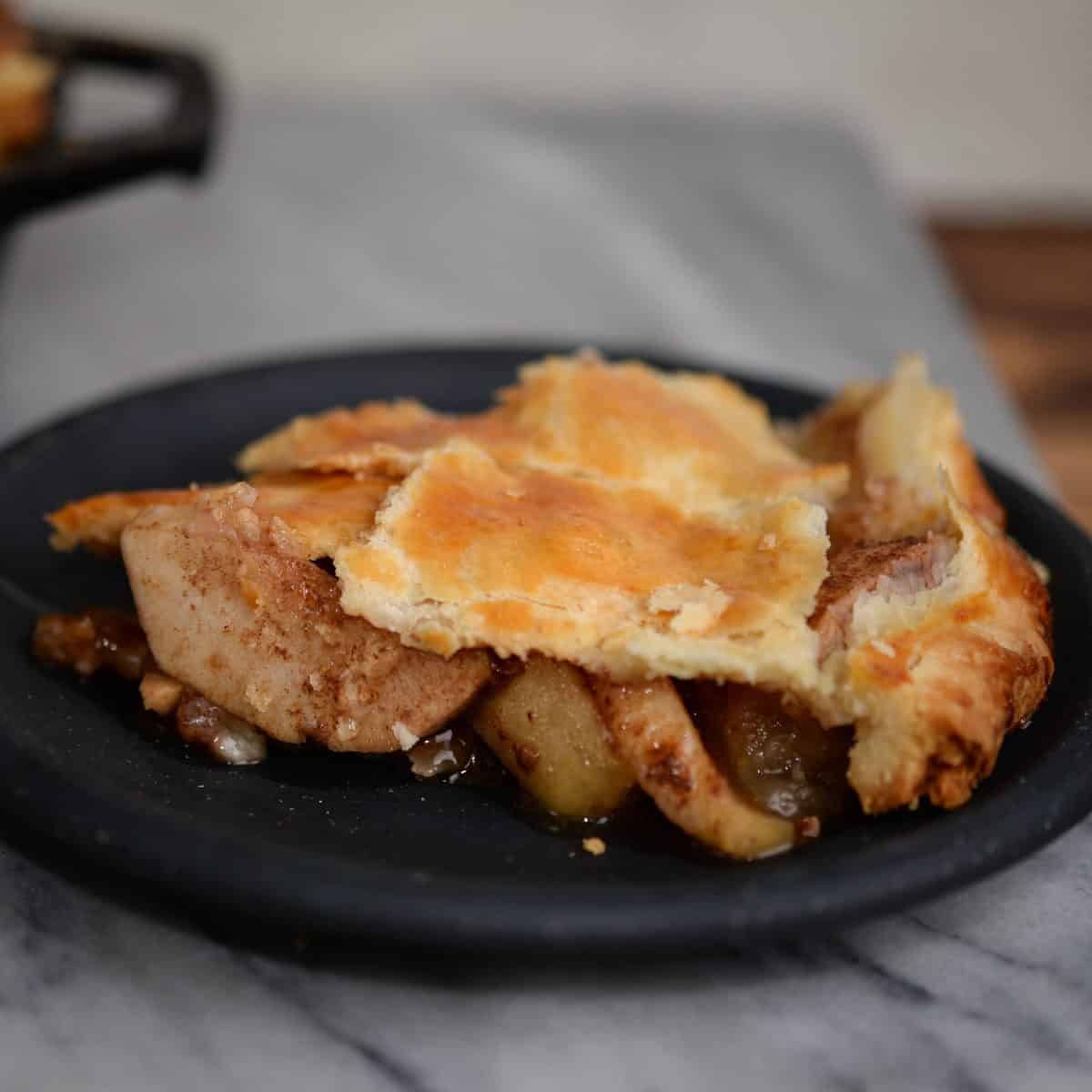 Instructions
You will want to plan ahead for this recipe because you'll want to make an apple pie crust recipe a few hours before you bake the pie. I usually make my pie dough the night before and let it chill in the fridge overnight.
Make The Pie Dough: After you make your pie dough, set it in the fridge to rest. I usually recommend at least 4 hours. Pie dough can be in the fridge for a few weeks and in the freezer for months. If you are short on time, freeze your dough for 30 minutes before rolling it out.
Caramel Sauce: Either make a caramel sauce or have one ready to go.
Peel the Apples: Squeeze the juice of one lemon into a bowl. Peel and slice the apples. Add the spices and the sugar to the apples. Toss.
Assemble the Apple Pie: Roll out half of the pie dough and place it in the pie pan or cast-iron skillet. Add the cornstarch and the flour to the apples and toss. Place the apples into the pie dough. Cover with one-third cup of caramel sauce. Roll out the second half of the pie dough and place it on top.
Baking The Pie: Preheat the oven to 450℉. I start all of my pies on a higher temperature because the extra heat helps the butter and water in the pie crust expand. this step gives you an extra flaky pie crust. After 10 minutes, turn the temperature of the oven down to 350℉ and bake for another hour. Make sure to check the pie occasionally. If the top starts to get too brown you can cover it loosely with foil.
PRO-TIP: Use a woven top for the crust OR vent the top crust with a sharp knive. There are a million creative ways to do pie crust design so if that is in your wheel house, knock yourself out!
Variations and FAQS
This recipe is just like my Easy double crust apple pie recipe, except there is salted caramel inside the pie. You can also serve extra caramel sauce on the side.
How to make perfect pie crust.
Check out the detailed instructions in my All-Butter Pie Crust OR my Buttermilk Pie Crust.
The most important detail is Keep Everything COLD 🥶your butter should be super cold.
Pie crust should be chilled before it's baked.
How long does it take to bake and apple pie?
Bake time may vary depending on your oven. Plan on about an hour.
How many apples are needed for a pie?
I usually used 8 to 10 apples for an apple pie.
Other Pie Recipes To Try
More Of My Favorite Dessert Recipes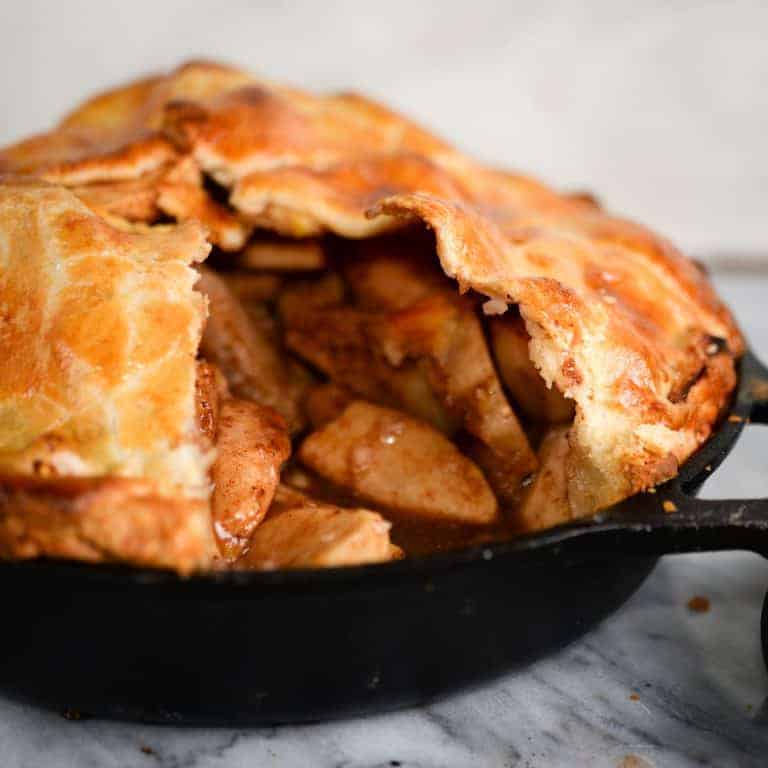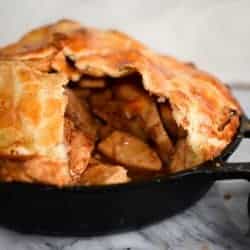 Caramel Apple Pie
Ingredients
Pie Crust
1

Basic Buttermilk Pie Crust

See Our Recipe
Apple Pie Filling
Instructions
Roll out pie crust and put into pie pan. Set aside.

Pro Tip:

Use leftover dough to make cut outs of leaves if desired. Sprinkle with coarse sugar.

Peel and core apples. Slice and add to bowl. [Pro tip: I squeeze the lemon juice into the bowl that I will be adding the apples to. That way I can toss them with the juice as I go. ]

Add the remainder of the ingredients.

Toss until apples are evenly coated.
Baking
Add leaf decorations if you have them.

Bake pie for 10 minutes @ 450℉

Reduce oven temperature to 350℉

Let rest for at least an hour before serving.
Nutrition
Calories:
306
kcal
Carbohydrates:
59
g
Protein:
1
g
Fat:
8
g
Saturated Fat:
4
g
Cholesterol:
20
mg
Sodium:
360
mg
Fiber:
3
g
Sugar:
44
g
Calcium:
18
mg
Iron:
0.8
mg
(Visited 1,602 times, 1 visits today)