Here's another protein packed Beast Bowl to fuel the beast in you. It's full of fresh lemongrass shrimp, tons of veggies and just enough carbs to keep you flying through your day.

In my own personal health and life journey I've struggled with balance for many years.
Life's constantly busy with all the things that have to get done, and all the people that we love in our lives have needs. I often completely forget about what I need.
I feel selfish for asking for what I need. I feel selfish for asking for time to go to the gym and be away from my daughter. I feel guilty about asking to spend some time alone. I know you can relate. You're super busy too.
So how do you figure out what to eat?
I strongly believe in whole foods first. But I also believe that there is no one right diet for everyone. We all need to figure what that is for ourselves. I want you to find balance in your relationship with food. I want you to learn to recognize what disordered eating looks like and figure out how to change it. I want you to learn to accept your body right now and feed it out of love for your self and your own well being. I'm inspired by so many strong and powerful women in my life and I want to share that with you too.
If you've been on the blog you already know that I eat a lot of things in bowls. It makes putting a balanced meal together really easy and it's usually prepable and packable. I will be featuring a lot of bowls that you can prep each week.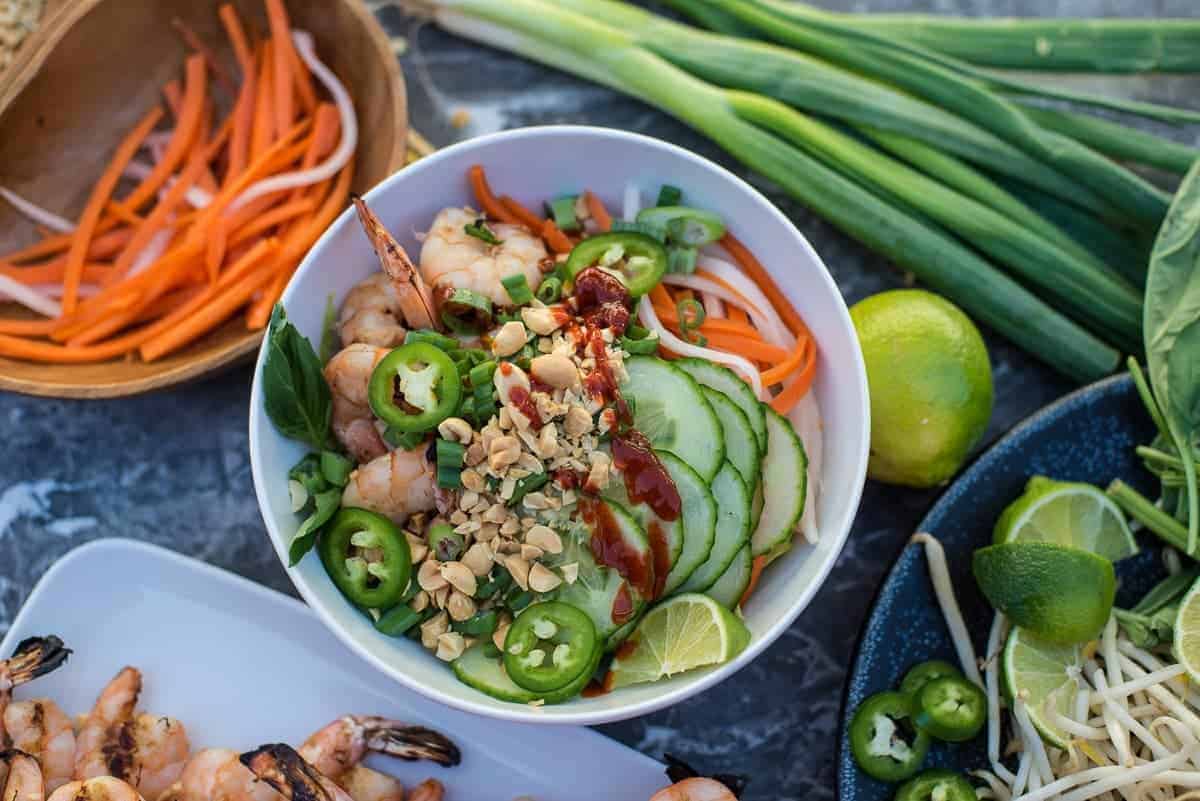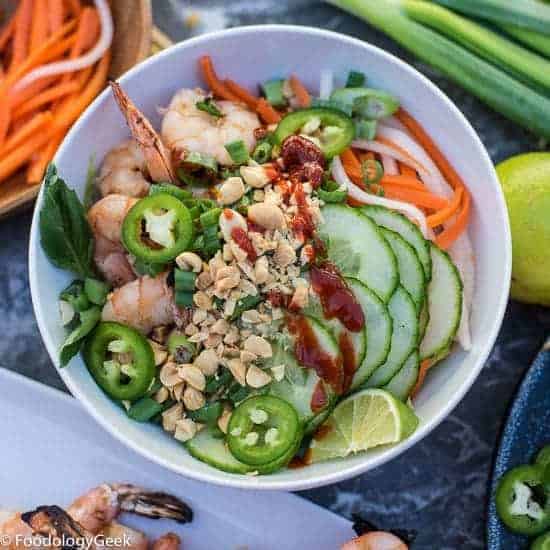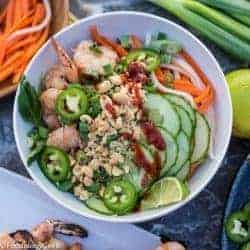 Lemongrass Shrimp Bowls
Protein-packed lemongrass shrimp, served with a ton of fresh vegetables and a Vietnamese dipping sauce.
Ingredients
Instructions
Make the pickled vegetables: Put carrot and daikon in a small bowl and sprinkle with sugar and salt. Add rice vinegar, toss well, and set aside.

Make the dipping sauce: In a small bowl, stir together brown sugar, vinegar, lime juice, fish sauce, and serrano pepper. Stir in 1/2 cup cold water and let mixture sit for 15 minutes. (Leftover sauce will keep up to 3 days, refrigerated.)

Marinate the shrimp: Put shrimp in a shallow dish. Add fish sauce, brown sugar, garlic, and lemongrass. Mix well to coat. If you are going to grill, place the shrimp on skewers.

Meanwhile, bring a large pot of water to boil. Turn off heat and add rice noodles. Soak noodles, stirring occasionally, until softened, usually about 7 to 8 minutes. Drain and rinse with cold water. Leave in colander at room temperature.

Shred lettuce leaves and herb sprigs, place at the bottom of each bowl. Keep cool, covered with a damp towel.

Put oil in a wok or frying pan over high heat. When oil is hot, add shrimp without crowding (work in batches if necessary). Cook for about 2 minutes per side, until lightly browned.

To serve, divide the noodles among the 4 large soup bowls, then top each with hot shrimp, pickled vegetables and a tablespoon or so of dipping sauce. Sprinkle with scallions and peanuts (and beans sprouts if using). Serve with extra herbs, lime, and Sriracha.
Notes
For Vegan Option:
Use tofu instead of shrimp. Replace fish sauce with coconut aminos.
Alternatively:
Use chicken or thinly sliced pork loin instead of the shrimp.
Nutrition
Calories:
764
kcal
Carbohydrates:
125
g
Protein:
46
g
Fat:
8
g
Saturated Fat:
1
g
Cholesterol:
429
mg
Sodium:
4012
mg
Fiber:
7
g
Sugar:
18
g
Calcium:
351
mg
Iron:
6
mg
(Visited 248 times, 2 visits today)