If you're looking for a protein-packed meal prep bowl to fuel the beast in you, this Lemongrass Shrimp Recipe is it! It's full of grilled shrimp, tons of veggies, and just enough rice vermicelli carbs to keep you flying through your day.
This Lemongrass Shrimp bowl is my version of a Vietnamese Vermicelli bowl.
I love turning my favorite restaurant meals into meal prep recipes. This meal prep bowl has fantastic flavor and loads of healthy veggies. I hope you enjoy it as much as I do!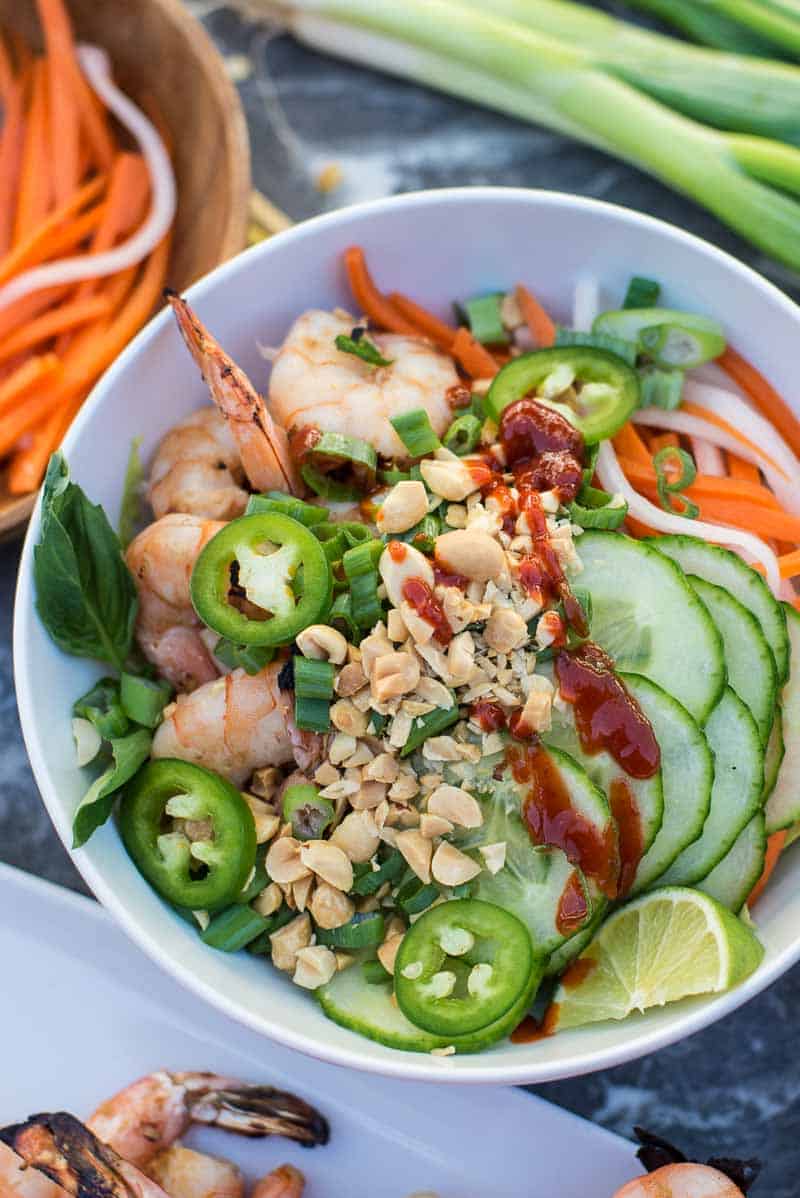 Let's get started with this easy meal prep recipe!
This recipe might look like a lot of prep work, but do not be afraid. Remember, you are making dinner tonight and then packing up leftovers for the week. You are getting a week's worth of meal prep done right now. And if you're smart, you'll be freezing a batch of marinated protein so that you can save time in a few weeks.
This recipe starts with a

lemongrass marinade.

This flavorful marinade can be used on chicken or pork too!

Then you will be adding

healthy colorful veggies, including

a quick

Asian Picked Vegetable Recipe

that adds a ton of crunch.

Serve with

rice or rice noodles.

This is optional but highly recommended.

As always, there is a

yummy sauce

that gives this bowl an extra layer of flavor.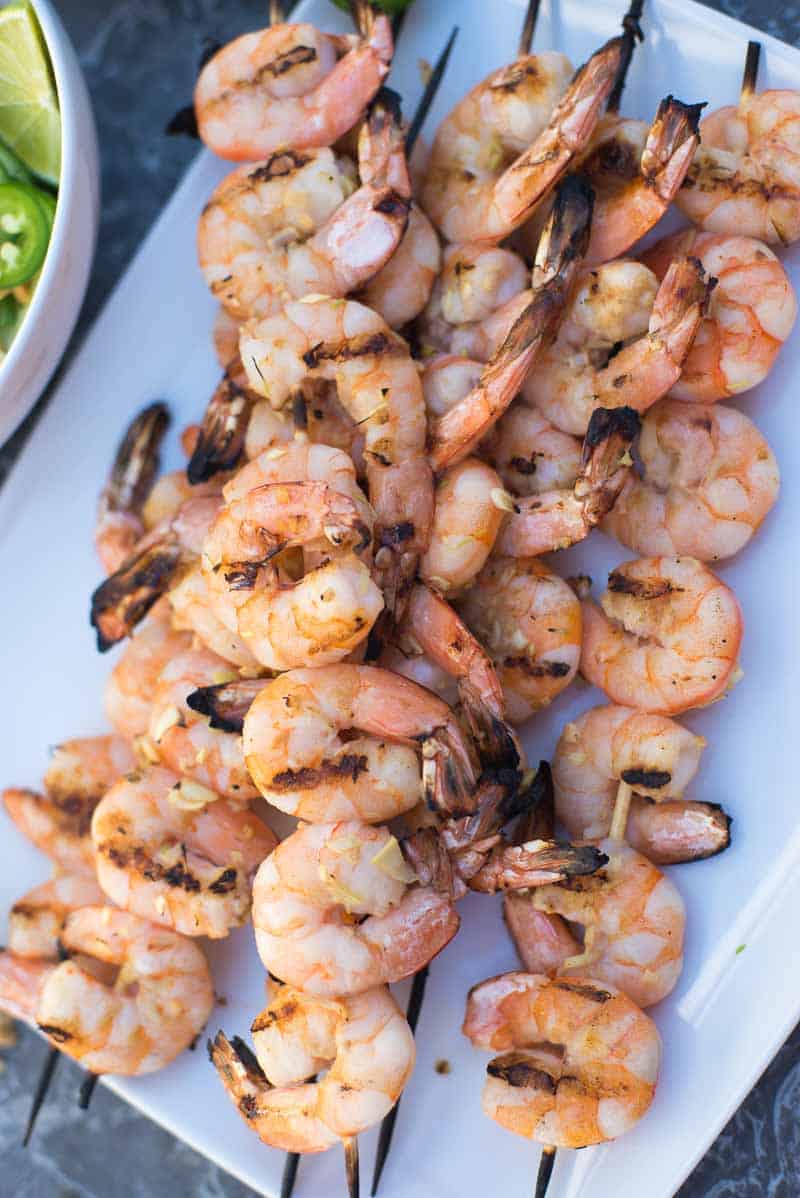 What ingredients will you need for lemongrass shrimp bowls?
This recipe has a lot of veggies in it. I love the crunch of the fresh vegetables paired with the grilled lemongrass shrimp and the spicy sauce. There is so much umami in this bowl.
2 pounds of shrimp.

I buy uncooked frozen tail-on shrimp.

Fresh lemongrass

Fresh basil

Bean sprouts

Carrots

Fresh cilantro

Cumbers

Fresh daikon radish

Fresh garlic

Fresh ginger

Green onions

Limes

Fresh mint

Red or green leaf lettuce

Napa cabbage

Serrano pepper

Seasoned rice wine vinegar

Vietnamese fish sauce, like Red Boat

Light brown sugar

Rice noodles preferably rice vermicelli

Crushed roasted peanuts

Sriracha
PRO-TIP: Do not leave out the fish sauce. If you've never used it, it might seem weird and it does smell a little funky on its own. The fish sauce adds a flavor that is really delicious and you can't use anything else in its place. Just use it! Trust me on this.
Start by making the lemongrass marinade
Remember, you can swap out the shrimp in this recipe for chicken breasts or thighs. You could also use thinly sliced pork tenderloin. Both protein options are delicious.
PRO-TIP: Make a double batch of this marinade. Add either more shrimp, or make a different version. Freeze the second batch so that you can have an even easier dinner in a few weeks.
Set up a large bowl or set a ziptop freezer bag in a bowl, and add all of your ingredients to that.

Chop the lemongrass

— Lemongrass might look unedible when you see it in the store, but the tender white parts in the middle are what you are after.

Peel and chop the ginger

— Use a spoon to scrape the skin of the ginger and then dice it into a fine mince.

Peel and dice the garlic

— You can also use jarred and pre-minced garlic and ginger — easy to find in the produce section.

Add the remaining ingredients to the bowl.

Add the shrimp and let marinate.
PRO-TIP: If you will be using cooking your protein today, go ahead and cover it and let it sit out at room temperature. Then start your veggie prep. (You always want meat at room temperature before cooking so that you can ensure that it reaches the proper internal temperature when cooked.)
Make the Asian Quick Pickled Veggies
I like to a Berliner Mandoline fitted with the large comb for this.
Peel the carrots and the daikon radish. If you can't find daikon radish, you can also use regular radishes.

Add to a small bowl or a mason jar.

Add the remaining ingredients.

Give everything a quick toss or shake.

Top off with a little filtered water to make sure they are covered.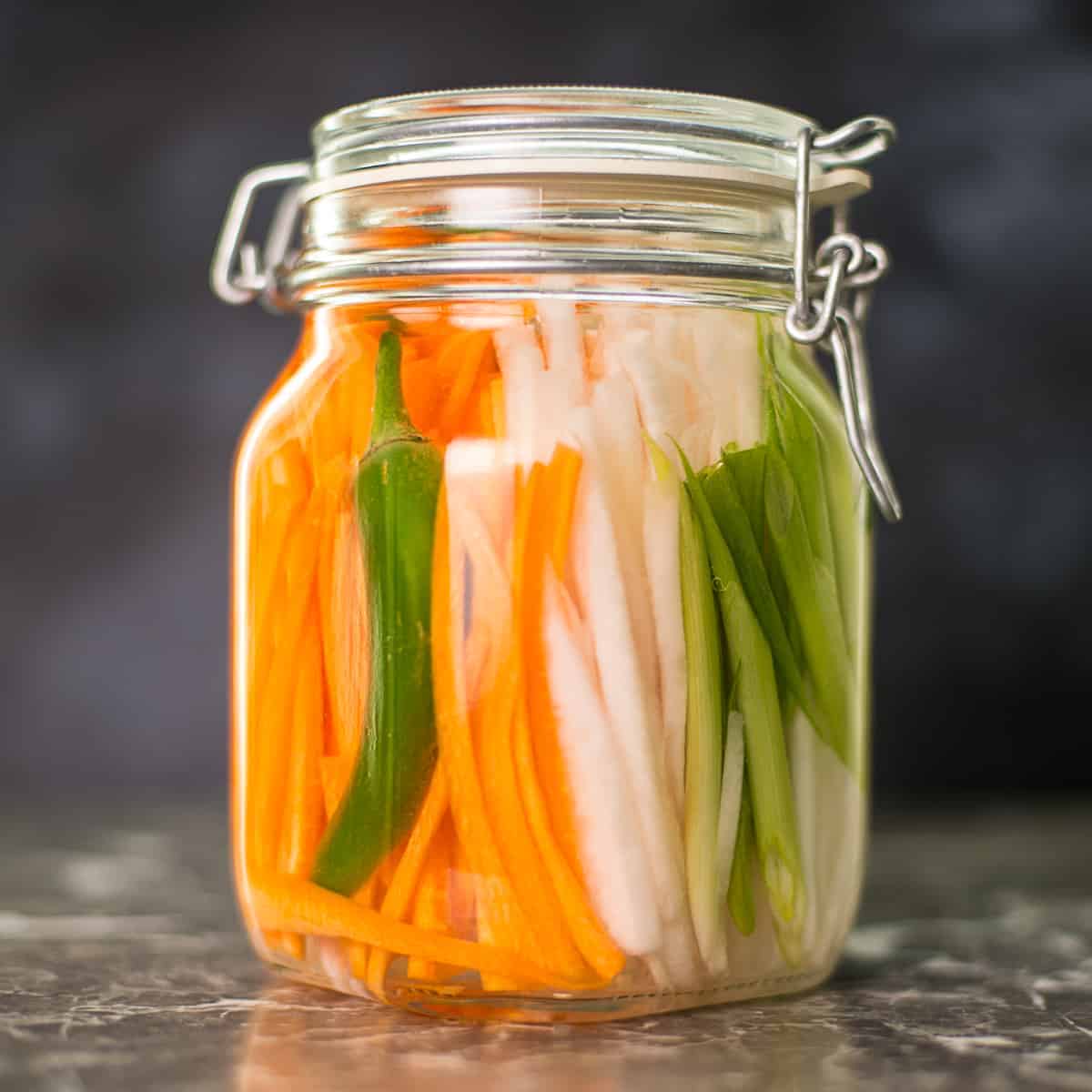 These veggies will keep in the fridge for several months. They will begin to ferment, even in the refrigerator. I like the flavor that develops as they start to ferment.
Make the Vietnamese Dressing
Add the rice vinegar, the fish sauce, the lime juice, and the brown sugar to a bowl or small mason jar. Mix or shake.

Add the serrano pepper if you want to add a kick of spiciness.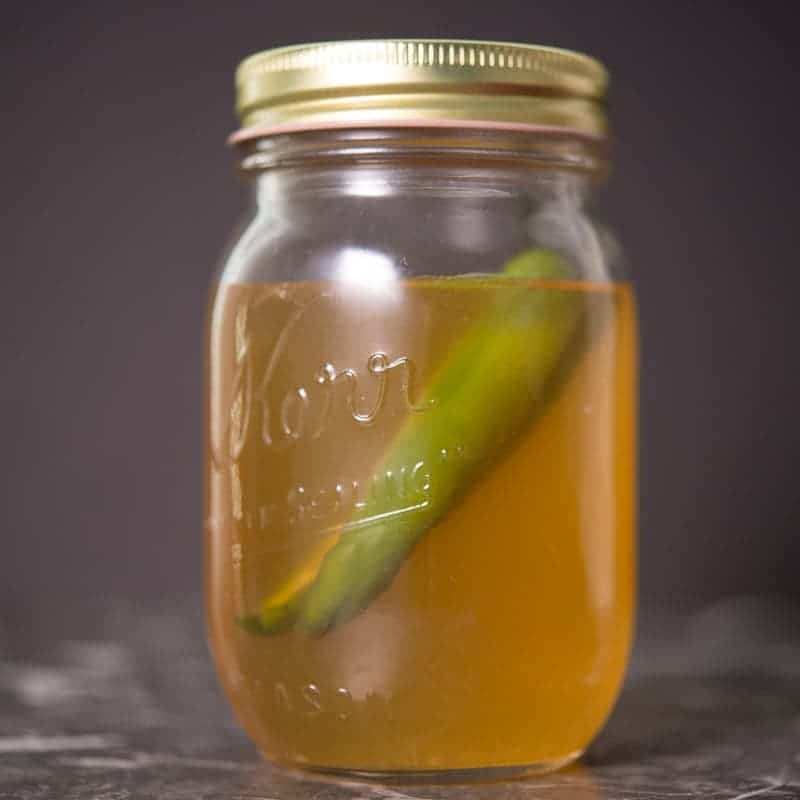 Make the rice vermicelli
If you aren't watching carbs, then I highly suggest adding some rice vermicelli noodles to this bowl. You can also use rice in place of the vermicelli.
Do you need a low carb option? You can use kelp noodles or cauliflower rice.
Bring 6 to 8 cups of water to a boil.

Place the rice vermicelli in a large bowl.

Pour the boiling water onto the noodles, let sit for 5 minutes.

Drain.
PRO-TIP: When I make these noodles for meal prep I store them in the fridge, I like to add a few teaspoons of oil to them to make sure they don't stick together. This also makes it easier to eat then later if you are packing a few day's worths of meals.
Get you veggies ready
If you've ever been to a Vietnamese restaurant, you have probably seen the Vermicelli Bowls on the menu. This grilled shrimp noodle bowl is a lot like those bowls. The only difference is I like to have a little more protein in the bowl and fewer noodles.
Lettuce and napa cabbage — Slice or shred the lettuce and cabbage. I like to make the lettuce and cabbage both pretty finely shredded.
Herbs — The herbs add a tone of flavor to the bowl, so don't skip them. The most critical one is fresh basil if you can find Thai basil, even better!
Cucumbers — cucumbers can be peeled, seeds removed, and julienned OR you can simply slice them into think coins.
Carrots — I like to use my mandoline fitted with the fine comb. I usually shredded two carrots.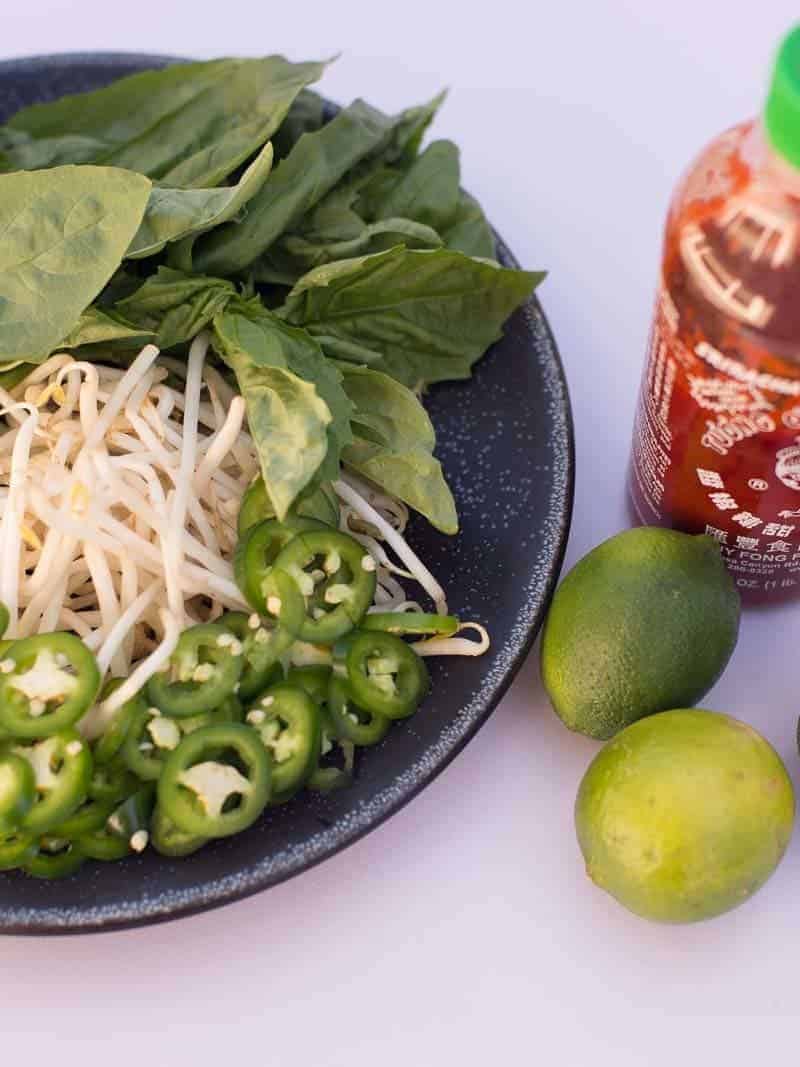 Grill, Bake, of Pan Sauté, the Shrimp
To Grill:
This is my favorite way to cook the shrimp.
Use skewers, I like metal ones because then there is no soaking required.

Heat the grill to high.

Grill the shrimp for approximately 3 minutes and then flip the skewers, repeat.

The shrimp should be pink and firm to the touch.
To Bake:
Preheat the oven to 425℉

Link a baking sheet with foil or parchment paper, for super easy cleanup.

Bake the shrimp for about 10 minutes.
Pan Sauté:
Place a large skillet on med-high heat.

Add a few tablespoons of butter or coconut oil to the pan.

Use a slotted spoon to remove the shrimp from the marinade, place one single layer of shrimp into the pan.

Cook for about 3 minutes on each side.

You might have to do this in a few batches.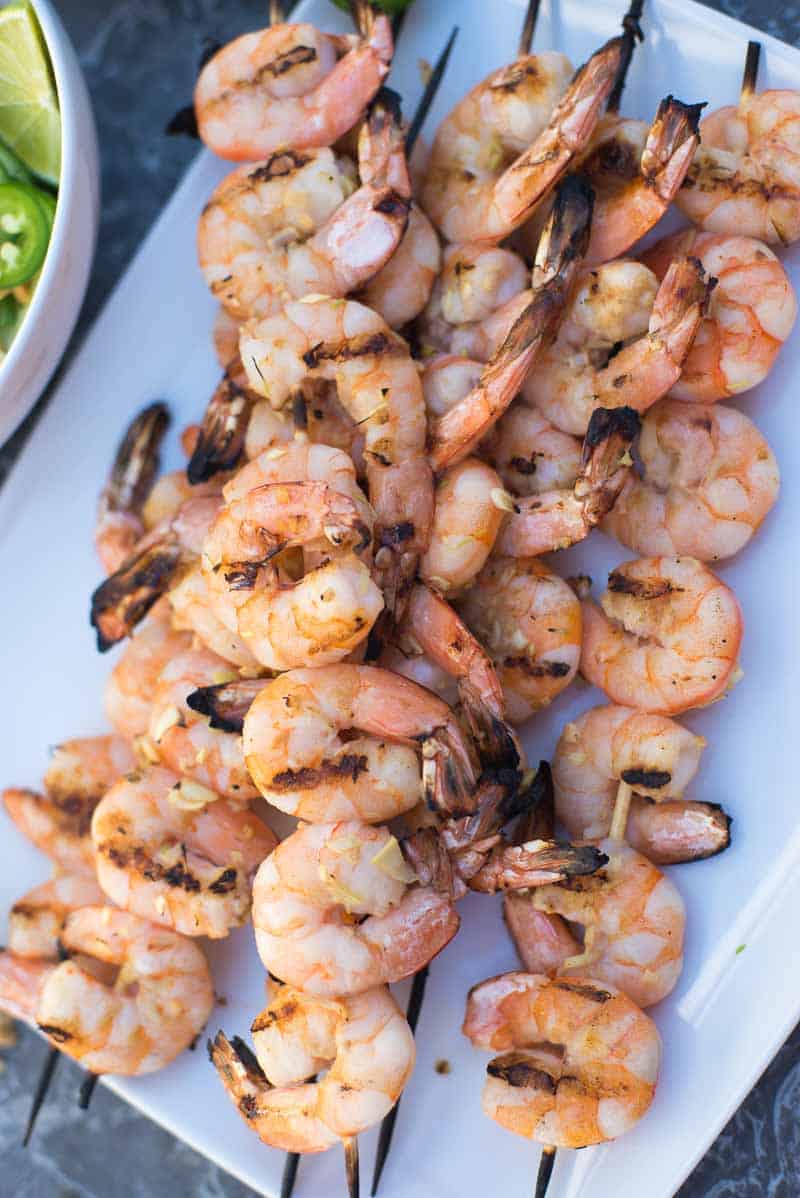 Putting your Lemongrass Shrimp bowls together
When I serve with these shrimp bowls for a family dinner, I like to set all the veggies out in individual bowls.
I put the shrimp on a large platter and set up the sauces and crushed peanuts with spoons in them.
Everyone gets to build there own bowl. And each one is a delicious work of art. It's fun and delicious.
Then when I am cleaning up dinner, I get out my meal prep containers and pack up a few. Lunches are done! This is just one time-saving tip!
Start by adding a pile of lettuce and cabbage to the bottom of a large serving bowl.

Add a tablespoon or so of the fresh herbs.

Top with about half a cup of rice noodles.

Add shrimp.

Add sliced veggies and pickled veggies.

Add crushed peanuts, bean sprouts, and a few tablespoons of the Vietnamese dressing.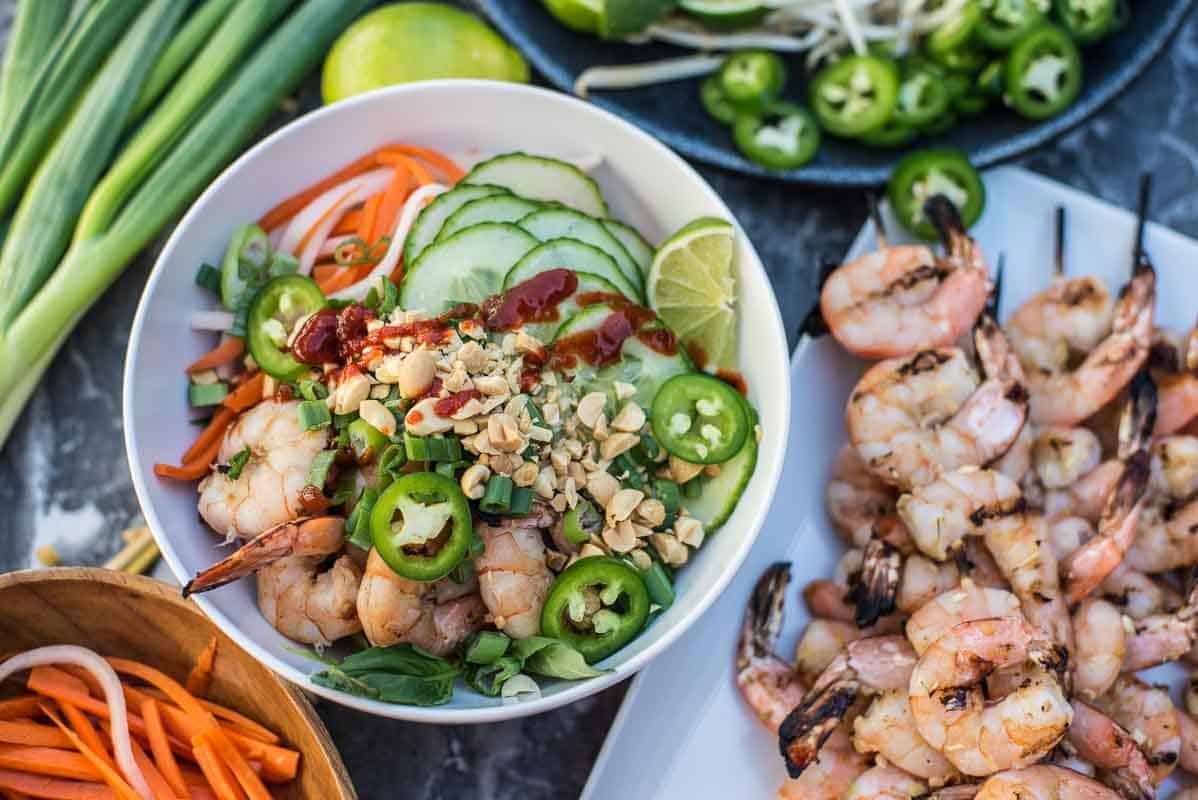 ➽ Did you make this recipe? I love to see what's going in your kitchen. Show me what you're cooking. 🍳 Tag me @foodologygeek on your favorite social channel! Facebook, Instagram & Pinterest. If you loved ❤︎ this recipe, please leave a 5 ★ review and a comment!
More Meal Prep Recipes that You Should Check Out
Steak and Sweet Potatoes Fries
Curry Noodle Bowls
Spicy Shrimp Noodle Bowls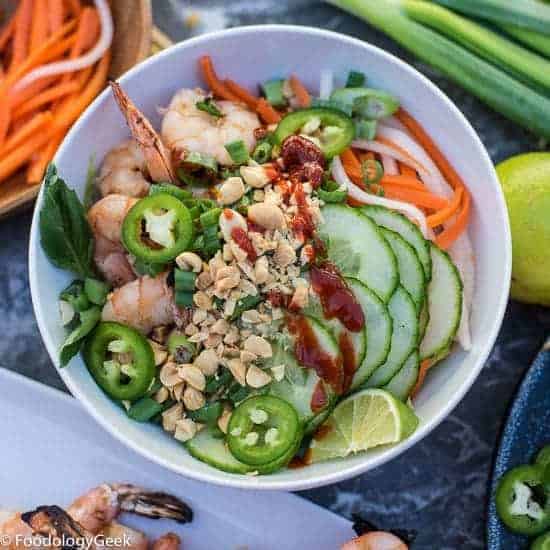 Lemongrass Shrimp Bowls
Protein-packed lemongrass shrimp served with a ton of fresh vegetables and a Vietnamese dipping sauce.
Ingredients
Instructions
Make the pickled vegetables: Put carrot and daikon in a small bowl and sprinkle with sugar and salt. Add rice vinegar, toss well, and set aside.

Make the dipping sauce: In a small bowl, stir together brown sugar, vinegar, lime juice, fish sauce, and serrano pepper. Stir in ½ cup cold water and let mixture sit for 15 minutes. (Leftover sauce will keep up to 3 days, refrigerated.)

Marinate the shrimp: Put shrimp in a shallow dish. Add fish sauce, brown sugar, garlic, and lemongrass. Mix well to coat. If you are going to grill, place the shrimp on skewers.

Meanwhile, bring a large pot of water to boil. Turn off heat and add rice noodles. Soak noodles, stirring occasionally, until softened, usually about 7 to 8 minutes. Drain and rinse with cold water. Leave in colander at room temperature.

Shred lettuce leaves and herb sprigs, place at the bottom of each bowl. Keep cool, covered with a damp towel.

Put oil in a wok or frying pan over high heat. When oil is hot, add shrimp without crowding (work in batches if necessary). Cook for about 2 minutes per side, until lightly browned.

To serve, divide the noodles among the 4 large soup bowls, then top each with hot shrimp, pickled vegetables and a tablespoon or so of dipping sauce. Sprinkle with scallions and peanuts (and beans sprouts if using). Serve with extra herbs, lime, and Sriracha.
Laura's Tips + Notes
For Vegan Option:
Use tofu instead of shrimp. Replace fish sauce with coconut aminos.
Alternatively:
Use chicken or thinly sliced pork loin instead of the shrimp.
Nutrition
Calories:
764
kcal
Carbohydrates:
125
g
Protein:
46
g
Fat:
8
g
Saturated Fat:
1
g
Cholesterol:
429
mg
Sodium:
4012
mg
Fiber:
7
g
Sugar:
18
g
Calcium:
351
mg
Iron:
6
mg