Roasted Spiced NUTS Recipe - A delicious snack or appetizer that is easy to prepare and perfect for parties.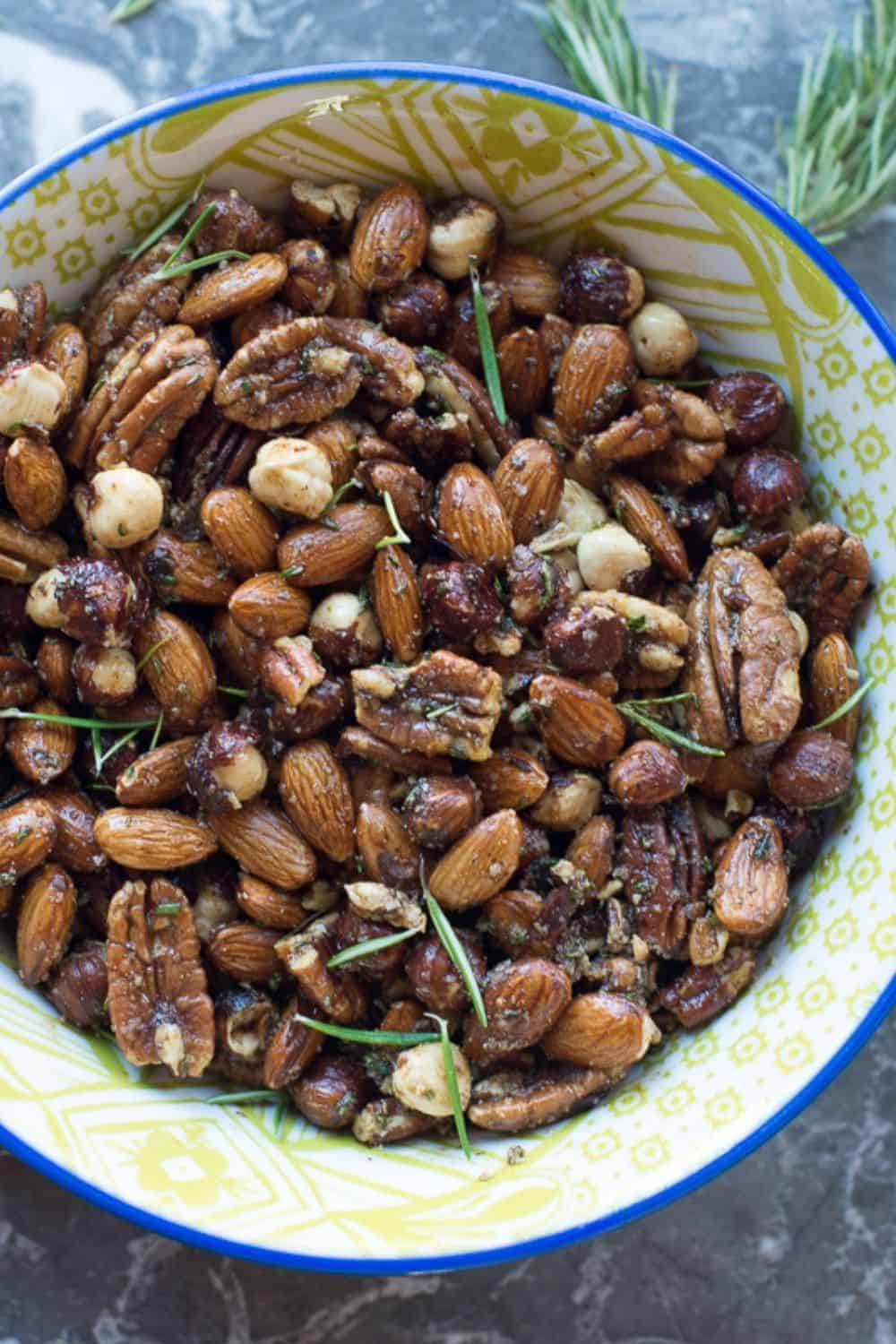 You probably already know that I'm all about savory and spicy flavors!
I wanted these savory roasted nuts to be spicy and have all the salty, crunchy tastiness of a gourmet snack. I might be bragging a little, but these seriously hit the mark.
I love blending my own spice mixes. When I created this recipe I started to draw inspiration from some of my favorite combos.
You should probably just double the batch right away because you might eat half of them before they have the chance to be a holiday gift. This is also a great recipe to bring to your next holiday party.
Oven roasted nuts are a great alternative to holiday baked goods. These spiced nuts are a real lifesaver in a sea of overly sweet holiday baked goods.
I originally made these as a vegan spiced nut mix, using avocado oil instead of butter, because my daughter was vegan then. This recipe is also a gluten-free snack.
What You'll Love About This Recipe
Easy. Making savory roasted nuts is super easy. Mix up a few spices, toss, and oven roast slowly and slowly.
Healthy. Nothing is more nutritious than roasted nuts. Get in your healthy fats while everyone else is noshing on sugary sweets.
Portable. Roasted nuts are the perfect portable snack. Keep them in your bag so you'll be prepared when hunger strikes.
Recipe Notes
Use your favorite blend of nuts in this recipe. I love making these savory oven-roasted nuts after holiday baking when I have various random types of nuts left over from various recipes.
You can also include a tablespoon of maple syrup for an extra candied coating.
Ingredients
Your favorite nuts. I used almonds, pecans, and hazelnuts. Feel free to use any of your favorite nuts in this recipe.
Avocado oil. I love the buttery flavor of avocado oil in this recipe. Melted butter or coconut oil are great alternatives if you don't have avocado oil.
Spices. This recipe has a lot of different spices in it. Trust me, it's worth making sure you have all of them. The savory flavor combo is on point for sure.
Step-by-Step Instructions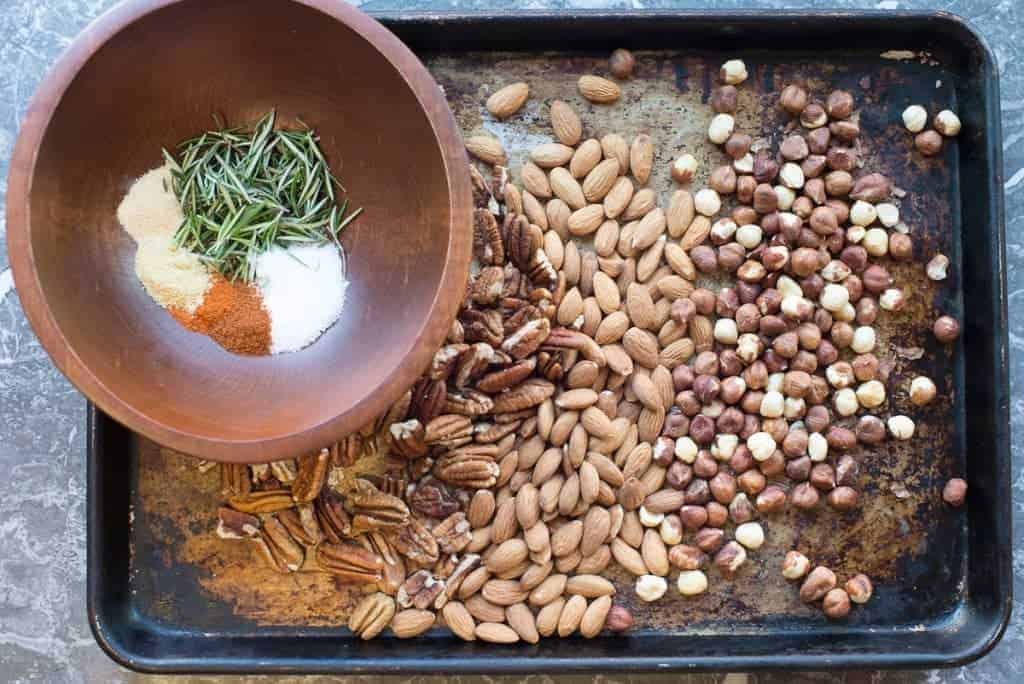 Step 1: Mix up the spice blend.
In a small bowl, measure out all the spices, and then give them a quick toss with a fork or small whisk. Set them aside. I love smoked paprika for this recipe, and for an extra kick, you can increase the amount of cayenne pepper used. Dried rosemary also works in this spice blend.
Step 2: Spread the nuts on a baking sheet.
Spread the mixed nuts out in a single layer on your baking sheet.
Step 3: Season the nuts.
Drizzle the nuts with the oil and toss them to cover them evenly with a thin layer. (For this recipe, I do not recommend using cooking spray.) Then sprinkle the spice mixture over the nuts and toss again to coat. Spread them out in a single layer once again to bake evenly.
Step 4: Bake slow and low!
Cooking time can vary because oven temperatures can vary greatly. Keep an eye on your batch because toasted nuts can burn quickly if the oven is too hot.
Step 5: How to store savory roasted nuts.
Store roasted nuts in an airtight container. Optimally, they are freshest for about 2 weeks. However, you can store them in the refrigerator if you live in a warm or humid area.
FAQs and Expert Tips
How do you get the seasoning to stick to roasted nuts?
Use a generous amount of oil to cover the nuts before you sprinkle on the seasonings. The seasonings will stick to the oil, so add as much or as little spice blend as you like!
How long do roasted nuts keep?
While it's true that they are probably the most delicious during the first two weeks after you cook them, roasted nuts can keep a surprisingly long time. If they still smell good, they will still taste good. They do not need to be refrigerated.
How to tell when nuts are stale or rancid:
Rancid nuts have a characteristic smell that may remind you of paint or nail polish. Some people talk about rancid nuts smelling like old plastic containers. If you recognize any of these smells in your box of nuts, chances are that they have gone bad.
Can you freeze roasted nuts?
Yes, roasted nuts keep amazingly well in the freezer. Make sure they are wrapped tightly so they don't get freezer burn, and they will keep up to 2 years in the freezer.
What To Serve with Savory Mixed Nuts
Savory nuts are a perfect appetizer to set out for any party. I also love serving roasted nuts with a cheese plate.
There must be good wine and cheese whenever I have a party. These savory roasted nuts are the perfect accompaniment.
Other Healthy Snack Recipes That You'll Love
➽ Did you make this recipe? I love to see what's going on in your kitchen. Please show me what you're cooking. 🍳 Tag me @foodologygeek on your favorite social channel! Facebook, Instagram & Pinterest. If you loved ❤︎ this recipe, please leave a five ★ review and a comment!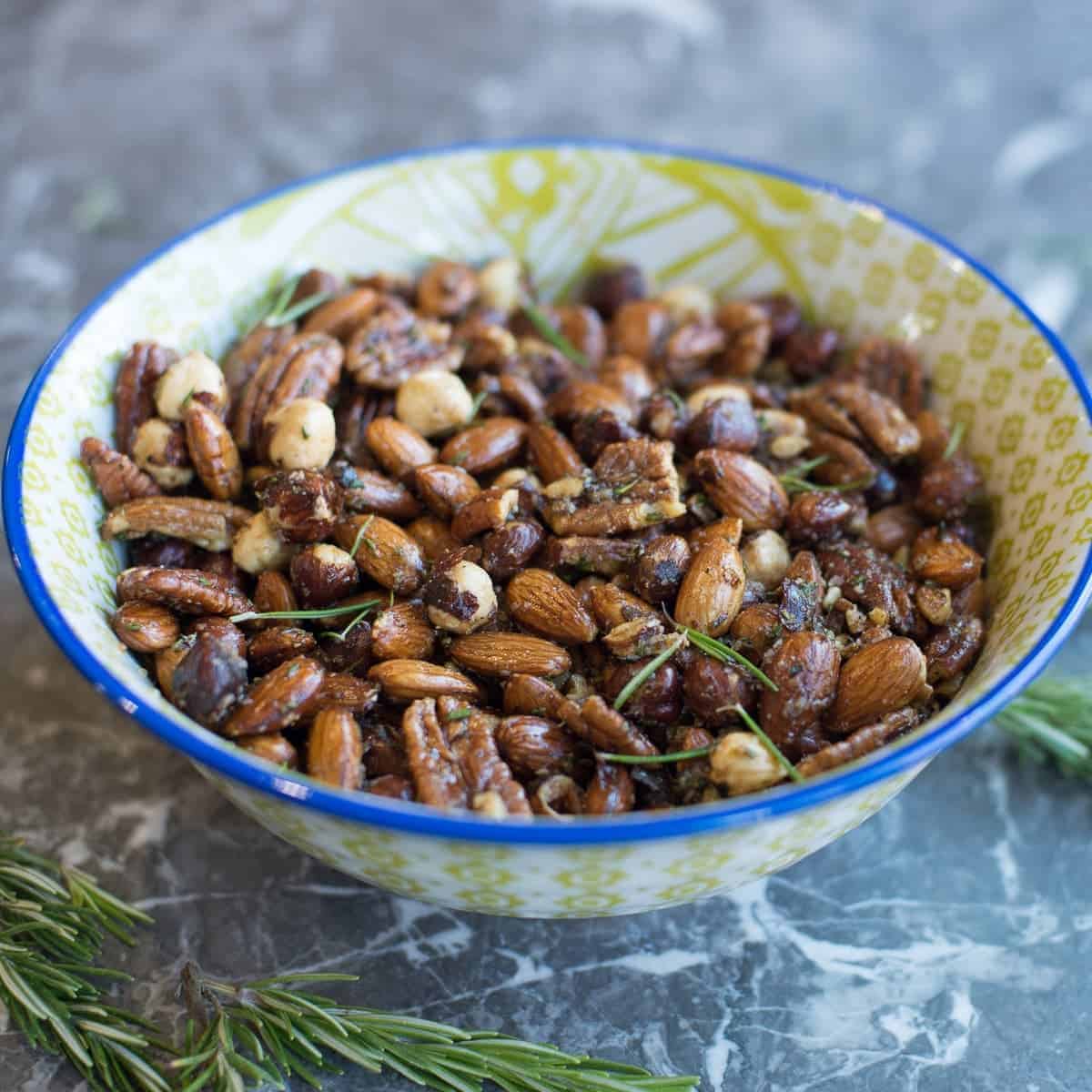 Savory Roasted Nuts
These are my official Christmas Spiced Nuts. I make them every year, give them as gifts, and snack on them all holiday season. Savory roasted nuts make the perfect keto snack. During the holidays, under a sea of sweet, these savory nuts are the perfect respite.
Instructions
On a baking sheet, drizzle the nuts with mild-flavored oil and toss with spice mix.

Spread the nuts in a single layer for even baking.

Roast the nuts on a baking sheet for about 15 minutes. Watch closely so that they do not burn.

Store in an airtight container.
Laura's Tips + Notes
You can use any combination of nuts that you like. These three are my favorite.
YOUR OWN NOTES
Nutrition
Calories:
210
kcal
Carbohydrates:
7
g
Protein:
5
g
Fat:
19
g
Saturated Fat:
2
g
Sodium:
441
mg
Fiber:
3
g
Sugar:
1
g
Calcium:
22
mg
Iron:
1
mg