How to Make Homemade Roasted Nuts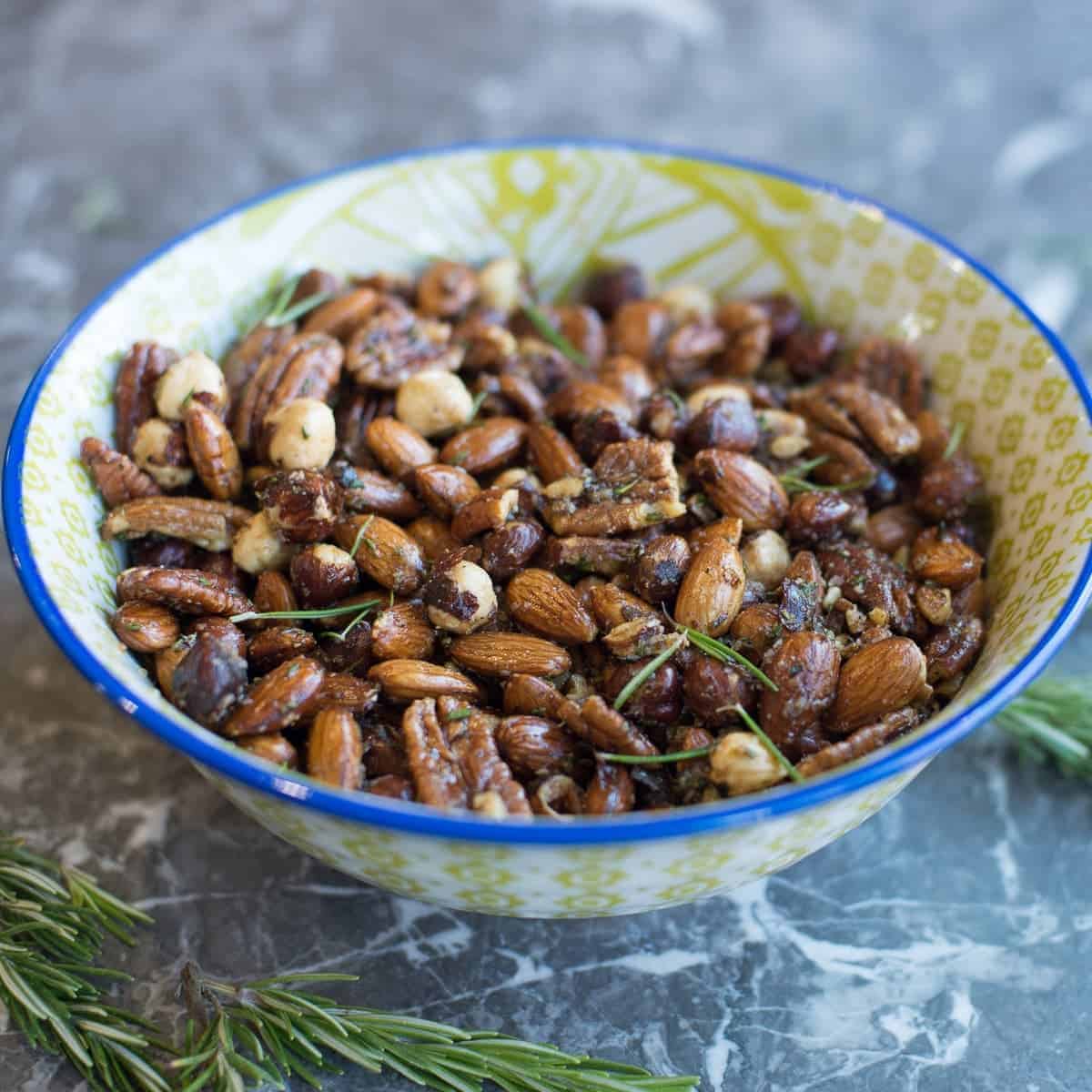 Recipe
Comments
Save
Go to Collections
This post may contain affiliate links. Please read my
disclosure policy.
These homemade roasted nuts make a healthy snack and are perfect for serving at holiday parties because they're so versatile! This easy recipe is made with a few simple ingredients and is a great option for a game day snack or to serve as an appetizer at your next holiday party.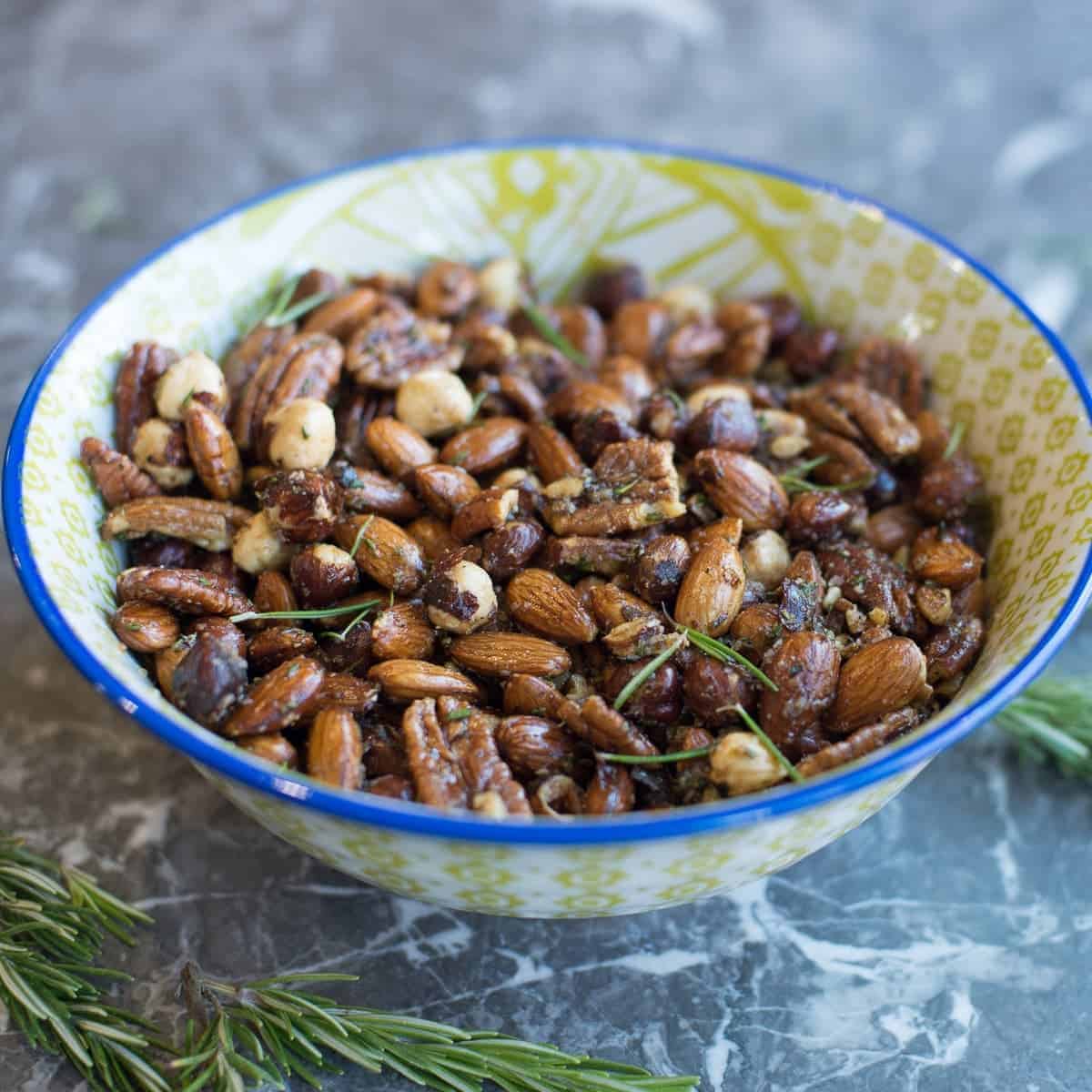 Roasted nuts make a delicious snack and are an easy way to add protein to your diet. They're also a good source of fiber, which helps keep you feeling full between meals. I make a large batch of these roasted nuts and always have them on hand for when hunger strikes. But, fair warning, these can be slightly addictive.
What you'll need to make roasted nuts
You will need the following:
6 cups of raw nuts. Use your favorite nut mix. I like to use a mixture of almonds, pecans, and walnuts.
1/4 cup of oil. I recommend using avocado oil, melted butter, coconut oil, grapeseed oil, or olive oil. Avoid using vegetable oil for roasting nuts.
6 cups of nuts
Fine sea salt or kosher salt
Herbs and spices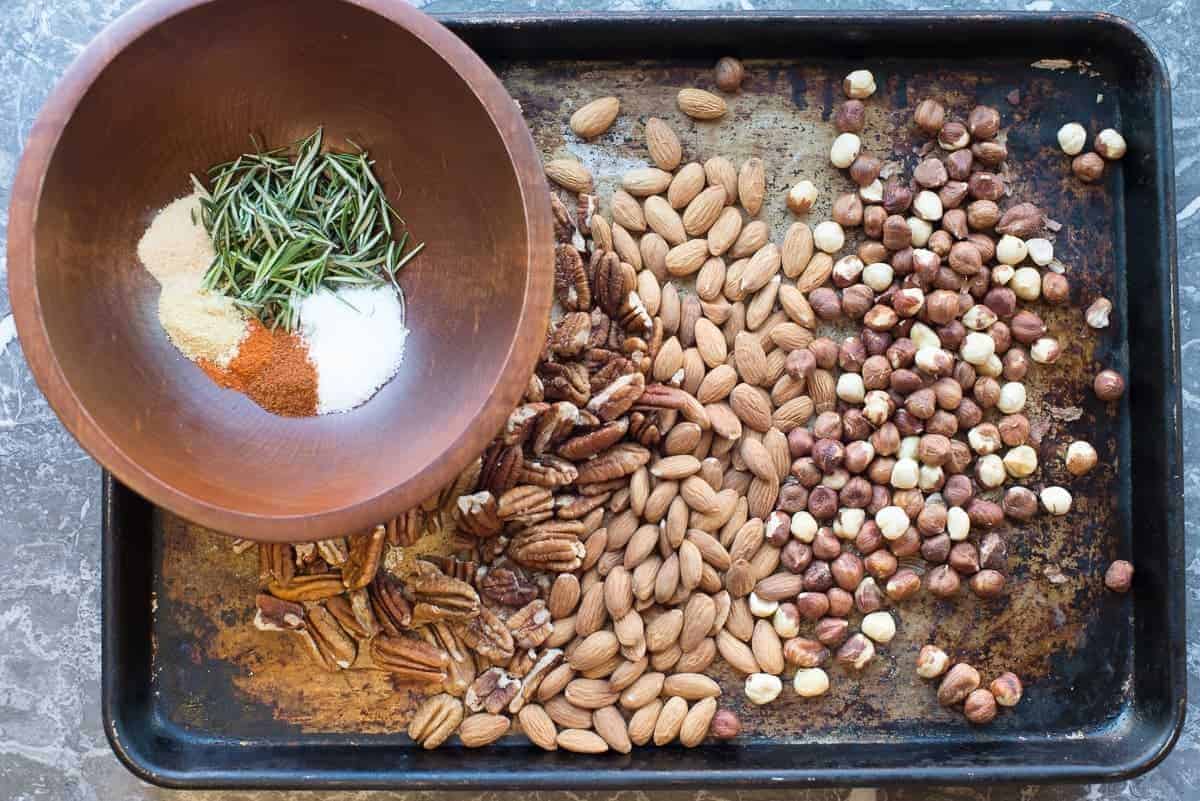 The herbs and spices you use can be versatile. These are my go-to spice mixture. It's a perfect balance of savory and spicy. The holiday spices give it a warm spiced flavor that everyone loves.
fresh rosemary
red chili powder
cayenne
mustard powder
allspice
How to make homemade roasted nuts
Simply place the nuts onto a baking sheet to make these delicious treats. I like to use a parchment-lined baking sheet to make cleanup super easy.
Preheat the oven to 325℉.
Combine the nuts and the oil in a large bowl.
Add the salt and herbs, and spices. Toss well to combine.
Spread the nut in a single layer on a baking sheet. Lining the baking sheet with parchment paper helps with cleanup.
Bake the nuts for about 10 to 15 minutes. Watch them closely. I like to check them every 5 minutes. Remove them as soon as they smell toasty.
Remove the nuts from the oven and allow them to cool completely.
Recipe variations
You can use any type of nuts you'd like for this recipe. Add hazelnuts, macadamia nuts, raw cashews, pumpkin seeds, etc.
How To Store Roasted Nuts
Store cooled spiced nuts in an airtight container for up to 2 weeks at room temperature. If you need to keep them longer than that, place them in the freezer.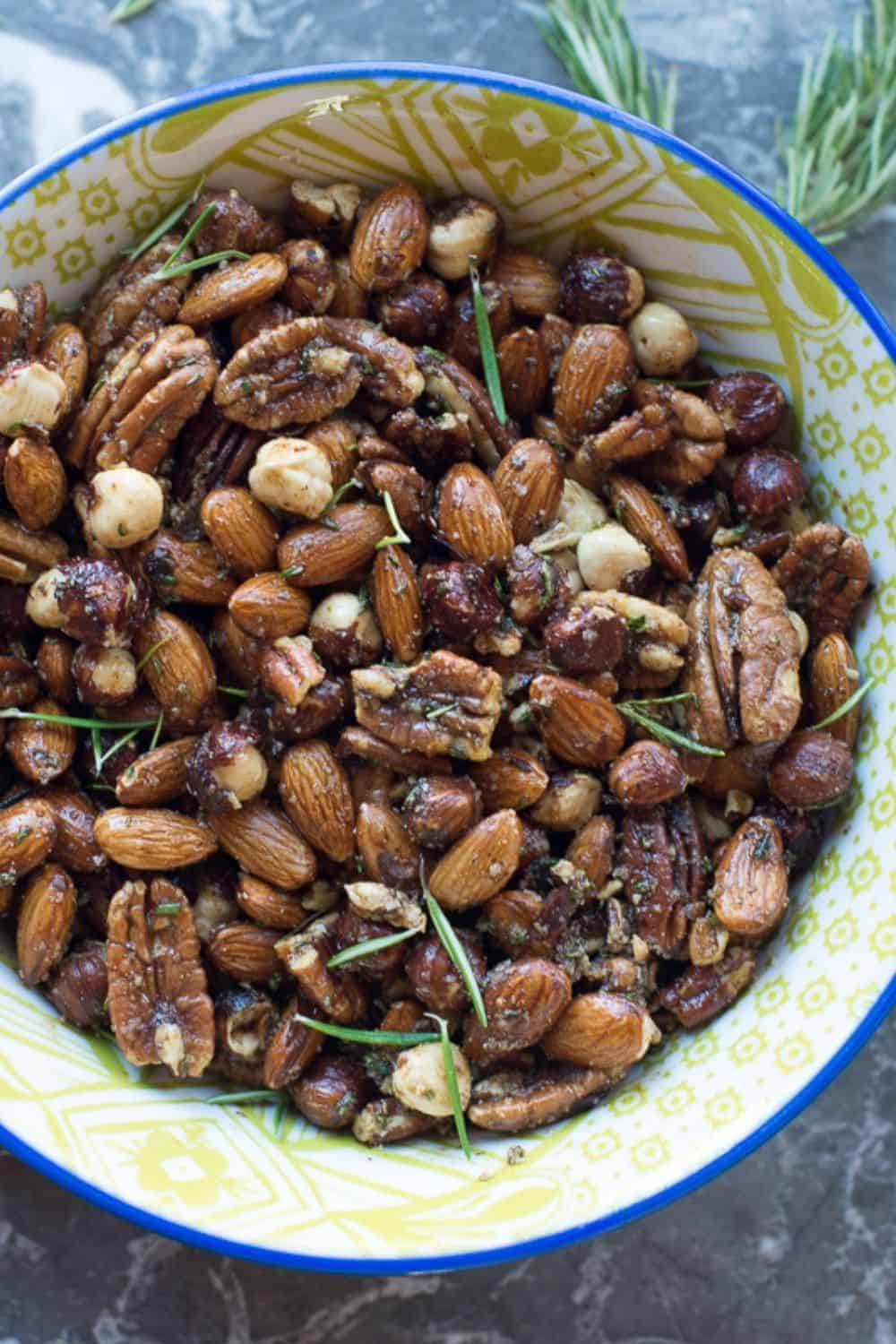 FAQs and Expert Tips
How do you get the seasoning to stick to roasted nuts?
Use a generous amount of oil to cover the nuts before you sprinkle on the seasonings. The seasonings will stick to the oil, so add as much or as little spice blend as you like!

You can also add in a frothy whipped egg white. The egg white creates an extra layer of binding.
How long do roasted nuts keep?
While it's true that they are probably the most delicious during the first two weeks after you cook them, roasted nuts can last a surprisingly long time. If they still smell good, they will still taste good. They do not need to be refrigerated.

Store roasted nuts in an airtight container. Optimally, they are freshest for about 2 weeks. However, you can store them in the refrigerator if you live in a warm or humid area.
How to tell when nuts are stale or rancid:
Rancid nuts have a characteristic smell that may remind you of paint or nail polish. Some people talk about rancid nuts smelling like old plastic containers. If you recognize any of these smells in your box of nuts, chances are that they have gone bad.
Can you freeze roasted nuts?
Yes, roasted nuts keep amazingly well in the freezer. Make sure they are wrapped tightly so they don't get freezer burn, and they will keep up to 2 years in the freezer.
What To Serve with Savory Mixed Nuts
Roasted nuts are a perfect appetizer to set out for any party. I make a double batch anytime I'm making this recipe. I set them out at Easter, Halloween, Thanksgiving, and Christmas.
I also love serving a small bowl of warm nuts with a cheese plate. There must be good wine and cheese whenever I have a party. These savory roasted nuts are the perfect accompaniment.
More Healthy Snacks To Try
Queso Dip is silky smooth, creamy, and spicy, just like the kind you'll find in Tex Mex restaurants. It stays smooth even when it cools…
Leave A Review
Did you make this recipe? Leave a comment and a 5 ★ review. Your feedback helps other readers and helps me continue to offer recipes at no cost. Happy Cooking!!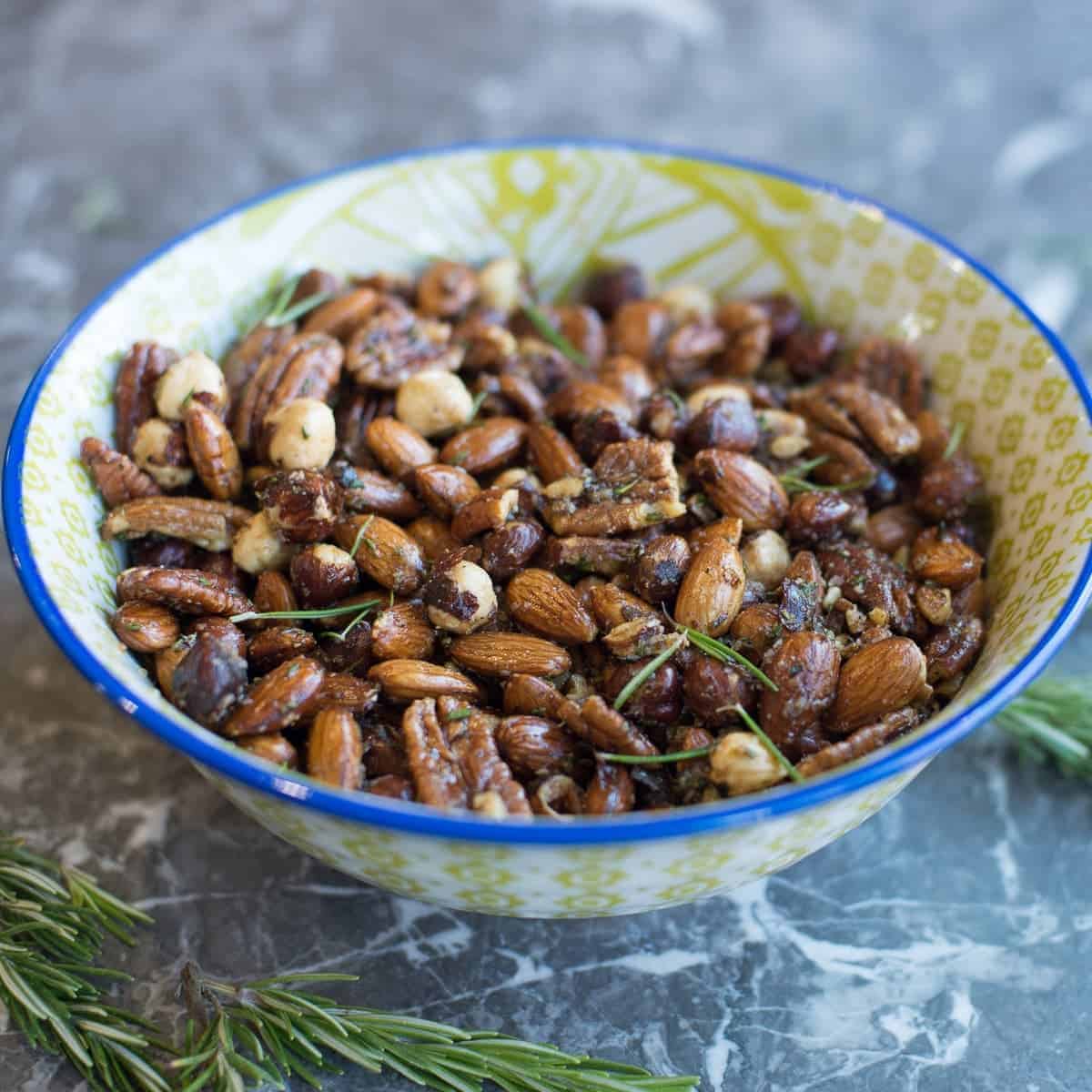 Roasted Nuts Recipe
These are my official Christmas Roasted Nuts Recipe. I make them every year, give them as gifts, and snack on them all holiday season. Savory roasted nuts make the perfect low-carb and gluten-free snack. They're packed with healthy fats and fiber.
Instructions
Prepare a heavy-rimmed baking pan. Line with parchment paper for easy cleanup.

Combine the nuts with the oil in a large bowl. Toss well to coat the nuts with the oil.

Add the spices to the nut mixture and toss again to combine. Make sure all the nuts are evenly coated with spices.

Spread the nuts onto the baking sheet in a single layer for even baking.

Roast the nuts on a baking sheet for about 10 to 15 minutes. Oven temperatures vary so watch them closely. I recommend checking them every 5 minutes so they don't burn. Feel free to give them a toss halfway through the roasting time.

Remove the nuts from the oven and allow them to cool completely before storing.
Laura's Tips + Notes
You can use any combination of nuts that you like. These three are my favorite.
YOUR OWN NOTES
Sign In to add your own private notes
Nutrition
Serving:
0.25
cup
Calories:
235
kcal
Carbohydrates:
9
g
Protein:
6
g
Fat:
21
g
Saturated Fat:
3
g
Sodium:
296
mg
Fiber:
3
g
Sugar:
0.02
g
Calcium:
26
mg
Iron:
1
mg