Coconut Rice with Fresh Mangoes
If you haven't been acquainted with coconut sticky rice, I'm honored to be the one to show you how to make Thai mango with coconut sticky rice.
This dish is made of rice cooked with coconut milk and then served with freshly chopped mangoes. Sounds divine, doesn't it? Let's dive in!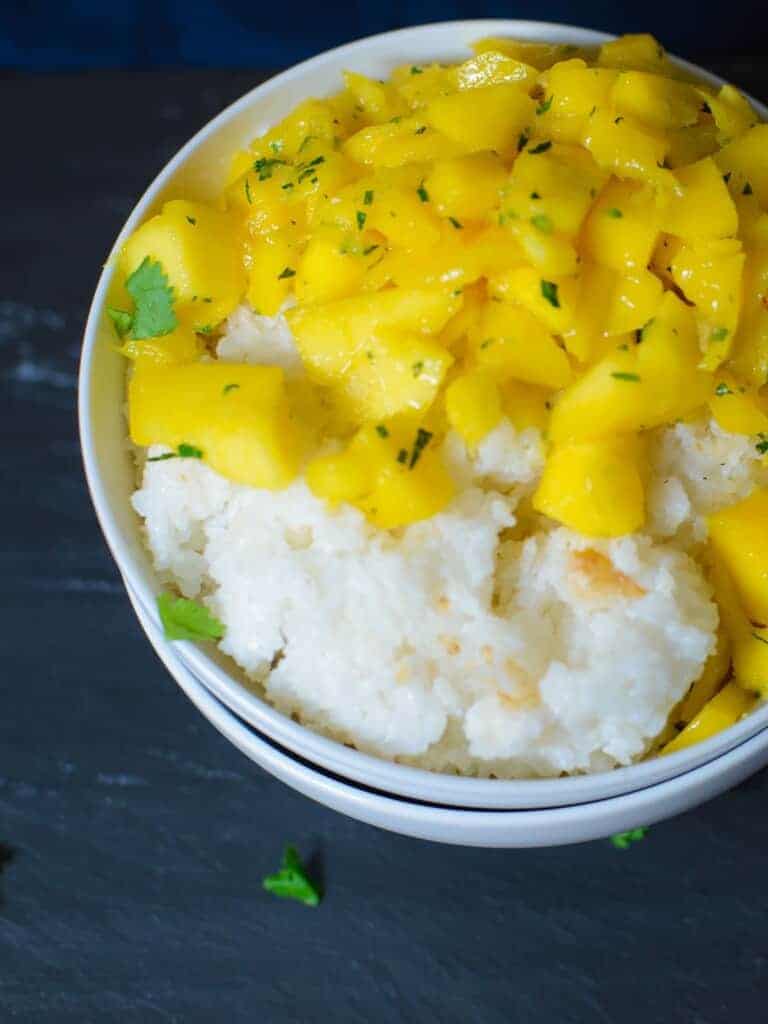 I'm sort of famous for my Fried Rice Recipes, especially my Spam Fried Rice. It's no surprise that Coconut Rice is frequently on our menu at home. I also have the Jamaican version of Coconut Rice and Peas right here on the blog.
A little-known fact about me is that I used to teach cosmetology school—it's something that seems so random. I learned how to make Thai Coconut Sticky Rice from one of my students.
I met so many great women and men that I still keep in touch with today, even if it's mostly on Facebook. I love seeing how their lives are moving forward. We all started in different places and have ended up in different places but we are still connected by the time we spent together.
I hope you'll enjoy this bowl of coconut rice topped with fresh mango and mint as much as I do!
Why you should make coconut rice
Fresh: Fresh mango and a pinch of chopped mint compliment the coconut rice perfectly. You can add sugar to the rice if you want it to be sweeter, but I think the mango adds just enough sweetness to this dish.
Beautiful: How can you resist the radiant glow of a fresh mango? Pile them up!
Satisfying: Coconut milk and rice make this dish quite rich, but the mango is there to lighten the mood. It makes for the perfect dessert!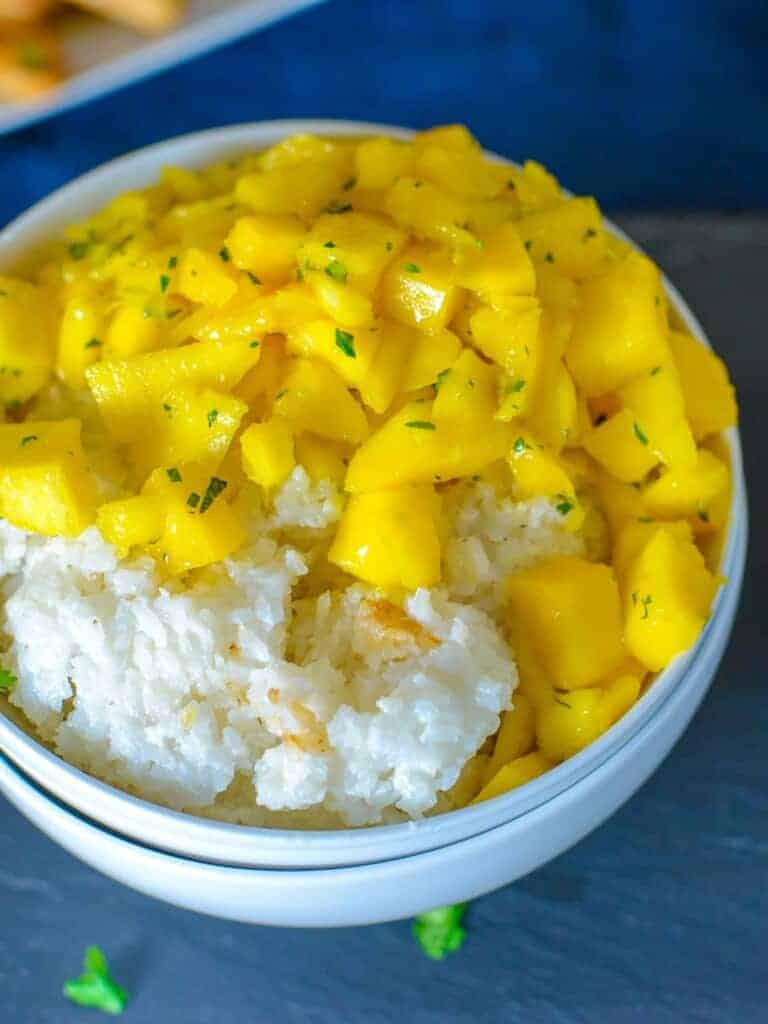 Recipe Notes
This dish is most often called Thai Coconut Rice. It's commonly served with fresh mangoes and chopped mint. You can serve it as a side dish with a spicy meal or as a dessert.
Ingredient for coconut rice
Coconut rice isn't that different from making any other kind of rice. You will simply be replacing a portion of the water with coconut milk or coconut cream. You can also add a little bit of sugar.
Rice: If you want true sticky rice, use glutinous rice. You can also use short-grain white rice, jasmine, or basmati rice for this recipe.
Coconut milk: Be sure to use full-fat coconut milk or even coconut cream! Pick some up here

(affiliate link)

.
Mango: Use ripe mangoes for the sweetest outcome.
Fresh Mint: Fresh mint adds a sweet herbaceous note to this dish.
How to pick a mango
There are a few tricks to picking a ripe mango.
One thing to know is that the color of the mango skin isn't always the best indicator of a mango's ripeness.
Expert tips for picking a ripe mango
The mango should have a slight give when you press on it but shouldn't be too soft. You don't want it to feel mushy but you also don't want it to feel hard as a rock.
If you smell the mango you should be able to smell a hint of mango especially if you smell the area around the stem.
How to cut a mango
Mangoes have a giant seed that runs right down the middle of the fruit. Start by slicing alongside the seed. You'll end up with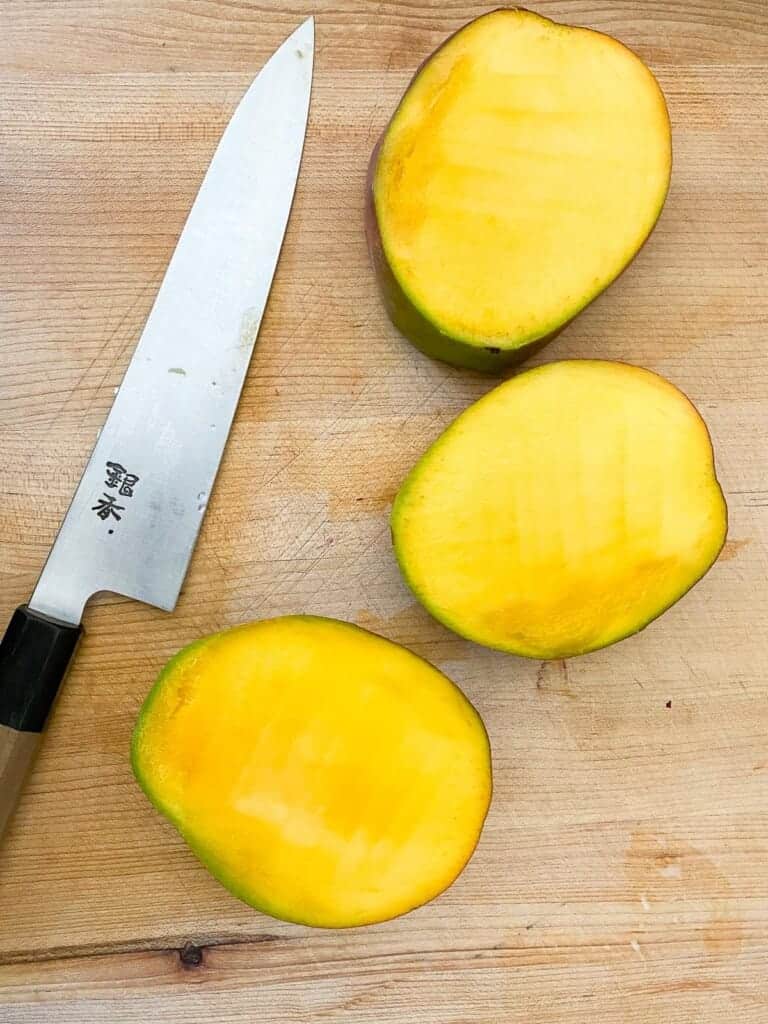 Use the tip of your knife to cut slits in the mango, be careful not to cut through the mango skin.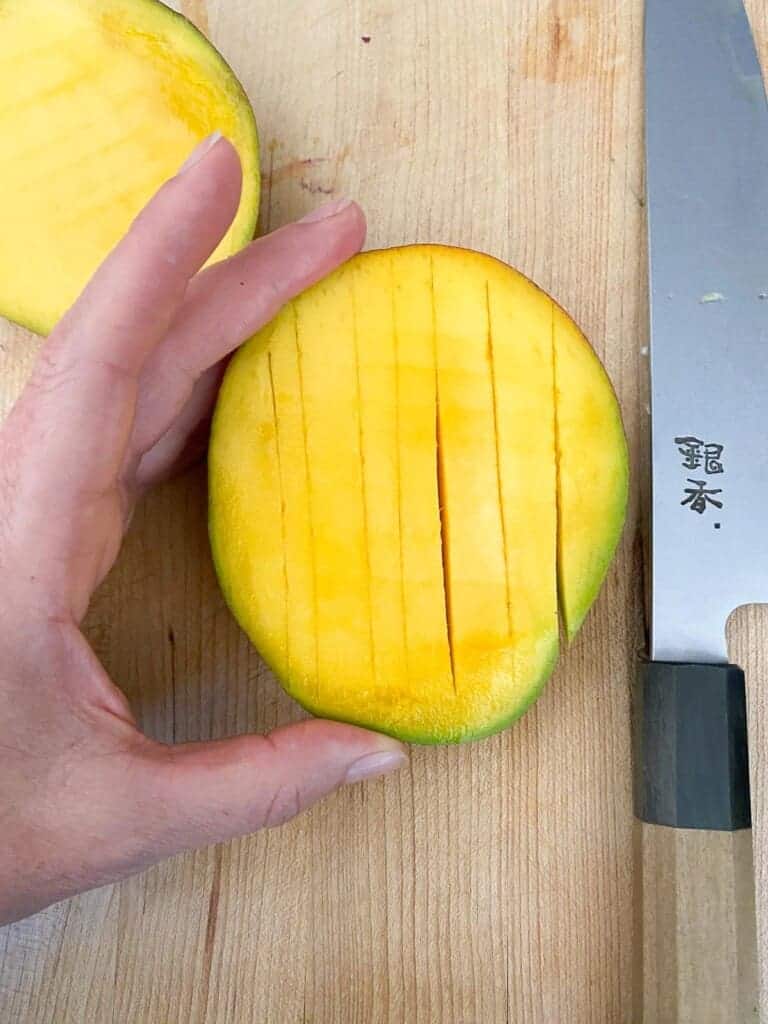 Turn the mango ninety degrees and then repeat slicing in the opposite direction.
Press the skin side of the mango and push out the fruit. Use a spoon to scrap off the already diced mango into a bowl.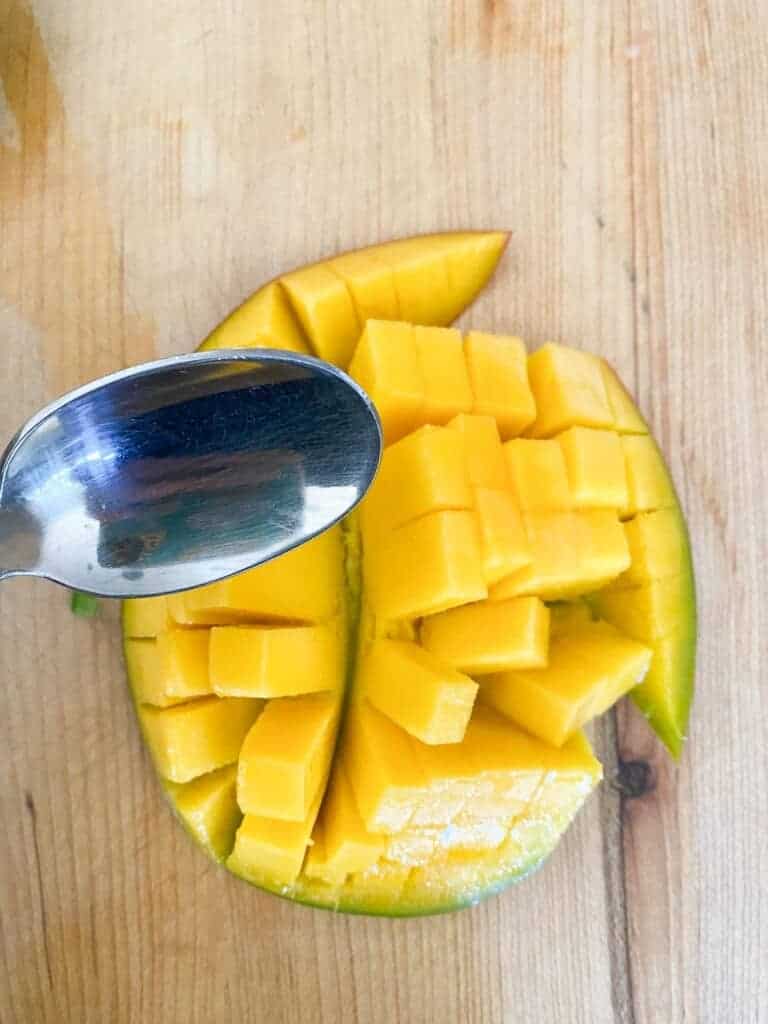 Steps by step instructions
How to make coconut rice with coconut cream. I usually make coconut rice in a rice cooker. You can also make coconut sticky rice on the stovetop.
Add the rice, coconut milk, and water to a rice cooker. Save about a quarter cup of the coconut milk
Turn on and cook on the white rice setting.
Let cool slightly, mix in the ¼ cup of reserved coconut creme.
FAQs and helpful tips
What can I serve with coconut rice?
Drizzle coconut cream or condensed milk over top to sweeten the dish.

If you want something more savory, try fresh fish or Easy Shrimp Ceviche. Or, Chicken Satay with Pineapple Salsa is a great way to go.

Try throwing it under a Fish Taco Meal Prep Bowl for extra flavor! Toasted sesame seeds are a good option no matter what you're serving with your rice.
Other rice recipes you'll love
I know what you're thinking. Fried rice is such a simple dish, why would I need a recipe for it? But trust me, this Spam…
Tropical Salsa Recipes
This pineapple salsa is like a vacation for your taste buds. With bright, sunny flavors from the juicy pineapple and jalapeño pepper, it's the perfect…
Mango Salsa is sweet and spicy. This fruit salsa recipe is made with ripe juicy mangos, serrano peppers, red onion, cilantro, and a fresh squeeze…
➽ Did you make this recipe? I love to see what's going on in your kitchen. Show me what you're cooking. 🍳 Tag me @foodologygeek on your favorite social channel! Facebook, Instagram & Pinterest. If you loved ❤︎ this recipe, please leave a five ★ review and a comment!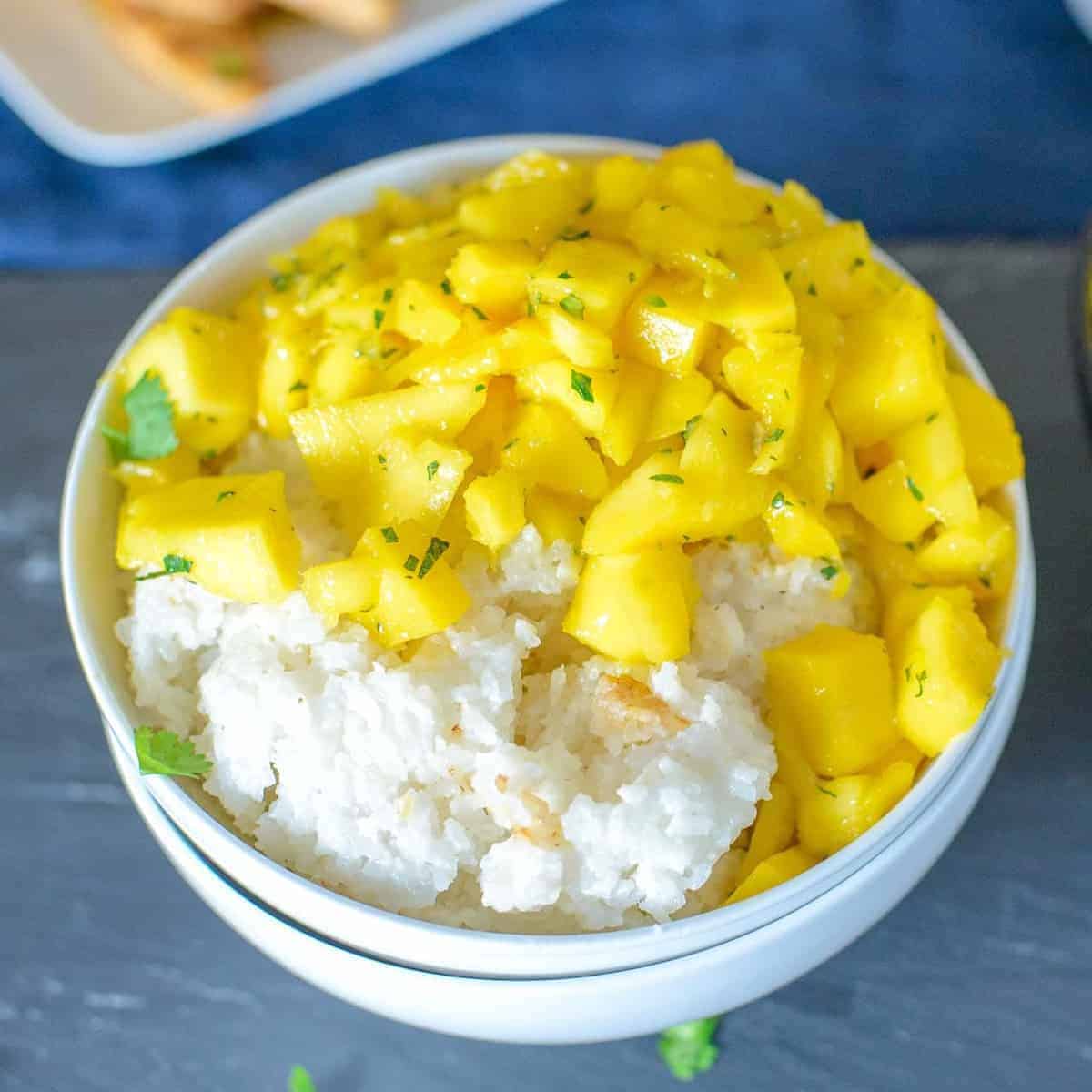 Coconut Rice with Mangoes
Sticky Rice With Mangoes is made of fragrant sticky rice cooked in coconut milk, served with freshly chopped mangoes and minced mint. This recipe is easy and delicious.
Ingredients
1 ½

cups

glutinous rice

,

OR jasmine, basmati, or short grain calrose rice

1

cup

water

1 ¼

cup

coconut milk,

divided
Mangoes
2

mangoes

,

peeled and diced

2

tbsp

fresh mint

,

chopped fine

½

lime

,

juiced
Instructions
Coconut Rice in the Rice Cooker
Add all ingredients (except the ¼ cup of coconut) to a rice cooker.

Turn on and cook on the white rice setting.

Let cool slightly, mix in the ¼ cup of reserved coconut creme.
Coconut Rice in a Sauce Pan
Add all ingredients (except the ¼ cup of add'l coconut creme) to a medium sauce pan.

Reduce heat to medium, cover, and let simmer until liquid is absorbed and rice is tender.

Let cool slightly, mix in the ¼ cup of reserved coconut creme.
Mangoes
Add 2 tsp of finely diced fresh mint.

Add a squeeze of lime juice, toss and serve over the rice.
YOUR OWN NOTES
Nutrition
Calories:
341
kcal
Carbohydrates:
63
g
Protein:
4.8
g
Fat:
9.5
g
Fiber:
1.8
g
Sugar:
15.3
g