Homemade limoncello is so easy to make! All you need is lemons, sugar, and a strong clear spirit like grain alcohol or vodka. Plus, a little bit of patience. This is the hardest part.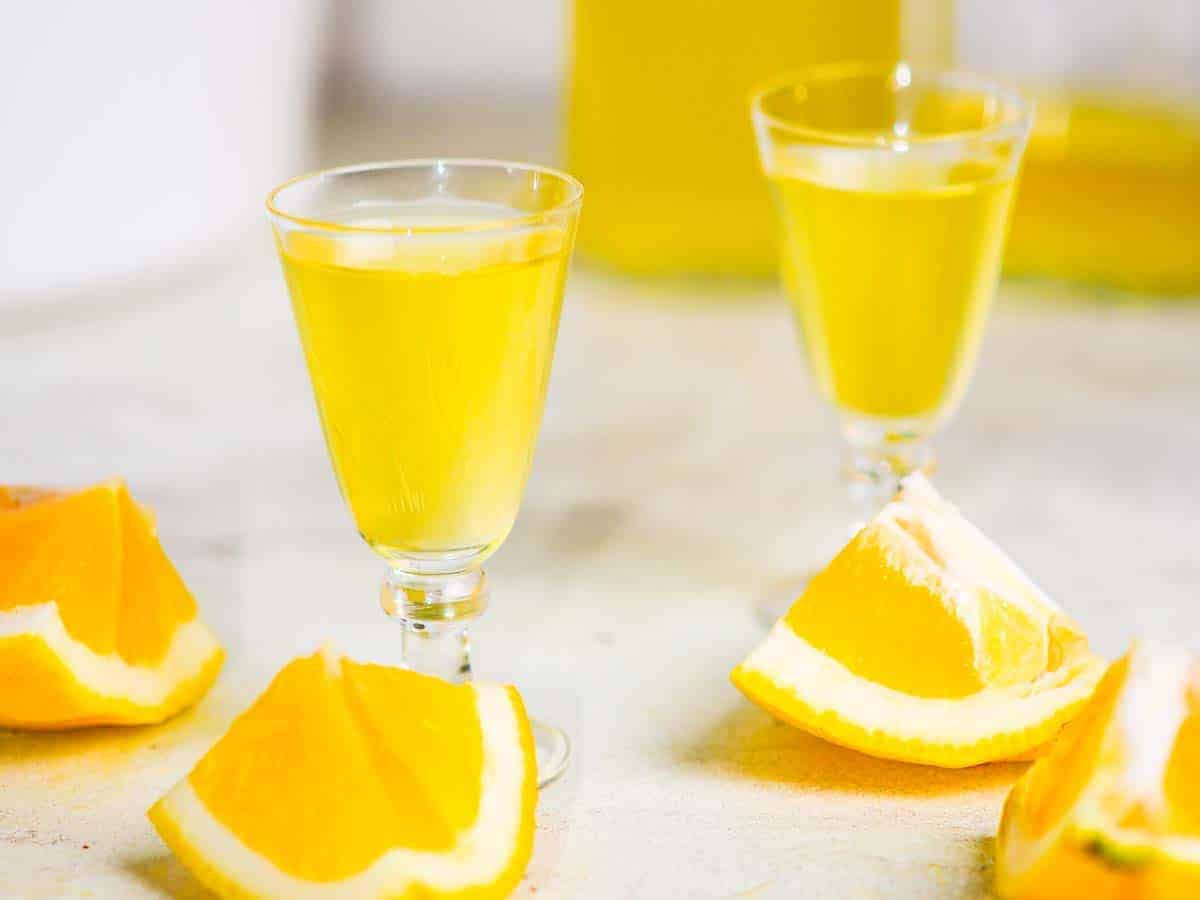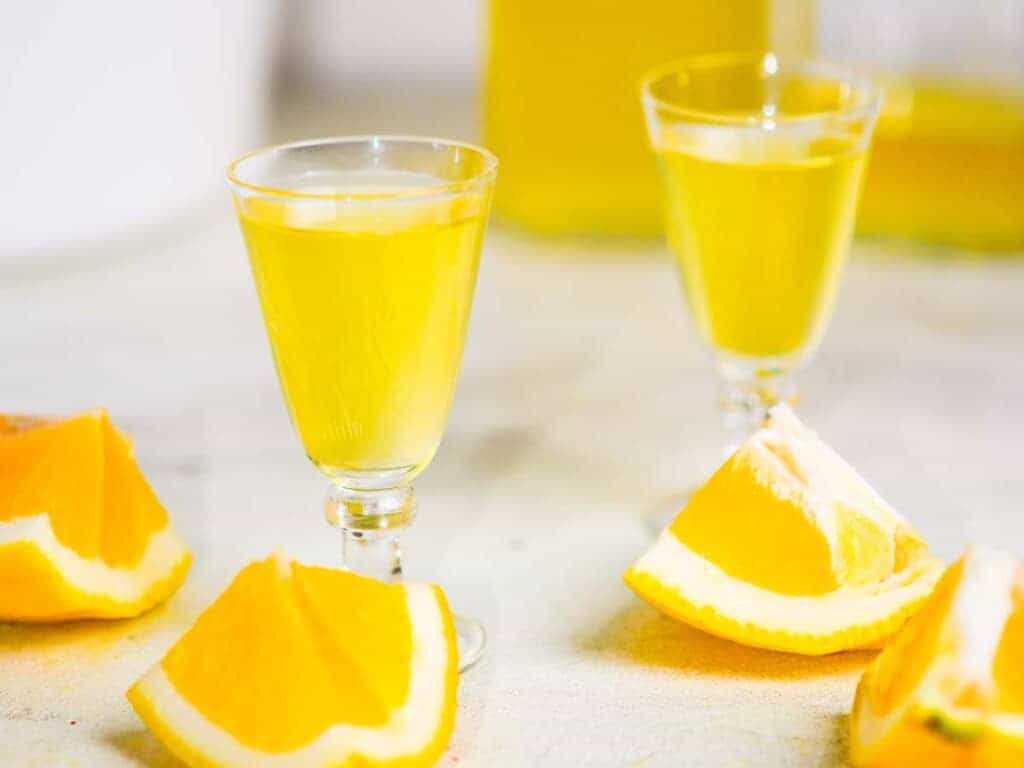 Limoncello is sweet and smooth with a lemony flavor. You can drink it straight or with club soda. You can also use it to mix into cocktails.
In Italy, limoncello is often served as an apertivo, before the meal. The intention is to open the stomach before a meal.
You'll want it cold, really cold. Limoncello is best right out of the fridge or even better, straight out of the freezer. Traditionally, it's served chilled in a small glass or apertivo glass.
Find what you're looking for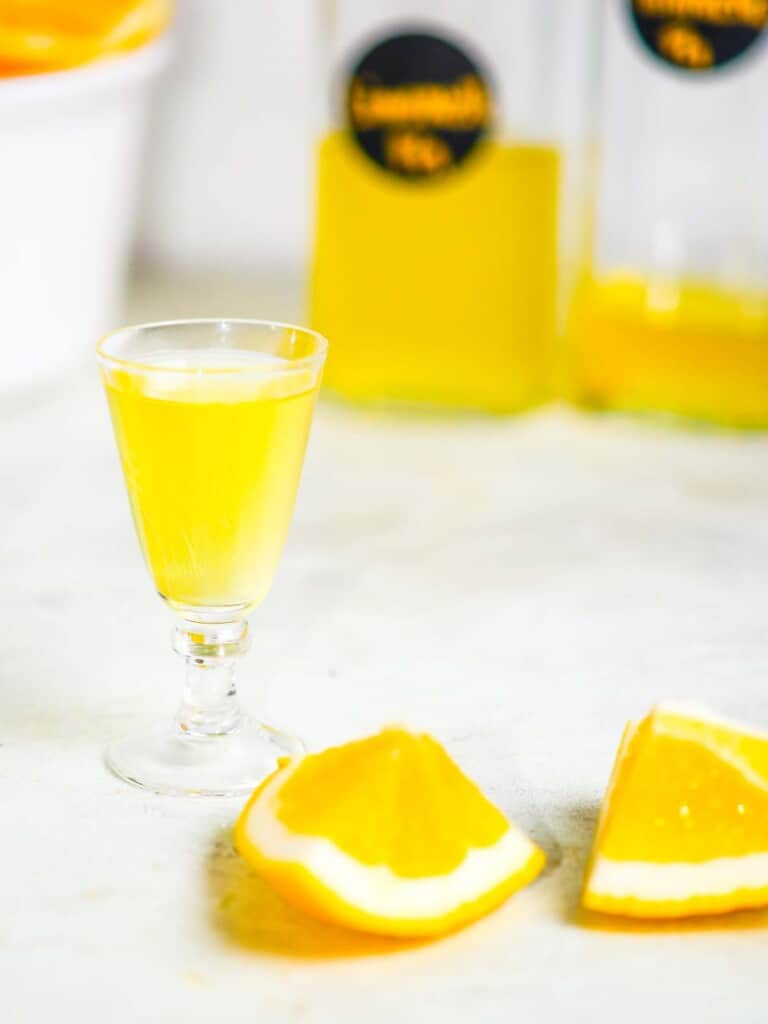 Recipe Notes
Everything you need to know about how to make homemade limoncello.
Limoncello is an infused spirit made by steeping lemon peels in grain alcohol for an extended period of time. The infusion is then sweetened with simple syrup. You can adjust the sweetness to your liking.
Ingredient Notes
Lemons
Any lemons will work for this recipe. It's best to use organic lemons because you don't want the waxy coating on them.
Traditionally, lemons from the Amalfi coast are used to make Limoncello. My favorite lemons are Meyer lemons.
Spirit Alcohol
Traditionally, you make a limoncello recipe with grain alcohol. Also, seen marketed as Everclear. Alternatively, use the highest proof vodka you can buy.
Everclear is 190 proof which means it is 95% alcohol. If you're using vodka, use 90 or 100 proof vodka, which is 45 to 50% alcohol respectively.
Originally, I made this recipe with grappa. While grappa does work, it's lower alcohol content is less effective at extracting the lemon essence from the lemon peels.
Keep in mind that the limoncello alcohol content will vary depending on which alcohol you choose to use. The higher the proof of the initial spirit, the higher the final proof you're limoncello will be.
Simple Syrup
Simple syrup is a mixture of water and caster sugar. A true simple syrup is made by mixing equal parts of water and sugar together in a saucepan and then heating until the sugar is dissolved.
For this recipe we are going to make a leaner simply syrup by using slightly less sugar.
Step-by-Step Instructions
FAQs and Expert Tips
What alcohol to use?

The best alcohol to use is grain alcohol or Everclear. However, if you can't find Everclear use 100 proof vodka.
What lemons to use?
Limoncello can be made with any type of lemons.

I prefer using Meyer lemons because I really like the flavor of Meyer lemons.

Traditionally, limoncello is made from the zest of Femminello St. Teresa lemons, also known as Sorrento or Sfusato lemons

How much sugar?
The amount of sugar in the final limoncello will depend on how much simple syrup you end up using.

The nice thing about making limoncello from scratch is that you can adjut the amount of sweetness to your taste.

How long to infuse the lemon peels?
You will start to get a nice lemon flavor in the infusion in about 5 days. But, infusing for 3 weeks is optimal.

The longer you let the lemon peels infuse, the stronger the lemon flavor will be in the final product.
How to store limoncello.
Store limoncello in the refrigerator or the freezer.

I prefer storing mine in the freezer so that it is super cold. The high alcohol content in limoncello keeps it from freezing through. It may be slightly slushy depending on which alcohol you used.
How long will limoncello keep?
Limoncello will keep in the refrigerator for up to 4 months or in the freezer for up to a year or longer.
How to serve limoncello?
Serve limoncello in either shot glasses or small fluted shot glass.
It should be served cold but not over ice.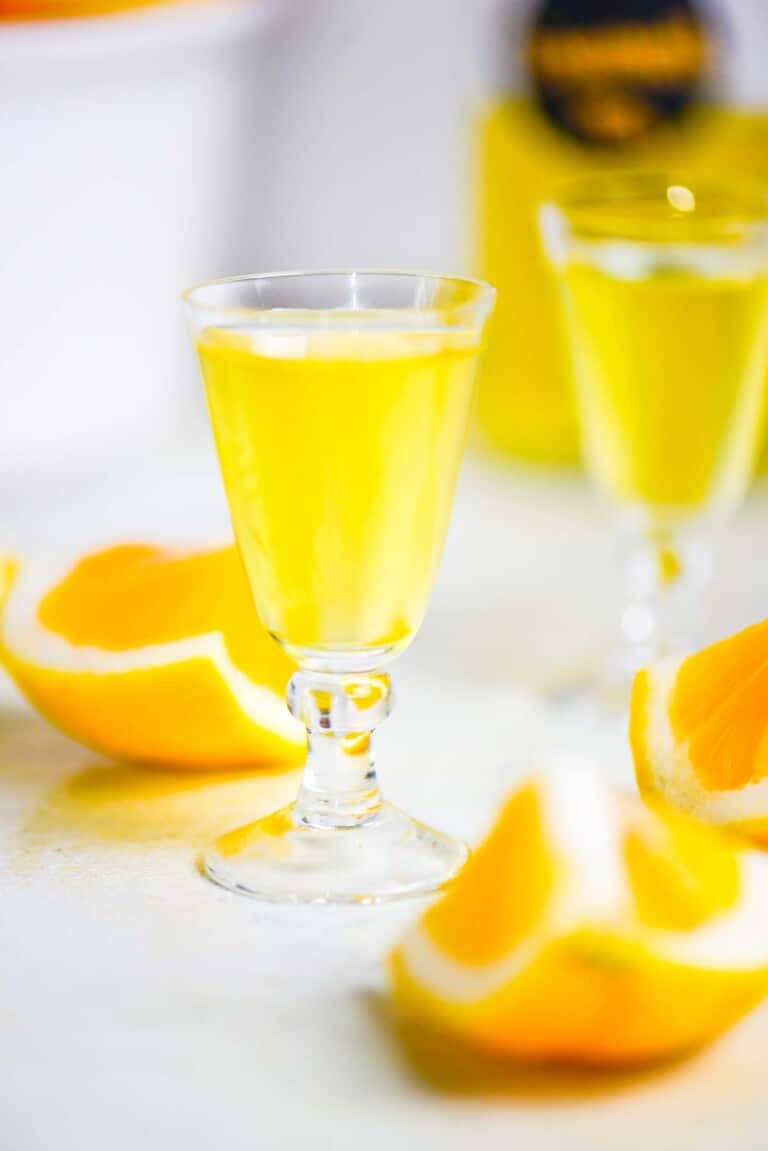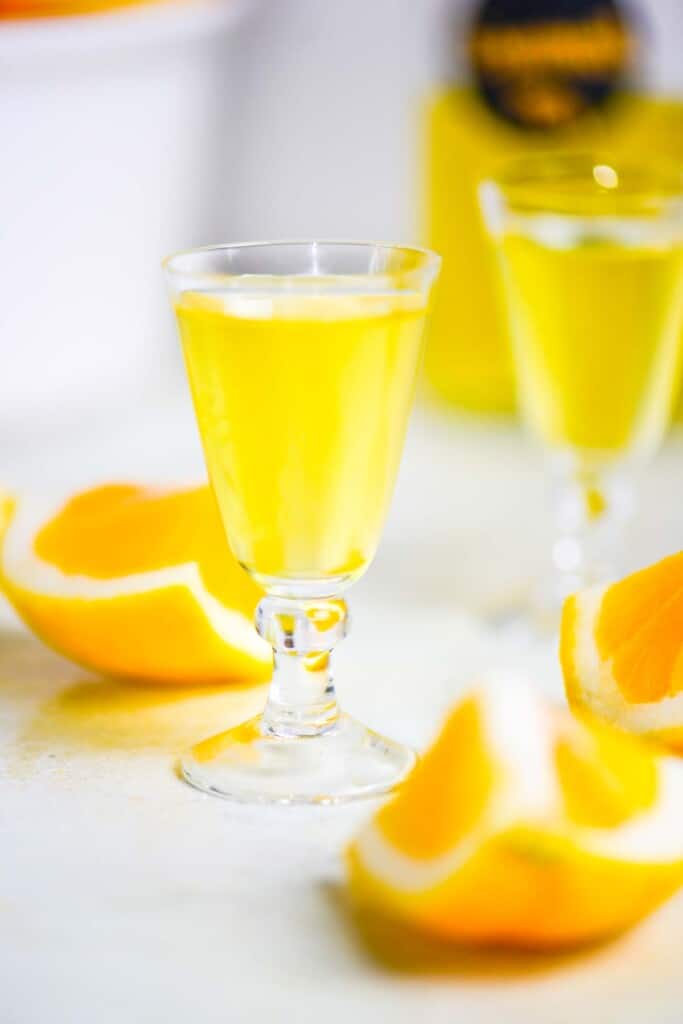 What to do with all of the lemons that you'll have leftover.
You won't want to waste all of the delicious leftover lemons. My favorite option for using up the leftover lemon is making Lemon Curd.
You can juice the lemons and then put the juice in ice cube trays to use with your favorite lemon recipes.
Recipe Variations
You can use this recipe to make orangecello with orange peels and even limecello using lime peels.
Infused spirits make great cocktail mixers.
Limoncello Cocktail Recipes
There are a lot of drinks to make with limoncello. The only hard part is picking just one.
Other Cocktail Recipes That You'll Love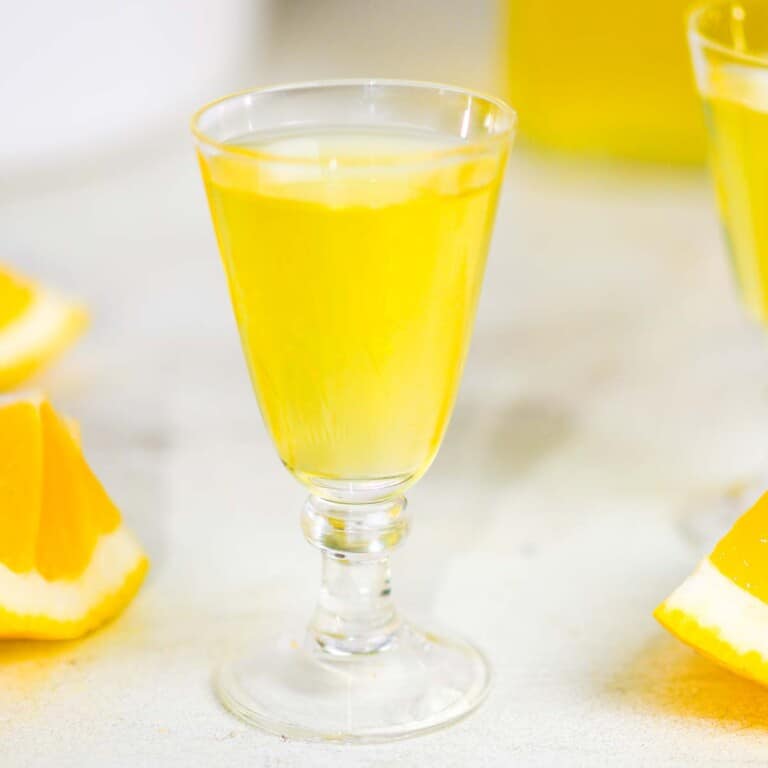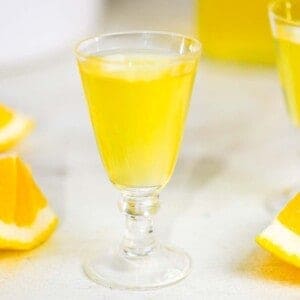 Homemade Limoncello Recipe
Homemade limoncello is so easy to make! All you need is lemons, sugar, and a strong clear spirit like grappa or vodka. Plus, a little bit of patience. This is the hardest part.
Ingredients
7

lemons

peel removed with a peeler

750 ml

pure grain alcohol [190 proof | 95% alcohol by volume]

alternatively vodka or grappa

4

cups

water

3.5

cups

sugar
Instructions
Peel the lemons
Wash the lemon skins with a vegetable brush. Peel the lemons, using a vegetable peeler.

Add the peels and the alchol to a glass container.

Let this mixture sit for 10 to 21 days.
Make the simple syrup
Combine the water and the sugar in a saucepan. Bring to a boil and then simmer until the sugar is completely dissolved.

Strain the alcohol and lemon peels. Reserve the infused alcohol.

Add the simple syrup to the lemon-infused alcohol. Adjust the sweetness if needed.

Store the limoncello in the fridge or the freezer.
Laura's Tips + Notes
Alcohol Substitutions
Grain alcohol is commonly marketed as Everclear. It's 190 proof, 95% alcohol by volume.
Other alcohol that can be used is:
Vodka:100 proof, 50% alcohol by volume
Vodka:90 proof, 45% alcohol by volume
Grappa: typically 90 proof, 45% alcohol by volume
Recipe Variations
This recipe can be used to make arancello with orange peels and even limecello with lime peels.
Nutrition
Serving:
2
ounces
Calories:
166
kcal
Carbohydrates:
28
g
Protein:
1
g
Fat:
1
g
Saturated Fat:
1
g
Sodium:
3
mg
Fiber:
1
g
Sugar:
26
g
Calcium:
8
mg
Iron:
1
mg