Agua Fresca also called agua de fruta is an easy-to-make fruit juice that's an excellent option if you're looking for non-alcoholic fruity mocktails. If you're a fan of Mexican food, chances are you've seen these fruity drinks at your favorite Mexican restaurant. Now you can make this tasty drink right in your own kitchen.
Includes the recipes for Jamaica, Horchata, and Tamarindo.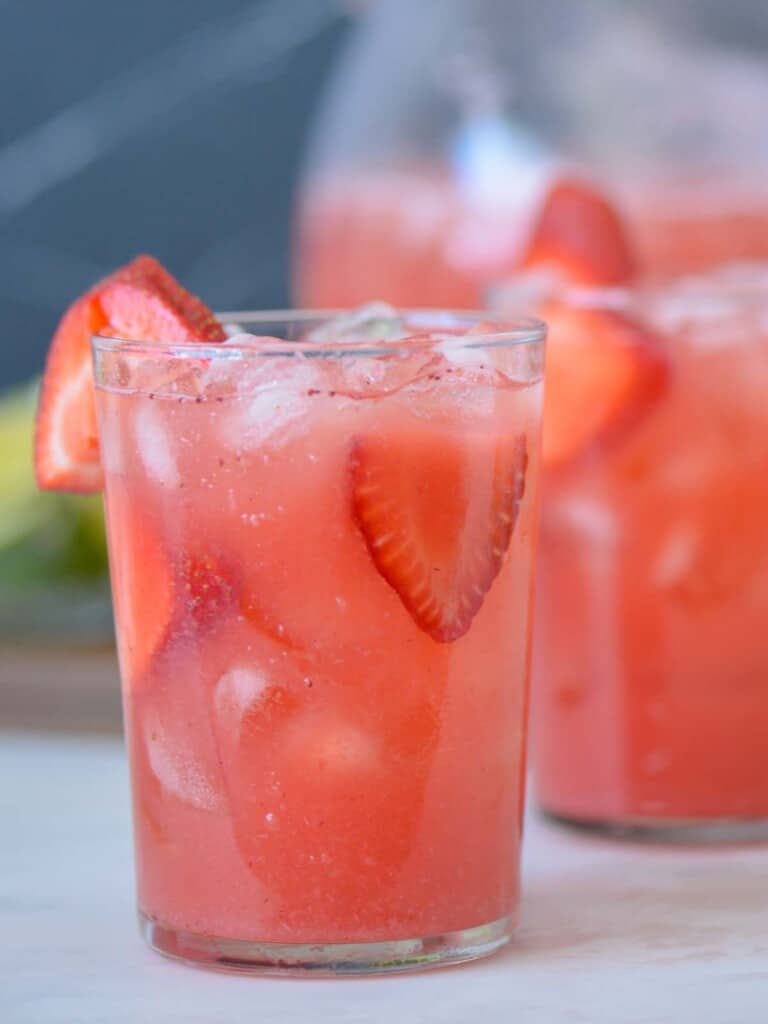 Aguas Frescas can be made with different fruits. Juicy summer fruits are best when making agua de frutas. You can also make a few non-fruit varieties, such as Horchata, Jamaica, and Tamarindo. These versions are made with other flavorful ingredients like rice, dried hibiscus flowers, or tamarind pods.
These refreshing drinks can be enjoyed on a hot day and is often sold by street vendors in Mexico and Central America.
Don't forget to pin this recipe to save it for later!
What is Agua Fresca?
Agua Fresca means Fresh Water.
This refreshing fruit drink is made with fresh fruit, cold water, sugar, and lime juice.
This non-alcoholic fruity beverage can often be seen in a Mexican restaurant or a taco shop, chilling in vitroleros, large barrel-shaped glass jugs. Ice is added to the pitcher to cool the drinks.
You can make this a Rum Fresca by adding a shot of rum.
Recipe Ingredients for Aguas de Frutas
4 cups of freshly chopped fruit
3 cups of water
1 to 2 tablespoons of sweetener. You can use cane sugar, maple syrup, agave syrup, or even simple syrup.
a little lime juice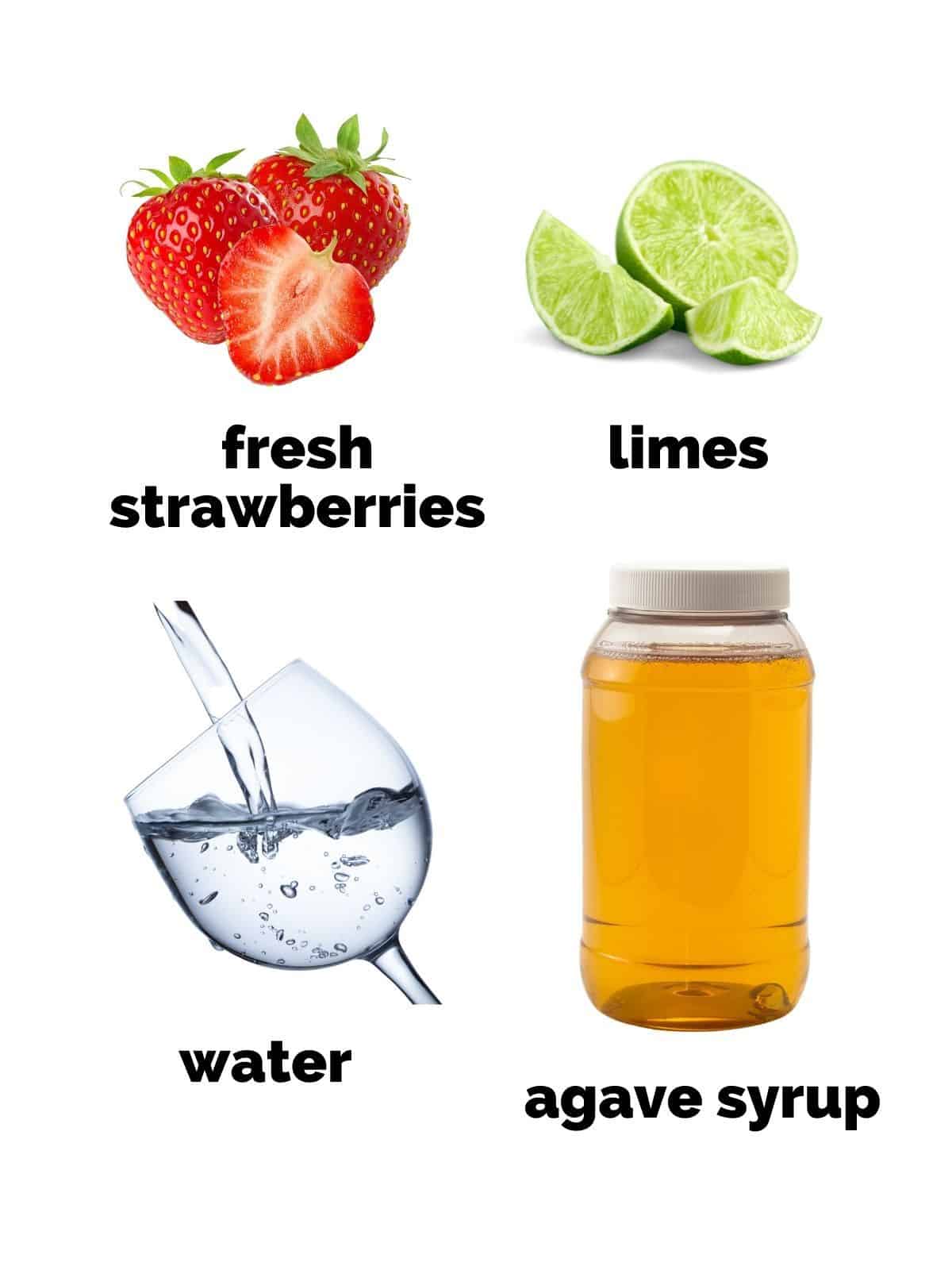 How To Make Aqua Fresca
Combine fruit, water, and sweetener in a blender.
Blend until the mixture is completely smooth.
Strain the mixture through a fine-mesh sieve.
Adjust the sweetness if needed.
Add a fresh squeeze of lime juice.
Serve chilled with ice.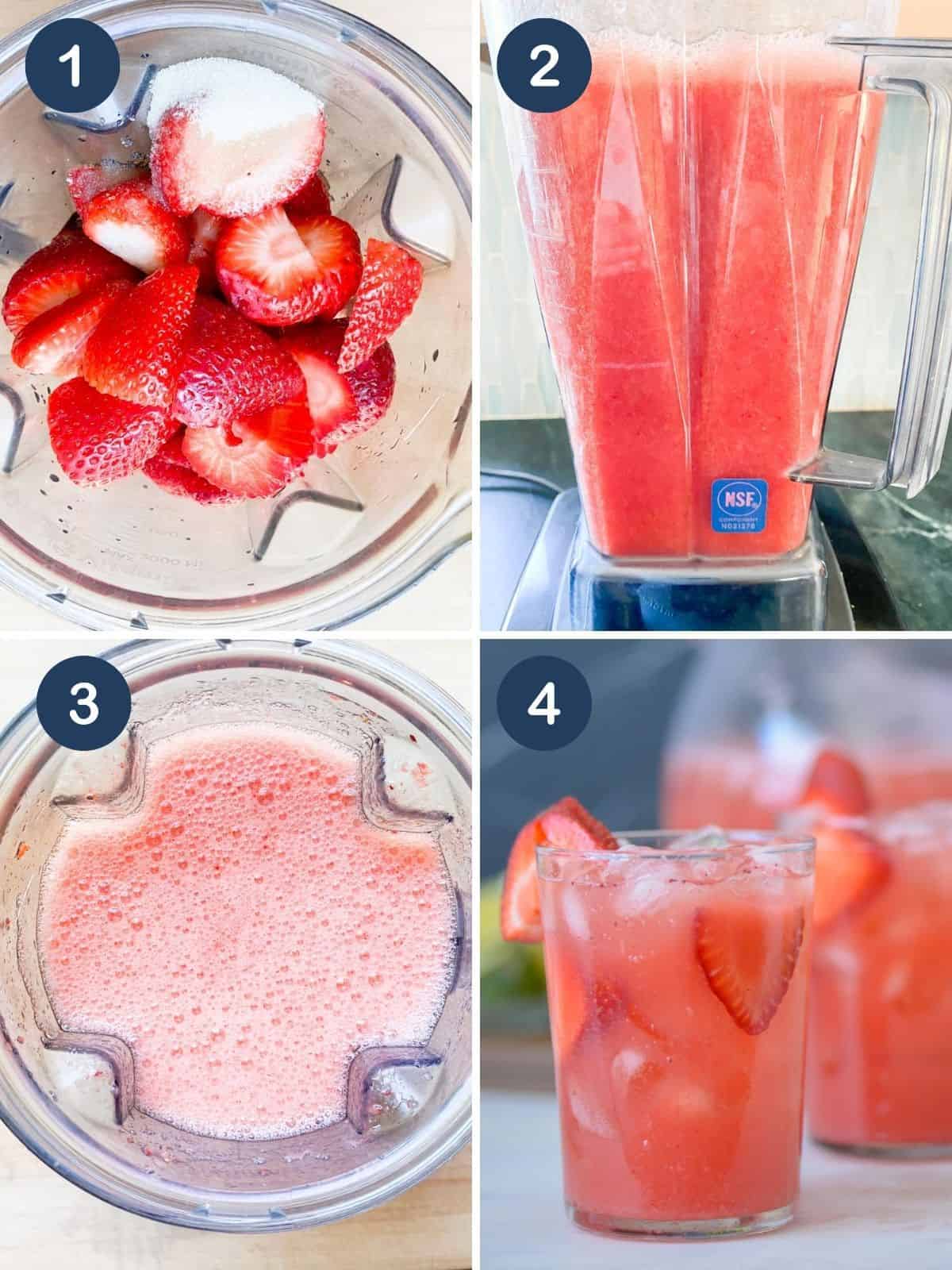 Agua Fresca Recipe Variations
This non-alcoholic drink can be made with many different types of fruits and even a few other natural ingredients. Almost any juicy fruit will work. A few of my favorites are:
Strawberry
Watermelon
Cantelope
Pineapple
Mango
Cucumber
Aguas de Jamaica (a tea made with hibiscus leaves and then sweetened)
Aguas de Horchata (made with rice water and cinnamon, condensed milk, and evaporated milk)
Aguas de Tamarindo (made with tamarind pods)
Dried hibiscus leaves and tamarind pods can be found in your local Mexican grocery store. If you don't have a local store close, both of these ingredients can also be ordered online. (links in the recipe card)
Serving and Storing Tips
Serve homemade agua fresca on a warm summer day in a large pitcher full of ice. You can serve in individual glasses with ice and garnish with a mint sprig if you feel festive. Remember that the ice will dilute the fruit mixture, so the initial fruit puree is relatively concentrated.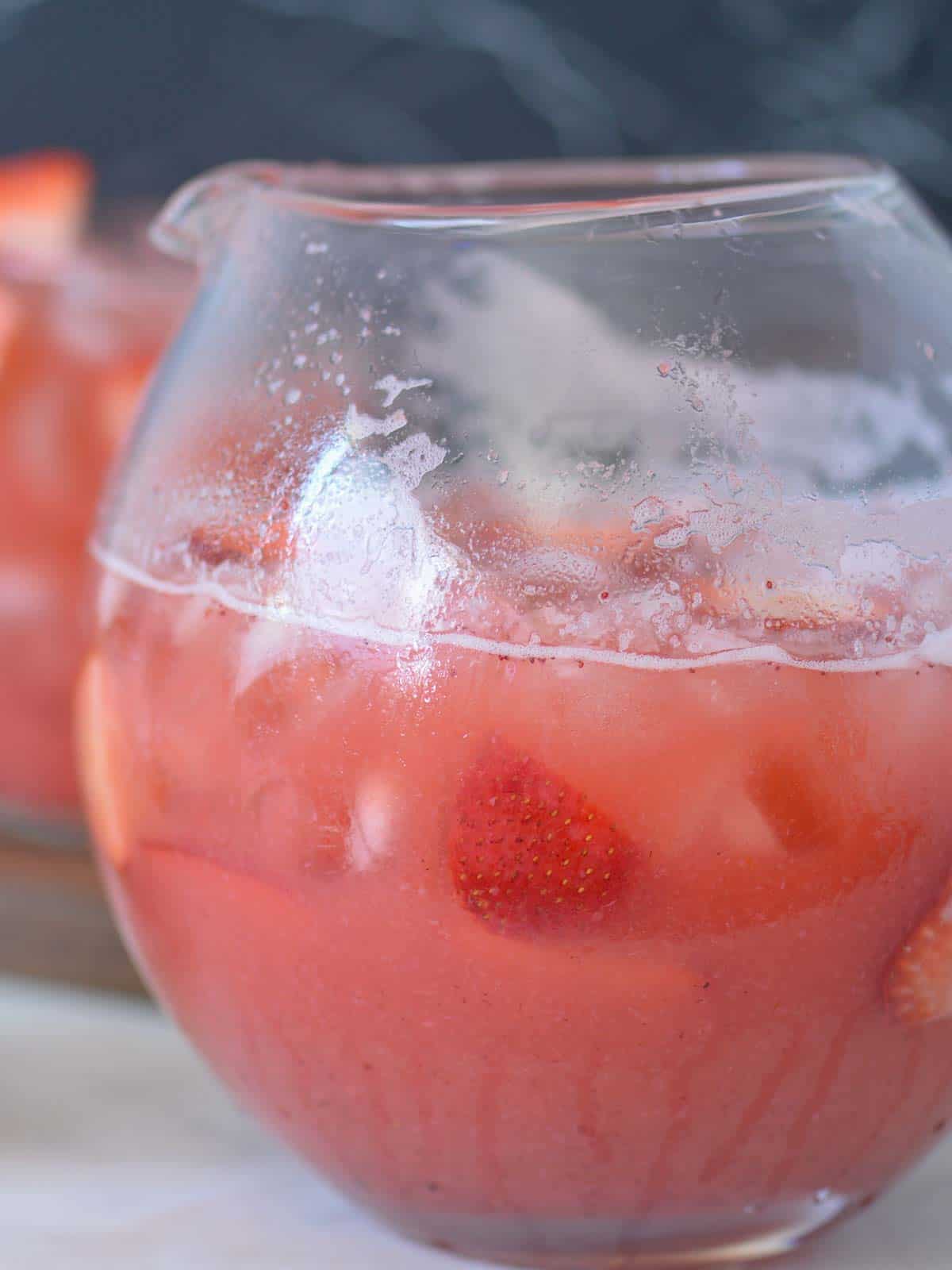 Store in the fridge for up to a week. I like to store fresh juices in my Weck juice jars because they have removable lids. The lids prevent the juice from absorbing flavors that might be in the fridge.
Freeze. Freeze the concentrated fruit mixture and then pull it out of the freezer and thaw. Add ice, and it's summer all year long. Souper Cubes freezer trays are the perfect way to freeze anything like this in portion sizes!
What To Serve With Agua Fresca
This refreshing drink is delicious all by itself. But it's even better when paired with your favorite Mexican recipes.
More Easy Summer Drink Recipes To Try
➽ Did you make this recipe? I love to see what's going on in your kitchen. Show me what you're cooking. 🍳 Tag me @foodologygeek on your favorite social channel! Facebook, Instagram & Pinterest. If you loved ❤︎ this recipe, please leave a five ★ review and a comment!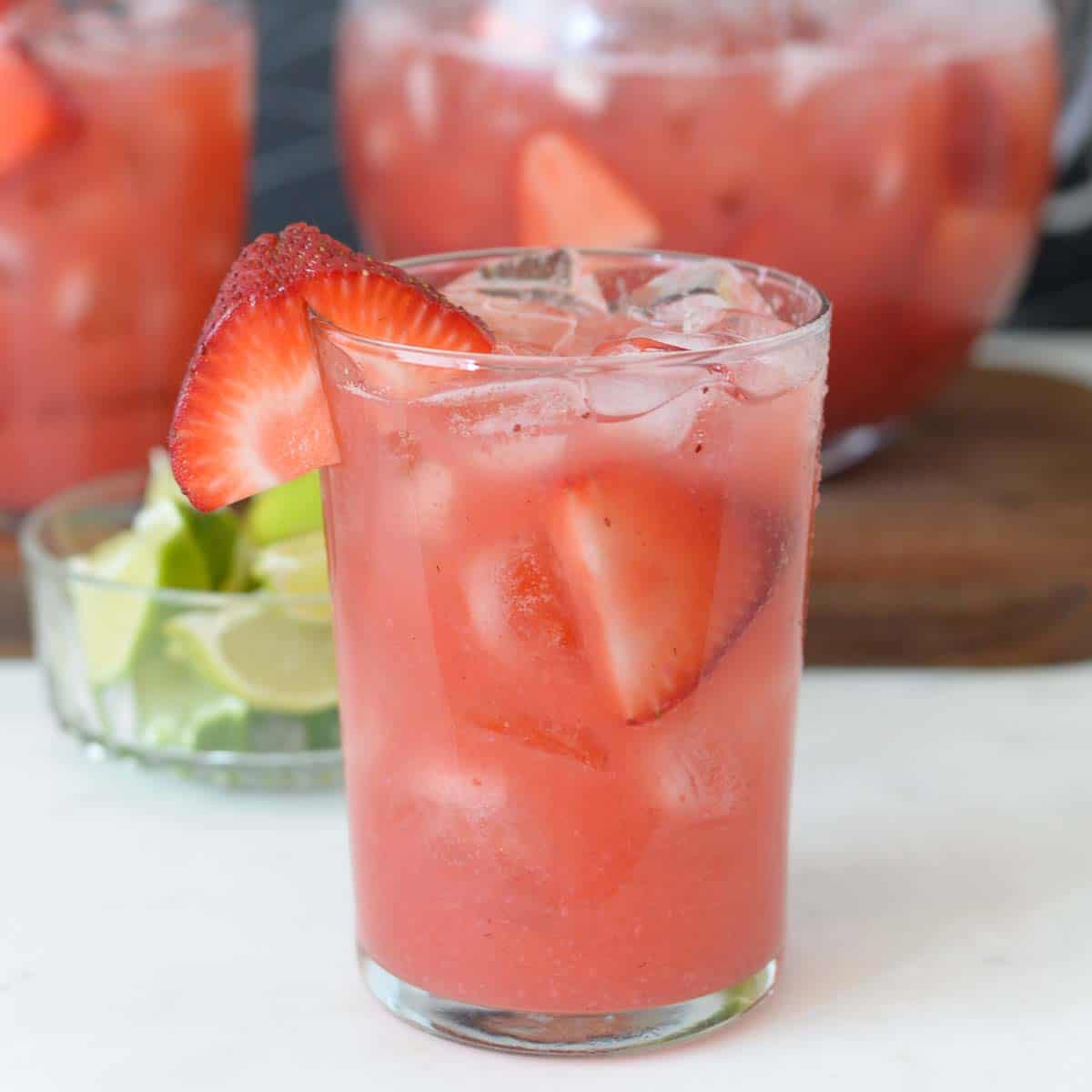 Agua Fresca Recipe
Agua Fresca is an icy cold fresh fruit beverage that you can find in Mexican restaurants. It's a delicious non-alcoholic summer beverage.
Ingredients
Instructions
How to Make Aquas de Frutas
Blend. In a blender puree the diced fruit with 2 cups of the water.

Mix. Dilute with remaining water. Add the sweetener to taste. Add a fresh squueze of lime juice.

Serve with crushed ice and a whole strawberry on the rim of the glass.
How To Make Jamaica
Make the hibiscus concentrate. Add 4 cups of water and 1 cup of dried hibiscus flowers to a saucepan. Bring to a boil. As soon as the water boils reduce the heat to low and simmer for 10 minutes.

Cool. After 10 minutes turn off the heat and allow the hibiscus concentrate to cool. When the mixture is cool strain and reserve the hibiscus tea.

Mix. Put ⅓ of the concentrate in a half-gallon pitcher and add the sugar. Stir vigorously to dissolve the sugar. Fill the pitcher with cool water and serve over ice.
How To Make Horchata
Soak the rice. Rinse the rice a few times. Break up the cinnamon sticks and then place the rice, cinnamon sticks, and 4 cups of water into a bowl. Cover the bowl and refrigerate overnight.

Remove the cinnamon sticks. Once you're ready to make the horchata, remove most of the cinnamon sticks but it's okay to leave small pieces with the rice.

Blend the rice in two separate batches by adding 1/2 of the rice & water with some of the cinnamon stick left behind. Puree the rice and water until it's very smooth and it forms a paste like texture. About 4 minutes long.

Strain. Using a very fine strainer (or some cheesecloth) pour the blended mixture over a pitcher. Strain out as much liquid as possible, pushing on the solids with a spatula or spoon. Repeat this process for the rest of the rice, water & cinnamon mixture.

Stir in the milks, vanilla (optional), and 4 cups of water. Stir well.Taste and add more sugar or water if needed.

Chill and stir before serving over ice.
How To Make Tamarindo (Tamarind Drink)
Shell the tamirind. Remove the shells from the tamarind pods and the stingy parts.

Boil. Add 4 cups of water to a pot and add the tamarind pods. Bring the water to a boil. Then turn off the heat and add the sugar to the water. Let the pods soak and cool for about 1 hour and 30 minutes.

Remove. Pull out the hard seeds and any leftover stringy bits from the cooled liquid using your hands.

Blend. Add the chunky mixture to a blender and puree until completely smooth.

Strain. Strain the liquid and then mix in the remainder of the water. Serve in a pitcher.
Laura's Tips + Notes
Nutritional information is for the strawberry agua fresca.
Jamaica, Horchata, and Tamarindo are all popular versions of aguas frescas.
YOUR OWN NOTES
Nutrition
Serving:
1
glass
Calories:
62
kcal
Carbohydrates:
16
g
Protein:
1
g
Fat:
1
g
Saturated Fat:
1
g
Sodium:
16
mg
Fiber:
1
g
Sugar:
13
g
Calcium:
12
mg
Iron:
1
mg