Strawberry Shortcake Recipe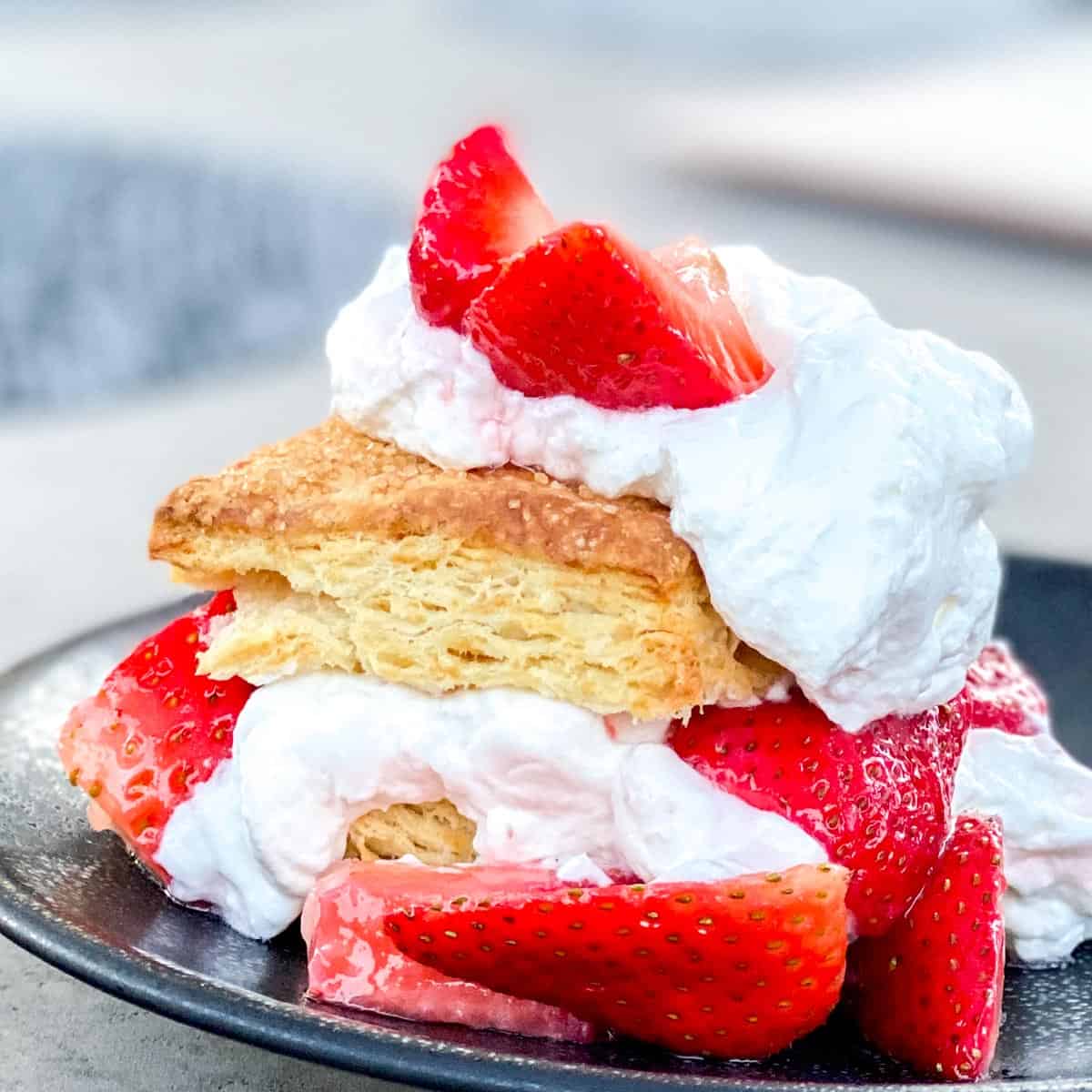 Recipe
Comments
Save
Go to Collections
This post may contain affiliate links. Please read my
disclosure policy.
Strawberry Shortcake is a quintessential summer dessert. Made with crumbly shortcake biscuits and sweet summer strawberries, this classic dessert recipe is always a crowd-pleaser.
The shortcake biscuits recipe is the star here. These biscuits are extra light, fluffy, and have buttery layers of shortcake deliciousness. You will not be disappointed.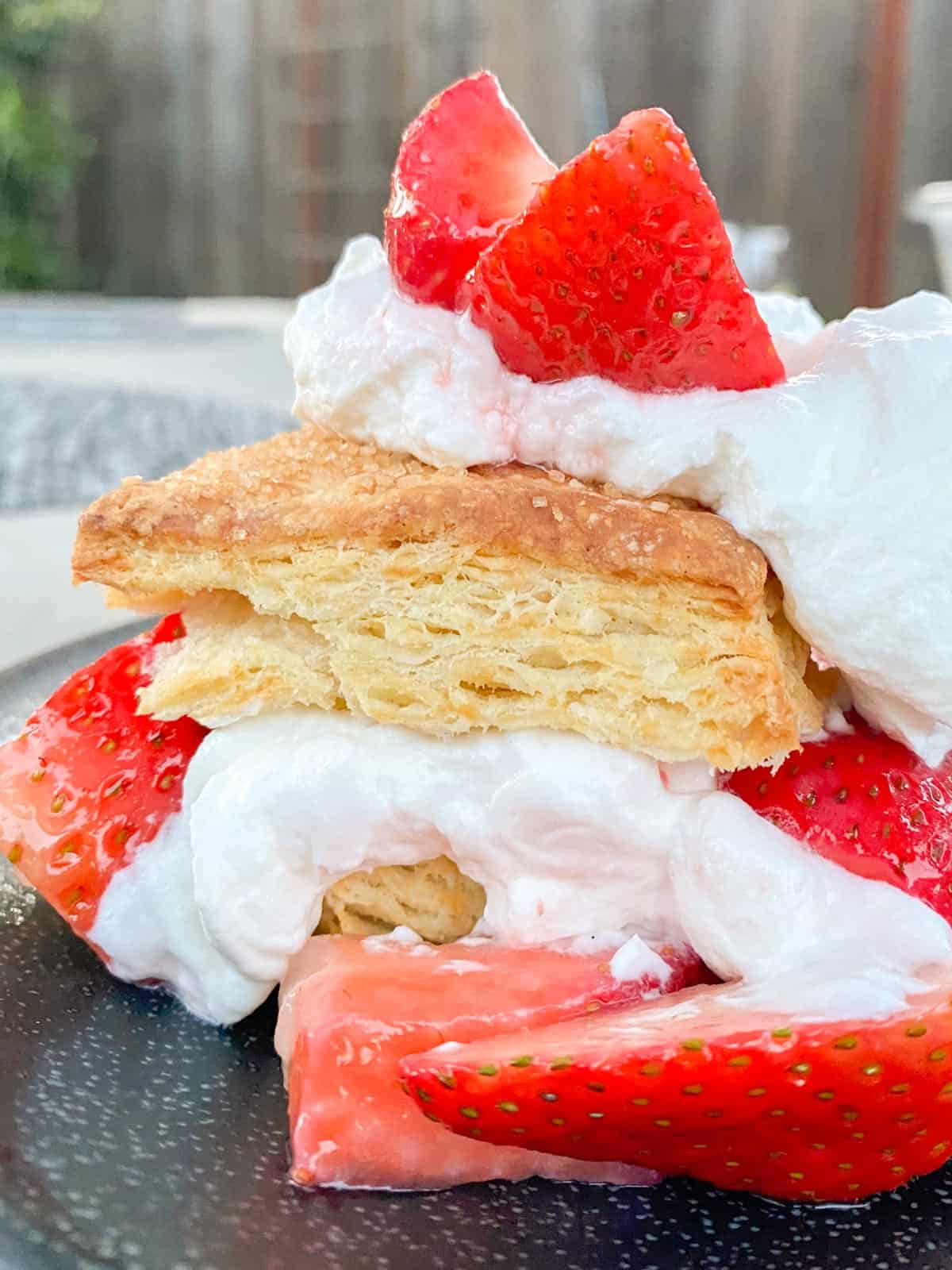 Classic Strawberry Shortcake is made with fresh macerated strawberries, shortcake biscuits, and freshly whipped cream.
Sometimes you'll see angel food sponge cakes sold at the grocery store near the strawberries when they are in season. Just walk away, come home and make this easy strawberry shortcake recipe from scratch.
Making homemade shortcake biscuits is surprisingly quick and easy. And keep in mind this recipe works with all kinds of summer fruits.
Don't forget to pin this post to save it for later!
Ingredients For Strawberry Shortcake
You'll need these ingredients to make shortcake biscuits, plus fresh strawberries and whipped cream.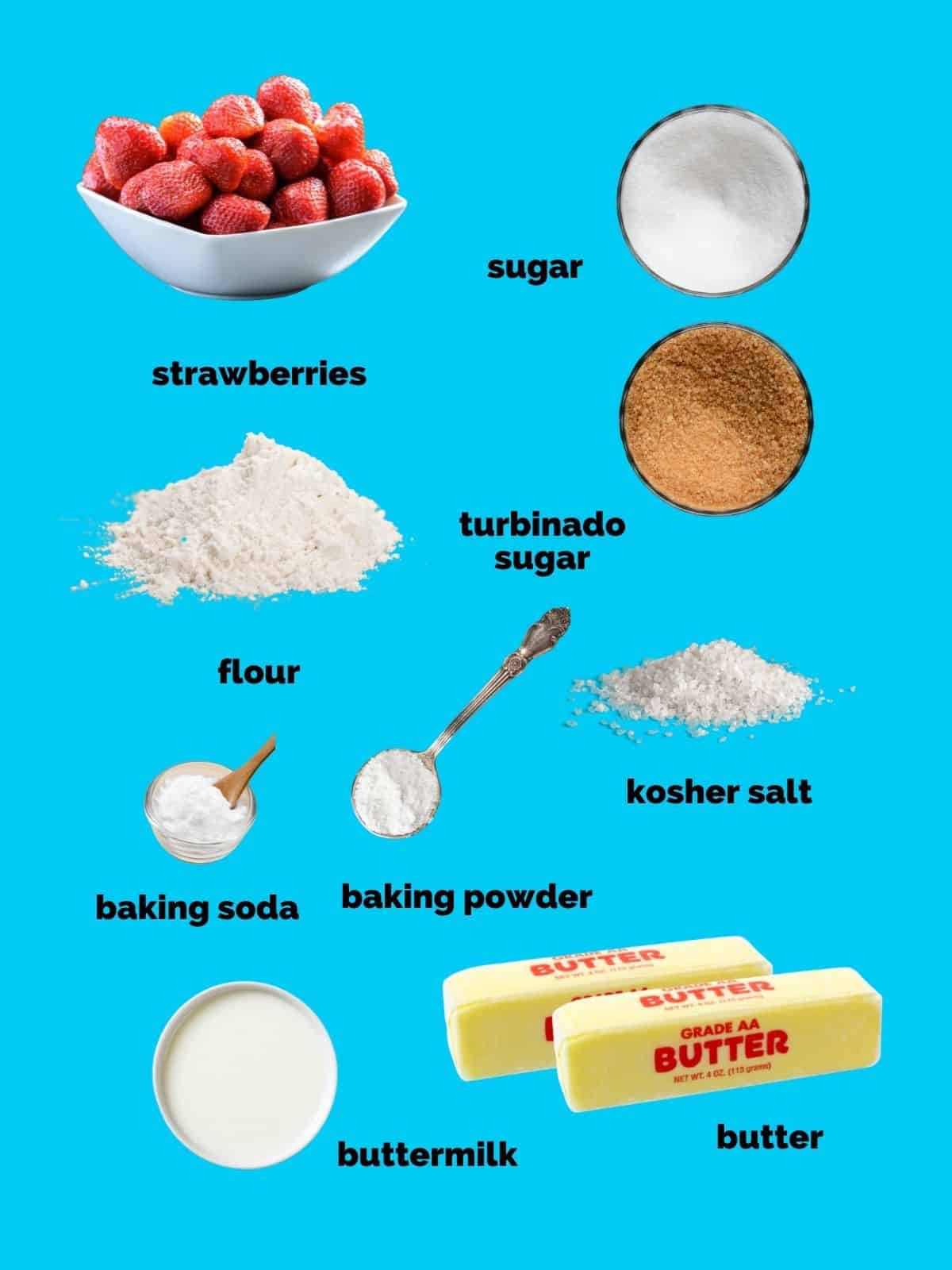 Strawberries + granulated sugar are combined to make the filling for strawberry shortcake. The sugar breaks down the strawberries and encourages them to release their juice.
Whipping cream to top off these gorgeous shortcakes.
All-purpose flour is used to make the shortcake biscuits.
Baking powder is the main leavening agent in these short biscuits.
Baking soda a minimal amount is added to this recipe to help with browning.
Unsalted butter is frozen and then grated into the dry ingredients. This step ensures that the butter is evenly distributed, creating beautifully flaky biscuits.
Buttermilk adds tangy buttermilk flavor to the shortcakes.
Salt adds flavor and to activate the leavening agents. I use sea salt or Kosher salt.
Turbinado sugar to top off the shortcakes before baking. The turbinado sugar adds a caramelly flavor and a nice crunch to the top of the shortcake biscuits.
How To Make Strawberry Shortcake
Macerating the Strawberries
What are macerated strawberries? To macerate something means to soften it by soaking it in liquid. When you add sugar to sliced berries, it brings out the juice in the strawberries. The berries soften in their own liquid to create the perfect juicy berry topping for the shortcake biscuits.
Slice the strawberries and add the sugar. You can use maple syrup instead of sugar, it works just as well.
Let the berries sit at room temperature while they are macerating. They can sit on the counter while you are baking the biscuit-like shortcakes.
If you want to make the berries ahead of time, you can let them macerate in the fridge overnight. Let them come to room temperature before serving them.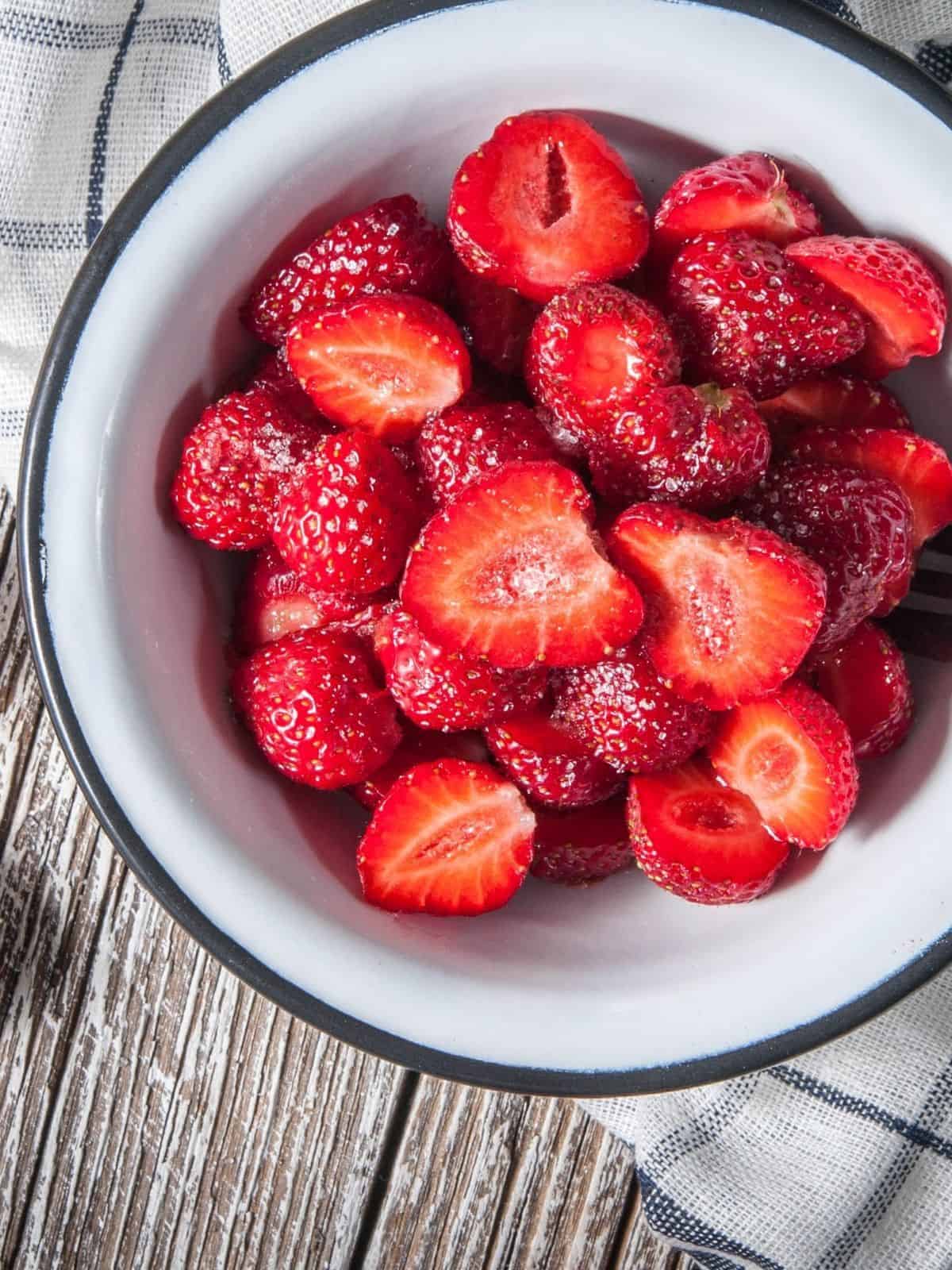 How to Make the Shortcake Biscuits
Mix dry ingredients for the shortcake dough. Add the grated cold butter and toss to coat. Then mix in the buttermilk.
Roll out the dough and fold it over. Repeat four more times.
Cut the dough into 9 to 12 biscuits. You can also use a round biscuit cutter to make round shortcake biscuits. Cutting the edges off the biscuits will allow the layers to expand equally on every edge.
Place the biscuits on a baking sheet lined with parchment paper or a Silpat. Brush with the remaining two tablespoons of melted butter and sprinkle with turbinado sugar.
Refrigerate the biscuits for 30 minutes before baking. It's best to do this while you preheat the oven.
Bake the biscuits until they are golden brown.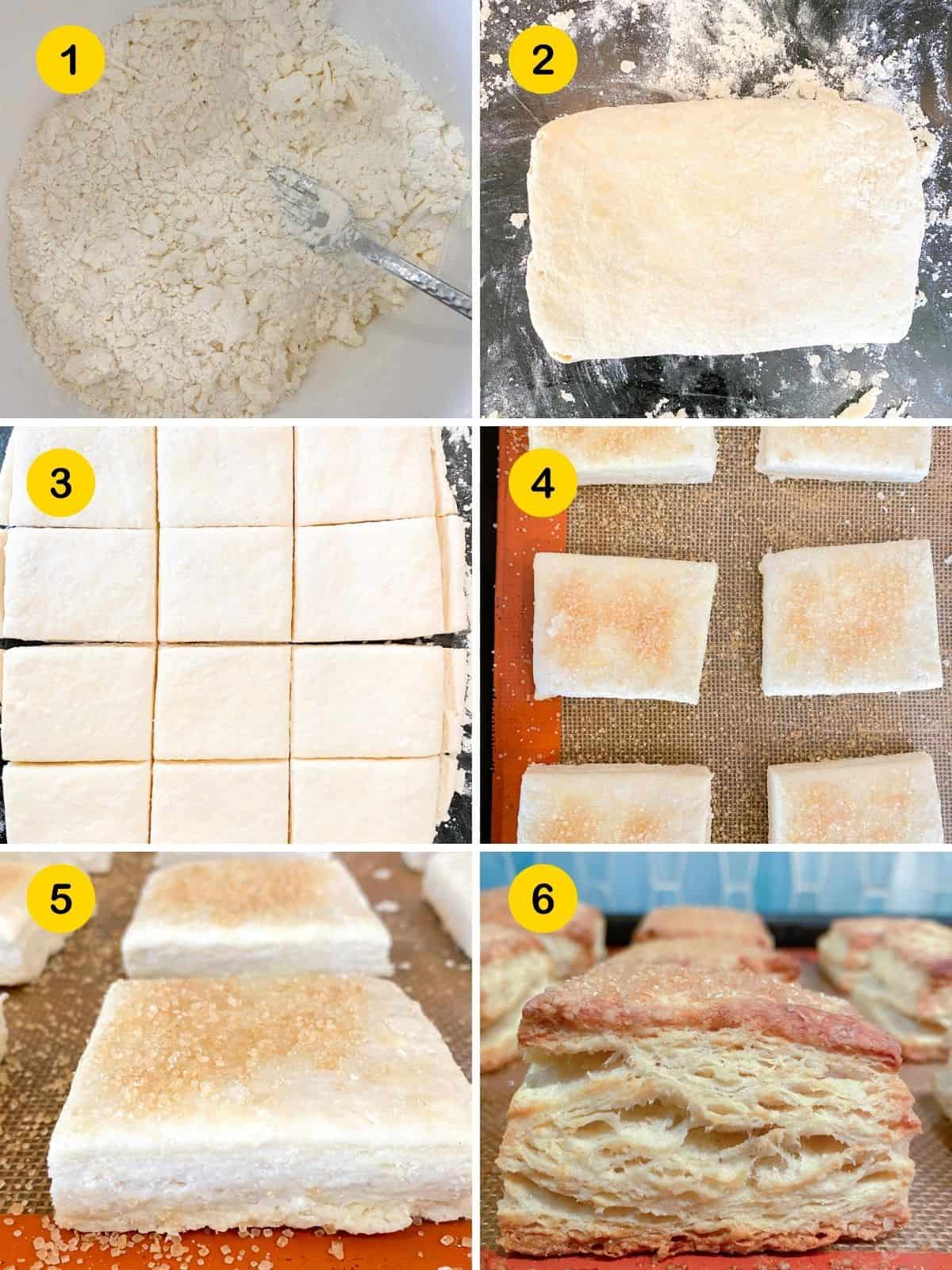 Fresh whipped cream is essential
While you could use canned or store-bought whipped cream, nothing compares to freshly whipped cream. Why skimp on this step when you've gone through all the trouble of making the most delicious shortcakes and picking the freshest summer berries.
Whip cream with a whisk or a stand mixer. While it does require a little bit of elbow grease, you can make whipped cream in a bowl with a whisk. You can watch the cream thicken and get an arm workout at the same time. Or you can add fresh whipping cream to your stand mixer and fluff it up the easy way.
Add a little flavor to whipped cream. Add an extra kick of flavor to whipped cream by adding a little vanilla extract, or if you're feeling adventurous, add a little bit of bourbon or rum.
You can make whipped cream a few days ahead of time. Store it in an airtight container in the fridge until you are ready to serve it.
Geek Wisdom and FAQS
Why is a shortcake called a shortcake?
A shortcake refers to a cake that is made crisp and crumbly with the addition of butter. Similar to shortcrust and shortbread, all of these baked goods are crispy and buttery.
Can Strawberry Shortcake be made ahead?
Yes, you can make strawberry shortcakes several days ahead of time. However, you should only assemble it right before serving.
What kind of cake is used for strawberry shortcakes?
Shortcake biscuits are sweet, crumbly, buttery biscuits.

The shortcake biscuit is split open and layered with fresh macerated strawberries. The whole thing is topped with a healthy dollop of fresh whipped cream.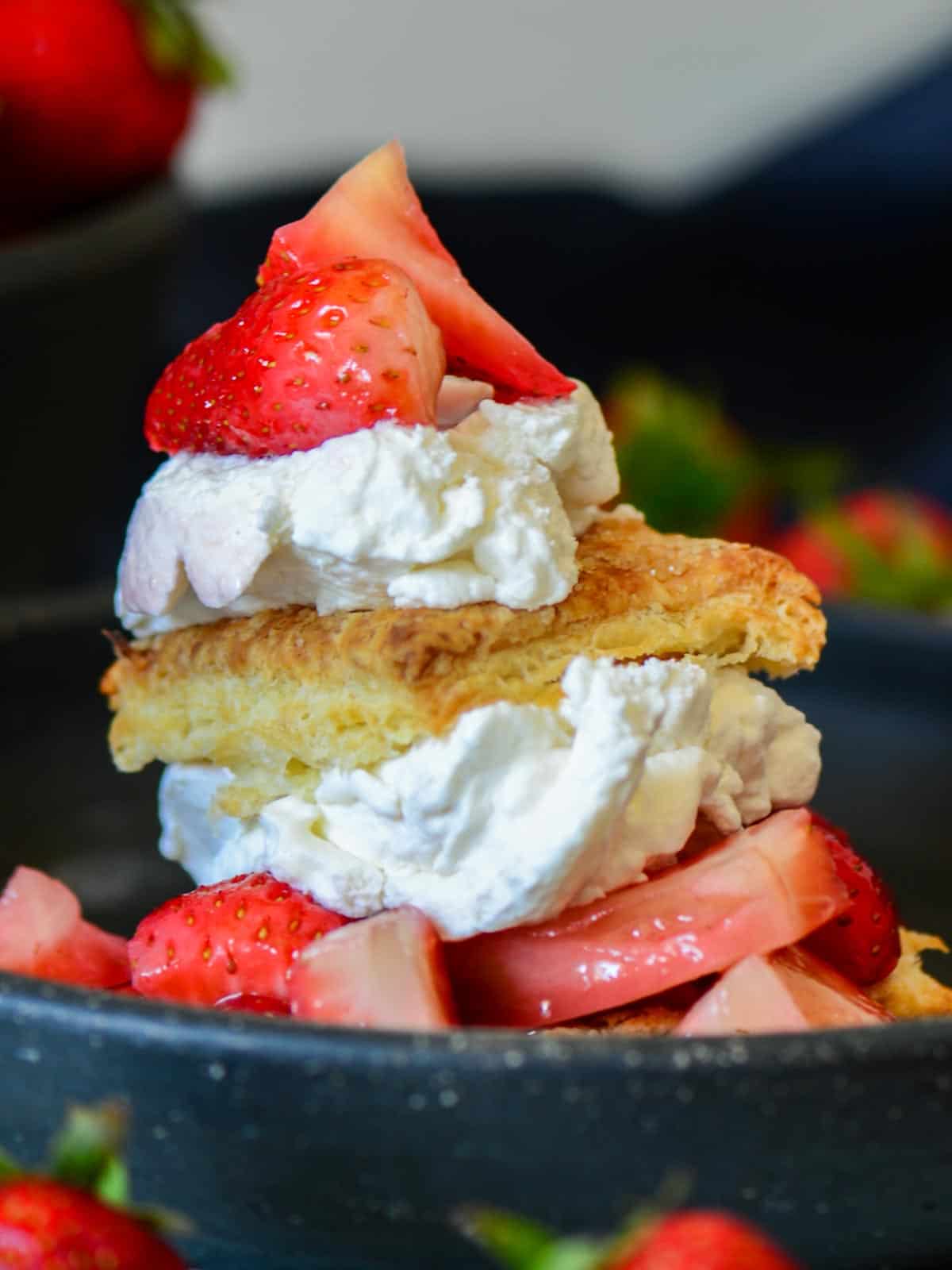 Summer is the perfect time for fresh fruit desserts. You're sure to find something sweet to make in our collection of dessert recipes.
A few of my favorite summer dessert recipes are:
Leave A Review
Did you make this recipe? I'd love to hear about it. Leave a comment, and don't forget to leave a 5 ★ review.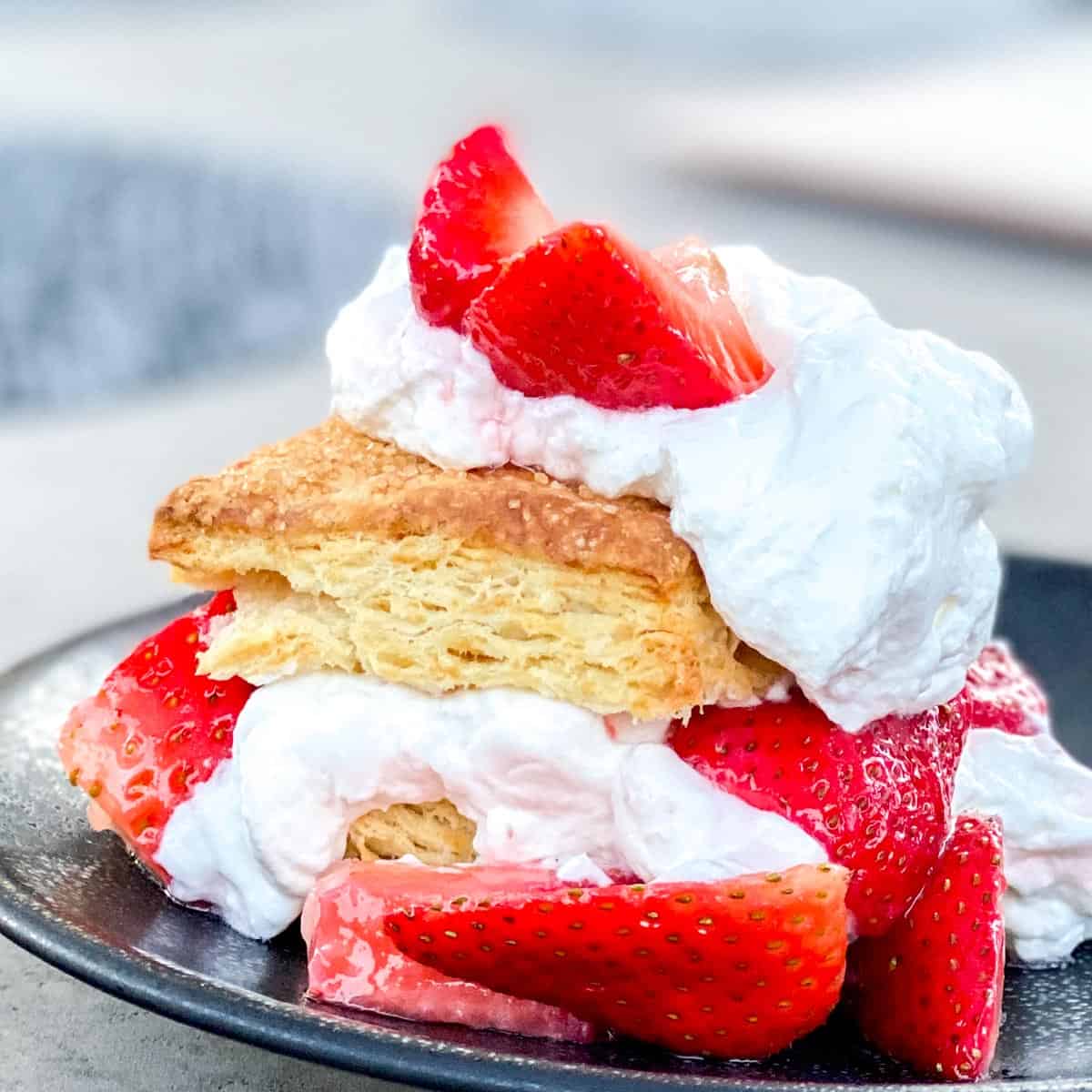 Strawberry Shortcake Recipe
Strawberry Shortcake is a quintessential summer dessert. Made with crumbly shortcake biscuits and sweet summer strawberries this classic dessert recipe is always a crowd-pleaser.
Ingredients
Macerated Strawberries + Whipped Cream
Shortcake Biscuits
2

cups

all-purpose flour,

15 ounces or 425 grams

2

tablespoons

sugar

1 ½

tablespoons

kosher salt

4

teaspoons

baking powder

½

teaspoon

baking soda

2

stick

unsalted butter

,

frozen for at least 30 minutes

1 ¼

cup

buttermilk

,

chilled

¼

cup

turbinado sugar

,

for sprinkling on the tops before baking
Instructions
Macerated Strawberries
Cut the strawberries into quarters and place them into a large bowl.

Add a few tablespoons of sugar. Toss, cover, and store in the refrigerator until ready to serve.
Shortcake Biscuits
Line a baking sheet with parchment or a silpat and set aside.

Whisk together the flour, sugar, salt, baking powder, and baking soda.

Using a box grater, grate the frozen butter directly into the flour mixture. *Reserve 2 tablespoons of butter for later and set it aside. Toss the butter into the flour mixture gently using a fork to combine.

Add the buttermilk to the flour mixture and use a spatula to combine the ingredients. The dough will look rough and dry. Turn the dough out onto a liberally floured counter and dust the surface with additional flour. Using your hands press the dough into a square shape.

Roll the square into a 12 x 9-inch rectangle. Fold the 9-inch sides into thirds, like you are folding and business letter.

Turn the dough 90 degrees and roll it out again to a 12 x 9-inch rectangle. Repeat the rolling out and folding process three additional times. (You should roll and fold a total of 5 times). Roll the dough out the dough one last time into an 8½ x 8½-inch square.)

Transfer the dough to the prepared sheet, cover with plastic wrap and refrigerate for 30 minutes. While the dough is resting in the refrigerator preheat the oven to 400°F.

Transfer the dough to a floured cutting board. Using a very sharp floured chef's knife trim the edges off of the biscuit dough. You want to free the edges so that the layers can expand without hindrance as they rise in the oven.

Arrange the biscuits one inch apart on the baking sheet.

Melt the reserved butter and brush the tops of the biscuits. Sprinkle with turbinado sugar.

Bake until the tops are golden brown. 22 to 25 minutes. Let the shortcake biscuits rest for 10 minutes before serving.
Whipped Cream
While the biscuits are cooling, place the chilled whipping cream in a bowl. Beat the cream until stiff peaks form. Add the vanilla and mix until incorporated.
YOUR OWN NOTES
Nutrition
Serving:
1
serving
Calories:
480
kcal
Carbohydrates:
46
g
Protein:
5
g
Fat:
32
g
Saturated Fat:
20
g
Trans Fat:
1
g
Cholesterol:
94
mg
Sodium:
1390
mg
Fiber:
3
g
Sugar:
20
g
Calcium:
160
mg
Iron:
2
mg